Want to get rid of unusable marketing automation tools? Created in 2018, Encharge is the right solution for your problem. It has a belief to automate and ease out your business work and yet enhance efficiency. There are over 100 million messages conveyed to users by over 4000 companies with the help of Encharge. The GetApp has rated this platform in 1st place for Marketing Automation Leader in the year 2021. It has a reliable email delivery which will automatically help you generate leads and therefore grow your business. You do not need to worry about anything with Encharge. It takes care of your email delivery with full effort. Encharge looks out for your account, proactively monitors your email sending, and also manages your reputation.
What is Encharge?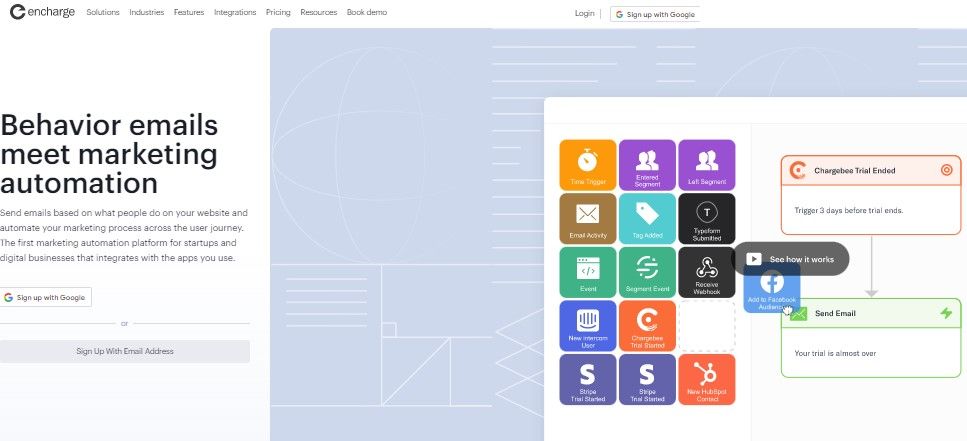 Encharge allows you to send emails that differ according to the needs of the customer. You can follow your users and see what they are looking for in your website. This will help you to automate your marketing process all along the user's journey. This platform will integrate will the apps you use. Encharge brings out the data of your website visitor, your product as well as your marketing stack. It provides 100% whitelisted email domains as these email IPs as well as domains are monitored. This will ensure the emails you are getting are whitelisted and not blacklisted. Moreover, you can also segment users by pageviews, product behavior, feature use, email activity, and also data attributes from 3rd-party apps. Sending automated targeted messages can be easily done and with high accuracy, as you can target a potential audience.
How does Encharge work?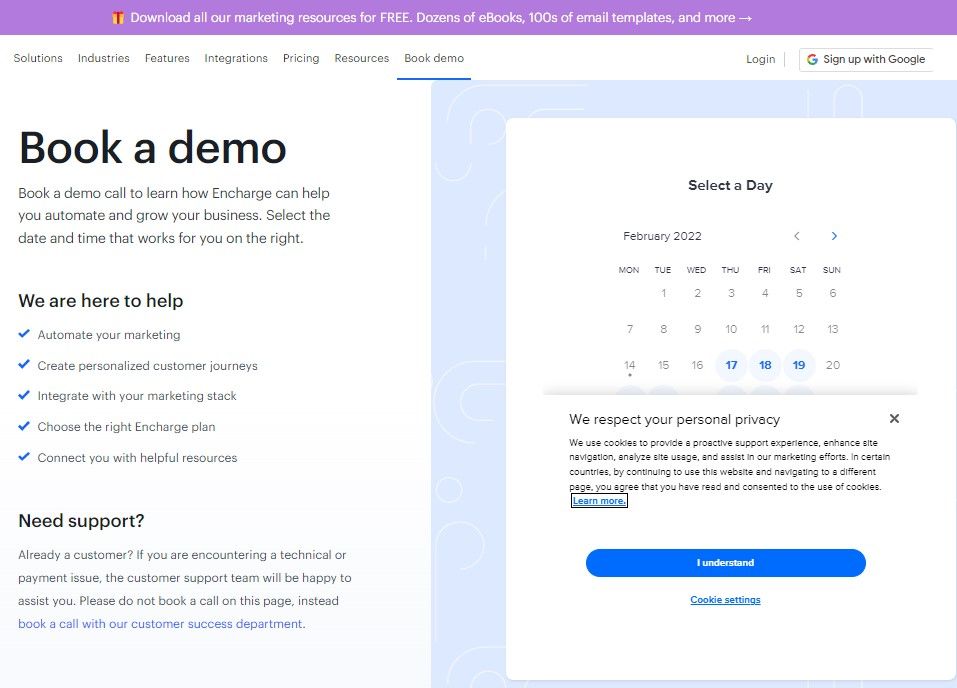 Encharge works best for all kinds of users and is extremely simple. This software comes with a 14-day free trial for you to analyze and know if you require it or not. All you need to do is sign up with your email and phone number and get started. This platform guides you through every step and does not require additional work.
When you visit the homepage of Encharge, you will also see a book demo option at the top right corner of your screen. Visit this to get all the details you need to know before getting started with Encharge. All you require to do is book an appointment by specifying the date and time. Encharge can help you automate and grow your business with ease, all you need to do is learn how it works. After knowing what to do you will know about everything you require to grow your business online.
Automate your marketing
Create personalized customer journeys
Integrate with your marketing stack
Choose the right Encharge plan
Connect you with helpful resources
Encharge Best Features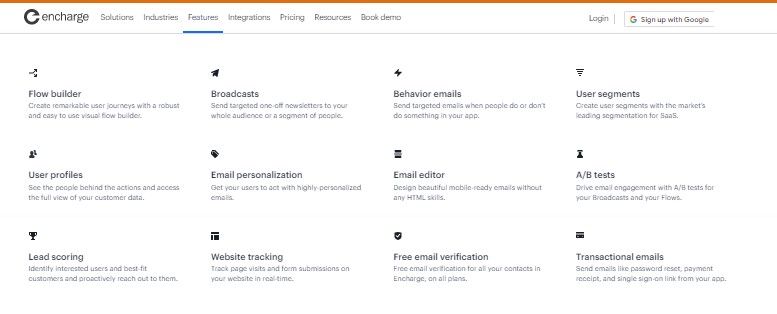 There are a lot of features and benefits that will make you want to use Encharge. The features and functions offered by Encharge are amazing and worth the price. These features include:
Flow Builder
With the Flow Builder feature, you can create an amazing user journey. These can include easy to use and robust visual flow builder. Moreover, not just emails but you can also go on to understand maps as well as design the entire user journey. All of this can be done by connecting steps in visual form. It has an easy drag and drop system that will easily design the entire user workflow.
Broadcasts
In the broadcast section, you can create amazing newsletters and also send them to the entire audience or even a segment. You can also send your customers personalized messages. These messages can include merge tags as well as dynamic content. Encharge allows you to do use live data from your website and also your market stack. This will allow you to personalize emails.
Behavior Emails
You can drag out customer engagement with your product and therefore increase the revenue with behavior-based emails. You can also send emails even if people are not using your product. Moreover, you can also customize emails based on activity in your billing provider. This feature will help you to send lead-generating emails, as people will get emails related to their requirements.
User Segments
The User Segments will allow you to get data from your app as well as your marketing stack. You can segment your visitors into various sections. These include page visits, email activity, data attributes as well as product behavior from third-party apps. Moreover, Encharge also allows you to send automated messages to the most potential and perfect audience type.
User Profiles
The best part about users' profiles is that you can not only check every user but also see what action they have performed on your website or even in your app in real-time. Check out who is viewing your pages, upgrading accounts, opening emails as well as using critical product features all within a single view!
Email Personalisation
Email personalization will enable you to scale personalized customer messaging with dynamic content and merge tags. This will help you to convert leads, boost product adoption, and also re-engage passive customers with custom-tailored emails that resonate with your audience.
Email Editor
With an email editor, you can customize and design the content according to your need and customer. You can also design beautiful mobile-ready emails that do not require HTML skills. Moreover, Encharge allows you to send branded emails with an easy drag and drop system. There is no need for developers.
A/B tests
The A/B tests will allow you to drive email engagement as well as increase the revenue with A/B tests for your broadcasts. Not only broadcasts but it can also be done for flows.
Lead Scoring
You can score your customers and hence find leads that fit best for your product or service. You can even identify interested leads and send them special emails. Moreover, you will also be able to measure email, websites, and product engagement. The best part is that you can proactively act by reaching out to the people that are most likely to convert.
Website Tracking
Track page visits and form submissions on your website in real-time. Get a clear picture of what people do on your site and turn anonymous page views into complete user profiles with a powerful identity resolution. Track form submissions on your website. Build segments with the form data you gather and match anonymous activity to identified profiles when a person submits a form. Understand every action your users take with powerful marketing automation reports. Encharge connects with your website, your forms, your product, and external tools, and provides a complete picture of the user activity in real-time.
Free Email Verifications
See to it who you are sending emails to. Are they even potential and can help you generate leads or are they spam! Encharge gives you free email verification for all your contacts and this feature is included in all your plans. With this, you can improve your deliverability and also boost your sending reputation for absolutely free!
Transaction Emails
Sending emails that require security can be done easily with Encharge. Privacy set-ups such as password resets, payment receipts as well as single sign-on links from your apps can be sent securely. This platform enables you to easily design, deliver as well as analyze stunning transactional emails with API.
Why Choose Encharge?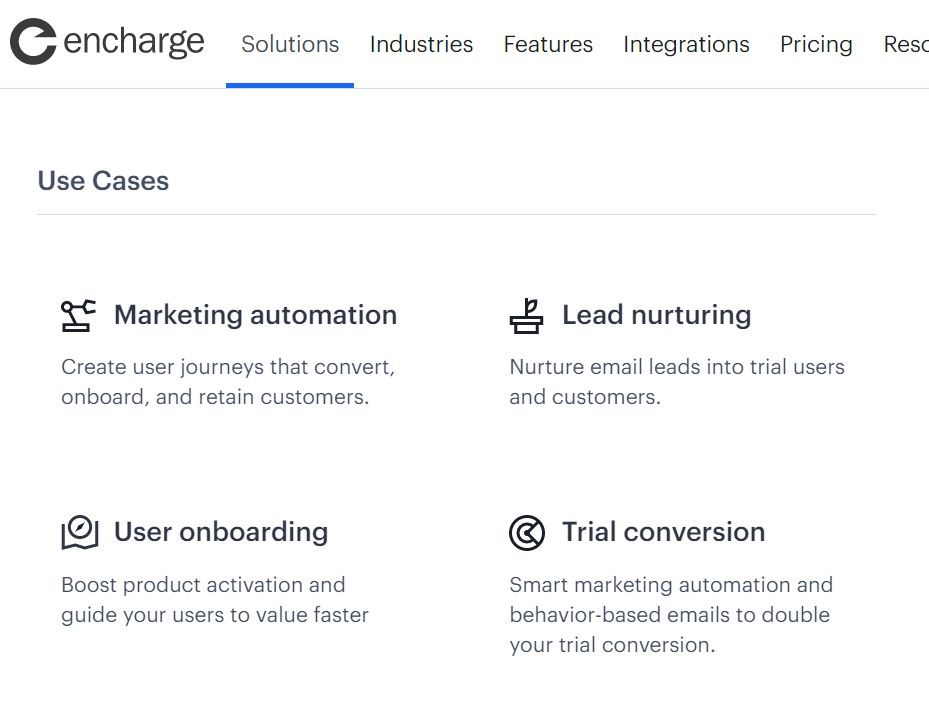 There are various reasons to choose Encharge over any other platform. It provides solutions to all your answers with ease and efficiency. Some of these benefits provided by Encharge include:
Marketing Automation
It is a lot more than just email marketing! You can go on to create users that will help you get conversions, onboard as well as retain customers. With this platform, you can connect with the whole marketing stack and also automate repetitive tasks in between apps. Encharge is an all-in-one platform that integrates you with apps used by startups as well as digital businesses. These include apps such as HubSpot, Chargebee, Stripe, Intercom, and a lot more.
Lead Nurturing
With Encharge you can also connect with various forms or even CRM. This will enable you to relatable lead nurturing campaigns within a short period. This platform will not only help you to market your proud t but also provide users with the value of your features and therefore build trust with your potential customers. This will ensure the generation of revenue and growth of your business with every email lead.
Users Onboarding
You can educate your users with targeted onboarding emails. These emails can be sent whenever people do or even do not do anything with your product.
Trial Conversions
You can send real-time emails even when people do not use your product. These emails can be tailored and customized according to your requirement. Moreover, you will be able to create onboarding experiences. This will allow you to convert free users into paying customers.
Integrations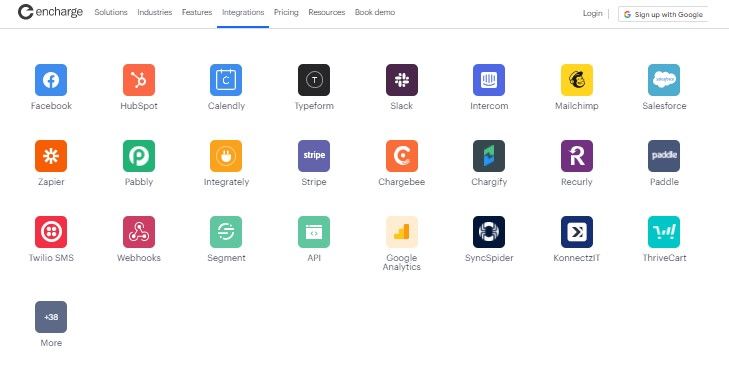 There are more than 50 integrations provided by Encharge. These integrations can be used by small businesses to large enterprises. These integrations make your work easier and less stressful. Forms, webinars, website builders as well as chatbots are integrated with Encharge. Some of these integrations are:
Zapier
Segment
Stripe
Facebook ads
HubSpot
Salesforce
Calendly
Typeform
Intercom
ActiveChat
Big Maker
Botsify
Pros
Encharge can handle all your email contacts in one place.
Easy and user-friendly automation.
Amazing features and offers good pricing
It has wonderful marketing automation that will help you to automate email campaigns easily.
Cons
Encharge lacks its own form for subscription.
You have to request the deletion of the contact through support, which seems a long procedure for a simple mistake.
Encharge is missing Ecommerce although it is looking for integration with the same.
Encharge Pricing and Plans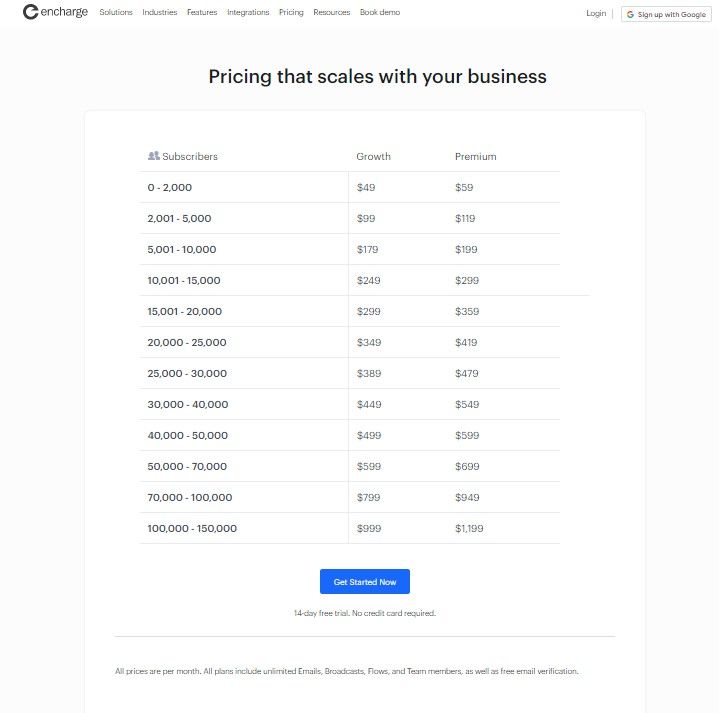 Conclusion
Here we are at the end of this Encharge Review with some of the most amazing features and functions offered by it. If you are a beginner then all you need to do is learn how to use Encharge and get going, This Email marketing software helps you not only market to the right audience but also helps you generate potential clients. Encharge helps you to nurture the leads and create flows that can help you grow the trust of your company.