Upcloud is a Finland-based cloud service provider that offers hosting solutions as cheap as $5 per month. Upcloud hosting is one of the best alternatives to DigitalOcean, Linode, AWS, Azure, Skysilk, Interserver & Vultr. In the fast-paced world, it is very important that your website does not take much time to load even on devices with less internet speed. As such, it is crucial for webmasters to deploy their websites on the servers nearest to the locations from where their visitors mostly visit apart from choosing the fast hosting solution.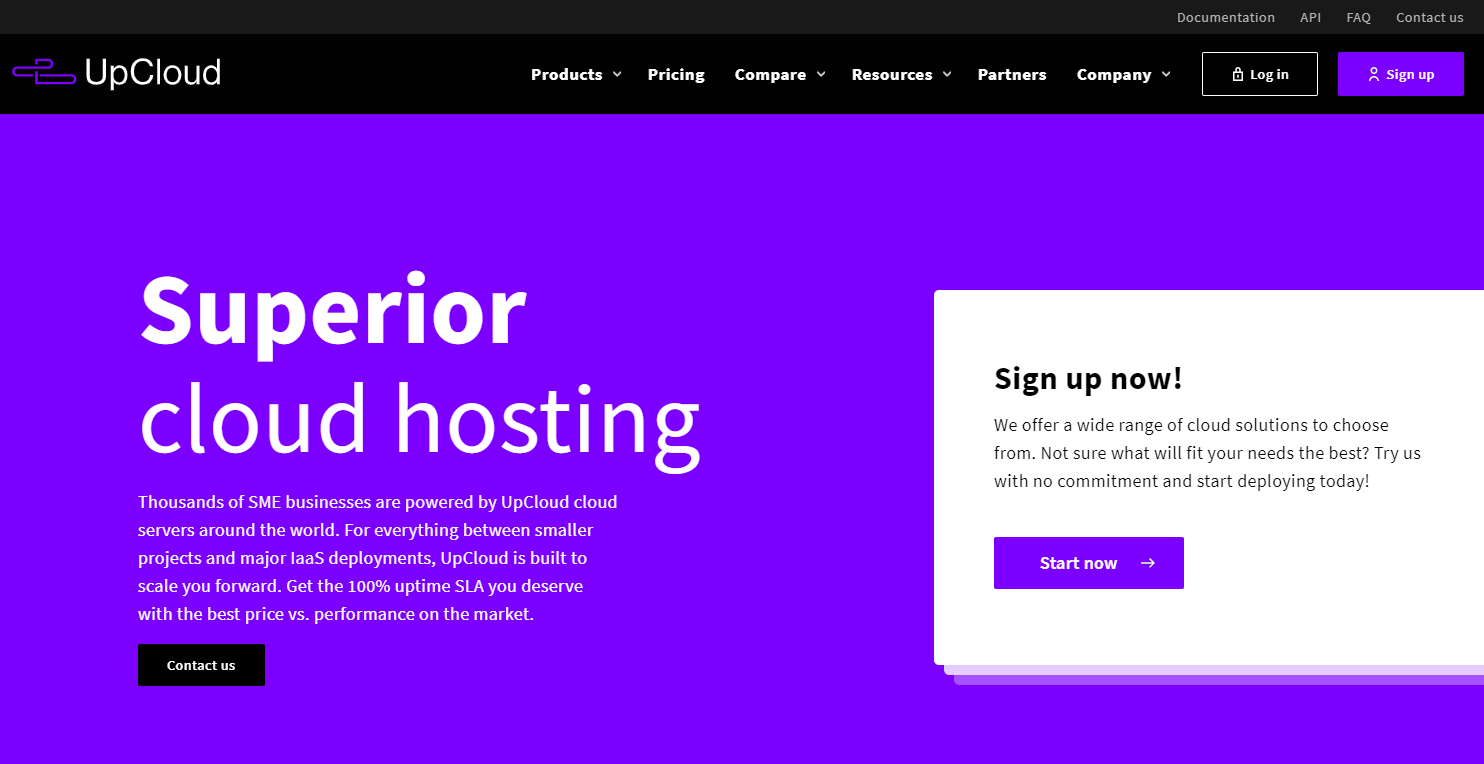 I remember the old days when I used to open five to six web pages from the search results and continued with the one which loaded faster(exceptions exist). That was the time when faster was the winner. Much of that has not been changed yet. Even now with fast internet speed, we have witnessed to see the growth of video content. As such, many websites use to embed video and social media content, loads of Javascript libraries, and whatnot to make it very heavy. So, as of today, not only a better server can help you get the speed but optimization can. In this post, I will review Upcloud hosting service and also tell you how you can optimize your website and server for better performance.
Upcloud Hosting Features: Review Highlights
Secure and Reliable
Upcloud offers a hosting service that is secure and is capable of limiting the traffic by IP address or Port with a firewall. It offers scheduled simple and flexible backup options that make it highly reliable.
100% Uptime
Uptime is very important for any project you may have. You can use any uptime monitoring tool such as Screpy to monitor the uptime. Upcloud gives its users 100% Uptime SLA and a 50x payback for any downtime over 5 minutes.
24/7 Customer Support
Customer support is very crucial for determining the strength of a hosting company. Upcloud is among those that offer you quick responses to your queries. Their customer support is very reliable. There is a live chat option enabled on their website as well. So, when you put your query, a support person is immediately assigned to the conversation to assist you with your questions. Upcloud uses intercom live chat to assist its customers.
Highly Scalable
Most of the web owners switch from shared hosting or low potential hosting to cloud VPS hosting when they have a scalable plan. For all those enthusiasts, Upcloud is really like a boon. Their cloud infrastructure assures you of the best performance and uptime. Considering the scalability, Upcloud is one of the best hosting alternatives you can think of.
Flexible Hosting
Upcloud is definitely a flexible hosting solution. You can at any time opt to resize your server which includes downgrading and upgrading of your existing server. In order to resize your existing server, you first need to shut down your server which is otherwise than deletion and takes only 2-3 minutes.
You can either choose from the standard resizing plans or opt to customize your plan under the flexible plan option where you can manually choose the CPU, Memory, RAM, or Storage.
Cost Effective Hosting Solution
Upcloud charges its clients on an hourly basis for the servers. As such, they have complete flexibility in resizing the server or testing a new server without having to worry about the high cost.
2-months free migration period
With upcloud, you don't have to worry about the extra costs of migration from a different cloud service provider. Upcloud charges you no service costs for the migration, for a 2-month free migration period. However, this offer is available for the entities the infrastructure of whose costs are not less than $500 per month on Upcloud.
Designed for the developers
With Upcloud it is easy to use the control panel and API that let users code more reliably.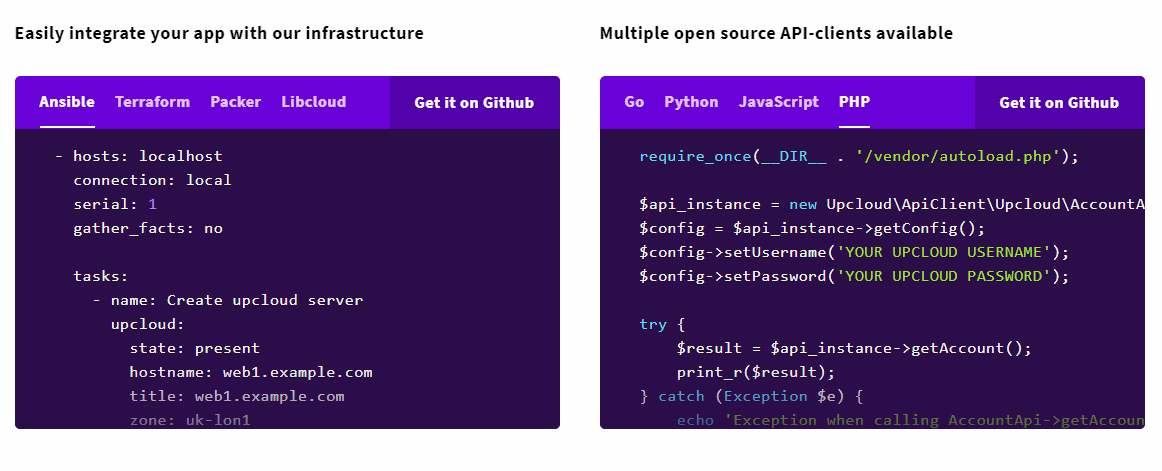 Performance with MaxIOPS
MaxIOPS block storage technology leaves the competition behind and doesn't throttle performance depending on how much you pay. It is far better than SSD storage. It gives you high performance and reliability. With cloud technology, you can create your server within a minute. With MaxIOPS, you can also move one MaxIOPS block storage device to another cloud server. Even it is very flexible as you can customize the amount of storage space you need.
Upcloud Object Storage
The hosting platform also offers fast to deploy and easy to manage Object Storage. One can use it to deliver the content worldwide. With Upcloud Object storage, you get up to 1 TB of storage and 2TB of Transfer for the monthly cost of $20.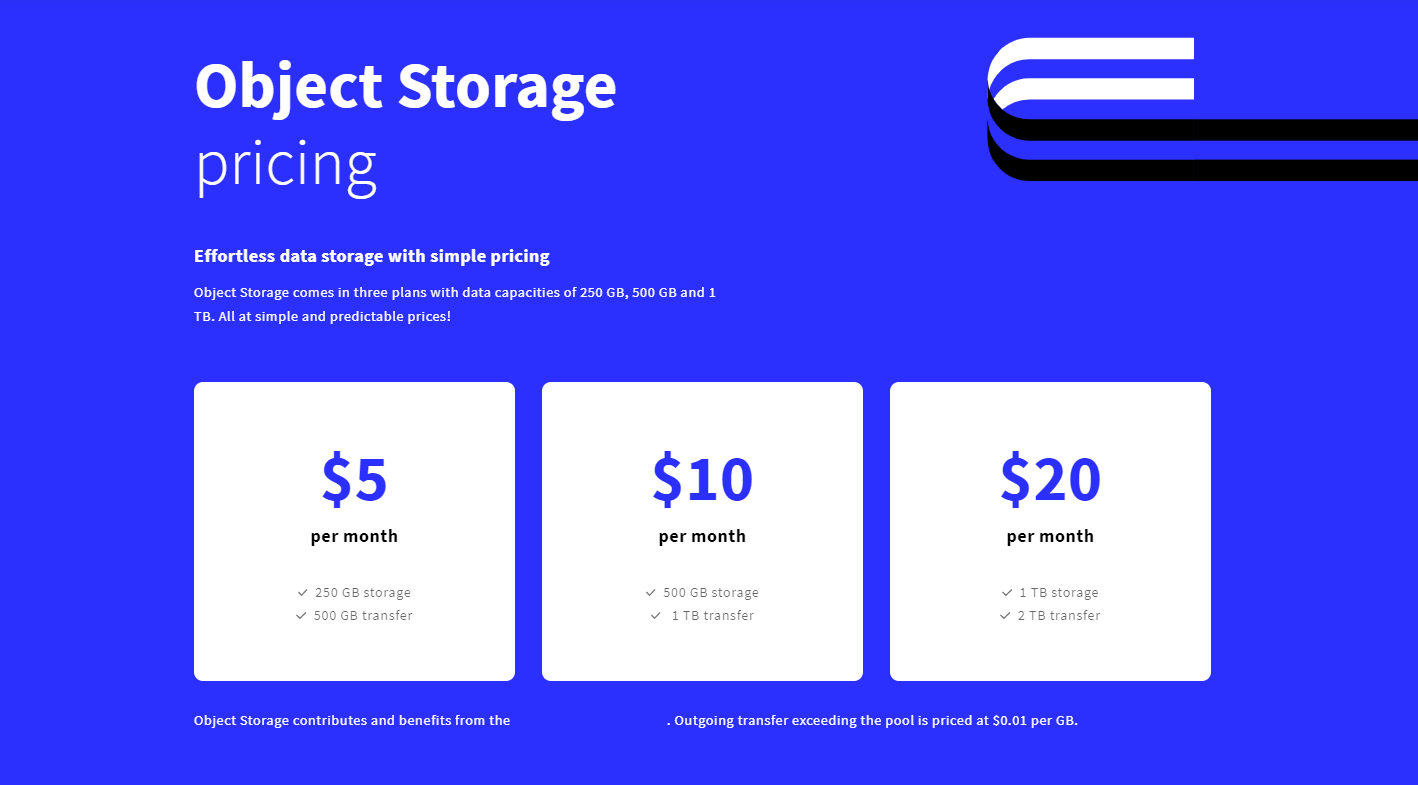 Upcloud UI/Interface
Upcloud's website has a modern interface that is easy to understand and faster to navigate. Once you open up your dashboard, you get to know everything very clearly. Wherever there is any strong term used, there is a knowledgebase link there from where you can get to know a lot of information about that. Any new user can easily deploy a new server, resize, create automated backups, add team members
Upcloud Backups
With Upcloud, you can create backups by paying additional costs for your server. These automated backups can be purchased both at the time of new server deployment and at any time after the server is created. There are three backup plans one can opt for viz. Week Plan, Month Plan, and Year plan.
Week Plan
Month Plan
Year Plan
Daily Backups for 7 Days
Daily Backups for 7 days
Daily Backups for 7 days
No Weekly backup
Weekly Backups for 4 Weeks
Weekly Backups for 4 Weeks
No Monthly Backup
No Monthly Backup
Monthly Backups for 1 Year
Price on top of Plan: 20%
Price on top of Plan: 40%
Price on top of Plan: 60%
$1 per month for $5
per month server Plan (price vary based on the server selected)
$2 per month for $5
per month server Plan (price vary based on the server selected)
$3 per month for $5
per month server Plan (price vary based on the server selected)
Upcloud Advanced Firewall
Upcloud offers an advanced firewall that limits server traffic. It ensures advanced protection from various hacking attempts. To make use of a firewall, you need to add incoming and outgoing traffic rules. Like automatic backups, a Firewall also costs you excess costs to your normal server cost. The firewall works based on rules on a first-match basis from top to bottom.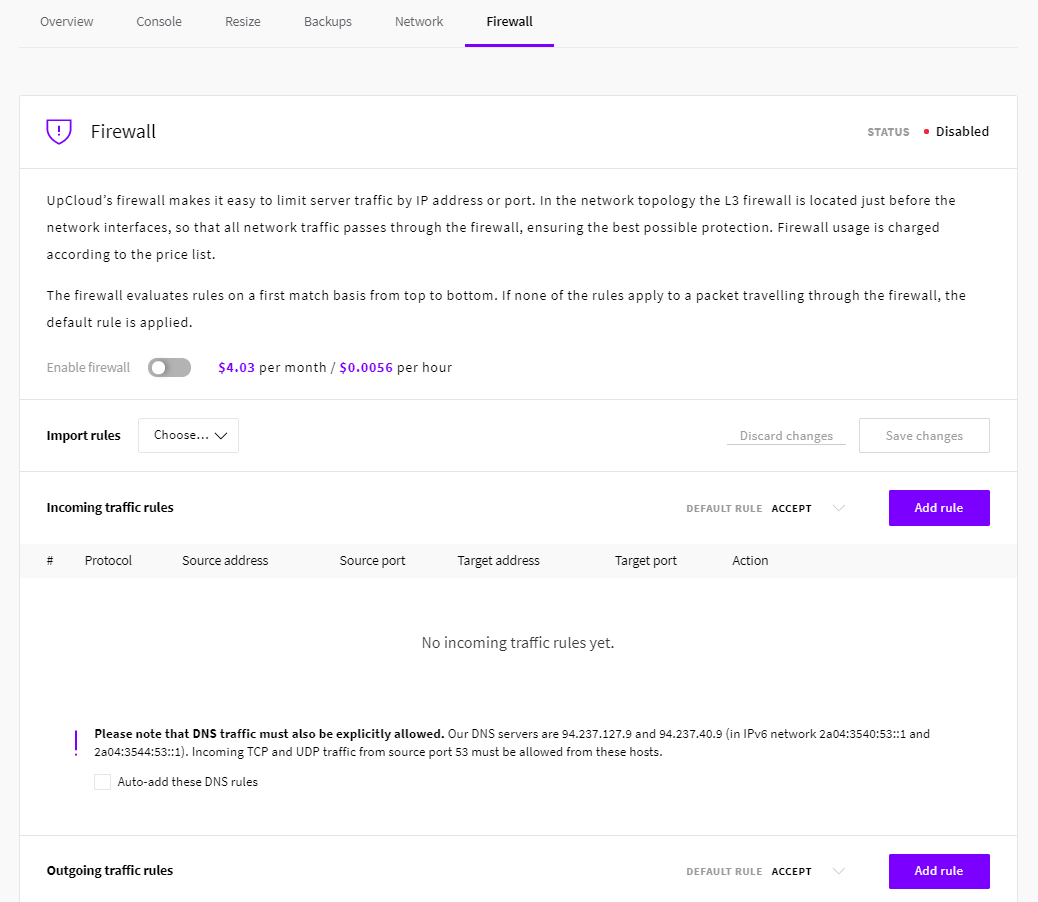 Server Tags
Upcloud allows you to organize your servers. As such, you can give a tag to any of your existing servers. With the help of these tags, you can segregate your various project and even make use of them while giving permission to members inside your workspace.
Add Team Members
Like Linode, DigitalOcean, and many other hosting platforms, Upcloud too allows you to add trusted members to whom you can give various permissions. You have control over whether to give them access to all or any selected property for servers, private networks, storage, and tags.
Server Statistics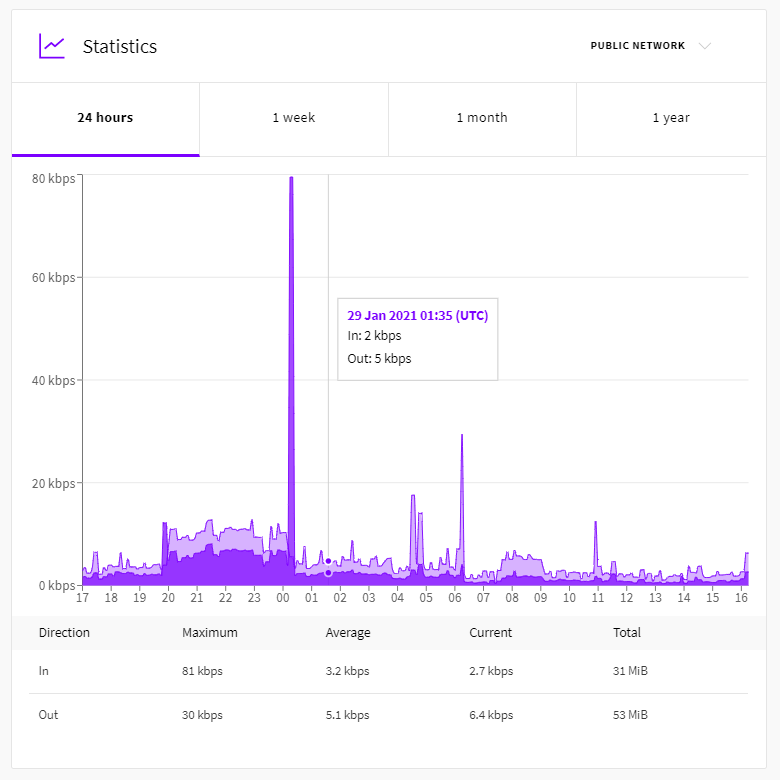 You can see the stats for your server inside your server overview dashboard. It shows you a statistics graph for 24 hours, 1 week, 1 month and the last 1 year.
How to Deploy a new server on Upcloud
Deploying a new server on Upcloud is really easy. Follow these simple steps with me:
Sign in or Create a new account
Once you have finished creating your account after adding your right billing information you will be asked to at least add $10 to claim the promotion credits. You can also be asked to validate your details via email so keep track of your email id. (Note: Some users claim that their server is stopped without their notice and they also give bad reviews on the online forums for the same. But this usually happens because they miss an important email from upcloud that is often sent to validate your information)
When you finally have been credited with the promotion credits you have no less than $35 in your balance depending on your initial addition. Now that is enough to help you start deploying a server.
Now go to your upcloud dashboard: https://hub.upcloud.com/ where you will be redirected to the servers section by default where you can find the 'deploy' button. You can also go to "https://hub.upcloud.com/deploy" directly to deploy a new server on Upcloud.
You will be redirected to the deployment page which is further divided into multiple sections viz. Location, Plan, Storage, Automatic Backups, Operating System, Optionals, and SSH Keys. From the next points, let's discuss each of these sections.
Location: Here you need to basically choose the location of your server. You can choose to select from where your traffic comes from or you expect to come. It is also possible that you don't find the location as desired. In such a case, you can opt to choose the nearest location. For say, if your traffic mostly comes from India, you can choose the Singapore location. But it is always your choice, it is not mandatory to do so. However, it matters in terms of performance.
Plan: You need to choose the plan for your server. Either you can opt for a simple plan or you can choose a flexible plan that lets you customize features such as CPU cores and memory as per your requirements. If you are buying a server for a new website, you can go with $5 per month plan or $10 if it is a big website with lots of functions and for which performance is crucial. You can resize your plans later if you find any additional requirements.
Storage: In this section, you can choose the amount of storage capacity you require for your project. However, in the Simple plan, you already opt for storage, CPU, and RAM in your plan, so you can't customize the storage in this section if you have opted for any simple plan above. As such you can only choose where to go with VirtIO, IDE, or SCSI where the default VirtIO is best based on performance tests. By clicking on the name, you can also rename your storage device.
Automated Backups: In this section, you get an option to enable automated backups. It is definitely a great feature to avoid any data loss or to avoid any unexpected loss of data. Upcloud gives you three backup options to choose from viz. Week plan, Month Plan & Year Plan. In the week plan, you have technically 1-week backup always with you and in the monthly plan, you have last month's data backed up. In the last yearly plan, you have the last 12 months' data backed up. However, you should choose to enable this option only if you want to or need to as it will increase your cost.
Operating System: The next section asks you to choose the desired operating system for your new server. You can opt for an OS based on your website requirement. For example, if you need to host a WordPress website you can go with Ubuntu Server, Plesk, or Windows Server for an ASP.net website. By default, you select the latest version of any operating system whereas you can change it to an older version by clicking on the change version dropdown below them. It is always better to choose the latest or default version for a new website. However, if you want to move then you can match the versions.
Optionals: The next section allows you to choose whether to add a public IPv6 address to your server and also enables you to edit metadata with respect to your server.
At the last, it asks you to put SSH keys which is optional. You can also change the hostname and description before you deploy your very first new server on Upcloud.
How To Resize an Existing Upcloud Server
Once you have deployed the server and you want to upgrade or degrade your existing server you can do that by resizing your server. To resize your server you first need to go to your Upcloud Dashboard and click on the existing server.

On the overview tab, you can see the Configuration section where you can find the specifications of your existing server. Below that, there is resize button to manipulate the server specifications.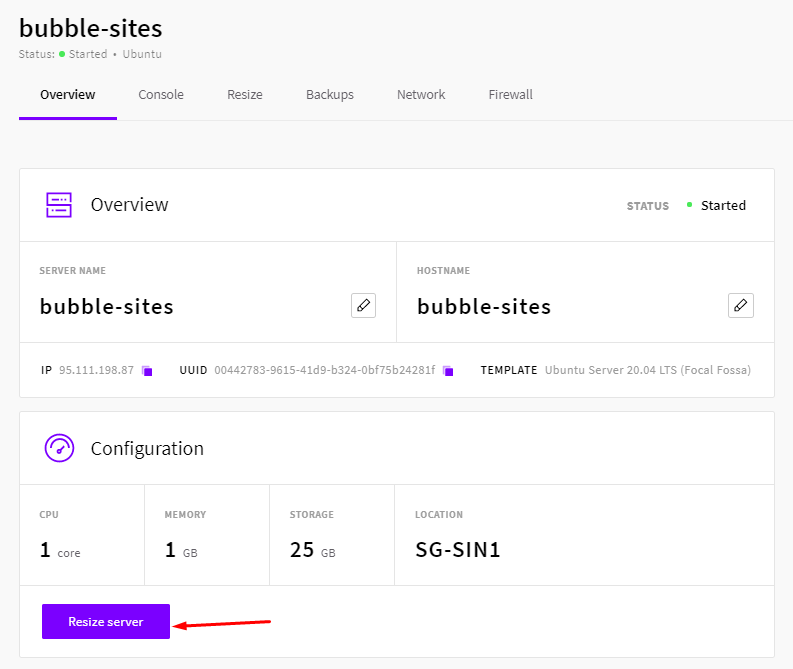 Once you click that button it shows you the below window. To resize your server, you will first need to shut down your server first. Once your server is shutdown, the resize section containing various plans will become active and you can choose the plan of your choice.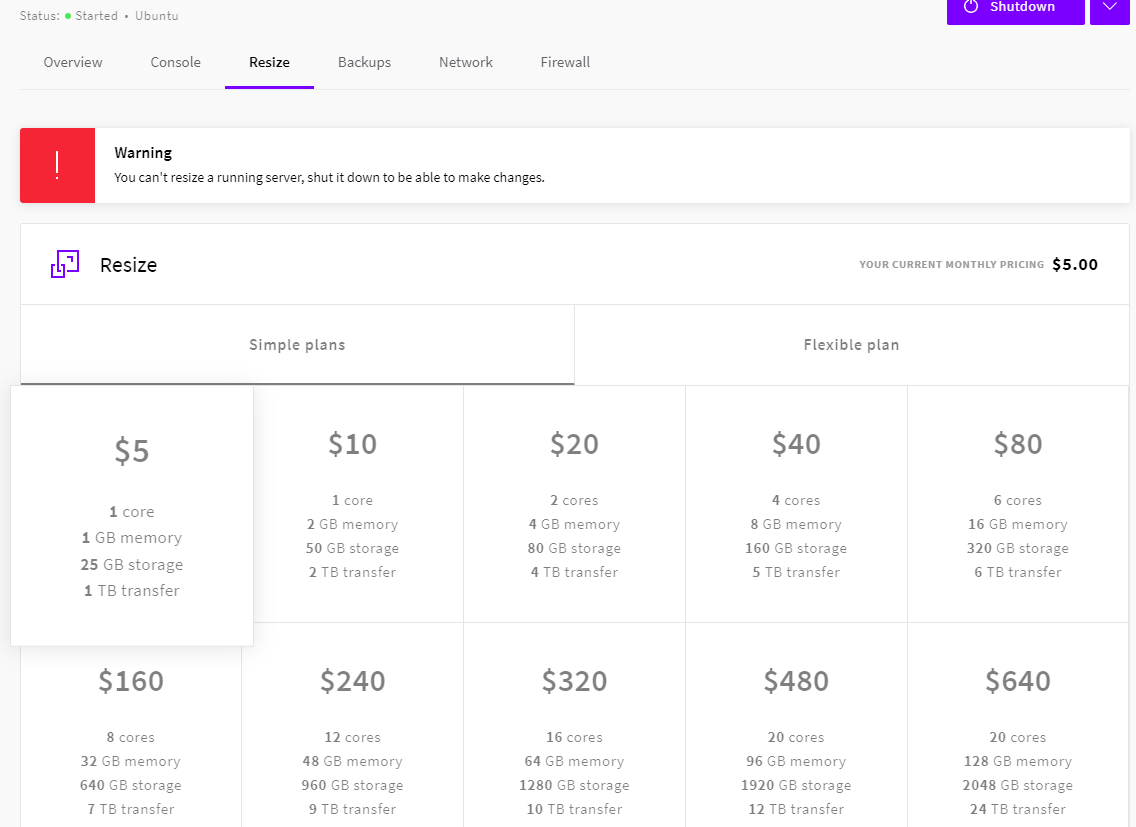 You can also customize a new server under a flexible plan.

Resizing will take a couple of minutes. You will get a notification and also an email updating you about the new server up-gradation/degradation status. So, this is how you can easily resize your existing server on Upcloud within a matter of minutes.
Upcloud Pricing
The simple pricing plans of Upcloud hosting are listed below:
| | | | | |
| --- | --- | --- | --- | --- |
| CPU | RAM/Memory | Storage | Transfer | Pricing |
| 1 | 1 GB | 25 GB | 1 TB | $5 /mo |
| 1 | 2 GB | 50 GB | 2 TB | $10 /mo |
| 2 | 4 GB | 80 GB | 4 TB | $20 /mo |
| 4 | 8 GB | 160 GB | 5 TB | $40 /mo |
| 6 | 16 GB | 320 GB | 6 TB | $80 /mo |
| 8 | 32 GB | 640 GB | 7 TB | $160 /mo |
| 12 | 48 GB | 960 GB | 9TB | $240 /mo |
| 16 | 64 GB | 1280 GB | 10 TB | $320 /mo |
| 20 | 96 GB | 1920 GB | 12 TB | $480 /mo |
| 20 | 128 GB | 2048 GB | 24 TB | $640 /mo |
Is Upcloud better than DIgitalOcean and Linode?
Competitively, Upcloud can be compared with DigitalOcean and Linode in terms of performance and infrastructure. Upcloud doesn't disappoint you if you move from any of the two.
Is Upcloud worth the money?
Considering many of the great features such as hourly payment, easy to deploy and manage, scalability, flexibility and performance, one can say that Upcloud hosting is a great value for money.
Conclusion
Without a single doubt, Upcloud is one of the fastest and most reliable hosting service providers today. With the state-of-the-art technology and cloud infrastructure, it is able to suffice the need of its users who give importance to performance. Upcloud lets you quickly deploy servers, resize them anytime, take automatic backups, put a firewall, manage members for your workspace, and all that with an intuitive layout. With ready-to-scale and highly flexible services, Upcloud lets you control your cost at your staging time and quickly manipulates as you fly. Conclusively, you can concentrate more on your projects.
The Review
Upcloud Hosting
Upcloud is definitely a great hosting option whether you are willing to move your website from another hosting platform or you want to host a new website. The infrastructure is really powerful that ensures you of the industry best performance.
PROS
Clean and lovely user-interface.
Fast servers
100% uptime SLA
Very-friendly customer support
Extensive knowledge base
Easy scaling
Server Level Firewall
Automated Backup Options
Quick server deployment
CONS
Not very friendly for rookies.
No option for one-click application deployment
Low number of data center
Review Breakdown
Flexible

0%

Cost Efficient

0%

Easy to use

0%

Scalability

0%

Performance

0%
Upcloud Hosting DEALS
We collect information from many stores for best price available
Best Price
$5