Typedesk is an application that helps in improving customer services by creating, managing, and translating canned responses, email templates, and document layouts. It is fully featured Live Chat software which is specially designed to serve enterprises, SMEs, and StartUps. It is a multi-platform solution that can result in boosting productivity for customer services, legal departments, administrations, and more.
Platforms like Help Desk ( Zendesk, Intercom, Enchant, Hubspot ), Social Network(Facebook, Twitter, Forums), Email client( Gmail, Yahoo, Hotmail, Outlook) are some of the virtual services which are getting lightning-fast canned responses by Typedesk. The boost productivity offered by Typedesk is another characteristic feature that enables the users to easily paste the canned responses anywhere without even touching the mouse. The most important and helpful fact is, a lot of time can be saved while working with anyone and from anywhere using Typedesk.
Typedesk ensured consistency and improves the experience delivered to your customers and leads. It quickly shares and syncs canned responses with anyone on your team. A different canned response can be built for each reply which ensures that each reply is unique.
TypeDesk Overview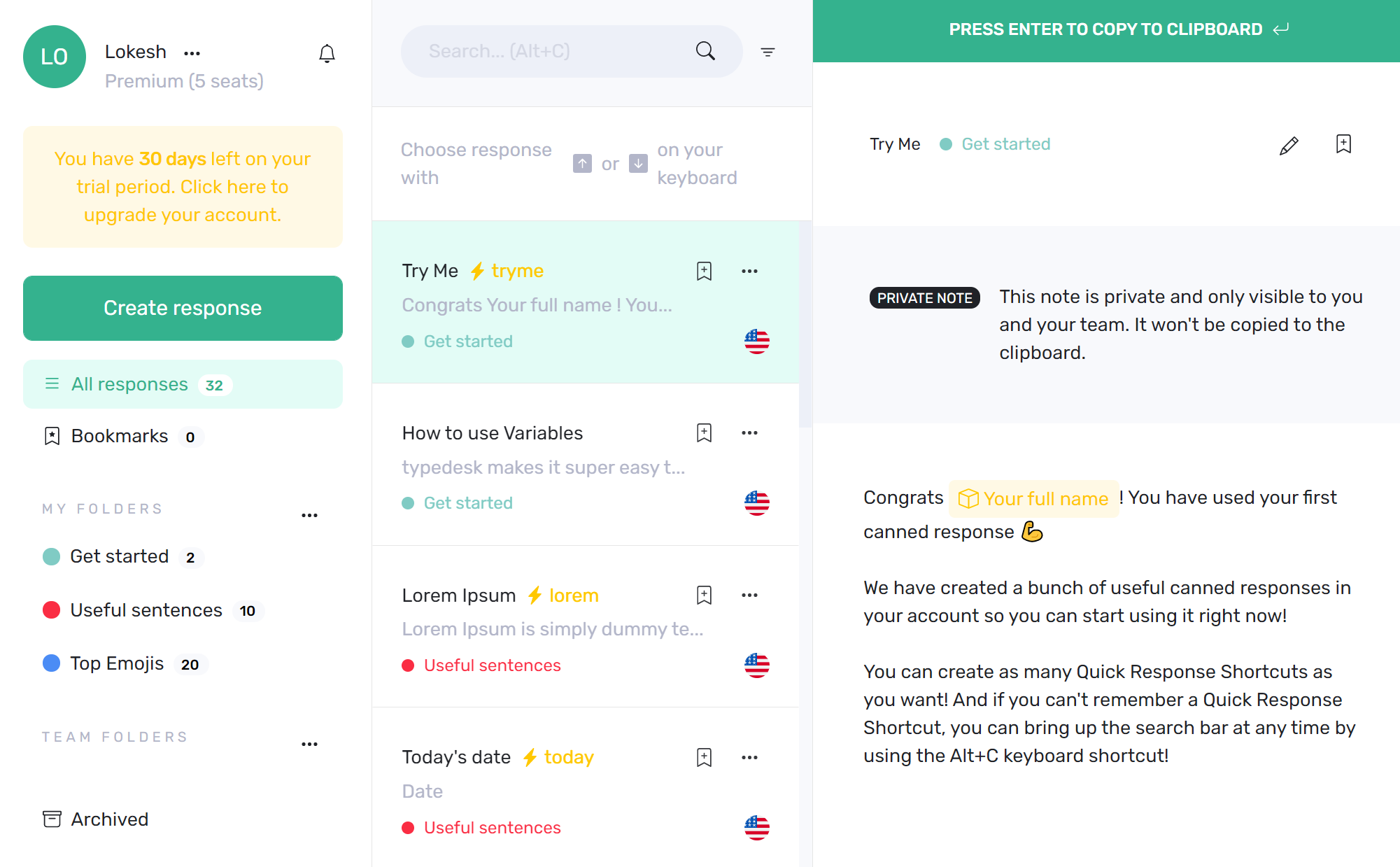 Typedesk lets business owners focus on delivering value instead of wasting time typing the same message over and over again. It is a journal of graphic communication featuring observations on design, typography, business, and the modern office. Typedesk supercharges your canned responses workflow. Use your favorite text snippets with your current tools(help desk, email client, chat, social media) to quickly and easily answer your customers.
Typedesk makes onboarding easier than ever, so you can keep your tone consistent no matter who's writing. Whether your team handles social media, sales, or customer support, you'll send personalized messages quicker, in a unified tone that builds trust. You can even add Typedesk as an extension to all major browsers. Once you install Typedesk, you'll have access to your work on whichever platform you're using.
Typedesk is a team player and supports roles and permissions, so you can manage your canned responses organization-wide and deploy across different teams. The advanced variable lets you create custom responses on the fly with select boxes, text input, and much to build unique responses every time you use them. Using Typedesk not only keeps customers happy but grows your business as well.
Features of TypeDesk
Offline-Proof– Keep working even when you're offline or on the go. Typedesk works even without connectivity.
Cloud-Synced– Canned responses is easily accessed on any computer. The responses are constantly backed up and in sync.
Rich Formatting– Rich canned responses are created by inserting links, GIF, Fonts and formatting like colors.
Variants and Translations– Easily create several versions of the same response. Translations and variations of the same message is created.
Team-Friendly– There are team folders which let anyone in the team to update the set of responses and share new ones.
Variables– Variables are the best way of ensuring that all the placeholders are filled in the response.
Privacy– Typedesk does not record the keyboard unless and until requested.
Google-like Search– Typedesk searches the contents of the canned responses and easily finds the one needed.
Blazing-Fast– Typedesk is available with a simple keystroke.
Folders– Folders organize the canned responses into colored folders which makes sharing easy.
Private notes– Private notes gives instructions to the team as when to use the canned responses.
Clipboard– Contents of clipboard are inserted in the canned responses.
How to use Typedesk
In order to use Typedesk, first, it needs to be installed. Installing it on Windows or Mac is recommended and super easy. For that go to the download page, and select your platform and install it in a standard way. Though there is a web version of the app, there you can utilize the software to its full potential.
After opening the application, you can find all the canned responses saved in your account. You can edit these responses as per your need. You can find a canned response variable in yellow with a flash icon that you can use after a slash to print the text, emoji, or dynamic content assigned to them.
To create a canned response Typedesk, simply click on the "create response" button.
Now on this page, you can:
Name your response
Select or Create a folder to categorize the response
Enter Text Response using available general & dynamic variables, parameters
Use the available text formatting
Create multiple variants of the same response ( for example – based on langugage, change of line or something )
create the Quick Response shortcut in settings
write a private note for your response
When done, save your response.
Now you can easily use these responses in other apps by using quick shortcuts assigned to the responses. If the app where you want to paste the response, doesn't support it, you can simply search your response in the Typedesk app and copy it to the click board using "Enter" and paste it in your other app.
Typedesk Alternatives
When it comes to customer service, companies are struggling to keep up with customers' demands. There's clearly a big demand for applications that can manage the situation as best as they can. There are plenty of alternative apps to Typedesk. Some alternatives that include similar features to Typedesk are-
TextExpander
TextExpander boosts team productivity by cutting the repetitive typing that creeps into every task. A quick shortcode while typing drops in the necessary language to send to clients and customers.
Briskine
Increase your productivity with templates and keyboard shortcuts on Gmail, Outlook, or LinkedIn. Create templates out of repetitive pieces of text. Insert them in your emails within seconds with shortcuts, and respond faster to your customers.
Front
The front is a hub for customer communication that allows companies to offer tailor-made services at scale.
Chatbot
ChatBot is software by LiveChat that is an all-in-one platform to create, deploy, and track chatbots across channels. It is easy to use and setup to manage conversations better.
Zoho Desk
Zoho Desk is an embeddable live chat widget for your customer service team. You can support your customers through your website and apps.
FAQ Bot
FAQ Bot is another live chat solution to facilitate end-to-end conversations with your clients and stakeholders to assist the business as a whole.
How much does Typedesk cost?
The pricing for Typedesk starts at $ 3.99 per month, Typedesk has 3 different plans:
⦁ Solo at $3.99 per month.
⦁ Teams at $14.99 per month.
⦁ Enterprise at $24.99 per month.

Does typedesk offer a free plan?
Yes, Typedesk offers a free forever plan with a few limitations so you can try Typedesk before you decide to upgrade your plan.

What payment method does typedesk support?
Typedesk supports monthly and yearly payment methods.
What is the refund policy of Typedesk?
Like most other software, Typedesk offers you a 30-days money-back guarantee with no questions asked. After the crossing of that period, they can't offer refunds but you can cancel your Typedesk subscription anytime.
Does Typedesk work with gmail, Zendesk, Front, Briskine, Whatsapp etc?
Typedesk makes your canned responses available everywhere. Since Typedesk is based on your clipboard, as long as you can paste text from your clipboard, you're good to go. It works where you do, so you don't have to adapt to yet another tool.
How do you write a canned response in Typedesk?
First, activate canned responses under Setting>Advanced>Canned Responses. Then you can save emails you've written as canned responses.
How to use your saved canned responses with Typedesk?
Press Alt+C to quickly search and copy your canned responses on your Gmail, Zendesk, Twitter or even Outlook.
How to share your Typedesk canned responses?
To share your canned responses, select the three dots next to any folder in your sidebar, and select Share. Enter the email of one or more co-workers, and save. Invitations are automatically sent by email, and the people you invite will become a guest on your plan and account for one seat. They'll be able to create and edit canned responses and folders as well.
Pricing of Typedesk
There is only one Premium plan of Typedesk which costs you $5 per month and if you opt for a yearly subscription it becomes $4 per month (20% discount on annual billing). You can however use the free plan forever with some limited features.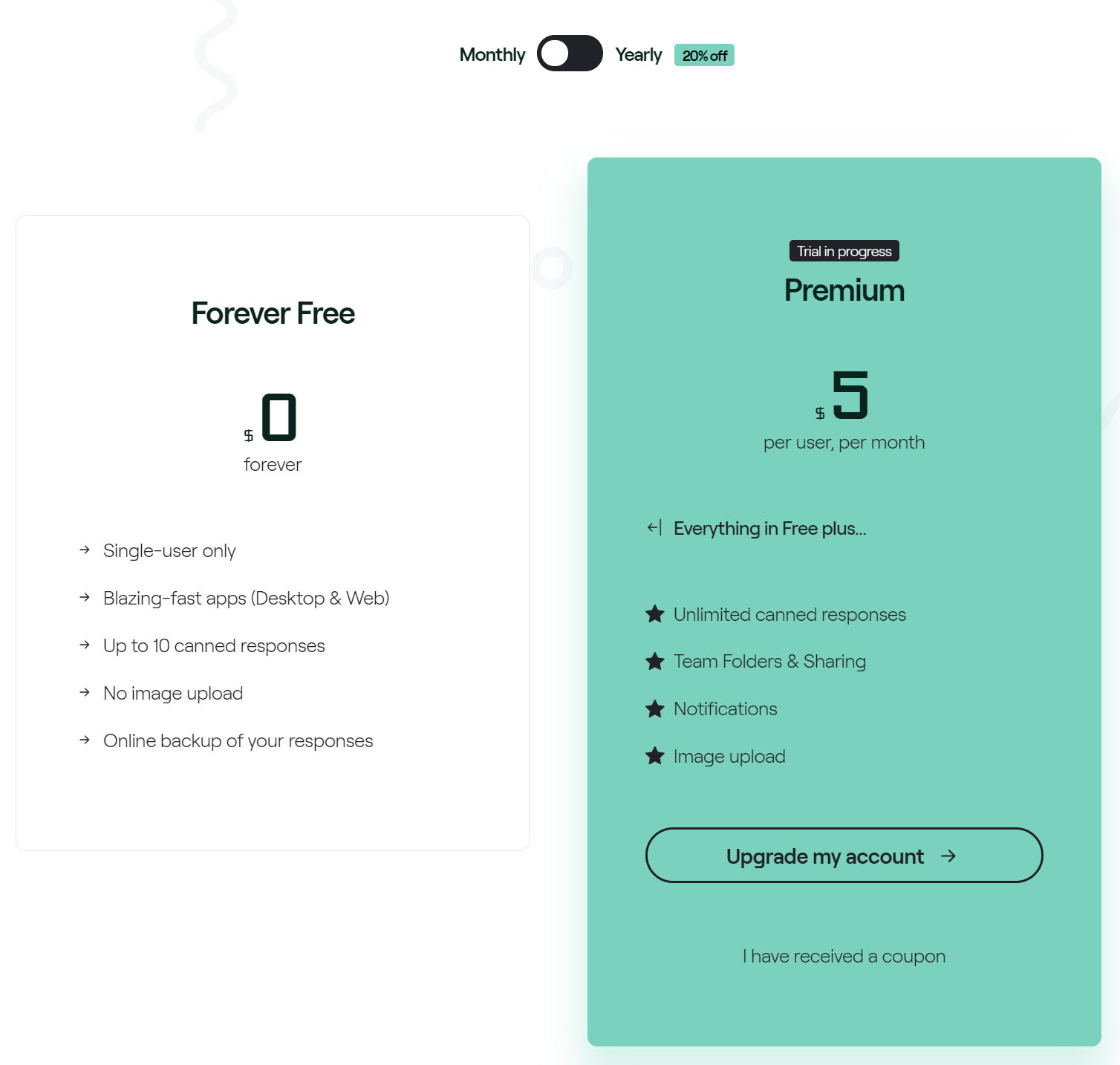 Typedesk software offers every user a free trial of 30 days for its premium plan. In the trial period, you are not asked to use a credit card. So, you can try Typedesk for free and decide for yourself whether it is worth an upgrade.
The Review
Typedesk
Typedesk is an incredible tool to help you speed up and optimize your conversation workflow across multiple streams using canned responses. Create one response and use it one multiple software such as Outlook, Gmail, Twitter by using quick shortcuts. Canned responses are very popular in live chat software. However, with Typedesk you can use the responses everywhere.
PROS
Typedesk speeds up repetitive tasks on daily operations
Typedesk is blazing fast and works instantly with no loading time
Keyboard-first approach
It saves a lot of time and makes you super productive
Canned responses are organised neatly with customization
Simple to set up and easy to use
CONS
Don't have the ability to add sub folders
Not enough template functions
Review Breakdown
Easy to use

0%

Brand Trust

0%

Features

0%

Value for money

0%

Compatibility

0%