KingSumo is a platform that helps you grow your email list by giveaways for virtual or physical products. By using KingSumo you can get leads at a fraction of the cost of Instagram influencers, Facebook Ads, and other marketing channels. Take the actions you want for bonus entries- visit your website, follow your social handles, and more. It is best for small businesses, and entrepreneurs who want to generate lots of new leads through viral giveaways.
KingSumo is a very easy-to-use platform. You will have your first giveaway set up in no time all you need to do is write a little about your giveaway and pick the number of winners which you want. You can giveaway products, virtual and physical goods, products from partners, a PDF, and so on. The joy actually starts when you start your giveaway live. When anyone enters a KingSumo giveaway, they can share the giveaway with their friends for 3 bonus entries which help them increase their chances of winning. And the more the chances to win will be the more they are willing to share.
KingSumo does wonders for a brand of any size and for business. You have spent hours of your time executing marketing plans, thousands of your money on ads, and a lot of energy in spreading your business. But you can bring your business into the spotlight easily by using KingSumo. It does wonders for brands and businesses of any size.
KingSumo Overview
KingSumo is a great giveaway tool for building your email list. It is really easy and simple to use and has excellent features making it stand out from the crowd. It includes automation functions as a clean user interface, reminder messages, lifetime pricing, high converting landing page and integrations, etc. It only supports a random selecting system of winners there are no functionalities such as cash reward, coupon codes, or point programs, etc.
KingSumo allows you to give more than one bonus entry for certain entries in a giveaway which includes referral bonuses, social shares, etc. It provides functionalities like zapier integration, remainder emails for multi-platform integration, etc. But the timing or anything related to the remainder of emails can't be edited. It helps you in growing an engaged audience for your business, blog, or website.
Features of KingSumo
No monthly Fees
KingSumo does not have monthly fees. You don't get charged monthly, weekly, or daily. You can just buy it once and get unlimited viral giveaways.
Grow your audience
KingSumo helps you to grow your audience massively by creating viral giveaways and announcements.
Create unlimited giveaways
KingSumo lets you create unlimited and amazing giveaways.
Set any kind of CTA
You can use any type of call-to-action to make your audience follow for greater chances of likes, clicks and shares.
Giveaway whatever you like
Using KingSumo you can host any type of giveaway you want. There are no restrictions.
Automatic reminders
Everyone including your followers and people interested will be reminded if it's just 24 hours left before the giveaway ends.
Create a record of the emails you receive
Every time you receive an email, a filled-up form or a message, KingSumo automatically collects the emails and then send it directly to your spreadsheet or ESP. Here, your leads or email grows.
Giveaway scheduling
In KingSumo you can also schedule the date and time for your giveaways to start and end accordingly.
Bonus Entries
Set your KingSumo giveaway to give bonus entry for additional actions.
Optimized by MIT Engineers
It is AB tested for maximum virility so it looks great even on smartphones.
How to use KingSumo?
In order to use KingSumo follow the following steps
Navigate to Dashboard, where you can manage all your running and old giveaways.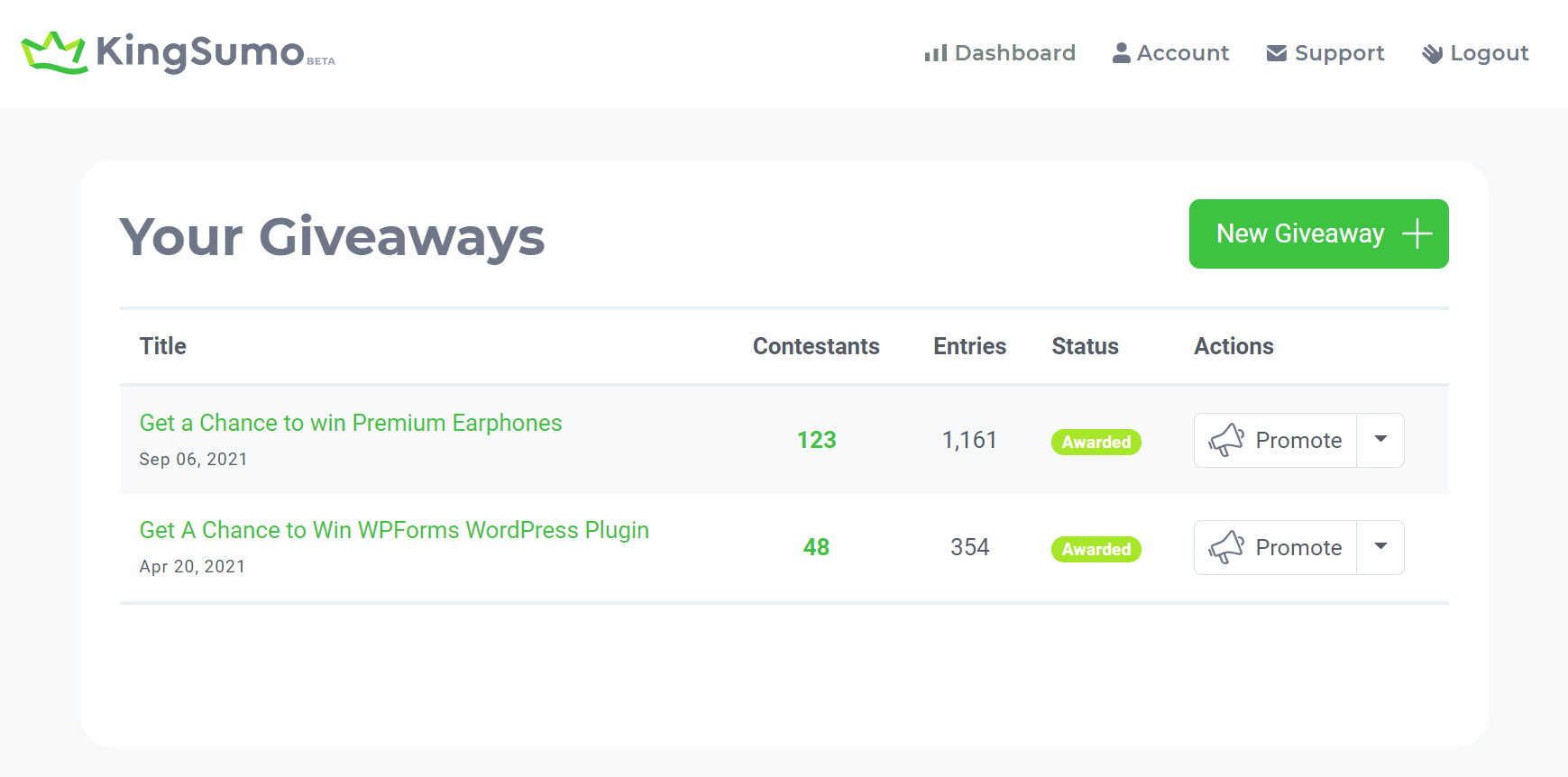 Now click on the New giveaway button to create a new giveaway, on this window you can find all the relevant details to fill for your giveaway. You can specify the attractive giveaway title, description, starting and ending date of giveaway, award date, number of winners, entity running the giveaway, any web url, prize name, prize value & prize image.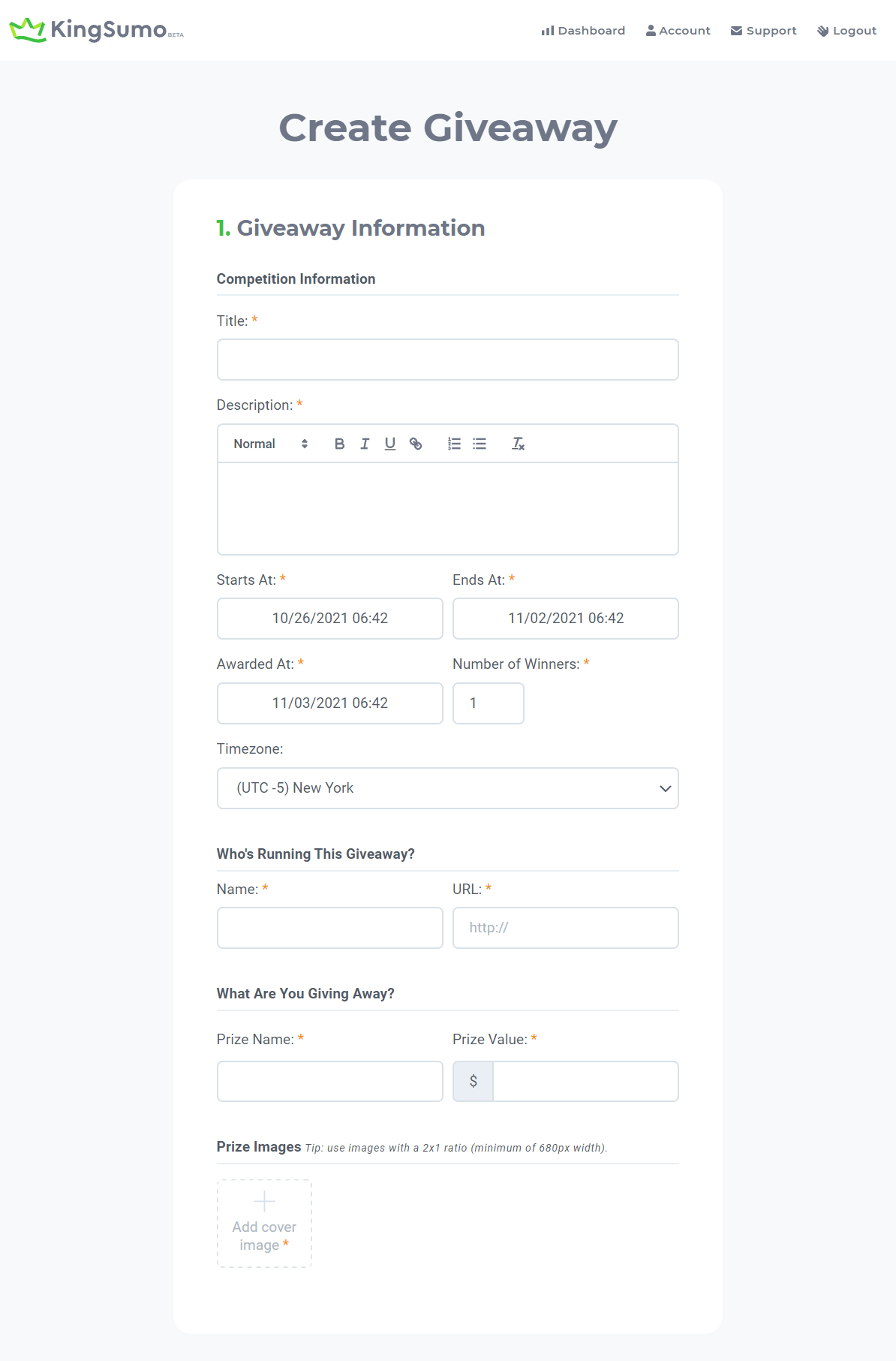 You can also share your giveaway on social media platforms, add bonus entries to get social media followers and subscribers, setup mailchimp integration to build email list and promote your giveaway on your website or social platforms.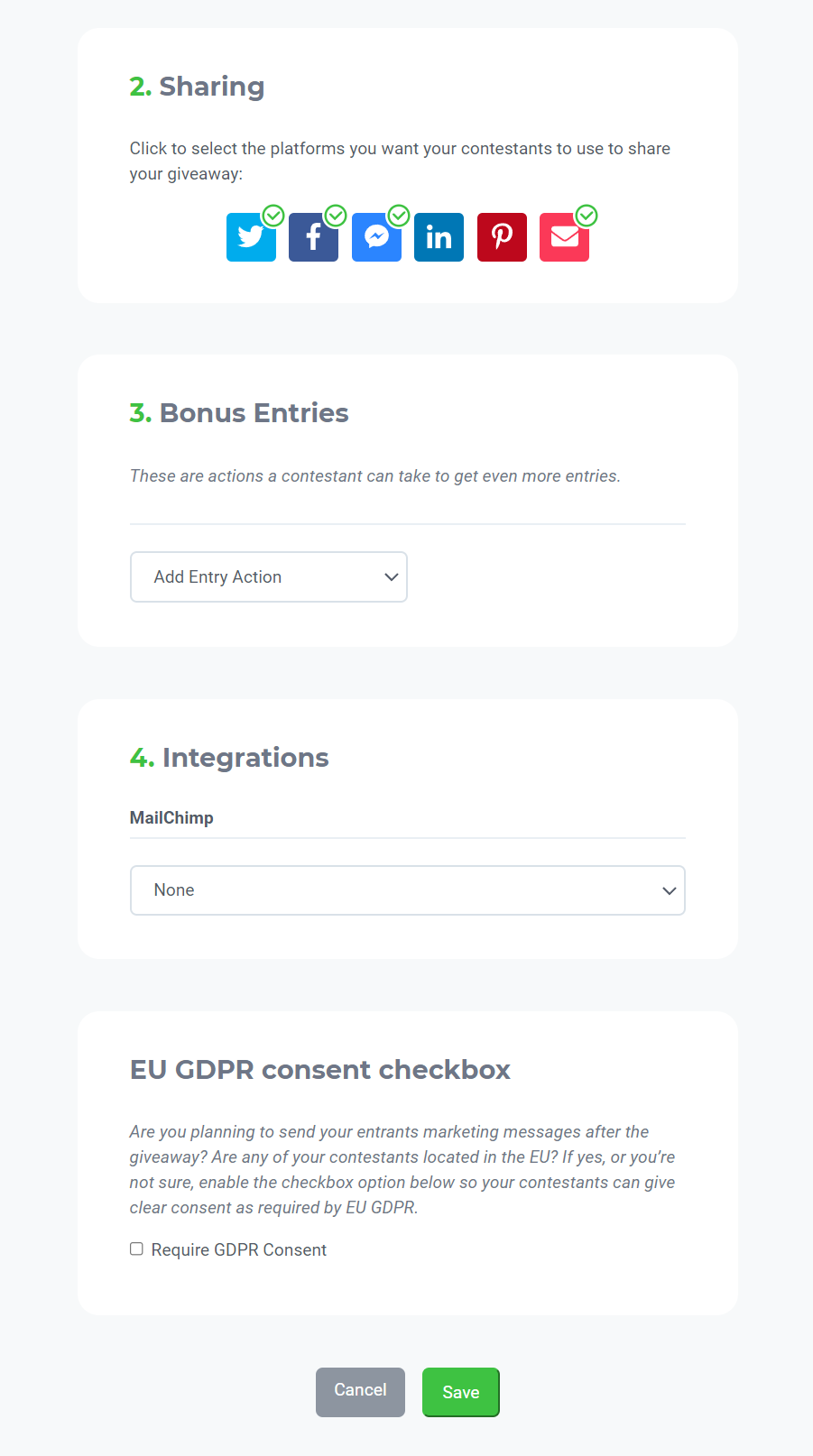 The above was the non-WordPress solution. You can however use Kingsumo on your WordPress website as well and embed giveaways on pages using the kingsumo plugin. You can head over to wordpress.kingsumo.com for getting information regarding the WordPress plugin of kingsumo.
It is easy to set up, create giveaways, and publish them on Web pages.
Alternatives to KingSumo
Gleam
Gleam is one of the most used Giveaways software used in the industry. It allows you to have many integrations and social media setups. With gleam, you can certainly have the most out of your giveaways. With the restrictions over time, you can no longer assure subscriptions and follow with gleam. However, then can visit the social profiles for extra entries. Even with a free account of gleam, you can create some sweat and simple giveaways for YouTube or other social media channels.
Kangaroo Rewards
1Kangaroo Rewards maximize customer relationships with not just transactions but with the Kangaroo Rewards loyalty marketing program. It is an entirely white-label solution, enabling businesses to engage customers through personalized offers and rewards, digital gift cards, custom omnichannel experience, automated marketing and branded app.
UpViral
UpViral is an all-in-one toolkit for viral growth. It boosts your sales with social rewards, sweepstakes, and evergreen viral marketing campaigns. You can also generate traffic, grow a list and convert subscribers into customers.
Tremendous
Tremendous is the easiest way to distribute digital incentives and rewards across the globe. It is a platform to instantly reward your recipients with prepaid Visa cards, gift cards, cash, and more. It is free to use and is the only platform that allows cash disbursements.
Outgrow
Outgrow allows you to acquire, qualify and engage leads by making it easy to build personalized calculators, quizzes, assessments, polls, recommendations and chatbots. In this no designers or developers are required.
Kingsumo FAQs
How much does KingSumo cost?
KingSumo pricing starts at $19 per month.
How is the winner of the giveaway selected?
KingSumo does not email the winner automatically so you have control over when and how you email the winner. Once the giveaway is over, you can click the "Ready to Award" button in KingSumo's dashboard and the system will randomly pick a lucky winner.
What kind of support options does KingSumo offer?
Kingsumo offers online Support.
What languages does KingSumo support in its product?
The language that KingSumo supports is English.
Can the email in the lifetime deal be changed?
Yes, you can change your email.
Pricing of KingSumo
Kingsumo WordPress Solution Pricing:
| | |
| --- | --- |
| Personal License | Developer License |
| $198 for Lifetime | $594 for Lifetime |
| 1 site license | Unlimited Sites |
| Unlimited Giveaways | Unlimited Giveaways |
| Free Updates | Free Updates |
| Customer Support | Customer Support |
| No Subscription Fees | No Subscription Fees |
Non-WordPress Solution:
Web App Pro
$49
One Time Charge
Unlimited Giveaways
Integrations
Upload Your Own Logo
Giveaway Translations
Facebook Pixel Tracking
Buy Now
What makes KingSumo stand out?
KingSumo is a very friendly and great tool for bloggers who want to increase engagement with their followers and readers. It is very easy to figure out from the very start to finish. It has a large social presence over social channels and is even the product of Appsumo itself. The software integrates with mail marketing platforms such as ConverKit, SendFox, Mailchimp, etc.
KingSumo is not just about inexpensive and automatic lead gen either. It also helps your prospects and entrants to take the actions that you want them to. You can program your giveaway to give bonus entries for additional actions taken by the entrant. KingSumo allows you to embed a widget or the full giveaway unit on any site. There are also automatic mid-giveaway and final 24-hours reminders to keep your entrants excited and keen for the price and encourage more and more sharing.
Pros and Cons of KingSumo
Pros-
⦁ Quick to set up.
⦁ Easy to use.
⦁ Automatic Reminders.
⦁ Automate your giveaways.
Cons-
⦁ No video tutorials.
⦁ Some features are only available with higher-paid plans.
The Review
Kingsumo
Kingsumo is a great tool to help you create giveaways on the go. With Kingsumo it is very easy to create shareable giveaways. You can allow users to have more entries by following on social media and you can get more followers and even build an email list. Kingsumo can also be used on WordPress sites however the license for the WordPress plugin differs from the web app.
PROS
Easy to Use Software to Create Giveaways
Quick to Set up
Automatic Reminders
Bonus Entries
Email List Building Option
Easy to run Effective Giveaways for Social media
Review Breakdown
Ease of Use

0%

Features

0%

Brand Trust

0%

Compatibility

0%

Integrations

0%

Value for Money

0%

UI/UX

0%