Writing great articles, social media posts, and emails is quite tough, and you don't wish to go viral with any bad grammar or embarrassing writing errors. To solve this, use Linguix to give your writings a boost. It is an Al-powered writing assistant that will do the job for you accurately.
Linguix is an amazing grammar checker tool that is available online. Its serves as a great alternative to Grammarly.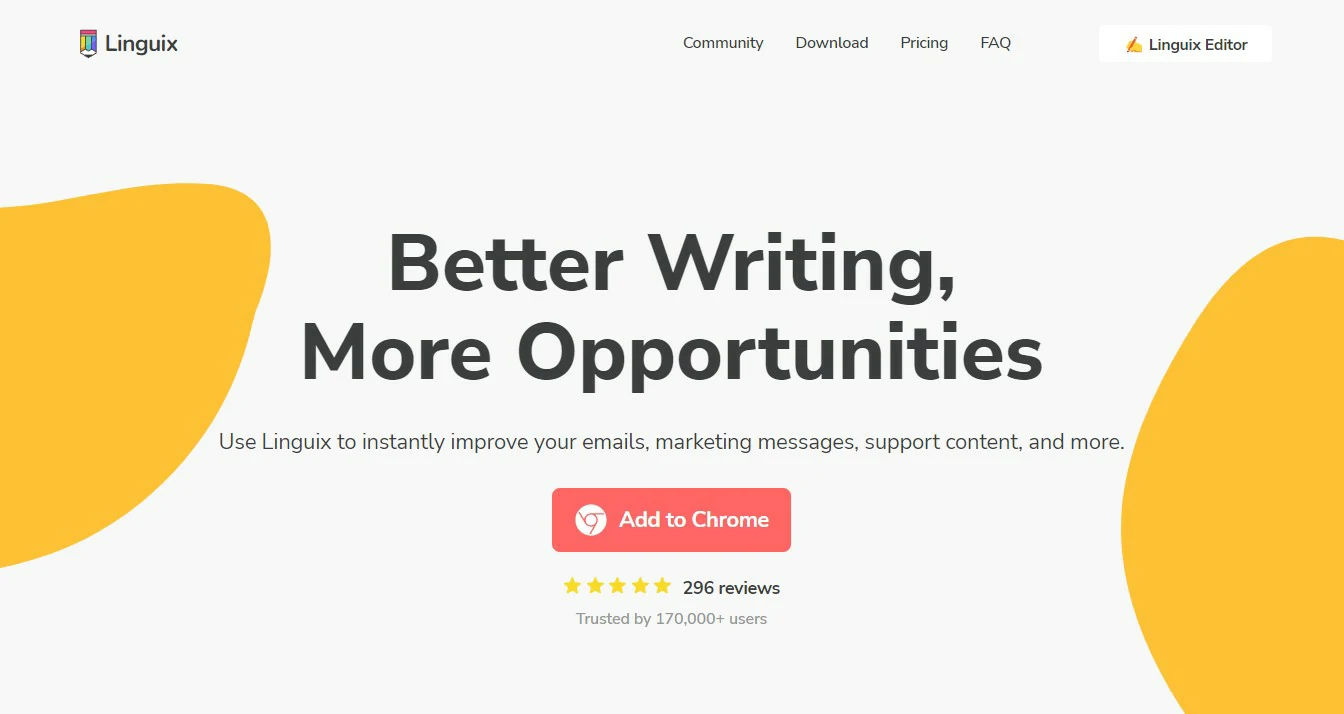 Linguix comes with a modern website that connects sleek visuals to user experience. Creating an account in Linguix is as easy as typing your email address along with the password. Once you have entered the details, Linguix questions you about the purpose of your writing, then you need to select a couple of areas before creating the content.
Features of Linguix
Built-in Vocabulary
Linguix understands that you can't always search for the right word for your content on the dictionaries or google as it is tiring work. So it has a built-in vocabulary feature that layout many words that can be used and made to fit in your content perfectly.
Access to viewers' specific statistics
Linguix permits you to get information about the Viewer's Specific Statistics to make you known for publishing the content for the targeted audience.
Integrations
Linguix allows integrations with many platforms. This ensures smooth working like Medium, WordPress, Gmail, Google Docs, and more.
Calculate writing score
Linguix lets you calculate your writing score. It has this amazing feature that performs the role of counting your words, reading time, final readability score, and average word length.
Examine Pre-Drafted Content
Linguix lets you check the content that was earlier drafted and figure out all the mistakes that you have committed unknowingly in the article. You just simply need to put your content and then analyze it.
Free Trial of Linguix
Linguix offers a14-day free trial. The trial is limited and you can't appreciate the checker's full capabilities until you take a monthly subscription.
With the free trial, you get introduced to only a limited number of service features. Essentially, these 14-days permit you to check out a typo a little here or there which only gives you an idea of how the system works.
Pricing of Linguix
Linguix provides you with a free trial on the premium plans. But to continue using the service you are required to choose any one of the available premium plans-
Free Plan– Free of charge
The free plan lets you do the basic punctuation and grammar checks, and spelling suggestions.
Premium Plan- Comes at $18.95 per month. And $8 per month annually.
In the premium plan, you get advanced and basic grammar and punctuation checks, integrations with millions of websites, spelling suggestions, vocabulary enhancement suggestions, access to the content templates library, synonym suggestions, and genre-specific writing style. That can be used by a single user.
Team Plan– At $20 per month per member and $10 per month when paid annually
The team plan includes everything that the premium plan has along with- style guides, an insights dashboard, advanced user-level statistics, and centralized billing and user management. This can be used by two or more users.
Business Plan
This includes everything that the other plans offer plus- On-premise installations and API for developers. Can be used by two or more users.
Pros and Cons of Linguix
Pros-
Very easy to use.
Great cleanliness of the interface as well as the document editor.
Works fast and accurately.
An outstanding substitute for Grammarly's editor.
The interface is intuitive and easy to understand.
The speed of suggestions is great.
Its secret mode protects anything that is autosaved and left in your account.
The snippet feature is great. It avoids the repetition of sentences or headlines.
Very easy to deploy.
User-friendly from installation to everyday grammar corrections.
It works in real-time to warn the users about the mistakes in their writings.
The template feature has provided you with a litany of useful templates.
It has a downloadable keyboard and works even on your phone. This can filter all your typing done on the phone.
Its handy synonym feature provides alternative words that reduce the chances of your writing sounding reductant.
Cons-
Extra payments have to be made to use the plagiarism checker. There is no included plagiarism checker in it.
Its free trial only checks punctuations and spelling.
The secret mode it offers lets you compose a document but it doesn't save your work.
Its editor interface lacks a lot of features
FAQs of Linguix
Is there a browser extension for Linguix?
Yes. Linguix allows you to install a browser extension that allows you to check your text anywhere you write when online.
The extension is non-intrusive yet powerful, it is very helpful when you have to write emails on Gmail or any other email service that is available online.
Does Linguix come free? Does Linguix offer a Free trial?
Yes, Linguix comes with a free version. It offers a trial period of 14 days for free. This free trial proves to be more than enough for you to learn and see how amazing the premium versions are.
Then you can select any of the available premium versions. And when it comes to checking the Plagiarism, you will be required to buy the credits separately.
Is using Linguix easy? Who can use Linguix?
Yes, Linguix is easy to use as it is quite straightforward. Linguix's dashboard, user interface, and browser extension are designed cleanly and minimally letting you focus just on the content.
Linguix is commonly used by businesses and professionals that wish to make sure that they are reaching their customers through the right messages.
Where can be Linguix deployed? What language does Linguix support?
Linguix can be deployed on SaaS, Web-based, Android (Mobile), iPad (Mobile), Mac (Desktop), iPhone (Mobile), and Windows (Desktop). Linguix supports- English.