Teachable is a platform that comes with the motive of "Sharing what you know" and therefore allows you to share your knowledge with others while making money. It is an all-in-one platform that will give you a way to create courses and coaching services but will also provide you with a platform from which you can earn money by selling courses.
Teachable can handle absolutely everything for you. This includes web hosting as well as payment processing. If you want to share your knowledge then it is the right kind of website for you. You can be at home, sell courses and earn automatically. Go through this Teachable Review and check all the details you require.
What is Teachable?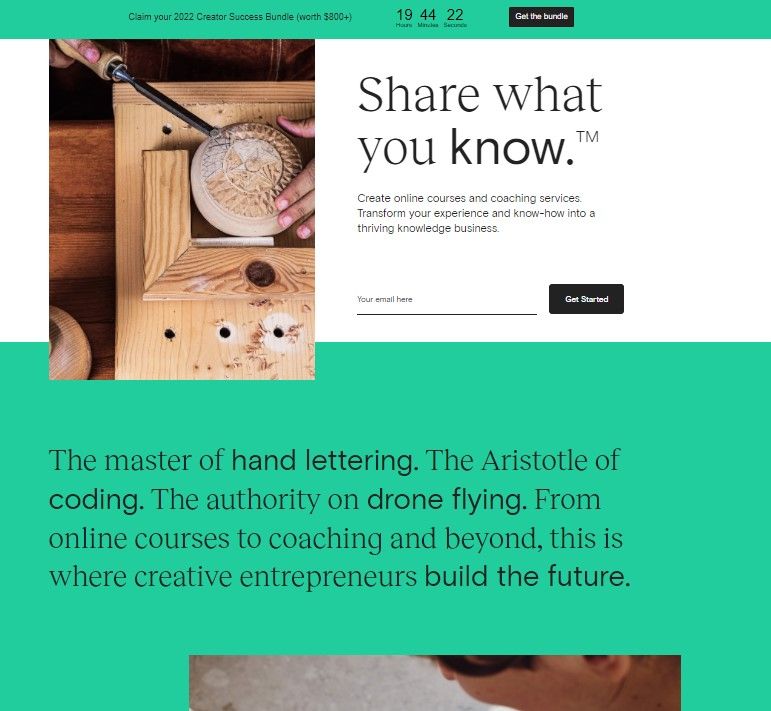 Teachable is an online platform through which you can sell online courses and earn money. It is a leading platform and is pretty much high in demand. Teachable aims to provide the world with a new possibility, where online course creation and gaining knowledge are easy and available for all. With Teachable you can build a video that includes audio as well as text-based courses. These will help you to monetize your knowledge and not only this but you can build on-demand products that will earn you good money. You can convert your know-how into a business that is profitable as well as easy to manage.
How does Teachable work?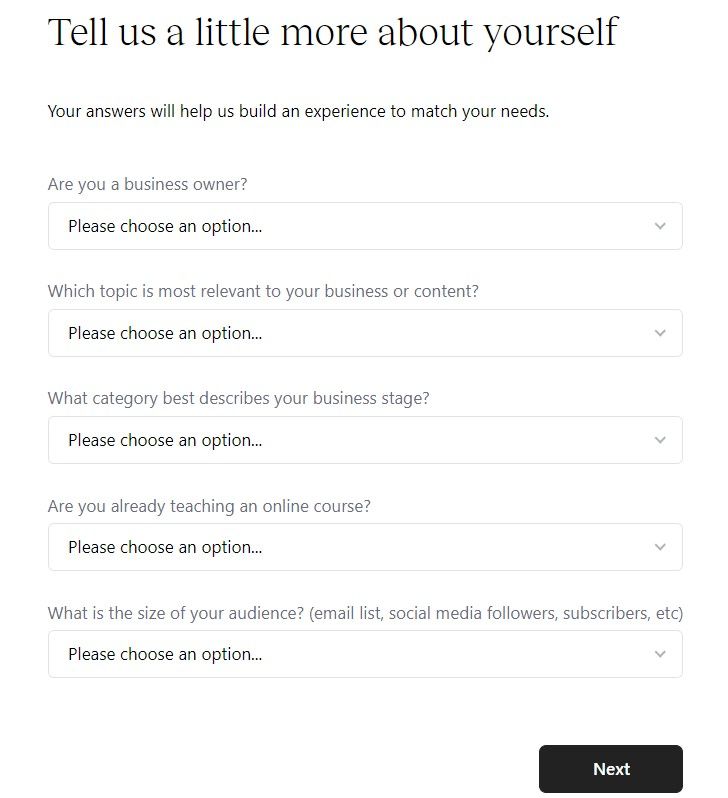 After getting started you will see a page like this. In this, you will have to fill up all the details that you want Teachable to know. Tell about whether you are a business owner, non-profit organization are just an explorer. Choose the topic of your content or courses which you will be selling. Tell teachable about the category that will best describe your business stage and whether you are teaching an online course already. You will even get to choose the size of your audience in Teachable. From beginning to email list, social media followers, subscribers, and whatnot. With this information, Teachable will organize and customize your dashboard accordingly.

After providing the information, you will see a dashboard on the left side of your screen. Here you will be able to check your sales from various courses, users that have to subscribe, emails, settings, and a lot more! Underneath the dashboard, the products heading includes bundle, coaching, and courses provided by you to edit and add. If you want to move onto a new plan or upgrade the old plan the dashboard includes that too.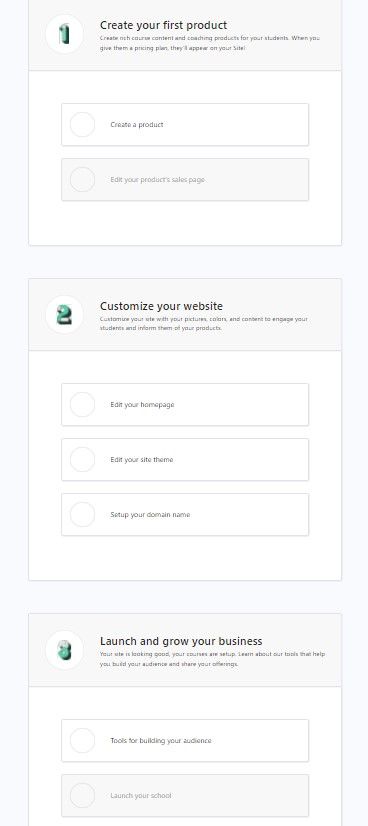 You can create a product and also edit your product's sales page. It can help you to create high-quality content and process amazing courses for your sales. The pricing plans will appear with the courses and will be shown to you as well. From editing your homepage, and site theme and also set up your domain name. After setting up your tools for reaching out to your audience and then you set to launch your school!
Features and Products of Teachable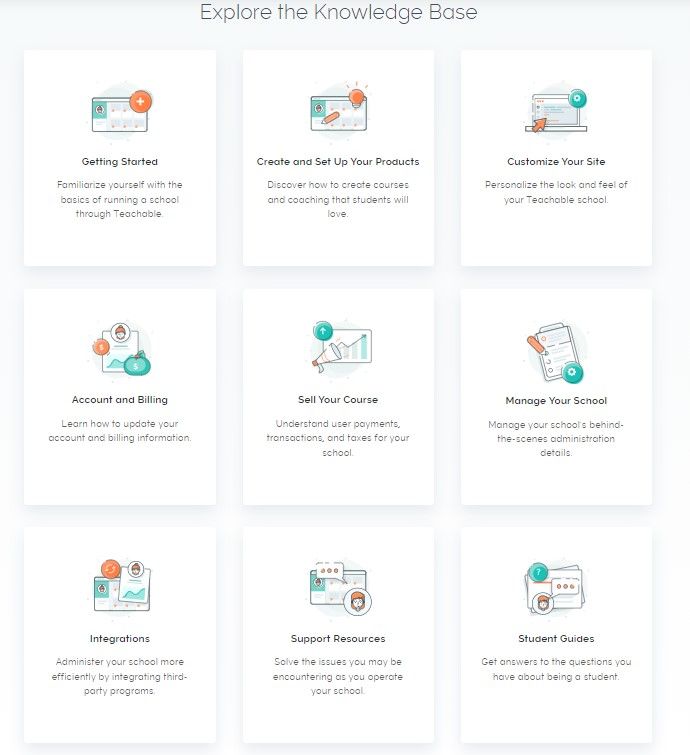 Teachable is easy to use and offers good reliability. You can grow your business with full security as well as surety of growth. Spreading knowledge is one the best to build a business, where you can provide the young generation with online courses, and guidance and also provide them with coaching services. These features to support and help you grow are as follows:
Customization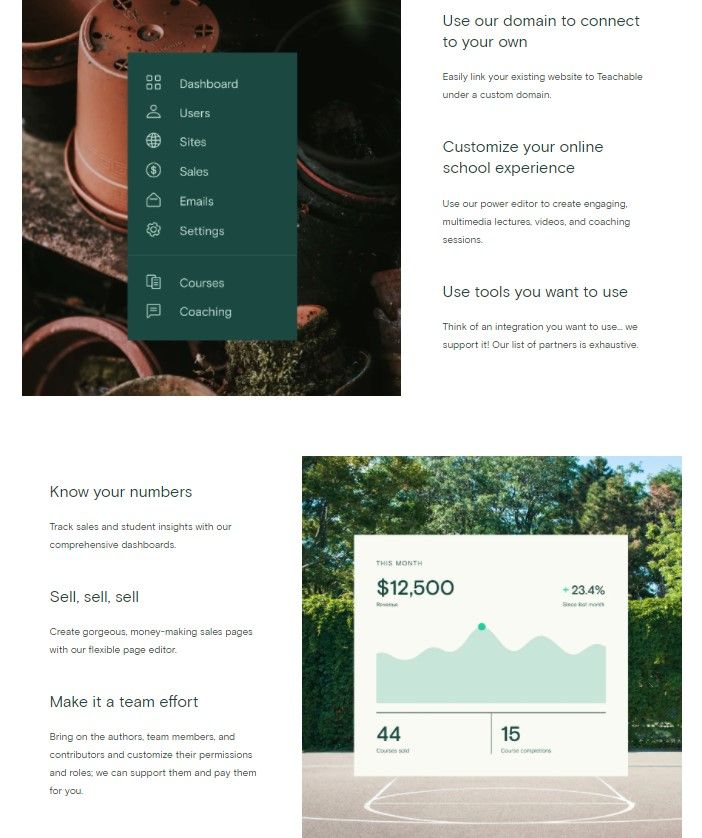 You can connect your domain to the domain of Teachable, this will give you easy linking and connectivity. Customization is easy as with Teachable you can also use its tools like power editor. This will help you to create engaging content, videos, coaching sessions, and also multimedia lectures. Teachable has an endless list of partners, you can think of any integrations and Teachable is here to support. Moreover, you also get to know what is the response to your lectures through student insight in the comprehensive dashboard. The best part about the Teachable customization feature is that you can bring your team members. You can customize their roles and permissions, Teachable pays them for you. The flexible page editor generates incredible sales!
Learning Tools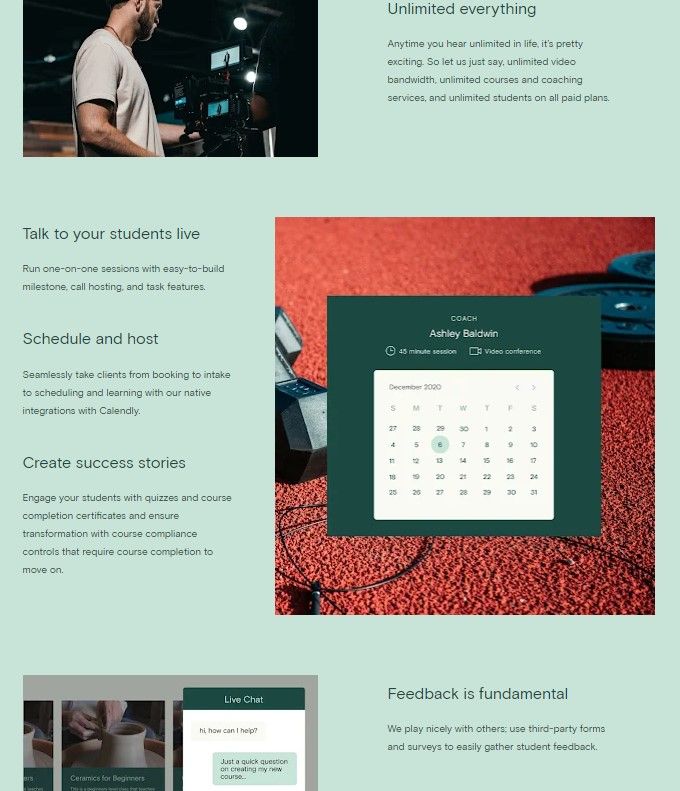 With learning tools, you get unlimited courses and coaching services to sell and generate income. Moreover, you also get unlimited students on all paid plans from Teachable! You can run one on sessions and give live lectures to your students. It has easy build milestones, task features as well as call hosting. It is easy to handle new as well as old clients with Teachable. Starting from Booking to intake scheduling and also learning, all can be done with the native integrations of Teachable with Calendly.
Giving lectures may be solely boring for students, with Teachable you can engage them in quizzes, course completion certification. Teachable also ensures course compliance controls that require course completion to move on. With surveys and forms, you can get student feedback after course completion. It gives you Easy integration with Zapier that will take the support service of Teachable to another level with Zendesk, Olark, Intercom, and a lot more!
Monetization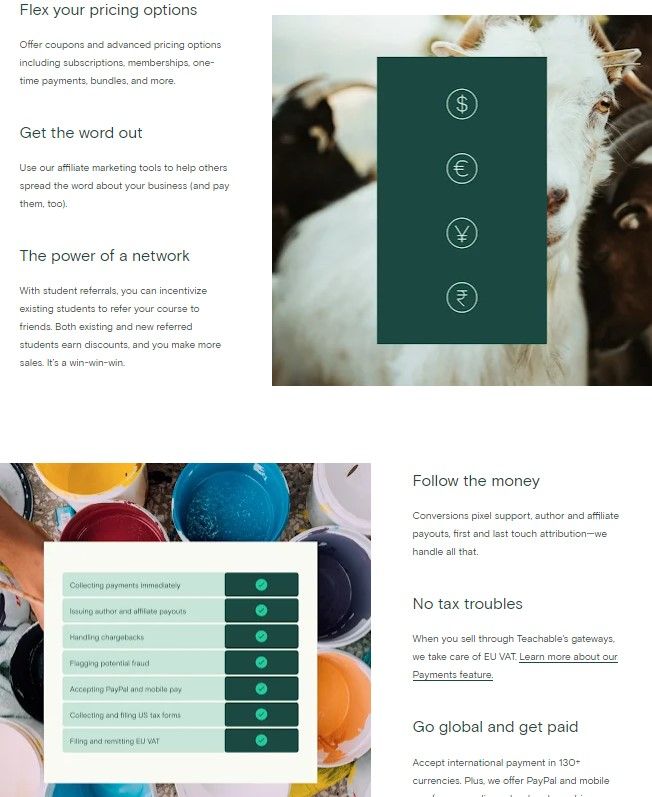 You get flexible payment modes with Teachable. It includes coupons and various advanced payment modes. These include subscriptions, one-time payments, bundles as well as memberships. You can even grow your business by letting others know about it. The affiliated market tools provided by Teachable will help you to do so. Incentivizing previous students to refer your course to others can be a good way to promote your business.
Earning discounts for students will be encouraging and will lead you to more sales. All can be handled by Teachable starting from Pixel support, affiliate payouts, last touch attributions, and also authors. The best part is you can go worldwide, and accept payments while selling your courses to 130+ currencies. Moreover, Teachable offers PayPal and Mobile Pay for your online coaching service.
Hosting and Security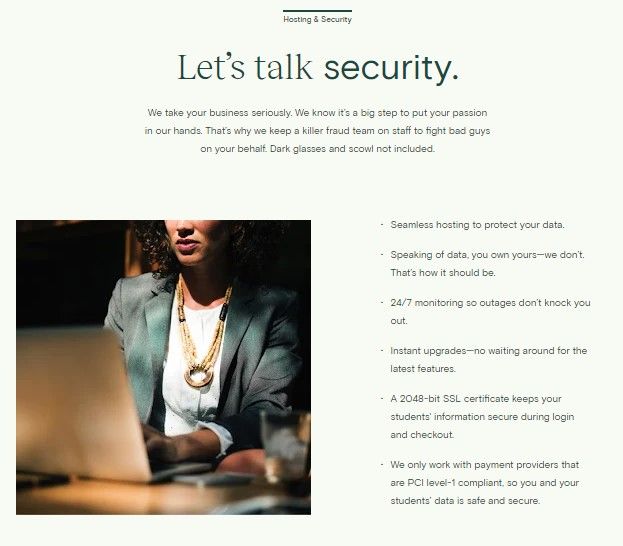 The hosting and security of Teachable will give your data 100% protection. Moreover, your sold course is yours, Teachable is just a medium to convey. It provides you with 24*7 monitoring. It has instant upgrades, so you do not have to wait for new features. Moreover, about payment security, it is fully secure. The payments accepted are only from PCI level one compliant, so Teachable is secure for the session provider and the students.
Pros of Teachable
Easy to set up and manage
Affordable
All features are available at an affordable price
Smooth processing of discount plans
Customer support is easy to reach out
Customizable, with various fonts, styles, and everything
Includes a free plan and various other plans
Provides the ability to create unlimited courses
Cons of Teachable
There is a transaction fee on all plans although other than this, Teachable is a perfect platform for any team or an individual.
Alternatives for Teachable
Thikific
Thinkific is a great alternative to Teachable. It provides you with a platform to not only create but also market and sell your online courses. Even the membership sites can be sold on Thinkific. It looks out to what is the need of a new online learner and an individual who wants to earn by selling or more specifically teaching. It is similar to Teachable as it is an all-in-one platform built for both audience and course creators.
Kajabi
identify your audience.
Drive them to your site.
Entice them with a solution to their problems.
Nurture the relationship.
Persuade them to invest their time and money.
Get repeat sales.
With Kajabi you can identify your audience and drive them to your site. You can provide them with a single solution to all their issues. It will create a relationship between teacher and student even online. This will increase your sales and help you to target more audiences. Kajabi is a good alternative against Teachable and works well.
Podia
Although Podia is cheaper when compared to Teachable, it does not offer a lot like Teachable. It has limited courses to create. Podia is an easier site to navigate and provides full intuitive content to its users. It is friendly and less complex. It offers a simple monthly fee for all courses and has a much more simple pricing plan.
Udemy
Udemy is a good alternative but Teachable wins against it. It provides absolutely complete customization options to its users on Udemy. It has a wide variety of templates to choose from. Udemy is a legitimate company and provides you will various courses at simple pricing. However, it does not offer discounts or host sales but the instructors offer coupons in order to increase sales.
Learn Dash
LearnDash provides you with automated notifications and automatically triggers emails. It provides you with badges and certification after completion of courses. You can easily discuss forums, course points, leaderboards, and various assignments.
Plans and Pricing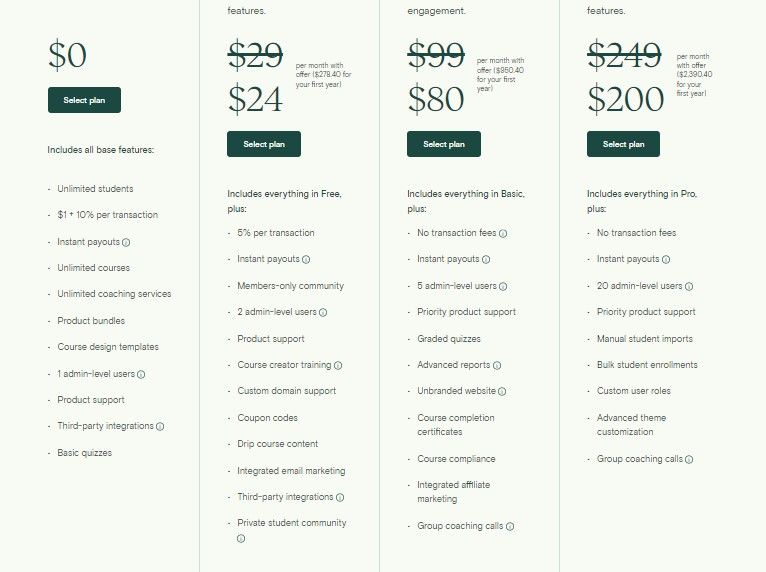 Starting as free, Teachable provides its users with four different plans and features included in it. It is up to you, what you require. Grow and subscribe to the plan with the increment in your growth. These include:
Free: $0
Unlimited students
$1 + 10% per transaction
Instant payouts Apply if you set up Teachable Payments
Unlimited courses
Unlimited coaching services
Product bundles
Course design templates
1 admin-level user Admin users include primary owners, owners, and authors.
Product support
Third-party integrations Include Google Analytics, Sumo, and Segment
Basic quizzes
Basic: $24
All features of the Free Plan included
5% per transaction
Instant payouts Apply if you set up Teachable Payments. If on Monthly Payment Gateway, receive PayPal deposits once a month with a 30-day delay
Members-only community
2 admin-level users Admin users include primary owners, owners, and authors.
Product support
Course creator training Access to training courses in teachable:u
Custom domain support
Coupon codes
Drip course content
Integrated email marketing
Third-party integrations Include Facebook, Google Analytics, Sumo, Segment, Mailchimp, ConvertKit, Zapier Triggers, and Circle.so
Private student community
Pro: $80
All features of the Basic Plan include
No transaction fees Transactions processed by the Monthly Payment Gateway for schools that were created before 10/9/18 will be subject to a 2% transaction fee.
Instant payouts Apply if you set up Teachable Payments or a custom payment gateway. If on Monthly Payment Gateway, or non-custom PayPal gateway, receive PayPal deposits once a month with a 30-day delay
5 admin-level users Admin users include primary owners, owners, and authors.
Priority product support
Graded quizzes
Advanced reports On courses, students, videos, and upsells
Unbranded website Please note that secure URLs (e.g. login and checkout pages) and myTeachable (including the mobile app) are exceptions where there will be some indications that Teachable is powering the site.
Course completion certificates
Course compliance
Integrated affiliate marketing
Group coaching calls
Business: $200
All features of the Pro Plan included
No transaction fees
Instant payouts Apply if you set up Teachable Payments or a custom payment gateway. If on Monthly Payment Gateway, or non-custom PayPal gateway, receive PayPal deposits once a month with a 30-day delay
20 admin-level users Admin users include primary owners, owners, and authors. For more than 20 admins, contact Sales.
Priority product support
Manual student imports
Bulk student enrollments
Custom user roles
Advanced theme customization
Group coaching calls
Teachable FAQs
How many students can you have on Teachable?
School owners on any paid plan can manually add up to five students at a time.
Do you own your content on Teachable?
Content that You upload to the Platform is and remains Your content. Teachable does not claim any intellectual property rights over the materials You upload to the Teachable Platform by virtue of Your use of Teachable Services.
Does Teachable have discussion boards?
There is a discussion forum feature within Teachable which may be a more suitable place for discussion. Only enable discussion if you will have the time to moderate those discussions in a timely manner!
What is a Teachable account?
Teachable Accounts – Teachable Accounts are centralized accounts that allow you to log in to any Teachable-Accounts-enabled school using the same credentials. You can use a singular Teachable account to enroll in as many courses as you'd like and be able to access them from your Teachable Accounts login page.
The crux of the Post
Here at the end of this Teachable Review, you have a detailed explanation of features that will benefit you to start your coaching services online. Teachable is an amazing platform if you are low at investing and yet want your business to start selling courses. It will help you to gain students and will increase your sales. All you require is knowledge and passion to teach, rest is taken care of by Teachable. Let us know about your sales growth and views in the comment section.
The Review
Teachable
Teachable is one of the leading platforms when it comes to online course selling. It offers you the features that can help you to sell courses and your students learn new skills. It is the best way to monetize your skills. It is a very affordable and risk-free solution for your online course selling journey.
PROS
Easy to set up and manage
All features are available at an affordable price
Smooth processing of discount plans
Customisable, with various fonts, styles, and everything
Provides the ability to create unlimited courses
Customer support is at its best
Review Breakdown
Easy to Use

0%

Features

0%

Support

0%

Brand Trust

0%

Value for Money

0%