Smartproxy is a fantastic platform that delivers a high-quality proxy. Smartproxy "Search Engine Proxies" allows hassle-free Google scraping and its X Browser generates differently unique profiles to reduce any chance of captchas or IP bans. One thing that makes Smartproxy a perfect choice is that even if you have your preferred SEO, scrapers, or proxy managers, there is no problem. Smartproxy works with all of them. It has an integration page that allows users to set up guides for Octoparse, Jarvee, ScrapeBox, Apify, NikeSlayer, Follow Like, and many more. It also provides some custom apps to help you get even more from your proxies.
Smartproxy has a vast proxy pool of about 40 million proxies using users to gather data from the web quickly. Its pricing is based on the bandwidth that enables you to use an unlimited of threads, connections, and countries at once. It delivers its users access to fast and secure servers that are located all over the globe with many locations to choose from and both data center proxies and residential proxies. Smartproxy is a premium proxy provider that has a pool of over 10 million IP addresses that confirms that you don't have to be worried about any blacklisting or IP bans. It is a perfect choice for scraping professionals.
List of Best Alternatives to Smartproxy
Smarproxy is a vast proxy network, and it has a convenient library of management apps that delivers everything you require for most of the applications still it is not the most powerful or cheapest proxy network service available in the market, so we have made a list of some of the best alternatives to Smartproxy to make sure that you choose the right one.
Bright Data
Soax
Oxylabs Proxies
NetNut Proxy Network
GeoSurf
NordVPN Proxy
Bright Data is a very strong proxy network service in the market. It is a great alternative to SmartProxy. Bright Data outsources the data collection efforts of its users and gets them the online data that they require letting them focus on the main business and build excellent analytical solutions for their customers. It has a real-time network performance dashboard, provides global support at all hours of the day, gives tailored solutions to meet the user's data collection goals, and above all one thing that makes it perfectly outstanding is new features are added every day it to make it meet the demands of the users.
Features of Bright Data
Datasets for snapshots of the entire website.
Automate and streamline data collection.
Get real user search results using the search engine crawler.
Pricing of Bright Data
Bright Data offers various pricing plans. The pricing starts from $300 per month for the Experimenting plan and it is followed by the Starter plan at $500 per month, Production plan at $1,000 per month, Plus plan at $3,000 per month, and Enterprise plan that lets you customize a monthly plan as per your requirements.
Why choose Bright Data?
Best success rates
Proxies are stable at any scale
72+ unique IP addresses
Global coverage and 24/7 professional support
Soax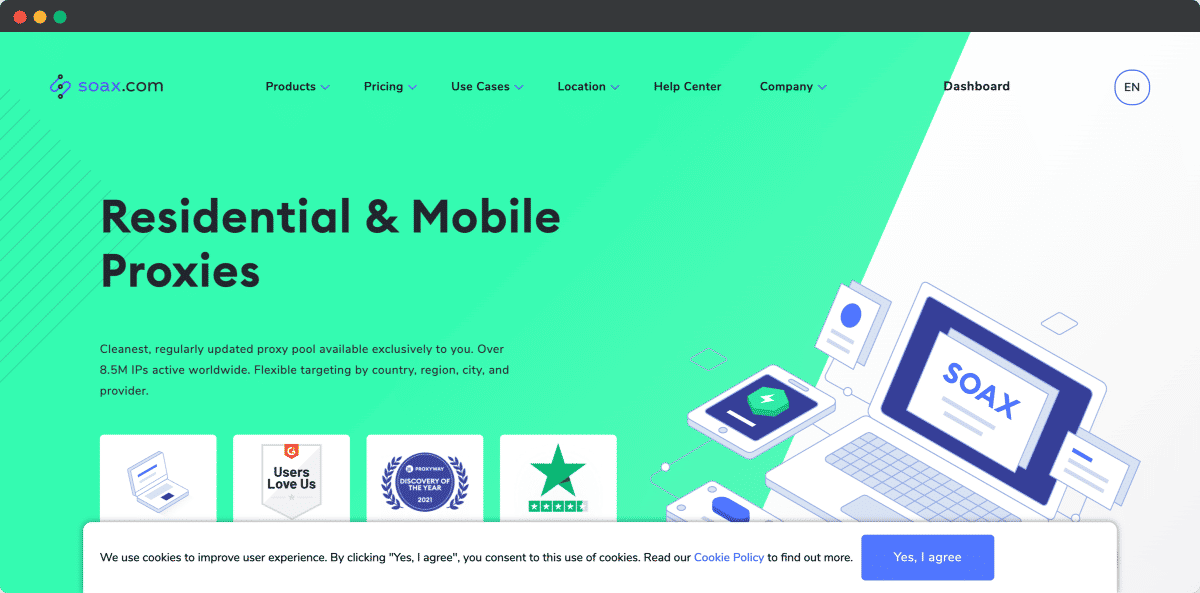 Soax is a fantastic alternative to Smartproxy. It is a mobile, residential, and backconnect proxy network service that has the cleanest and regularly updated proxy pool. It helps the team with competition intelligence, SERP, SEO, and web data scraping analysis. Soax has a very flexible rotation, stable proxy network, responsive customer support, and several precise targeting options.
Features of Soax
Highly reliable mobile proxies let you easily collect any data and never get blocked.
Flexible and high-speed data center proxies.
Filter proxies by city, country, region, or internet service providers in the dashboard.
Price Monitoring to analyze pricing policies and e-commerce websites.
Pricing of Soax
Soax has several different pricing plans. Its first plan is the Starter Wifi plan that comes at $99 per month and the Pro Wifi follows it at $300 per month, Plus Wifi at $500 per month, Regular Wifi at $700 per month, Starter Mobile at $99 per month, Pro Mobile at $300 per month, Plus Mobile at $500 per month and Regular Mobile at $700 per month.
Why choose Soax?
Great and high-speed performance
Detailed Geo-targeting
Real-time proxy connections
Oxylabs Proxies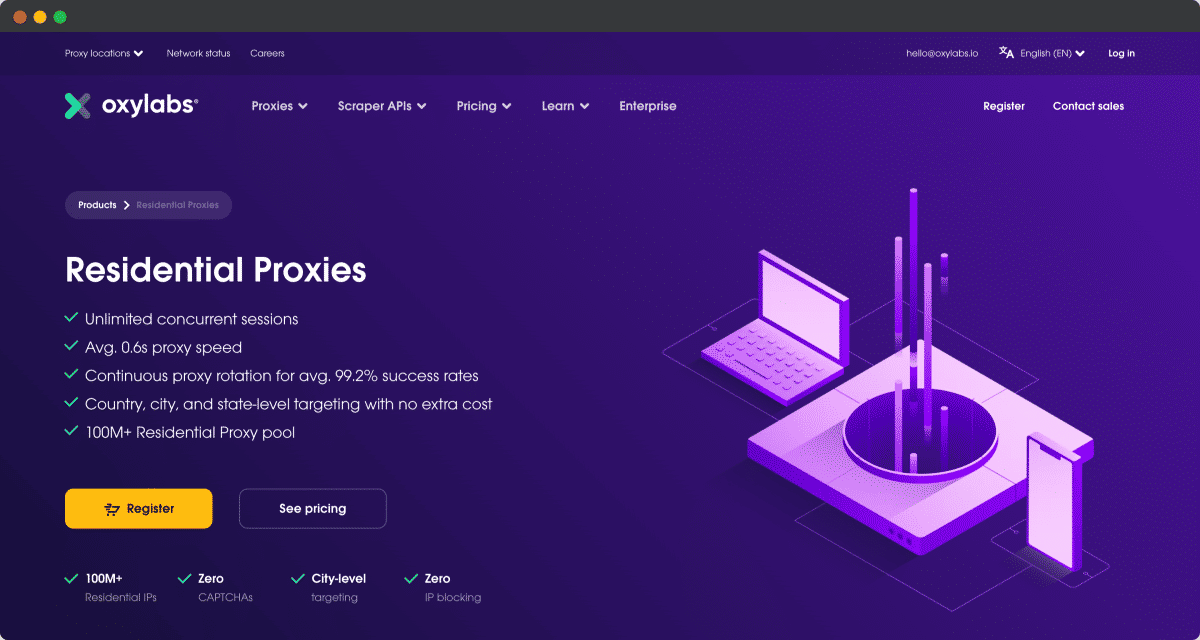 Oxylabs is a robust proxy provider network in the market. It is a solid alternative to Smartproxy as it allows you to gather data at any scale with its market-leading proxy solutions. They provide the best-performing proxies in the market by making sure that their professional team is working 24/7 with a stable proxy pool.
Features of Oxylabs Proxies
Self-service dashboard of Oxylabs to easily purchase proxy plans
Scraper APIs to gather large-scale data easily
Cybersecurity
Pricing of Oxylabs Proxies
Oxylabs has various types of pricing plans. The pricing starts from $180 per month for the Data Center Proxies and it is followed by the Residential Proxies at $300 per month and Real-Time Crawler at $350 per month.
Why choose Oxylabs Proxies?
Best scaping solutions are available.
The proxy pool is continuously growing.
Great support team.
NetNut Proxy Network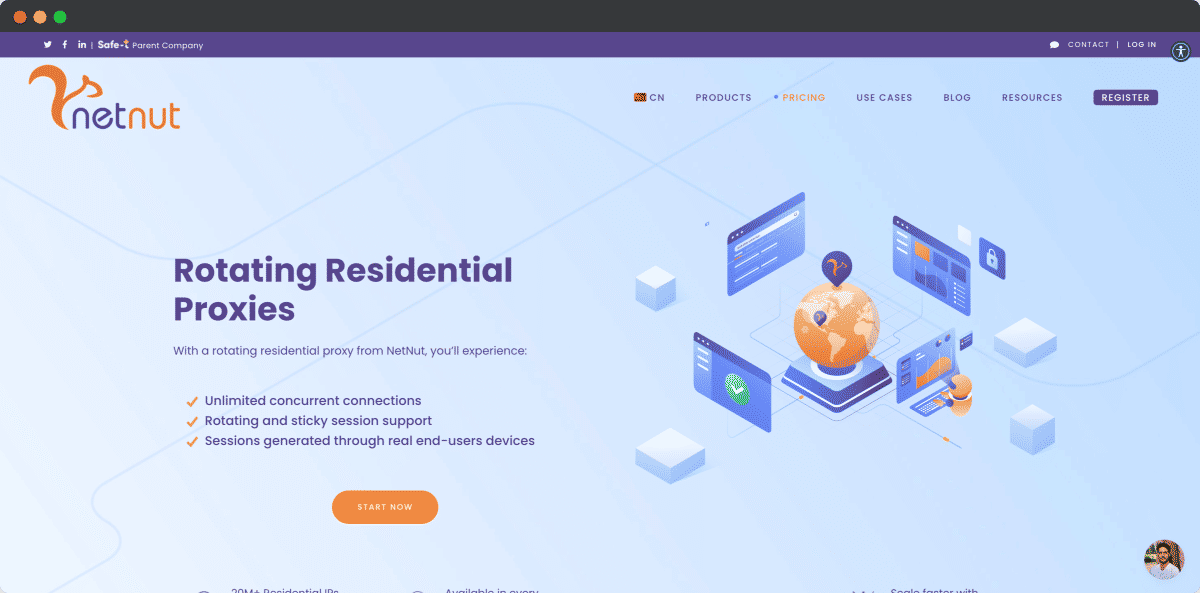 NetNut Proxy Network is a unique type of proxy service as mostly all the other proxy providers use a peer-to-peer network and it uses a position and location of DiViNetworks existing data management and delivery solutions. NetNut Proxy Network has made web data extraction limitless. It is one of the fastest residential proxy networks that unlocks the web.
Features of NetNut Proxy Network
Geo-targeting support
Notification by email when you reach 90% of your package.
Pricing of NetNut Proxy Network
The pricing plans of NetNut proxy are based on the bandwidth. It starts from $300 per month in the Custom plan followed by the Entrepreneur plan at $475 per month, Professional plan at $700 per month, Professional plus $2,250 per month, Master plan at $1,250 per month, Master plus plan at custom pricing, Plus (request based) at $7,500 per month, Pro(request based) at $12,500 per month and the Enterprise(request based) at $25,000 per month.
Why choose NetNut Proxy Network?
Gives a 7-day free trial and has a cheaper pricing model.
There is a dynamic P2P in addition to the ISP proxy network that boosts the connectivity.
Supports- Premium, Static, and Residential IPs
GeoSurf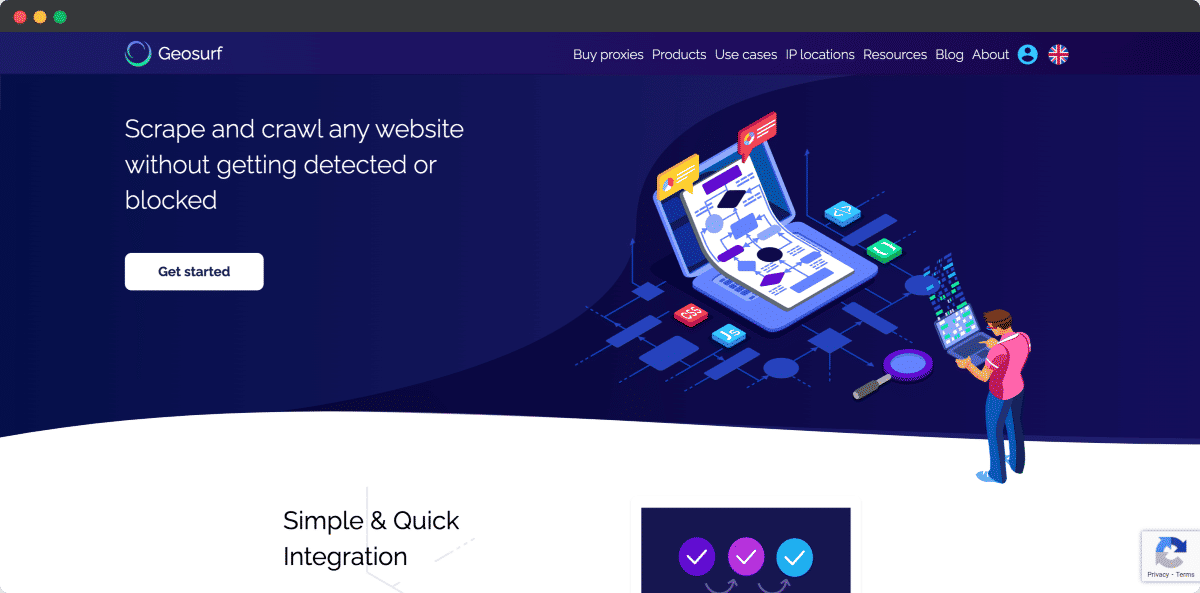 GeoSurf is another excellent alternative to Smartproxy. It is a proxy service provider that works as a toolbar. In it, the residential IPs proxies are used along with a proxy network. It is a product that surely boosts reliability and speed. Using Geosurf you can crawl and scrape any website without getting blocked and detected. It is a residential IP proxy server that offers residential proxies at decent pricing and covers most of the needs of the users.
Features of GeoSurf
Automatic Bandwidth optimization lets them achieve a fast speed.
Keep a section longer than usual using its Sticky IP Gateway.
Change the IP address constantly using Hight rotation IP.
Pricing of GeoSurf
GeoSurf comes with three plans- Starter, Plus, and Professional.
Why choose Geosurf?
Easy to use with great speed and performance.
Unlimited bandwidth
User-friendly dashboard
NordVPN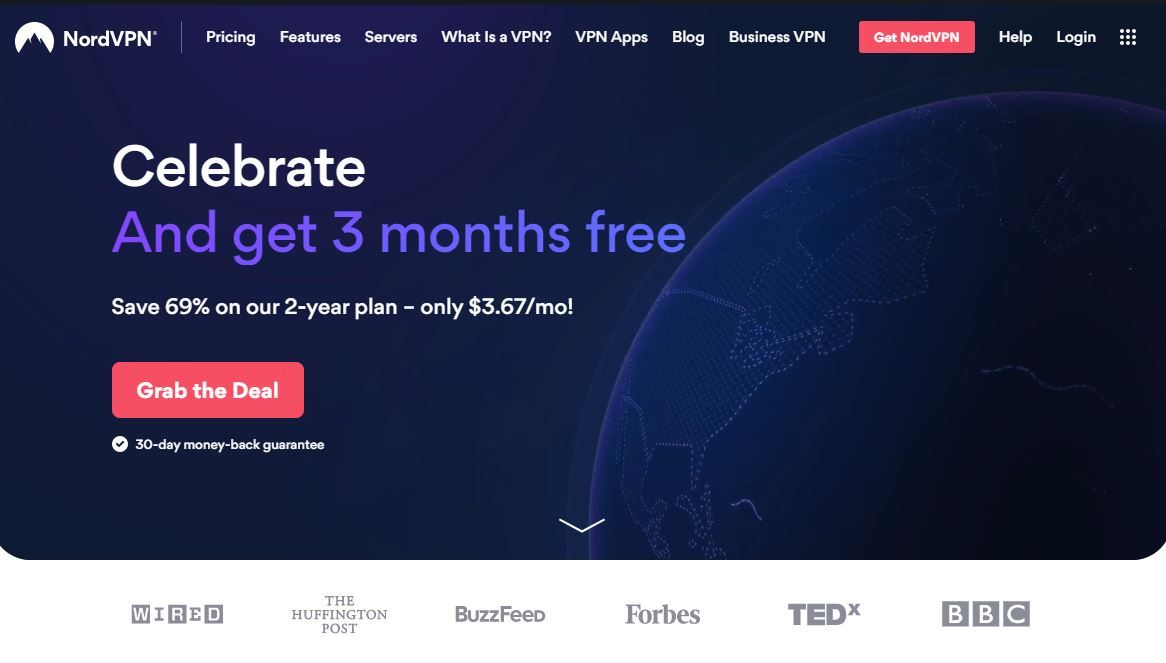 NordVPN is a top-rated VPN, a product of the company Nord Security. It does everything that a proxy website does and even much more. It protects your data traffic by using AES-256 solid encryption and shields your IP addresses. Using NordVPN, you can quickly expand your online world privately and securely as it provides an encrypted tunnel for online traffic, making it flow smoothly. Proxies only reroute the traffic from a single app and never encrypt the traffic while VPN encrypts the traffic. VPNs are faster than proxies they encrypt connectives even on public Wi-Fi while proxies just hide the IP addresses.
Features of NordVPN
Allows connecting with up to 6 devices at the same time.
Global coverage with a huge server of 5,234.
Automatic kill switches block the device and protect it from insecure internet.
Pricing of NordVPN
The subscription plan of NordVPN starts from $79 for a commitment of 2-years.
Why choose NordVPN?
Great customer support.
Offers a money-back guarantee of 30-days.
Strong encryption.
The Synopsis of the article
Smartproxy provides a secure, fast, and anonymous proxy network that surely can serve all your purpose. But Smartproxy is not the only proxy provider in the market many others can maybe meet your needs pretty much better than Smartproxy can. To make sure you pick the right proxy network we have mentioned above some of the best alternatives to Smartproxy. Proxies in general are networks that connect two devices on a network. Some of the above-mentioned proxy providers deliver good-quality proxies and have unlimited bandwidth and all of them have a very user-friendly dashboard. So, it's on you to choose the proxy network service that fits perfectly to your needs.