Ever wondered what could possibly be the best VPN service out there? That isn't only good with its servers, privacy but affordability and utility? Since the world is an ever-evolving place that is growing into a massive spider web because of spontaneous connectivity and internet use, the term 'global village' comes to play here. In order to make that web experience feel safer and good to you, a few amazing braines came together and formed a secure platform for people to use the internet that isn't going to track everything you do. This is where a VPN comes into play and when it comes to VPN use, the first name that pops up in any internet user's head is NordVPN. Why you may wonder? Well, don't worry because that's exactly what we are here for.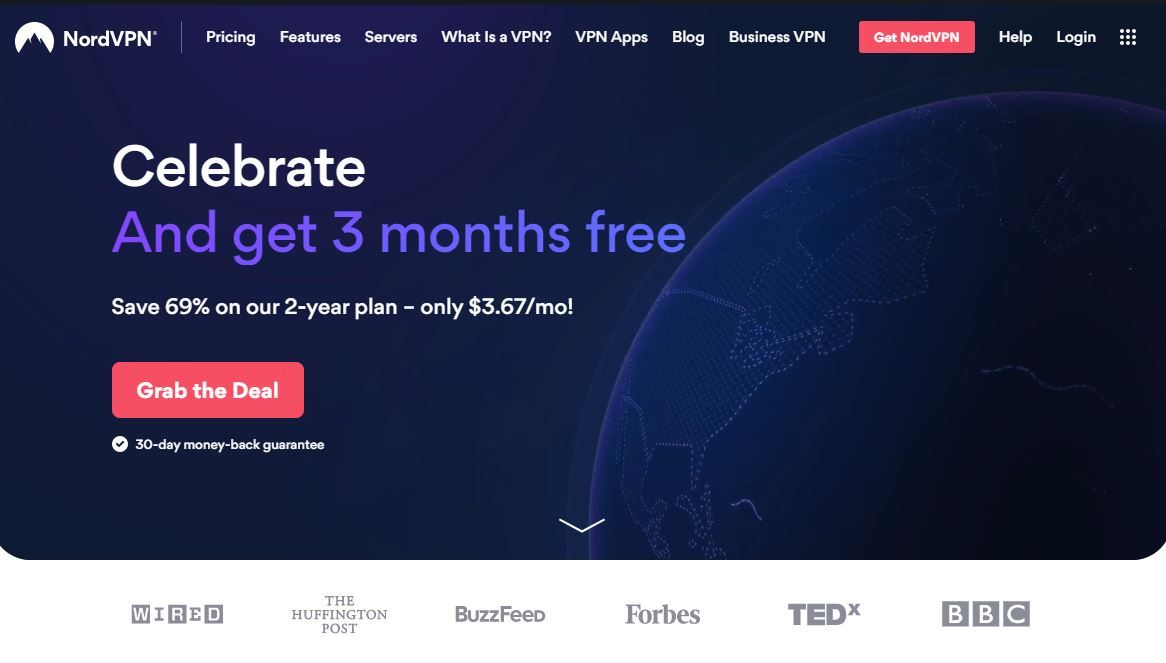 NordVPN is known as the leading VPN service provider. This is due to Nord's continued efforts in promoting their service on popular social media such as YouTube. Chances are, you've come across a NordVPN video in 2018. It was also considered the leading VPN in 2019 because of its amazing services and customer care. Nord was also one of the first VPNs to offer dedicated IP addresses. NordVPN offers many payment options such as PayPal, Bitcoin, credit cards, and more with Nord's 30-day money-back guarantee. Nord is very transparent about its policies which are easy to read on Nord's website under their "legal" page. In this NordVPN review, you will see why you should consider using NordVPN. Let's get into the details now.
What is NordVPN?
Nord is a VPN service from Panama and NordVPN has been operating since 2008. Nord offers over 5000 servers which are located in 61 countries including Australia, New Zealand, China, Hong Kong, Japan, Russia, etc… Nord also offers 6 simultaneous connections which means you can use NordVPN on six different devices at the same time!
NordVPN also offers a plethora of VPN protocols which include OpenVPN, PPTP, L2TP, and IPSec among others. Nord also offers many servers optimized for P2P/torrenting which are part of Nord's "Double VPN" package. NordVPN's website indicates that Nord allows BitTorrent downloading on ALL servers except for the US and UK-based states. Other than that, you can use NordVPN for P2P downloading without any issues.
NordVPN also allows its users to connect to Nord with 5 VPN protocols and 256-bit encryption which makes this VPN a formidable choice. NordVPN does offer a dedicated IP option but it costs more than the shared IP or dynamic IP options (read NordVPN price section below).
Speed- How fast is NordVPN?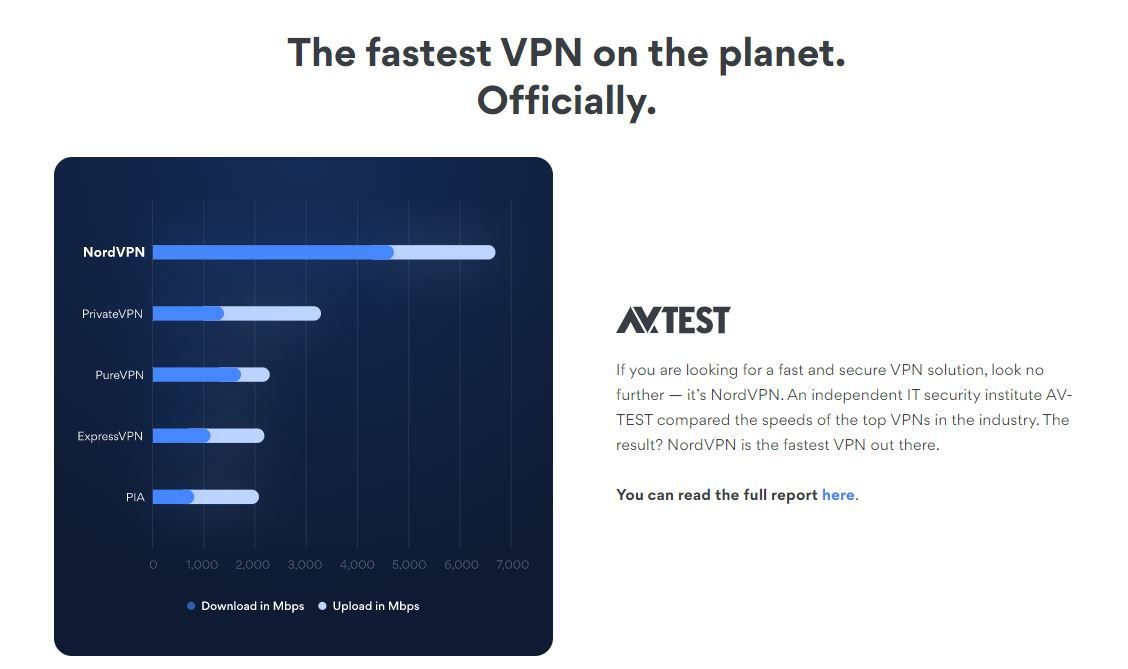 Speed is extremely important for any VPN. NordVPN offers decent speeds after certain speed tests, but NordVPN is great when it comes to speed just like some of its competitors, ExpressVPN. Even when Nord uses a multi-tier network to offer more features, its speed is not deteriorated by much (which you can read about below). Nord provides great connection speeds for streaming services like Netflix and Hulu. Even with daily use, there was no noticeable speed difference.
NordVPN Features
NordVPN has a great variety of features and is among the best in this regard as well. Nord VPN offers Double VPN which is essentially super-charged encryption- NordVPN creates an encrypted connection between the servers and your computer (using the OpenVPN protocol) – Nord calls this connection a double VPN. This means that Nord VPN encrypts your traffic two times, furthermore, NordVPN encrypts your connection between the servers resulting in four layers of encryption.
This is where Nord shines as far as security goes- Nord VPN offers Double VPN and Nord's special Onion Over VPN (which Nord recently released). Nord's Onion over VPN essentially directs your internet traffic through an onion server before it reaches the main servers. NordVPN also allows you to choose the specific servers in Nord's network that you want to use- Nord's "self-hosted, ultra-fast servers," as Nord calls them.
NordVPN is known to be extremely secure and no-logs NordVPN app. NordVPN's Double VPN servers are hand-picked and Nord has said it is quite difficult to get a NordVPN server as Nord's network is full, hence the reason for their "self-hosted, ultra-fast servers.
Nord also allows its customers to choose what specific VPN server to connect through- Nord's self-hosted, ultra-fast servers.
Nord is also well known for its secure NordVPN app which employs the OpenVPN security protocol with AES 256 bit encryption and SHA256 authentication. NordVPN is extremely strict when it comes to the no-logs Nord VPN app policy.
NordVPN can also be used for gaming purposes since it's a secure network that allows you to connect to various gaming platforms that you can enjoy without worrying about your records and internet speed. Not only is it an excellent choice for individuals who are interested in safe web browsing, but also for gamers equally. Now isn't that double-benefit.
With policies like this, I don't think you would wanna miss using the NordVPN.
Other than this, there are a lot of features to NordVPN that you can definitely check out once you start using it by yourself.
Safety- How secure is NordVPN?
Yet another important aspect of choosing a good VPN is its safety and privacy. NordVPN's primary security feature is double VPN encryption which NordVPN claims to be "simply the best VPN protection that money can buy." NordVPN also uses 2048-bit SSL encryption and AES 256-CBC as its core cryptographic protocol. NordVPN has stated that they have specific laws in place for all users:
NordVPN is required by law in Panama to maintain complete logs for 30 days. NordVPN does not have any jurisdiction outside of Panama, and as a result, NordVPN cannot be forced to release user information or an IP address to a third party. NordVPN also uses shared IP addresses which help keep the service secure. NordVPN also has a very strict policy about its customers' use of the VPN and it forbids illegal activity. NordVPN will terminate any user found to be using the Nord VPN service for illegal activity.
In 2018 NordVPN released its new CyberSec feature, this optional feature blocks ads and also prevents infestation of malware as well as DDoS attacks on a network system. NordVPN believes that this is another step closer to providing the world with a safer, quicker way to access the internet services without any problems.
NordVPN is one of the safest VPNs out there, NordVPN also has a strict no sharing policy. NordVPN was created to provide a secure and private way of browsing, protecting users from cybercriminals and hackers. NordVPN's goal is to ensure that all NordVPN customers have the ability to browse anonymously with high-level security.
Reliability- How Reliable and Private is NordVPN?
VPN has high-level encryption to ensure that NordVPN customers are safe and secure. NordVPN also has a strict no sharing Nord VPN Policy which protects Nord users from receiving notices about copyright infringement. Nord also has an automatic kill switch that cuts off your data if the connection drops, this prevents NordVPN customers' IP addresses from becoming visible on the internet. This is NordVPN's way of ensuring Nord users are protected at all times.
Usability- How user-friendly is NordVPN?
NordVPN has a relatively user-friendly and easy-to-navigate platform. NordVPN users can easily search Nord's servers by country and change locations on NordVPN's main screen. Nord VPN also offers Nord users a split tunneling feature, which allows Nord users to select which apps they want to use Nord VPN with and which apps they want to use without Nord VPN. This also amplifies users' privacy.
NordVPN users can also save time by selecting to 'favorite' their most-visited servers, allowing Nord users to quickly access their favorite Nord server locations without the hassle of searching for them every time they connect to Nord. NordVPN is also easily available to download on many software and devices that it's compatible with, Nord users only need to go to Nord's website and download the Nord VPN app. NordVPN also offers continuous support on their Nord VPN forum where users can gain knowledge of Nord VPN by reading up on Nord users' questions and concerns.
NordVPN has made a very good name for itself in 2019; it has successfully managed to rise up as one of the top VPNs in the market. NordVPN is a VPN that's known for the overall privacy and security it offers, Nord's most popular servers are also very fast which many Nord users love about NordVPN. Nord has experienced huge growth within 2018 partly due to their continuous marketing efforts on major social media platforms
What Information does NordVPN need to log in?
Nord VPN does not log Nord VPN customers' traffic or the websites NordVPN customers visit. This ensures Nord customers are protected at all times as Nord does not track Nord customer's data and activities online. We have clarified this with NordVPN, and you can read it for yourself on Nord VPN s Privacy Policy page: "NordVPN does not keep any logs of your activity, including no logging of NordVPN IP addresses or connection timestamps."
Nord VPN does not keep Nord customers' browsing history or activity. Nord VPN customers can use Nord for as long as they'd like without fear of their data being harvested by Nord because Nord doesn't store that information! This is basically what an excellent and reputable Nord VPN is supposed to do. Nord VPN s Privacy Policy is clear and concise which helps Nord customers feel confident that Nord is upholding their privacy, security, and anonymity while they're online!
What makes NordVPN different from other VPNs? Nord VPN has a strict "No Logs" policy which sets them apart from other competitors.
NordVPN Kill Switch
For security purposes, NordVPN has its own Kill Switch. NordVPN's Kill Switch will automatically terminate your internet connection if NordVPN suspects that you are no longer connected to NordVPN. This is helpful when Nord users experience a drop in their internet connection because Nord will automatically stop all data transfer on that device.
NordVPN has over 2,000 servers worldwide Nord VPN has over 650+ servers all around the world at the moment. NordVPN has servers in countries such as The United States, UK, Australia, Canada, France, and Switzerland NordVPN allows P2P file sharing Nord VPN is ideal for those who like to use unblocking or torrenting services. Nord VPN allows its users to have access to over 97 different types of servers which will allow you to enjoy your favorite platforms like Netflix.
NordVPN Pricing and Offers
NordVPN has trial Periods and after that NordVPN offers three different Nord VPN price plans. Nord VPN has a one-month plan, a six-month plan, and a 12-month NordVPN deal Nord VPN also offers Nord VPN monthly payment option Nord VPN price plans are:
$11.95/month
$6.99/month
$3.99/month
All these plans NordVPN has a 30-day money-back Nord VPN guarantees Nord VPN offers Nord VPN discounts for those who opt to sign up on NordVPN longer subscription periods. Nord VPN also gives Nord VPN lifetime deals for those who sign up on 6 or 12 months Nord VPN plans.
Final Thoughts- Should you consider using NordVPN?
Just like any other software that you use, you have to try it out before. With NordVPN, we can guarantee you that you will only have a good experience out of it because of its massive following and good approach. With being one of the leading VPN services in the market, it also offers reliable resources and good customers service that will be available 24/7. With its affordable price and plans, you can always look forward to using the VPN and its services. Nord
VPN is considered the best VPN service available in the market. NordVPNhas one of the largest set of servers, and have proven to be a real winner. NordVPN has also been around for some time now and they've managed to work their way up into being one of the most popular VPN services out there. You can definitely give it a try!
The Review
NordVPN
NordVPN is the fastest, affordable, and leading VPN on the web. It offers a cutting-edge VPN service with some incredibly useful addons and features such as a kill switch. NordVPN is loved by millions of users on the web. It gives a tremendous streaming experience with a large list of the fastest servers available to you.
PROS
Multiple Locations
Fastest Servers
Brand Trust is very high
Incredible Features to experience non interrupted service
Affordable Pricing for everyone
CONS
Other products are sold seperately such as NordPass
Review Breakdown
Easy to Use

0%

Features

0%

Brand Trust

0%

Value for Money

0%

Support

0%