Are you looking to monetize your web traffic? Read on to know more about Clickadu, which offers various ad formats to monetize web and mobile traffic.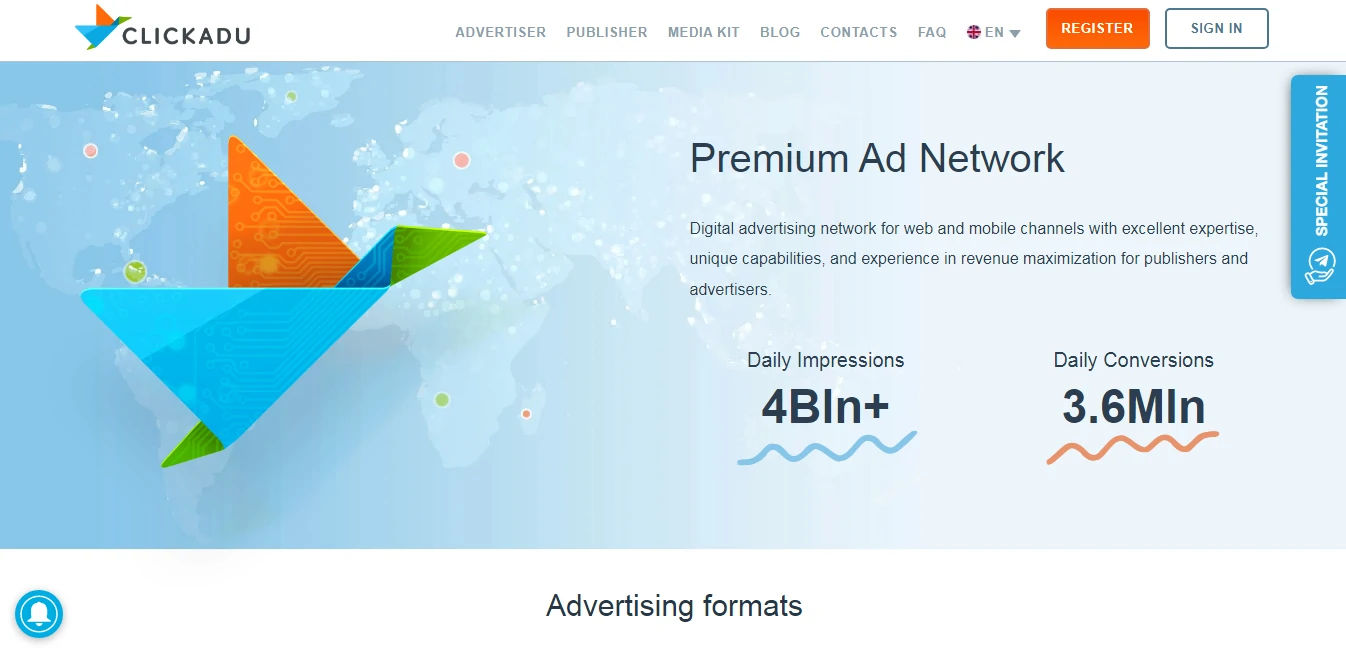 ClickAdu is a reliable advertising network that gives an opportunity to both publishers and advertisers to maximize their revenue via online advertising.
Clickadu provides users with the latest technology in online advertising. ClickAdu's goal is to provide customers with the best possible experience. It is committed to providing quality tracking and tools to manage advertising campaigns. They can expect increased traffic via various ad formats and take advantage of daily conversions on active campaigns.
| | |
| --- | --- |
| Commission Type | CPM |
| Minimum Payments | $50 – $1000 |
| Payment Frequency | Net 7 |
| Payment Method | PayPal, WebMoney, Paxum, Wire Transfer |
| Publishers | [email protected] |
For Advertiser
| | |
| --- | --- |
| Ad Format | Push, Popunder, Video, Banner, SKIM, Instant Text Message |
| Cost Mode | CPM, CPC, CPA, CPL, SmartCPA, SmartCPM |
| Minimum Deposit | $100 |
| Payment Method | PayPal, Paxum, ePayments, WebMoney, Wire Transfer, Credit Card |
| Daily Impression | 4 Billion |
| Top GEO | IN, ID, TH, VN, BR, PK, USA, BG, JP, PK, MY |
| Top Vertical | Social Apps, Android Tools (cleaners, boosters), E-commerce (wholesale brands), VPN, Tools & Utilities, Push subscriptions, Nutra, Finance Apps, Games, Surveys, Sweepstakes, Dating, Gambling & Betting. |
ClickAdu Ad Formats
ClickAdu offers a variety of Ad format options, including:
Banner Advertising
Banner advertising is available in 2 different sizes of 300×250 and 300×100. Banner ads are available for CPC/SmartCPM/CPM pricing models.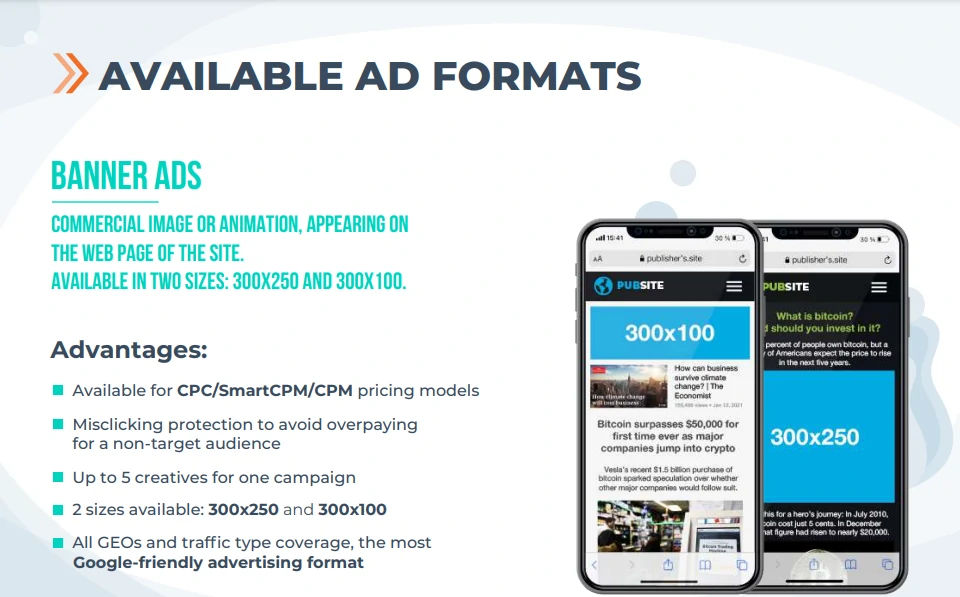 Push Ads
Native push ads are based on subscriptions that the user receives on his mobile or desktop device even when he is not browsing.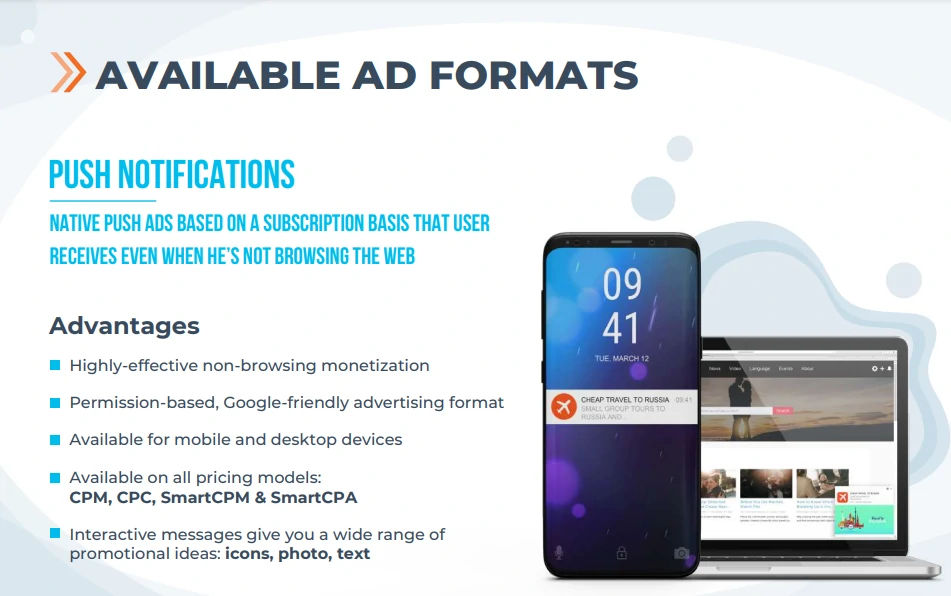 Pre-Roll
It is a promo video that is shown to the users before the original video content. The available pricing models in this format are CPM, CPC & SmartCPA.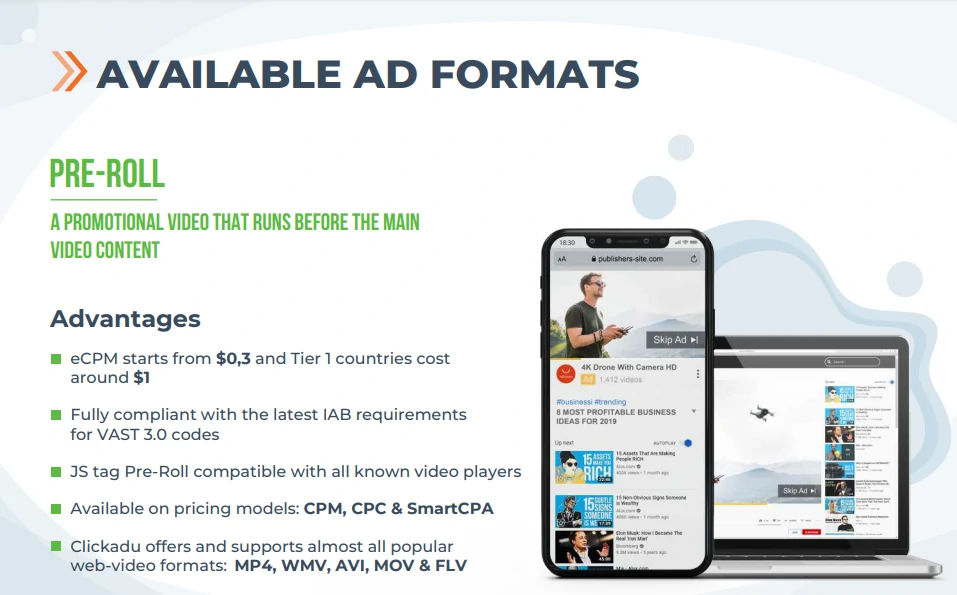 SKIM
It is a URL with highly accurate targeting options which directs the visitors to the advertiser's offer page.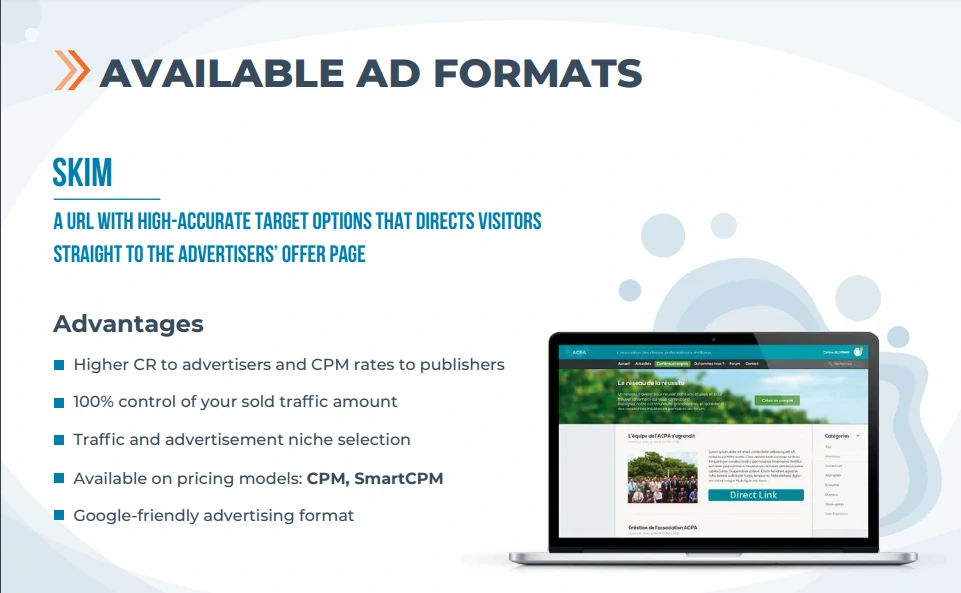 Video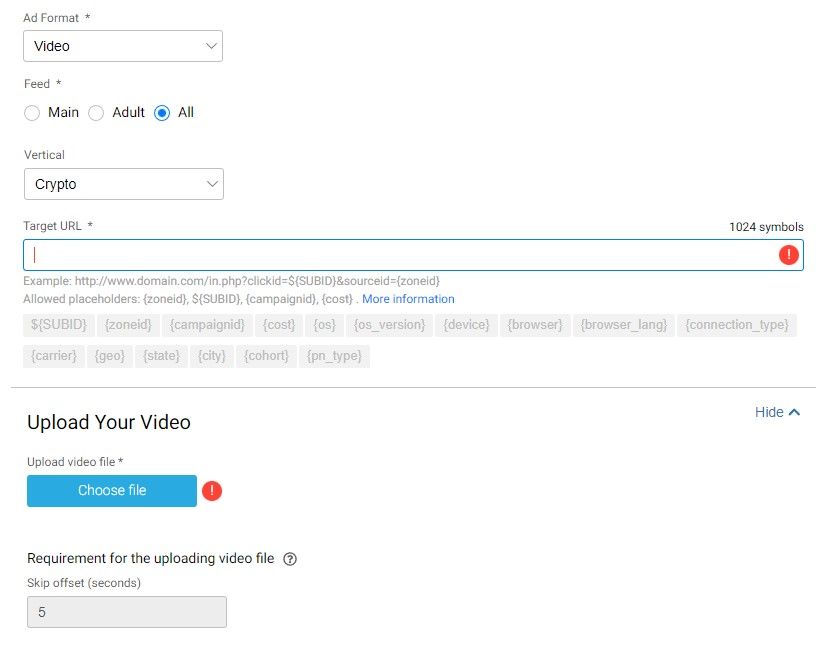 Instant Text SMS
It is a kind of push-up notification that is delivered to the user's smartphone. The available pricing model in this format is CPC.
Popunder
It is a unique advertising page that is opened in a new tab or window of the user's browser.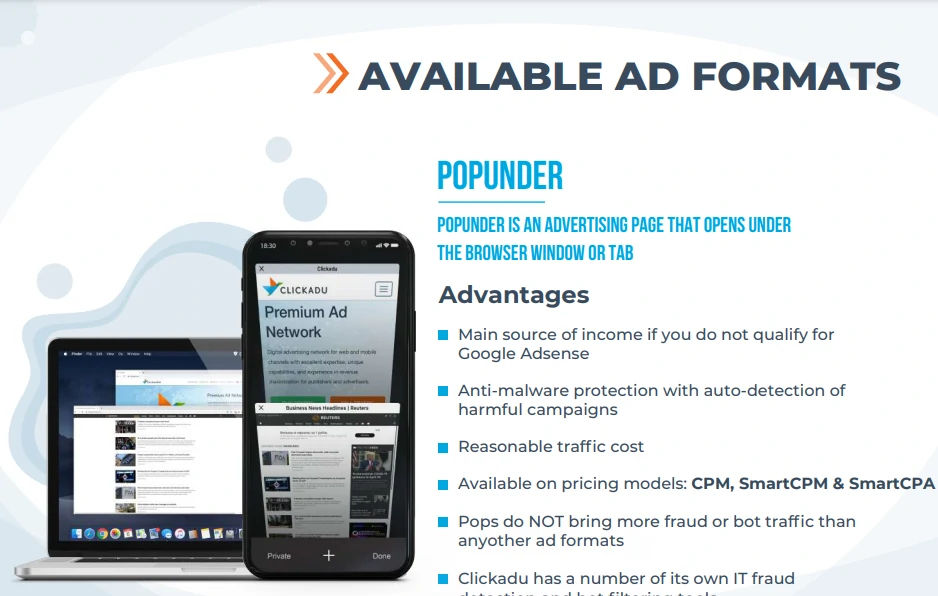 ClickAdu Overview
Being a reliable advertising network, ClickAdu helps advertisers execute effective online campaigns, and publishers monetize their traffic from the ads that advertisers make. It offers a variety of features to make it easy for business owners to track their results, measure their performance, and improve their marketing strategies. ClickAdu also provides resources and support to help business owners grow their businesses through increased traffic, leads, and significant profits.
With ClickAdu, you can:

Create stunning ad campaigns that are targeted just right for your audience.
Automate your advertising process so you can focus on what matters most – running your business!
Track each ad campaign's effectiveness by measuring key performance indicators (KPIs).
Offer Types:
Traffic Types:
Desktop, mobile, and tablets
Targeting Options
Geographical location
Operating System
Operating System Version
Device types
Connection type
Mobile carrier
Browser
Browser language
Individual ad zones
Dayparting
Traffic
Popunder, Push Notifications, InPage Push, Video, Instant Text Message, and Skim are some of the available ad types. More than 90% of all traffic originates from websites that Clickadu directly partners with. Broker traffic might be enabled by an advertiser if they wish to target larger audiences.
Popunder — 120 million
Push Notifications — 1,8 billion
InPage200 млнVideo — 20 million
Instant Text Message — 4 million
Skim — 3 million
The Clickadu team continuously adds roughly 60K new subscribers (with a daily unsubscribe rate of 20-30K) to its push publisher and platform database.
ClickAdu CPM Rates
Below are Clickadu's recent CPM Rates. You may compare Clickadu's CPM rates with other ad networks by country here.
| On Click | Banner | Instant Message | SKIM | Video | In-Page | Push |
| --- | --- | --- | --- | --- | --- | --- |
| CN 1.27 | US 0.030 | US 1.97 | CN 1.57 | CN 0.71 | CN 0.35 | AT 0.060 |
| US 1.22 | TW 0.028 | PH 1.68 | US 1.23 | US 0.70 | US 0.24 | CH 0.059 |
| TH 1.21 | GB 0.021 | PK 0.83 | GB 1.20 | BR 0.50 | TH 0.23 | CA 0.045 |
| DE 0.91 | PK 0.017 | BD 0.42 | FR 0.67 | FR 0.40 | GB 0.15 | US 0.040 |
| BR 0.90 | ID 0.014 | VN 0.27 | DE 0.63 | VN 0.35 | BR 0.13 | SE 0.040 |
| JP 0.75 | PH 0.012 | IN 0.20 | ES 0.60 | IT 0.22 | MY 0.12 | DE 0.037 |
| KR 0.62 | MY 0.010 | YE 0.20 | PL 0.56 | MY 0.20 | IT 0.10 | AU 0.036 |
| BD 0.50 | IN 0.010 | ID 0.17 | PK 0.35 | DE 0.20 | FR 0.10 | SN 0.029 |
| IN 0.45 | SG 0.009 | NP 0.17 | BD 0.32 | ID 0.13 | DE 0.09 | BR 0.021 |
| TR 0.26 | MX 0.009 | EG 0.12 | IN 0.20 | IN 0.07 | IN 0.07 | IN 0.018 |
Clickadu CPM volume
User-friendly Self-Serve Platform
The Clickadu user-friendly self-serve platform provides a toolkit to ensure statistics transparency and campaign automation. There are two primary features that set it apart from other platforms: a centralized dashboard and real‐time reports. The dashboard allows you to monitor all of your campaigns in one place without the need to log in to separate accounts, so there is no risk of missing crucial data or neglecting any given campaign. The dashboard is always accessible so that you can adjust your campaigns at any point throughout the day. Real-time reports will notify you if any of your campaigns have deviated from their predicted outcomes so that you can make necessary adjustments in order to maximize performance and return on investment.
The Clickadu team is dedicated to providing the industry with the most advanced technology and top customer service. Their focus is to provide transparency and automation in tracking statistics and analytics in your campaign through their self-serve software tools. The team at Clickadu has created a user-friendly interface that will enable advertisers to run their campaigns in a timely manner, without sacrificing quality or performance.
Fast Campaign Moderation
Launching a campaign to get traffic can be overwhelming, but it doesn't have to be! With Clickadu Fast campaign moderation services, you're just a coffee break away from launching your next campaign and getting traffic to your site. Clickadu is a well-known name in the industry and has been trusted by companies like Coca-Cola and Pfizer for over 20 years.
Fraud and Bot Filters
Fraudulent and bot traffic is a concern for any website that monetizes with display ads. Clickadu Fraud and bot filters Machine Learning-based algorithm to filter poor quality will help reduce the likelihood of fraud or bots visiting your site and clicking on your ads.
The company offers its clients an API that allows them to integrate Clickadu's fraud detection service with their own systems. The Clickadu Fraud and bot filters use Machine Learning-based algorithm to filter out known bad sources such as those with a wrong IP address history or domains that have been blacklisted by third-party sites like Google Safe Browsing or SpamHaus.
Multiple Payment Methods
Clickadu is a payment service that offers more than five ways to cash out or top up your balance in a simple way. Payment methods include bank transfer, PayPal transfer, and credit card transactions. Clickadu is available in many countries and offers translations in various languages to help international customers easily complete their transactions.
Ad Types:
For Desktop

Display Banners
Pop-unders
Direct Links
Video Banners
For Mobile

Display Banners
Sticky Footer
Pop-unders
Direct Links

Push-up Ads
Video Banners
Clickadu Referral Program
The Clickadu Referral Program allows users to earn rewards for referring new customers to the company. When a customer signs up through your referral link, you will receive a commission on their first purchase. Plus, once they make their first purchase and are registered with the service, you'll be able to track all of their activity and stats in one place! This is an excellent way to increase your marketing efficiency and keep track of what's working best for your business.
This program will help you earn rewards for referring new customers to Clickadu. You'll receive 5% of your referrals' income. Moreover, you'll continue receiving lifetime revenues from publishers you've invited.
You get access to the referral program when you sign up for a new account on Clickadu. You can find your referral code in your user profile or in the "My Profile" section.
You can share your unique referral link through an ad, Facebook, or other social network posts, on your blog, or a tweet – wherever you deem fit!
Other methods to promote:
Place or advertise a Clickadu referral banner on your blog or website with a referral link attached.
Place a link on your pages on social networks (Facebook, Linkedin, Twitter, etc.). It can be inserted in your bio or regular posts.
Share a link in your comments and signatures on forums and other web platforms. Be careful; some forums do not allow referral links!
Make a short slideshow or video of your working with Clickadu. Put your referral link on or under the video and upload it on Youtube, Vimeo, and other tubes. You can show your dashboard, stats, payment proofs, or something else that may bring referrals.
Use your email signature, business cards, and other communication channels to promote your referral link.
How to Monetize Website with ClickAdu
Step 1: First, go to the register page of Clickadu.com and click the register button under the "I'm a Publisher box".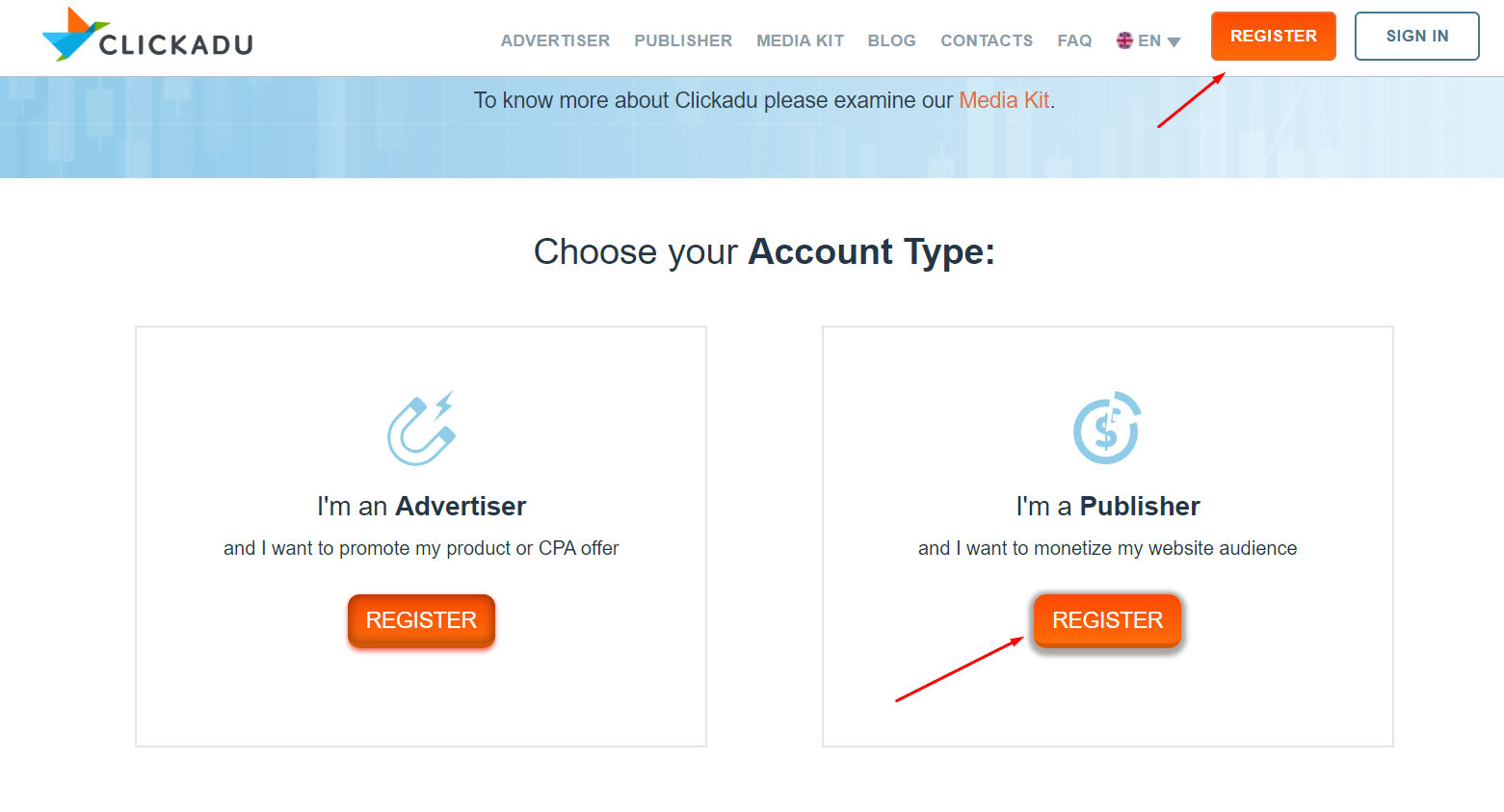 Step 2: Now, fill in all the required information on the signup page.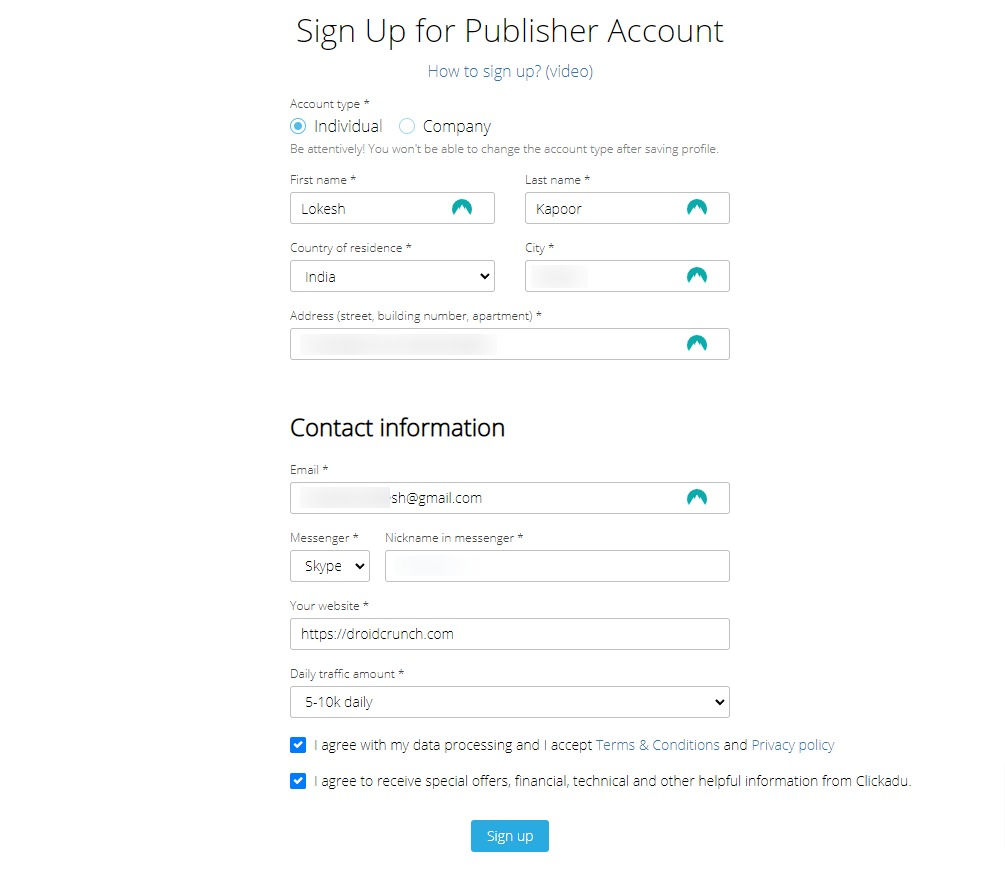 Step 3: Now wait for an email to activate your account.
Step 4: Now verify your website by meta-tag verification. To verify site ownership, provide the meta-tag code on your site that you find in your Clickadu account. Copy the HTML code and paste it into your website's head> section. If you don't know how to accomplish it, seek assistance from an expert, as doing it incorrectly may result in a mistake. Once done, click the prove ownership button.
Step 5: Now, you can utilize the ads and banners on your web pages and start earning money as the users click on them.
ClickAdu Payments
Payment Rules
Publishers are paid using various payment services, including Wire Transfer, Paxum, PayPal, and Webmoney. These payment services have its own requirements for minimum payouts and the fees attached to every transaction.
Webmoney — Min payout $50 | 1% transaction fee.
PayPal — Min payout $50 | 2% transaction fee. Please note that PayPal may charge up to a 5% fee for the money load.
Paxum — Min payout $50 | $1 transfer fee.
Wire (bank transfer) — Min payout $1000 | Fixed transaction fee $25 for each Bank.
Payment Schedule
Clickadu will pay the Publisher's revenue on a weekly, twice-a-month, or monthly basis by agreement of the parties.
Weekly
Net 7 (Paid Weekly on Tuesdays, when the minimum payment amount is reached)
Twice a month
Net 7 (on the 7th and 22nd day of the month or the next business day if the payout day falls on Holidays or Weekends) – this payout schedule is the default for all publishers.
The payments are fully automatic once you have passed profile validation checks and chosen your payout schedule. These payments are made according to the Terms&Conditions agreement. Clickadu can pay your available funds only. To find out the amount of your available payout, please go to the 'Payments' tab in the publisher's dashboard.
All payments are processed in USD or EUR. Clickadu does not pay in RUB.
Support
Clickadu's support is emphasized by the availability of professional account managers and around-the-clock customer care.
Live chat, Skype, email, and phone support are provided, along with a ticketing system that enables publishers to enter details about their inquiries and send a message to the department best suited to respond.
According to its website, the support crew only responds to inquiries in English, which is a crucial point to note.
Payment Proof
Here is the payment proof of the Clickadu ad network: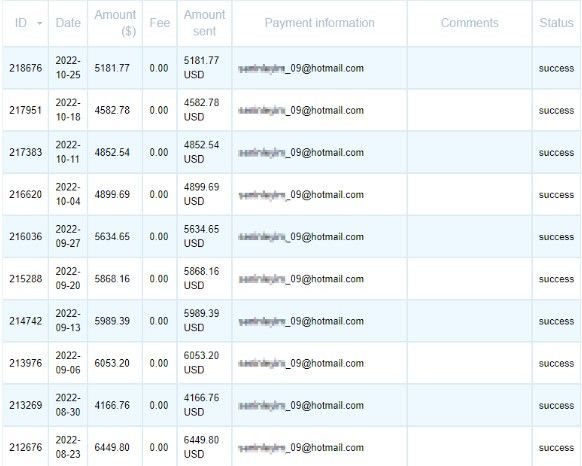 Conclusion
Clickadu is definitely an excellent option for publishers to monetize their traffic and advertisers to promote their campaigns. It is a trusted and efficient platform for advertising purposes. Multiple ad formats and high CPM rates make it an exciting platform for publishers.
If you are considering investing in an advertisement campaign to grow your business and boost your visibility, then it is a good time to try Clickadu for better fill rates. Clickadu welcomes publishers with great enthusiasm, so don't hesitate to join it and monetize your website.
The Review
ClickAdu
ClickAdu is an excellent advertising network that supplements publishers and advertisers by offering the revenue, traffic, and conversions they want. It is a trusted network that is known for quality tracking, best support, and timely payments. So what are you waiting for? Join Clickadu today to give your users a fantastic ad experience and monetize your website immediately.
PROS
Easy To Use
Various Ad Formats
Fraud Protection
High CPM Rates
Best Traffic Coverage
Four Pricing Models
Automated Payouts
CONS
Underestimated Ad Network
Review Breakdown
Easy To Use

0%

Features

0%

Interface

0%

Support

0%

Payouts

0%

Brand Trust

0%