Do you know which hosting is better for you Linode or Upcloud? Well, here is side by side comparison for you to decide upon the hosting that suits your requirements the most. The comparison will be based on ease of use, performance, and price. Scroll through the segment to find which is better Linode vs Upcloud.
Linode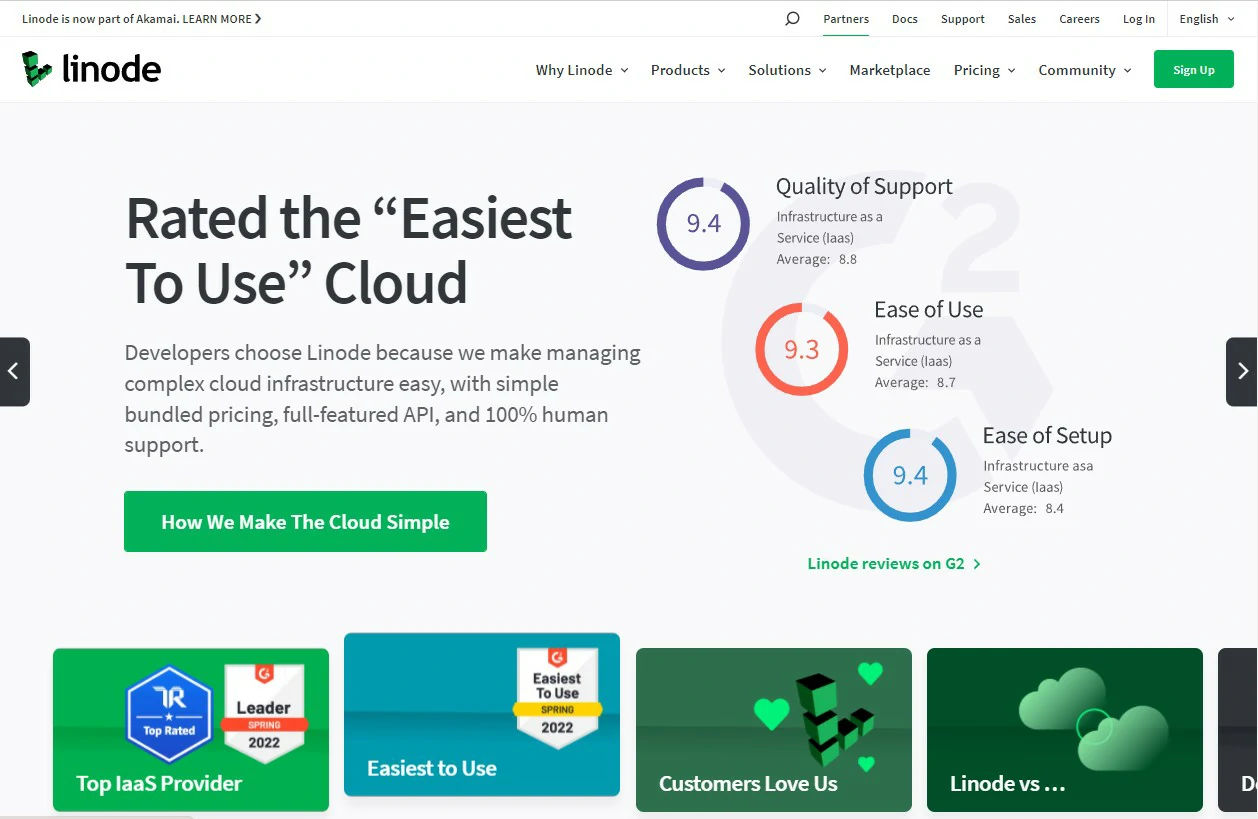 The three words that define Linode are simple, affordable, and accessible. Be it a personal project or managing an enterprise's infrastructure, Linode can offer all the features to take the ideas to the next level. One of the major factors that make Linode a popular choice is the customer support and experience it offers. This cloud provider keeps customer support a priority. This is basically a cloud hosting company that offers clients access to Linux virtual servers. It was launched back in 2003 and over the years, it has become a multinational company. The company has established its security measures and hosts many well-known clients.
This cloud provider permits its users to create, manage, and deploy virtual servers and services via a web interface. Do you know what makes Linode a perfect choice for you is that it is the largest independent open cloud provider and one of the oldest services since 2003? It is a great cloud provider offering easy backups, great customer service, and an intuitive interface. Another lucrative feature of Linode is its flat pricing model for cloud computing. The user need not have more anxiety over hidden costs and opaque pricing calculations that show up in the monthly bill.
What makes Linode a compelling option?
If you are dicey with your decision to opt for Linode, then you might find the below-listed reasons convincing enough.
3 years before AWS– If you are inclined toward AWS, then we would like to bring into consideration that Linode helped pioneer cloud computing 3 years before AWS.
Independent cloud– Do you know what independent means? Well, this means that this cloud provider is free to put the client's needs first and over invests in customer services.
Product innovation– The Linode cloud provider believes in the concept of improvement. Understanding the fact that there is always room for improvement, they keep on creating new tools, features, and resources leaving themselves behind and excelling each time.
Open Cloud– Another fact that makes Linode a compelling option is that it doesn't involve in vendor lock-in. It works in an open cloud world, where one can freely move the apps from one cloud to another without changing the tools and processes
Features list of Linode
Well, there are tons of features that you can avail yourself of with Linode. Want to know what those features are? Here is a quick look at the features that Linode offers:
Free trial available
Recovery mode
Full IPv6 support
Scaling and cloning
DNS manager
Custom stack deployment capability
Linode API
Virtual console for server access
9 Datacenters across three different regions
Easy to use control panel
Quick launch
Customer support
What plans are available with Linode?
Finding the right plan is often difficult. So here is the list of plans that Linode offers and you can choose the most suitable one for you.
Linode 1 GB RAM
LInode 2 GB RAM
Linode 4 GB RAM
LInode 8 GB RAM
LInode 16 GB RAM
LInode 24 GB RAM
LInode 48 GB RAM
LInode 90 GB RAM
LInode 150 GB RAM
LInode 300 GB RAM
Upcloud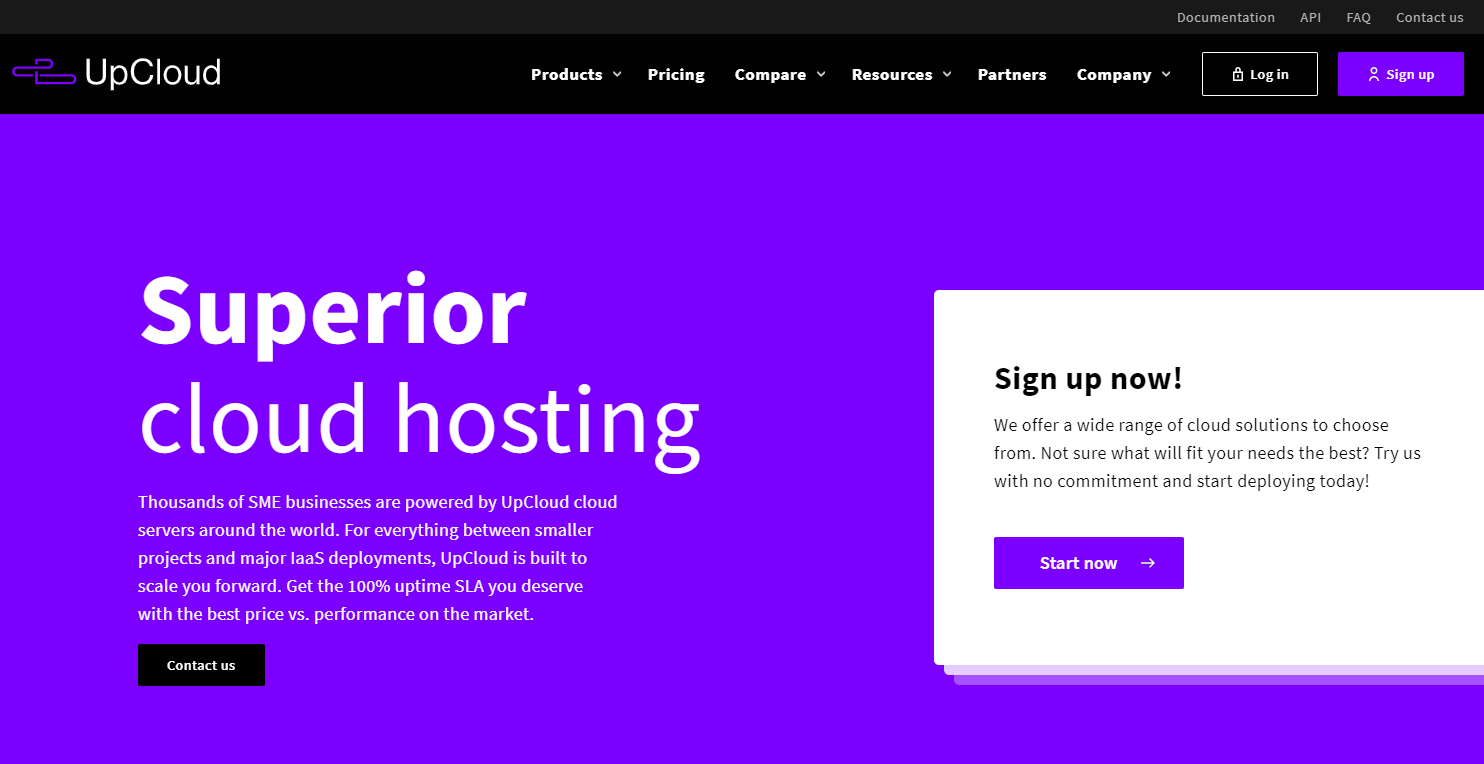 Well, did you know upcloud claims to be one of the world's fastest clouds? Its easy-to-use control panel and versatile API make it a great option, especially when compared with Linode. It is believed that upcloud cloud hosting company is faster than SSD cloud servers with simple yet powerful control panels. It is further known for its easy and flexible scaling with which the users can deploy using simple plans or can also configure each resource. One can also automate the infrastructure with a fully-featured API helping to create, configure, and eliminate cloud servers.
Upcloud endeavors to give reasonable and versatile cloud hosting answers for business-basic sites at cutthroat costs. Their key clients are business people medium-sized endeavors, IT administrations, web-based business, SaaS, and PaaS.
What makes upcloud an ideal choice?
Often businesses might find it difficult to decide whether they should choose upcloud. To ease the decision-making, Here is a list of the pros that come along with upcloud.
Free Migration
24/7 support
Unlimited applications
Pay as you go
Customizable features
Secured deployment
MaXI OPS technology
Backup and security
Enhanced performance
Scalable and cost-effective
Upcloud server is used by thousands of small as well as medium-sized businesses across the globe. The following features attract major of its clients and customers.
High performance and speed– This cloud provider uses high-performing MaxIOPS technology for storage that enables the user to deploy the service in less than 45 seconds. This ensures high speed and super-smooth performance.
100% uptime– Another feature that makes upcloud a great option to choose is that it guarantees 100% uptime and uses N+1 redundancy. This cloud service provider ensures that the user didn't lose any of the data due to any sort of hardware issue.
Versatile customizations– With upcloud you get an option of customizable packages that let you choose from different configurations of RA, bandwidth, and storage. This feature makes upcloud a compelling option to choose and opt for as a cloud server.
Private networking– Upcloud cloud hosting provider lets its users set up a secure private network between the servers. It also has a floating IP feature that offers an IP address to stealthily move between cloud servers. This feature ensures to offer the option to create a stable and secure networking infrastructure.
Application Programming Interface – One of the most compelling aspects of Upcloud is that each and every aspect of the server's infrastructure can be customized as per the requirements. The upcloud control panel gives the access and freedom to alter all possible settings and make the server work as per the needs.
Upcloud offers a 14-days free trial option, but don't confuse it with a money-back guarantee. Another perk of opting for upcloud is that the signing up is super simple and you simply have to provide your details which include your credit card. This cloud server takes the benefit of its clear-cut design, familiar layout, and simple color scheme. Upcloud is an affordable option to choose from and allows to deploy a server for as little as $5.00 per month, and the plan includes 1GB of memory, 1 CPU, 25GB of storage space, and 1 TB of data transfer. All this makes upcloud a cheaper option than many shared hosting packages offered by other providers.
Comparative Analysis: Linode vs Upcloud
UpCloud
Linode
Difference
Instance
2 CPU, 4GB Memory, 80GB MaxIOPS
2 CPU, 4GB Memory, 80GB SSD
Location
London
London
Price (USD)
$20/mo
$20/mo
Disk I/O(sysbench, 4KB random read)
110295 IOPS
90876 IOPS
+1.2x
Disk I/O(sysbench, 4KB random write)
37144 IOPS
19014 IOPS
+2.0x
CPU(sysbench, 64 threads)
1275 events/sec
1085 events/sec
+1.2x
Memory(sysbench, 4MB write 100GB)
36199 MiB/sec
21866 MiB/sec
+1.7x
The Crux of the Article!
Well, upcloud is basically an infrastructure-as-a-service platform that enables businesses to run web applications within a secured environment. It is a great alternative to Linode. However, both Linode and upcloud have their perks and cons. It completely depends upon the user's requirement to choose between the two. The above comparison might have helped you to come up with a decision and choose which one is best for you.