Linode is a US-based advanced hosting platform. It provides an enterprise-level performance with its Shared CPU plans. Linode is cheaper than most of the other cloud services available. It includes dedicated Kubernetes, CPU, and Bare Mental options, which can serve anything from just a small static site to a machine-learning Al.
Linode isn't for the beginners as it can be observed from its plans as well as the developer tools. Every feature it offers has been designed with a developer in the mind.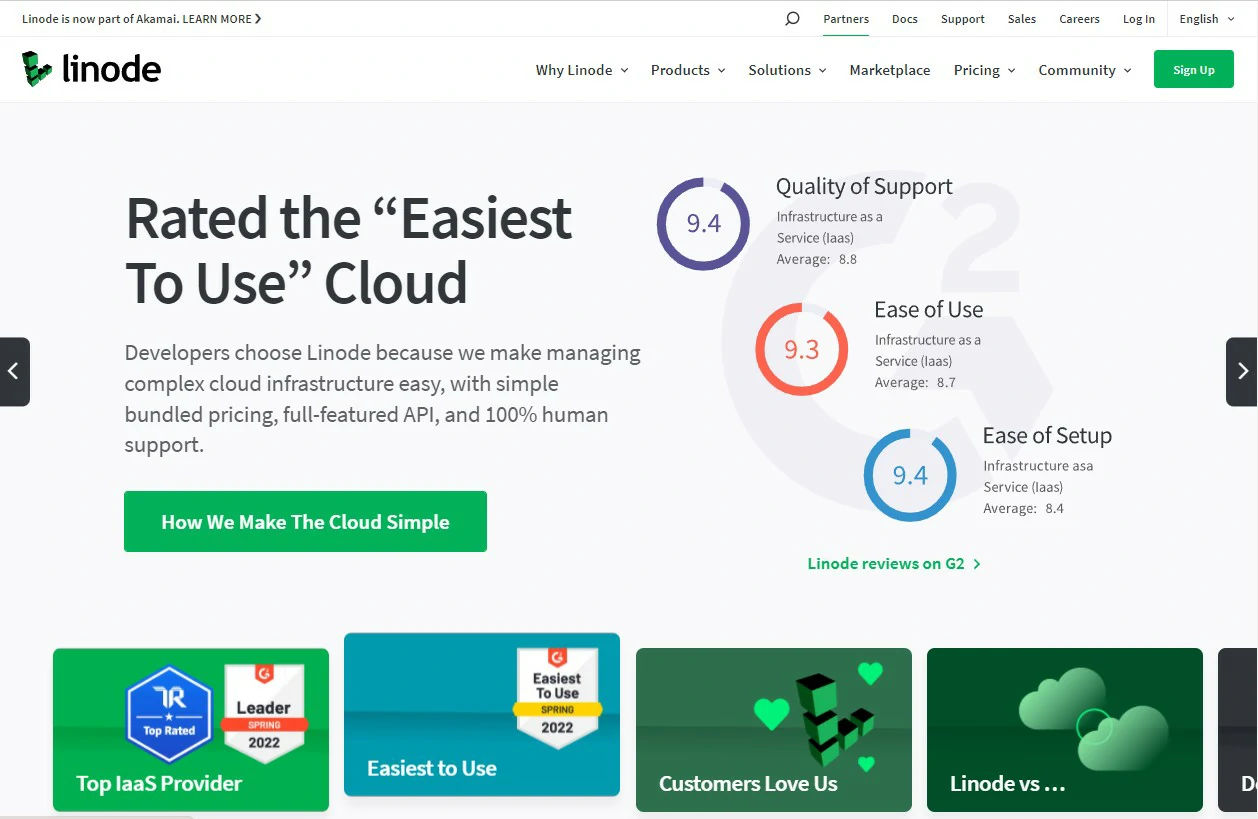 Linode has a server in 5 regions at 11 locations including Europe, South Asia, North America, and Oceania. And it is expanding its network reach constantly.
With Linode by your side, you can simplify your cloud infrastructure with its virtual machines and a robust set of tools to deploy, develop, and scale your modern applications easier and faster. It believes that to accelerate the innovation in the cloud, virtual computing must be more affordable, accessible, and simple.
Linode's infrastructure as a service platform is deployed among many global markets from its data centers present all around the world. It is supported by advanced APIs, Next Generation Network, a vast library of educational resources, and comprehensive services.
Linode services and products help businesses and developers to build and scale applications more cost-effectively and easily in the cloud.
Linode Features 🔥
Secure, Versatile, and developer-friendly 🧑🏻‍💻
Linode needs developers who require a wide array of cloud hosting. There are not many features specifically for web-hosting but mostly all the services come with the hosting security protocols including advanced DDoS protection. Other than that, you can also get VLAN and Cloud Firewall service access for free.
Cloud Storage 🌩️
Linode offers affordable cloud storage solutions. It lets you save plenty of your money per GB as compared to AWS and Google Cloud Platform.
Linode offers block storage for your cloud VPN along with S3-compatible object storage in the case when you need more space. Both of these options are very easy to scale whenever needed.
Powerful API ☁️
Linode features an amazingly flexible API, allowing you to control almost every aspect of your cloud server simply using an easily customizable code.
You can install Linode's officially supported programming libraries as well as clients, which include JavaScript, Python, and the GO client, or simply take benefit of community-made libraries and tools.
Linode offers a robust command-line interface that is written in Python. It can be used when in case you want to work directly through the command line. It is very simple to install.
Flat-Fee Backup Service 📂
In Linode, there is no free automatic backup service. There is an option to purchase it as an add-on. With Linode's Backup Service, your VPNs will be backed up weekly, bi-weekly, or even daily.
Unlike most of the other backup solutions offered by Cloud, you are not made to pay for the amount of storage your backups are using. You just have to pay a flat monthly fee based on the VPS configuration. The backups are sorted locally. However, it's better to download them for an extra level of redundancy.
Basic App Marketplace
Linode features an app marketplace. This marketplace allows you to deploy a variety of control panels, CMSs, development tools, and stacks. What is attractive is, that you will be able to simply configure these apps during the creation of the process, changing the number of allowed metadata, resources, and more.
Simple User Interface
Once you have created your account you are taken to the Cloud manager. Here, you get to manage all your cloud services and servers, along with the account and billing information. Everything is responsive and intuitive and just takes a few steps to be done.
Linode Free Trial
Linode has a 50-day free trial available for everyone. The account is free to create and you get $100 credit to use it for purchasing purposes in the application. However, the free trial of Linode requires a credit card. The invoices are daily calculated and the fees are due no later than 3-days after an invoice had been made.
Linode Pricing
Linode doesn't offer a free plan. Its monthly plan starts from $5. It offers great value for your money with amazingly powerful VPS configurations.
Linode uses a pay-as-you-go system. All of Linode's servers are billed by the hour (up to a monthly cap). And you are only entitled to pay for the exact number of add-ons and resources you use.
The payment can be done via Discover, Visa, Mastercard, and American Express. You can even pay using PayPal but it will be important and necessary to first sign up with a valid credit card.
Pros and Cons of Linode
Pros-
The dashboard is clean and easy to navigate UI.
The support is protective, attentive, and fair.
Reasonable pricing.
Great performance and storage layer.
Easy to install servers.
Linode hardware is always up to date.
The administration panel is easy to use.
Extremely easy and reliable to use as compared to other rivals.
Provides a flexible environment for work.
Provides a generous monthly network transfer quota.
Cons-
There are some problems in maintaining the uptime.
It lacks responsive technical support options.
Advanced features are limited.
Limited services are available till now.
It is at times difficult to integrate with the other services and cloud providers.
FAQs of Linode
What are the benefits of using Linode?
Linode supports experience above the rest. It has predictable and transparent pricing that comes with the Pay as you go option. Linode makes it very simple to launch and scale in the cloud. Its global infrastructure is secure, proven, and reliable enterprise-grade infrastructure.
What level of support does Linode offer?
Linode offers the support options like- Email/Help Desk, Phone support, Knowledge Base, FAQs/Forum, 24/7(Live rep), and Chat.
What are the other apps with which Linode integrates?
Linode integrates with applications like- GitLab, Redis Enterprise, Nextcloud, Drupal, MongoDB, WooCommerce, HashiCorp Consul, MySQL, Terraform, Jenkins, WordPress, Docker, and OpenVPN.