Canva is a graphic design web-based tool. It allows you visual materials without the need for any expensive graphic designing experience. Canva is used mainly for creating simple videos, social media graphics, slides, presentations, simple videos, posters, and some other visual assets. Royalty-free images and a wide range of customizable templates are provided to help out the users without any design skills do so.
Canva was launched back in 2012, as a simple and easy-to-use drag-and-drop online design tool to share and create multiple types of graphics. It started from 750,000 users in the first year and has 15 million+ active users monthly.
Since the time Canva is launched, it has revolutionized the entrepreneurial spirit and motivated and inspired the growth of do-it-yourself habits. Optimized for the mobile, the web, and the print media design as well as graphic needs. Canva also has some great competitors to name such as BeFunky, Visme, Fotor, and Crello.
Canva provides an amazing 30-day free trial. It also provides the generosity of offering an entire year or even lifetime access to the Canva Pro plan. That makes it undoubtedly, a great go-to online design tool for professionals and non-designers.
Overall, Canva is an easy-to-use app with really solid features that makes the work of designing visual assets very easier.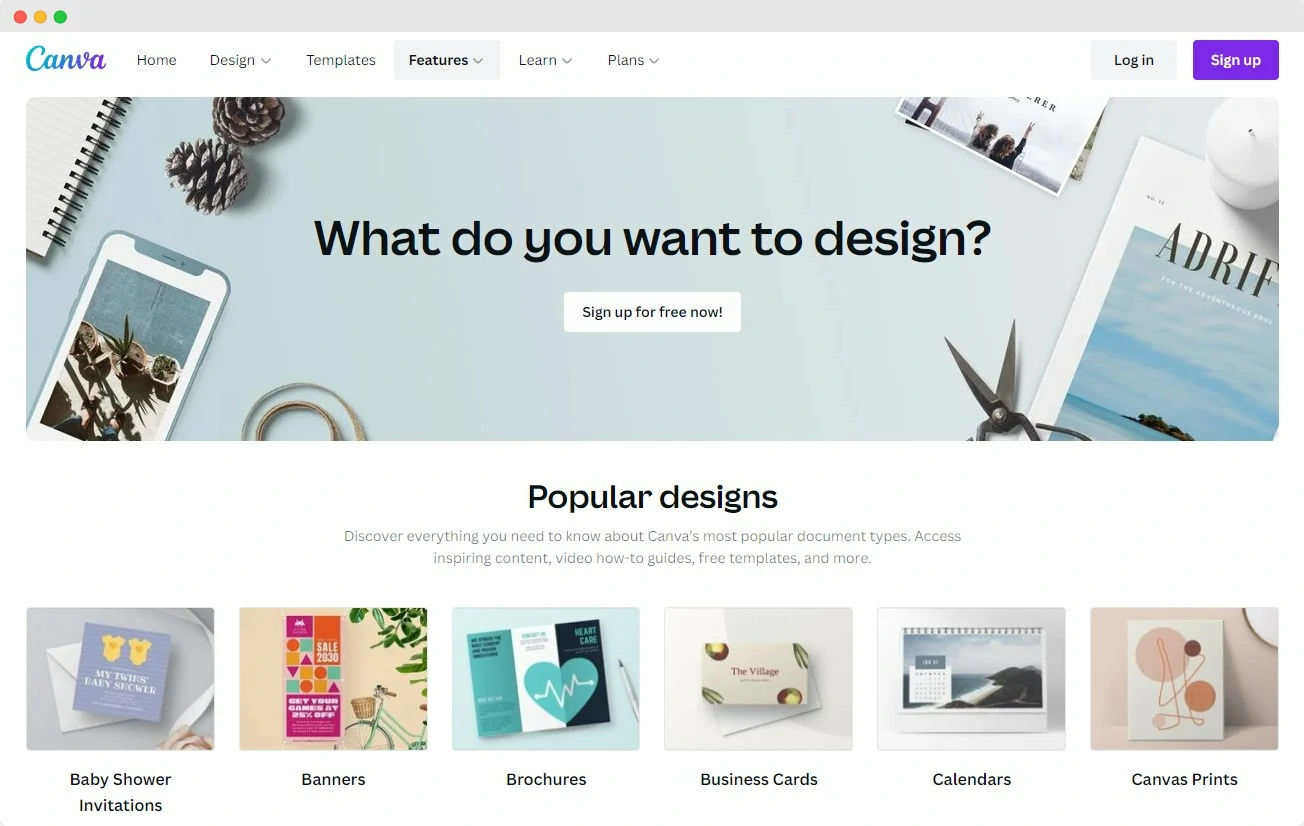 Canva Features: Some Exciting Characteristics
Drag and Drop
The drag-and-drop feature of Canva makes it very easy and user-friendly to use. By using this feature, you can use photos and templates in your design in just a few numbers of clicks.
Templates
Canva has a vast library of over 50,000 templates. That you can pick to edit, choose, and customize as per your needs. Also, some new templates are added regularly to the already existing library.
Create several types of content
Canva is a great help when it comes to designing. It lets you design social media posts and infographics for resumes. This means it lets you create your designs from the scratch.
Stocks images, icons, and fonts
Canva has a huge library of free stock photos, fonts, and icons that you can use for creating attractive graphic designs. Other than that, you can also use and upload them in your design.
Photo editing
Canva lets you do much more than just basic texturing and cropping of photos. It has a beginner-friendly feature, that lets you add texts, blur your photos, and create photo grids and collages that will produce an amazing impression.
Storage space
Canva offers 5GB of cloud storage in its free plan. Its pro plan provides 100GB. And when using the enterprise plan, you get unlimited storage.
Transparent backgrounds
Canva lets you output a design with a transparent background if you wish to. You just need a premium plan for doing so.
Canva Pro 30 Days Free Trial
In the Canva free trial, you get access to 30 days of Canva Pro. While using the trial, you don't have to pay for the premium images, video, or audio library. You can set the brand colors, fonts, and logos. You can apply the premium image effects in Canva such as one-click background removal.
You need to follow a few simple steps to get access to Canva's free trial-
Step 1- Click the button below to grab the Canva Pro free trial.
Step 2- Sign up using Google/Email/Facebook
Step 3- After signing up successfully click on try it for free for 30-days.
Step 4- Fill in the credit card details and then click on the "Claim my Free trial" button.
Step 5- You can cancel the subscription before the trial period ends or opt to upgrade.
Canva Pricing
Canva offers 3 pricing plans
Canva Free
Canva Pro
Canva for Enterprise
The free plan is of course free and the pro plan is available for monthly as well as annual billing. The enterprise plan is, however, available for annual billing only.
Canva Pro: It starts from $12.95 per user per month when billed monthly. And $9.95 per user per month when billed $119.40 annually.
Canva Enterprise: It starts from $30 per user per month when billed annually.
Canva FAQs
Is Canva expensive?
No. Canva is not very costly. It provides a free plan for personal use and beginners. Canva pro costs 12.95$ per month. If you are using it for some professional work then it is a great choice.
Is there a free trial offered by Canva? During the free trial. How many images can be designed?
Yes. Canva offers a free trial. It offers full access to Canva pro for 30-days without putting any additional restrictions. The benefit of Canva is you can design an unlimited number of images. It provides complete access during the free trial.
Why to use Canva?
Canva is used to make branding images as easily as a drag and drop. Whether you choose to use your social media handles, logo, or a hashtag. What was taking a lot of time to be done will now take just a few minutes. Its transparency tool also means branding your images can look non-invasive and sleek to the viewer.
Pros and Cons of Canva
Pros-
The features offered by Canva are extremely easy to use.
There is no need for you to have any graphic design skills.
The free plan is very usable. It comes with support.
Its "teams" feature facilitates easy collaboration on the designs.
It is of extremely great value- for even a small monthly fee you along with some other users get access to millions of bundled graphics, videos, and photos. And also access to a host of design tools.
The brand kit option that it offers and how it lets you upload your typefaces and photos makes it easy to confirm brand consistency across the designs produced in Canva.
Canva provides an easier way to produce one-off printed items.
Its mobile app is very functional and is particularly great for creating 'on-the-go' visuals for social media marketing.
Canva provides a simple easier way to produce one-off printed items.
Cons-
It is an online tool so in case you don't have access to the internet, you won't be able to work on your designs.
There's no phone support.
The free version of Canva doesn't allow you to export images with transparent backgrounds.
The range of integrations and apps that it provides is fairly limited.
There's no simple way to back up your projects.
The formats in which you can output your visuals are limited. The lack of an "export to PSD" option is the only matter of concern.