Do you want to know why keyword research is necessary? Think about the last time you did online shopping. If you had queries, you went online to Google. If you did, then you're not alone.
Over 50% of customers search for recommendations and reviews while online shopping.
When your site ranks in Google, you can communicate with target audiences. A good content strategy helps you to reach potential clients.
Keyword research is an integral part of SEO marketing. Whether you're creating a blog or developing content, keywords help to garner consistent traffic.
Importance of Keyword Research
You need to identify the keywords driving traffic to your site. Point out that might interest your audience and start developing content around those.
It's wise not to spend time on those keywords that aren't increasing your SEO ranking. You'll have a return on interest using keywords that drive traffic to your site.
By identifying keywords in content, you win half the battle. It will help if you place the keywords in proper places. It will increase your Google Search ranking.
Top 8 Keyword Research Tools of 2020 to Optimize SEO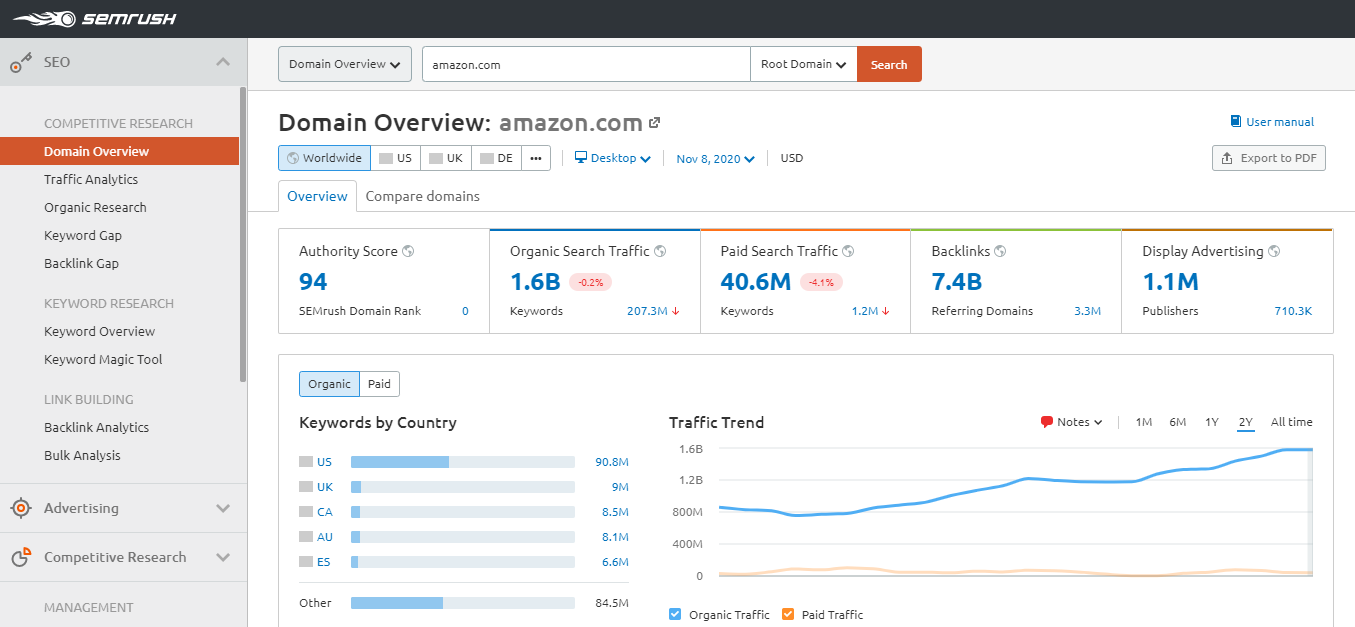 It is one of the widely used and renown keyword research and SEO tools that offers insight for the single keyword your site competitor ranks and the volume of traffic it drives to their website.  This is the ultimate tool that you may need to rank your website high on the search engines.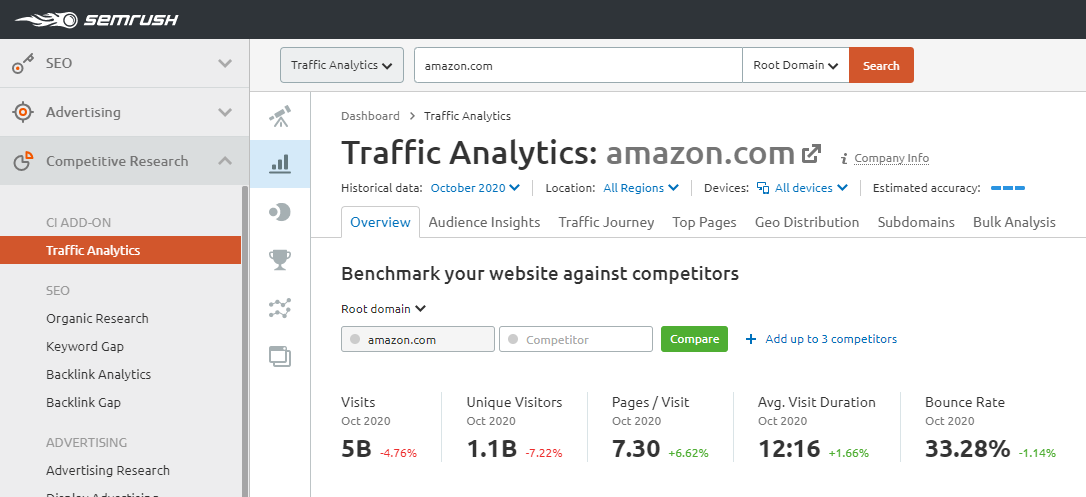 Semrush has an accurate list of competitor's websites. You can search through all the competitor sites in your niche and view the ads they are using for each keyword.
You can get an in-depth idea of domain comparisons, keyword difficulty, and traffic stats.
Like other tools, you don't need to enter a keyword. Instead, you need to enter a URL of a site and commence your research.
With the details insights about the competitors SEO, Advertising Research you can easily fabricate the marketing plan for your website.
Most often, it is seen that the bloggers and SEO analysts have to depend on many keyword research and SEO tools for their work. Semrush offers one solution to multiple needs and you don't have to struggle with multiple software for segregated SEO tool. Be it organic research, advertising research, backlinks reasearch, keywords research, Traffic Research, believe me Semrush is the only software that you may need and you can do everything.
Ahref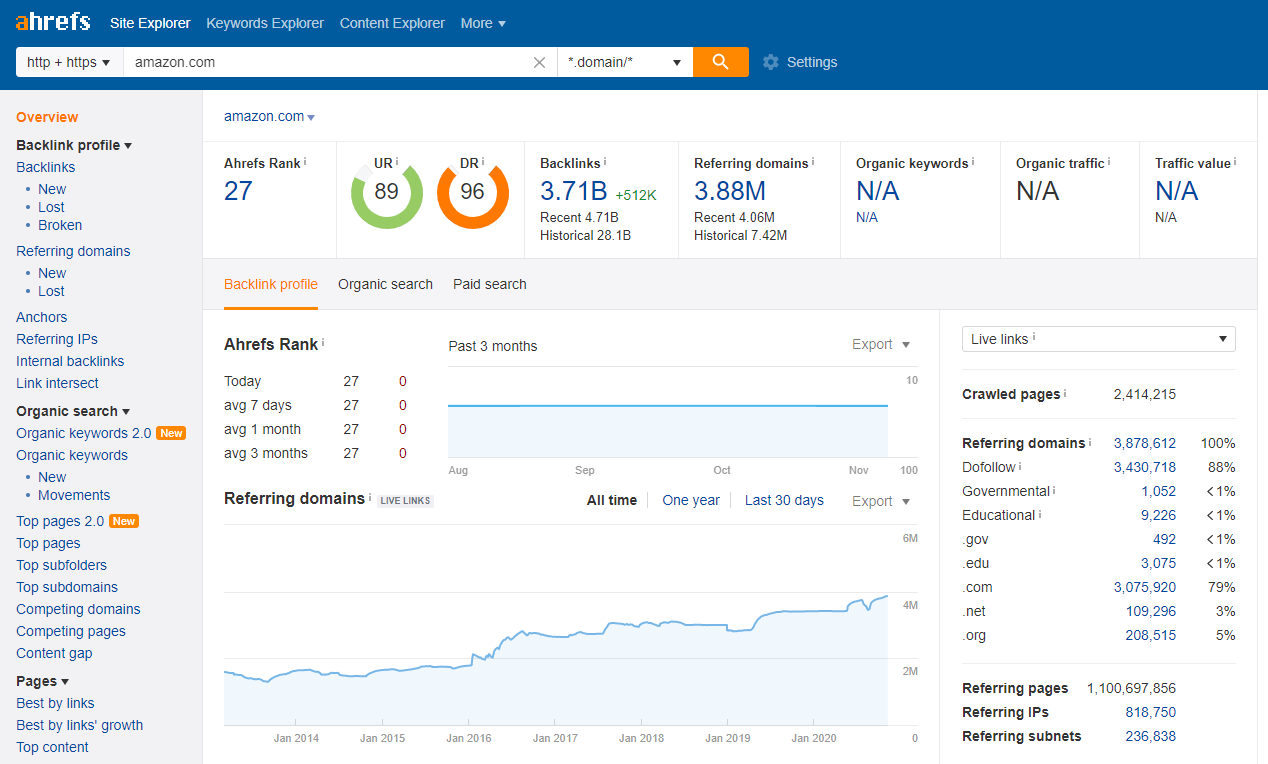 Ahref is one of the most widely used keyword research tools.
It scans and stores third-party information from the database via search queries, which implies you get accurate and extensive knowledge for your keyword research.
It lets you view the backlinks, organic keywords, and PPC campaigns of the competitor's site. You can observe the best backlinks openings, relevant key phrases, email notifications, and the latest content topics every time your brand gets refereed on the web. That's the tip of the iceberg.
Do you even bother about the accuracy of the essential phrase research tools? Well, don't think so much.
Ahref's database has more than 7 BILLION keywords and 170 BILLION indexed webpages. That is the reason Ahref can give the most precise and accurate information to its clients.
Ahref recently unveiled a new feature called "Keyword Explorer" that gives detailed information on individual keywords.
KWfinder by Mangools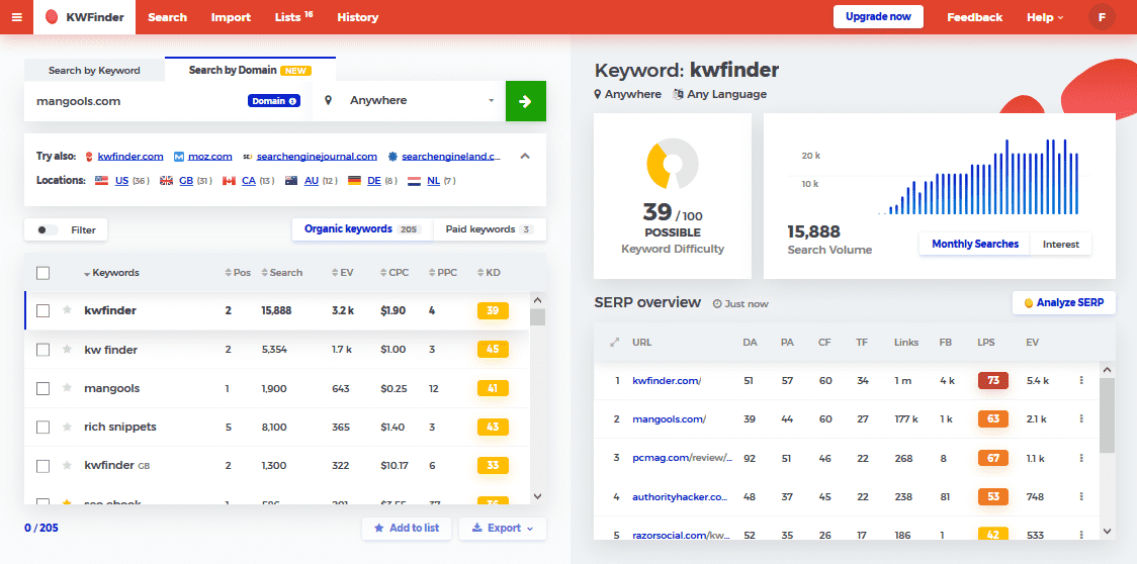 KWfinder by Mangools is a robust keyword research tool that you may find very pleasing in terms of UI and features. The tool definitely helps you find the best performing keywords for a specific domain. With the tool you can see the possible for the particular keywords by measuring its difficulty level.
To master the SEO, KWfinder can assist you in having a strong grip on the keywords. Mangools have many other SEO tools as well such as SERPchecker, SERPwatcher, Linkminer,  and Siteprofiler.
Spyfu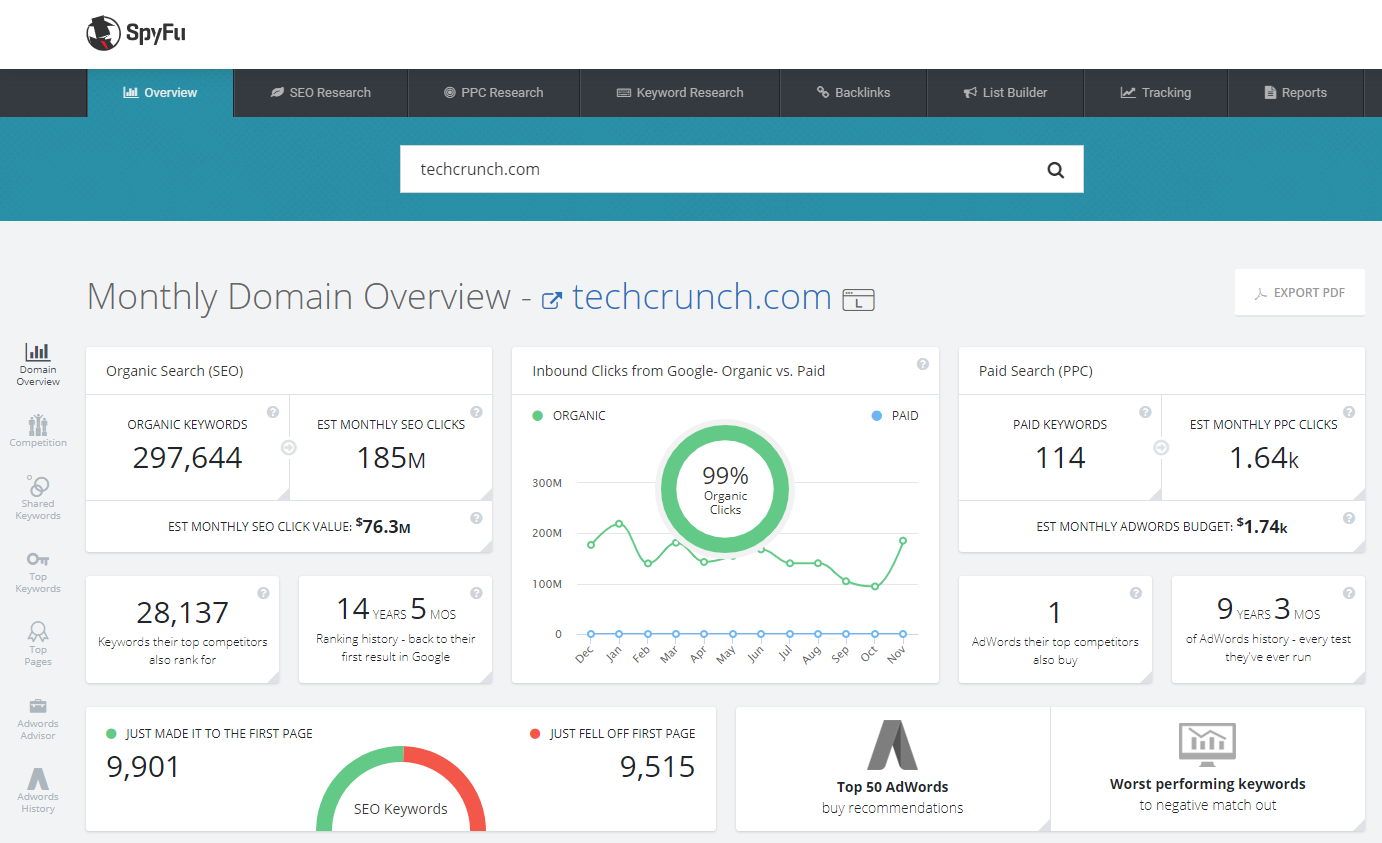 Spyfu provides you with a complete database of keywords. It is just not based on organic rankings, but it also includes the keywords used with Adwords.
It enables the marketers to track the keywords and the keyword variations used in the competitor's sites.
It provides you with deeper insights and the ability to track the ranked keywords and the keywords used in PPC Campaigns. The keyword research tool offers you suggestions based on your specific domain and reports for SERP analysis, Adwords Advisor, backlinks.
There are no free trials available. However, all the paid plans offer access to unlimited keywords search volume. Based on the paid method you choose, you can have domain contacts, top lists, and sales leads.
Moz Research Tool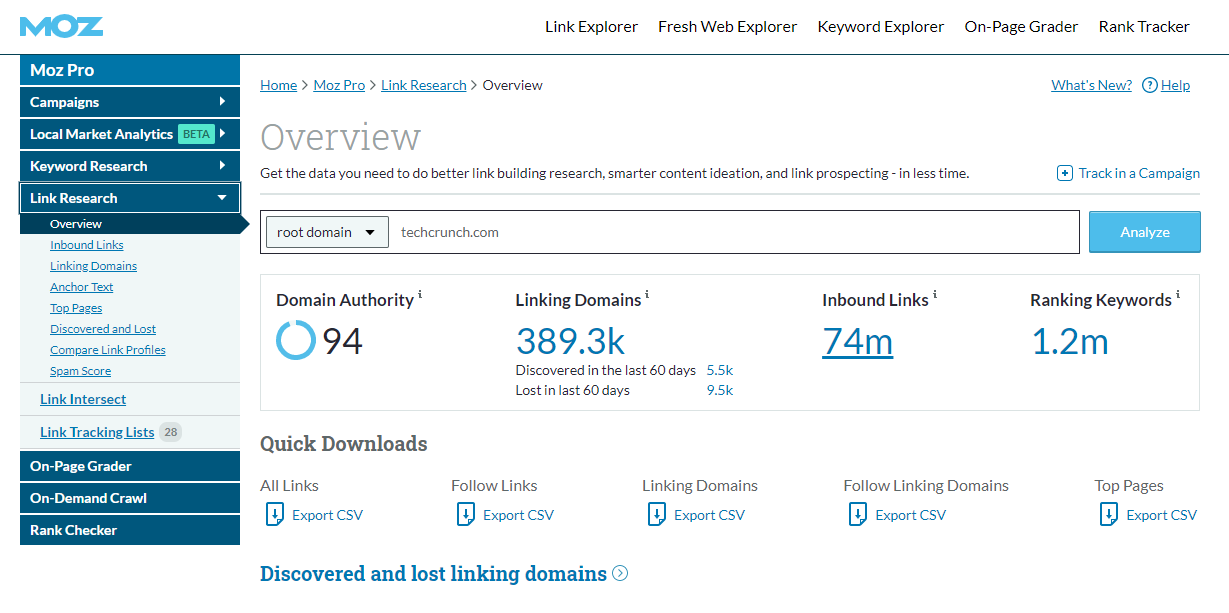 Moz is a robust and all-in-one keyword research tool for SEO marketing.
With Moz, you'll get link analysis, keyword research tools, and keyword generator.
The range of functionalities Moz must be adequate, even for an experienced SEO marketer. However, they have plenty of tutorials and resources, so you can take advantage to improve your SEO and learn about SEO in general.
Some of the features of MOZ include:
Weekly crawls and page rankings
Keyword difficulty.
Competition analysis.
On-page recommendations
Open site explorer.
Serpstat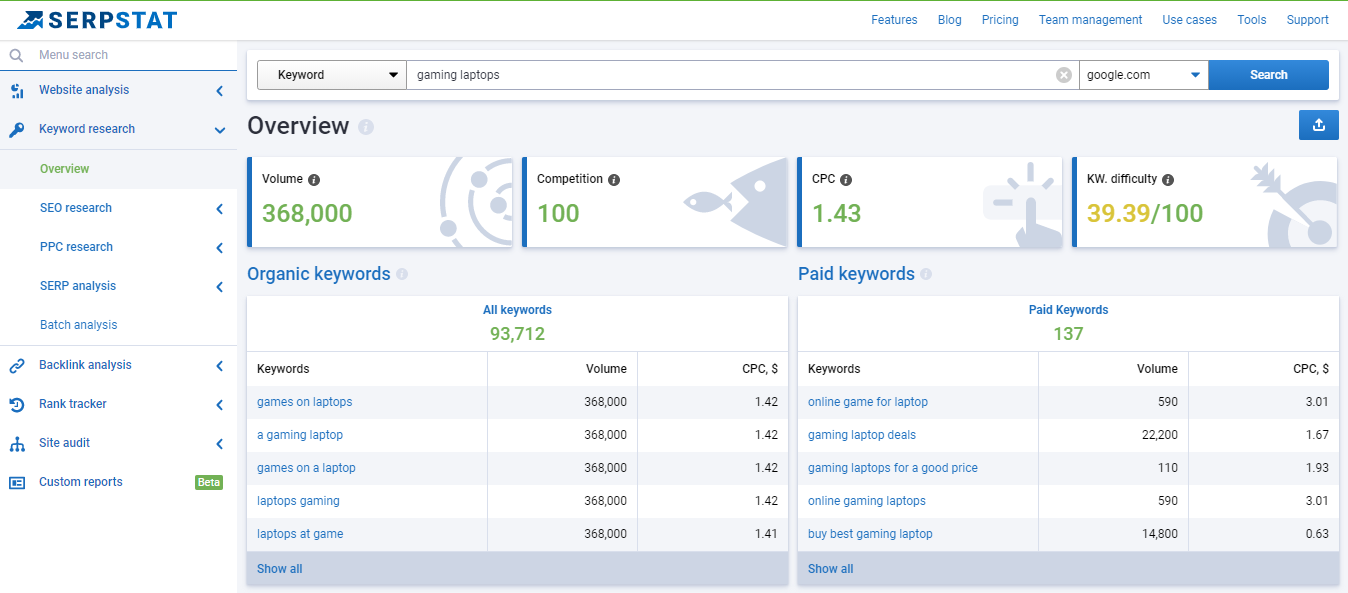 Serpstat offers access to tools like Keyword Research, Competitor Analysis, Site Audit, Backlinks Analysis, and Rank Tracker. It gives complete analytics data to more than 300,000 clients.
It offers keyword statistics for each web page. Through unique "tree-see," you get in-depth details of how keywords get dispersed on each page.
While you might target explicit keywords for a specific page, often, a web page may wind up with a better ranking, for instance, by turning into a web sensation.
This keyword research tool helps you to identify other pages, which, if targeted, may improve the ranking potential for those keywords.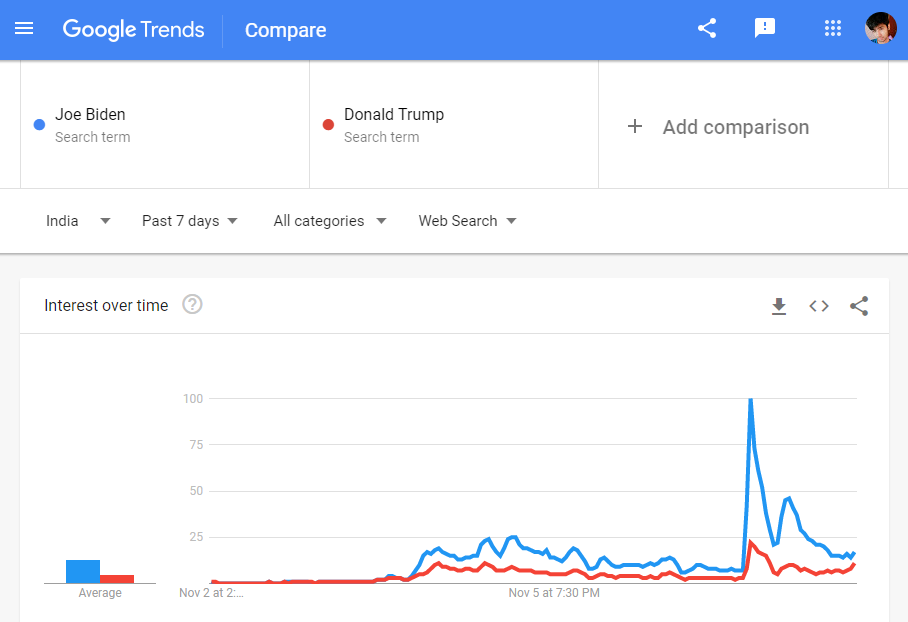 Google Trends comes in handy if you have a news site or sites on the latest trend. Google has its proprietary suggestion tool for Google PPC campaigns. Google Trends is a valuable tool that offers insights for keywords.
The Internet is changing. Identifying patterns in such changing behaviour offers long-term benefits.
Google Trends enables users to search for keywords. It also helps to identify the trends related to them.
It enables digital marketers to be able to access Google's search data directly. Unlike Google's other SEO tools, Google Trends is free to use. However, unlike other paid tools, you can't implement a pool of keywords without connecting to Google Trends Interface, increasing development cost.
Soovle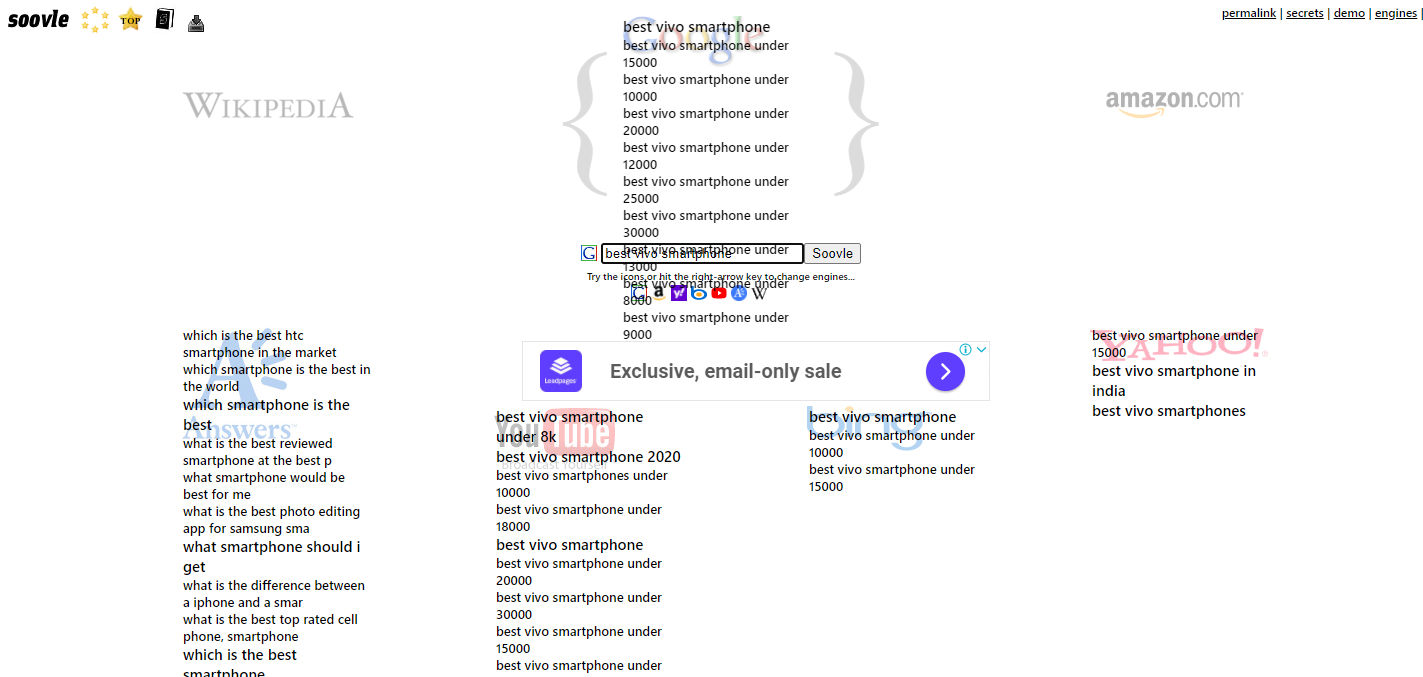 Soovle allows you to explore the common keywords typed in search engines depending on the keyword roots that you provide as an input. Soovle is not just a keyword research tool. It is a barnstormer that auto-generates its suggestion or idea as you enter yours. It is an all-in-one research tool that gives you suggested keyword ideas from Google, Yahoo, Bing, Amazon and YouTube.
SERPwatch is a keyword rank tracking tool. With the help of SERPwatch you can better monitor various valuable keywords of your website. You can analyse day to day improvements and downfall for your keywords. It is very easy to use and gives you great flexibility while using the software. SERPwatch remained one of the trending products on Appsumo. With constant improvements in the software, one can extend the level of expectation from this incredible software.
Screpy is all-in-one tool for rank tracking, keywords monitoring, SEO analysis, uptime monitoring, w3c monitoring and page speed monitoring. The tool is ready to use and offers great features for keywords monitoring. There are several affordable pricing plans that one can buy. Interestingly, you can add your team members in the system to take over the projects. You can add multiple projects based on your plan and easily monitor them on the go.
Keyworddit
Keyworddit is a comprehensive research tool that draws in keyword ideas from Reddit. You will find it useful if you don't have limited or no idea about any niche. Likewise, if you don't have any idea about paleo dieting, Keyworddit will give you pieces of information related to the topic. Moreover, it provides an estimate of monthly research volumes for each keyword.
Conclusion
These are some of the mostly-reviewed and rated keyword research tools that you can find in the marketplace. To find the one that suits your needs, fix a budget and then prioritize the main focus of SEO Strategy. If budget is a concern, then go for tools like Serpstat. If you need more advanced tools for an SEO campaign, then look for tools like Semrush or Moz.