We've all heard how difficult it is to start an email sales list from scratch, especially for small businesses. Due to limited resources, there were no other possibilities. Many businesses will purchase pre-profiled lists from a third party and send identical mass emails. Because of the low quality of the email lists, this can put your company at risk. However, using email scrapers is a superior technique to develop a highly targeted email list.
Email scraping can assist you in collecting email addresses shown publicly using a bot. What's fantastic about this is that you have control over where the email lists come from and who may opt-in. You are not compelled to use a secondary source, either. The following are the best email scraping tools for sales prospecting.
List of Best Email Scraping Tools in 2023
Octoparse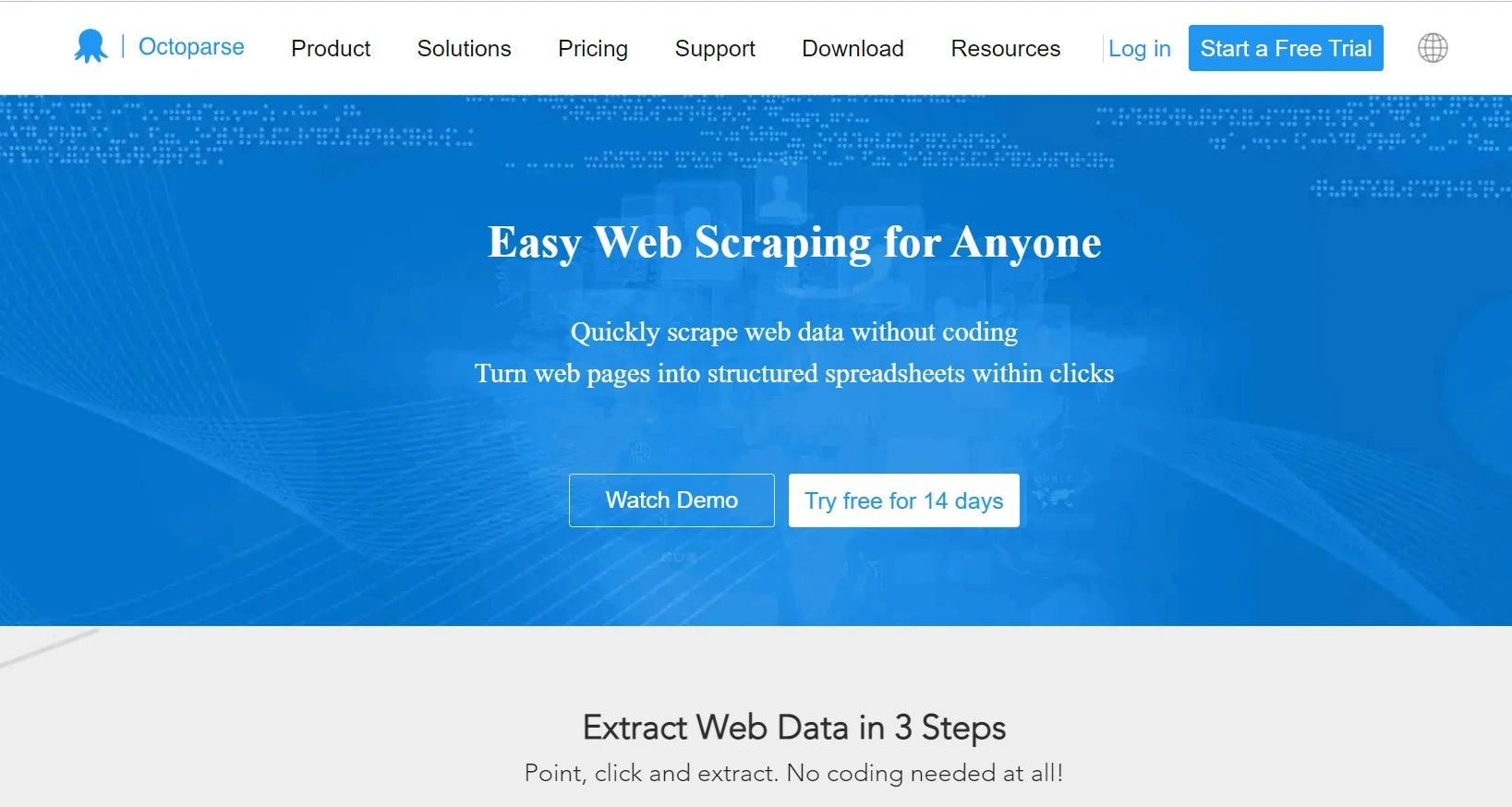 A web scraping program called Octoparse was created to make data extraction from the internet quick and simple for everyone. It offers consumers a point-and-click user interface so they may scrape online data without writing any code. It is a capable and easy-to-use web scraping tool that enables users to rapidly and effectively scrape data from almost any website.
Numerous data types, including HTML, XML, JSON, and CSV, are supported. Additionally, it provides a range of sophisticated capabilities, including automated output, multi-threading, IP rotation, and data visualization. It is a fantastic option for companies and individual users that wish to rapidly and conveniently pull data from the web.
Features
Cloud services
IP Rotation
Schedule scraping
Pricing
Free
Standard plan- $89 per month
Professional plan- $ 249 per month
Enterprise
Hunter.io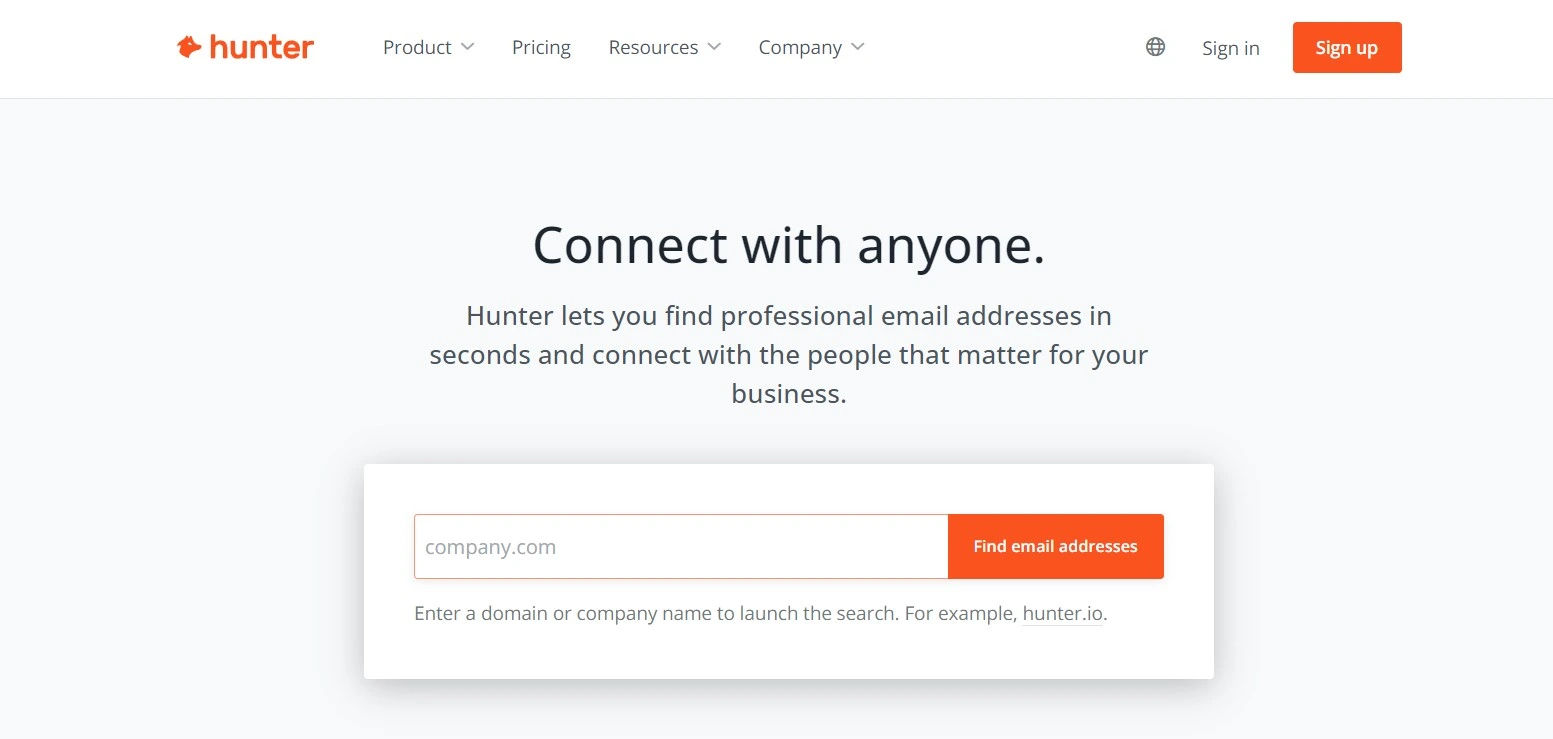 With the help of the robust web scraping tool Hunter.io, users may rapidly and efficiently scrape data from websites. It searches the web for data using complex algorithms and then extracts it in a structured manner for simple use and manipulation. It can be used to gather contact details from several sources, including email addresses, phone numbers, and social media profiles.
Users of Hunter.io can also extract text, photos, and HTML from websites for use in other programs. Hunter.io is a fantastic tool for gathering information from the web and has a tonne of capabilities.
Features
Email verifier
Email finder
Domain Search
Pricing
Free
Starter- $ 49 per month
Growth- $ 99 per month
Pro- $ 199 per month
Business- 399 per month
Snov.io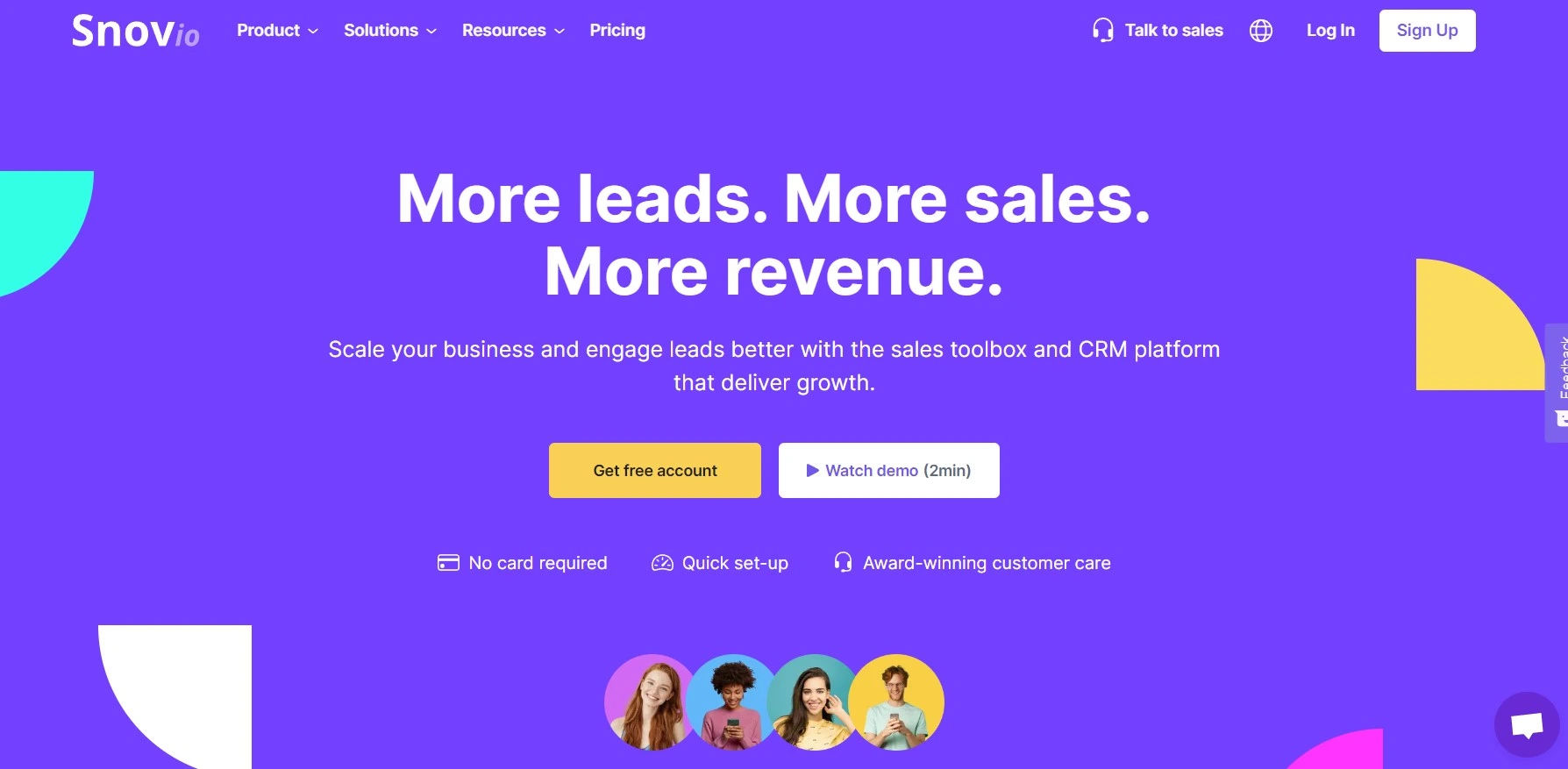 Users can rapidly and efficiently collect data from webpages using the web scraping tool Snov.io. Users can use the tool to extract data from sources in a variety of formats, including HTML, JSON, CSV, and others. Additionally, it offers several sophisticated capabilities, like custom filters, data merging, data cleaning, and others. Users can easily and swiftly extract data from websites using Snov.io for their own needs.
Features
Increase conversions with customized drip email sequences
Track email activity directly from Gmail
Verify suspicious emails so they always land in the inbox
Pricing
Trial- $0 per month
Starter- $ 39 per month
Pro- $ 99 per month
Custom- $ 999 per month
Atomic Email Hunter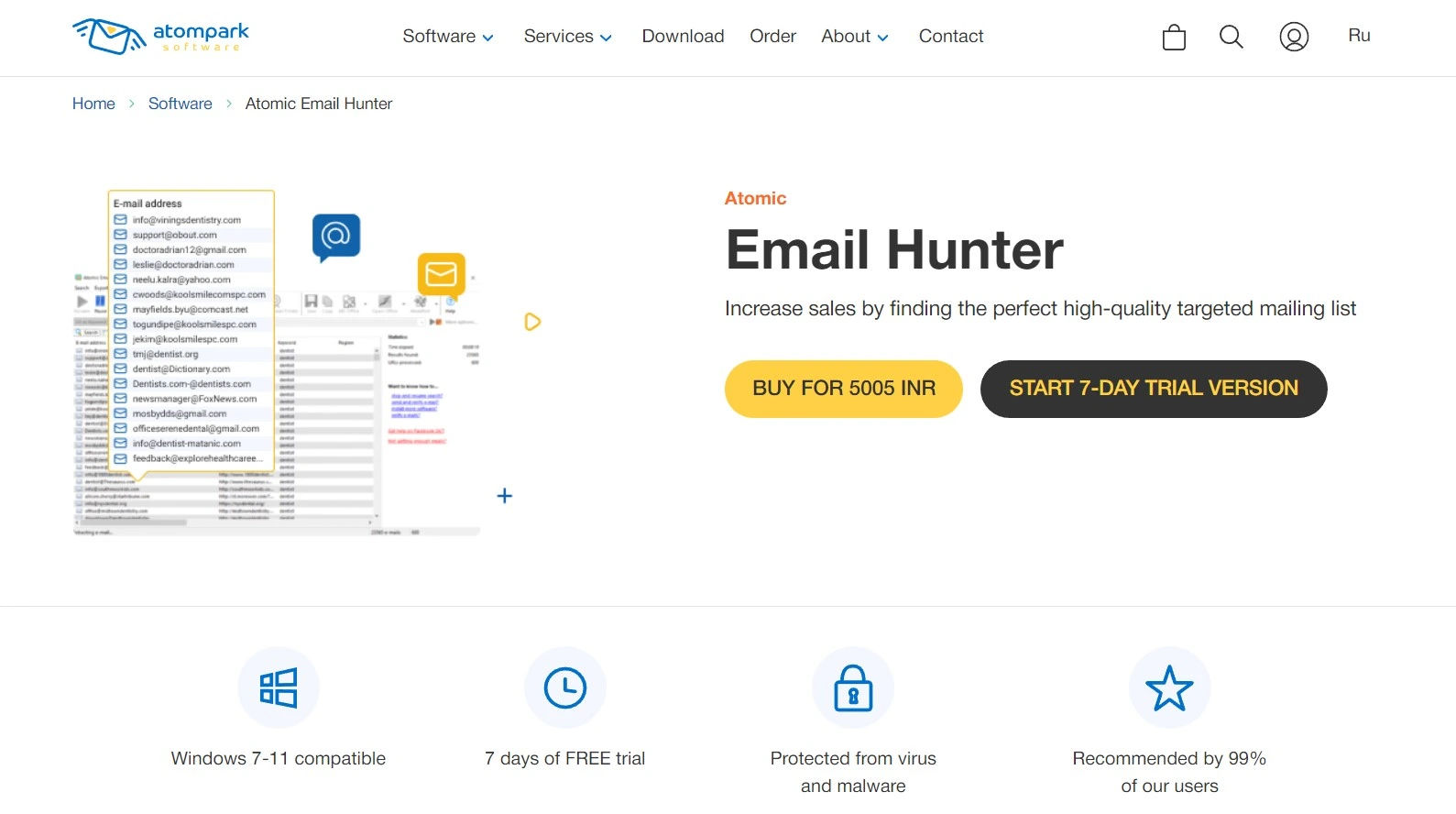 With the help of the effective web scraping application Atomic Email Hunter, you can locate and extract email addresses from a variety of websites. Any business or person interested in gathering targeted email lists should use this tool. This program can search scripts and codes as well as HTML pages, plain text files, and other documents to discover email addresses.
Overall, Atomic Email Hunter is a strong web scraping tool that is simple to use and may assist you in producing customized email lists quickly and effectively.
Features
Sophisticated search algorithms that can locate email addresses on even the most complicated websites.
It offers an effective filtering system that enables you to focus on a certain class of email addresses while excluding others from the search
You can execute numerous web scraping activities simultaneously thanks to its multi-threaded functionality
Pricing
Starts from 4254.25 INR per PC
Interseller
Interseller enables companies to rapidly and easily extract data from any website. Users may quickly and simply collect data from any website thanks to the automation of the data extraction procedure from websites. Users of Interseller can scrape information from any website and utilize it for lead generating, email list building, and other marketing tasks.
Additionally, it offers a robust API that enables customers to design unique scrapers and data sets. It can also be used to keep an eye out for updates and fresh information on websites. Interseller also offers data analytics tools so users may examine the data they've gathered and improve their decisions.
Features
Over 250 emails lookups
Send a series of customized emails automatically
Sync up all of your communications and prospects
Pricing
The final cost is $ 600 per month
Rocket Reach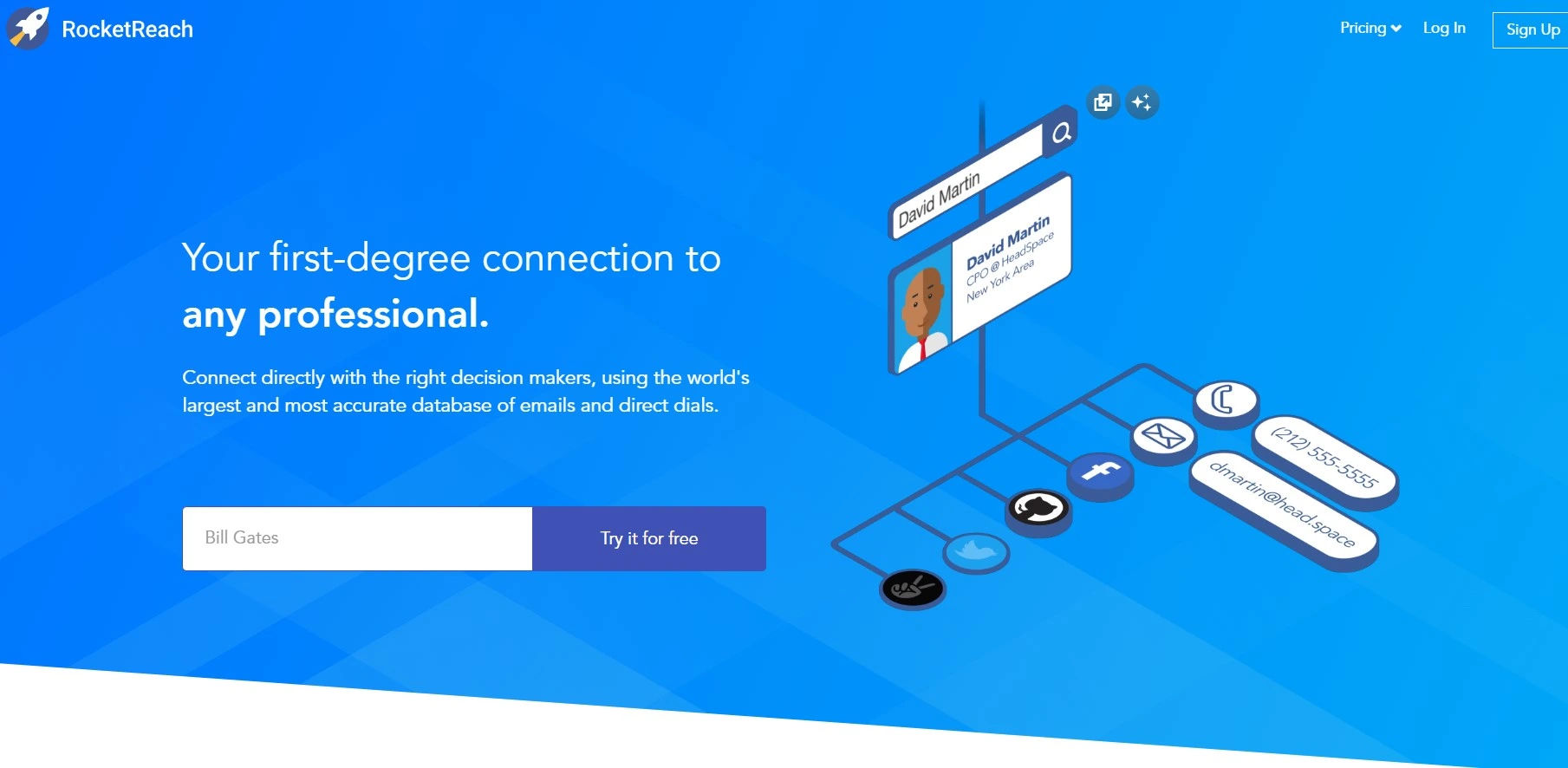 Users of Rocket Reach can extract copious amounts of data from websites, social media platforms, and other internet sources. One of the most well-liked and effective online scraping tools, it aids users in obtaining information from unstructured sources.
It enables users to create specialized scraping bots and focus on the precise data they require. Users can swiftly gather contact information, job listings, and other pertinent data from the web with the aid of Rocket Reach. Businesses, marketers, and researchers who want to gather a lot of data from the web can use this service.
Features
Social URL Lookup
Business Search
Domain Search in Bulk
Pricing
Essentials- Rs 2,894 per month (1,500 annual lookups per user)
Pro- Rs 5,867 per month (3,600 annual lookups per user)
Ultimate- Rs 14,773 per month (10,000 annual lookups per user)
Contactout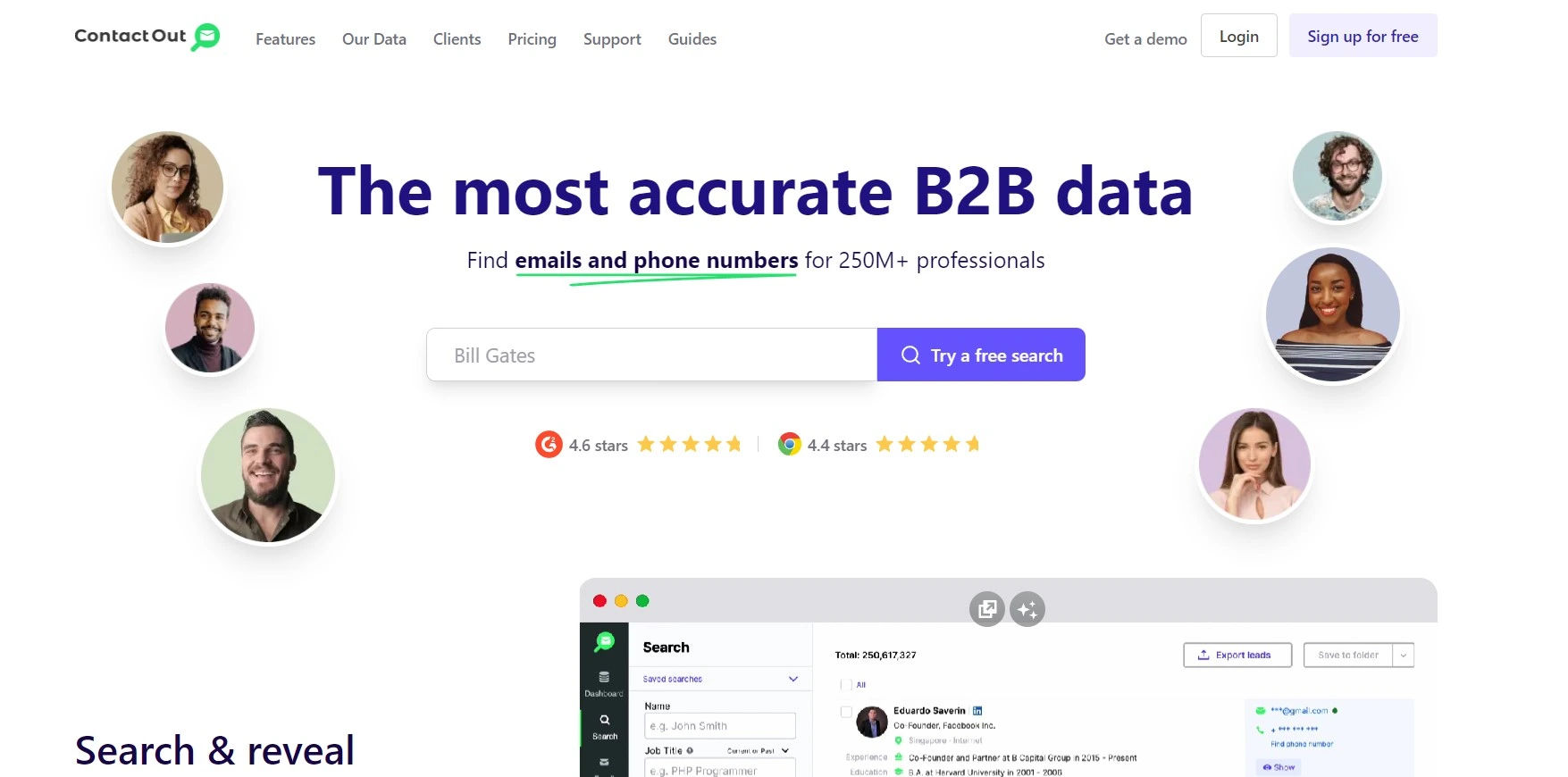 Recruiters and hiring managers can uncover potential candidates' contact information rapidly with the aid of the web scraping application Contactout. It conducts a web search and extracts difficult-to-find phone numbers and email addresses using a potent algorithm. To obtain the contact details of the people you're looking for, it can scrape websites like LinkedIn, GitHub, AngelList, and others.
Additionally, Contactout offers details like job titles and work history. You may rapidly get the contact details of qualified applicants via Contactout and make contact with them.
Features
Personalized email campaigns
Automated contact list builder
Advanced analytics
Pricing
Free- $0
Personal- $ 29 per month
Sales- $ 99 per month
Recruiter- $ 199 per month
Team- Contact us
AeroLeads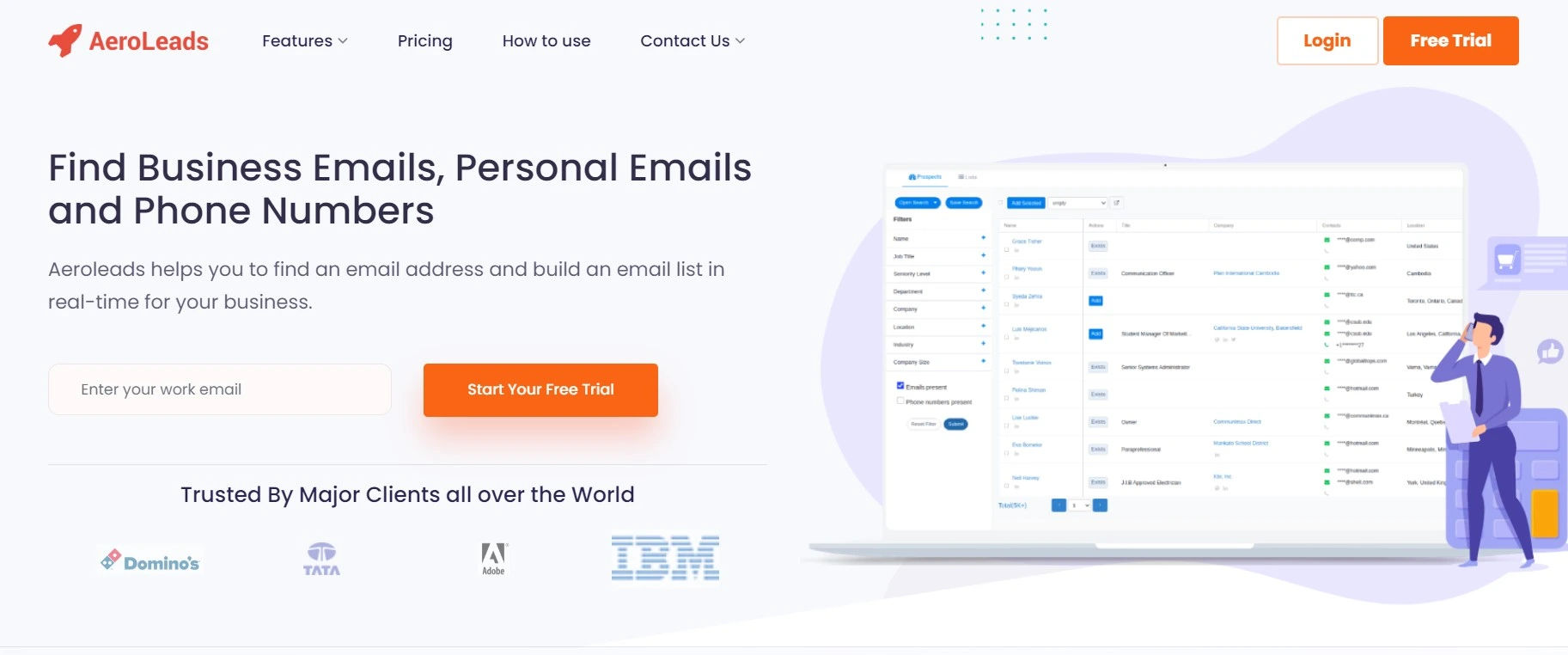 AeroLeads assists users in obtaining contact details from websites, such as email addresses, phone numbers, and social profiles. For those in sales and marketing, hiring managers, and business analysts who need to rapidly and precisely collect contact information from the web, this tool is great.
By searching for leads on any website, including social networks, job boards, and more, users of Aeroleads may quickly create customized contact lists. To assist users in finding the necessary contact information quickly, the application also offers strong filters and search settings. Additionally, Aeroleads is simple to use and browse thanks to its intuitive layout.
Features
Solutions for accurate and dependable data filtering
Advanced Email Verification
Email Search in Real Time
Pricing
Take off- $ 49 per month
Climb- $ 149 per month
Cruise- $ 499 per month
Enterprise- Email Aeroleads
FAQs
What exactly is an email scraping tool?
Email scraping tools are programs that harvest email addresses from websites, social media platforms, and other places. Marketers and recruiters regularly use them to develop contact lists and target potential leads. The tools can also be used to determine the email addresses of individuals linked with a specific website or organization.
Is Email Scraping Legal?
You may have comparable concerns before beginning. The answer is, in general, YES. The majority of email scrapers only grab public email data from websites. It somehow allows you to copy and paste the email content. However, if some sites prohibit email scraping, you must observe their regulations. You should also follow local data privacy laws. You now have a clear understanding of email scraping and can select one of the tools listed below.
How to use email scraping software?
Download and install the email scraping software. You may need to acquire a license depending on the software.
Configure the software by entering the URL of the website or web page from which you wish to scrape emails. Check that the website does not violate any laws.
Choose the type of emails to scrape. You might wish to scrape emails from a certain domain or a collection of domains.
Start the software. The software will crawl the website or web page and scrape all of the emails it discovers.
When the procedure is finished, you will obtain a list of emails. This list can then be used for a variety of purposes, such as marketing or lead generation.
What are the advantages of employing an email scraping tool?
Save Time: Email scraping technologies make it simple to scrape emails from various sources, saving you time and energy.
Accurate Results: Because email scraping programs are automated, they are accurate and dependable.
Targeted Contacts: You can uncover contacts related to your business by employing email scraping technologies, allowing you to target the correct people.
Customization: Email scraping programs allow you to tailor the emails you want to scrape as well as the sources you use.
Cost-Effective: Email scraping solutions are inexpensive, which means you won't have to spend money on employing people to manually search for emails.
Over to you with the best Email Scraping Tools of 2023
If you want to automate your lead-generating process, you won't be able to do it without a trustworthy email scraper — a program that will identify the email addresses of your potential leads and expand your database.
There are currently hundreds of email scraping systems available on the market. I've compiled a list of email scraping tools so you can find the best fit for your needs.
Each has advantages and disadvantages, but if you are searching for an email scraper that combines an abundance of functionality, reasonable pricing, and a positive client experience, any one of them can be the ideal solution.
You should investigate it yourself now and find the right tool for you.