Email marketing is the process of sending commercial messages through emails to targeted customers. It acts as a tool to increase sales, deliver vital information, and improve brand loyalty.
Effective email marketing strategy converts prospects into customers and fast time buyers to regular clients. It includes newsletters, with the promotion of sales and exclusive offers for the subscribers.
Email marketing enables businesses to keep the customers informed and tailor their messages to targeted audiences.
Top-rated and most-reviewed Email Marketing Software 2020
MailChimp 
MailChimp comes with an easy-to-use drag and drop builder and simple tracking for analytics. It is perfect for startup companies as it is affordable, flexible, and grows with your business.
Strengths
As a startup owner, it is nice to know that you start with a mail list without paying a monthly fee. It gives you sufficient time to grow your business and make the most out of it before investing in the services. By the time you have 2000 subscribers, you would be in a position to afford the services.
Plans
For 50,000 subscribers, it costs you 9.99 dollars per month. For 1 lakh and 2 lakh subscribers, it costs you 14.99 dollars and 299 dollars per month, respectively.
MailerLite

It's basic email marketing software. MailerLite offers tools for automation, surveys, popups, and landing pages.
Strengths
It has a drag and drop editor that makes it easy to design a high-quality message. MailerLite enables you to segment subscribers to optimize your campaigns with B/C testing features or enhance the personalization. If you are looking for simple marketing software at affordable rates, switch on to MailerLite.
Pricing
There is a free version that limits you to 2000 emails and 10000 subscribers. Pricing starts at 10 dollars. It varies based on the size of the subscribers. Likewise, for 2500 subscribers, it costs you 15 dollars monthly.
Constant Contact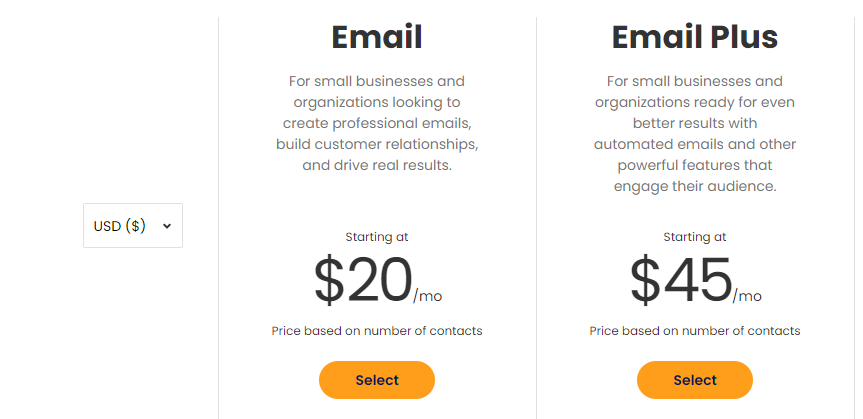 Constant Contact is one of the well-known and fastest-growing international email marketing software.
You can manage your email templates, lists, marketing calendar with ease.
Strengths
It comes with more than 100 templates that you can customize or use. As the mail looks good, you can schedule it and forward it to your contacts as per your convenience.
Each account gives you access to easy reporting, built-in social media tools, list segmentation, and Facebook ads integration.
Plans
Constant Contact has two plans depending on the features you need (25 dollars and 45 dollars per month). The price discrepancies are related to your contacts. It offers a free plan so that you can experiment with the service before spending on it.
SendInBlue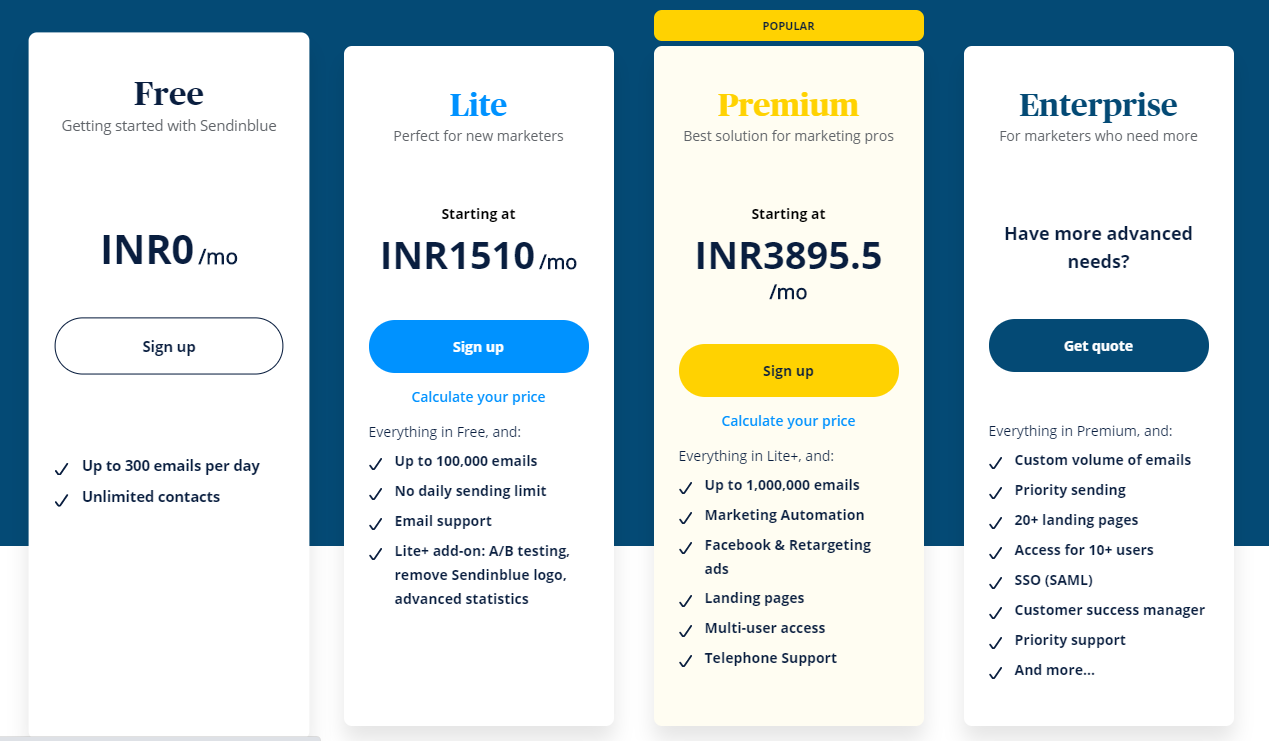 SendInBlue is one of the fastest-growing email marketing services in Europe. It has a user-friendly interface and includes tools to create engaging emails.
Strengths
SendInBlue includes a simple drag and drops tool that makes it beginner-friendly and easy-to-use.
This mail marketing software has workflows that grant you access to automation campaigns designed to meet your specific requirements. It aids you to select the best time to send bulk mails employing AI Algorithms to ensure mail deliverability.
Plans
It is a freemium marketing service. The free version lets you send 300 emails per day, but all these emails will have their branding. Paid plans start at 25 dollars per month. You can include SMS to your account, but the Plans depend on your sending requirements.
GetResponse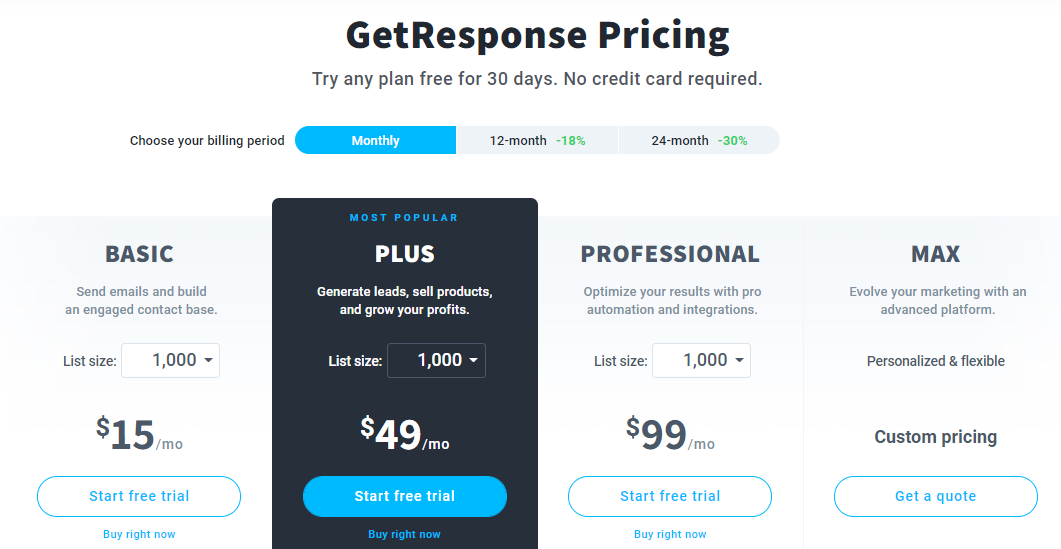 GetResponse is one of the well-liked email marketing software. Apart from traditional email campaigns, GetResponse helps you in building landing pages for lead generation.
Strengths:
It has a cool feature called Autofunnel. You can use this tool for creating funnels for sales, leads, webinars, and more. Funnels include emails, exit popup, Facebook ads, and marketing automation.
It includes a drag and drop builder that enables you to create segment contacts, campaigns, and any number of emails for specific groups. You can get 24/7 customer support by email, live chat. You can avail free learning materials, including webinars and videos, from the platform's help section.
Plans
The email marketing software offers four plans that you can choose from, ranging between 15 to 99 dollars per month. Plans may vary depending on your contact list and whether you pay annually or monthly. Each paid plan comes with a free trial so that you can experiment with the service before spending on it.
Convertkit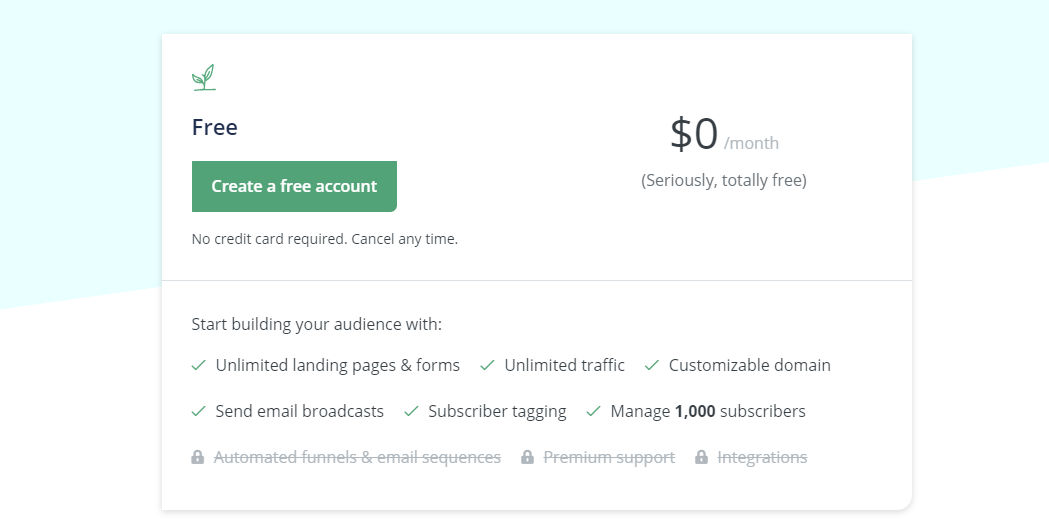 Convertkit is a powerful email marketing tool for professional bloggers, marketers, and authors. It has a unique feature that offers you incentives and content upgrades with email signup forms. Convertkit comes with easy-to-use auto-responders enabling you to send drip emails from their email services.
Strengths:
It can easily discriminate subscribers into those existing subscribers and those who are interested. This aids you increase conversations with automated and personalized emails (termed as targeted email marketing).
Convertkit includes specially designed features for creators and bloggers, making it the best email marketing tool for professional authors and bloggers. So if you are a creator who needs a simple tool to serve audiences, switch on to Convertkit.
Plans
It offers a 14-day free trial, and Plans start from 29 dollars per month. Convertkit provides a 30-day refund policy.
AWeber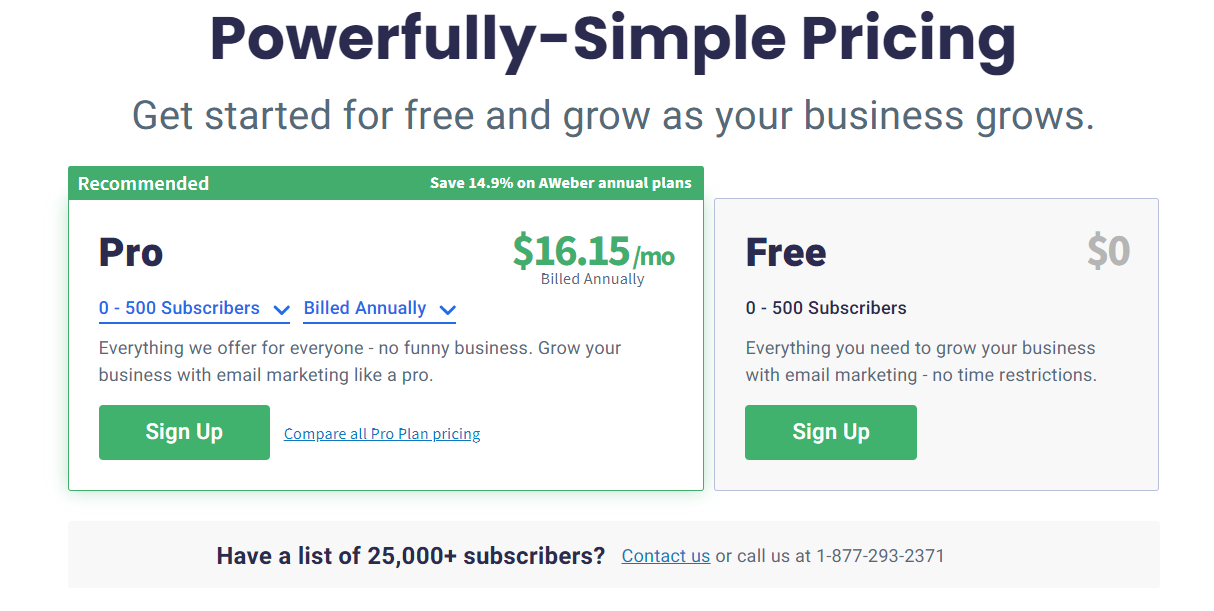 AWeber has been there for around two decades. It is a traditional and well-liked email marketing tool that is affordable and reliable. The company caters to more than a million entrepreneurs and business owners.
Strengths
The team at AWeber monitors their servers timely to ensure that your campaign consistently reaches your clients' inboxes or targeted receivers. You can avail 24/7 customer support by email, live chat. Unlike other platforms that offer features and functionalities for plans at different prices, AWeber provides the same features with every plan.
Plans
Pricing starts from 49 dollars. It varies based on the size of the subscribers. Likewise, for 2500 subscribers, it costs you 49 dollars monthly.
Drip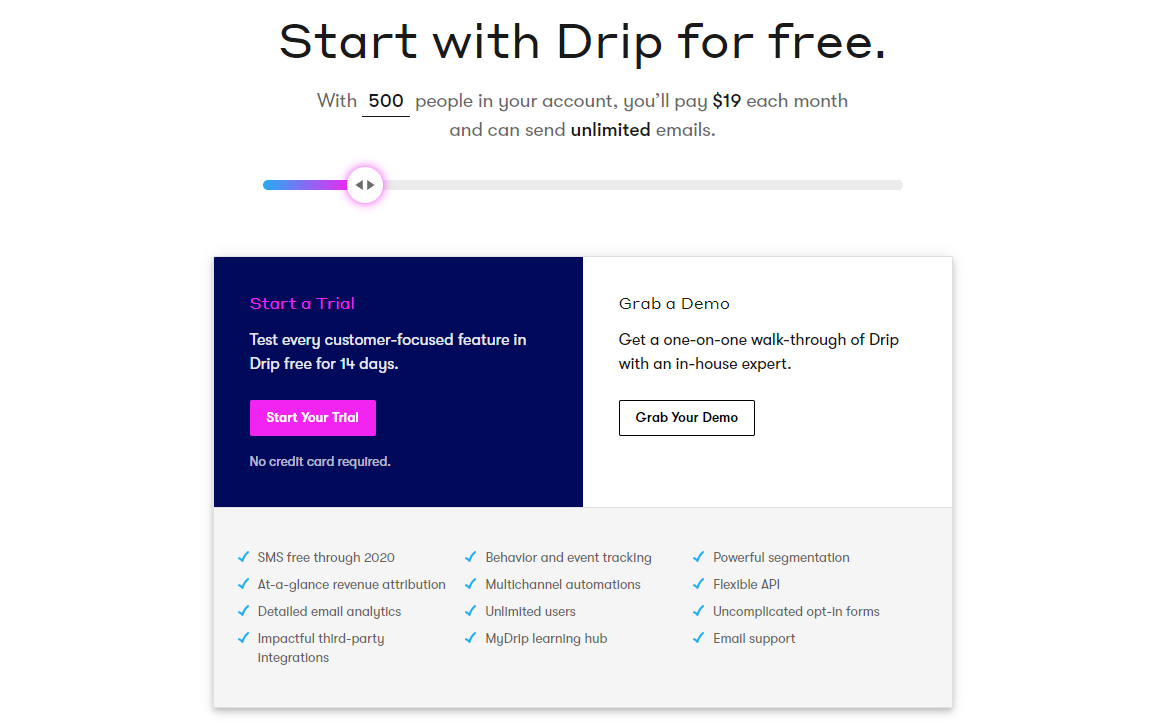 It is a robust email marketing platform for bloggers, e-commerce, and digital marketers. If you have an online or retail store, you can go for this marketing software.
Strengths
This marketing software enables you to track critical commerce metrics related to customer intention and purchase behavior. It lets you target consumers who left their shopping carts. The best part is that the email marketing platform integrates Facebook ads, WooCommerce, WordPress, and other tools that you employ for online selling.
Drip features a revenue attribution system that gives you a clear view of the campaigns that are making you money.
Plans
Plans start from 49 dollars. It varies based on the size of the subscribers. Likewise, for 2500 subscribers, it costs you 49 dollars monthly.