Documentation is an integral part of the software product. It is a written document that tells how a piece of software is built, used, or operate. It comes in many forms, including user tutorials that explain by showing how to perform the tasks, printed manuals or books with step-by-step instructions, and FAQ pages on the website of a company.
There are times when you have to deal with the slow and clunky editor, an unintuitive interface, and an unreliable search every time you wish to write or update a document. A documentation tool solves this problem, it changes the way you write your documents.
The Documentation tools streamline the process of managing and creating the documents/articles. They make the distribution of the documentation easier and faster. Many of these tools give you the power to publish your documents once they are completed and distribute these documents to the internal team or external users.
Sometimes you customers require solution that is rigid, many require steps or helpful images. In such cases, you can't keep the client in loop with text messages and documentation articles can come in handy to offer a dedicated solution. Documentation tools embed in the live chat software are highly useful as they help the users in real time. Even with the help of conversations bots in your live chat software, you can get the idea about client needs and offer them solution through your knowledgebase articles.
The use of documentation tools for the technology software is highly essential and recommended. With the use of dedicated knowledgebase you can reduce the pain out of the shoulders of your support agents.
List of Best Documentation Tools September2023
There are plenty of documentation tools available in the market. To make your decision easier, we have listed below👇some of the best documentation tools.
Document360
Intercom
Crisp
Livechat
Freshdesk
Helpscout
Zendesk
Liveagent
Helpjuice
ProProfs
Document360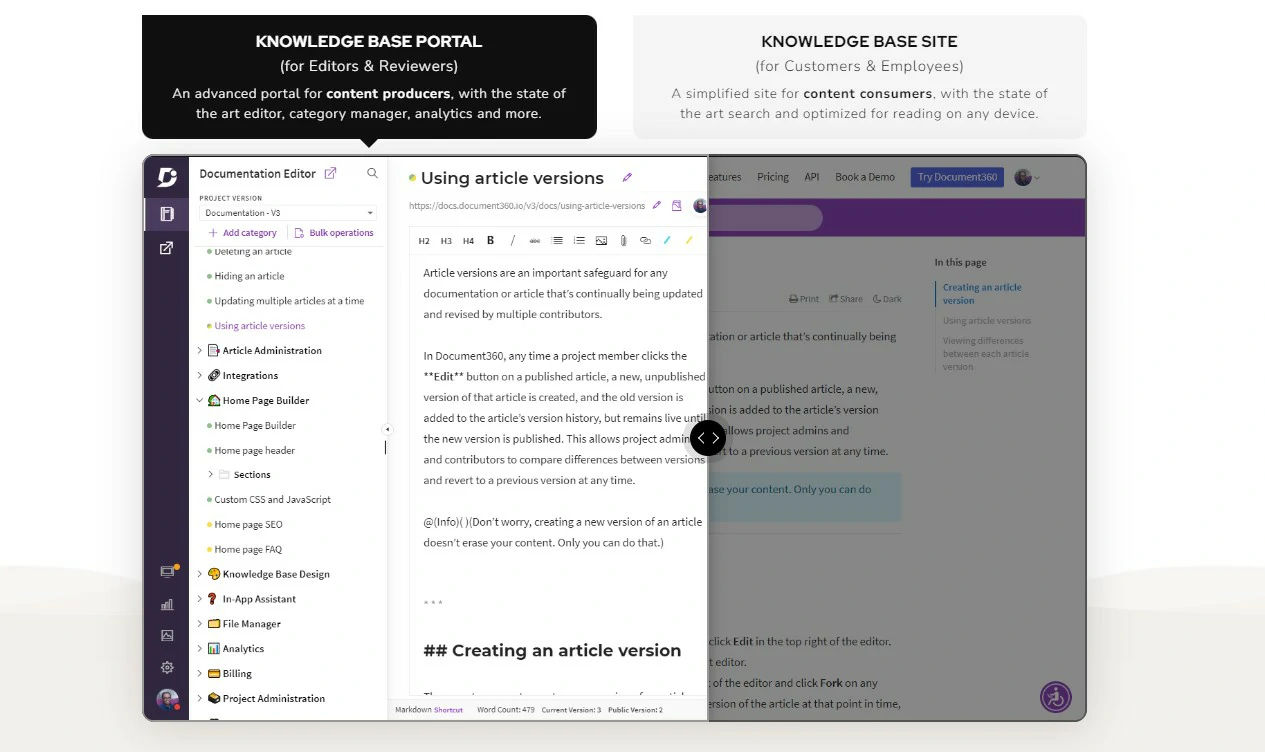 Document360 is a great tool that brings together your internal as well as customer-facing documentation. It is an easy-to-use tool with great features. It is also less affordable compared to the other tools of its kind.
It is a quite straightforward tool. The Documentation writers can pick between a Markdown editor and visual WYSIWYG tools, and tailor the editing experience according to their needs. The software is fully designed considering the need for a knowledge base.
Features of Document360
Built-in localization mechanisms
Content review reminders
Knowledgebase Assistant
Many useful integrations and extensions
Granular analytics to track how readers interact with your document
SEO features
14 days free trial is available
Platform API
Pricing of Document360
Free- At $0 per project, per month
Startup- At $99 per project, per month
Business- – At $249 per project, per month
Enterprise- At $499 per project, per month
Intercom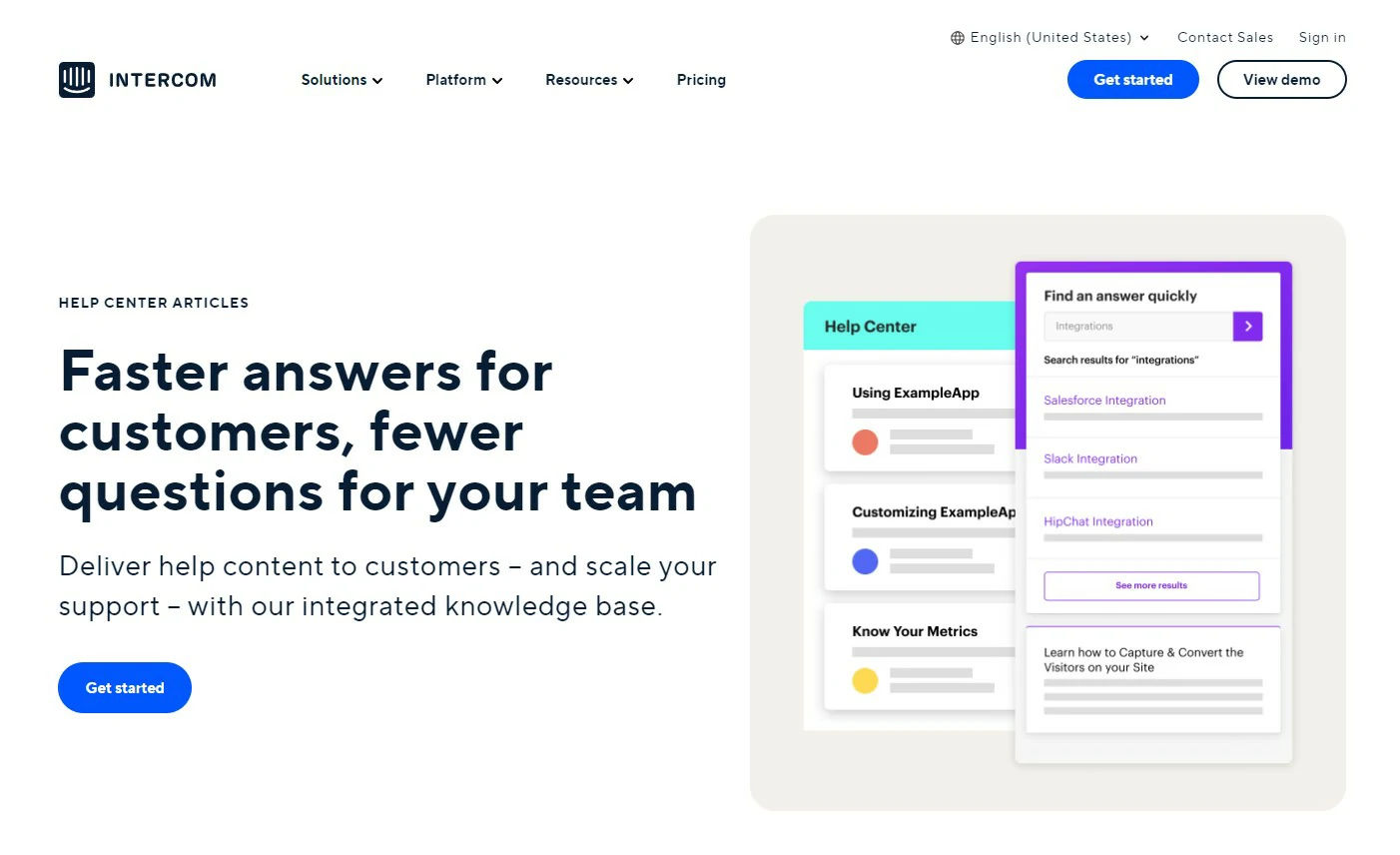 Intercom is a chat solution that provides chatbots and live chat for apps and websites. It is a Conversational Relationship Platform that allows you to create a better customer relationship. Intercom has three types of chatbot- Task Bot, Custom Bot, and Resolution Bot.
It is very easy to use; when, you sign up it provides you with a "quick-start-guide" that helps you to use the platform. Overall, it has 100 direct integrations, provides eCommerce integrations, many marketing possibilities, and advanced analytics. It allows you to create a help center articles website, you can set it on your custom domain. You can also utilize these articles to support your customers in the live chat. You can full customize the help center site by changing its color, header, logo, and domain.
Features of Intercom Help Center
Customizable Knowledge base (Help Centre Articles)
It can be utilized in live chat
Create Multilingual Articles
Reports and Analytics for Each Article in the Help Center
Permissions for your Agents to Handle the Help Center
Email marketing (Outbound Messages combined with Campaigns)
Pricing of Intercom
Start– From $59 per month. Provides basic live chat and outbound messaging
Grow- From $119 per month. Provides chat, targeted emails, and self-service support
Accelerate– From $499 per month. Provides automated workflows, bots, and reporting
Scale- From $999 per month. Provides advanced workflows, permissions, and security
Crisp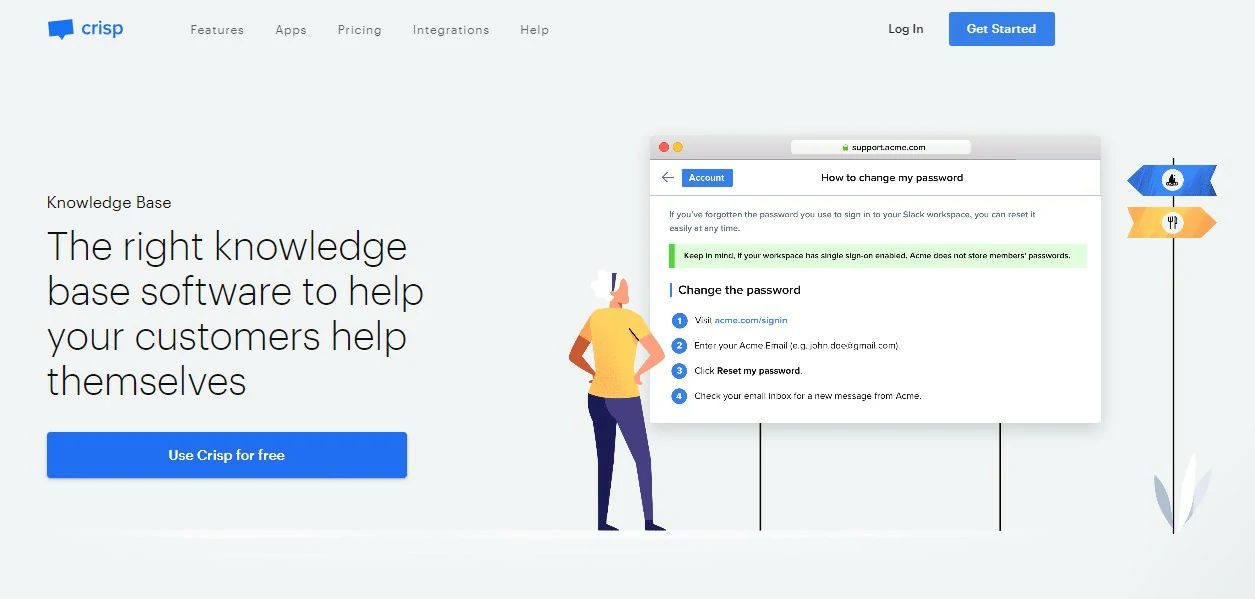 Crisp is a live chat tool used on over 200,000 websites worldwide. It offers chatbot and core live chat features. It is a feature-rich tool, with its chatbot feature being the simplest to use on the market.  It is also a highly affordable tool with pricing plans charged per website.
Overall, it is a well-designed and powerful tool that is an ideal option for smaller businesses. With Crisp, you can create a perfect knowledge base for your customers and deliver real-time support.
Features of Crisp
Live Chat
Chatbots
Email Campaigns
Built-in integrations
Some of Crisp's additional Live Chat features include-
Send email transcripts to agents and visitors
Send files, links, images, and videos
Mark conversations as resolved
Write private notes to yourself and your team
Pricing of Crisp
Basic– Free forever
Pro– At $25 per month/ per Workspace
Unlimited- At $95 per month/ per Workspace
Livechat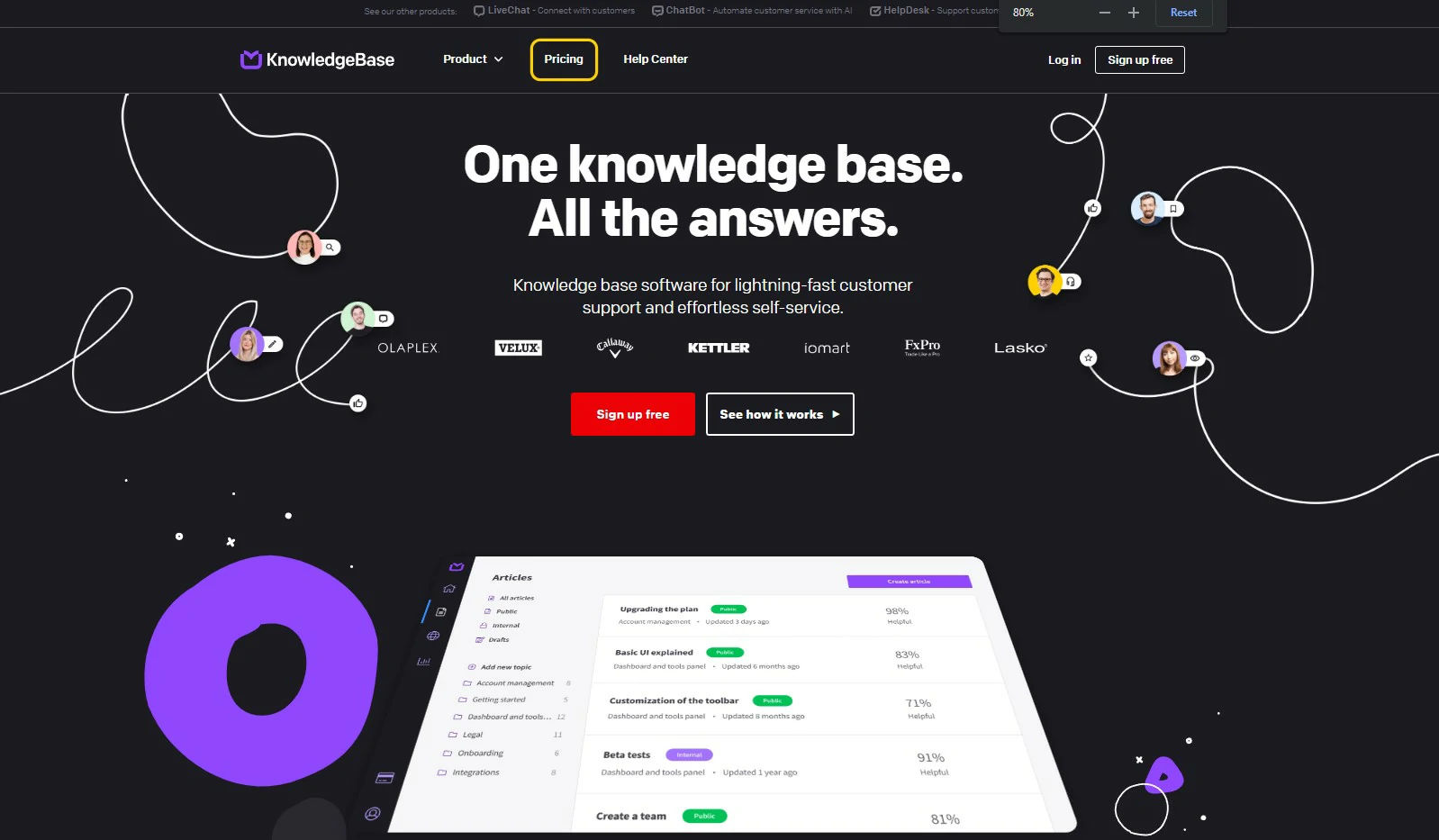 Live chat is an amazing software that allows customers to communicate with the customer support representative in real-time. When you use this platform, the customers can communicate with you on your platform (website), instead of sending an email or call.
It is an important communication channel because- it gives you real-time help, a competitive advantage, and requires no effort (for the customers). It comes with integration to its tool – Knowledgebase.ai

Features of Livechat Knowledgebase
Improved Knowledge Base Management
More Organic Traffic
Real-time chat becomes effective with useful articles
Reduced Workload for Support Team
Effective Support
Rich Text Editor
Google Analytics Integration
Chats overview to get a view of all your site visitors
Reports & Insights
Pricing of Knowledgebase in Livechat
$59/m for all the features
Freshdesk
Freshdesk is an easy-to-use platform from Freshworks. It offers a helpdesk, call center, and messaging center all in one. It is a tool designed especially for customer engagement.
It is a capable CRM that lets your business offer amazing customer support. The tool also helps you manage live chat support, email ticketing, and more.
Features of Freshdesk
Collaboration tools
Call center management
Customizable branding
Pricing of Freshdesk
Free- At $0, for up to 10 agents
Growth- Starting from 999 rupees, per agent/per month, billed annually
Pro- Starting from 3599 rupees, per agent/per month, billed annually
Enterprise- Starting from 5699 rupees, per agent/per month, billed annually
Help Scout
Help Scout is an amazing help desk software that is greatly known to freelancers and small to mid-sized businesses. It provides a shared inbox for the users and the teams to utilize. That permits them to collaborate each time an email is sent or any support request has arrived.
Another amazing thing about is its capability to integrate with numerous apps and business systems. It also offers a flexible pricing scheme.
Features of Help Scout
75+ keyboard shortcuts
90+ apps integrations
Auto reply
Browser notifications
Shared inbox
Pricing of Help Scout
Standard- At $20 per user per month
Plus- At $40 per user per month
Pro- At $65 per user per month
Zendesk
Zendesk is an all-in-one customer service software. A broad range of small startups to businesses from huge organizations uses this robust cloud-based tool. It is a help desk platform that provides organizations reliable support and assists them in success.
It offers live-chat support that supports the business to increase sales and conversation through engaging leads. The Zendesk guide is another thing that supports your customers to tap into your institutional knowledge and then bring it into play.
Features of Zendesk
Live chat solution
Personal phone support
Automated ticket sharing
Pricing of Zendesk
Suite Team- At $49 per user/per month, billed annually
Suite Growth- At $79 per user/per month, billed annually
Suite Professional- At $99 per user/per month, billed annually
LiveAgent
LiveAgent is a knowledge base tool for better self-service. It empowers your customers to help themselves and make the everyday routine of your agents simpler by creating a customizable and smart knowledge base.
It is an online Help Desk solution and a platform that offers live-chat application, online self-service portals, ticket management, and license management, all as either s standalone or an in-suite application.
Features of LiveAgent
Forum tool for sharing the knowledge between the customers
Suggestions and Feedback
Search widget to form information quickly
Pricing of LiveAgent
Free- At $0 per agent per month
Ticket– At $15 per agent per month
Ticket+Chat- At $29 per agent per month
All-inclusive- At $49 per agent per month
Helpjuice
Helpjuice is another cloud-based knowledge base management tool. It is suitable for any industry and businesses of all sizes. It has applications for the creation of internal as well as external knowledge bases.
It saves a lot of your time by decreasing your time spent helping the customers. As it lets the customer help. It includes functionalities like- auto-updating, percipient analysis, and much more.
Features of Helpjuice
Customized designing and styling tools
Tagging feature that allows developers to tag the questions in many relevant categories
SEO management
Pricing of Helpjuice
Starter- At $120 per month
Run-up- At $200 per month
Premium limited- At $289 per month
Premium unlimited- At $369 per month
ProProfs
ProProfs is an amazing knowledge-based tool. It is a knowledge management software that allows you to easily create searchable online FAQs as well as help docs. Also, you can add images, audio, videos, and infographics to your documentation and make your software documentation more compelling and interactive.
Features of ProProfs
Question Library
100+ smart security configurations
10+ question types with branching
Users can respond with a video
Pricing of ProProfs
Free- At $0
Essentials- At $20 per month, billed annually
Business- At $40 per month, billed annually
Business+ At $200 per month, billed annually
Over to you: Best Documentation tools
The above-mentioned👆 list is not at all an exhaustive list of Documentation tools. There are still many other solutions, many of which are more or less identical copies of each other.
We have discussed only a few of the best Documentation tools briefly, along with their features and pricing. A user-friendly Documentation tool makes your work easier. However, you have to keep in mind that finding the right tool is not enough, you also have to build a culture of documentation and develop some great habits.
You can choose any Documentation tool depending upon the type of documents you need to create. We hope that the list of documentation tools we have provided above helps you make the right choice for your team.