When your business needs to connect with many complicated tools to work every day, your makeshift solutions are just not enough. Then you need a tool that can build for you fully-functional automation. Here comes the role of the Cheat Layer.
It lets you solve even the impossible business automation problems by using an amazing combination of no-code tools, marketplace, and GPT-3 powered machine learning. That serves as your software engineer.
Cheat Layer is a tool that allows you to build white-label automation easily. Using it you can turn any automation into a branded Chrome Extension quickly and resell it to the clients.
The tool lets you connect with any business tool, including, Riku.ai, LinkedIn, Canva, and Google Sheets, to automate each day's processes.
People use Cheat Layer to help them with access permissions/controls, notifications/alerts, and business process automation.
I have personally used Cheat Layer and loved the tool. It has more potential to do great things than I first imagined. Its customer service is on point. The tool has reduced not only human errors but also saved much of my time and money. There is sure some remarkable future for this tool ahead.
Cheat Layer Overview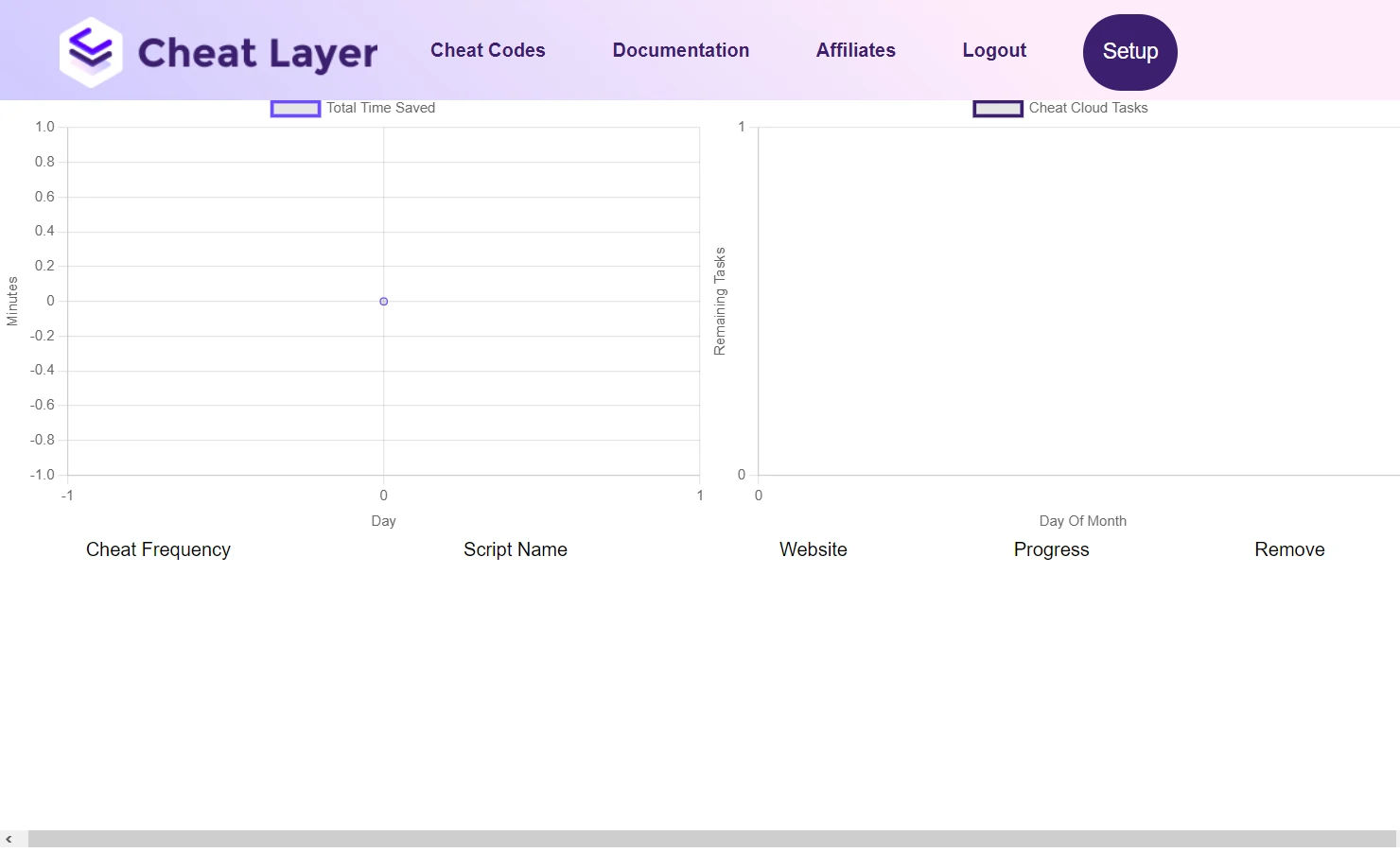 Using Cheat Layer, you can generate business automation using the powerful no-code tools as well as OpenAI codex-powered machine learning.
The platform also lets you build white-label automation using the action recorders. Also, building any complex automation with Cheat Layer becomes easy with the action recorders.
Cheat Layer is very easy to use, you don't even need any experience before starting using the tool. You just simply need to record the actions like clicks, scrolls, and movements, or else choose from a pre-set action type and generate custom solutions.
You can run unlimited automation across any browser and program of your wish by using Cheat Layer's state-of-the-art computer vision. And you can even use the user-trained custom machine learning models for this purpose.
The tool also allows you to run any number of scheduled automation locally through the extension. You can even do the same on Cheat Cloud servers that have zero downtime. You can schedule the automation in advance (before months) to run it locally or on Cheat Cloud servers.
And you can resell any of your automated solutions as a white-label Chrome extension to all of your clients.
Cheat Layer Features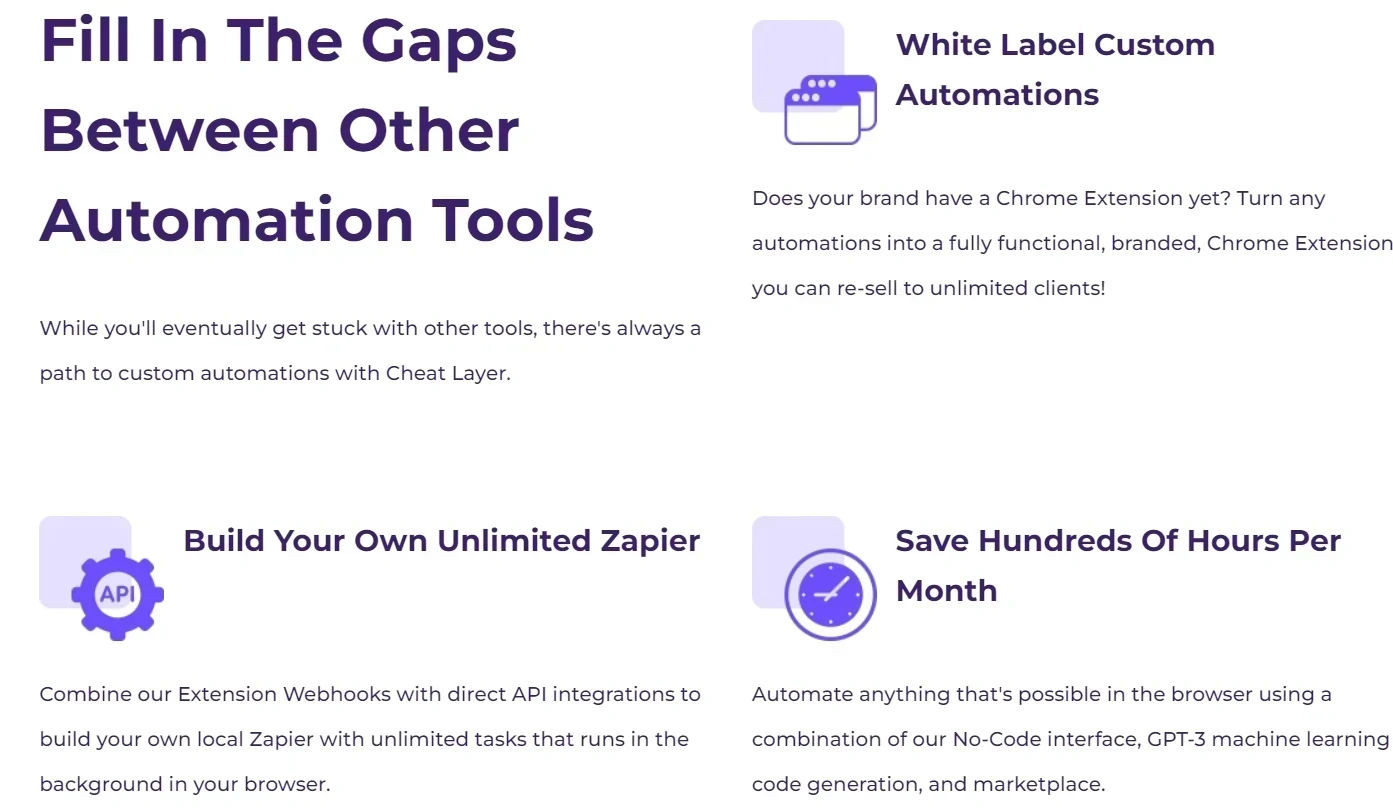 Pre-set action types- Cheat Layer lets you build your automation very quickly by recording the actions or choosing from the available pre-action types.
Webhooks- Webhooks run in the background of your browser. Using them, you can easily create unlimited integration services (like Zapier) without any additional or extra fees.
Pre-built automation- Cheat Layer allows you to pick from the pre-built automation and integrate a backend template that will accept AppSumo codes as well as Stripe subscriptions.
Project Atlas- Project Atlas lets you choose from the pre-built cheat codes and generate complex automation easily. It is a Codex-powered automation generator.
Robotic Process Automation (RPA)- Cheat Layer also enables you to create Robotic Process Automation (RPA) for desktops across Windows, Linux, and Max. That means you will not be stuck in performing repetitive tasks.
White Labels- The White Labels of Cheat Layer allows firms to solve many problems for their clients. It also allows you to resell that unique solution to unlimited clients. You can simply hover over any script icon and select the "White Label" to generate a Chrome extension instantly (30 seconds).
How to use Cheat Layer?
Create tons of workflow using Cheat Layer in just a few clicks
Step1- Start doing the action you wish to automate.
Step2- Cheat Layer records those actions from your screen.
Step3- Screen automatically builds out automation to replicate what it just saw you do.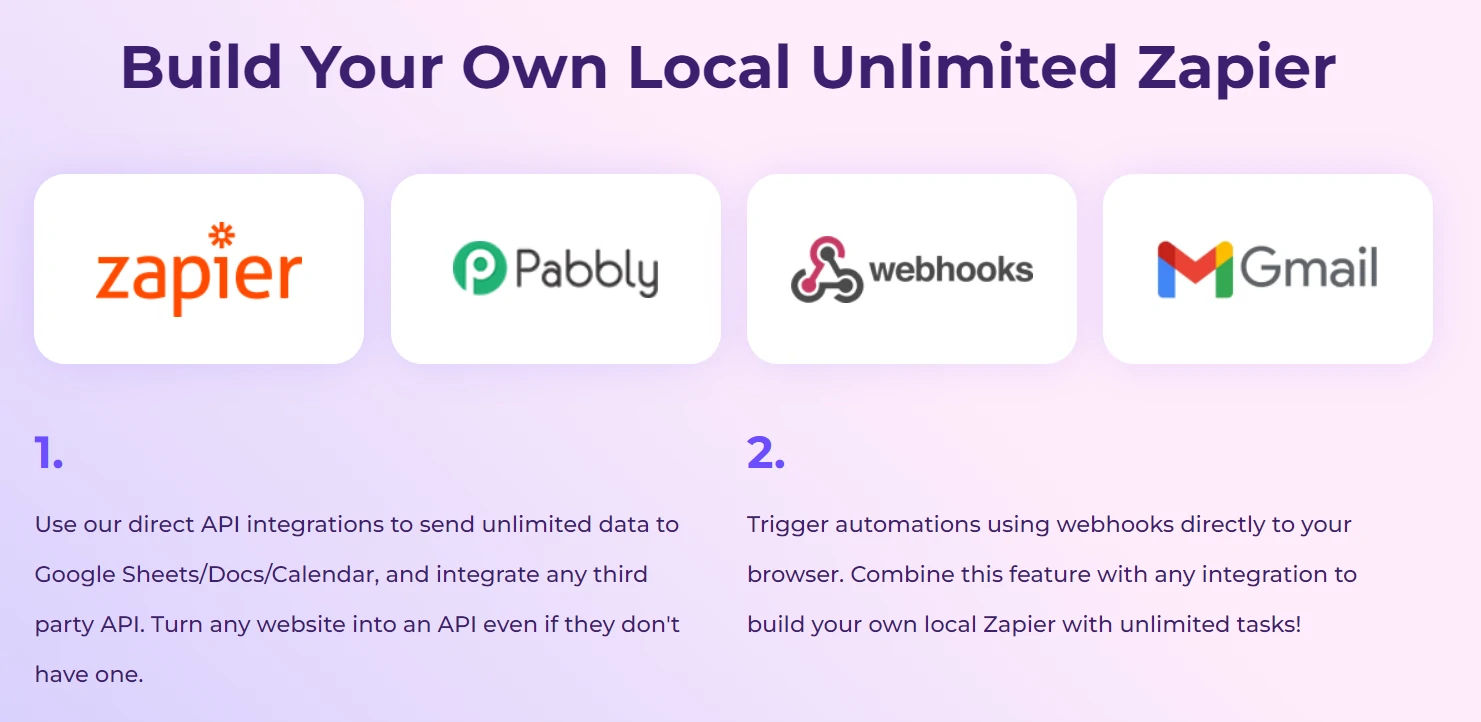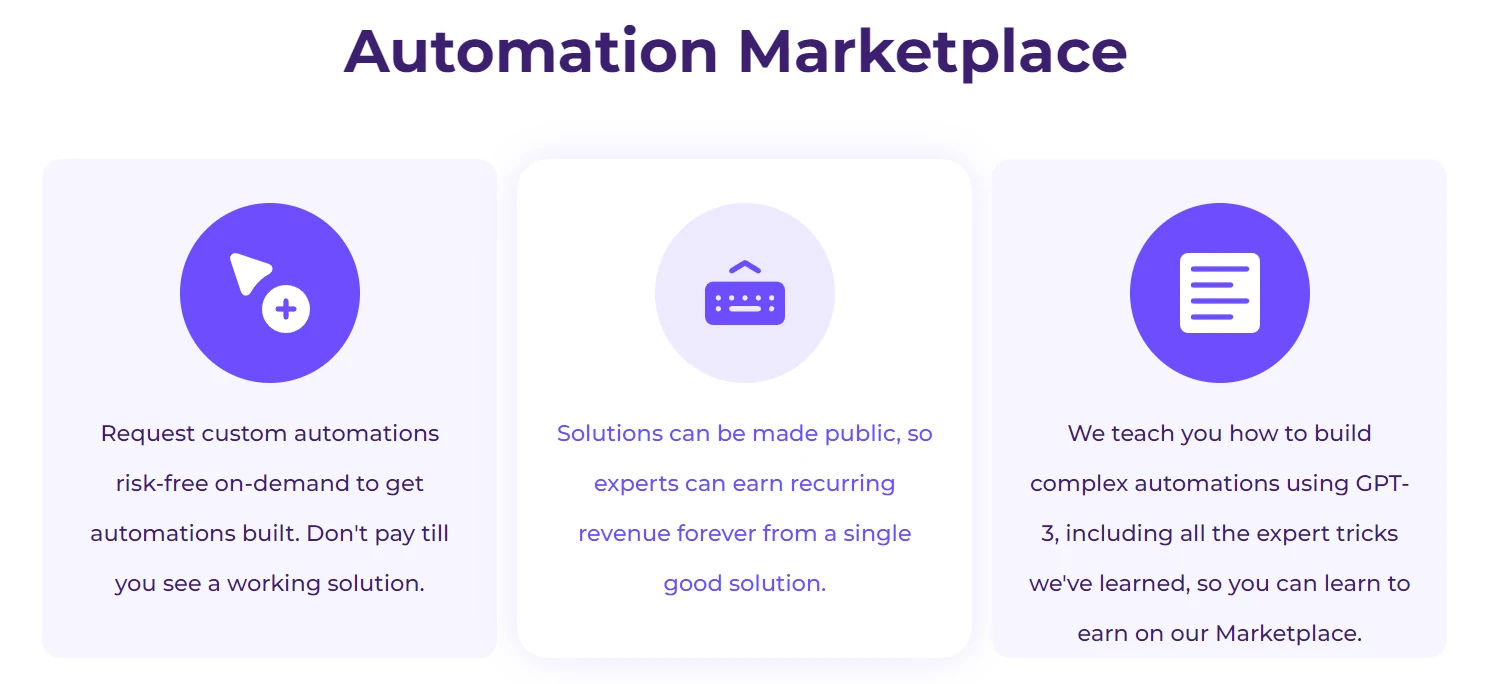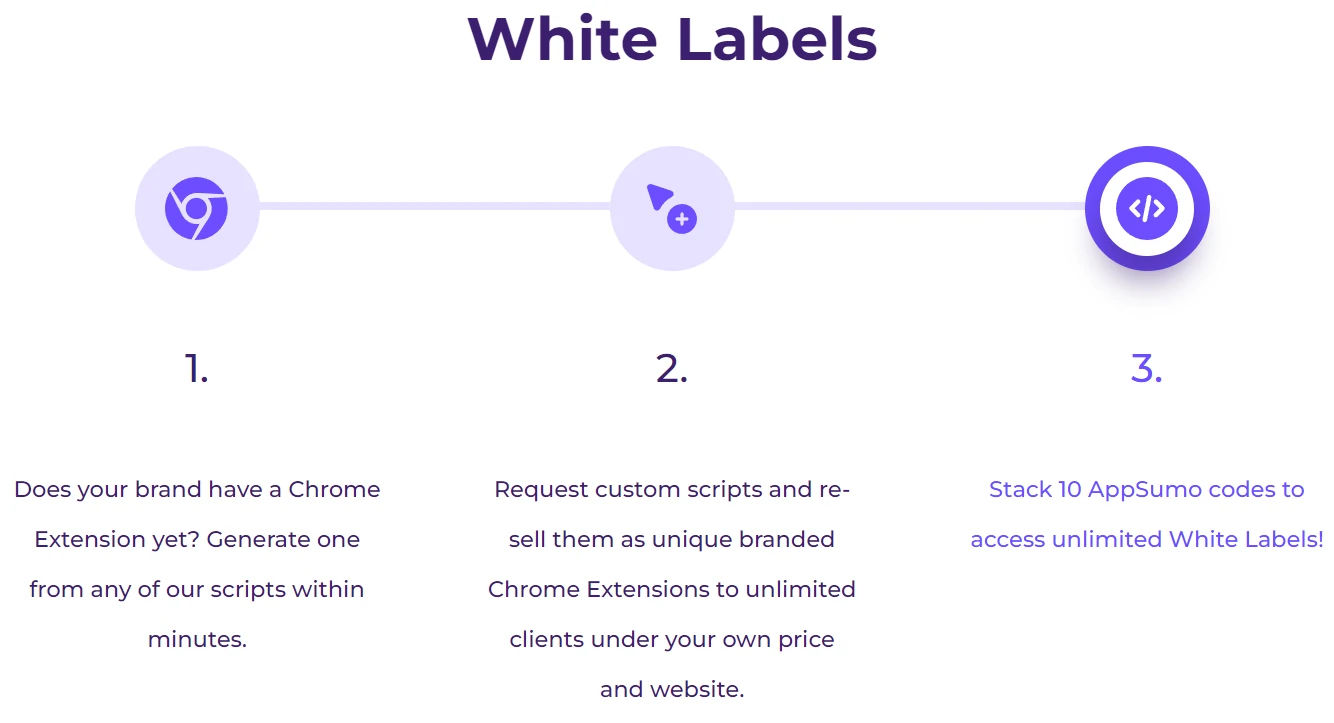 Cheat Layer Alternatives
Zapier
Zapier is a great automation tool. It is an amazing online service that enables you to create automated actions and connect the business and productivity apps. All without any need for coding skills. It handles repetitive tasks automatically and lets you build custom workflows very fast.
OnTask
OnTask is an amazing automation tool. It is a workflow automation solution that makes crucial processes easier. You don't need to have any coding skills for using the tool.
It is a great tool to gather customer information, fill out the forms, automate workflows and generate reusable documents. In all, OnTask is a simplified no-code workflow automation solution.
TrackVia
TrackVia is a workflow tool that works to create custom applications with a huge variety of uses. It allows the companies to simply build their applications using its drag-and-drop interface. It can also be done by uploading the data from a spreadsheet. TrackVia can also automatically builds apps.
Cheat Layer Pricing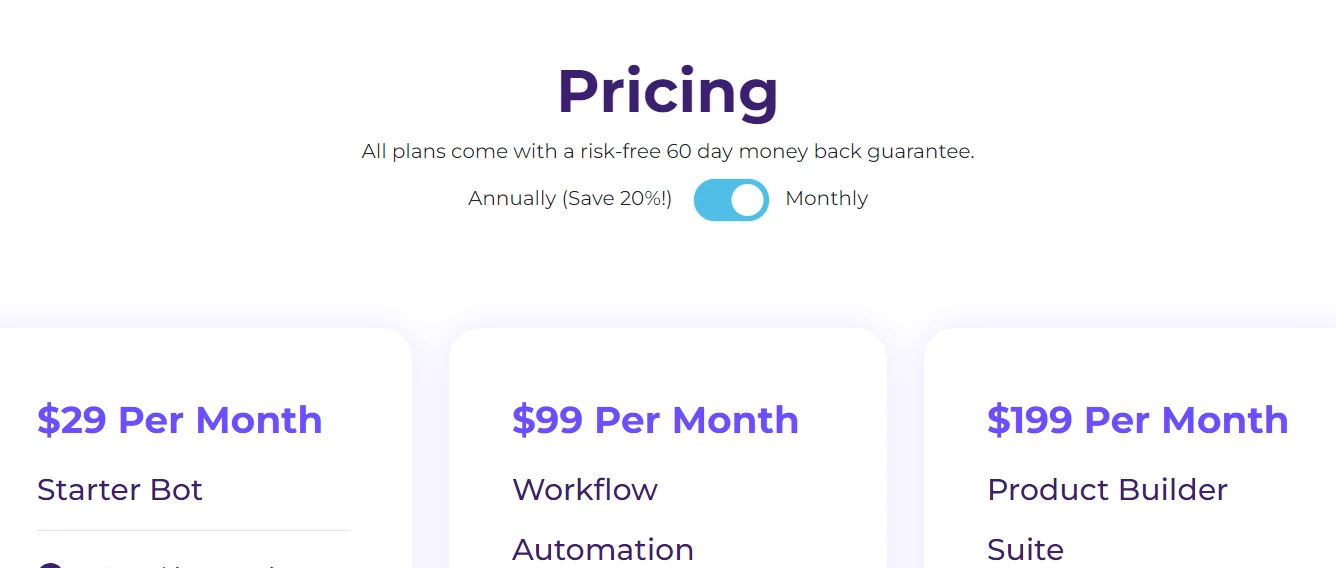 The Cheat Layer includes the following pricing plans-
Starter Bot- $29 per month
Workflow Automation- $99 per month
Product Builder Suite- $199 per month
AppSumo provides Cheat Layer lifetime deals
Single- One-time Purchase $99
Double- One-time Purchase $198
Multiple- One-time Purchase $297
Features included in all these plans that AppSumo provides are-
Unlimited automation and local executions
Desktop automation
Turn any website into an API
Automate any website using JavaScript
Generate scripts using natural language with AI
Webhook triggers (build your own unlimited Zapier)
Cheat Layer FAQs
Does Cheat Layer offer a money-back guarantee👆?
Yes. Cheat Layer offers a money-back guarantee for 60 days. This means you can try out the software for two months without putting your money at risk and decide if it's something you need or not.
Does Cheat Layer offer a free trial🙋‍♂️?
Yes. Cheat Layer offers a free trial of 14 days for all of its plans. You don't even need a credit card for it. And if you wish to continue using the tool you can update to any of its paid plans after 14 days.
Who are the common users of Cheat Layer?
Cheat Layer is commonly used by marketing agencies, entrepreneurs, and small businesses that wish to build automation, without any software engineer's help.
How is Cheat Layer any different from the other automation tools🤷‍♂️?
Other automation tools may need a software engineer but Cheat Layer doesn't. It provides various paths to the users for building automation that is otherwise considered "impossible" in other tools. No other tool generally offers a webhook directly to your browser but Cheat Layer does along with unlimited data.
How does a non-coder gets started with Cheat Layer🙋‍♂️?
Mostly all the fundamentals of web automation are possible entirely using no code. The action recorder is designed to build automation quickly across the websites.
Project Atlas later makes generating even complex automation from simple phrases easier.
Also, there is an optional live-onboarding to go over the basics and the office hours to meet with a talented engineer and investigate any custom automation.
What makes Cheat Layer stand out🤷‍♀️?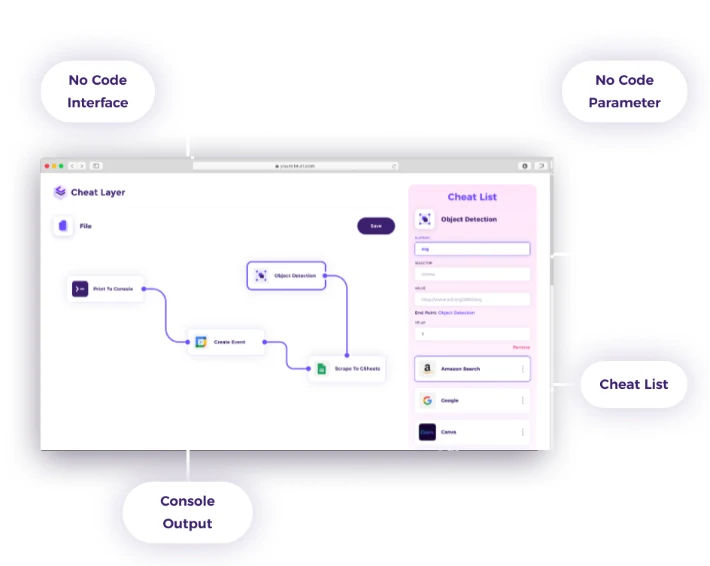 It is a tough job to find a tool and a software engineer and pay them heavily to automate the workflows. Cheat Layer makes this job easier by providing completely functional automation within minutes.
Cheat Layer always provides a path to custom automation. And lets you turn any automation into a completely functional, branded Chrome Extension that you can re-sell to any number of clients.
While using Cheat Layer you can even connect with the expert engineers during office hours and request custom scripts for your projects.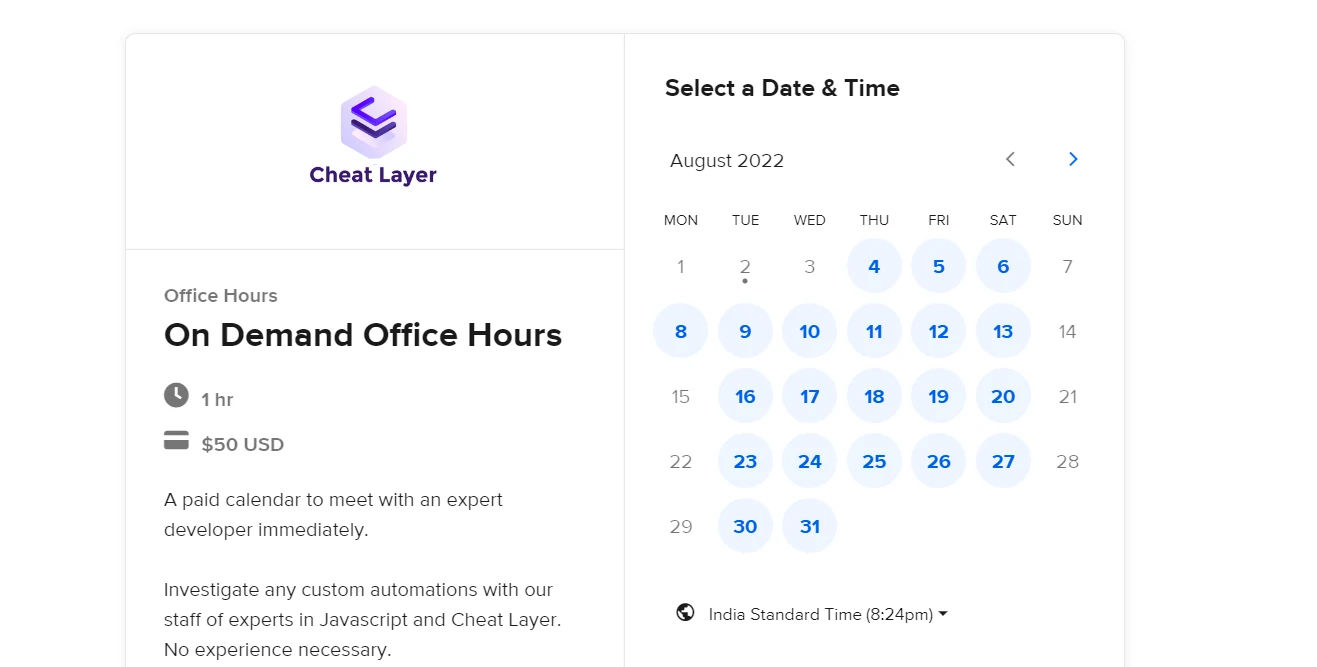 One amazing thing about Cheat Layer is- it lets you convert any website into an API. Even when that website itself doesn't offer any API of its own. This allows you to build unique SaaS services unavailable earlier on the market. And start earning recurring revenue.
Also, Cheat Layer's Robotic Process Automation (RPA) for desktops across Linux, Windows, and Max performs repetitive tasks for you.
Above all, Cheat Layers saves hundreds of hours per month by automating anything possible in the browser using its no-code interface and GPT-3 machine learning code generation.
Cheat Layer Pros and Cons
Pros-
No code tools needed
No OpenAI machine learning required
No need for any software engineer
Generates complex automation quickly
Office hours with expert engineers
Create unlimited desktop RPAs and perform repetitive tasks
Cons-
The UI can be improved
Sometimes a lot of time is spent in understanding the code that it generates
A little learning curve is needed
Over to you: Cheat Layer Review
Cheat Layer lets you generate automation using the OpenAI-powered language models and advanced computer vision.
Anyone with little or no coding knowledge can use the tool to automate their business. And using the Cheat Layer tool, build white-label automation in no time.
Also, Cheat Layer offers a money-back guarantee, so you don't have to consider giving the tool a try.
The Review
Cheat Layer
Cheat Layer allows you to use the power of GPT-3 to automate your tasks and save monthly hours. It also boosts your productivity and revenue. With Cheat Layer, you can Combine the Extension Webhooks with direct API integrations to build your own local Zapier with unlimited tasks that run in the background in your browser.
PROS
No code tools needed
No OpenAI machine learning required
No need for any software engineer
Generates complex automation quickly
Office hours with expert engineers
Create unlimited desktop RPAs and perform repetitive tasks
CONS
The UI can be improved
A little learning curve is needed
Review Breakdown
Easy To Use

0%

Features

0%

Integrations

0%

Support

0%

Value for Money

0%