There is a huge variety of proxy providers available in the market and it is very difficult to find a good proxy as the market is saturated with bad proxies. If you are looking for a proxy provider that can meet all your demands and let you boost your business by collecting the most accurate and complete data information then here are two of them Bright Data and Smartproxy before we discuss them let us understand what exactly a proxy does.
A proxy server is a server that retrieves the data out on the internet on behalf of a user. Using a proxy server will ensure your full privacy as it allows you to surf anonymously on the internet by hiding your IP address. Another amazing thing about using a proxy server is the speed, when you use a proxy server for your company and the users wish to retrieve a webpage then the proxy server retrieves it on behalf of the user and stores that webpage into a centralized database.
So, when another user on a different computer visits a webpage that has already been stored in the proxy database, the proxy server will not have to again retrieve the webpage instead it can simply retrieve it from its stored database and then send it to the user that will make the webpage retrieval very much faster.
A proxy server also saves bandwidth as it minimizes the need to go out on the internet and retrieve the data. Activity logging is another benefit of using a proxy server, which means a company that is using a proxy server can keep a watch on what its users are doing, like what site they are visiting and for how long and the company can configure the proxy to block some specific websites to prevent their users from visiting it.
But the only drawback of it is they don't encrypt the data while you surf the internet which means that the data can be intercepted by hackers. To solve this there comes a VPN (Virtual Private Network) that hides the IP address and also encrypts the data that is being transferred between your computer and the internet and keeps it private.
Bright Data
What is Bright Data?
Bright Data is an amazing web data platform. It is a proxy network provider and not a VPN. However, its residential proxy service is very much similar to a VPN in the way it transfers the information but it connects you to a network of hundreds and thousands of alternative IP addresses, unlike a VPN that simply sends your request down the road to a different IP.
Bright Data has four types of IP networks- Datacenter, Static residential, Residential network, and Mobile network. The data center offers a machine-generated IP and it is the most cost-effective, Static residential network offers real residential IPs that are provided directly through the ISP, Residential network provides a rotating, real, user IP that helps in accessing sophisticated websites, and lastly the Mobile networks that connect through a real, rotating, mobile connection of 3G or 4G that targets the sophisticated websites.
Bright Data is a great help to businesses for accessing tough target sites and collecting accurate, truthful, and reliable data without getting served by any misleading information. It enables businesses to collect structured and unstructured data from thousands and millions of websites through its proprietary technology.
Bright Data's precise geotargeting also allows the users to get access to any sophisticated target site. Many companies including small businesses and academic institutions use this platform and rely on its solutions to retrieve important crucial public web data in the most flexible, reliable, and efficient way, to monitor, analyze data, research, and make better decisions.
Pricing of Bright Data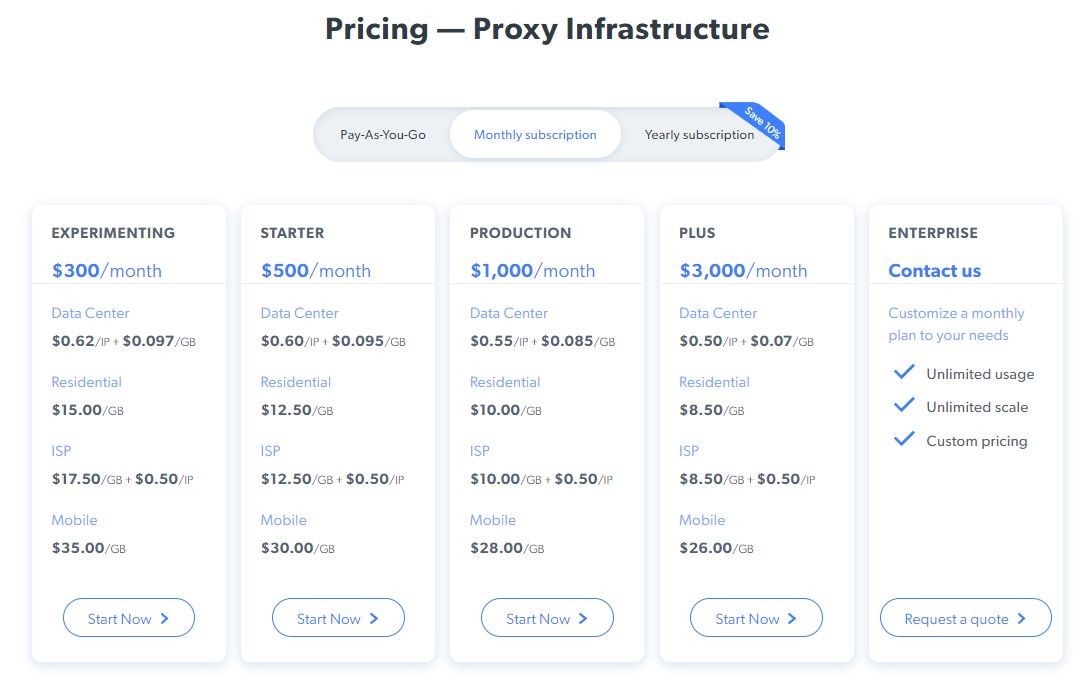 Bright Data offers five types of pricing plans- Experimenting, Starter, Production, Plus, and Enterprise. All of the plans come with options of pay-as-you-go, monthly subscription, and yearly subscription. The pricing for a monthly subscription starts from $300/month and goes up to $3000/month for the plus plan. While the yearly subscription plans start at $270/month for the experimenting plan and go up to $2,700/month for the Plus plan.
SmartProxy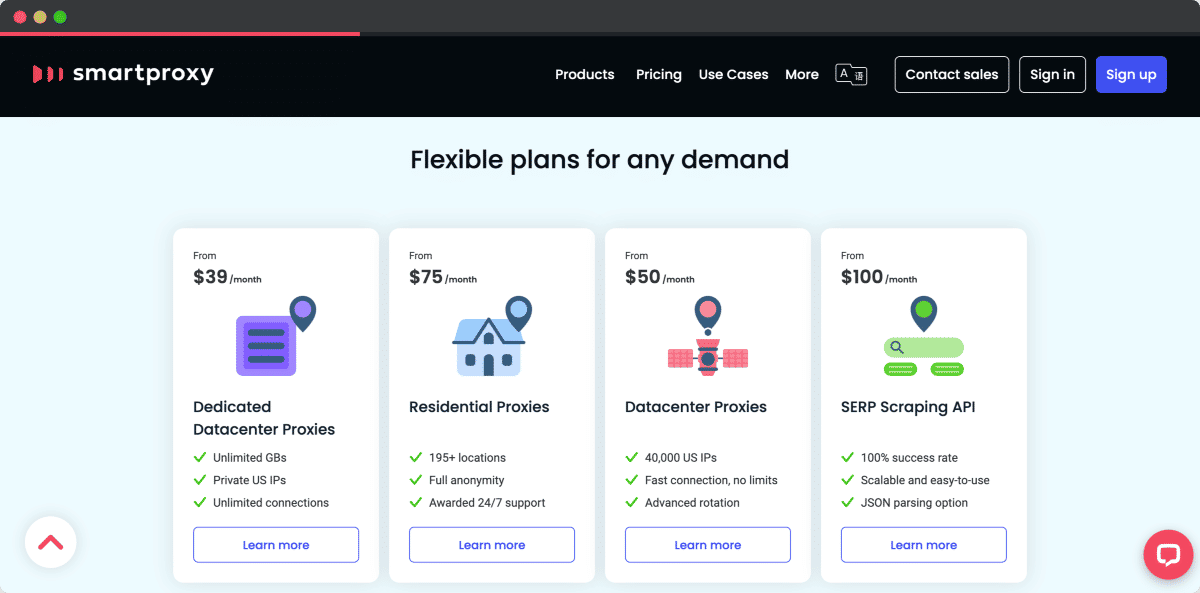 What is Smartproxy?
Among all the other residential proxy networks Smartproxy is the one that has a decentralized data access platform and has become a well-known name in the industry of residential proxy networks. It provides easy-to-use proxy management tools and levels up the playing field against large data hoarding competitors, companies, and more technically-able companies.
Smartproxy gives digital hustlers access to over 40+ million unique IP addresses and products that are easy to use with any software every month in over 195 cities and countries all across the world. It has some amazing features like- Data collection, Social Media Monitoring, Social Media Management, Data Security, Data Collection, and Qualitative Analysis among others. With it, you can be sure of your connection anonymity as it never leaks your IP address or location rather it encrypts and secures all the traffic at the IP level.
Smartproxy also offers IP rotation which means it keeps the same IP for up to 10 minutes and you can rotate the proxies on each connection request. It has a proxy API that allows the users to manage their account without even logging into the website and Smartproxy provides its users access to over a few million premium IPv4 addresses, it supports HTTPS and HTTP protocols for transferring the data between the proxies and target servers.
The most common users of Smartproxy are Startups, SMEs, Agencies, Enterprises, and Freelancers.
Pricing of Smartproxy
Smartproxy offers residential proxy plans of three types- Micro, Starter, and Regular plans. The Micro plan is billed monthly at $75+VAT, the Starter at $200+VAT billed monthly and the Regular comes at $400+VAT per month.
Why choose Smartproxy?
Smartproxy has flexible pricing plans, gives a money-back guarantee for 3-days, provides strong support 24/7, and above all lets you create an account for free. It has outstanding customer support that makes sure to always be there for you when encountering any roadblocks.
There are many more reasons for choosing Smartproxy like it has 40+ million real IP addresses, provides good-quality residential proxies for web scraping and sneaker copping, has a chrome extension, Firefox proxy add-on, and a proxy address generator. It does not limit simultaneous connections allowing the users to send as many connections request as they require.
The Synopsis
There is no doubt that Smartproxy is one of the best proxy providers present in the proxy industry, its service represents amazing value for the price and at a technical level, their reliability, speed, and security are top-notch. Its UI is simple and intuitive that making it very easy for you to manage your proxies through the website. At the same time, it has a limited city targeting of only 8 major cities and it doesn't support the SOCKS protocol.
On the other hand, Bright Data is a huge network that is quite hard to set up yet is the world's number one leading web data platform that delivers extremely high-quality proxies, offers flexible pricing plans, has a user-friendly dashboard, provides great customer support, and has highly powerful and configurable tools that make it a perfect choice. If you are looking for a reliable data collection proxy provider and good-quality proxy then Bright Data is surely worth a try.