SendFox is a marketing tool founded by Noah Kagan, the founder of AppSumo, and other famous online marketing tools such as Sumo and KingSumo. Noah essentially launched it to solve their email marketing problem, and now it has become one of the most affordable and best email marketing tools on the market. SendFox is a tool to build mail customers for your brands. It offers a free plan also in which you can have up to 1000 contacts on your list, while the premium plan costs $49 for a lifetime unlimited mails.
SendFox is specifically designed for content creators, bloggers, YouTubers, podcasters, and more. The tool allows them to create unlimited customized emails and schedule and create and automate unlimited customized emails on their contacts list. One of the advantages is, it is effortless to use even for beginners as the interface is minimalistic and seamless. If you are a content creator, an influencer, or a YouTuber, then SendFox can be very helpful to you in your email marketing process. You can turn your customers into subscribers using SendFox's Smart Pages and forms on your site. It helps in communicating with your audience with emails, Smart Campaigns, and automation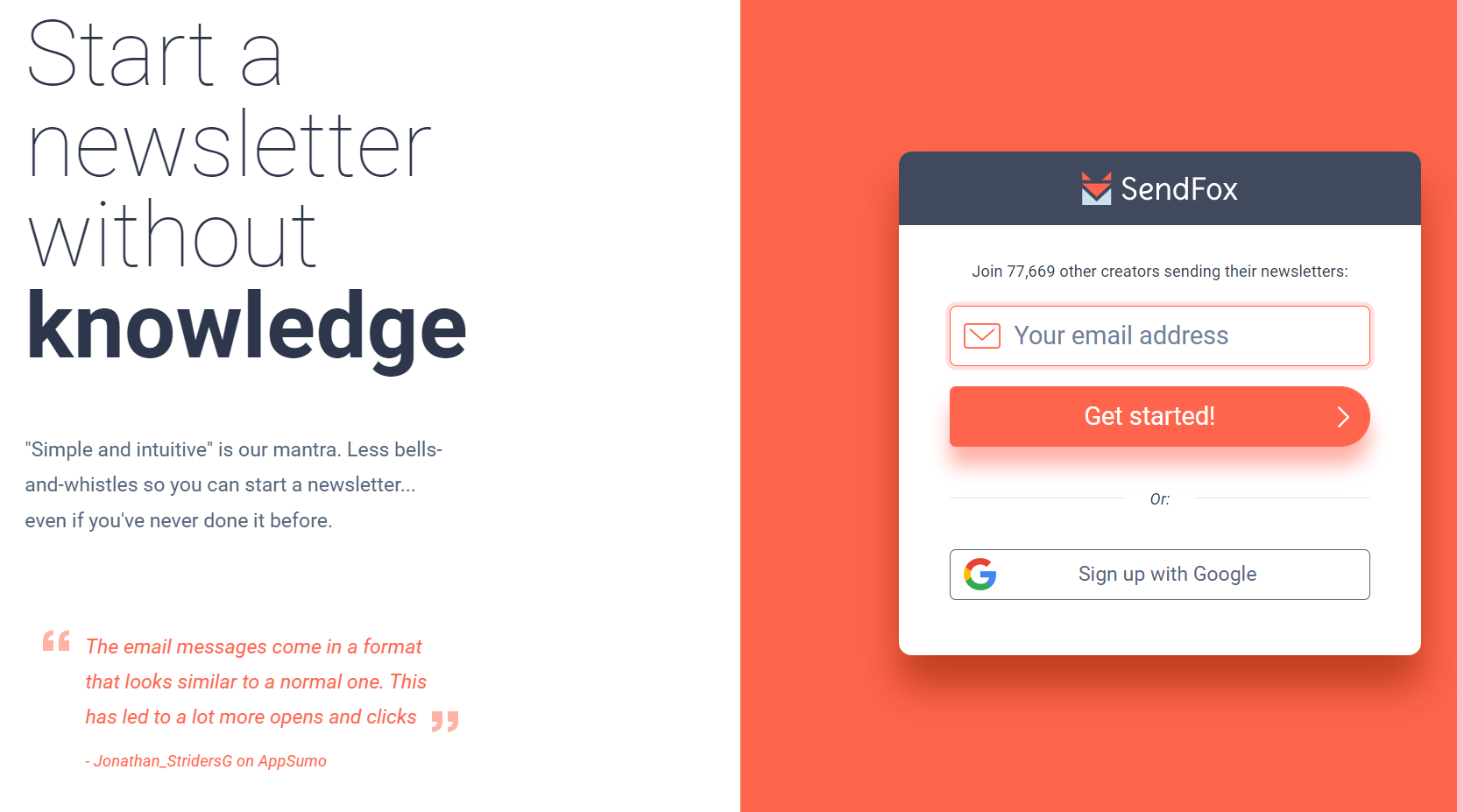 SendFox Overview
We often talk about digital marketing but never give much importance to email marketing, but email marketing is significant and crucial in all marketing methods. They are personal communication with the customers, which helps in building a better relationship with them.
SendFox is a perfect blend of simplicity and affordability. If you want to build a simple, branded email without spending much on it, then SendFox is the ideal email platform for you. Using this, you can send mass emails to your subscribers. More than 20,000 customers are already using it as their go-to to send millions of emails and check results every month. SendFox pricing is perfect for small business owners and e-stores if they need something affordable and simple to get started in email marketing. And if you are searching for a free email marketing tool, you will not get anything better than this.
Features Of SendFox 
Email and Smart Campaigns
There is an auto-generated innovative campaign that will be seen in the email section. It promotes the latest posts from your content source. You can also schedule this as per your convenience and automatically send the weekly newsletter and content updates for any new publication.
Automations
If you want to use brand new automation, you can select a template, and you're all done. You will then see a list of well-designed emails; you can customize these emails according to your needs and add more emails to the list.
Landing Pages and Forms
Apart from the email sending feature, SendFox provides a pre-created landing page. Not only this, but you can also promote it over many social accounts at a single click. In addition to intelligent pages, you can also create forms and embed them on your site.
Referrals Campaigns
This feature is also included in SendFox, which allows you to grow your list further.
Multiple Lists
Multiple lists can be created using SendFox via opt-ins and double opt-ins, and then they can use them to send tailored emails according to their interests.
Multiple Domain / Businesses in one Account
One of the best features of SendFox is its ability to send from any number of domains. 
How To Use SendFox?
Step1- First, go to the SendFox official site and sign up using your Google account or email address.
Step2- Then, enter your website URL when asked to add a content source. It will help you with automation, intelligent campaigns, and newsfeed.
Step3- Import contacts if you have any on the nest page. There are three ways in which you can do that.
Step4- As we had some email addresses on MailChimp, so we tried to move them on SendFox and to do that-
Login to your MailChimp account
Authorize SendFox to acess your account
Then select the list to import from MailChimp
After a few seconds, it will import the contacts, and you will be redirected to your dashboard.
Send A Message to your Email List
In order to send an email, you first will need the Email list. You can navigate to the Lists tab from your Sendfox dashboard and create a new list either from a CSV file, by importing from Mailchimp, or by importing from Google.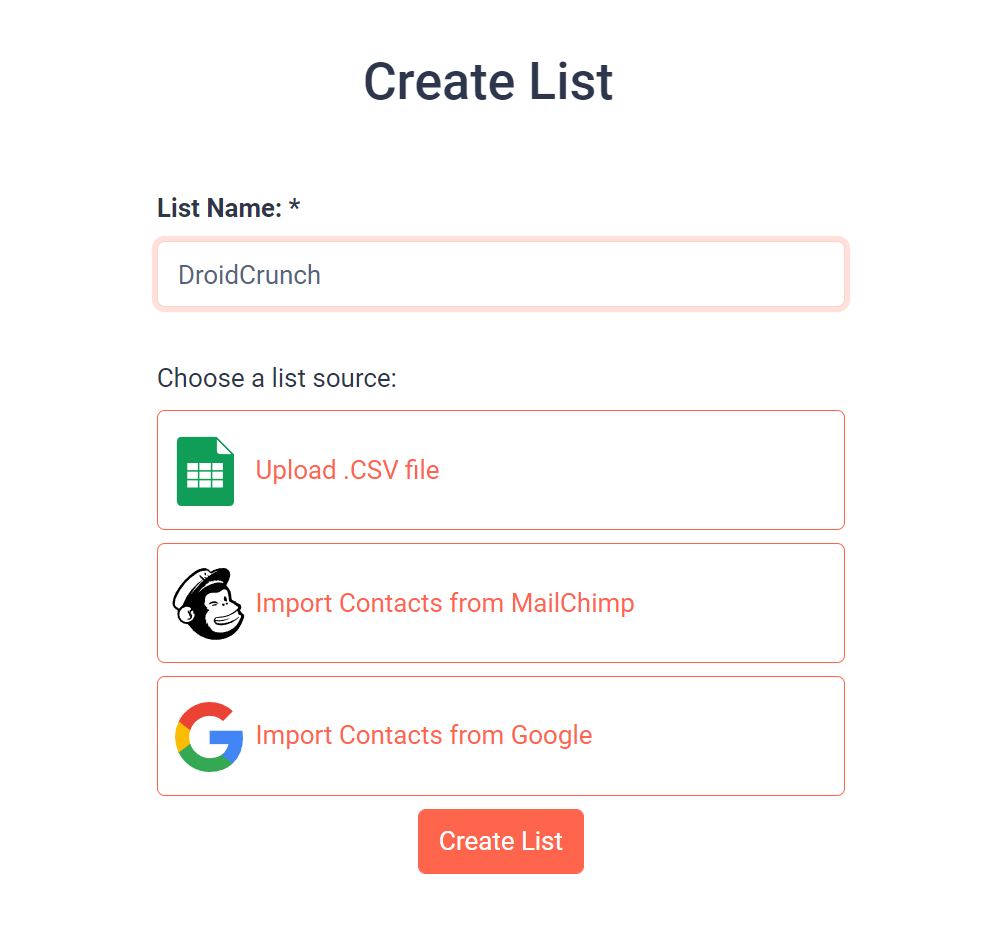 Once your Email list is added, just navigate to the Emails tab and click on the "Create Email" button. Now you can find an email creation interface like below where you can write the email content that you want to send. Just type in your name, email, subject, message, choose the email list you have created, and schedule/send your first email to the list. It is as simple as that. In the email, you can use all types of customizations like the font bold, italic, underline, blockquote, alignments, links, add images, add variables, buttons, and much more.
As such, you can make your email message more appealing to the users. Before sending the email, you can also preview it or test it.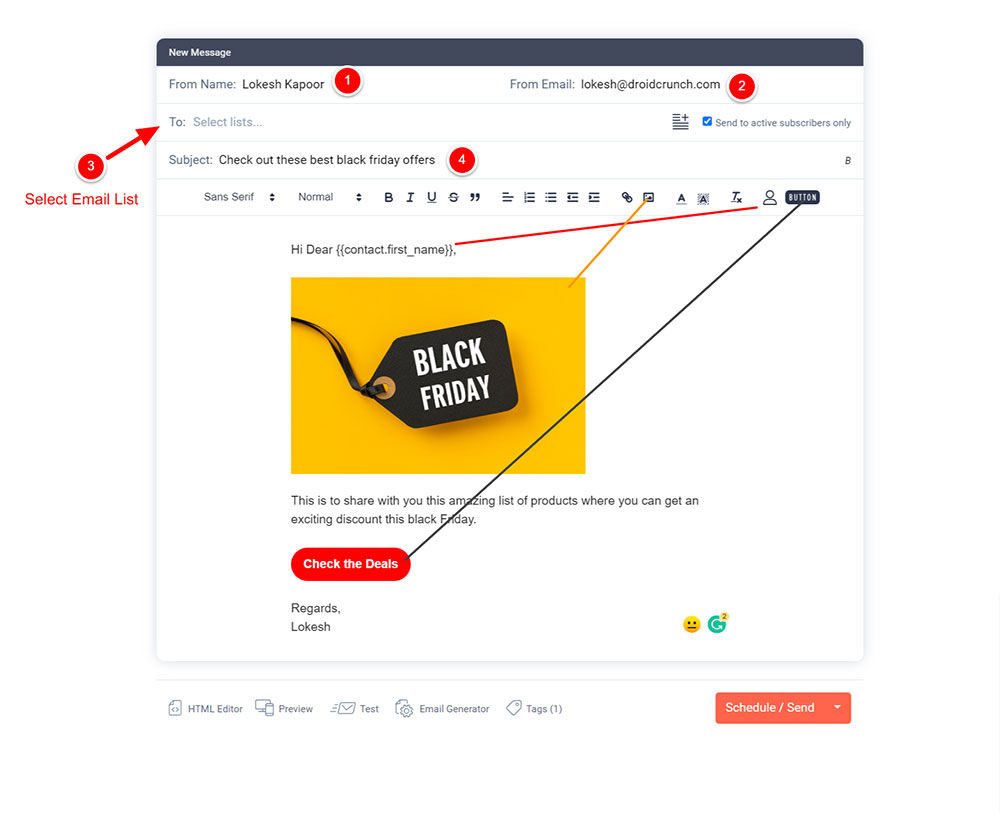 Alternatives To SendFox
Mailchimp
Mailchimp is one of the leading Email Marketing and management that that most of the companies, bloggers, digital marketers, and website owners use and rely on for their email marketing needs. It is a complete solution for the purpose but it becomes very costly as the email list continues to grow.
Zoho CRM
Zoho is an email marketing tool for those who want a complete CRM and all the features that come with it. It has the power you need along with intuitiveness as well as third-party integrations. In Zoho, live tracking for websites and sales forecasting are available in the Standard plan, whereas everyone gets a few templates and is allowed to make notes on certain things.
Smoove
Smoove is a new SAAS marketing platform that helps in strengthening customer bonds. Even in its free plan, it provides all the capabilities and functionalities. You can segment your customers and manage them based on the data points. You can also build automated tasks that will help ease the administrative aspect of the business.  
ActiveCampaign
ActiveCampaign is best for B2B and B2C markets, it's pretty complicated to use, but it offers advanced functionality. In this, personalization and segmentation are top priorities. It makes it easier to create campaigns. You have to set up a list before you create emails, limiting your options to some extent. It focuses on all necessary steps to give you a basis for your sending needs. 
How Much Does SendFox Cost?
SendFox offers a lifetime deal at just $49 that you can get from the AppSumo platform.
Does SendFox Offer A Free Plan?
Yes, there is a free plan in SendFox. So you can use this tool without paying anything.
Is There Any Money-Back Guarantee After purchasing SendFox?
Yes, you will get a guarantee of 60-day money-back, no matter what the reason is.
Who is SendFox for?
It is a unique and superb email marketing solution for content creators like podcasters, vloggers, and bloggers.
Pricing of SendFox
SendFox is a freemium tool which means you can start using it without paying a penny. However, suppose you want to extend its capabilities. In that case, you can buy its premium licenses, which are available at $49. Still, unlike other marketing software, this is a lifetime deal price means by paying once, you will get lifetime access to SendFox with all the features included.
SendFox Free Plan
This plan costs nothing but allows you a maximum of 1000 contacts
Throttled Snding (50,000)
Normal Sending Server
Normal SendFox Server
SendFox Lifetime Plan
This plan is available at $49 for 5,000 contacts. It is a one-time payment and a lifetime deal. It allows you to add as many contacts as you want. For that, you will be charged $49 extra for each 5K contact.
Unthrotted Sending
Better Sending Server
Reduced SendFox Branding
What makes SendFox Standout?
SendFox has all the features which are required for a standard marketing campaign. It is a simple yet potent email marketing tool that facilitates you with the features like trigger automation, intuitive dashboard, multiple lists, landing pages, embedded forms, smart campaigns, smart pages, and many more.
Another thing that makes SendFox a fantastic email marketing platform is its pricing and lifetime deal. If you want to cut down the cost of your email marketing software, then it is an ideal option for you. It is a perfect combination of affordability and simplicity. We can do Email marketing using Sendfox without any hassles. Moreover, it has almost all the essential features, from creating multiple lists via opt-ins to campaigns scheduling, automated emails that fulfill the basic needs of an email marketer
Pros and Cons of SendFox
Pros-
Powerful analytics
Multiple domains in one account
GDPR consent feature
Mobile responsive emails
Test and preview feature
Wide range of Integration (Sumo, KingSumo, Zapier, etc.)
RSS feed functionality
Cons-
Compared to other email marketing providers, SendFox lacks several features.
The Review
SendFox
SendFox is a minimal Email marketing tool by Appsumo. This software helps you in managing your email list, sending them campaigns, and utilizing your email subscribing the best possible way. It is not pretty much tricky like most other Email marketing software out there and this is one of the best qualities which make SendFox an interesting and go-to tool for any blogger, freelancer, or website owner looking to manage an email list.
PROS
Powerful Analytics
Multiple domains in one account
GDPR consent feature 
Mobile responsive emails
Test and preview feature 
Wide range of Integration (Sumo, KingSumo, Zapier, etc.) 
RSS feed functionality 
CONS
Compared to other email marketing providers, SendFox lacks several features.
Review Breakdown
Easy to Use

0%

Features

0%

Brand Trust

0%

Support

0%

Value for money

0%

Compatibility

0%

Integrations

0%