Android is the highest used operating system due to the availability of it even in some of the cheapest phones out there. That means most of us use android phones. We keep so many important things in the phone like photos of the precious time, precious event, important documents, our passwords, apps and other stuff but keeping in one place means we won't have a backup as we think the data will be. At some point or other things from our phones deleted by mistake or we delete when we don't want due to less space and later keep on regretting that we shouldn't have deleted those things so this where apps like TunesBro DiskLab for Android helps the user to recover those data. The application is very easy to use.
When Can Tunesbro Android Data Recovery help you?
There are the numbers of instances where Tunesbro android data recovery can really help you.
Tunesbro Android Data recovery can help when –
[alert-success]
Your files are accidentally deleted.
Your device has been crashed.
You want recovery of SD card which is malfunctioning due to any app or file
You want to retrieve the files lost due to accidental reset
[/alert-success]
Using Tunesbro Data Recovery
First of all, you will need to download the software from Tunesbro website. After you download the TunesBro DiskLab for Android, you have to install it on your computer and later open it. It shows a guide on how to connect the phone to pc.
To use TunesBro to recover data you need to connect your phone to pc and turn on USB debugging n your smartphone. To turn on USB debugging you need to go developer options in settings, to open developer options go to settings about phone and tap on build number 7 times which will enable then you can enable USB debugging.
SCANNING FOR DELETED FILES:
When the program detects the device, click "Start Scan" button to let the program fully scan all the deleted files stored on the device. The scanning process will take a bit of time depending on how many files on the device.
RESTORING:
After the scan of your device is complete the device will show different categories of files which were scanned for and can be recovered from your devices. After selecting the files you want to recover and select the location in pc in which you want to recover those files. Then it takes some time to recover those files. After recovering you can transfer those files to your phone or keep them in pc for safe keeping.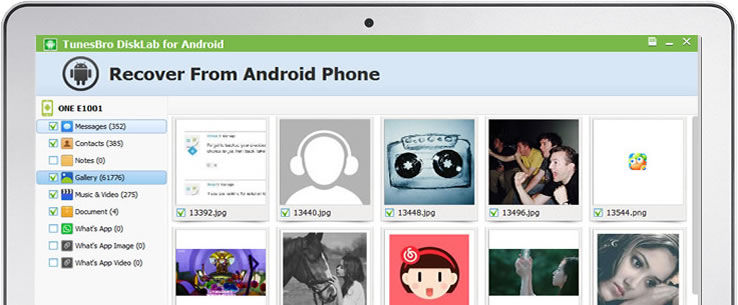 NOTE: DO NOT REMOVE THE USB CABLE FROM EITHER PC OR SMARTPHONE WHILE ITS SCANNING FOR FILES OR ELSE IT won't WORK.
Tunesbro Android Data Recovery review
After using it for few times, I feel like there is nothing bad to say about the software. On the good side, it has an easy to use interface and guide to use, recovers data properly, performs better than other data recovery software out there. It has great compatibility with 2000+ smartphones out there. It has been a big help in recovering my lost images and videos which were few months old and it will probably help those of you who have lost your data and want to recover those files at an effective cost.
Also Read:
Conclusion:
With more people moving towards portable storages this software really helps in times when needed to recover the files lost in that. TunesBro has really made a great recovery software. You should really give it a try at least once to know how useful it is. For those who wanna try there is a free version on Tunesbro Website, even if you buy the software it is gonna be worth every penny.