Smart Quiz Builder is a WordPress Quiz Plugin that will allow you to easily build a lead magnet quiz or survey funnel where you can ask your prospects a series of relevant questions to learn more about them, segment & assign tags based on their answers. It uses the power of quizzes to generate leads, build social media following generate traffic, and improve conversion. It is designed to help you increase your quiz engagement.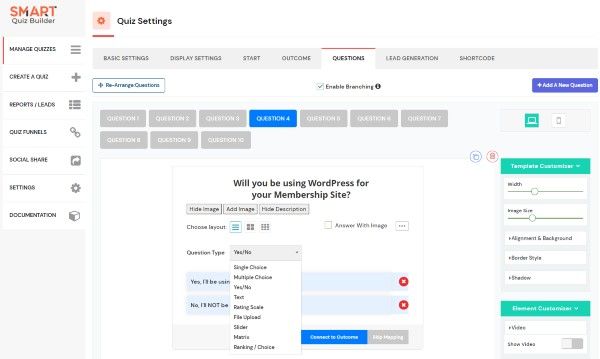 Smart Quiz Builder lets visitors spend more time on the site and get more relevant data about potential customers. It generates leads and tailors your content with an easy-to-build quiz funnel. Quizzes are a great way to go beyond generic marketing. You can choose from a range of question types, from multiple choice to rating scales, and add in smart branching logic using the platform's unique, visual funnel builder.
Smart Quiz Builder allows you to create high-quality and professional-looking quizzes. It has so many features and options. It comes with multiple visually appealing templates that will help you create entertaining and share-worthy personality quizzers. SmartQuizBuilder supports all types of quizzes- personality, scoring, quizzes, assessments, surveys, and calculators.
Smart Quiz Builder Overview
SmartQuizBuilder is a quiz-based lead generation and leads nurturing tool that allows you to build a quiz funnel and generate leads effectively. It's the best for Digital Marketers, Digital Entrepreneurs who want to understand their customer through captivating targeted quizzes better. It is a very intuitive platform. Within minutes, you can create your quizzer funnel- also a very user-friendly quiz builder for any non-coder person. Using a visual funnel builder, you can create a smart and customized funnel.
The best part of SmartQuizBuilder is that you can create one-of-a-kind quizzes in just minutes with no coding skills required. You can even use the pre-built templates or start from scratch. They allow you to segment, tag, and deliver highly personalized offers that are tailored to your prospects.
Features of Smart Quiz Builder
Personalize your Quiz– Your question should allow you to connect with your prospects. Write questions as if you are talking to a person and are eager to learn more about that person.
Smart Branching Logic– Smart Quiz Builder comes with a visual branching logic builder. It'll allow you to set up a branching quiz where you can connect answers to different questions.
Email Platform Integration– Smart Quiz Builder integrates with all leading email marketing platforms such as AWeber, ActiveCampaign, ConvertKit etc.
Nurture leads more effectively– By sending them to a fully customized and personalized outcome screen, or redirecting them to a product recommendation page based on their results.
Publish Quizzes anywhere– Even though SmartQuizBuilder is a WordPress plugin, you can publish quizzes anywhere using embed code feature.
Quiz Funnel Builder– Quiz Funnel Builder allows you to create smart quiz and survey funnels (with branching logic) where the next question that's shown to the participants depends on their answer to the previous one.
Segmentation– Segment your leads based on the quiz results.
Lead Magnet Quiz– Lead magnet quizzes have an average opt-in rate of 50%! In a traditional lead magnet, you ask for contact info first and everyone gets access to the same static content. Smart Quiz builder will allow you to create lead magnet quizzes where you can ask a series of questions.
Agency and Personal-use code- Each code can be used to create a personal account, which allows for unlimited domains OR it can be used to create an agency account that allows for 10 client domains. Multiple codes can be used to create a combination of personal and agency accounts or to increase the number of domains for agency accounts.
Preview your Quiz– Preview your quiz as you build it. You don't have to create your quiz from scratch. Just pick a pre-built template, and edit the content.
How to use SmartQuizBuilder?

SmartQuizBuilder is a plugin for WordPress. You'll need at least one WordPress site to install, create, and manage quizzes. But after you create it you can publish it anywhere, including on non-WordPress sites.
Steps to install Smart Quiz Builder –
Step 1- After you purchase, you'll receive your login details in an email. Login to your account.
If you are not sure what your credentials are, click on the forgot password link on the login page.
Step2- You'll find your WCP License key and smartquizbuilder.zip file. Copy the License Key & download the zip file.
Step3- Login to your WordPress Admin Dashboard. Visit the plugins page. Click on "Add New".
Step4- Upload the Smartquizbuilder zip file you downloaded above and activate the plugin.
Step5- Click on SmartQuizBuilder in the left sidebar or your WordPress dashboard. Enter your License key.
Alternatives to SmartQuizBuilder
When it comes to customer service, companies are struggling to keep up with customers' demands. There's clearly a big demand for applications that can manage the situation as best as they can. There are plenty of alternative apps to Smart Quiz Builder. Some alternatives that have similar features to Smart quiz builder are-
Snax – Viral Content Builder
Snax comes as a pre-installed plugin in the Bimber wordpress theme. Snax not only to the website editors (backend) but also to site visitors (from the frontend) allows creating quizzes, polls, lists, memes, and other viral content. Snax can be purchased as a separate plugin as well from Codecanyon. It is easy to set up and use.
WP Quiz by Mythemeshop
Mythemeshop also has a Quiz plugin that is called WP Quiz. This plugin is a tremendous quiz builder plugin and it is totally free to use. However, there is a Pro version that unlocks more features and unveils the power of the extreme quiz builder plugin. There are all the features to create social shareable quizzes with animation and payment integrations. Payment integration with stripe and Paypal allows users to pay to play.
Thrive Quiz Builder: The Iceberg
Thrive Quiz Builder is one of the WordPress best Quiz Plugins which has an amazing way to attract and engage visitors by creating beautiful and complex quizzes with a timer option.
Quiz Maker
Quiz Maker helps to improve user engagement. You can create unlimited responsive quizzes with the help of this plugin. It works on all WordPress themes. You can also add text, videos, and images to the quiz.
Poll, Survey & Quiz by OpinionStage
Opinion Stage helps the users to effortlessly create quizzes for the website. It helps to increase user engagement and also gives more social share and more email options.
Quiz and Survey Master
Quiz and Survey Master is one of the best quiz plugins for WordPress that helps you create exclusive quizzes, surveys, and polls on your WordPress website in order to keep your users engaged.
Watu Quiz
Watu Quiz helps the users to create quizzes and exams and display the results immediately after taking the exam. For every grade in the quiz, grades and points can be displayed.
HD Quiz
With the help of HD Quiz, any amount of quizzes can be created and embedded into posts and pages. Strong professional-based questionnaires and fun Buzzfeed-style quizzes can also be perfectly created using this plugin.
Smart Quiz Builder FAQs
Who should purchase Smart Quiz Builder?
For digital marketers, digital entrepreneurs want to better traffic conversions from their site. Even if you want to create a wide variety of quizzes and quiz funnels, you need this tool for your helping partner.
How to update Smart Quiz Builder?
Step 1- Navigate to WordPress Dashboard > Plugins. You should find an "update" link whenever a new version of the Smart quiz builder is released.
Step2- Click on the "update now" link to complete the update.
Step3- If you don't find the "update now" link, you can delete the Smart Quiz builder, download the new zip file from your member's area and re-install it.
How to analyze your quiz results in Smart Quiz Builder?
In the SQB >> Reports page>> Question/Answer tab, you'll find the most popular/ least popular choices. This will tell you exactly what you need to change or improve for a better user experience.
How to configure Social Share buttons to Allow Users to Share Results on Facebook?
For Facebook, you'll have to first create a Facebook App ID for your domain, add the app ID in the SQB ->Settings page->External Integrations tab. After that visit the Smart Quiz Builder -> Social Share page where you can select your quiz and activate the share button.
How to personalize the entire Quiz Experience using First Name in Smart Quiz Builder?
Smart quiz builder will allow you to ask for your first name before displaying the questions. Users can enter their first names before displaying the questions. Users can enter their names and continue. You can customize questions, answers, outcomes, and even the opt-in screen using their first name.
Pricing of Smart Quiz Builder
There are four plans or licenses available to you in the Smart Quiz Builder plugin.
Features that included in all plans are as follows:
⦁ Quiz types: Personality, assessments, and scoring
⦁ Calculators
⦁ Surveys
⦁ All questions types
⦁ Email and marketing platform integrations
⦁ Quiz funnels and branching logic
⦁ Advanced customization
⦁ Personalized quizzes
⦁ Cool animations
⦁ Embed code
⦁ Timed quizzes
⦁ Social share buttons
⦁ Detailed analytics and reports
⦁ Category-level calculations
⦁ Pre-built quizzes
⦁ Mobile-view customizer
Below are the pricing plans of the Smart Quiz Builder Plugin:
| | | | |
| --- | --- | --- | --- |
| $69 | $79 | $99 | $399 |
| One-Site License | Two Sites License | Unlimited Sites | Lifetime License |
| One-time Payment | One-time Payment | One-time Payment | One-time Payment |
| 1 Year of Support & Updates | 1 Year of Support & Updates | 1 Year of Support & Updates | 1 Year of Support & Updates |
| Install on 1 WordPress Site | Install on 2 WordPress Site | Install on unlimited WordPress Sites | Install on unlimited WordPress Sites |
| Buy Now | Buy Now | Buy Now | Buy Now |
There is also a 100% Money Back Guarantee for 30-Days so you can purchase this quiz builder software with confidence without any risk involved.
What makes Smart Quiz Builder stand out?
SmartQuizBuilder(SQB) helps users to create multiple choice quiz. Hints can be specified based on answer selection. Multiple correct answers can be chosen. When the correct answers are displayed they can be specified. It can be selected as how many times the question can be attempted. You can use this plugin to engage your website traffic in the quiz and with these; you can easily generate leads and increase your website sales.
Smart Quiz Builder is a feature-rich plugin for Quiz building and leads generation. The best part is that this platform is completely customizable so you can create surveys that fit perfectly with how you work. And because everything happens on one easy-to-use dashboard, there's no complicated process involved at all to create quizzes and surveys. So if you are the one looking to create quizzes to attract more users' interaction on your website, then you can use this plugin.
The Review
Smart Quiz Builder
Smart Quiz Builder is an incredible tool for creating quizzes, polls, and surveys on your WordPress website. With the use of this plugin, you can gain more traffic, attention, and users interaction on your website. This is best for news & magazine, and viral websites. However, you can use it on any other website with confidence. There are so many features in this builder which you can use for creating better quizzes.
PROS
Super easy to build and use quizzes
Full of features and great service.
Advanced customization options
Pre-built quizzes to save time
Easy to activate
All quiz types supported
Quiz funnel feature for lead generation
Create beautiful and interactive quizzes
Assign different tags based on outcome
Display social share buttons on the result screen
CONS
Mandatory WordPress site.
Can't import quizzes from different sites.
Can't create a question bank for randomized questions.
Review Breakdown
Easy to use

0%

Brand Trust

0%

Features

0%

Value for money

0%

Compatibility

0%