ClickFlow is an SEO content optimization tool specially designed to help businesses and other market agencies to title tags or test meta descriptions and add relevant keywords to the contents to enhance overall organic traffic. The system monitors changes across content, titles, or links on websites. It lets managers analyze the search engine results page impact of every adjustment.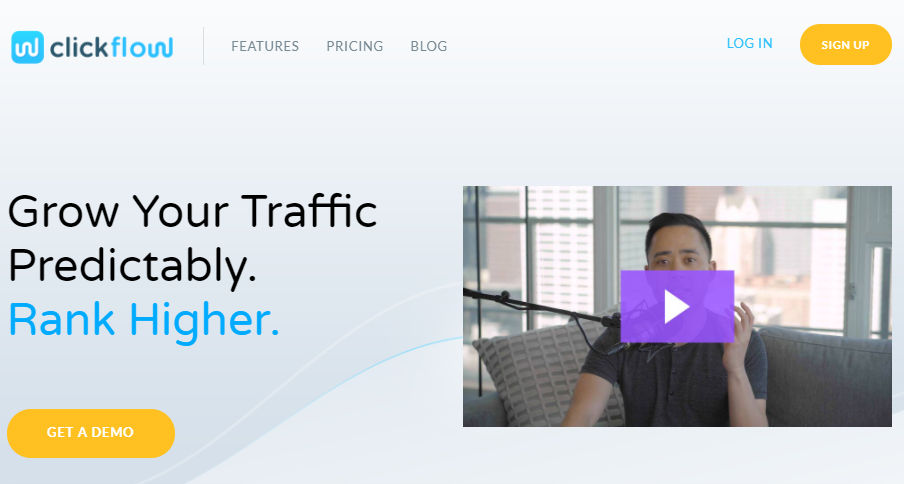 ClickFlow also enables enterprises to monitor the readability, grade, and word count of written content on a centralized platform. It allows supervisors to test the effectiveness of any specific page elements including content blocks or H1 tags and gain visibility into return on investment (ROI)-driven insights of the business. It also helps the marketing agencies to gain insights into the click-through rate (CTR), revenue growth, and track keyword rankings. Organizers can use the content editor to invite writers, determine keywords, and optimize traffic. Using the content decay report present in the form of the graph the managers can track the declining SEO traffic.
ClickFlow Overview
ClickFlow is a content optimization tool that works to enhance the quality of the already existing content. There are thousands of keyword research tools and a bunch of tools for link building and technical SEO but ClickFlow is one of the few tools that is dedicated to site optimization.
ClickFlow is a tool worth using. It is better than many other SEO tools as it optimizes your SEO content. It is a content intelligence platform that is built by leading growth marketers who have been there for a long time in content marketing and the weeds of SEO to understand how time-taking it is to measure and track output. ClickFlow believes in gaining insights, proving ROI, and laying a healthy content foundation that directly affects all digital marketing investments.
Features of ClickFlow
Content Decay
Sometimes you have pages on your site that get a huge spike in traffic at the beginning but then fade as ranking dies down. The issue lies in finding these pages in Google Analytics. ClickFlow content decay features solve this by scanning your search console and identities pages that show a significant traffic drop.
Content Editor
Content Editor of ClickFlow essentially scans SERPs for your target keyword, finds the terms used by top-ranking pages. And lets you know about the terms that have to be included in your content.
Title/meta testing
Test the effectiveness of every page to increase your organic traffic without any hassle of writing more content or building more links.
Change Monitoring
From the title to content and then to link changes, ClickFlow monitors your entire site and allows you to see the SERP impact of every adjustment and traffic.
Keyword Tracking
ClickFlow enables you to track your most important keyword rankings over time.
Page Element Testing
CickFlow feature of page element testing allows testing the effectiveness of other changes such as adding H1 tags or content blocks.
Alternatives to ClickFlow
Rank Tracker is very popular and one of the best SEO tools that offer some unique features such as rank/SERP tracker, keyboard finder, & web audit to streamline SEO workflow. In addition, this tool provides accurate performance insights and offers a free trial plan of 7-days.
Semrush is an amazing tool that provides a great user interface with many amazing features. It is a content management software or an online visibility management tool. Semrush automates your day-to-day tasks and provides an exhaustive analysis to improve your digital marketing strategies.
SE Ranking
SE Ranking is an amazing feature-rich software SEO promotion tool that helps you to track keyword rank on all the major search engines. Its dynamic search engine is even capable of tracking keywords on Google's desktop and mobile search results.
ClickFlow FAQs
Who should use ClickFlow?
ClickFlow is best for-
Businesses that drive their revenues from sites.
Businesses that already have on their site a working marketing funnel.
Businesses that have a web/engineering team that is open to making SEO changes on its site.
People who invest in SEO and content marketing and see themselves doing it for the long term.
What language does ClickFlow support?
ClickFlow supports English.
Does ClickFlow offern an API?
No, it doesn't offer an API.
What level of support does ClickFlow offer?
ClickFlow offers the following supports: Help Desk/Email, Forum/FAQs.
Does ClickFlow offer a free trial?
ClickFlow offers plans: Pricing model (Subscription) and free trial.
What payment method does ClickFlow support?
ClickFlow supports monthly and yearly payment methods.
What is the deployment type of ClickFlow?
ClickFlow is Cloud Based.
What are the key features of ClickFlow?
ClickFlow has the following key features-
SEO Management
Google Analytics, Webmaster & Sitemap
Ranking Monitoring
Keyword Tracking
Pricing of ClickFlow
ClickFlow offers the following pricing plans-
Free trial plan
Starter – INR 7848 per month
10 pages w/ speed testing
45-day data retention
1 user
1 bulk page test
Unlimited single-page tests
SEO group page testing
Standard- INR 14328 per month
All features in Starter
20 pages w/ speed testing
45-day data retention
3 users
5 bulk page test
Done for your page testing
Premium- INR 45000 per month
All features in Standard
90 days reporting
1 user
1 bulk test/month
Priority support
What makes ClickFlow stand out?
ClickFlow is an SEO experimentation tool. It helps you to improve your site by growing your organic traffic on-site SEO for your already existing content, without creating new content or tons of backlinks. With ClickFlow you can measure how effective each of the site pages is. There is single and grouped URLs testing that allows you to test multiple URLs at the very same point in time. From the moment you start using this tool, you can measure how much revenue you obtain.  And every time you run a test, ClickFlow automatically records and enables you to access it at any time you wish. ClickFlow also keeps you updated by sending relevant notifications related to your overall performance, new opportunities, and more.
Pros and Cons of ClickFlow
Pros-
Has a free trial for 21 days.
Offers live chat support.
Information like the working of ClickFlow is available on its blog and FAQs sections.
Saves time and enhances the quality of work.
Cons-
This is not for businesses that are just starting.
"Recommendation's" feature is announced but has not been released yet.
Some features are only available for the premium plan.
Requires your site to have a minimum of 100k visitors per month to work and give results.
The Review
ClickFlow
Clickflow is an SEO tool that is perfect for those who are serious about SEO and ranking. It is a perfect solution for digital marketers, freelancers, and agencies to track and grow web stats. With various features offered, Clickflow remains a viable solution for anyone. Clickflow saves you a lot of time which you can invest in your content & quality improvement and leave all other headaches to this masterpiece.
PROS
Offers live chat support
Saves time and enhances the quality of work
CONS
Some features are only available for the premium plan.
Review Breakdown
Easy to Use

0%

Features

0%

Compatibility

0%

Value for money

0%

Support

0%