LinkHelp is the first and foremost Linkedln extension that allows you to automate your account safely. It uses human behavior in the automation which helps in keeping the account safe. It is the most powerful tool and very easy to use. LinkHelp was designed with an intention to help users reach and engage with their potential customers on Linkedln. It guarantees the total security of the LinkedIn profile. You can set automation campaigns in just 30 sec so a lot of time can be saved using it.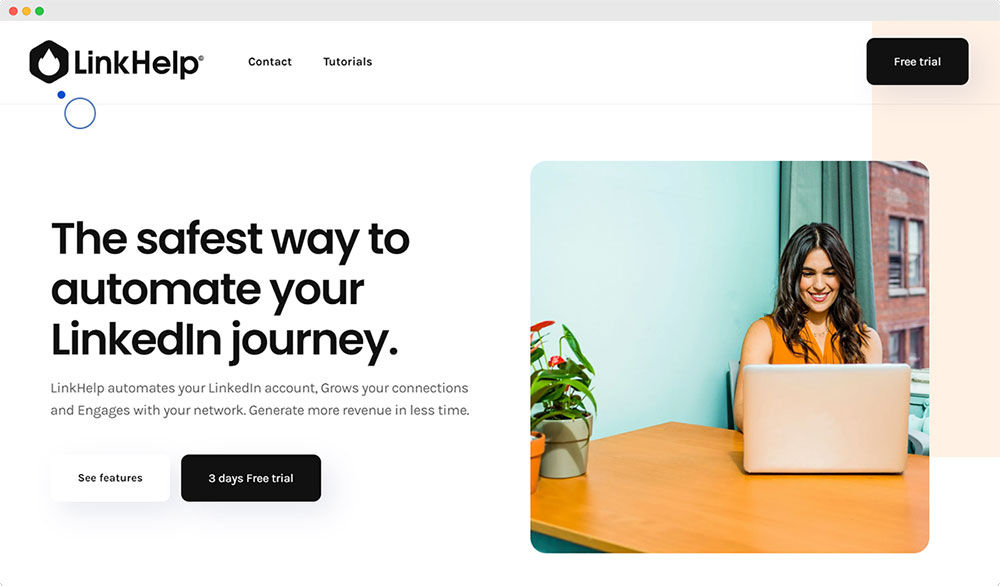 LinkHelp is an effective Linkedln lead generation, outreaching, automation, and scrapping that is safe for your Linkedln account. It adapts to the limitations imposed by Linkedln and is compatible with Linkedln's free, premium, and recruiter-like accounts. There are around 15 automation features available, one of the main features of Linkhelp is its ability to add targeted connections by inviting prospects to join the network, you can also send targeted messages by creating a personalized message campaign and sending it to the targeted audience. Using Linkhelp you can easily engage with your networks, like targeted publications or comments, and let your network expand by following targeted relationships.
Linkhelp Overview
LinkHelp is a great tool for recruiters, marketers, employees, job seekers, entrepreneurs, and internship seekers. It performs more action and is faster with automation. If you want to prospect faster, by targeting your prospects, connect with professionals in your sector automatically by adding targeted relationships or by adding a personalized message in your invitation. If you want to become influential and expand your network then connect with people who are active on Linkedln and send a thank you text with each accepted invitation. If you are looking for a job or an internship and want to increase your chances then you can use LinkHelp to contact the industry or company of your dreams.
LinkkHelp allows you to schedule your marketing actions in order to prospect for new customers or to boost your acquisition of qualified leads. This tool allows you to send Linkedln invitations, send messages, personalized connection notes, track prospects and visit profiles.
Features of LinkHelp
Data extraction
Collect and extract data (surnames, names, emails, phone numbers, companies, etc) from your relationships or from a particular segment of your network.
Send targeted message
Create personalized message campaigns to send it to a particular targeted audience.
Add targeted connections
Invite prospects to join your network. You can send hundreds of invitations to the targeted prospects with a personalized message with the person's first/ last name in order to maximize the rate of acceptance.
Auto-respond
It is an automation feature that allows you to set up automatic responses for the messages you receive based on a given keyword.
Campaign analytics
Analyze the performance of your campaigns and profile (daily, weekly or monthly) from your LikHelp dashboard.
Endorsing
Show your consideration and interest by recommending the skills of your network users.
Safety limits
LinkHelp ensures the security of your account by recommending daily usage limits based on your Linkedln subscription.
How to use LinkHelp?
Step 1-Targeting filters
Connect with people who like or comment on a specific video, post, or article.
Step 2- Add a custom message
Write a custom message to send it at the same time as this invitation (LinkHelp will replace @firstname with the name of the person you are contacting).
Step 3- Safety settings
Set the random time between each action at "60" sec. Set the start position at "0" if you want to add a connection from the first person that appears in Linkedln's search results. For safety reasons, it is better to just connect with less than 80 users in a day.
Step 4- Done
Click the "start" button. At the same time, you can also start running another LinkHelp automation. At this point don't close the browser and do not turn off your computer if not LinkHelp will stop. For safety reasons don't automate tasks over 100 per day.
Alternatives to LinkHelp
Zopto
Zopto is a Linkedln automation tool. It provides lead generation and email gathering to your business in order to give leads and more market knowledge.
Utreon
Utreon is a next-generation video platform tool. It is built to provide a superior video experience to its viewers and appeal to creators by giving them the tools which are needed to build and grow their business.
Linvo.io
Linvo grows your network of Linkedln very fast. It generates more leads, engagement, and sales. Automate your messages, connections, and posts.
LIX it
Instead of spending 1/3 of your time in prospecting and gathering data. Find, enrich and export B2B leads, verified emails, and Linkedln data within an instant, using Lix's Contact Intelligence suite.
Linkhelp FAQs
How much does LinkHelp cost?
The pricing of LinkHelp starts at $29.0 per month. It has a single plan.
Does LinkHelp offer a free plan?
No, Linkhelp does not offer a free plan.
Is LinkHelp automation safe for your account?
Yes, LinkHelp is safe. It has some safety daily limits.
Pricing of LinkHelp
| | | |
| --- | --- | --- |
| Monthly | Yearly | 2 Year Deal |
| Access all features | Access all features | Access all features |
| Access all updates | Access all updates | Access all updates |
| Affiliate Program | Affiliate Program | Affiliate Program |
| 7/7 Dedicated Support | 7/7 Dedicated Support | 7/7 Dedicated Support |
| $39 /mo | $29 /mo | $99 |
What makes LinkHelp standout?
LinkHelp is the most powerful Linkdln automation tool that can lead to growth in your business and your network with full safety and security. It is best for Sales, Digital agencies, HR, Job seekers, Students, Influencers, Growth marketers, Lead generation, Outreaching, and social selling. All actions you want to automate in LinkHelp are very quick to set up. It allows you to connect with people who are active on LinkedIn, like the most famous reviews and publications, and send thank you message with each invitation that is accepted.
It performs 10x more actions in 10x lesser time which means you will get maximum results with minimum effort. You can reach any company of your dreams using LinkHelp by contacting the person in charge of recruitment in each company thus increasing the chances of your application being selected.
Pros and Cons of LinkHelp
Pros of Linkhelp
Easy to set up.
Allows you to set up automatic responses.
Simple and safe.
15+ safe automation tools.
The UI is very clean and clear.
Saves time.
Cons of Linkhelp
It may not live long if you link it to LinkHelp.
Can't be reliable alternative in the long run.
Not good for company's digital marketing.
The tool is too new, with lack of certain features.
The Review
Linkhelp
Linkhelp is a safe way to automate your LinkedIn journey. With this tool, you can automate messages, responses, follow-up messages, endorsements, birthday wishes, and much more. Eventually, you can build a responsive and interactive profile on Linkedin. It is easy to use and gives you enormous control over different features that help you build your connections.
PROS
Easy to Use Linkedin Tool
A Solid tool to grow on Linkedin
Clean and Responsive UI
Useful Tools for Linkedin Users
Professional Automation Tools for Linkedin
Review Breakdown
Easy To Use

0%

Features

0%

Support

0%

Value for money

0%

Compatibility

0%