As a business professional, staying up to date on the latest technology is key to success.
Infographics are a powerful tool that can be used to communicate information in a way that is both engaging and informative. When used effectively, infographics can assist in improving understanding, persuading, entertaining, promoting, and driving traffic. The right infographics maker tool can be invaluable in this journey.
With so many options for creating infographics out there, it can be hard to know which one to choose. To help you make an informed decision, we've compiled a list of some of the best infographics maker tools that are available in 2023. These tools are designed to create and share engaging visuals as easily and hassle-free as possible, allowing you to focus on the content instead of the technical aspects.
Whether you're a novice or an experienced designer, using the right infographics maker tool can take your visuals to the next level. While opting for a designing tool, you can ensure that it allows you to insert charts, vectors, informational designs, images, and much more. The wide range of infographic templates can reduce your time by 1.5x.
What constitutes an excellent Infographic?
An infographic that can be shared with confidence on social media.
That can convey the message/information beautifully.
That connects with your audience
That works as a resource and others can utilize it too.
That can educate your audience
List of Best Infographics Maker Tools in 2023
Canva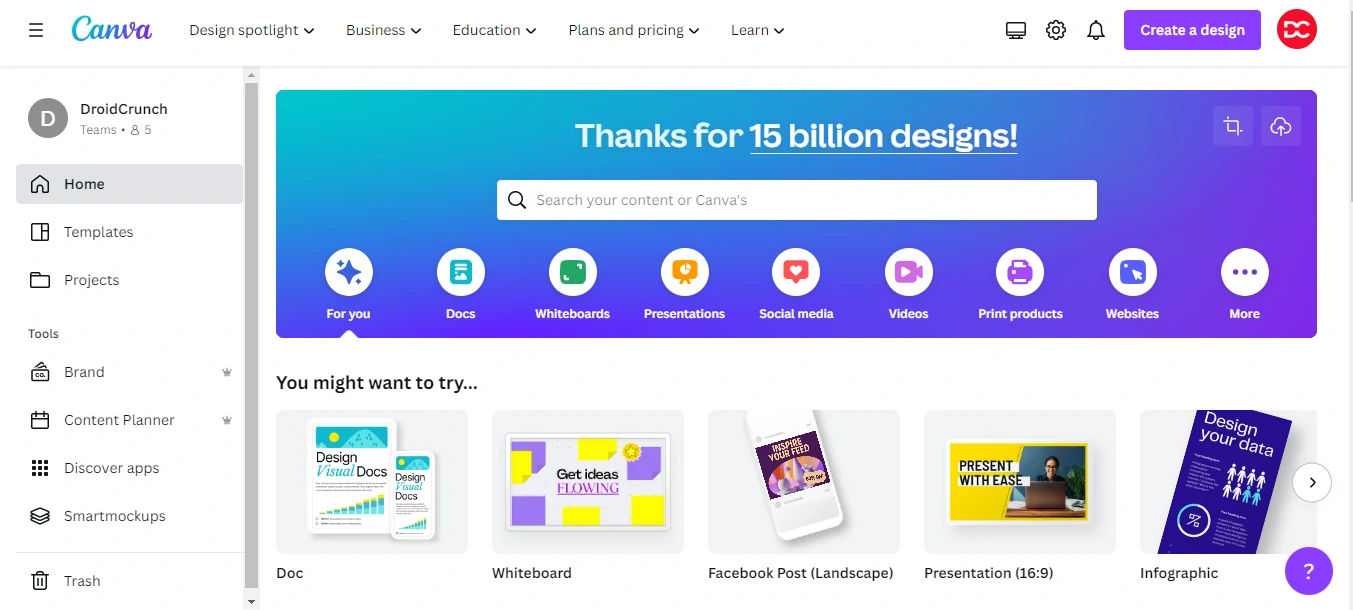 Canva is a sophisticated online design tool (and infographic builder) that lets you generate a wide range of designs even if you have no design experience. Canva has a vast template collection from which to choose based on your individual design needs. Many of the templates are free, and others contain features like icons and photographs that you may buy or replace with your own).
Canva is extremely adaptable in the sense that it can be used for any type of design, including marketing and social media. They don't stop there, though. Canva also lets you design business cards, lesson plans for schools, and even t-shirts. Pay Canva some money, and they'll even print the t-shirt and ship it to you! In this regard, they are similar to Vistaprint. Canvas commercial editions also provide collaborative options.
If you purchase the professional edition, you can even plan social media postings. From the standpoint of an infographic builder, the ability to include other visuals that you are already creating in your infographics is positive that distinguishes it from other online infographics producers. Canva is divided into two categories, Fee and Pro, so simply signing up on their website will give you access to over 8,000 templates (across all categories), the option to submit your own pictures, and hundreds of thousands of free photographs and graphics.
You get infinite folders for your customized templates, graphics, and photos, as well as plenty of storage for design files, resizing choices, unique fonts, and a slew of other "pro" features to truly get your infographic madness on!
Adobe Spark Express
Adobe Spark Express makes it simple to produce an infographic. It contains over 10,000 templates and hundreds of free license-free components to help you improve your design. Even if the free templates are useful, you may need to upgrade to the Premium plan to have access to many of the features. Creative Cloud Express employs a drag-and-drop editor that is extremely simple to use. Search the templates for the one you like, then begin changing. One of the benefits of Adobe Spark (now Adobe Express) is that what you receive for free is often adequate and does not need upgrading to any of Adobe's plans.
Adobe Spark is much more than an infographic generator. This is merely a subset of its powers. There are apps for social media postings, short movies, and even full web pages. Because of this, Adobe Spark is a flexible design tool. You could utilize it throughout your whole content studio, not just the social media team. The site design department can also profit! Your Adobe Spark visuals may then be exported and sent to anybody on your team who need them. Most importantly, it is simple to use. All components of the software are available to iOS users. Android users are restricted to social networking functions.
Visme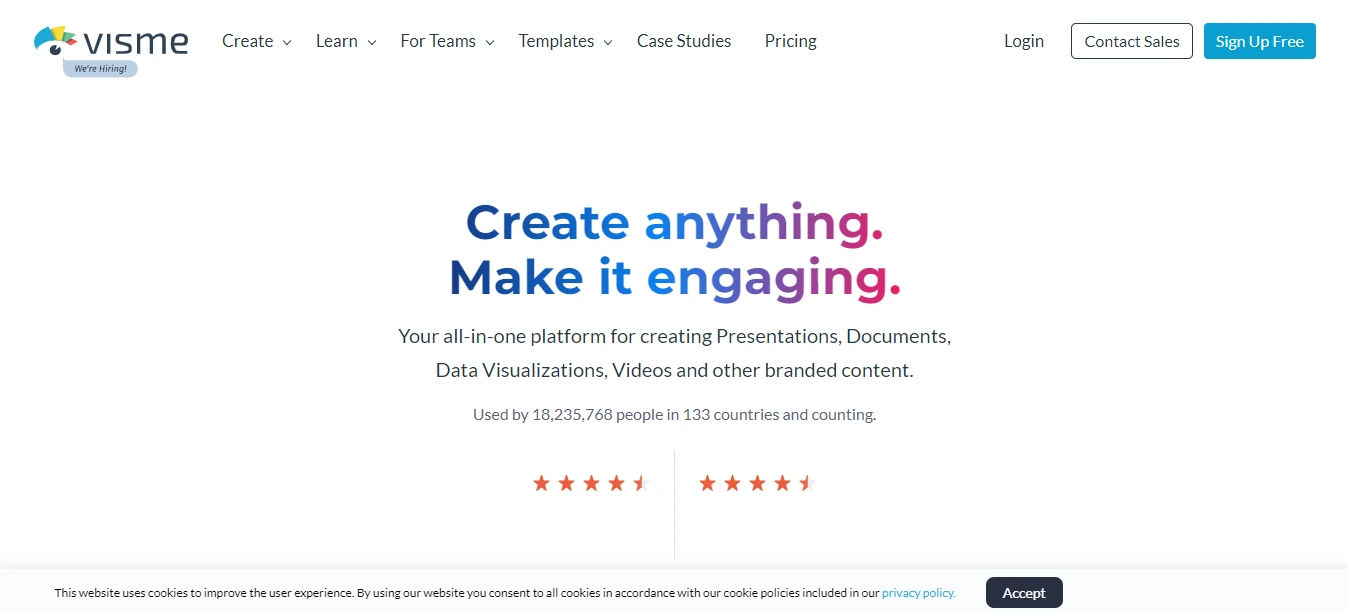 Visme is a multifaceted design tool that was created with the marketer in mind. You may use it to make presentations, animations, mock-ups, banners, and, of course, infographics. Aside from having a plethora of templates to select from, you can also begin the design process with a fully blank sheet, which means your imagination isn't restricted, and the tools at your disposal are more than adequate to bring you to the desired outcome.
Furthermore, Visme may be integrated with Slack, allowing for extensive design collaboration. Other than videos, social media posts must be uploaded individually. This app caters to those who are not interested in social media marketing. The days of graphic design being tough are long gone, as are the days of having specialized design software.
As a result, there is a growing expectation that business papers will include visuals or images. Furthermore, the world of social media is graphically rich. Fortunately, keeping up with trends has never been easier with one or more of these finest infographic producers.
It can create quite complex presentations and publications, in addition to conventional infographics and edited quality photos. What distinguishes this one from the others is the large number of integrations that it supports. YouTube and social media managers are examples of competition. However, they usually do not operate with your email client or file storage.
Infogram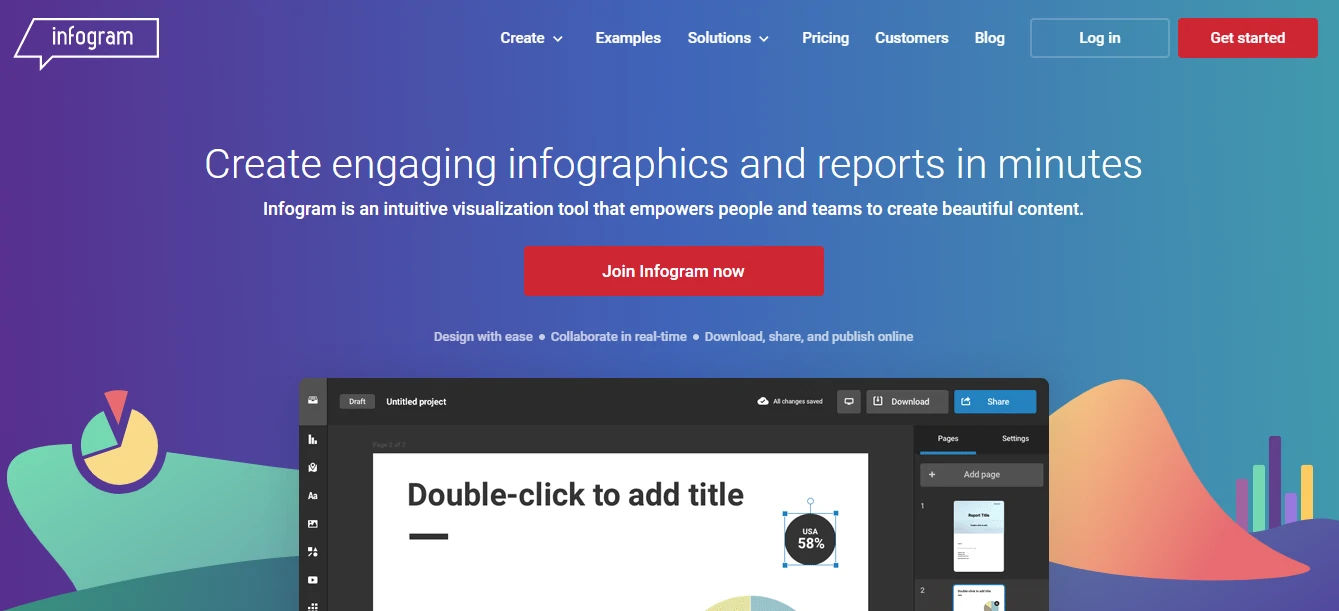 Infogram is a design tool for folks who are fascinated by statistics and data. Its powerful data visualization capabilities enable you to build easy infographics from complicated data sets. However, from an artistic standpoint, its templates appear to be fairly restricted. You'll have even fewer options if you're a free user. If statistics and diagrams are the main focus of your infographics, Infogram may be the ideal answer for you.
You will be able to build not just infographics, but also reports, dashboards, presentations, charts, maps, and social media graphics, all of which will portray information in different ways. There is no need to be concerned about the learning curve with Infogram because the UI is straightforward and efficient, and the drag-and-drop capabilities make the process of producing infographics intuitive and uncomplicated. Infogram is another user-friendly infographic program that claims to allow you to generate interesting infographics in minutes.
This application, like Genially and other social media graphics programs, has some more traditional features. This tool, in particular, allows you to create a slideshow. It also allows you to create reports for your higher management team. However, the option to add sales trackers to your artwork is arguably the most useful tool. These may be added to your website and allow you to acquire more information than you would if the entire graphic was a simple click-through. The statistics, best of all, may be posted to a dashboard in real time. Prior to Infogram, this capability was almost entirely dependent on programmers. Infogram includes hundreds of pre-made infographic templates that allow you to effortlessly combine these interactive charts and features as an infographic builder.
Easel.ly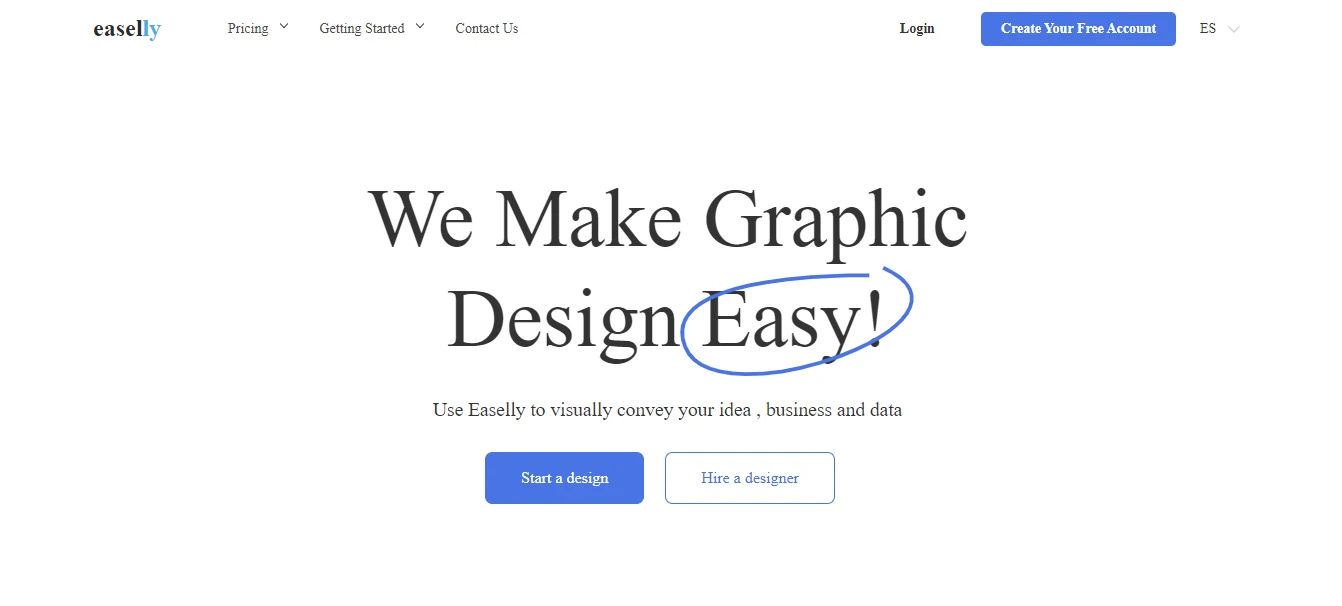 You can easily design infographics using easel.ly. When you go to their main website, all you have to do is choose one of the numerous themes they provide. They also allow you to browse their template library by category. Easel.ly has conventional options including layouts, shapes, backdrops, graphs, and a toolbar, as well as hundreds of themes.
The entire assumption is that this is the simplest method to create an infographic. Simply utilize their templates to create something visually appealing. You may use photos from their library or submit your own. However, you do not need to DIY. Instead, for a price, an Easelly design agency may create unique templates. You can then add information to the template numerous times.
The corporate edition enables group use and real-time collaboration. Pricing is one of this product's primary strengths because it is reasonably affordable when compared to the competitors. However, there is a trade-off when it comes to customization since it is quite restricted if you want to go all out with your infographics. At the end of the day, there is a 7-day trial and a free version accessible once you join up.
Animaker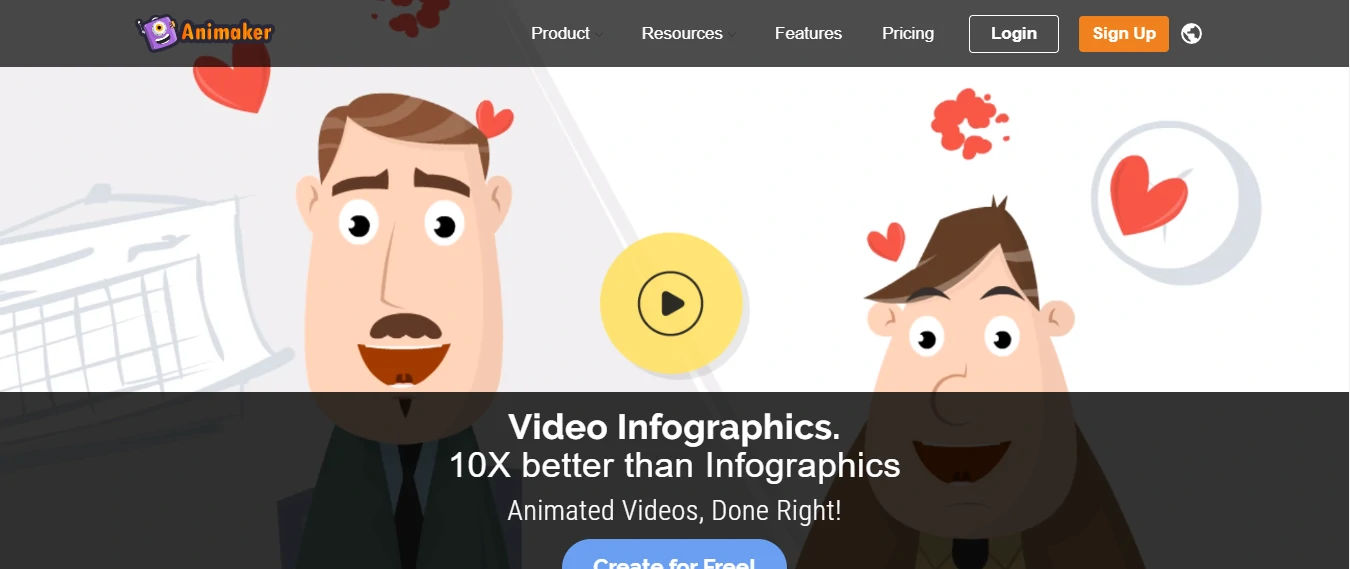 Animaker is primarily a video-creation platform, but it also functions as an infographic tool. Rather than a static sheet of photos and information, Animaker's contribution to the infographic game consists of video infographic designs that may be created without any design or video-making skills. The best part? Animaker has a massive library of stock pictures, clips, and music to fill your infographic needs.
Animaker is mostly an animated video production tool, but it also allows you to create animated infographics. Users may create an animated infographic by selecting story pieces from a built-in collection of animated characters, scenarios, symbols, and photos. Animaker, like other programs, provides a range of animated templates to serve as the framework for your infographic.
Each template is simply a film that is thrown into its graphic editor and adjusted to your specifications. The process of creating the infographic is simple but time-consuming. However, for a fully animated video infographic, this is definitely to be anticipated. Animaker also provides animation and live-action videos that are simple to create and deliver all of the vital facts and data to your viewers.
This platform will allow you to make bespoke infographic videos with all of the charts, maps, and symbols you need to convey your point. Animaker is a cloud-based application with over 1000 icons, 3000 maps, 100+ charts, and a plethora of ready-to-use templates to help you get started with data storytelling.
Venngage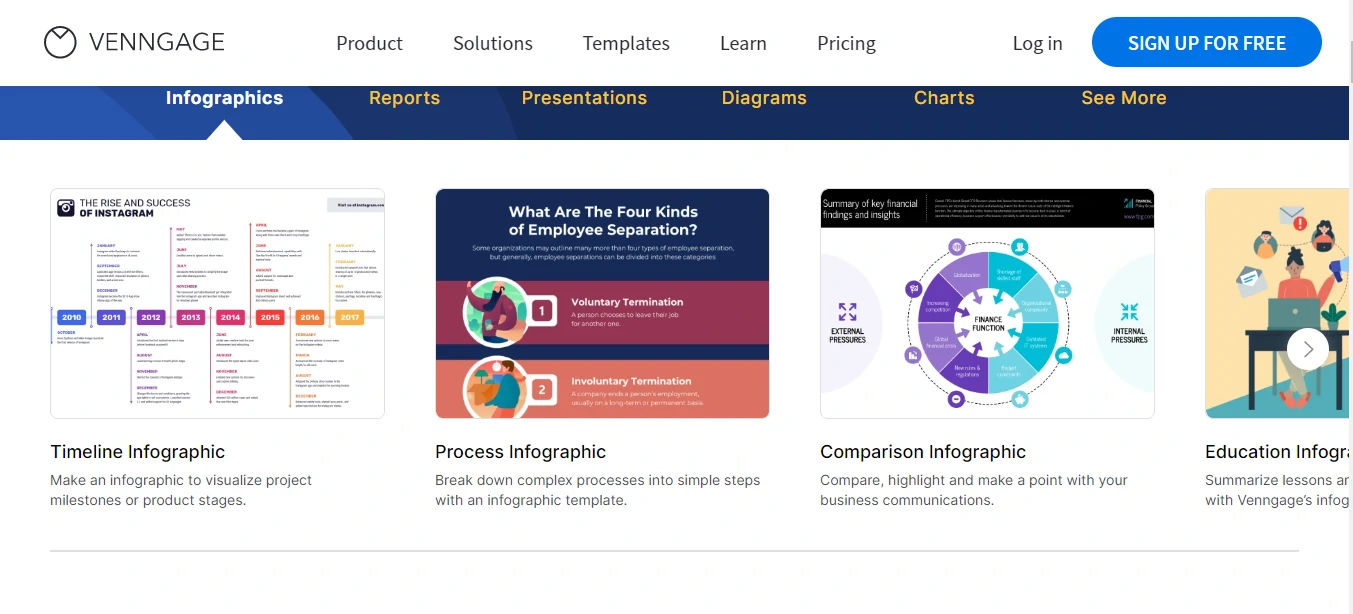 Check out Venngage's simple social media marketing tool for a visual design tool that can help you create anything, including infographics. With Venngage, you can create visually appealing infographics that look and feel professional, even if your design abilities are limited. The creation procedure is straightforward, with three easy steps that impede you from creating an excellent infographic.
You may even create resumes that will catch the eye of your desired recruiter. If that's not your thing, look at the brochure and ebook templates instead. You're largely limited to templates with Venngage. However, there is a blueprint for almost every case. There are no integrations with other apps, however, so you'll have to download everything before you can use it. However, usability and variety are desirable sacrifices, and Venngage may be utilized to produce uniform infographic layouts.
There are no integrations with other apps, however, so you'll have to download everything before you can use it. However, usability and variety are desirable sacrifices, and Venngage may be utilized to produce uniform infographic layouts. Venngage, like Canva, gives you a few various alternatives to choose from when it comes to what you want to produce. There are templates for reports, posters, promotions, and, of course, infographics. Within the infographic area, there are also more options to choose from that deal with certain themes and kinds of infographics, such as:
Statistical
Informational
Process
Comparison
Timeline
Geographic
Charts
Tutorial
Quick tip for Distributing Infographics via Social Media
One of the many advantages of infographics is that they are an excellent visual tool for sharing on social media. The only drawback is that they aren't exactly the right size for sharing. Twitter and Facebook prefer horizontal or square photos, however, infographics are quite vertical! (Also great for Pinterest.) To get around this, we've done the following: Take screenshots of various aspects of the image. For example, given the infographic I created above, I might publish this smaller-sized image as a teaser.
FAQs
How do you create an outstanding infographic?
The main components of infographics combine to create a beautiful and winning infographic. A high-quality infographic should have a strong intro that immediately grabs your audience's attention, a well-structured body with readable information, professional images, and icons, and a consistent theme that blends To increase your social media presence, combine it with other visual components such as your logo or social media profiles.
How do you design your own infographic?
When designing amazing infographics for social media, there are three things to keep in mind. First, consider the platform for which you are developing the infographics, then the key message or data you want to communicate, and last, how to arrange the information in the best arrangement for the infographic.
Can PowerPoint be used to generate infographics?
Yes! Most people are aware that an infographic may be created in PowerPoint. Begin with a fresh slide and adjust the orientation to Portrait, which is the default for landscape slides in PowerPoint. Then you may choose a backdrop, and insert the title, body, and other items like a logo, photos, and icons. When you're finished, select File and Save As to save the infographic.
What are the benefits of using an infographic tool?
By using infographic maker tools, you attain multiple benefits. You don't have to spend on freelancers and depend on others for making it for you. They are time savers, and affordable. One of the key benefits is the fact that most infographics tools are cloud-based, so your data is with you and you can make adjustments anytime.
How infographics help you make more reputable?
Many publishing sites can link your infographic as an informational resource to their platform resulting in high engagement and reputation for your brand. You can watermark your infographics and let your audience download your infographic in PNG or PDF format for branding.
When should I use an inforgraphic?
You can consider creating and using infographics when you have a lot of information to share, you want to convert the textual information into visuals, make a point, tell a story, share interesting facts with data, promote a brand, share statistics, show a short guide, or drive traffic.
Conclusion
As we come to the conclusion of the Best Infographics Maker Tools, it's clear that each of these tools has its own advantages and disadvantages. Whether you're a professional graphic designer or a casual creator, there's a tool for you. Some tools, such as Canva and Visme, are user-friendly and come with a variety of features, while others, such as Venngage and Adobe Spark, have more of a learning curve. In the end, the best tool for you depends on your needs, so do your research before you choose the one that works for you.
The Best Infographics Maker Tools can be difficult to narrow down, but after our extensive research, we've come to the conclusion that the best tools on the market are Canva, Adobe Spark, Venngage, and Visme. Each of these tools has its own unique set of features and benefits, making them a great choice for all levels of design proficiency. Additionally, their easy-to-use interfaces make them a great choice for those looking to quickly create and publish an infographic. With the range of options available, users can easily find the perfect tool for their needs.