Do you need flyer design software and tools? If that's the case, you've come to the correct spot. In this article, we will talk about some of the top flyer-maker tools that you can use. Each of these tools has its own unique set of features, so it is important to choose the one that best suits your needs.
Flyers and posters are good ways to get the word out about events, products, services, or issues. They are pieces of printed material that people can hold and look at. They are widely spread and put up in different places to get the attention of potential customers or guests. Here are some important ways flyers and ads can be used:
Flyers and posters are often used to spread the word about events like concerts, fairs, conferences, fundraisers, and parties. They can be put up in public places or on community boards, or they can be given directly to people who are likely to be interested.
Product or Service Advertising: Flyers and signs are used by businesses to show off their goods or services. These advertising materials can highlight key features, special deals, or discounts, and they can be given to potential customers in places like shops, cafes, or local businesses.
Brand Awareness: Flyers and posters are great ways to get people to know your brand. By using a company's logo, colors, and other brand features, these products help make a memorable visual character. Using flyers and signs regularly can make your brand more visible and help people remember it.
Public Awareness Campaigns: Flyers and signs are often used by non-profits, government bodies, and social causes to get the word out about important problems. They can be used to teach the public, spread ideas, or get more people involved in the community.
Information Spreading: Flyers and posters are great ways to get important information across in a short, visually appealing way. They can be used to spread information about future events, workshops, classes, or community services to a large number of people.
Local marketing: Flyers and signs can help small businesses and other local businesses reach people in their nearby areas. Putting them in places with a lot of foot traffic, like shops or community centers, helps to bring in locals and possible buyers.
Call-to-Action: Flyers and posters often have a clear call-to-action, like telling people to visit a website, call a number, or go to an event. This makes people more likely to act right away and check out the material being offered.
Overall, flyers and signs are useful marketing tools that can be used in many ways and don't cost a lot of money. They can get messages across, promote events or businesses, and get people more interested. The fact that they are real and look good makes them remembered and effective at getting the attention of the target audience.
However, the only way to understand whether or not the flyer design tools are useful for you is to use them in different projects because each of these tools has a specific feature that you will require, so it is much better to learn them all.
The best part is that you don't have to be a professional designer to generate posters and flyers; all you need to do is download a flyer-maker application and use its features and customization options. So go on and explore the applications on the list below to create visually appealing and colorful flyers for drawing new audiences and successfully marketing your products or services.
List of Best Flyer Maker Tools in 2023
Canva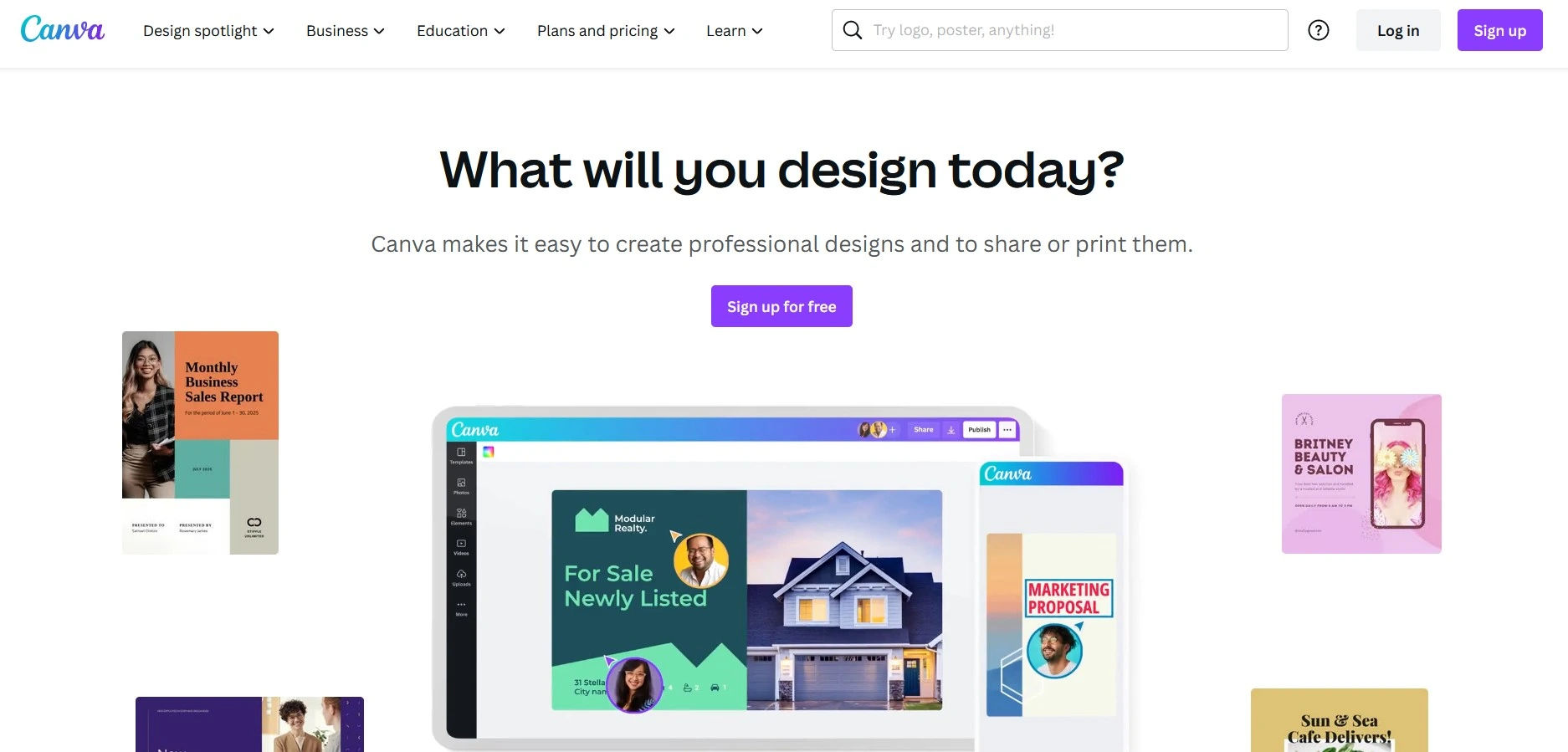 Canva is a popular graphic design website that allows users to create attractive, professional designs for social media posts, logos, presentations, and other tasks. It includes a large number of templates, backgrounds, fonts, shapes, and other components that may be utilized to create visually amazing designs.
Overall, Canva is an amazing tool for rapidly and effortlessly generating gorgeous graphics. It is appropriate for both novice and professional designers. It is also very collaborative, allowing users to exchange and contribute to designs. Even people with little design knowledge will find the platform simple to use.
Features
It also provides several editing tools, such as picture filters and design effects, to help you modify your creations.
Users can select from a collection of templates or begin with a blank canvas and develop their own.
It also has a drag-and-drop capability for users to swiftly change their designs.
Canva also has several collaboration tools. Users may share designs and offer criticism and ideas to other users.
It also has a design review tool that allows users to solicit opinions from other users.
Pricing
Free- Rs 0 per year (one person)
Pro- Rs 3,999 per year (one person)
Teams- Rs 6,590 per year (for first five people)
Illustrator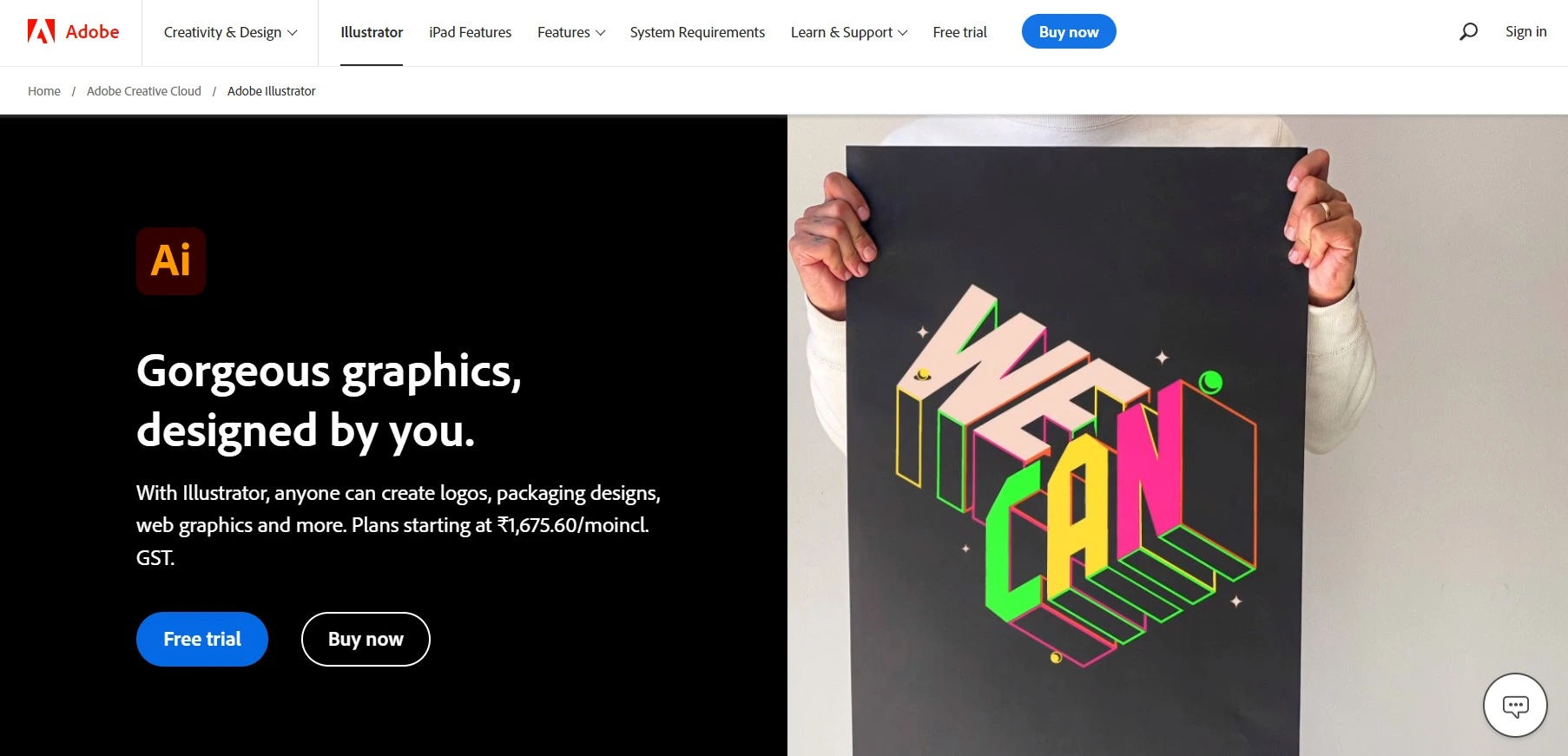 Adobe Illustrator is a vector graphics editor used by millions of graphic designers, illustrators, web designers, and other professionals across the world. It's a fantastic tool for making vector pictures, logos, drawings, and artwork. It has been in existence since 1987 and has been constantly modified and enhanced throughout the years.
Illustrator's ability to produce vector pictures is one of its most notable capabilities. Vector pictures are composed of points, lines, and curves that are joined to form a visual.
Vector graphics may be scaled to any size without losing quality since they are resolution independent. As a result, they are great for logos, drawings, and other artwork that must be utilized in several sizes and formats.
Features
Illustrator also includes some tools for producing and altering vector graphics. These include the pen tool for precise forms, curves, and lines, as well as several shape tools for basic shapes like rectangles, circles, and polygons.
It also offers several brushes and effects for enhancing vector artwork with texture, color, and depth.
Illustrator offers a variety of text creation and formatting capabilities, as well as some strong tools for working with fonts.
It also comes with several tools for dealing with symbols that may be used to swiftly design logos.
Pricing
Monthly payment- $2,514.58 per month incl. GST
Yearly, monthly billing- 1.675.60 per month (incl. GST)
Yearly, upfront- $19,158.48 incl. GST
Photoshop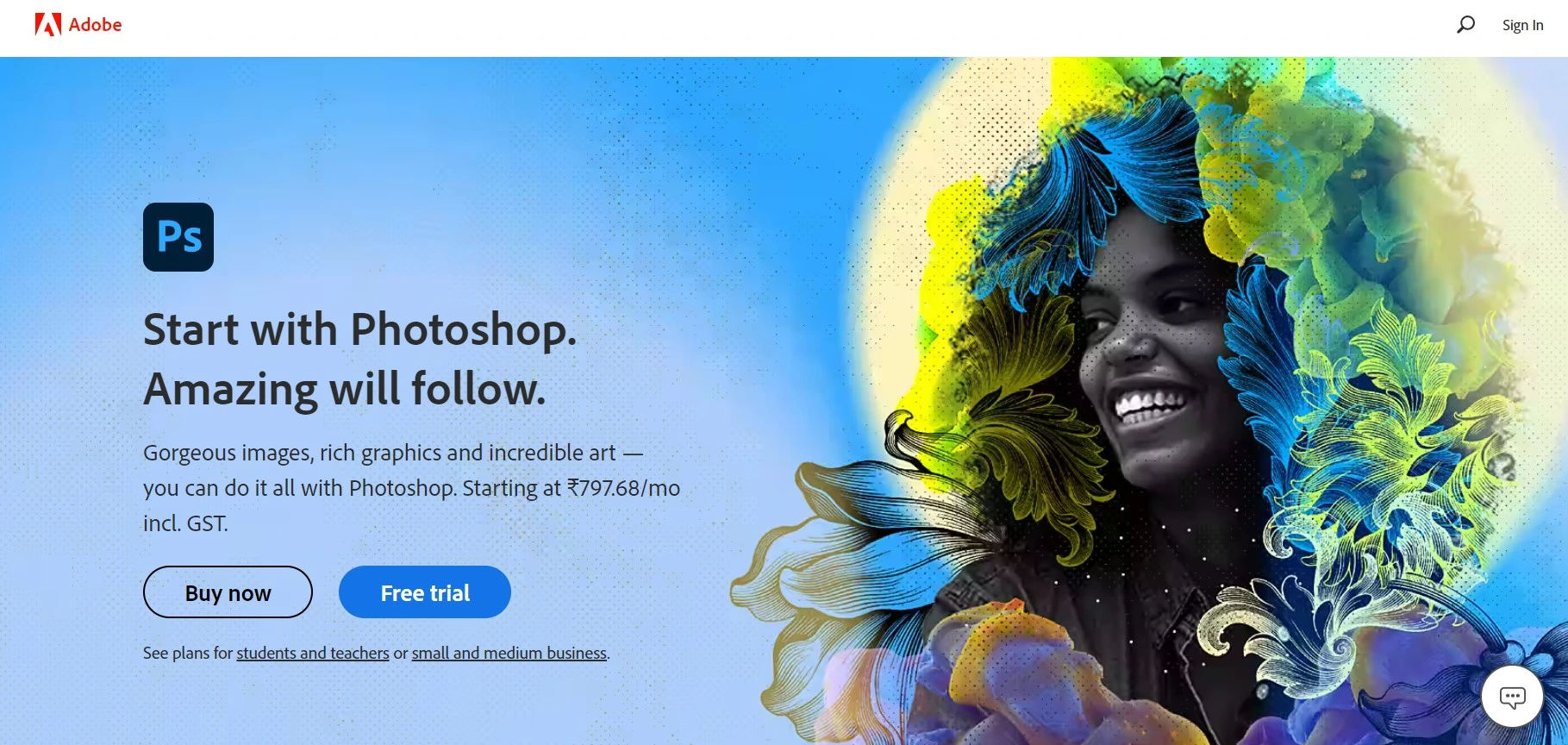 Adobe Photoshop is a widely used image processing, graphic design, online design, and web development program. It is a very useful program for generating and altering photos, artwork, logos, and other visuals.
Photographers, graphic designers, and other digital artists, both professional and amateur, utilize Photoshop. It is a very adaptable tool that may be used to generate beautiful effects and visuals. Photoshop has a plethora of features, tools, and effects that enable users to produce stunning, professional-looking artwork and designs.
Its user-friendly design makes it simple to learn and use, and its many lessons and online resources make it even simpler. Photoshop is also interoperable with a wide range of other programs and devices, making it simple to share and collaborate.
Overall, Photoshop is an incredibly powerful and versatile program that can be used to create amazing artwork, designs, and effects.
Features
Layers in Photoshop enable you to blend separate pictures, text, and effects. Each layer's visibility, opacity, and blending mode are also adjustable.
Photoshop comes with a plethora of brushes that let you paint, erase, and smear colors in your photographs. Custom brushes of various forms, sizes, and textures may be created.
Masks in Photoshop allow you to conceal or show portions of your layers without removing them. Masks may also be used to change the opacity of a layer and produce intriguing effects.
The filters in Photoshop allow you to quickly and simply apply effects to your photographs. Blur, sharpen, emboss, distort, and many more popular filters are available.
Pricing
Individuals- plan starts at ₹2,394.22 per month (Including GST)
Business- plan starts at ₹2,300.00 per month Per license (exclusive of GST)
Students & Teachers- plan starts at ₹1,596.54 per month (Including GST)
School & universities- plan starts at ₹2,367.00 per month, for each user (exclusive of GST)
Adobe Express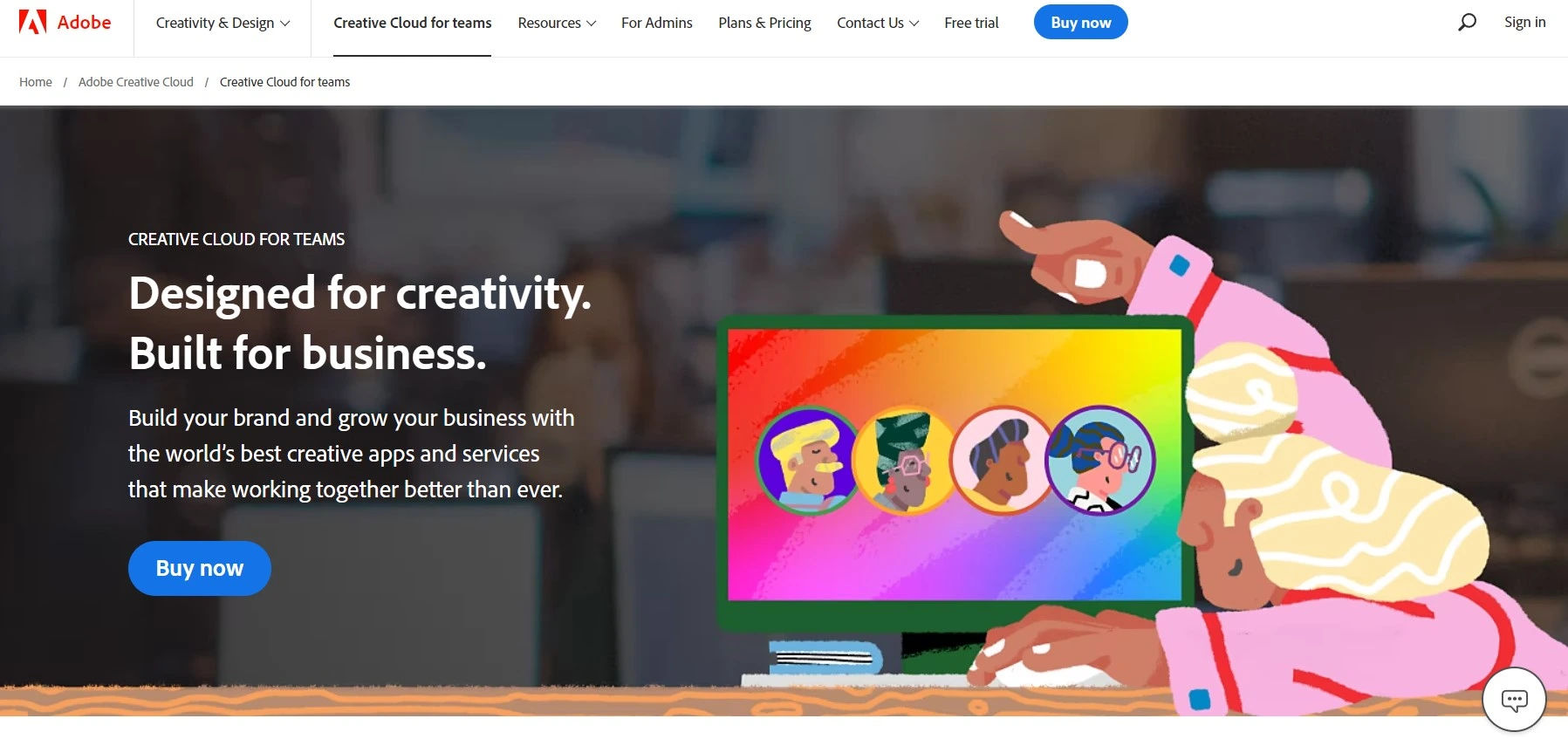 Adobe Express is a picture editing and alteration tool that is both powerful and simple to use. It includes an easy-to-use UI that makes it simple to comprehend and utilize. You may use it to make new effects and share them with others.
Overall, Adobe Express is a fantastic software for anyone who wants to edit photographs fast and efficiently. If you're searching for a picture editing application that's both simple to use and powerful, Adobe Express is well worth a try.
Features
It contains some tools that allow you to effortlessly modify the brightness, contrast, saturation, and other aspects of your photographs.
The application also has a template collection that allows you to rapidly construct layouts and collages.
It also offers several features that make it simple to create spectacular effects and collages
Pricing
All App- $ $6,386.16 a month per licence
Single App- $ $2,714.00 a month per licence
VistaCreate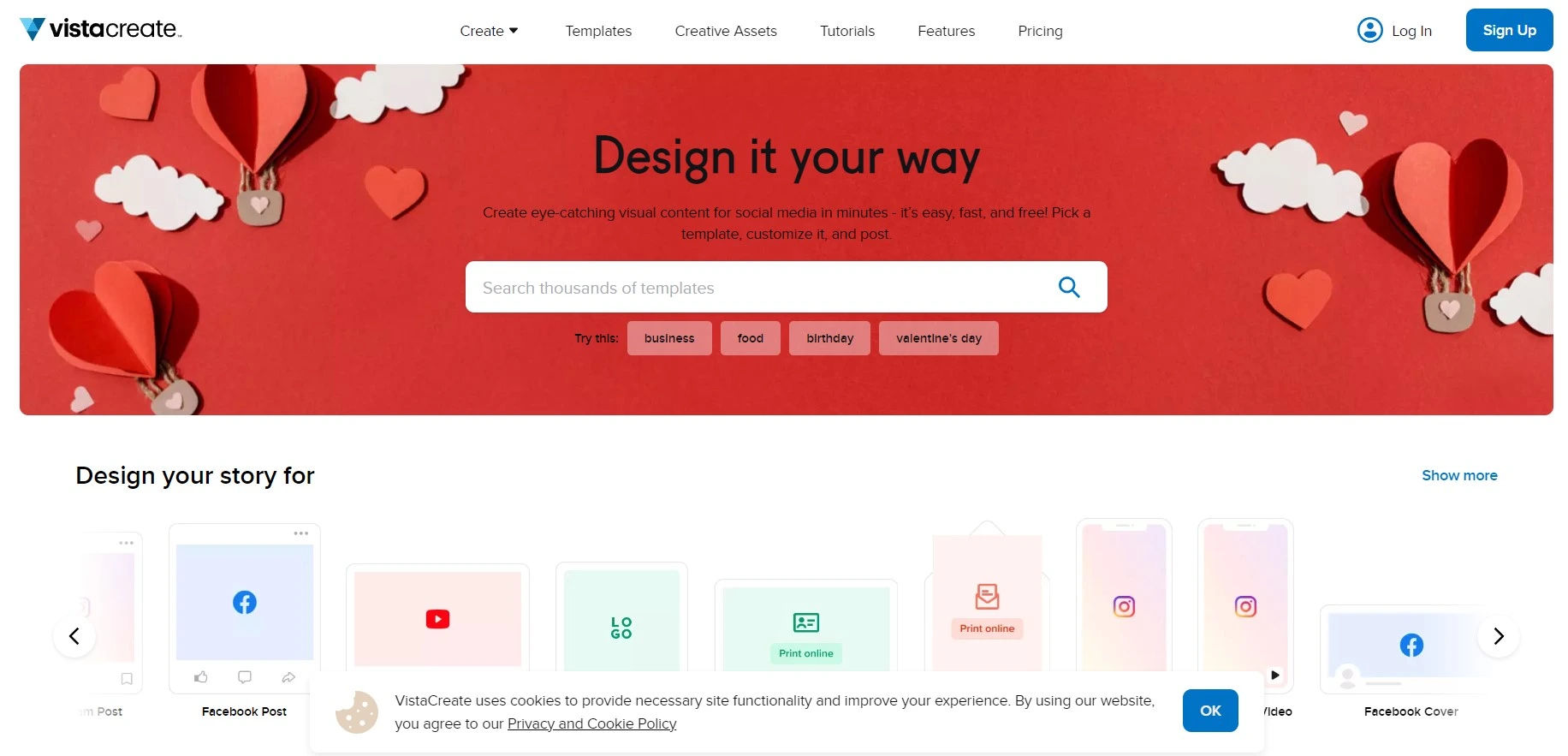 VistaCreate (formerly Crello) is a user-friendly graphic design platform that enables the development of varied visual content by utilizing 50,000+ professionally designed templates and a collection of 50M+ royalty-free creative assets such as premium pictures, videos, and vectors. With VistaCreate, everyone can become a creator, even if they lack professional abilities or the services of a designer.
Features
Remove the background and add your messages, photos, music, and brand components straight in VistaCreate.
You may upload your photographs and videos, or you can utilize free stock images, clipart, and background.
Pricing
Starter- $0 per month
Pro- $13 per month
Designcap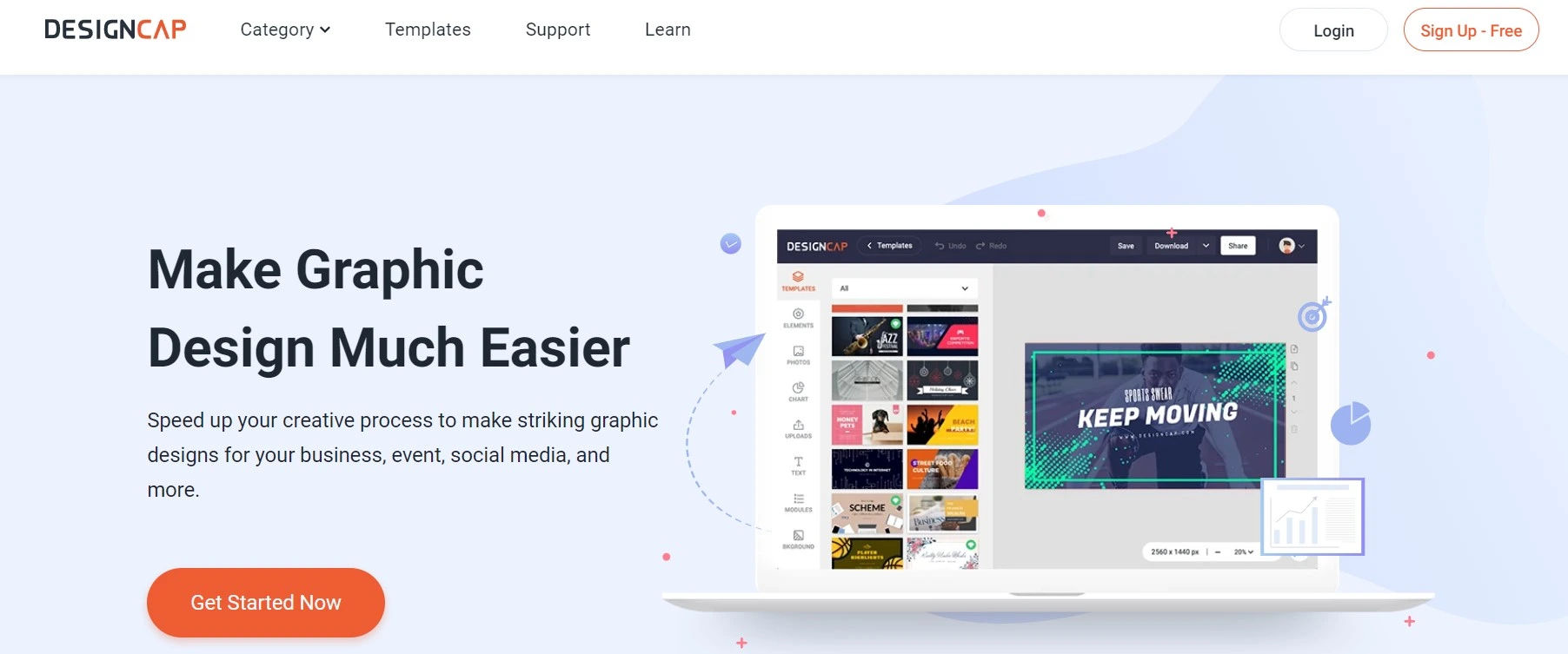 Designcap is an online graphic design platform that offers a variety of templates, pictures, and tools to let users build their distinctive designs. The platform is simple to use and straightforward, with several choices for customizing designs. Overall, Designcap is an excellent choice for anybody wishing to quickly and simply build a professional-looking design.
Features
DesignCap has a large collection of templates for a variety of uses, including business cards, flyers, brochures, posters, and more.
The drag-and-drop editor enables users to easily alter their designs by dragging and dropping items onto the canvas.
DesignCap provides a large number of elements, such as shapes, icons, photos, and text, to help you create distinctive and professional designs.
The advanced editing tools enable users to easily alter the appearance and feel of their projects. It also allows you to change the colors, fonts, and sizes.
Pricing
Free- $ 0 per month
Basic- $ 4.99 per month
Plus- $ 5.99 per month
Visme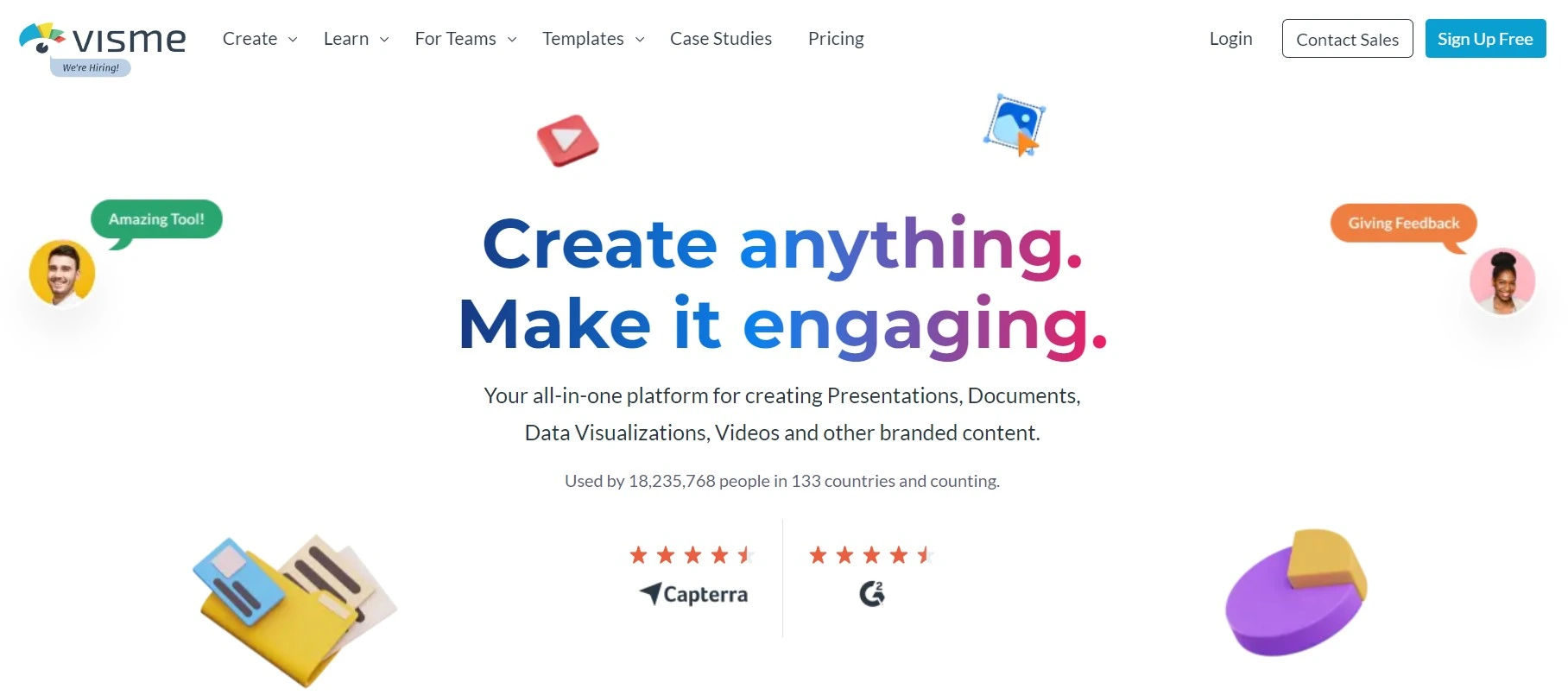 If you want to change the way you communicate visually, you should try Visme. It is a graphical software that provides basic and straightforward solutions. In three simple steps, you can make an appealing infographic.
You may utilize pre-designed professional flyer templates or make your own from scratch. You may utilize hundreds of gorgeous infographics, report templates, maps, widgets, graphs, and templates in your creations.
Features
It has a database of over one million royalty-free photos to aid with project enhancement.
Visme includes a variety of design components to assist users in creating professional-looking presentations and infographics.
The platform also offers an analytics component that allows users to track the performance and engagement of their projects.
Pricing
Basic- Free
Starter- $29.00 per month, payable monthly
Pro- $59.00 per month, payable monthly
Visme for Teams- Contact sales
FAQs
What is Flayer Maker software?
A Flyer Maker is a piece of software that allows you to produce flyers and other promotional materials. It normally includes several templates, photos, and text tools to assist users in rapidly and simply creating high-quality flyers.
It enables you to generate professional-looking flyers for promoting businesses and services, announcing events, advertising bargains, or spreading awareness. You may use a flyer maker to customize the design of your flyer using various templates and tools, then share or print it. This is an excellent method to get your message out quickly and effectively without hiring a graphic designer or investing in costly tools.
What is the purpose of a Flyer Maker?
A Flyer Maker is a tool for creating promotional items including flyers, brochures, posters, and postcards. It is an excellent tool for small businesses, groups, and individuals to generate professional-looking promotional materials quickly and simply without the need for a professional designer or expensive software.
What characteristics should a Flyer Maker application have?
Simple drag-and-drop interface.
The ability to change the backdrop, text, and pictures
Templates for swiftly producing flyers
Design saving and sharing capabilities
The ability to export designs in a variety of formats (e.g., PDF, JPEG, PNG, etc.)
The ability to print flyers straight from the app.
The ability to include QR codes on fliers
Support for various paper sizes
The ability to include logos or branding components
The ability to include animation, video, or audio in flyers
What distinguishes the best Flyer Maker application?
A user-friendly Flyer Maker program should have a variety of configurable templates and designs, editing capabilities, an image library, and the option to easily export and share projects. It should also be available on numerous devices and platforms, give customer assistance, and have a range of price options to suit any budget.
Over to you with the top Flyer Maker apps in 2023
The initial stage in the flyer design process is to choose the correct flyer creation tool. The above-mentioned internet tools enable you to create excellent flyers for a variety of reasons and occasions, including advertising, music concerts, Halloween parties, and fitness activities. They provide pre-designed, configurable, cutting-edge templates with a plethora of high-quality features.
I hope this article helped you decide on the best Flyer Maker tool.