Glorify is great design software that has a lot to offer you. It is trusted by users all over the world and has proven to be highly useful. This software has lifted up a lot of small businesses and will also help you to learn as well as grow at the same time. Glorify allows you to use its features for free without any credit card details required. So if you are a young learner then grab on to this opportunity. Here is a Glorify Review that will give you a good analysis of how this software works and what it includes.
What is Glorify?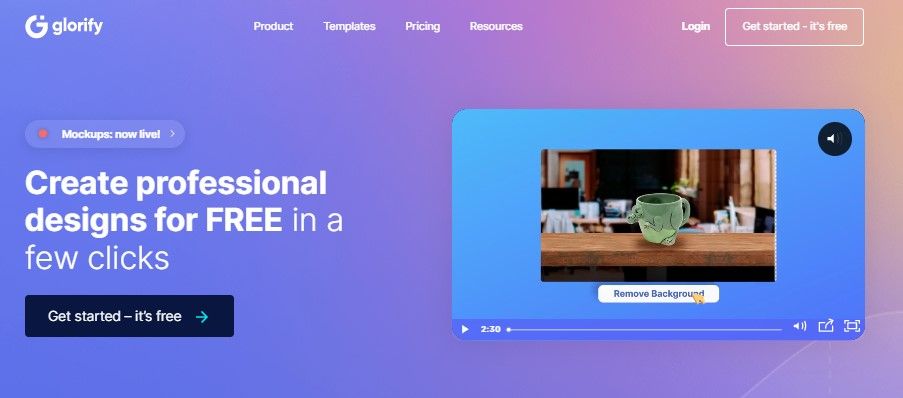 Glorify is an all-in-one designing software that allows you to create high converting social media posts, logos and even helps to design logos. This software has features that will help you to create good quality ads, infographics as well as presentations and mock-ups. Glorify is one of the best software for not only professionals who want to generate business graphics but also entrepreneurs with less or no skills, who want to grow and develop their business. It allows you to create amazing content.
Glorify Features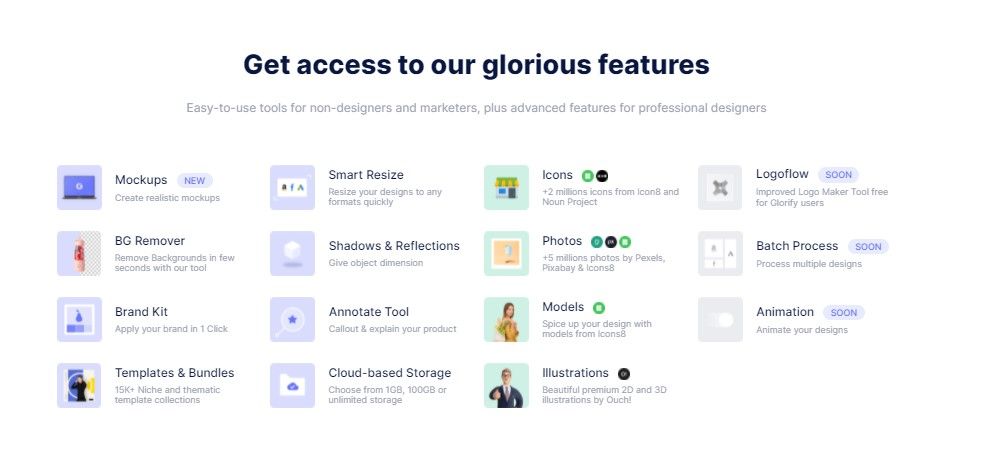 Here is a list of features that will enable you to get an in-depth detail of what glorifies has to offer you. These features are great working and will give you a clear idea about what you can create with the help of Glorify. Although, Some of these features are yet now updated in the software but will get updated in the new addition of Glorify.
Glorify Academy -You can Level up as an entrepreneur with exclusive educational content.
Embed Code Content – The embed code on your canvas, ready to be embedded on other websites or downloaded as a still image.
Personal Libraries Integrations -You can access your files from Adobe Cloud, Dropbox, Google Driveand other sofwares as well.
Carousal View – This feature allows you to view your pages in a side-by-side carousal slideshow, whilst designing.
HTML 5 Formats – You can download your designs in HTML 5 format.
Ads Analytics – Integrate analytic platforms to gather data on the performance of your creatives can be easily done with the help of this feature.
Dark Mode / Light Mode – You can switch between dark mode, light mode and most likely a hybrid mode as well.
More Stock Integrations – The more stock integrations accessible directly from Glorify's assets library.
Drawing Tools – The launching freehand toolswill allow you to get more custom designing capabilites.
Glorify's major features include a lot of good tools that will help you to create the best designs online. These will help you to get some of the best social media posts created. These features include :
Live Collaboration – The future is collaborative with this feature you will be able to invite your team and guests and collaborate on a design live.
Print Templates – You can access to eCommerce print templates such as inserts, manuals, labels, and a lot more.
Smart Components – Yo can save your compositions as a master file for re-use. Making changes to master file updates globally.
Animations – Create mesmerising animated product images to grab your customers' attention in a strange hold. Export in MP4 or Gif.
3D Viewer – Capture 3D views of your product at any angle, render them live, and add them directly onto your designs.
Batch Processing – Batch process your designs to create multiple variants (sizes, colors and content) at scale.
Mockups – Instantly create product mockups of eBooks, packaging, apparel, electronics, print materials.
Packaging Designer – Simply upload a decline of your product's packaging and create your design using our assets and layouts.
Glorify Templates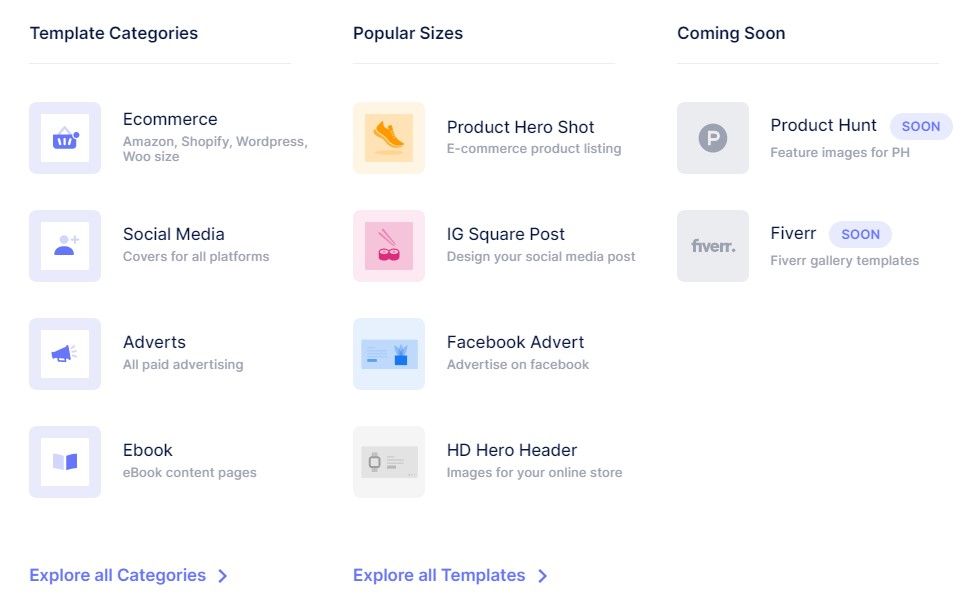 There are a lot of amazing Templates that are offered by Glorify. These templates are of high quality and will help you to access new ways of creating. Some of these templates are yet to be updated in the software. These templates keep getting updated and new ones keep getting added in Glorify. There are 4 categories huge of templates including E-commerce, Social media, Adverts, and also Ebook. The Social Media category of templates covers all platforms including Instagram, Facebook, and other social sites. Similarly, the E-commerce category of templates covers all sites like Amazon, Shopify, Woo-size, and also WordPress. Moreover, Ebook includes content pages and the Advert category offers all paid advertising.
Alternatives of Glorify
If you are looking to create graphics for your social media, e-commerce, or products, you can make use of Canva and get more out of it. Canva is a vast product and is very useful. It has a large market share already when it comes to online graphic design. Most freelancers and business owners tend to create their small to big graphics using Canva only. As such, it remains one of the top alternatives to Glorify which you can use.
Relaythat is a strong alternative to Glorify. With Relaythat, one can easily create social media and Google Ad Graphics. With Relaythat, you can set up the brand guidelines in minutes. Now whenever you want to create graphics, you can make use of them to create the Graphics much fast. It is however the case with most designing applications these days. Relay that solves the problem of creating e-Commerce, Product, or Relevant Graphics.
Crello
Crello is a graphic designing software. With Crello one can easily create marketing graphics, posters, social media graphics, and much more. It is an easy and convenient way to create graphics. It is being used by many brands and affordable software.
Trusted Companies with Glorify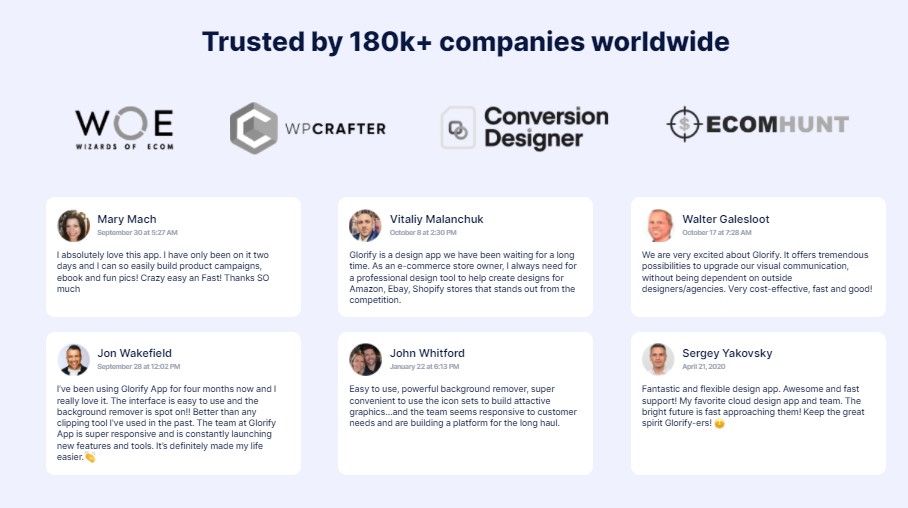 Glorify is a great software and people all over the world support and use this software. It has a lot of features to offer. Great software requires great companies to support them. There are a lot of companies such as WOE – Wizards of Ecom, WPCrafter, Conversion Designer, and also EcomHunt. There are good reviews in favor of Glorify. It is recommended by highly qualified design company owners.
Glorify Pricing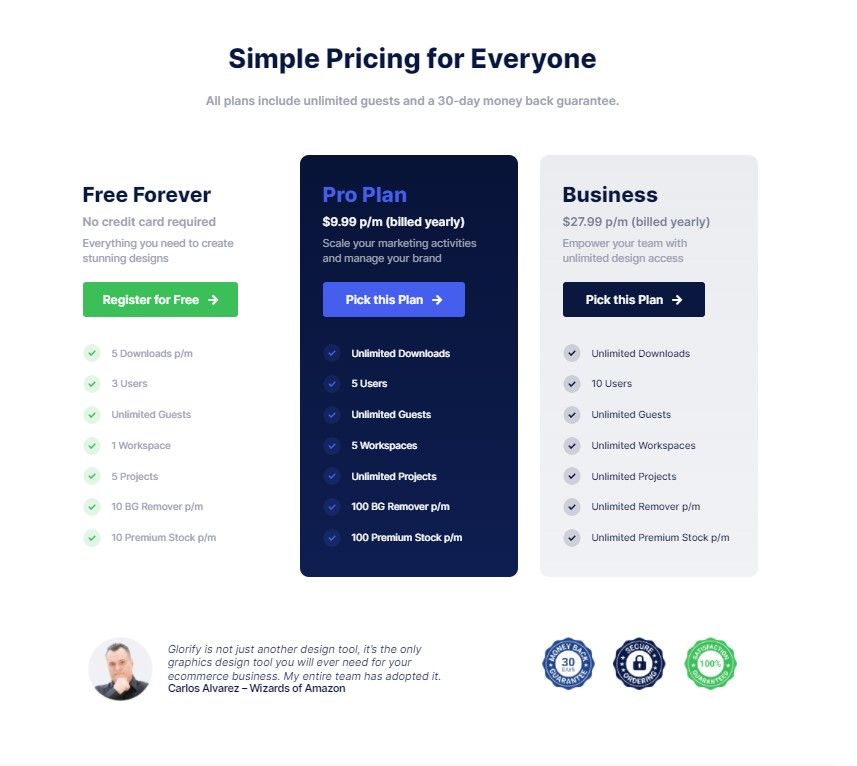 There is an all-time free version of Glorify. The free version includes a lot of benefits including 5 Downloads p/m, which can be used for up to 3 Users and Unlimited Guests. Although it only offers a single Workspace but offers other benefits like 5 Projects, 10 BG Remover p/m, and also10 Premium Stock p/m. The other two plans include the Pro plan and the Business plan. These plans cost $9.99 per month and are billed yearly and $27.99 per month respectively. These plans include all the features of the free version with additional features as well. You can access 5 workspaces in the Pro plan and unlimited workspace in the Business plan.
Over to you with Glorify Review
Here we are at the end of this Glorify Review. You can access Glorify app for free. If you are serious about design product graphics you can definitely opt for this graphic designing tool that mainly focuses on product graphics.
With the help of this tool, you can increase your sales, conversions, and ROI and boost engagement on your social channels. With a paid plan in hand you can have unlimited projects, guests, and downloads.
Even if you are a freelancer or an agency, you can use Glorify to create stunning product promotion graphics for your clients.
When compared to other options such as Canva, it does not offer that much value. But if your plan is just to create graphics for products then there is no bad to invest in the software that is best in the game!
The Review
Glorify
Glorify is a solution for online Graphic Designing for Agencies and Marketing owners. With Glorify, it becomes super easy and fun to create e-Commerce designs, Mockups, Product Graphics, Social Media Designs, Adverts, and much more with ease. The tool is super impressive because of its fantastic UI and smooth design workflow.
PROS
Easy To use Design Software
Attractive and Professional Templates
Super Easy Customizer
Collaboration Becomes Easy
Review Breakdown
Easy To Use

0%

Features

0%

Support

0%

Value for Money

0%

Brand Trust

0%