In this digital era where everything you do has to reach the expected number of people, rank is the deciding factor. If you are searching on Google, the website that comes on the top will certainly have more visitors than some website that ranks below it. To give you a complete solution, we have come up with a review of one such website. Ranktracker is one of the most effective websites that can help you with all your SEO requirements.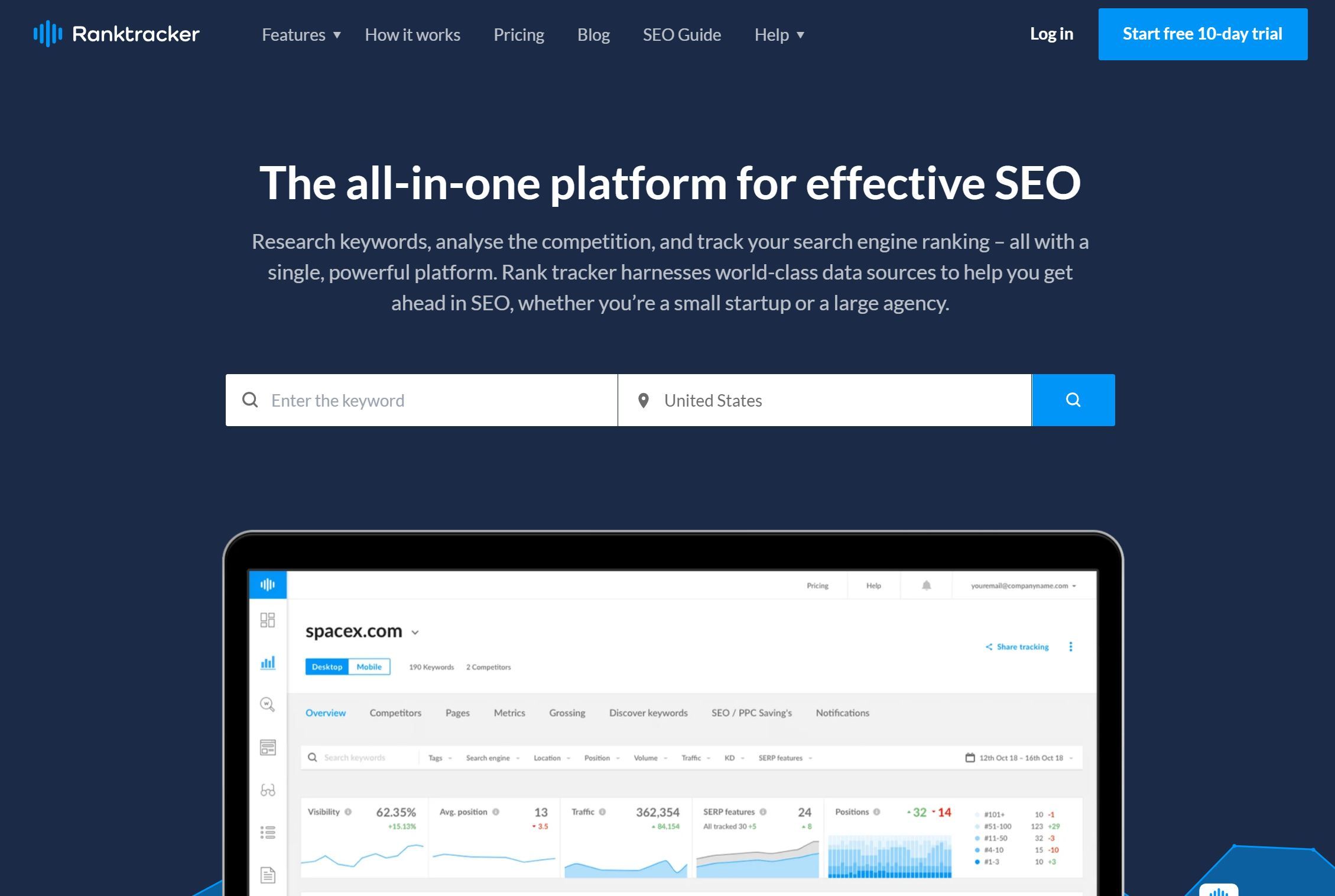 Understanding the core Idea of RankTracker
If we have a website you do need to look after the SEO aspect. Without it, you can't reach the people who are there searching for things or services that you provide. Even if you have a blog that writes about stuff that people want to read, if your website is not ranking on the keywords that people, your target audience is searching for, it is of no use. Without ranking, efforts are nothing. So, Ranktracker here is the tool that you can use to do research, understand the analytics of your website, and then formulate a well-defined strategy that you will keep changing with the numbers that you see on the console afterward.
RankTracker lets you track the rank of your domain and different pages on it. It helps you in finding keywords that can help you rank higher in the search results and help you with a website audit.
Overall, this website will make it easy for you to get higher in the ranks, and get closer to your target readers/customers.
They have a beautifully designed website with a UI that makes it easy to understand what the website does. You can have a look at some of the major features of Ranktracker below:
Ranktracker Features:
Rank Tracker is one of the easiest websites in its category. There are other alternatives that you will find in a later section but they all sometimes confuse the users. This, on the other hand, has a very easy-to-use interface, all the features are well explained and even a beginner can get a hold of it in some time.
If you are not able to understand this, don't worry you always have their customer support to help. Their customer support work on the chat pop-up, email, and more. This is why even if you are a technically challenged person, they will help you to use it.
Let's look at some features that make this worth the money and time that you put in:
Rank Tracking
With the help of Ranktracker, you can see the ups and downs of your keywords very closely. This helps you to understand what more you need to do on a certain keyword. Rank Tracker is easy to use and allows you to see the rank changes over time like most other new rank tracking tools such as Screpy, or SERPwatch.
Keyword Finder
Find keywords that will help you improve the traffic on your website. Enter the phrases around which your content revolves, and the tool will provide you with the keywords that will be helpful for you.
SEO Checklist
Even if you are a beginner and don't know where to start, Ranktracker's SEO Checklist feature helps you by displaying all the necessary tasks you can do to have a better SEO strategy. From setting up Google Analytics, Search Console, and selecting the right strategy it pinpoints all the necessary steps you can take to impress the search engines and your users.
SERP Checker
Check how the SERP looks based on a particular keyword and then get the analysis of each of them. You will get to know what the top rankers are doing to get there and what you are missing out on. This detailed analysis helps in giving you points that can help you improve your website.
Web Audit
Knowing everything about your website is important. From the number of backlinks to the elements that are not working to the number of organic keywords and monthly visitors. You need everything to be able to define a strategy for improvement. You need to know the reality before you just into the future plans.
How to Use RankTracker
RankTracker gives you 3 features and to use them you need to basically understand the basics of the platform: We are giving you the steps that can help you with Rank Tracker with some screenshots that will help you related to it in the best way possible.
Ranktracker basically provides you with all SEO metrics and updates the performance of your website every day. It tells you about the visibility and how your keywords rankings are changing with it. Now there are the following things that you can observe with it.
Overview
Here, in this feature, you get to see all the things in an overview format and when you click over them individually, you can see more.
Competitors
Knowing about your competitors is one of the most important parts of your SEO strategy. It is something that you can see within this feature.
Pages
The pages section gives you a report of individual pages on your website, this is something that gives you the opportunity to optimize the SEO of each page distinctly.
Metrics
The metrics page shows different data about your web domain. It has records like the difficulty of the keyword, the CPC, the volume on a particular keyword and more. This is mostly data that is related to your keywords.
Grossing
You might know that search behaves differently on phone and desktop, to know it all you can easily check the different ranks in this part of the RankTracker.
Discover Keywords
Discovering the right keywords for your website is important and you can do that here. You get a lot more suggestions around your focus keyword and all the metrics related to it.
SEO vs PPC savings
SEO vs PPC savings is a feature that tells you how much you saved by doing SEO. You know that in PPC you literally have to pay for every click, whereas in SEO it is all organic.
RankTracker Pricing
There are three plans (Ranktracker/All-in-One/Premium) and their prices depend on how many keywords you want to search per month. This is how they define the final price of your plans. Here we will look at prices when we want 100 keywords per month and then 3k keywords per month.
For 50 keywords per month the plans look like this:
Ranktracker: $6/month
All-in-One: $21/month
Premium: $44/month
What else you get:
For 3k keywords per month the plans look like this:
Ranktracker: $127/month
All-in-One: $142/month
Premium: $164/month
Ranktracker Lifetime Deal on Appsumo
Ranktracker is available on Appsumo where you can buy a lifetime license of Ranktracker for less pricing. The pricing of Ranktracker on Appsumo starts with $49 where there are multiple tiers available. Based on your requirement, you can choose the tier.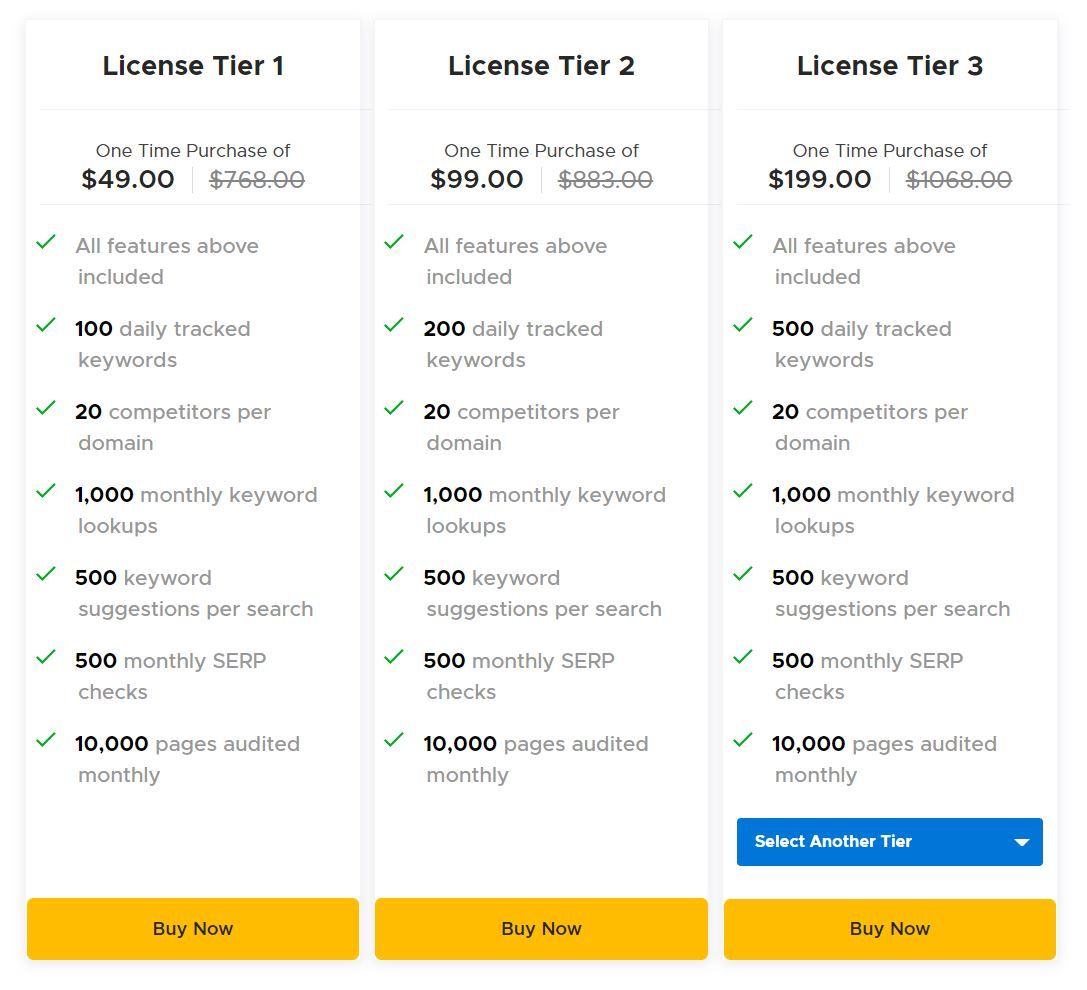 Ranktracker Alternatives
Without getting into the details we will tell you about the top 3 alternatives of the Ranktracker. All three of them are widely known in the world of SEO just the extra features that some of them have it they also allow the users to identify more content ideas because it gives you analysis of particular keywords and tells you which articles rank on it. Talking about MOZ, it has developed DA and PA that are Domain Authority and Page Authority scores that define how reputed the website and its pages are.
Moz
Ubersuggest
Ahrefs
Screpy
SEMrush
SERPwatch
One of the problems with all three of them is that they are not easy as Ranktracker and are also expensive.
Final Verdict:
RankTracker is a great tool that allows website owners and administrators to know and improve their SEO score and get more visitors. The website has all details that you might want from the prices to what you can get as a user. If you also want to rank higher on the keywords that you use and save money while marketing, then you need to spend some amount on this tool and you will see the results for yourself. You also need to know that they provide a 10-day free trial that you can cancel even on the 10th day, if you don't like it, you don't get charged for it.
The Review
Ranktracker
Ranktracker is an incredible Rank Tracking and SEO software. This is easy to use software is ready to use for advanced users as well as for absolute beginners. Ranktracker helps webmasters in better SEO of websites and shows where they stand and where they need improvements. It continuously tracks your special keywords while saving your time in doing it manually. It preserves the data for future decision-making and achieving results out of them.
PROS
Easy to use
Rank Tracking and SEO Checklist
Keywords Finder
Website Audit and Reporting
Best for Beginners as well as Advanced Users
Clean and Easy to Navigate UI
Review Breakdown
Easy to Use

0%

Features

0%

Scalability

0%

Value for money

0%

Brand Trust

0%