Sometimes customers are unwilling to invest their time in reading but feel interested in going for a video about knowing the details of the product. In that case, Steve.ai proves to be helpful as it generates fascinating videos through text in less time.
It provides a user-friendly interface for video creators to create professional videos. It is even not compulsory to have video editing skills to use Steve.ai. This tool is super easy to use.
Steve.ai solves two very important problems; Lack of Time, and Lack of Skills for creating professional videos that can engage users.
With the tool, you can also save a lot of money that you could be spending on freelancing or a professional editor.
Steve.ai Overview
Steve.ai is a platform where an Artificial Intelligence tool makes anyone generate videos and animation without taking much time. Here you can turn your text into videos faster to grow your product sales by providing relevant important visuals of your products with the utilization of Steve AI's in-built technology and a unique media library.
You can use the media asset library with 100 million high-quality photos, videos, and audio files to make your video lively and more attractive. As videos prove to be more beneficial in terms of a perfect combination to enhance transformations, build brand awareness and engage more customers. You can select any of the templates provided here to create videos of the choice of your genera. For instance, marketing videos, news and editorial, advertising videos, training videos, corporate videos, educational videos, cultural videos, and social media videos.
Steve.ai Features
Transform Blog into Videos
You can transform your existing blog and content into bite-sized videos with AI-generated technology.
Transform Photos into Videos
Photo video maker templates available in the software can create videos with transitions to make them ten times more exciting. You get access to more than 100+ templates, so it becomes easy to form an idea about which type of video you want to be created to suit your product requirement. You can simply pick up any image from your gallery and turn it into a picture video through which you can give a good message, whether it's about a birthday, anniversary, or more.
Create YouTube Videos
If you are a regular blogger, you can make your method of storytelling more interesting by creating YouTube videos here. Best of the YouTube intro and outro templates are available here, which can help increase more of your subscribers. It comes with over 1000 custom YouTube video templates, AI-generated auto scripts, rich graphics, videos, and music assets, simple while customizations, and easy to collaborate with devices. You can also enhance the transformation rate of your product through YouTube ad videos.
Create Social Media Videos
Creating social media videos is more engaging than writing any social media posts. The AI-generated tool helps you do that in a few clicks. You can instantly transform your posts into animated or live videos, saving your time in creating videos from the beginning. Effective ads, newsfeed videos, video slideshows, stories, and cover videos can be created for Facebook posts through Facebook video maker. In the same way, you can create videos for Instagram reels, stories, feed, and IGTV through Instagram video maker to increase your followers, which proves to be a source of promoting your product also.
Create Cartoon Videos
State your script and gets a cartoon video generated through Steve AI in less time. An animated video can be a good source of content marketing, product awareness, and all.
Steve.ai FAQs
How to avail of the free trial account?
Make a free account on Steve.ai and start using it for free. No skills are required to create animation videos with Steve.ai. But if you want more features, you need a paid subscription.
How can you create an animated video?
You just have to select the "animation category" for that following script selection and simply create your video and download it.
How can I cancel my subscription?
You automatically get unsubscribed from your paid plan if you deactivate your steve.ai account in your dashboard whenever you want.
What are some of the best alternatives?
Some of the best alternatives to Steve.ai are Invideo, Lumen5, Magisto, WeVideo, and Animoto.
Steve.ai Pricing
If you go for a yearly subscription, you can save up to 50%.
Basic Plan
$9/month ($108/yearly)
720p video resolution
5 video downloads/month
No watermark-free videos
Starter Plan
$30/month ($360/yearly)
Including all Basic features
1080p video resolution
15 video downloads/month
10 voiceover accents in English
Watermark free videos
Pro Plan
$40/month ($480/yearly)
Including all Starter features
2k video resolution
40 video downloads/month
20 voiceover accents in English
Watermark free videos
Enterprise Plan
Custom Pricing Method
Including all Pro features
4k video resolution
Endless download/month
Custom voiceovers
Watermark free videos
Lifetime Deals on Steve.ai
You can buy a lifetime deal on Steve.ai from Pitchground.
Starter Plan
$59/lifetime
15 complete HD projects/month
10 voice-overs in English
More than 200 pre-generated video scripts
More than 80k premium icons, visualizations, and vector illustrations
More than 70k background audio tracks
Endless media library full of images and videos
Endless animated characters, including background
No watermark is there
Branded logo and outro provided
Allows premium stock and library at a discounted rate
Access to theme palette
Build videos for 20 minutes
Includes all features and updates of the "Starter Plan."
It comes with a 60 days refund approach
Alternatives of Steve.ai
There are various alternatives for Steve.ai available in the market. Some of the best alternatives are listed below:
Magisto
Magisto is a video-making software that provides an amazing video editor through high-quality video and photos. It can be generated to fulfill your marketing needs as it becomes simple to make optimizations in your product videos based on audience and channel. So that generally refreshed and accurate content reaches your target audience. It is so simple to use, just like a PowerPoint. Video storytelling here is quick, like writing a blog post or article. It provides a video marketing distribution platform with the involvement of estimation for business videos.
WeVideo
Wevideo is an online video editor for any type of content, whether it's your social media posts, blog posts, educational content, message videos for friends and families, and more. It creates attractive videos in minutes without the need of being any professional content creator. You can input features like a green screen to give your video a big-budget look without investing any money. Its free online video editor comes with endless stock media consisting of videos, photos, and audio tracks that are commercially licensed and royalty-free. Using this stock library, you can edit videos without waiting for the time taken to upload, as it gives a fast response. It provides cloud-based flexibility for endless storage of your media.
How to Use the Steve.ai?
First, you need to sign up on Steve.ai. You have to input the user name and email id and set a password. Then as soon as you log in, this dashboard appears.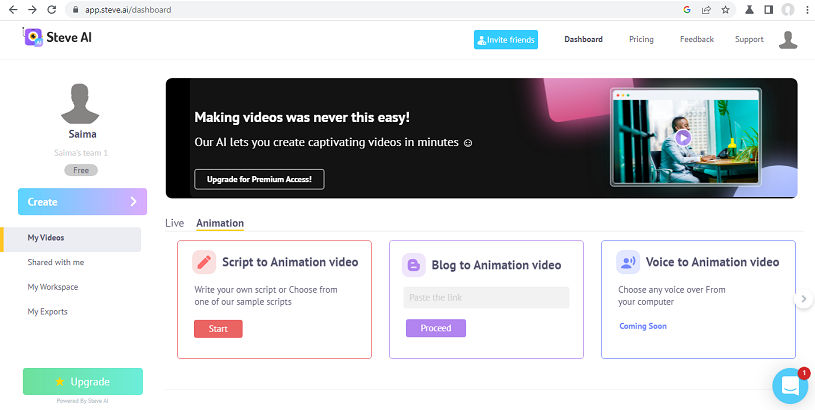 Here you can make live videos and animated videos.
Script to Live Video
Click on "Start" if you want to make a live video by providing some texts.
This window appears where you can choose the type of your video, video ratio, category, and title of your choice. Then simply click on "Create Sample Script".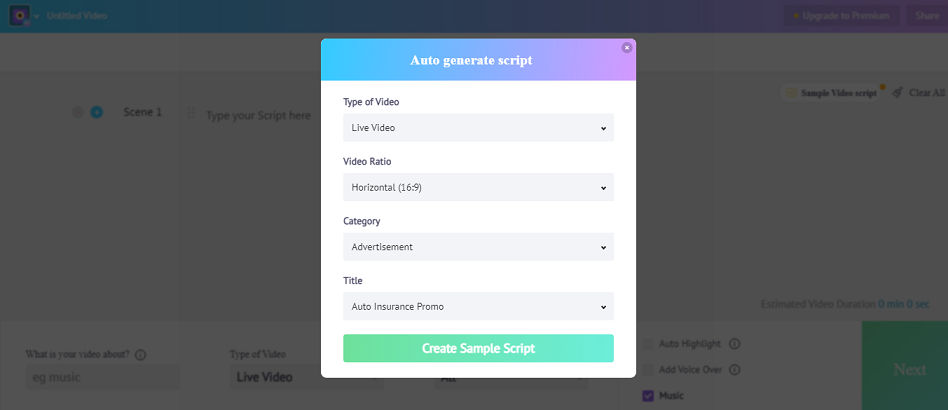 In the next step, this window appears where your automated generated script is divided into scenes. On the right side of the end, the estimation of the length of your video is also given. Click on "Next" and continue.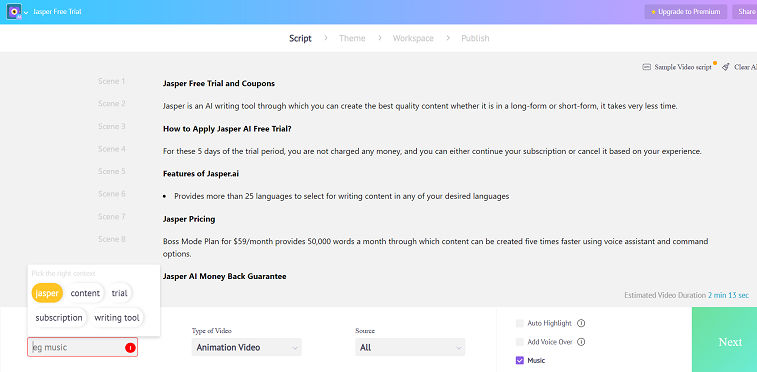 Then you get redirected to the page where you can choose a design for your video display. Select anyone and continue.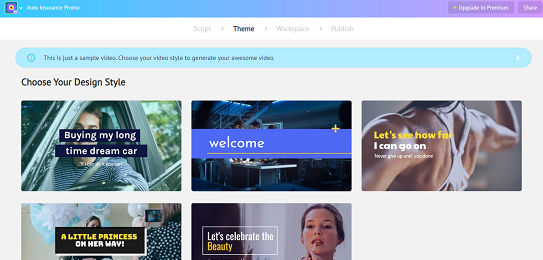 Then this window comes with a series of your scene assembled in a video form. Here you can make customization by duplicating the scene, deleting any part, putting some transitions, choosing layouts, putting a timer, changing the color settings, or hiding any text. You can also insert audio in your video simply by hitting on the "audio" button.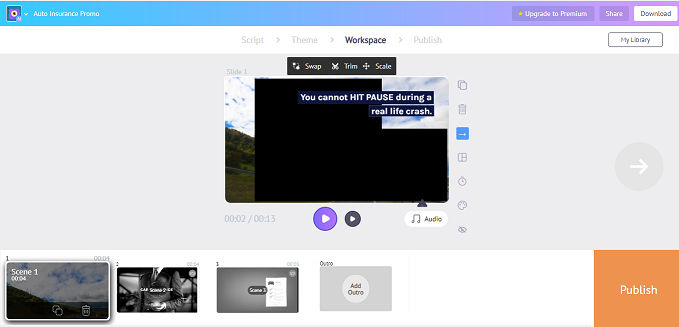 A range of audio tracks is available which comes under many categories. Select the one you wish to put in your video and continue further.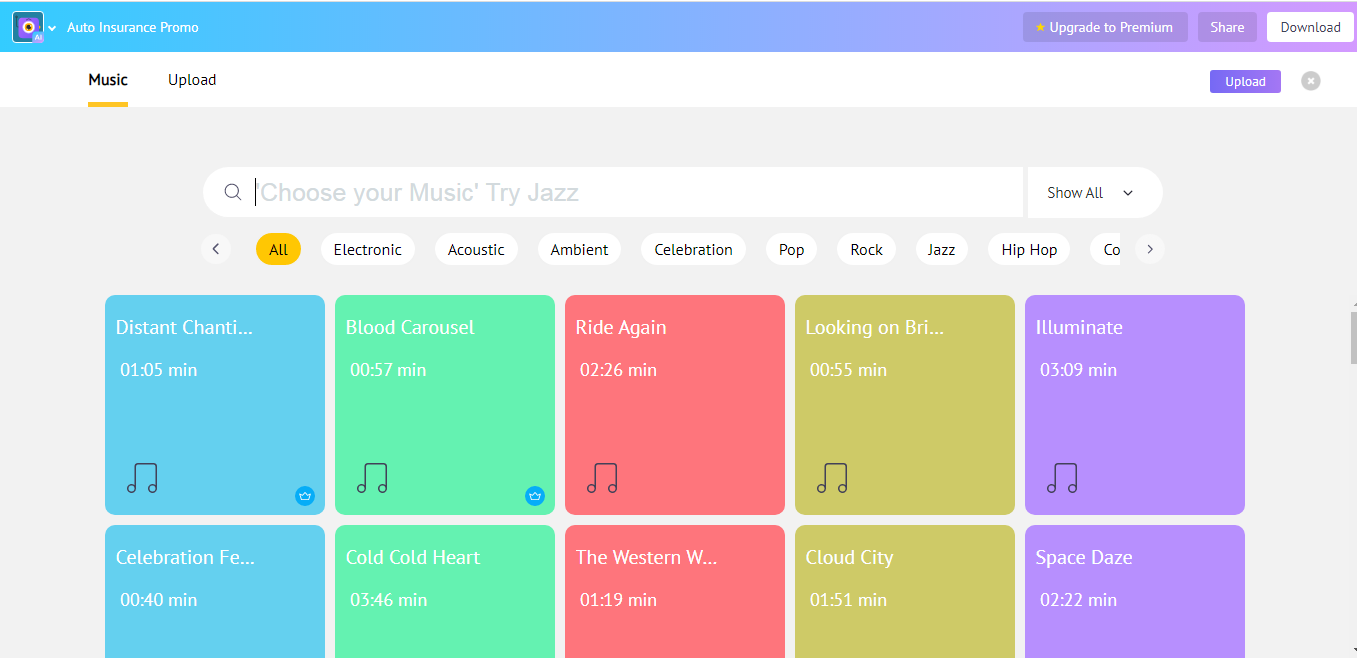 Your video starts loading in seconds.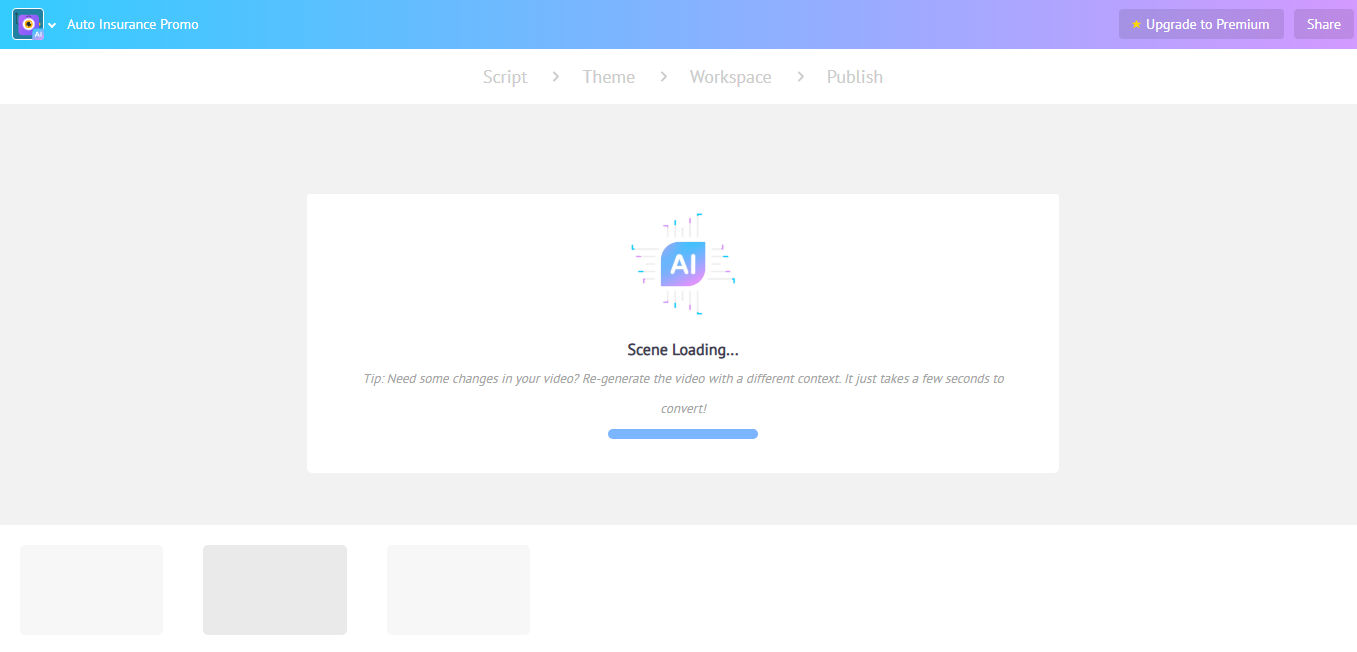 And finally, it is ready to download. Hit on the "download" button. In such easy steps, you get a high-quality video.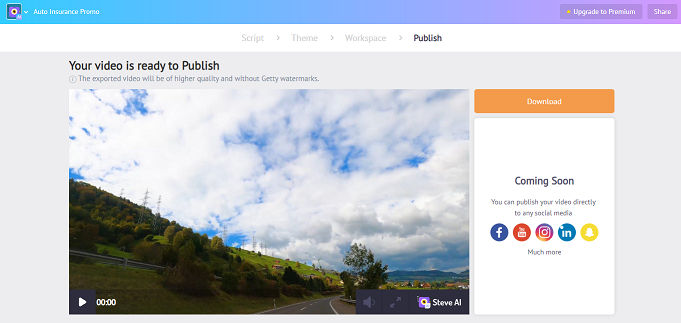 Blog to Animation Video
Simply insert the link of your blog and click on "Proceed".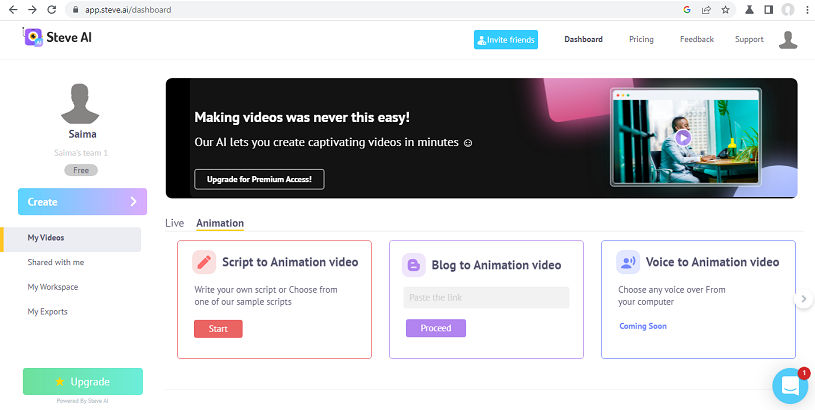 This window appears where the process of reading your blog begins and finishes in seconds.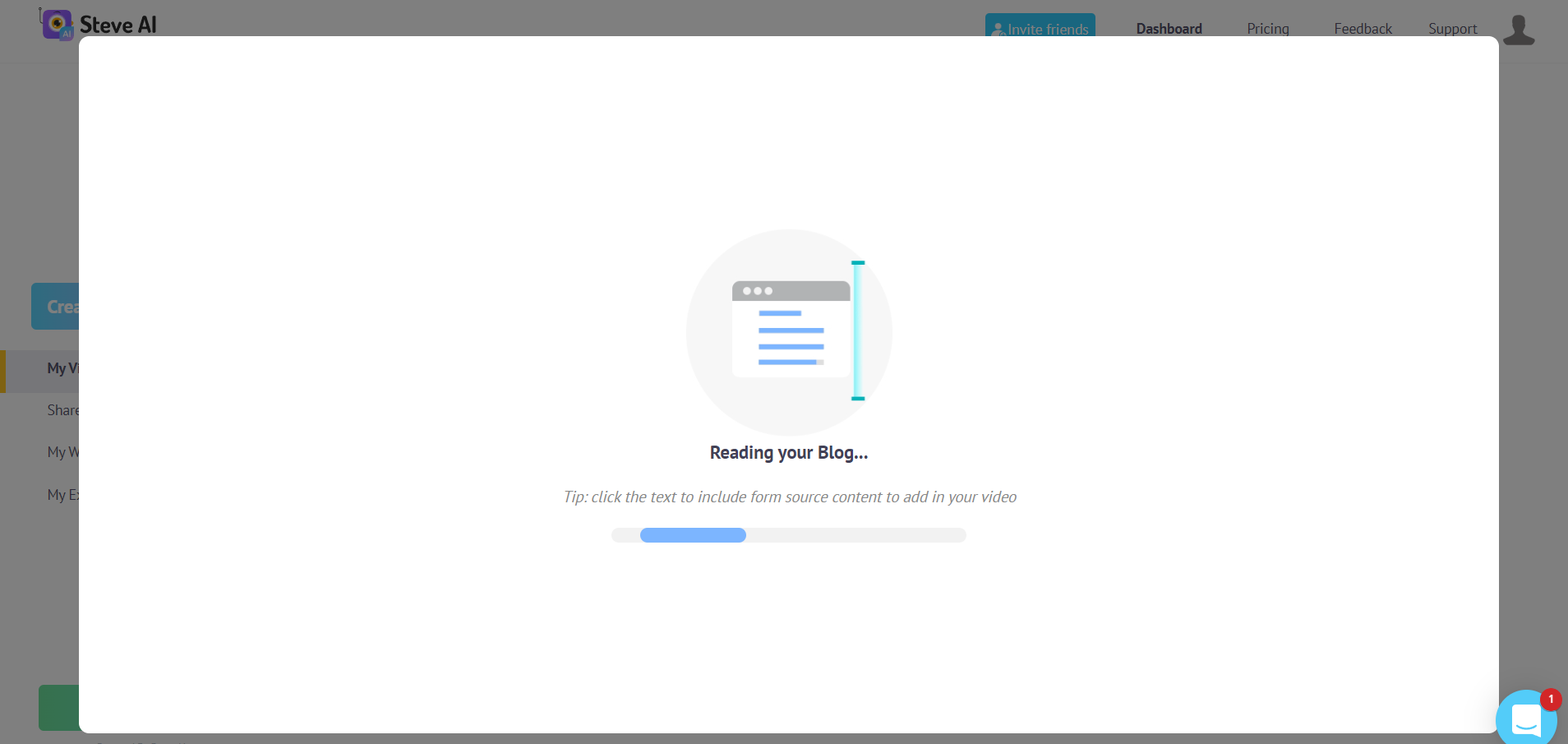 In the next step, your content gets displayed. You just need to click on "Proceed" to continue.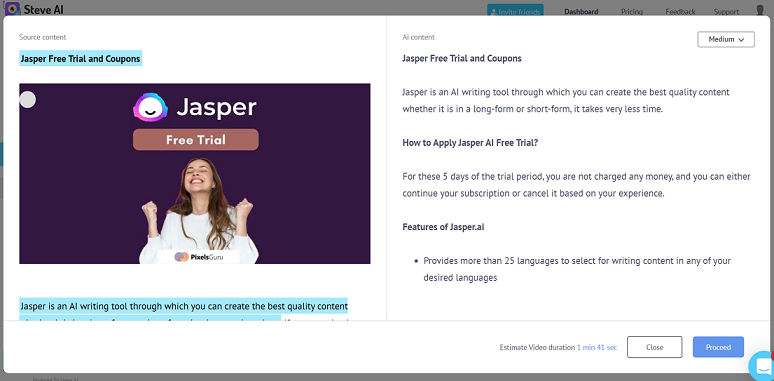 Then this window appears where your automated generated script is divided into scenes. On the right side of the end, the estimation of the length of your video is also given just like in the case of creating live videos. Insert the type of content by choosing from the options available before clicking on "Next".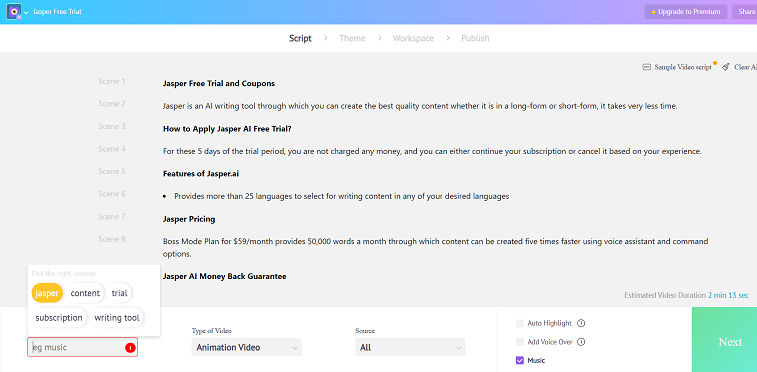 Then select a design for your video display and continue.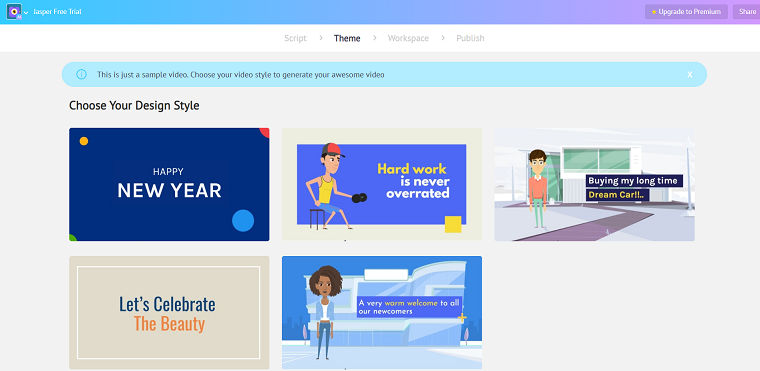 Your video starts loading in seconds.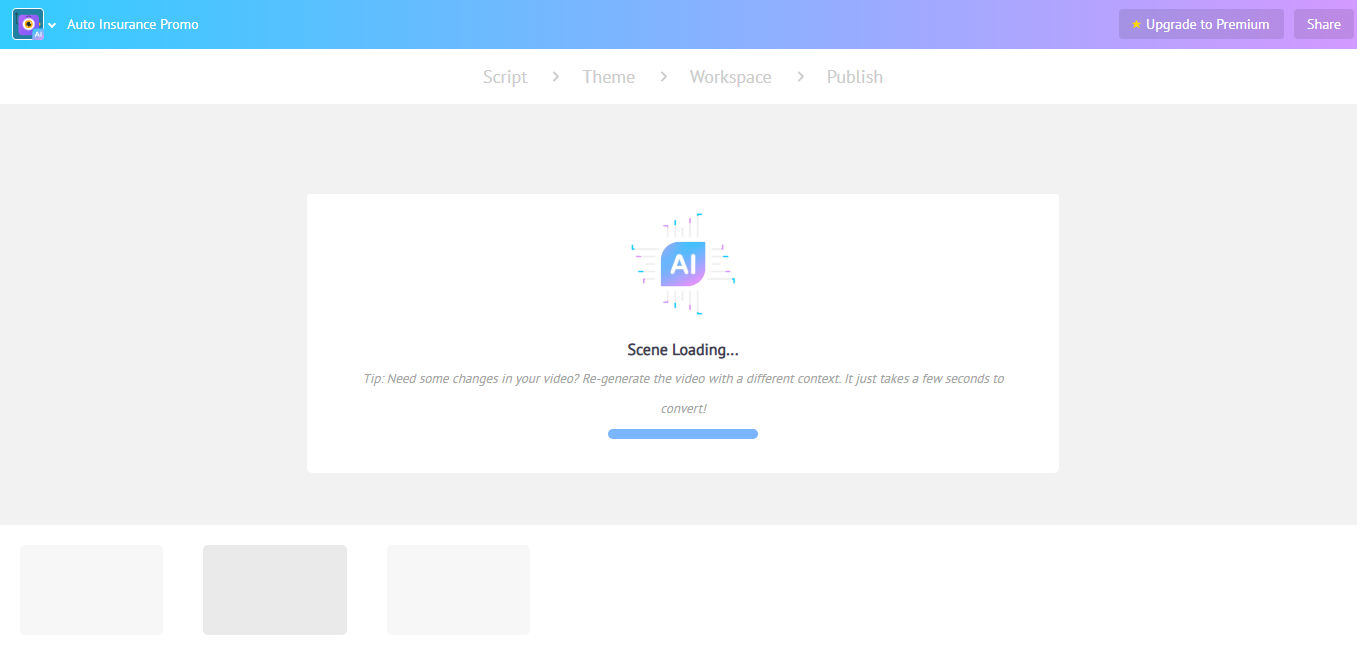 A series of your scene gets assembled in video form. You can then customize by duplicating the scene, deleting any part, putting some transitions, choosing layouts, putting a timer, changing the color settings, or hiding any text, just like the way while creating a live video. Here also, you can simply insert audio in your video by hitting the "audio" button.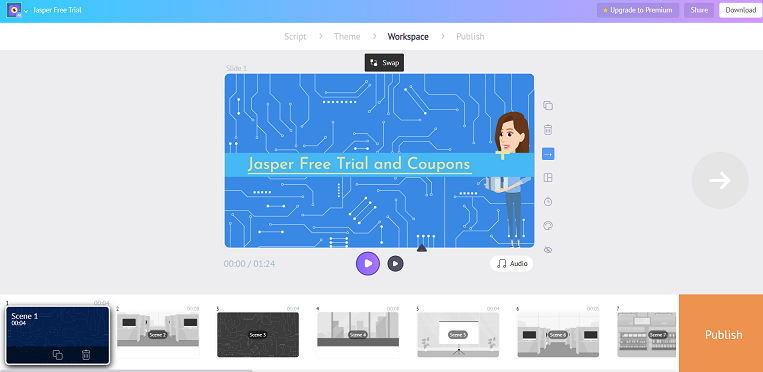 Your video is now ready to download.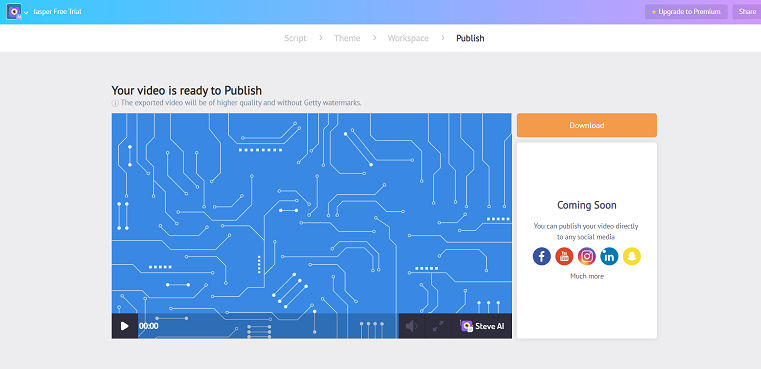 Final Verdict
So, if you want to give your content a real touch, you can turn it from text to a live video or animated video. Both options are available on the Steve.ai platform. It has a user-friendly interface makes its features easily accessible from the dashboard. Just set up your account here and simply create and download a good quality video for further uploading it on your website or social media posts to engage more customers in promoting your product. Most of the features are available for free. So, there is no harm in giving Steve.ai a try.
The Review
Steve.ai
Steve.ai is a great solution for those who want to create videos out of text. It is very useful for marketing, sales and explainer videos. With the help, of AI you don't have to worry about selecting videos or choosing your character's emotions. It analyses the video scripts and does the job for you. The availability of features makes it quite easy to create decent videos that you can publish with confidence! So, what are you waiting for? Give it a try!
PROS
Easy to Convert text into Captivating Videos
Video Creation Becomes Fun
Automatically sets the character animations and emotions
Easy to Customize the Videos
Quick Global Color Adjustments
Powerful Editor Features
Can Use Voice overs (TTS)
Plenty of music in the library to choose from
CONS
Exporting the Video takes time
Review Breakdown
Easy to Use

0%

Features

0%

Support

0%

Collaboration

0%

Value for money

0%

Product Quality

0%
Steve.ai DEALS
We collect information from many stores for best price available
Best Price
$59