If you are a content writer, then you know the importance of SEO-friendly content. In a world where content is king, it is essential to create content that is well-written and optimized for search engines. This is where SEOWriting.AI comes in. SEOWriting.AI is an AI-driven content-writing tool that promises to help users create SEO-friendly long form content in matter of seconds.
In this SEOWriting.AI review, we will take a close look at the features and benefits of this content-writing tool to see if it lives up to the hype. SEOWriting.AI has a number of features that make it an attractive option for content writers. One of the most appealing features is AI-powered content optimization. With this feature, SEOWriting.AI will analyze your content and suggest ways to optimize it for better search engine visibility.
Another useful feature is the keyword research tool. This tool allows you to find the right keywords to use in your content so that it ranks higher in search engine results pages. SEOWriting.AI also has a built-in plagiarism checker. This is a valuable tool for content writers as it ensures that your content is original and not copied from other sources.
SEOWriting.AI is a powerful content-writing tool with a lot of features that can help you create SEO-friendly content. If you are looking for a tool to help you with your content writing, then you must need to read this SEOWriting.AI review. Now let's take a closer look at SEOWriting.AI to see how it can help you improve your content.
What is SEOWriting.AI?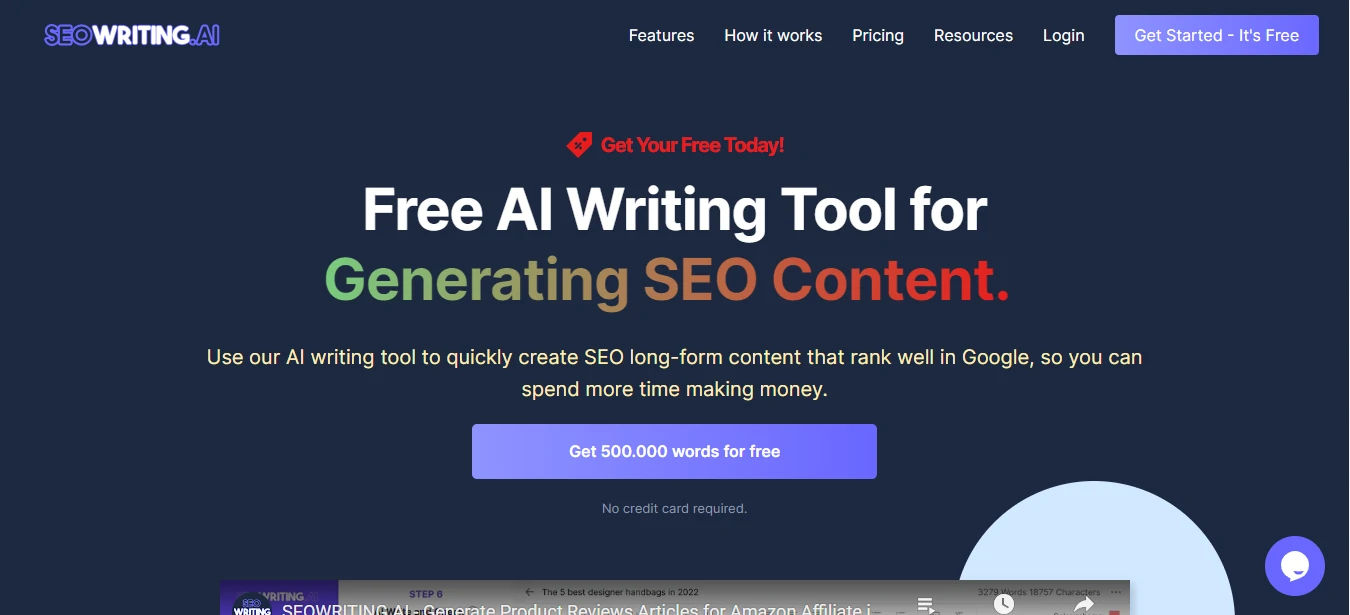 SEOWriting.AI is a content-writing tool that can help you create SEO-friendly content. SEOWriting.AI is an AI-driven content-writing tool that promises to help users create SEO-friendly content. The way it works is by using a combination of natural language processing and machine learning to analyze a user's text and make recommendations on how to improve it for SEO.
One of the main benefits of using SEOWriting.AI is that it can help you save time. Creating SEO-friendly content can be a time-consuming process, but with SEOWriting.AI, you can get help from the tool to make the process easier and faster. In addition, SEOWriting.AI can also help you improve the quality of your content. The tool can help you identify and fix errors in your text, and it can also suggest ways to make your content more readable and engaging.
SEOWriting.AI Features
Create unique, high-quality long-form content.
SEOWriting.AI is the perfect tool for creating original, high-quality long-form content. With the AI generation, you can quickly and easily produce articles and blog posts tailored to your target audience and search engine optimization goals. It used GPT-3 technology to let you produce the content. Interestingly you can add your own Open AI API key to get free credits.
All content is generated as if it is drafted with an expert-level understanding of SEO and an eye toward relevance and accuracy. The tool is best for long form content including blog posts, product reviews, roundups, listicles and much more.
Produce comprehensive product lists ten times quicker

SEOWriting.AI is a powerful tool that allows you to create detailed product listings 10 times faster than ever before. This innovative feature helps you optimize the descriptions and content of your product listings with the help of advanced AI technology, saving you time and money while increasing your SEO rankings. SEOWriting.AI can automatically detect the keywords related to your products and use them to craft a high-quality, SEO-friendly product listing that can help you stand out from the competition.
With this feature, you can generate detailed product listings faster and more efficiently, ensuring that you get the most out of your online marketing efforts. SEOWriting.AI is revolutionizing the way we write product listings.
This tool helps maximize your listings' visibility, giving you an edge over competitors. Creating detailed product listings 10X faster will save you time and money and reduce errors, giving you more confidence in the product descriptions you post online. With this feature, you'll be able to create professional-grade product listings in no time.
Create content at breakneck speed.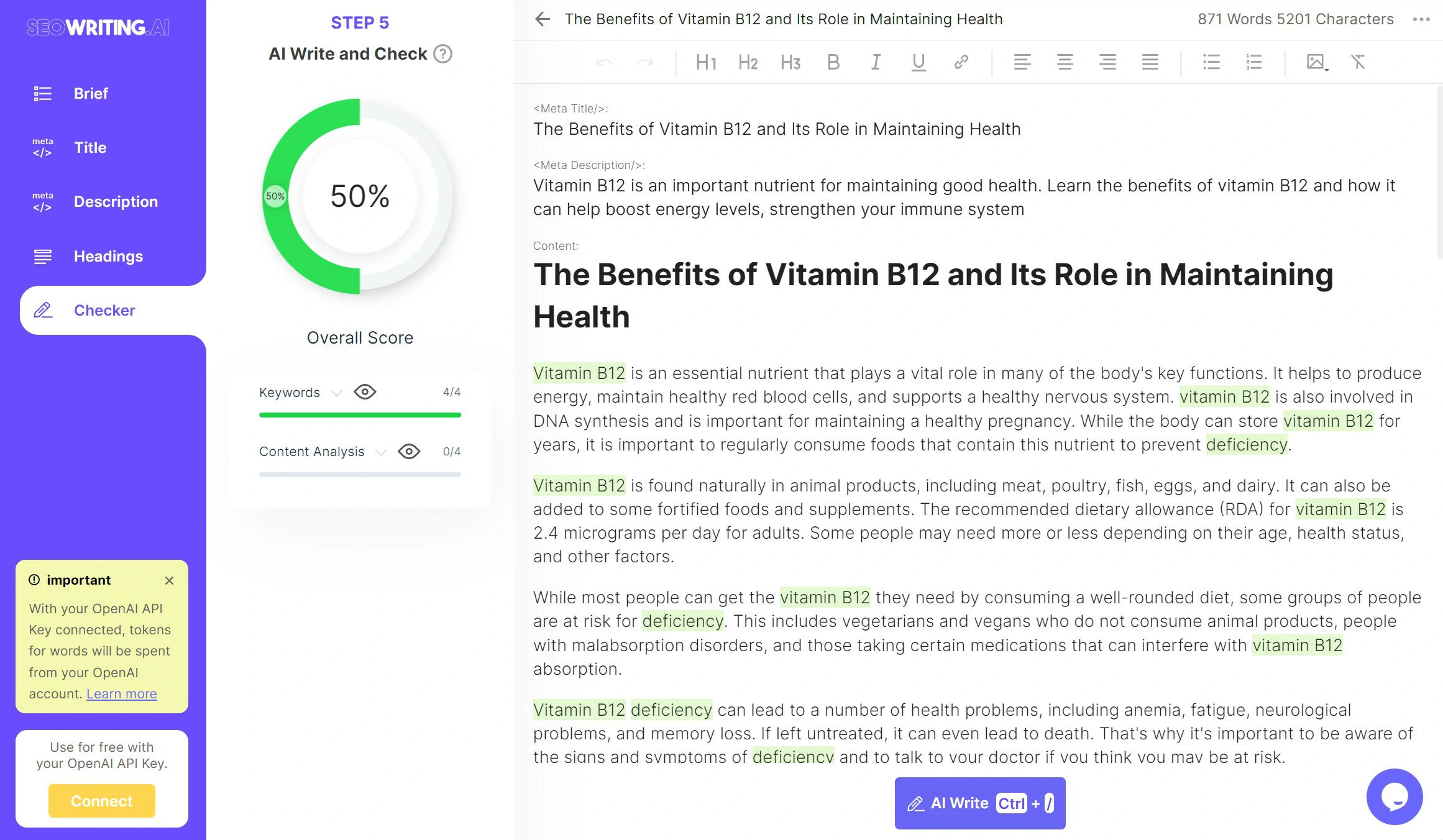 SEOWriting lessens the amount of efforts and time involved in curating the content. Like most other AI writing tools, this too saves you a lot of time in creating the articles. The time saved can be utilized in further improvement to assure better rankings on SERP.
Documents view similar to Google Docs

SEOWriting.AI editing interface is quite similar to Google Docs where you can perform various actions like creating, searching, editing and deleting with the documents. You can create new folders and manage documents efficiently.
Additionally, users can see how many documents they have saved and delete documents they no longer need. This helps users save time and increase productivity by giving them a simple way to open and edit documents.
SEOWriting.AI understands how important it is for writers to have an efficient way to organize their documents. offering them a bird's eye perspective of all of their tasks in one tidy list.
SEOWriting.AI users are able to maximize their productivity and stay organized in their document management.
Create content with AI in one click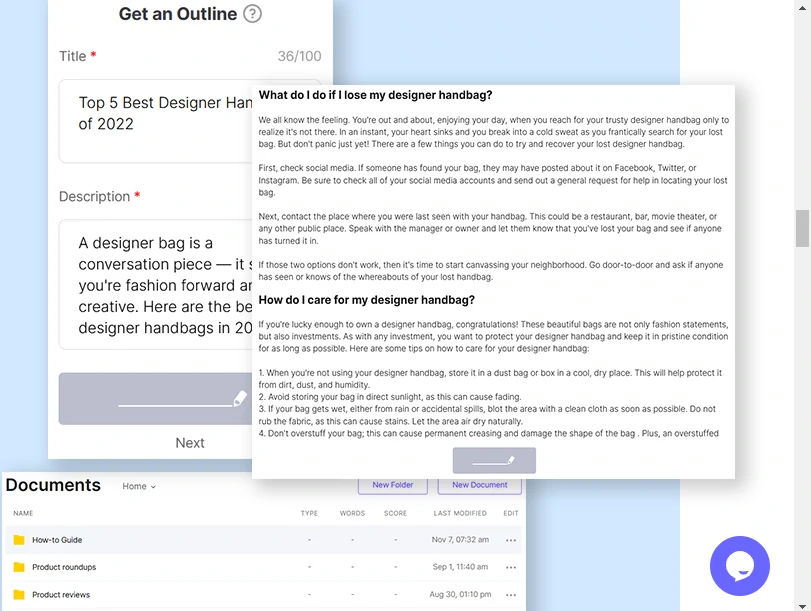 SEOWriting.AI is revolutionizing the way it creates content with its AI-powered features. With a single click, you can create engaging, SEO-friendly content that increases your conversion rate and success. Their AI tool is incredibly comfortable, as all you need to do is supply it with a topic, and the tool takes care of the rest. Get ready to produce unique, well-written content with SEOWriting.AI, the one-stop AI content creation solution.
SEOWriting.AI offers an easy and efficient way to create content with Artificial Intelligence (AI) in one click. This advanced technology has the capability to create high-quality articles in no time that can be used to engage your audience and boost your conversion rate. With this feature, you can take your business to the next level and reach new heights of success.
Adding Amazon product list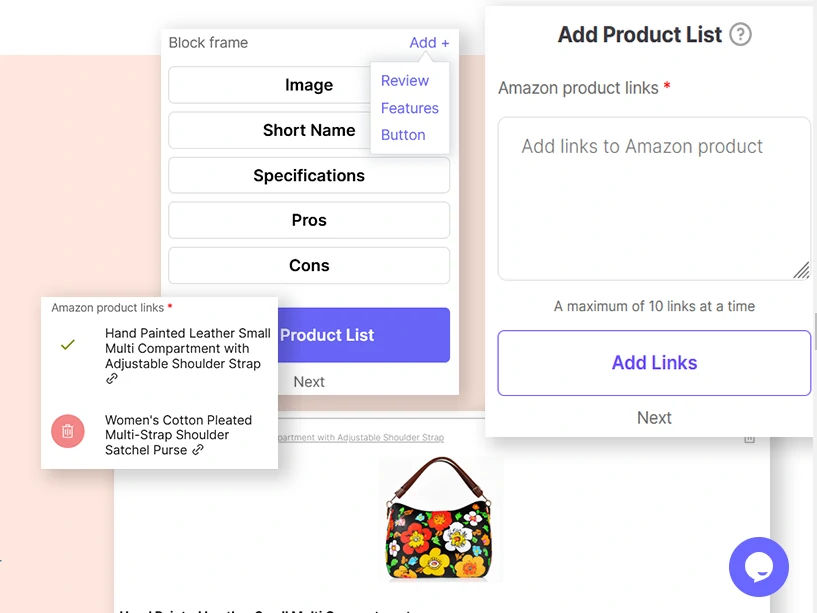 If you are an amazon affiliate and looking to generate content faster then this tool can be a real bless in your business. It is completely understandable how important it is to have great product descriptions and up-to-date product information on your Amazon affiliate website.
With SEOWriting.ai you are only required to provide the affiliate links, Amazon affiliate tracking ID, and setup the block frame(to control what you require in each list item) and the software does the rest for you.
It instantly crawls the specifications, pros and cons of the products and uses AI to fabricate perfect copy for the products that you can further publish on your website to earn commission.
Optimize your content for SEO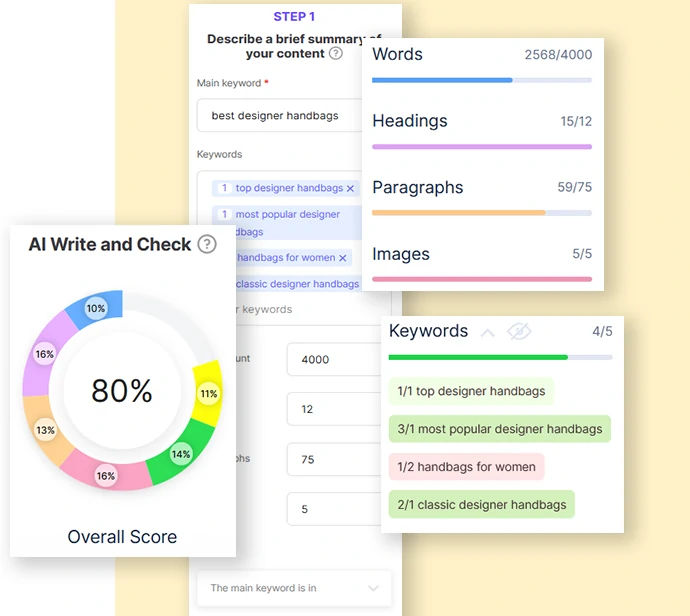 SEOWriting.AI optimizes content for SEO to help you get the best search engine results. It uses natural language processing and machine learning to quickly and accurately analyze your content for optimal search engine performance.
When starting to write the content, you can setup the keywords for which you want to rank. At the completion of article, you are able to see the overall performance score based on your desired keywords.
SEOWriting.ai makes optimizing your content for SEO lot easier. With it, you can be sure that your content is written with search engine optimization in mind, so it has the best chance of ranking in search results.
By leveraging artificial intelligence, this feature can help you identify keywords and phrases to target, determine the most relevant content for search engine rankings, and automatically edit your content to meet SEO standards. With SEOWriting.AI, you can be sure that your content is written with search engine optimization in mind, so it has the best chance of ranking in search results.
SEOWriting.AI Pricing
Every new user receives free access to the Blog Post document through an OpenAI Key, as well as 2,500 words for the PRO Plan.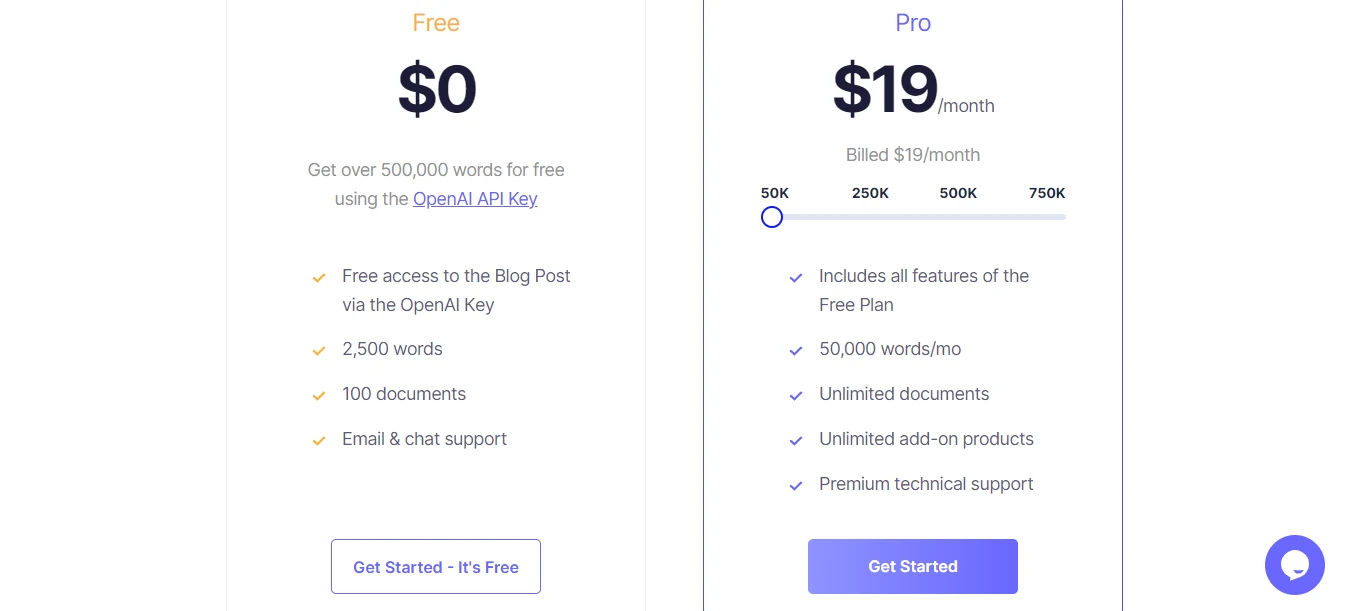 SEOwriting FAQs
What exactly is SEOWriting.ai, and how can I put it to use?
SEO Writing AI is a program that assists you in writing articles 10 times faster. It may be used to produce Amazon affiliate articles as well as any other sort of material. It may also assist you in optimizing your content for search engines, allowing them to appear higher in search results.
Is there a limit to the amount of stuff I can create?
The quantity of words you may create each month is limited by your subscription package.
Can I produce Long-Form Articles with SEOwriting.ai?
Yes, you may use their technology to create long-form articles. The length of the article is unrestricted. The generated text is SEO friendly and holds high probability to rank.
What does it mean to add an Amazon product list?
This is a useful tool for adding Amazon product lists and products when making product roundup articles and reviews. Each product is added to its own block, where you may generate: a brief name, specs, notable features, pros, drawbacks, and a description with a single click.
What technology is used by SEOWriting AI?
They use GPT-3 deep learning to produce human-like text. They also have unique AI technologies that are used for specialized jobs. This enables SEOwriting.ai to develop one-of-a-kind artificial intelligence solutions.
SEOWriting.ai Alternatives
Surfer SEO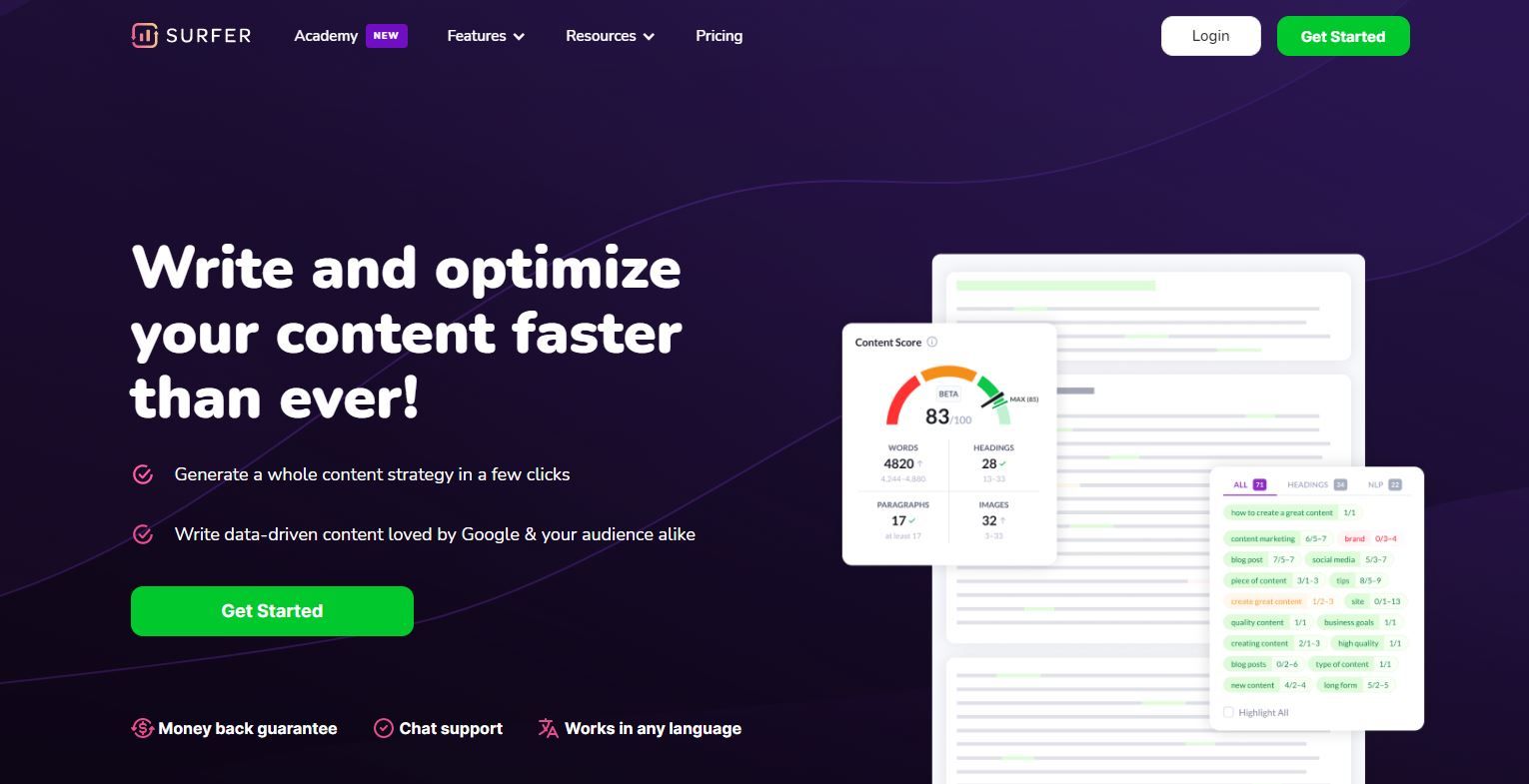 If you only need one tool to develop SEO content, Surfer SEO is a wonderful solution. The premium plan is somewhat more expensive than GrowthBar. Surfer SEO allows you to write SEO-friendly material, cruise the web for content ideas, and rank swiftly in Google.
Surfer's document editor allows you to copy and paste right into your website CMS without reformatting. Because Surfer's content editor already has all of the HTML tags, you just need to format it once. Surfy, Surfer's AI authoring tool, has made it a well-rounded solution.
Plan your content and the tools you'll need to write it with a content planner.
Brief assists you in creating an AI outline with distinct headers and paragraphs.
Content editors receive content ideas and writing guidelines, as well as a comprehensive, HTML-enabled document editor.
Keyword hunter With this browser extension, you may rapidly search for terms in Google.
On-demand and live Surfer Academy instruction
Directory of SEO Writers If you want to locate authors that know how to develop SEO-friendly material, use this directory (or join it!).
WriteSonic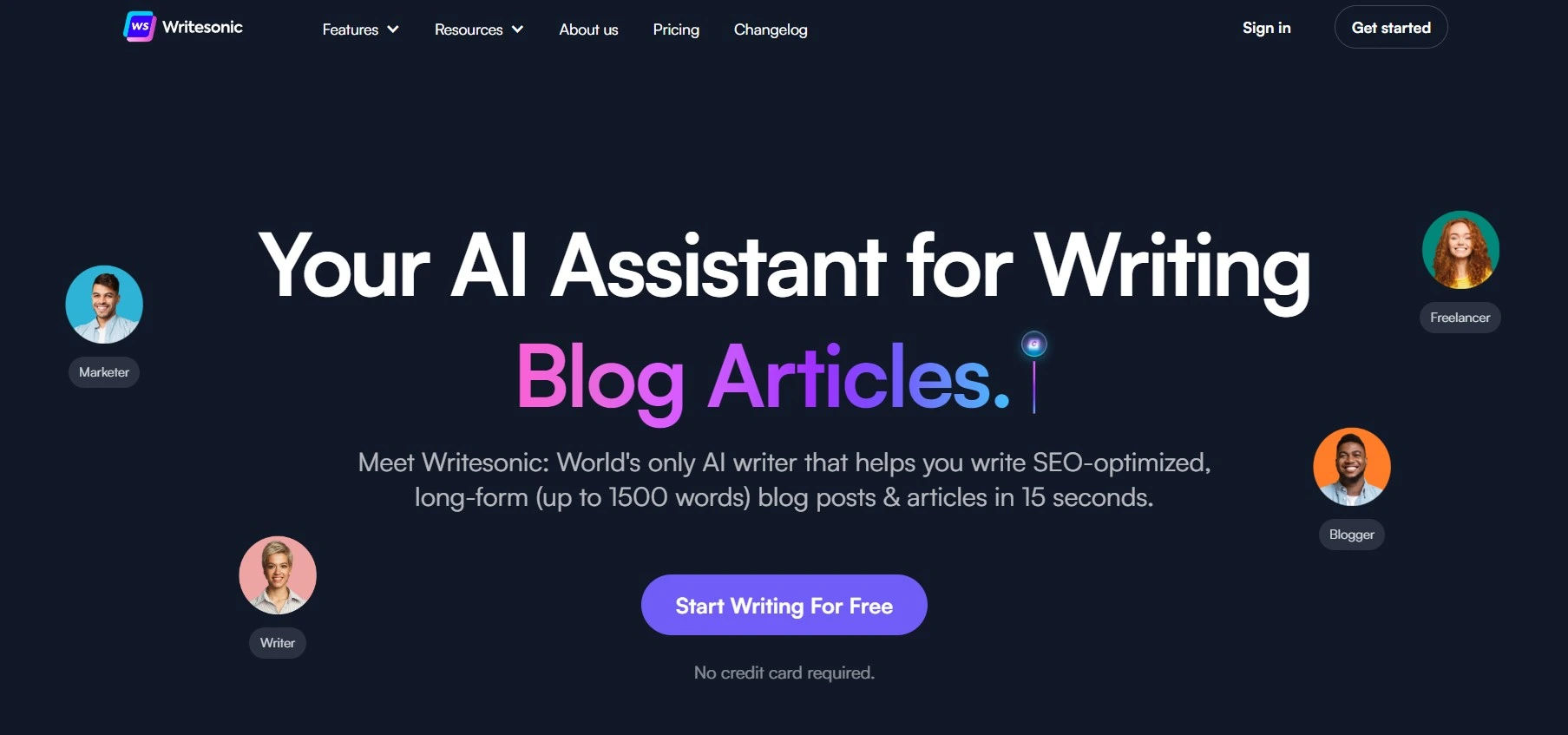 WriteSonic is an artificial intelligence authoring tool that can produce personalized material depending on your choices and demands. In addition, the program assists you by offering pre-written information that you may use as an outline for your own writing. It can also help content marketers overcome writer's block and reach their intended audience.
WriteSonic is the ideal answer for authors who are having difficulty coming up with new content ideas. It enables users to generate extremely engaging, one-of-a-kind, and fascinating content that can be shared across several social media platforms. It is accessible for both PC and Mac users, with a free trial.
Generates high-quality marketing materials.
Auto-generate blog post and optimized articles
Produce fine quality content
AI powered article and blog writer to improve the tone, flow and voice of your writing
Develop impressive marketing text
Over to You
To conclude, SEOWriting.AI is an excellent tool for improving and ranking your content. It is easy to use and has a variety of features that make it an essential tool for any content writer.
Overall, SEOWriting.ai is a helpful tool for content writers who want to improve their SEO skills. However, it is not perfect and has some limitations. For example, the grammar and style suggestions are not always accurate. Despite its flaws, SEOWriting.AI is still a valuable tool that can help content writers improve their writing and rank higher in search engines.