Voiceform is the next evolution in consumer and product feedback. It is one of the best and easiest ways to understand your customers. It provides a convenient way to scale your research without losing the important contextual insights which you'd get from interviews. It allows companies to collect feedback from their customers, team members, and partners by hearing from them and uncover insights like sentiment analysis and emotional classification. Voiceform makes your interaction with your customers very interesting and understandable by listening to them. However, any busy Podcaster, Course Creator, Educator, Marketer, Business Owner, Copywriter knows this isn't possible at scale. Voiceform makes it possible with audio surveys. It is the most efficient way of collecting qualitative feedback at scale. Voiceform can be used for doing UX research, gathering feedback, or asking for product reviews.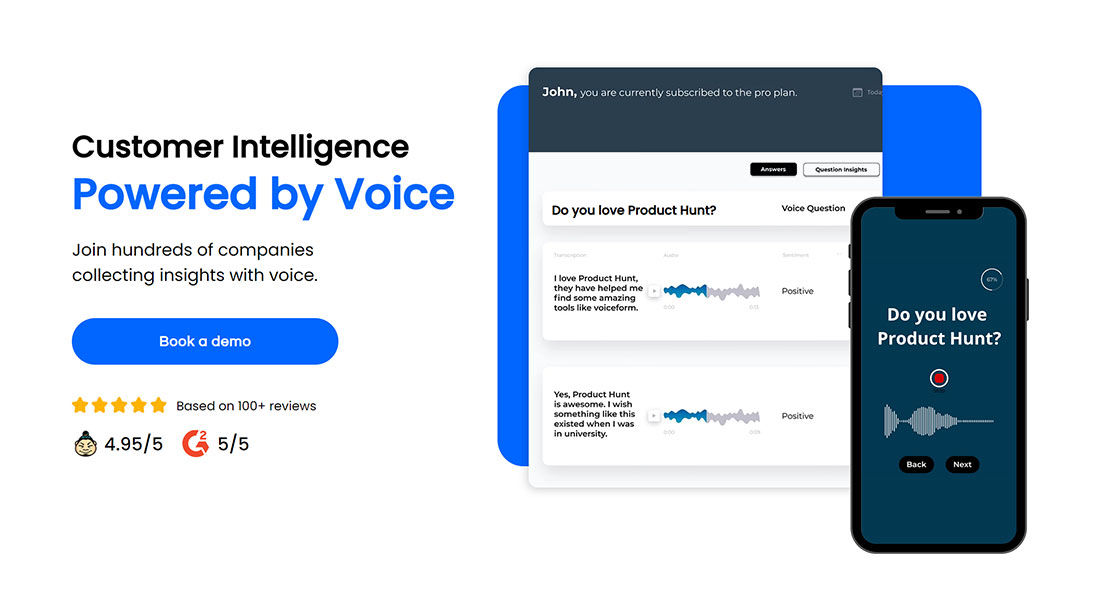 Using voiceform, you can create surveys and share them with your audience or customers in minutes. Upload images and design your surveys using custom fonts and colors to match your brand terms and guidelines. There is a feature of topic search using this search for commonly used keywords and getting insights through sentiment analysis. 
Voiceform Overview
Voiceform allows the respondents to answer survey questions with their voice. By using Voiceform, you can get more detailed answers. Capture tone of voice, improve accessibility and add a human touch. Capture 3x-4x more data in less time while providing your participants a more intuitive and conversational survey/ form experience. With every survey submission, you can increase completion rates and collect sentiment.  Voiceform lets customers answer questions very easily with a click of a button. It's probably a tool that every business should use to collect answers in an audio format that helps to connect with customers in a better and understanding manner. One of the best things about Voiceform is that it is independent of anything else. The receiver doesn't have to make an account or download any software. They can get a link or a text message and fill it out. In case if they don't want to use their voice, they can type, just being able to talk their thoughts out is pretty awesome and free-flowing
Features Of Voiceform
1- Identification- With Voiceform, you can get to your targeted audience no matter where they are as it has 13+ languages that help you reach them.
2- Custom Design- Once the Voiceform is created, you can custom design them in the template. In the case of personal branding, you can add a Logo, Change the font or add images to make it yours.
3- Voiceform Creation- A fully customizable Voiceform can be created with your moral questions. Similarly, You can also make surveys, Forms, assessments, or Questionnaires, and to build these, you can choose ready-made templates or start from scratch.
4- Sharing- Voiceform link can be shared by sending an email or embedding it on your web page.
5- Analytics- Analytics is a very crucial thing for a survey. In voiceform, you will help with high-level insights, sentimental analysis, transcription, and other reports. 6-Transcription of 12 languages- You can preset your voiceform in 13+ supported languages to get an accurate transcription.
How To Use Voiceform?
Step1- Strategize: The first is to understand what you want to learn about your customers. For example, to know what are the emotional drivers behind purchasing behavior.
Step2- Ask the right questions: Begin building the Voiceform app. Ask emotional, open-ended questions. If you want to harness the power of voice, then avoid yes or no questions.
Step3- Design your survey: Now add the final polish. Design your survey to match your brand guidelines and terms or better embed the survey on your website to maintain consistency.
Step4- Send it to your customers: To get better responses to your questions, share your Voiceform with a link via email, or embed it on the website or landing page.
Step5- Review the data and grow your business: Using sentiment analysis & audio recordings, view transcriptions, voice notes, and sentiment analysis within the app or download it to use however you like.
Alternatives To Voiceform
1- Google Workspace
Google Workspace allows teams of all sizes to connect, create and collaborate. It includes collaboration and productivity tools for all the ways we work: Drive for cloud storage, Docs for word processing, Gmail for custom business email, Meet for video and voice conferencing, Slides for presentation building, shared Calendars, Chat for team messaging, and many more.
2-Constant Contact
If you are looking to reach more customers, share your passion, or sell more of your products with the World, Constant Contact has all the tools, features, and expert guidance all in one place which you need to grow online.
3- Qualtrics Core XM
Qualtrics Core XM is the gold standard in experience management. From product pricing, market segmentation to brand tracking, you can make all the important decisions using it.
4-SurveyMonkey SurveyMonkey is a web-based survey solution trusted by millions of organizations, companies, and individuals alike to gather the insights needed to make more informed decisions.
Does Voiceform Have An API?
no. The Voiceform doesn't have an API as of now.
Does Voiceform Offer A Free Plan?
Yes, Voiceform offers a free plan.
Can I Type My Answer In Voiceform?
Yes, the Voiceform creator can set u questions with the option of typing out answers.
What Is Voiceform Used For?
Voiceform offers the following functionalities-
Response Managment
Sentiment Analysis
Customizable Branding
Question Branching
Customer Review
What Kind Of Users And Organization Types Does Voiceform Work With?
Voiceform works with the following users and organization types
Mid Size Business
Small Business
Enterprise
Freelancers
Non-Profit and Government
What Makes Voiceform Stand Out?
Voiceform makes it very easy to collect data more quickly and efficiently. It is an online platform that allows you to create customized voice surveys. And not only in voice has it also let you complete all your forms with text as well. It is very easy to use; the first step is to understand who you will be getting feedback from. Then log into your account and begin with a welcome message. From there, you can add different types of questions and goodbye messages. Moreover, it helps you to improve your business by letting you understand the satisfaction and dissatisfaction of your customers. As it is not possible to survey each customer one by one, you need a Voiceform tool to take feedback very intuitively. A vital part of the business is customer feedback which helps you to improve your business. Indeed gives voice feedbacks in less time easily, so it is software you must have to help you in your task.
Pricing
Voiceform comes with four plans, Free, Pro, Premium, and Custom.
Free Plan/ Free
10 Submissions per month
Live chat Support
2 Questions per Voicefom
Pro Plan $45/month
250 Submissions per month
Live Phone and Email Support
250 Unlimited Questions
Unlimited Voiceforms
Premium Plan $125/ Month
750 Submissions per month
Live Phone and Email support
750 Unlimited Questions
Unlimited Voiceforms
Custom Plan/ Enterprise Plan
Everything in Pro
Consolidated Billing
Custom # of submissions
Custom integrations
Volume Discounts
Dedicated Support Manager
Pros and Cons of Voicefrom
Pro's
It lets the client answer the question with just a click
Saves lot of time
Easy to use
Collect answers in audio format and convey customer's sentiments
Transcriptions ae available in 12 different languages
Excellent cutomer service
Con's
Can't translate transcriptions
More languages can be added
There are some glitces in the software