Looking for a platform to launch and scale your teaching, coaching, and education business? If yes, then, in that case, your search ends over here. Mastera is one of the finest platforms when it comes to a customer retention tech startup. This platform simplifies online teaching for the changing world. The Mastera.io team works with a mission to empower teachers and creators around the world to monetize their passion and achieve financial freedom. With Mastera, it becomes super easy for anyone anywhere to build, market, teach, and get paid.
The main intention of the team is to let knowledge be easily distributed and consumed. In this segment, we will be discussing the Mastera and also the facts associated with it. So, make sure to stay hooked to this segment with full concentration.
Exciting Features of Mastera.io
All of the plans at Mastera include the following features:
Conversations
Video hosting
Zoom integrations
Full reporting
History of Mastera
Mastera was founded in the year 2018, to help clients go beyond their brick and mortar walls and engage their members at home via virtual training and content. The product was initially built with an intention to support clients and continue to evolve it based on feedback and the data acquired. After a year in the making, Mastera officially launched in Feb 2021, open to the ones with passion or a skill they wish to share with the world and earn. It aims to be at the forefront of helping the creators to continue to adapt, evolve, and scale the online business in the changing world.
How to Use Mastera
It is very easy to start using Mastera for your business or professional needs.
signup for a free account. While signing up you can decide whether you want to sign up as a teacher (single page) or as a business(to make a multiple-page website for multiple other teachers). You can however change this later.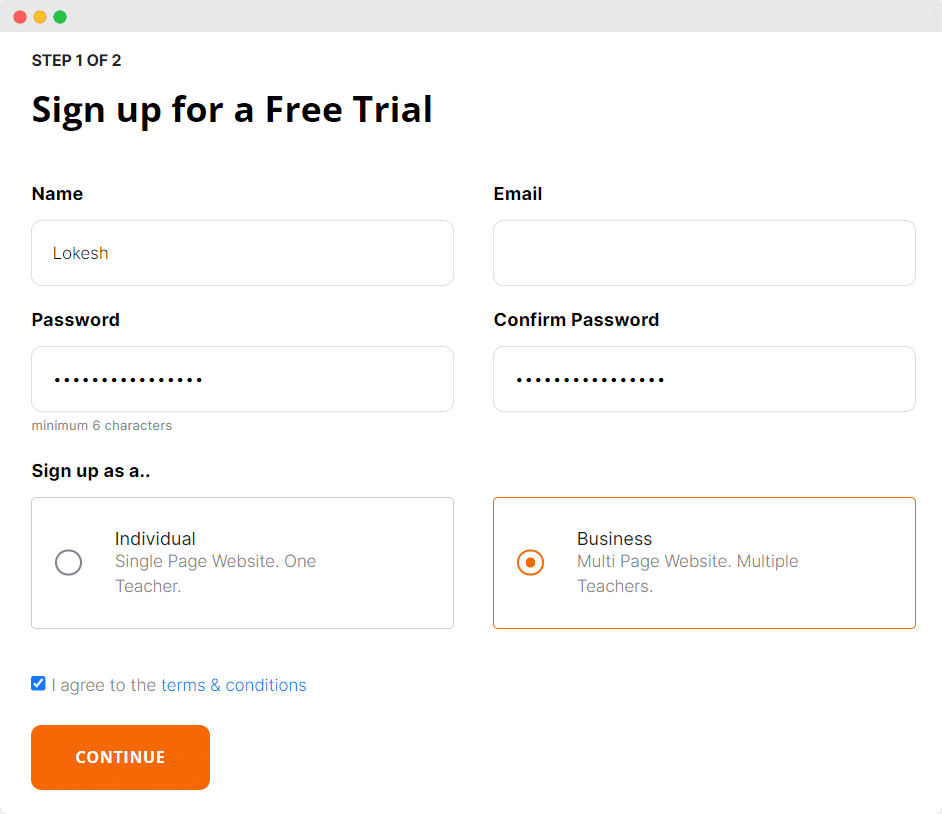 You can also set this up on a custom domain by updating your DNS Settings. You can do it later from the dashboard settings.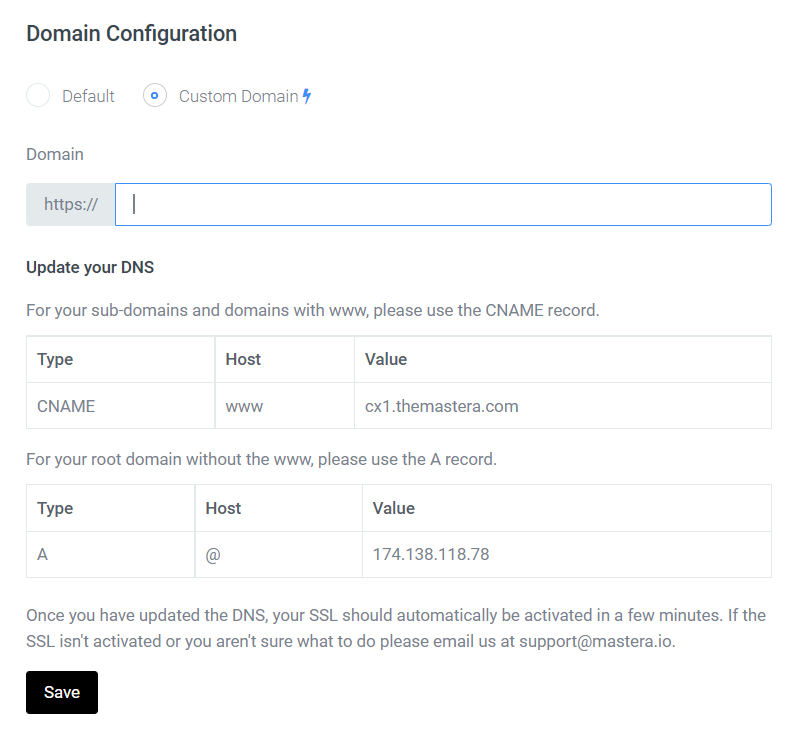 As step 2 of your signup process, you can set up a business URL where the domain is already Predecided and you can have your business page or pages on the subdomain.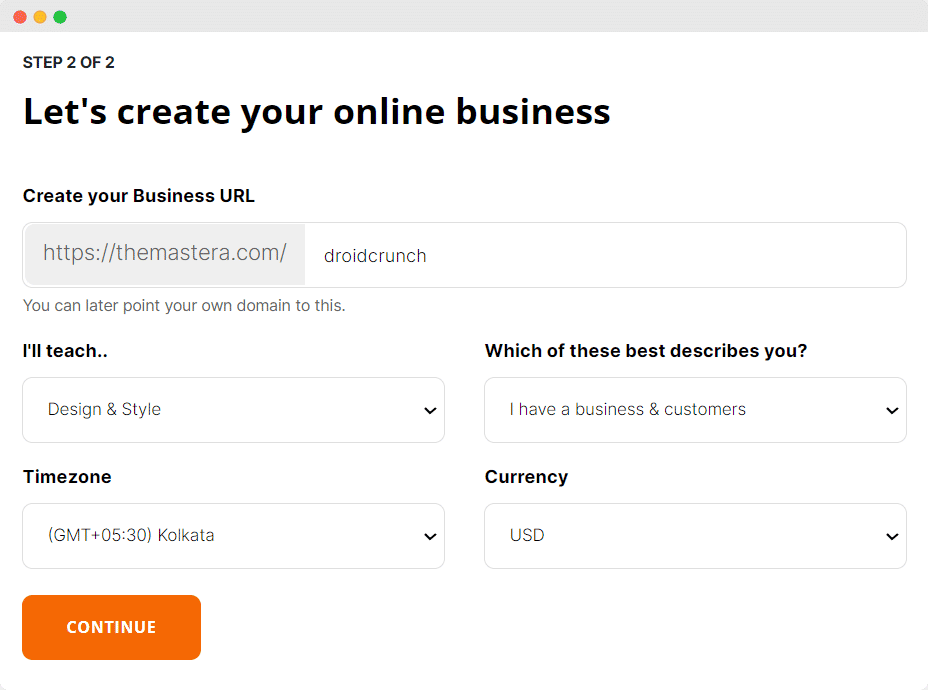 As your account has been created successfully you can decide the goal of using Mastera. You can select to use it for hosting live classes, building a video library or for building & selling programs or courses. Once you are done, hit on the continue button.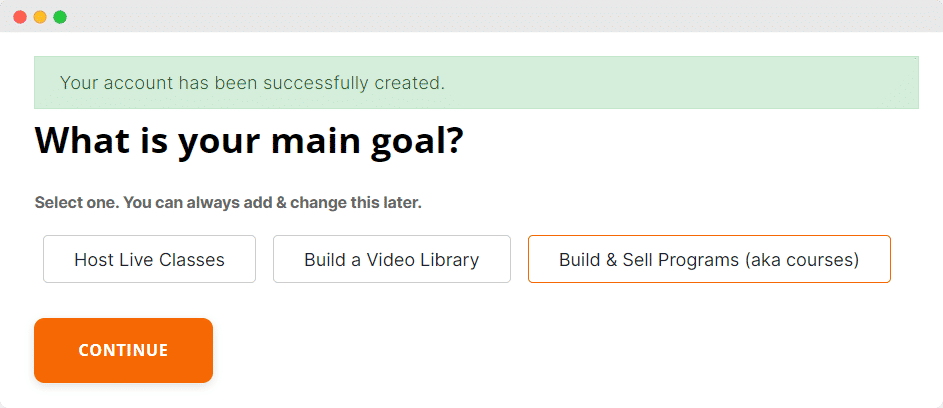 Based on your selection, you will have further options in front of you to set up everything up. Since I had chosen it for selling courses, I got the options to set up the program(course) name, details about the course, learning material, duration, and all of which I have filled as below.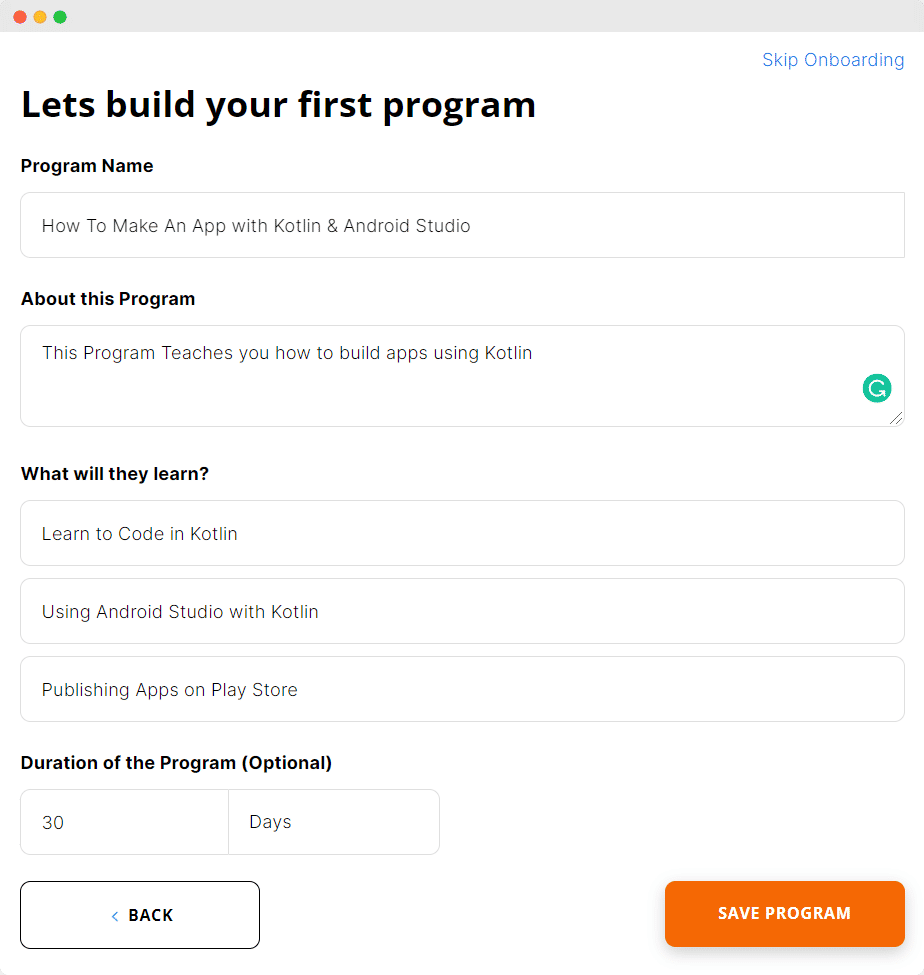 After setting up the details, you will have the option to build your program lessons. To start with you have the option to set the program cover images and introduction video so that visitors can understand the course sneak peek through a short video.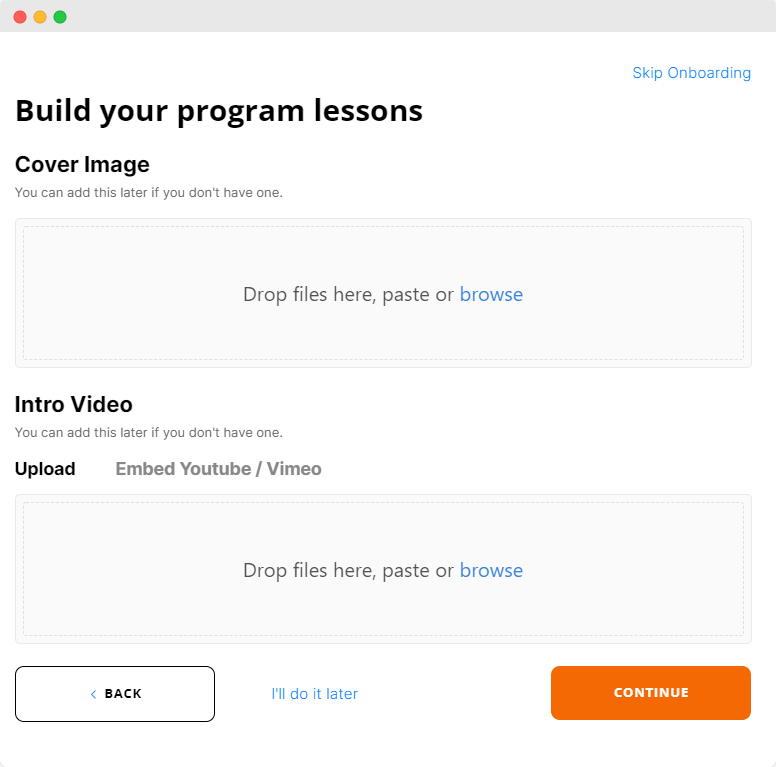 Next, you can upload the lesson titles and videos.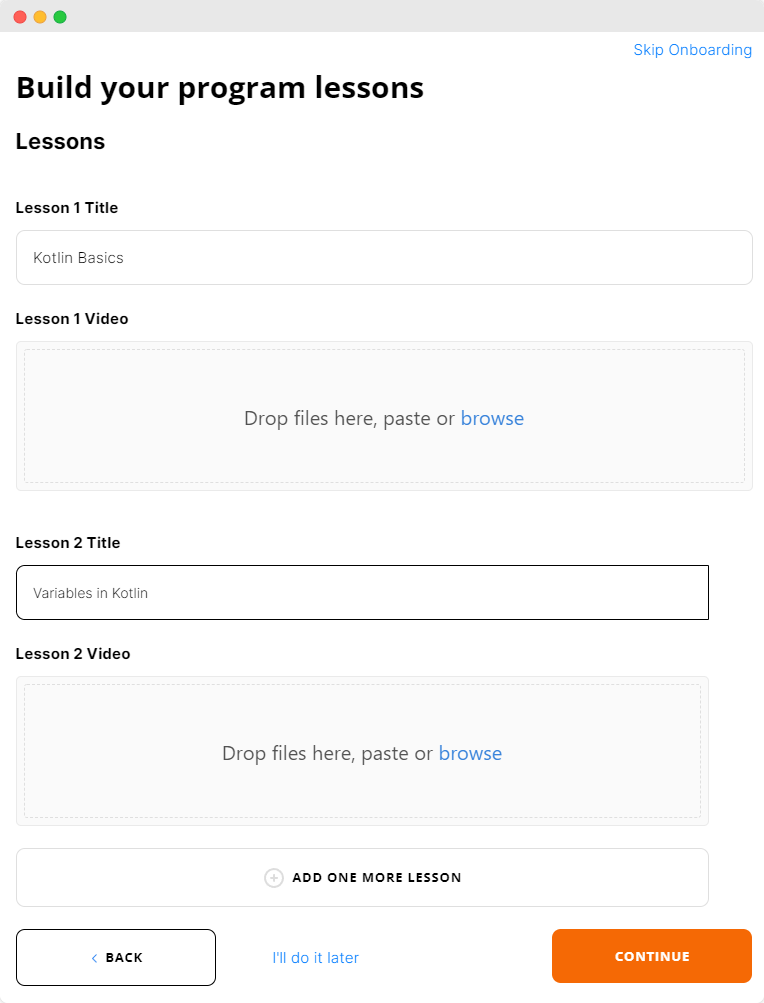 After uploading the lesson videos, you can set fees for your course, which can be Free, a single fee, or a subscription-based fee.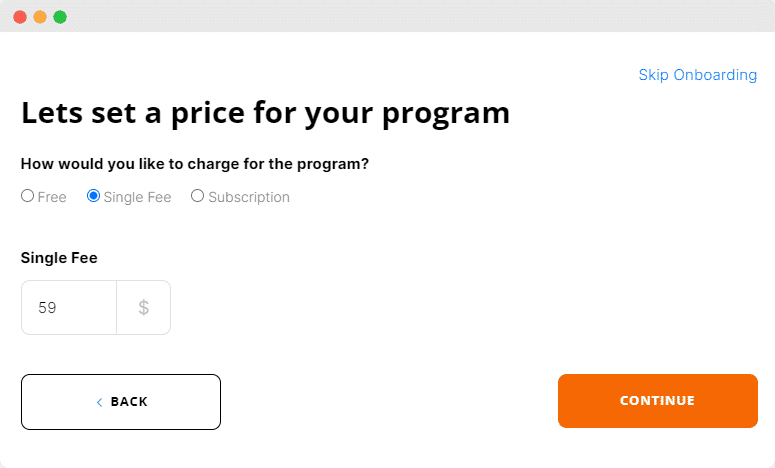 Once you are done with that, you will get your course(program) link which you can share on social media, embed on websites, or simply promote wherever you want to get course sales. You can also create a landing page around it to have better sales through advertisement. You're at liberty to make it successful.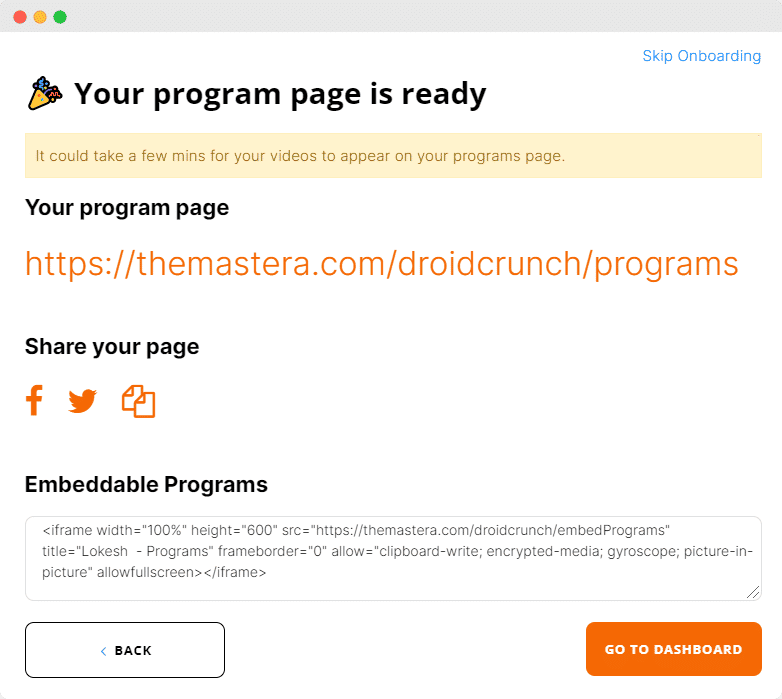 Your course page may look something like the below screenshot. You can set up everything to give it a better look. Creating a 1 to 2 min appealing introduction video for your course is a better idea to have better sales of your course.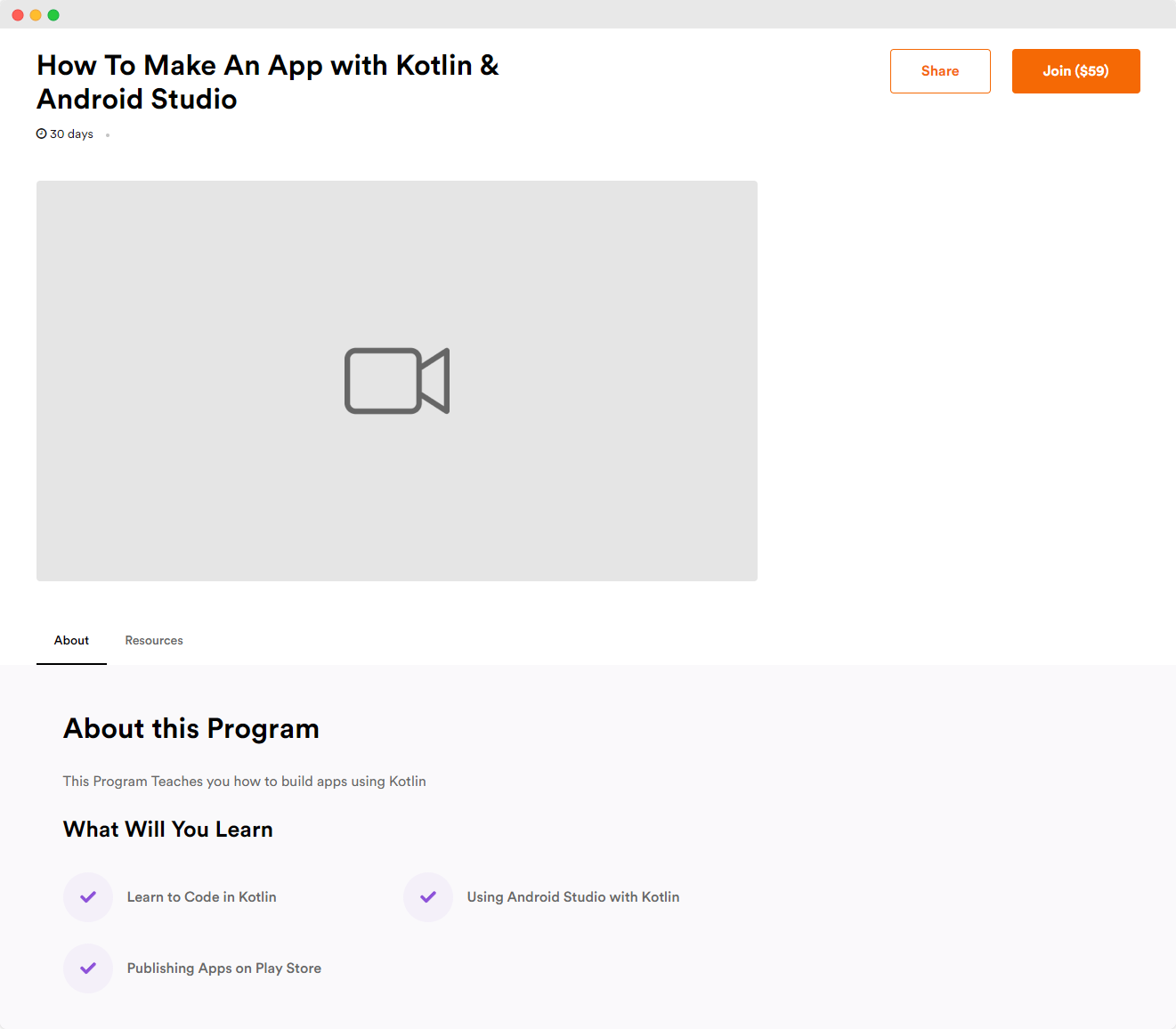 Next steps you need to modify from your dashboard are:
Setting up your payment processor to receive payments
Making your website Public
Add Plans if you want to
Add coupons to increase sales
Pricing of Mastera.io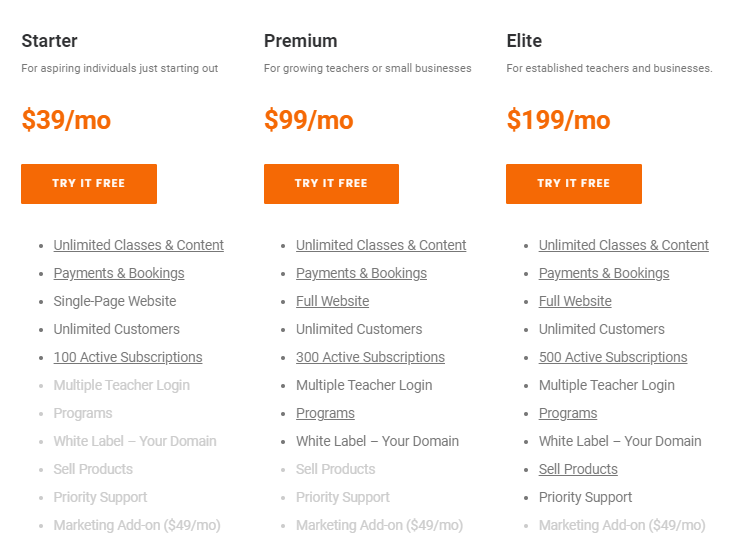 Coming to the pricing of Mastera, it starts at $39.00 per month. Unfortunately, there is no free version available, but a free trial is definitely available for the ones looking for a new platform to experiment. The trial lasts for 14 days and can be opted for any of the plans offered. The plans offered by Mastera are as follows:
Starter
For the ones who are just starting out
This pack is priced at $39 per month and offers the following features:
Unlimited classes and content
Payments and bookings
Single page website
Unlimited customers
100 Active subscriptions
Premium
This pack is helpful for the growing teachers and small businesses
This is priced at $99 per month and offers the following features:
Unlimited classes and content
Payments and bookings
Full website
Unlimited customers
300 active subscriptions
Multiple teacher login
Programs
White label- your domain
Elite
This pack is for the ones who are already established teachers and businesses
This is priced at $199 per month and caters the below features:
Unlimited classes and content
Payments and bookings
Full website
Unlimited customers
500 active subscriptions
Multiple teacher login
Programs
White label- your domain
Sell products
Priority support
Alternatives to Mastera.io
Though Mastera.io is a great platform, if you are looking for the best alternatives for this, then you can check out a few of them below:
iSpring Suite
This alternative is basically an authoring tool that enables businesses and individuals to create interactive online courses. It contains a 68000+ asset library to assist in streamlining the course creation process
SAP litmos
Litmos LMS is basically used by various companies across the globe, as it offers award-winning LMS to 24 million users in different countries
360Learning
This platform delivers better learning at work through collaborative learning
Elucidat
This platform can be used to create high-quality training for complex global audiences
Tovuti
Tovuti can be used for transferring knowledge to the key audiences at scale by all types of businesses
Articulate 360
This platform is a cloud-based e-learning management solution that assists businesses to create custom and interactive online courses with templates, characters, photos, videos, icons and much more.
Mighty networks
Mighty networks is designed for entrepreneurs who wish to bring together their community, online courses, website, events and memberships under their own brand, on web, ios, and android.
Pros of using Mastera.io
Below are the pros of using Mastera and investing your valuable time in it.
With mastera, you can go beyond classes. Sell on demand content, courses, merchandize and a lot more
You can turn your subscribers to fans with conversations
Moreover, you can earn recurring revenue through subscriptions by setting your own pricing with flexible memberships plans with limited or unlimited access to live classes and content. Simply turn your audience to paid subscribers
Hosting live classes and on demand video content is now possible with mastera. You can experience seamless integration with zoom for live classes.
It is a platform that helps you to turn your knowledge into profitable business
Cons of using Mastera.io
Every platform comes with its pros and cons, and so is in the case of this one. Mastera misses some important appointment and class booking features like the cancellation windows and also the ability to set one staff calendar for multiple types of appointments to prevent overbooking and also setting up buffer times between appointments. Also, some of the widgets and features do have some bugs that should be worked upon asap.
The crux of the post!
Mastera is a great platform for course creators and especially for the ones who wish to offer bookable online classes. Moreover, it has a great onboarding process, that can be set up in a few clicks. There is also a possibility of offering a subscription with access to all the courses on the platform and also the sale of products online is a great feature offered by Mastera. The platform is designed incredibly and is beginner-friendly. It has great functionalities and a great roadmap along with a very active and helpful team. It is believed that this segment might have successfully briefed you about Mastera and all associated facts. To know more you can get your free trial and explore the platform from its official website.
The Review
Mastera.io
Mastera is a great tool to help you set up free or paid courses for your audience or students. It is super easy to use and gives you whitelabel solutions which are not available in most other platforms out there. As such, It becomes your product which you can promote, share and earn a decent income out of it. So, what are you waiting for? Try Mastera.io Today !!
PROS
Easy to Use Course Selling Platform
Go beyond classes & Sell on-demand content
Mastera is best for Trainers, Coaches, Musicians, Tutors, & Influencers
Class Bookings & Waitlist
Mobile & TV Apps
No Booking Fee
Custom Hosted Page or Website
Turn your knowledge into an online business
Review Breakdown
Easy to Use

0%

Features

0%

Brand Trust

0%

Value for Money

0%

Support

0%