Looking for Best Music Players for Android 2019? In so far as music players are concerned, Android has the best music players available on play store. There is the number of features provided in those players but some of them are paid or there are in-app purchases for some features to use included therein. The best is that which is having the capability to replace your default music player. We have compiled a list of some convenient and useful music players concerning some factors in mind and I really hope that you would like these players indeed.
Best Music Players for Android 2019
Musixmatch Lyrics
Musixmatch lets you enjoy song lyrics with music from Spotify, YouTube, Pandora, Apple Music, Soundcloud, Google Play Music and all your other favorite streaming services. It also lets you search for your favorite song by title, artist and even just using a single line of the lyrics. With musixmatch one can use the smart seek to find favorite lyrics by easily skipping through a song using the progress bar. With Musixmatch you can share your favorite song by title on amazing backgrounds with the LyricsCard feature.
Music Player (by Leopard v7)
This music player as offered by Leopard v7 is very popular and one of the awesome music players. It supports all the most popular music formats. There is a powerful equalizer. There are more than 22+ pre ser music tone styles for your choice (Normal, Classic, Dance, Folk, Heavy, Hip Hop, Jazz, Pop, Rock..). The User interface of the application is very fabulous. The music player is not only based on the folder structure. The music player will guide you find all the music files in seconds.
Also, Read 11 Interesting Applications You should know about
n7player Music Player
On the third list, we have given place to n7player due to its impressive features. The n7player music player is an intuitive audio player giving you an innovative way to browse your music. It provides advanced features in a user-friendly interface. some key features of the application are:
All music at your fingertips
High-quality audio
Customize every aspect
Collect and manage
Tag editor, the album art grabber, scrobbling
Poweramp Music Player
The Poweramp Music player is a powerful music player application with unbeatable features and user-friendly user interface. It can play most the files with different extensions for you. It is having 10 bands optimized graphical equalizer for all supported formats, presets, custom presets. It has separate powerful Bass and Treble adjustment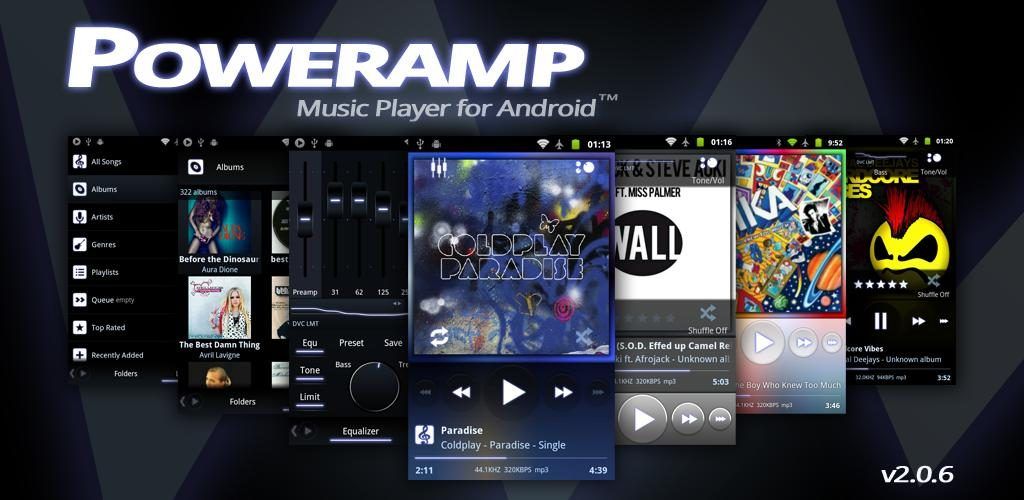 Musicolet Music Player
Musicolet is an amazing music player with loads of functionalities. This is one of the best music players for Android users 2019 to play local audio/songs files. It is free to use and does not contain ads and in-app purchases. It gives you full control and an impressive user experience. Earphone controls, powerful equalizer, tag editor, 2 folder structures, stunning widgets are some of the features that makes Musicolet best among the top music players of 2019.
Musicana Music Player
Musicana is impressive music player with outstanding interface. It provides online lyrics support with advanced lyrics search. It comes with impactful equalizer for custom changes and controls. You can also select the now playing screen theme from the availability of four different theme styles. Advanced background colors in Musicana make the player very addictive. You can also choose custom background for your Music player.
Music player by recorder and smartapps
The music player application developed by "recorder and smartapps" is one of the topmost music players for Android in 2019. This music player is phenomenal. It supports majority of audio formats and provides seamless experience. This is not only the best music player for android 2019 but also one of complete music players available on play store.
Pi Music Player
This music player comes with extraordinary features and unique customization. Pi Music player has four amazing themes viz. Black, dark, light and gloss. This music player also lets you trim the song accordingly. You can make the ringtone of that trimmed song. It is having amazing features and delightful animations. This music player app has millions of downloads on the play store. It does have a widget support and sleep timer feature.
BlackPlayer
BlackPlayer is a free mp3 music player which is having amazing response from the Android users. Its interface is very appealing. The premium design of the music player makes you addictive to the music. This music player comes with sound effects function. You can edit the song within the application or without leaving the application.
Pulsar Music Player
Pulsar Music player is among the top music players of 2019. Pulsar is a fully featured music player application for Android that lets you perform a great deal of functions. Coming with Gorgeous user interface and animation with material design it lets you manage and play music by album, artist, folder and genre. It also comes with play speed adjustment, gapless playback support, resizable home screen widget, crossfade support, replay gain volume normalization, display lyrics function, chromecast support, Android auto support, google voice commands support, built in metadata editor function and some more functions and features.
Found Your Best Music Player For Android 2019?
I hope after reading this post you have found your best music player for Android 2019. However, if you use any other special music player application, I would love to know about it. You can hit me up through the comments.
Also See : Top 10 Video Editing Applications
Follow DroidCrunch on Facebook, Twitter, and Instagram to keep updated with us. Also, subscribe to our YouTube Channel for some amazing tech tutorials and videos.