Moosend is an amazingly powerful email marketing automation platform. It is software that comes with world-class features, lead generation tools, state-of-art automation flows that help you to grow your business easily from day one whilst maintaining an all-in-one user interface.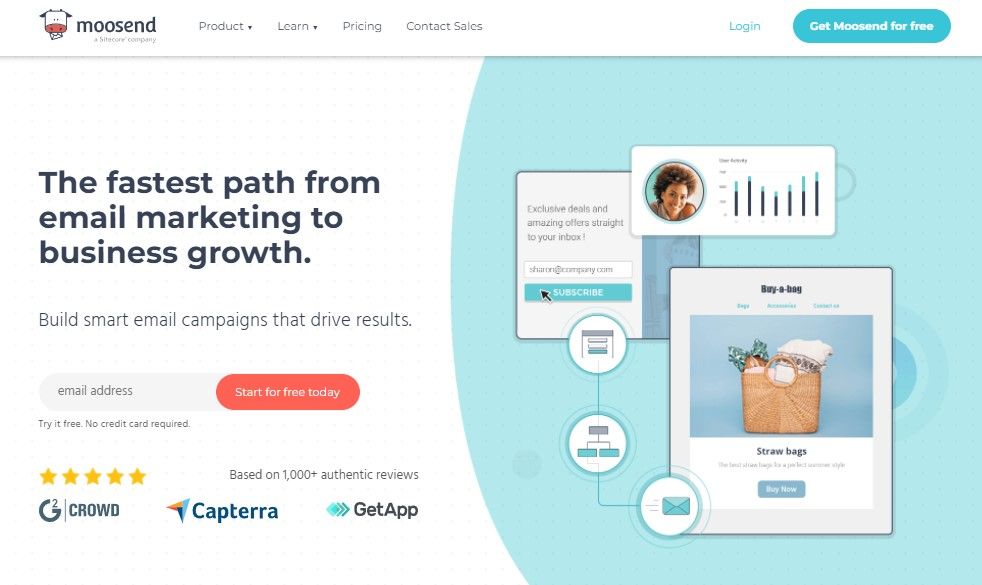 Most marketers are looking to make their lives easier and their email campaigns more multi-functional and effective. That simply means that they are in search of a tool or platform that can perform most of these tasks and help them to succeed. The power of email marketing and its ability to elevate the business is no hidden fact. Whether you wish to entice your audience with email newsletters or boost your eCommerce store's shopping cart conversion, a powerful marketing automation platform, and email marketing software are just the solution for you. And here's where one of the most popular email marketing platforms comes into play.
Moosend is a software specially designed to help businesses successfully execute their marketing campaigns. I have started using this software lately and it has been amazing, it is very easy, simple, and intuitive to use. When I faced any problems the support staff of Moosend acted very responsive and resolved my issues within 24 hours. The templates it offers to create a campaign are amazing. I like that the software allows running multiple sub-accounts billed under one central account. It is a great platform to track companies' progress and generate ideas via email marketing. Moosend is very helpful in the atomization of developments at a specific degree of precision and detail. I can surely recommend this software for any small business or startup.
Moosend Overview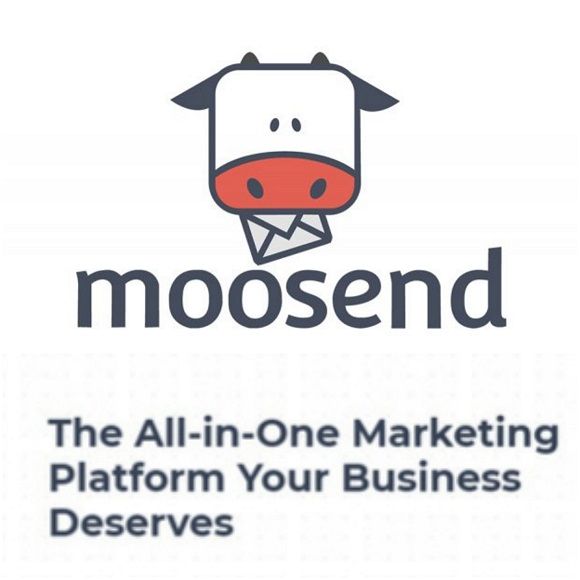 Moosend is a feature-rich email marketing software platform that includes marketing automation, a responsive email campaign editor, and many other competing features. Moosend is a solid option for you if you need a robust automation workflow. It is a platform that brings you your dream conversion rates through its personalized email marketing campaigns, lead generation tools like subscription forms and landing pages, and advanced list segmentation options.
Moosend is amazing marketing automation and email marketing tool that once conquered can be a conversion powerhouse. Moosend creates bonds with customers and prospects, to an extent where making your brand name a household name becomes entirely possible. The software can lead you down that path, with its tool that allows you to understand your customer journey via powerful analytics, it also helps in boosting your performance with its robust Al tools that perfectly fit your marketing strategy, no matter what that might be. Moosend offers a wide variety of features that proves to be perfect for your mailing lists and greatly helps you in managing everything about them, from their design to their performance, with just a little effort.
Features of Moosend
Data Integration and Storage
Moosend can be used to collect and store data about your customers. And this data is the key to personalizing content, segmentation and implementing trigger emails.
Dashboard
Moosend offers a dashboard that shows changes in your upcoming and past broadcasts, subscriber count, and email lists. In all, the dashboard shows the general overview of your marketing efforts.
Segmentation
Moosend includes segmentation tools that let you create segments of the customer's data that are stored in the system. It is a great practice to use segments and not only increase the relevancy of your emails but also save cost by reducing the send volume.
Email Builder
The email editor in Moosend is used to create professional and custom emails. You can easily drag and drop various content types into email templates and include conditional blocks. This feature allows you to create dynamic emails that can show unique content to your subscribers.
Deliverability
Deliverability means an email system that can get a high percentage of your emails in the recipient inboxes. Moosend offers much deliverability features some of them are- Deliverability analytics and reporting, double opt-in. dedicated domain, unsubscribe option, dedicated click tracking, and more.
Analytics and Reporting
Moosend lets you generate a great variety of reports that visualizes the key metrics and offers actionable insights that help you in growing your business. Some of the metrics that you can track in your reports are: Unsubscribed, Sent, Bounced, Devices mostly viewed on, Activity By Location, and more.
Integrations
There are about 39 native third-party integrations offered by Moosend which is very limited relative to its other competitors. Some of the integrations offered by Moosend are OpenCart, Drupal, Magento, WordPress, WooCommerce, Salesforce, Verifybee, and more.
Marketing Automation
Create drip campaigns in Mooosend and send a series of automated messages to the customers. There are pre-built flows included in Moosend with defined triggers and timelines for about 18 types of drip campaigns such as Upsell and cross-sell, Happy birthday email, Special offer reminder, and more. You can also use its flow builder to create complex drip campaigns.
A/B Testing
The A/B testing tool in Moosend lets you optimize your emails and subject lines. You can create many versions of your email and then send each version to a portion of your customers. It tracks how each version is performing and you get to choose a winning email to send the rest of your testing pool.
How to use Moosend?
Create an account on Moosend
Step1- Click on the "Sign Up" button, located on the Moosend page at the top right.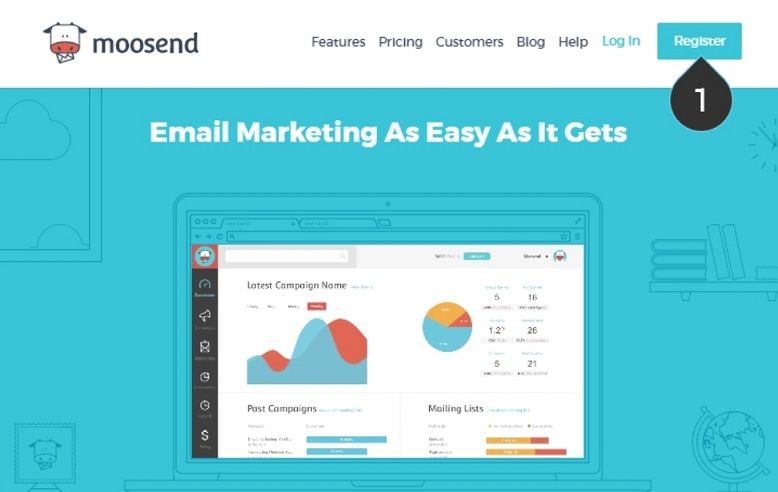 Step2- Fill in the Email and password fields.
Step3- Click on the "Create your free account" button.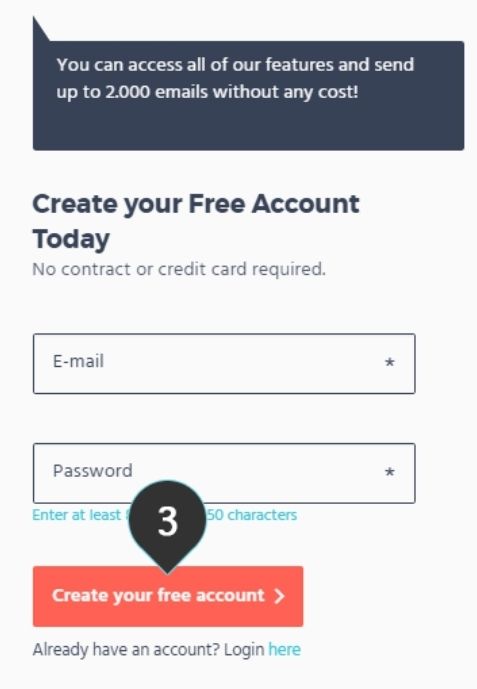 Step4- Click on the "Complete your registration button"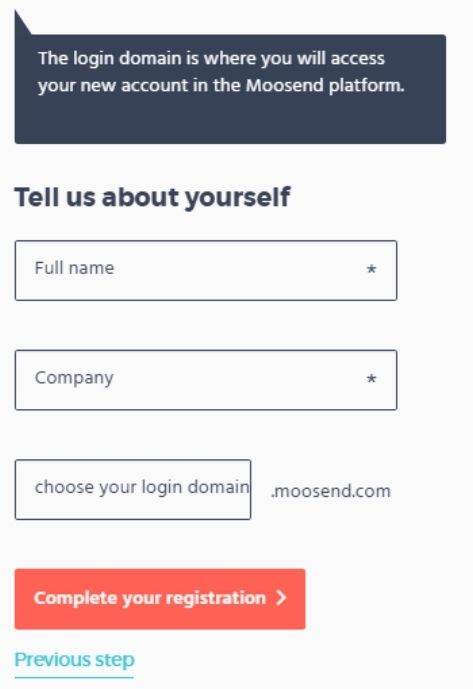 Step5- Check your email inbox to get the provided link. Click on that activation link to activate your account.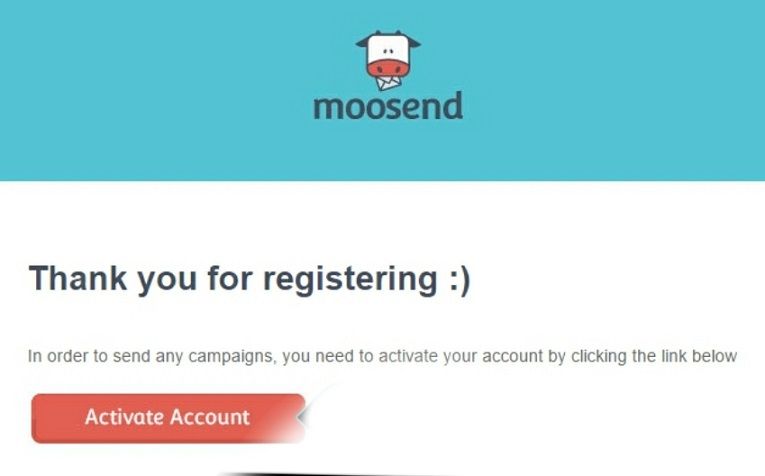 Start with your Moosend account
Once you are done with creating an account on Moosend you are ready to use its amazingly diverse pallet of email marketing services.
Step1- Create your first sender signature
Sender signature is the name and email address that your recipients see in their inbox's "From:" field every time they receive your newsletter.
Step2- Create your mailing list
Create an empty mailing list and fill it with your subscribers.
Step3- Fill up your mailing list
After you have successfully created your mailing list go ahead and fill it up with subscribers.
Step4- Create your first email marketing campaign
Start by selecting a campaign type then enter a stunning subject for it. Choose the sender who is going to send the campaign and the marketing list which is going to receive it.
Alternatives to Moosend
You must explore all the options before choosing the perfect marketing tool for yourself. Mentioned below are some of the best alternatives to Moosend-
Systeme.oi
Systeme.oi is an all-in-one solution that is packed with all the necessary tools. With this platform, you can sell your product, nurture your leads through automating and email marketing your sales funnel. Its funnel builder makes building tailored sales funnel super easy and fast, you can automate, build, and fully customize your sales funnels with its simple and easy-to-use drag-and-drop editor. And its customizable templates speed up your process. It lets you send unlimited emails to all your contacts, create newsletters with the help of its text-based or visual editors, set up automated email sequences, and categorize your customers. Systeme.oi also allows you to build websites and professional landing pages, manage your affiliates, automate your marketing, create and sell online courses.
Mailchimp
Mailchimp is very similar to Moosend, if you wish to have things like powerful analytics and retargeting directly in your email marketing platform then Mailchimp is a perfect choice. It offers predicted demographics, a customer lifetime value calculator, shoppable landing pages that Moosend doesn't include. However, the lack of marketing automation tools in Mailchimp makes Moosend a better option.
SendFox is an easy-to-use and affordable solution for email marketing by Appsumo. With Sendfox you can easily create a mailing list and send them regular campaigns with no worry about branding. It is super easy to work with Sendfox and grow in email marketing.
AWeber
AWeber is very similar to Moosend in many ways. It includes a landing page, an email designer, audience segmentation, templates, and automation exactly as it is present in Moosend. However, AWeber is one of the most expensive email marketing tools so it can be said the Moosend is a better option.
FAQs of Moosend
What is the pricing of Moosend?
The pricing of Moosend starts from $10 per month including around 2,000 subscribers. It offers a free as well as an enterprise plan with custom pricing. The pricing keeps on increasing based on the number of subscribers there are, like for 2,500 subscribers it is $20 per month, for 25,000 subscribers it is $125 per month, 50,000 subscribers at $205 and 100,000 subscribers at $390 respectively.
Does Moosend offer a free plan?
Yes. Moosend offers a free plan but the customer support in this plan is only available for five days a week and does not include priority and phone support. Also, the pre-designed templates and third-party integrations are limited. The free plan includes up to 1,000 subscribers and about 3,000 emails sent monthly.
What languages does Moosend support?
Moosend supports English, French, Greek, Italian, Arabic, Spanish and Italian.
Pricing of Moosend
Moosend is a platform that offers highly affordable pricing plans that could be possibly applied to more than most of the marketing budgets out there. It has pricing plans in three tiers: The Free Forever plan, the Pro plan, and the Enterprise plan respectively. The Free Forever plan is free forever with 1,000 subscribers. The Pro plan starts at $10 per month and is billed annually for more than 1,000 subscribers. You can go for this plan if you wish to see your business grow more. And lastly, the Enterprise plan is a custom plan, specially made to fit your business needs. However, everything you need in general is included in the Pro plan so there is no need to upgrade to the more expensive plan.
There is a fourth plan also, for anyone who doesn't email too often and wishes to delve into email marketing simply as a part of a grander scheme, a PR plan, or an outreach program. The option is called "Credits", through this system you can purchase credits and use it when you have to send an email campaign. Here, there will be no expiry date and each credit will cover the number of emails and not the number of subscribers.
What makes Moosend stand out?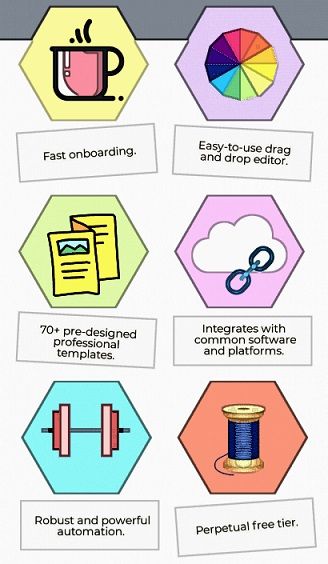 Moosend enables you to engage with your audience like a pro. All you need to do is send email marketing campaigns by creating professional, beautiful-looking email campaigns. Its advanced segmentation features let you send the right email at the right time to the right audience, minimize unsubscribes, and get organized with subscriber tags. Using Moosend you can grow your audience by creating, launching, and optimizing stunning landing pages and subscription forms. The software automates your marketing by automating repetitive tasks and creating a beautiful personalized digital experience for your customers. With Moosend you can measure your marketing success and collect data for better decision making. You can try it for free and try out all its Enterprise and SMB features for free, without using any credit card.
The prices offered by Moosend are competitive and highly affordable for any small or medium-sized business. It has an outstanding customer support team that monitors your campaigns, suggests optimizations for specific situations and industries, and that you are easily able to reach your customer representative of choice through LiveChat and email. Also, it is agency-friendly and offers white labeling features enabling you to offer your clients Moosend's amazing UI.
Pros and Cons of Moosend
Pros-
User-friendly and very easy to start with.
It is multilingual.
The automation works smoothly. The workflows are robust as compared to similarly priced competitors.
Easy to build and no requirement of any technical skills.
The free plan gives most of the features that are included in paid plans.
Let's you create unlimited segments and custom data fields.
Offers lots of handy integrations to CRM and eCommerce.
Flexible range of pricing plans.
Plenty of templates to choose from.
Great delivery rates with fast customer service.
Marketing generations and leas generation.
Cheaper than most of its alternatives.
Free plan available for beginners.
Unlimited emails to let you stay in contact with your customers.
Loads of options to integrate your favorite tools.
A lot of useful features.
Cons-
Compared to some of its competitors, its third-party integrations are limited.
Moosend consists of just 70 pre-designed email templates.
The landing page builder is not accessible for free.
Offers limited customer support in the free plan.
Sometimes the more complicated features are a little hard to understand.
The Review
Moosend
Moosend is an easily affordable powerful email marketing tool and marketing automation platform that is feature-rich and offers many integrations. It is user-friendly and easy-to-use software with an excellent range of support options.
PROS
User-friendly and very easy to start with.
The automation works smoothly. The workflows are robust as compared to similarly priced competitors.
Free plan available for beginners.
Marketing generations and leas generation.
Unlimited emails to let you stay in contact with your customers.
Cheaper than most of its alternatives.
CONS
Moosend consists of just 70 pre-designed email templates.
Review Breakdown
Easy To Use

0%

Features

0%

Support

0%

Brand Trust

0%

Value for money

0%