Mangools is an SEO tool that's great for bloggers, affiliate marketers, SMES or SEO agencies. Its popularity is there among the professionals for a long time because of its intuitive design and ease-of-use. Keyword Finder by Mangools is a fast and easy-to-use tool that helps you identify, research and analyse keywords to grow your online presence. It's an indispensable SEO tool for any company serious about its content marketing strategy.
KWFinder is like the go-to tool for your SEO endeavors. It's clear, intuitive, and powerful in what it does. When you have a problem or need an answer, KWFinder will always be there for you! At $29/month you can't beat the value that Mangools provides with this prefect tool!
In this review of KWfinder, we will see what is special about this keyword research tool and shed light on its pricing, alternatives, pros and cons.
KWFinder: An Introduction
This keyword research tool helps you to find long tail keywords with low SEO difficulty. It is a part of Mangools Suite, which actually contains five different tools including:
KWfinder
SERP Checker
SERPWatcher
Line minor
Site profiler
KWFinder is one of the best keyword research tools to be working on. It comes with a lot of features that are highly efficient, seamless interface and beautiful design which allows new users to make great choices. It Comes with a free trial for you to get to know about all the features of this tool.
If you are a digital marketer and you are looking to grow your website and reach high ranking then you should definitely read this reviewed article of KWfinder for your reference. Go through this article and learn about its pricing, different features and their ability to perform.
Why KWFinder?
This popular tool developed by Mangools is very efficient to use due to its simplicity and intuitive design and layout. The user interface is seamless, its features are intuitive and the best part is that you are not overcrowded with items of dashboard you never use. However, this tool is not about innovative design.
It has a very good keyword research option which allows you to spew tons of keyword ideas, It shows monthly search numbers and a surprisingly highly accurate keyword difficulty score.
You can start the research by search for a specific seed keyword or by using a competitor domain.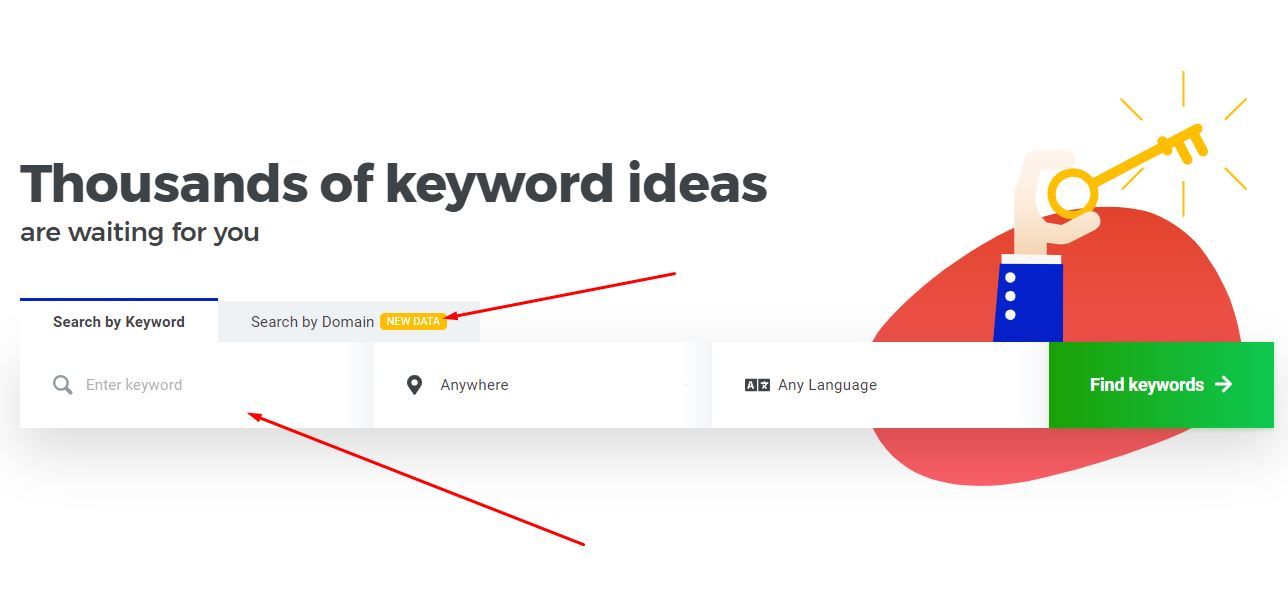 I have used the keyword "wordpress themes" and hit the "Find keywords" button.
The below is screenshot of resultant interface where you can find the most relevant keywords based on your seed keyword for which you write for better results. The keywords have further attributes such as Trend, Search Volume, CPC, PPC and KD(keyword difficulty).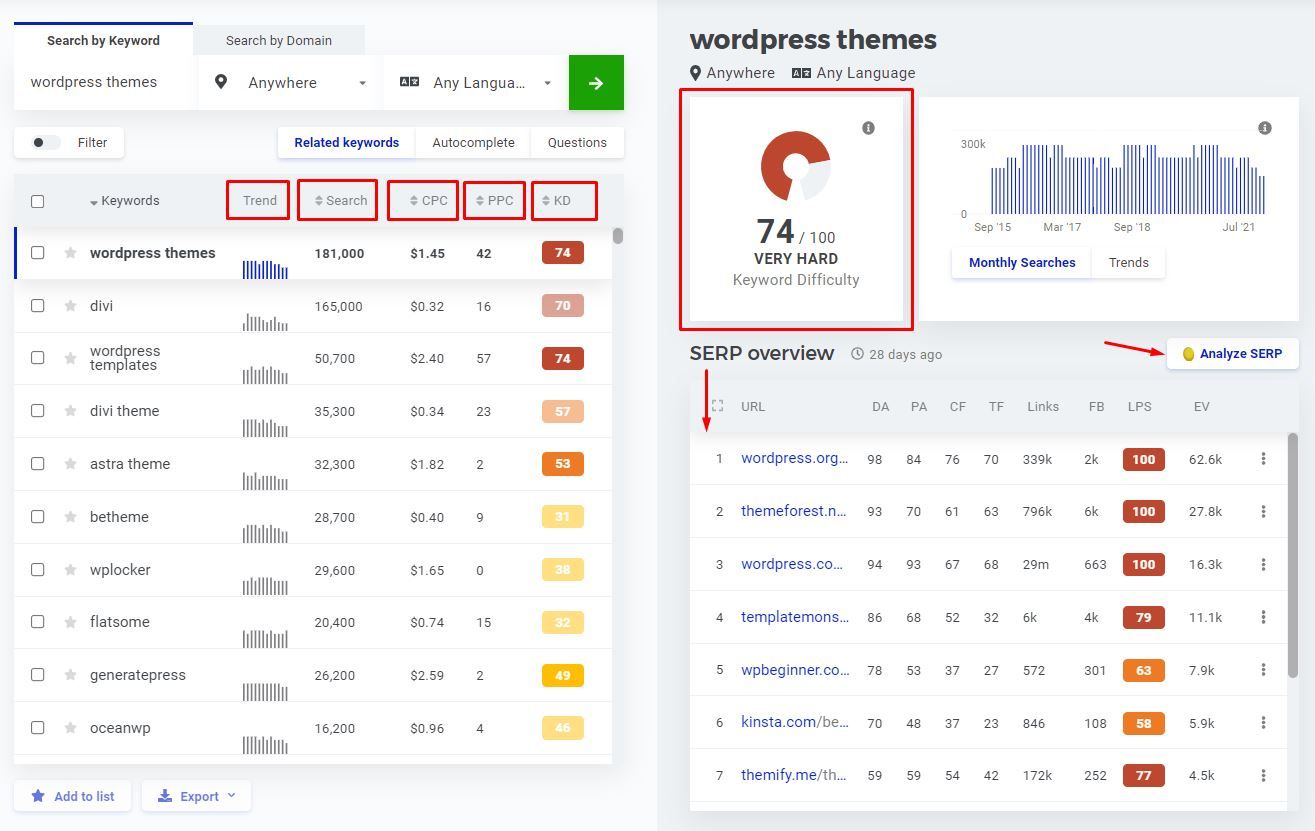 On the right you can see the keyword difficulty, monthly search volume graph and SERP overview. Most often the new bloggers mistake to use the keywords based on search volume and high CPC score and here is the biggest mistake they do.
Doing such will offer you no result except putting your article in the ocean of SERP for the main keyword.
To avoid this, it is always recommended to consider the keyword difficulty and SERP overview.
For example, if you are using KWfinder for topic research then the first thing is to start with your seed keyword. Now, you can filter out the results based on KD so you get the keywords with low difficulty.
Then you can click on the desired keyword of low keyword difficulty score and see the SERP Overview for that low KD keyword.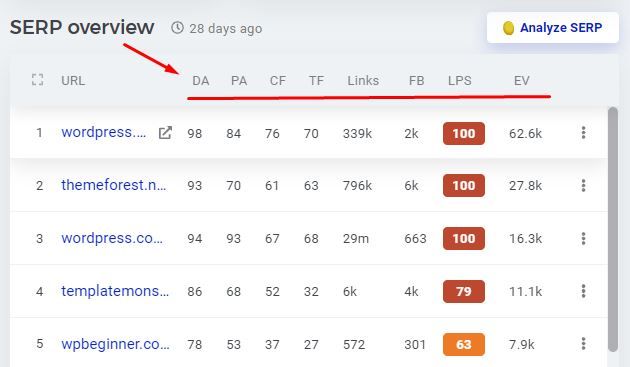 It is important as it gives you the details of top ranking pages for that keyword with various matrix of domain such as domain authority score, page authority, citation flow, trust flow, number of external backlinks, facebook shares, overall link profile strength and estimated visits per month.
Best features of KWfinder Keyword Research Tool
By now you must have had an idea about the features included in KWFinder. However, Having insights about its features and how they work will help you develop an idea about using this tool. Let us go through its features one by one:
Easy to Use
KWFinder as a keyword research tool is very easy to use when compared to most of its competitors and alternatives. The credit goes to Mangools which took the decision to keep their tools segregated so as to avoid complex dashboards.
But again, they are easy to navigate between the tools. So, even if you want to go for indepth SERP analysis while you are looking at SERP overview in kwfinder, you can easily switch to SERPcheker(which is also a tool by Mangools) by clicking on Analyse SERP button.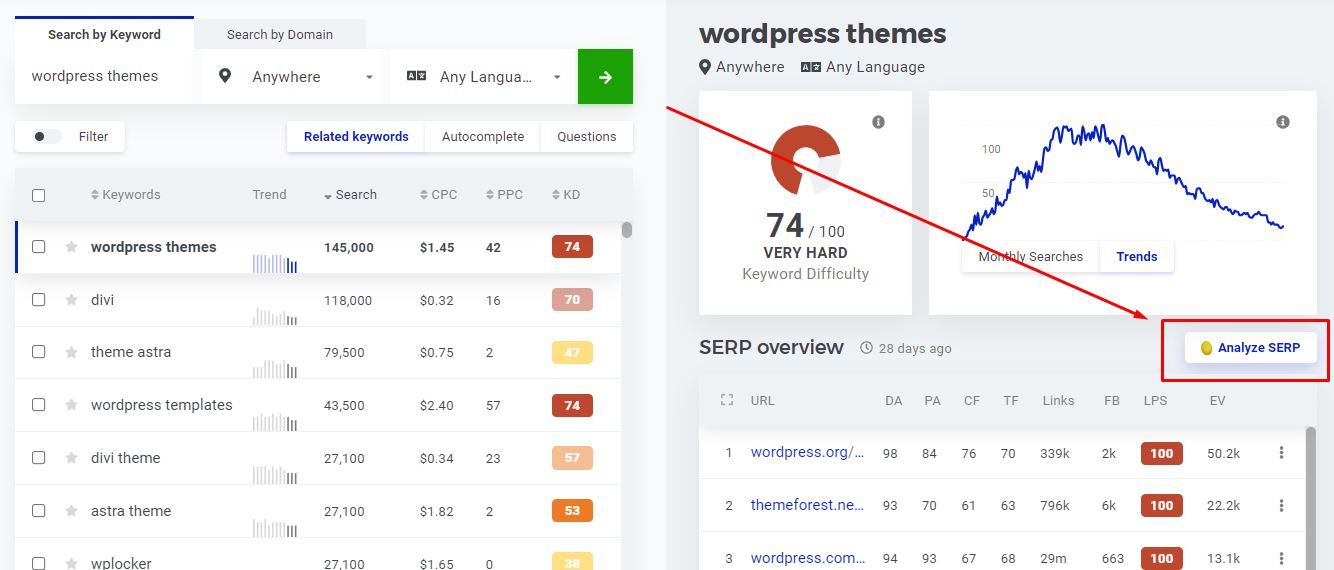 Because of such initiatives taken by the development and design team of Mangools, all the tools of Mangools remain efficient to use independently and any person with little bit of knowledge can use without a single difficulty.
Eye Catching Interface
Website UI of KWfinder catches all your attention and you feel like you are using such a premium tool for just $29 per month. All the elements are very much visible and the card layout with attractive shadow and nice colors give you smooth experience due to the stack behind the app.
As such, KWfinder remains very much value for money. Most of the software get complain in their support for better UI and i assume there would hardly be anyone complaining their support for this reason.
Export or Add Keywords to List
If you want to make a list of best related keywords that take all your attention, then you can opt to select those keywords and add them to an existing or new list inside the software in your user database or you can export them to CSV and probably send them to right person who will be further making use of them.

Change Time of Average Search Volume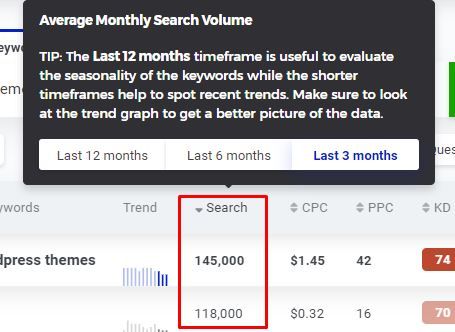 You can change the average monthly search volume timeframe from default "Last 12 months" to either "Last 3 Months" or "Last 6 Months" in accordance with your need. As per their recommendation, last 12 months give you efficient and effective average to rely upon.
Change Currency of CPC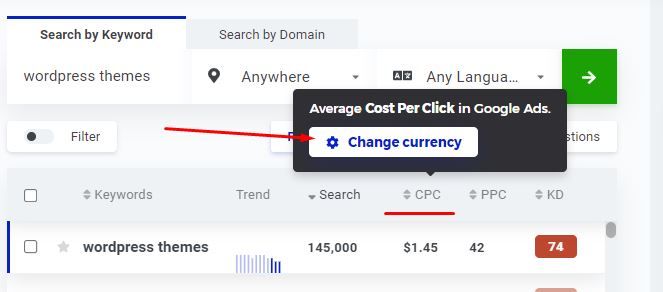 You are at liberty to change the preferred currency for CPC shown for the related keywords in your dashboard. Hovering on CPC and clicking on the change currency  button will open a popup for you(as shown in the below screenshot), where you can search and set currency of your choice.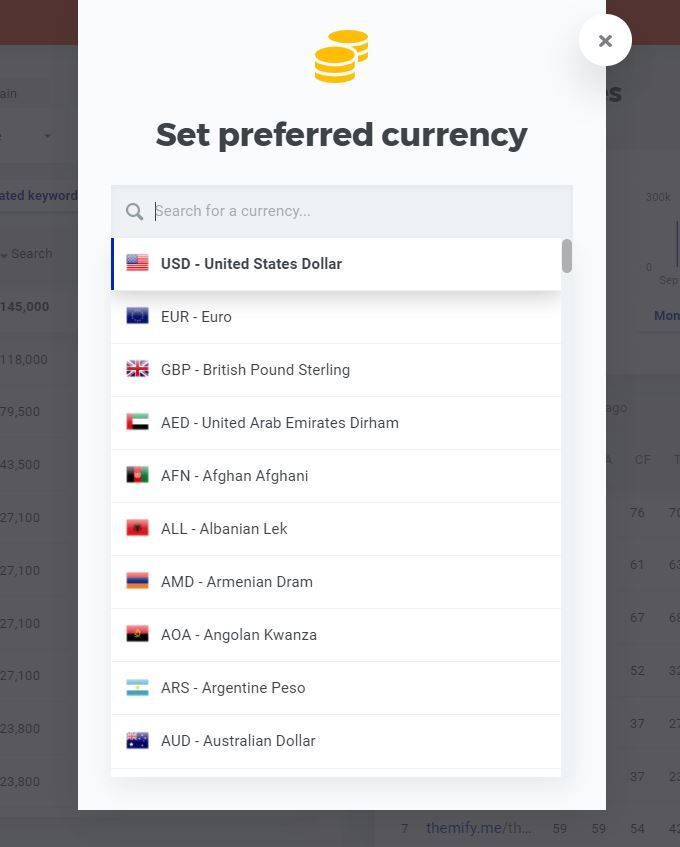 Monthly Searches and Trends over time
Apart from KD, you can see the monthly searches graph and trends over time for the main keyword you searched. This gives you a better idea about the potential of keyword.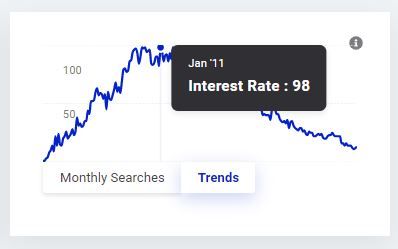 Traditional Keyword Research
Traditional keyword research is the way to find keywords with blue competition at the same time with high search volume. This way of finding the best keywords is still preferred by various SEO users and content marketers.
You type a seed keyword and find actual search terms your target audience is using. It helps you to analyse the results and see which is the easiest to rank and has high potential traffic.
To get started you need to plug in a seed keyword and generate a list of related keywords suggestions. From volume to keep a difficulty score and even a SERP analyse it will be presented in front of you. Overall KWFinder is a good tool for finding traditional, long tail keywords research.
Competitor Keyword Research
Knowing your competitors keyword research is a good way to supervise and enhance your own content. Competitor keyword research is a process that allows you to get an idea about the key words used by your competitors and how they get high-ranking and traffic for their content.
The best phrase suited for this tool is that "let someone else test the water before you jump in." Therefore it is best for newcomers who are willing to increase their ranking without having to put a lot of effort and make mistakes that have already been repeated.
You will be able to produce better content and overtake your competitor through researching from their keywords. However, you do not get in-depth analysis of your competitors keyword research through KWfinder. You cannot get a full picture because your results are caped in KWfinder.
SERP and SEO analysis
SERP analysis will help you to find out whether the keyword is relevant or not. This will help you to create content with more reliability and better reading. It also helps you to evaluate the competitors and your potential to outrank them.
This feature will help you to write content without less mistakes and work on your weaknesses and take the plus points from your competitors' content.
This will also tell you ways to analyse competitors in SERP. The following are SEO metrics for you to start optimising:
Domain authority and page authority
Citation flow and trust flow
The number of external backlinks
The number of Facebook shares
The link profile strength
The estimated visit per month based on CTR
Google Suggest Keyword Source
Google suggest keyword source is an algorithm developed by Google in order to match phrases to the main seed keyword. At the end your content will be uploaded on Google so it is according to Google that your ranking will be dependent. Therefore you need to work on Google Sugessts and get them in order to rank higher and increase traffic for your website.
This feature provides suggestions for its users while they're typing their query to search from. You need to keep in mind the features according to Google algorithm to rank higher and create traffic.The Google creates it's search predictions based on the following facts:
Keywords you are entering to search form
Relevant keywords based on your search history
The most trending suggestions
According to your region as well as language you are preferring
Keyword Planner Alternative
KWfinder can be replaced with your keyword planner tool. This feature in KWFinder allows you to search any of the keywords from anywhere and in any language. It allows you to get exact search volumes and not useless ranges. The keyword planner stopped showing exact data in 2016 for users who don't spend enough money on their ads. That is why it shows better results only for users who are investing in ads and are highly popular in the keyword research tools on the market.
KWfinder also allows you to test them all by doing your first keyword request. This is what you will get:
It allows you to search for exact volumes even for closer variant keywords
Historical search volumes and Google French charts
Average CPC and the level of competition
It allows you to search the most accurate keyword difficulty score on the market for various keywords
Google SERP and analysis with valuable SEO metrics
It even allows you up to 700 keyword suggestion but it depends on your subscription plan
Pricing Plan for KWfinder
First of all, the best thing about this software is that it allows you to use a free trial for you to be satisfied with all its features and its functioning. Free Trial of KWfinder lets you examine the keyword research feature for 10 days and gives you opportunity to make the buying decision thereafter.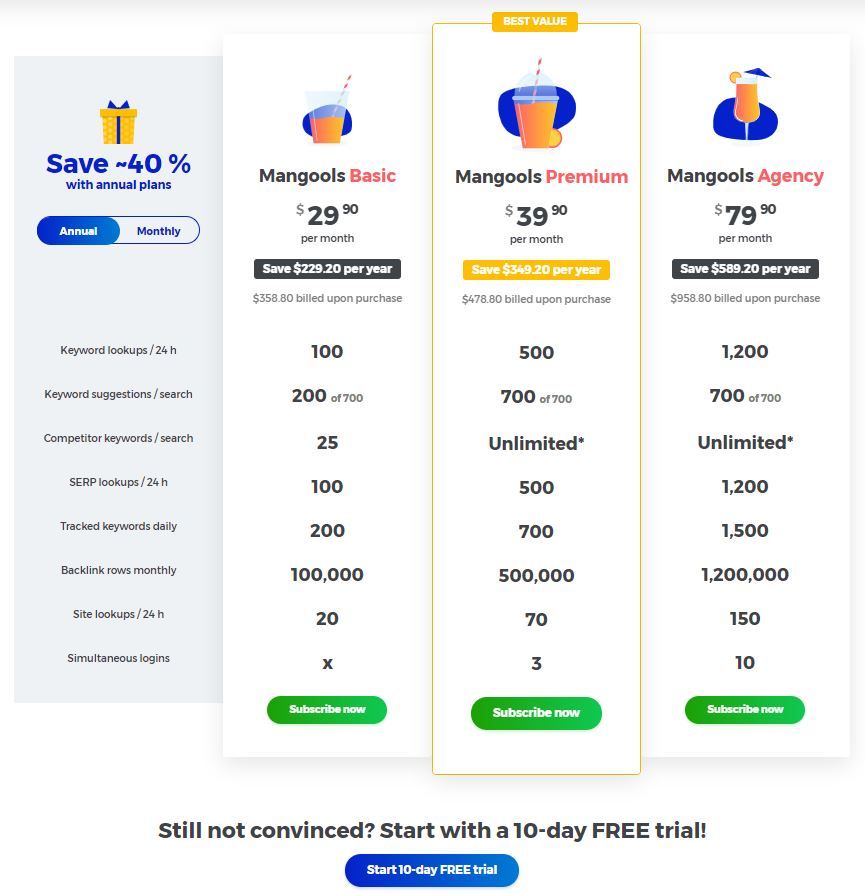 You can even save up to 40% with annual plans in KWfinder. KWFinder gives you a 48 hour money back guarantee if you are not satisfied with the software.
Coming onto its plans you have three plans mainly starting from:
Mangools basic– Starting at $29 per month
Keyword lookups/24 hours – 100
Keyword suggestions/search – 200 of 700
Competitor keyword/search – 25
SERP lookups/24 hours – 100
Tracked keywords daily – 200
Banklink rows monthly – 100,000
Site look up/24 hours – 20
Simultaneous logins – 0
Mangools Premium – Starting at $39 per month
Keyword look up/24 hours – 500
Keyword suggestions/search – 700 of 700
Competitor keywords/search –Unlimited
SERP look up/24 hours – 500
Track keywords daily – 700
Backlink rows monthly – 500, 000
Site look up/24 hours 70
Simultaneous logins – 3
Mangool Agency
Keyword look up/24 hours – 1200
Keyword suggestions/search 700 of 700
competitor keywords/search – Unlimited
SERP look up/24 hours – 1200
Tracked keywords daily – 1500
Bank link rose monthly – 1,200,000
Site look up/24 hours – 150
Simultaneous logins – 10
Customer Support of KWfinder
KWfinder provides a help section with various written resources. Pop-ups appear when you hover over metrics and describe their capabilities.
The KWFinder guide is a great introduction to the tool. It provides all the in-depth details which you need to learn before using this software for better keyword research. However in order to answer more advanced questions, you can refer to email support of KWFinder and contact them. It has a great support system that replies within a day with any kind of query and even faster at times.
Pros of KWfinder
You will get a lot of benefits on the software and the purchase of the software is totally worth it. Some of the listed pros are as below:
It is most intuitive UI of any keyword research tool on the market
It has strong data aggregation for keyword research
Multiple research options for unique keyword are available
It has fast as well as High quality support system
It is one of the cheapest keyword research tools you can find in the market
It provides fast access to essential data information and is quicker and easier and more informative
Even allows you to do competitive research by and covering your competitors keyword usage
You can even dig deeper and quickly access key Metrics metrics for your search marketing campaign
Presents all the relevant information required for keyword analysis in a single location
It is helpful in identifying long tail keywords that are easier to rank
It also offers additional SEO tools including a free browser extension
Cons of KWfinder
As said everything is not perfect so as this software, it has also some loopholes that may or may not affect your kwyword research strategy:
It doesn't support indepth competitor keyword research
Look up and search results restrictions can be discouraging
It does not include keyword gap analysis tool
Strict request limitation for heavy users
Keywords results are kept it , sometimes effect import feature
SERP checker preview cannot be customised
It is not ideal for competition research
Bottom Line
Here we are at the end of this review with a lot of features, advantages, detailed analysis, alternatives and pros as well as cons. When searching for a keyword research tool, a person looks up at all of these details before having to pay for its plan. The best part about KWfinder keyword research tool is that you can use it for free for upto 10 full days and understand how it works and if it is helpful for your project. However, even if not satisfied after having purchased, you can still get cashback at any point of time within 48 hours of payment.
The Review
KWfinder
Creative marketers use the power of long tail keywords and SEO to provide their products with an edge over the competition. Finding these keywords is a tedious but necessary task that more than one tool can help you with, but it's really hard navigating all of them to find the perfect match for your needs. Mangools created KWFinder in order to save you time and make this search a breeze. This intuitive software helps you generate hundreds of keyword ideas with low SEO difficulty ratings in under five minutes!
PROS
Ease of Use
Nice User Interface
Easy to research keywords and topics
Reliable Data
Best Keyword Research tool for beginners as well as advanced users
Access to all tools by Mangools starting at $29.9
CONS
Strict request limitation for heavy users
No Free plan, trial expired in 10 days
Review Breakdown
Easy to use

0%

Functionality

0%

Value for money

0%

Brand Trust

0%

Support

0%