It is no hidden fact that for an organic customer base and traffic, content is not enough and SEO plays a vital role in growth. As time is proceeding, the competition is growing, and to be in the competition, it is crucial to step forward and play smart.
Many companies spend a lot of their time making sure that they have some catchy call-to-action copies, marketing activities, and social media campaigns. But this is still not enough to stay in the business for long or for at no cost. As such, technical SEO plays role in keeping businesses in the online market without much marketing effort. Many times, the companies are not even aware of their technical website SEO problems which might be the reason that is costing them, customers. For that, the SiteGuru online SEO tool is the help at hand.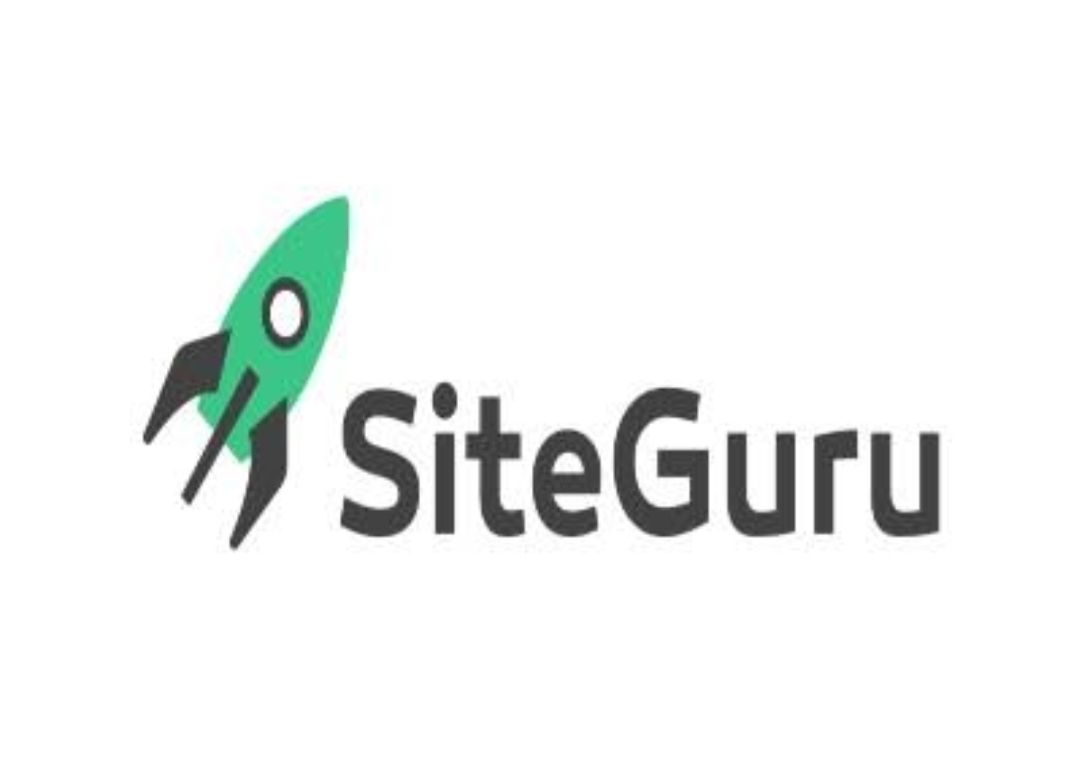 It is a Netherlands-based SEO tool that is created to help businesses in stalking the useability issues with their websites and to make sure to provide the best possible experience to the customer.
SiteGuru was founded by Rick van Haasterren in the year 2017. It works to help the brands to investigate various issues that are blocking their way to getting more customers and profits.
Siteguru Overview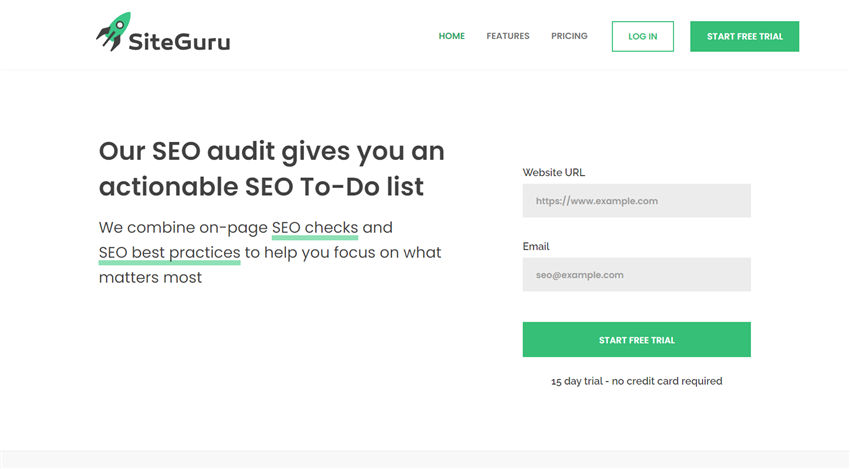 SiteGuru runs a weekly audit on your website and gives you an SEO prioritized to-do list. It helps you in finding out the low-hanging fruit and improves your website quickly and brings you more traffic from Google.
SiteGuru is a well-recognized SEO tool by many leading software review sites. It helps you to quickly find and fix your SEO issues. When you have a task to improve the SEO of your client site, you are sometimes clueless about the actions to take. However, with Siteguru you get an easy-to-understand and actionable to-do list. By completing the checklist you tend to improve the technical SEO and get more search visibility.
SiteGuru is a cracking tool at a great price for businesses of every size. If you are searching for a tool that will quickly allow you to spot any errors with your websites through quick SEO audits, and you don't wish to pay a fortune, then SiteGuru can definitely be a great pick for you.
SiteGuru Features: The Issues it Focuses
Fix Broken Links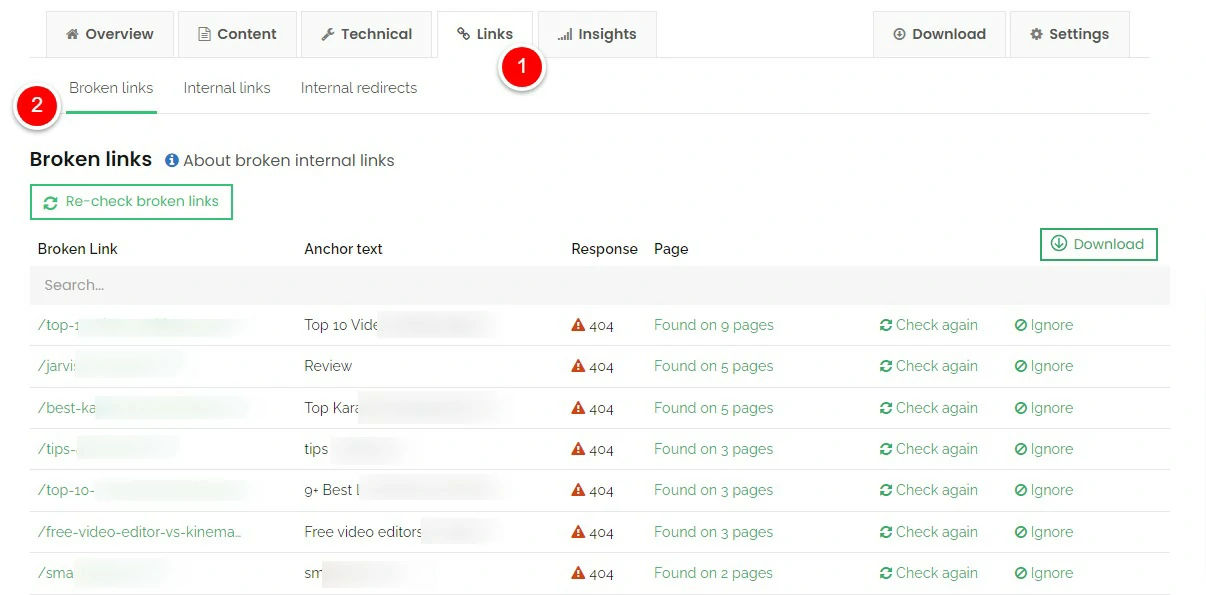 The SEO Audit tool of SiteGuru allows you to check out the pesky 404 error messages on your website and some other SEO issues. It also prods you towards the best possible way to fix it. SiteGuru's www. and non.www URLs help you to banish those annoying error codes. It also tracks the meta description page titles for an all-around good service that permits you to improve your website easily.
Form the new update, SiteGuru will no longer provide a list of externally broken links. It will continue to scan your internal links and will continue to report on internal redirection.
Below is their clarification about the same which is quite justified.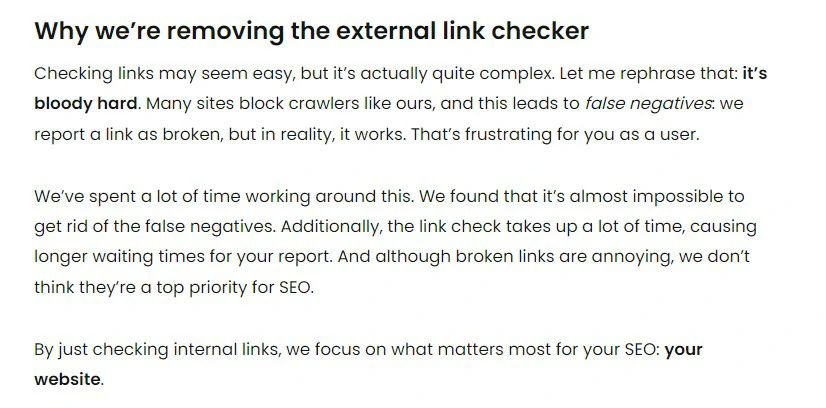 Page Checking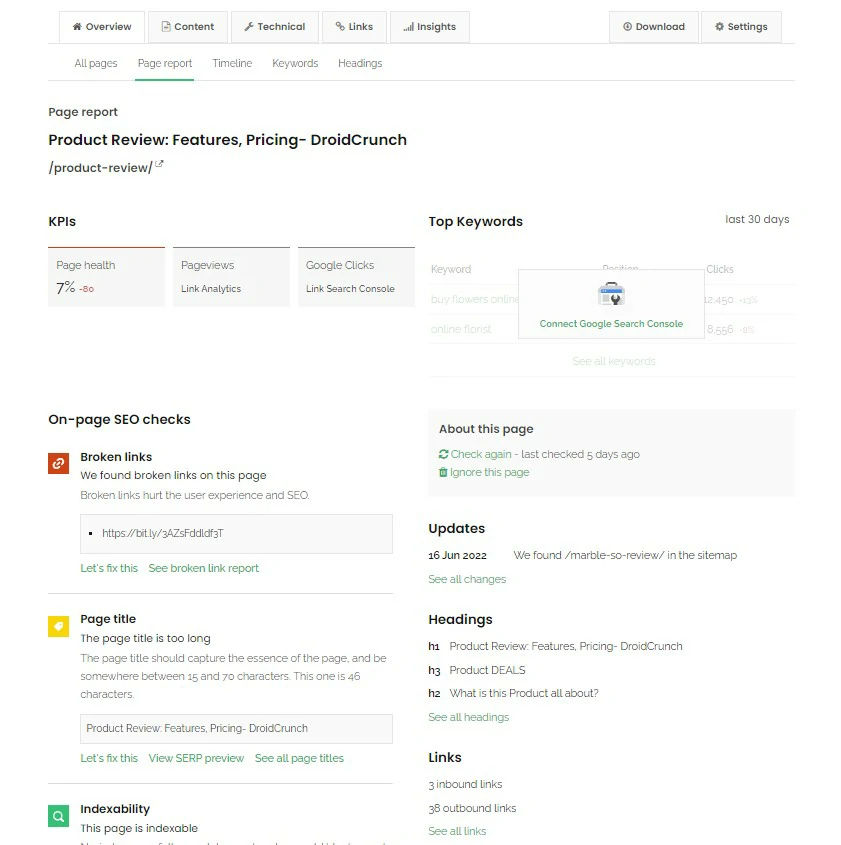 Siteguru allows you to check the performance of all the individual pages of your website. It unlocks all the elements of your web pages such as headings, meta descriptions, titles, broken links, alt text for images, structured data, google analytics, open graph tags, and much more.
With the help of all this information, you can fix your important pages and ensure rank increment for them.
Note: In the above screenshot, some data is morphed which is why the Page title is showing a warning while it is 46 characters.
Content Management
SiteGuru helps you to manage and become sure that each of your page's content is shipshape and very much ready to meet the target audience. This tool permits you the subscriber to see how your content is working across the spectrum of platforms and helps you in connecting with the sites that your competitors have been reaching out to.
CTR Curve Calculator
CTR Curve Calculator is a very clever feature of SiteGuru. It uses your Google Search Console Data to get you huge traffic from the Google search pages.
Ranking
The ranking is one of the most important features of SiteGuru. It lets you check your SEO metrics and also enables you to track down you're ranking to build on as well as improve your SEO goals. Tracking is a must when you are conducting SEO campaigns.
Google Analytics Check
SiteGuru can run a check of your Google Analytics setup automatically and provide you with certain ways of fixing it.
Keyword Research
SiteGuru has a very forward-thinking keyword tracking and research feature that helps you to take your content to the very next level.
How to use SiteGuru?
There is nothing you need to do extra in order to start using SiteGuru. Just finish the signup process and tap the "add website" button. The interface will allow you to enter the URL of your website and toggle some advanced options.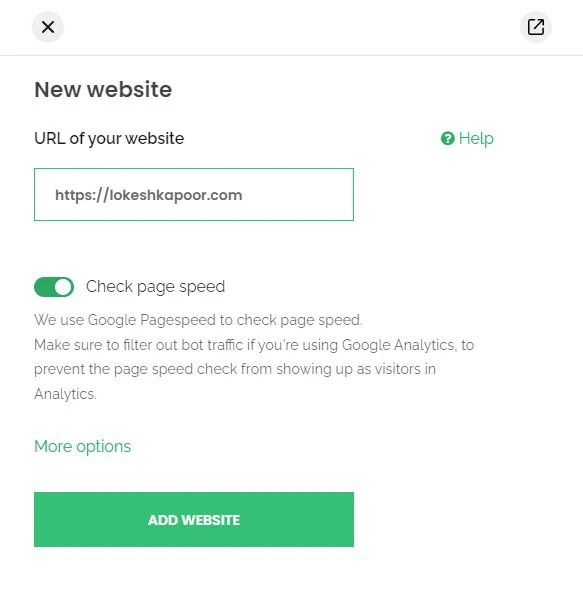 Now, add the site and wait for the crawling to get finished. it will take some time to crawl the site, audit it and check its link to you a complete picture and an actionable to-do list. The time may depend upon how big your website is in terms of pages and media.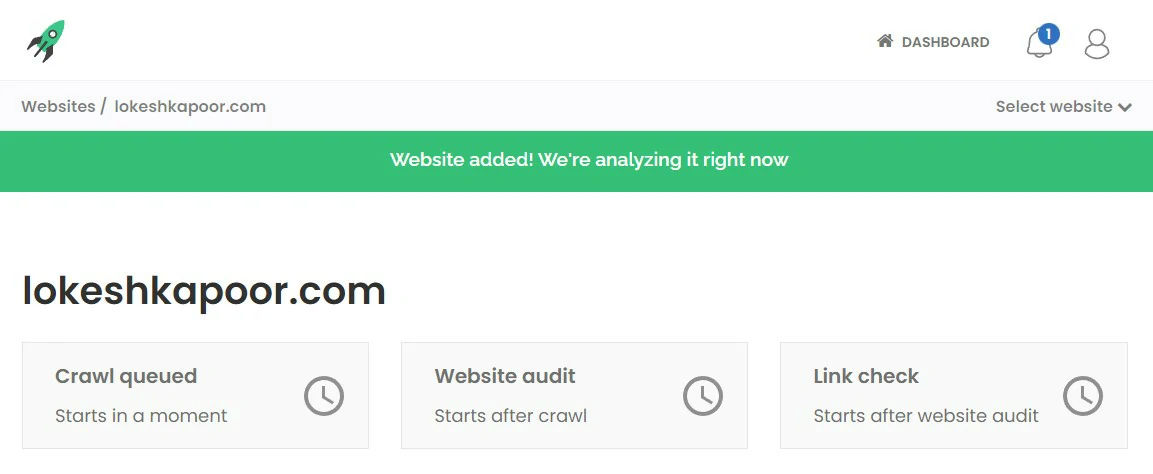 Once done, you will get an email about the completion plus the quick to-do list so as to improve your website.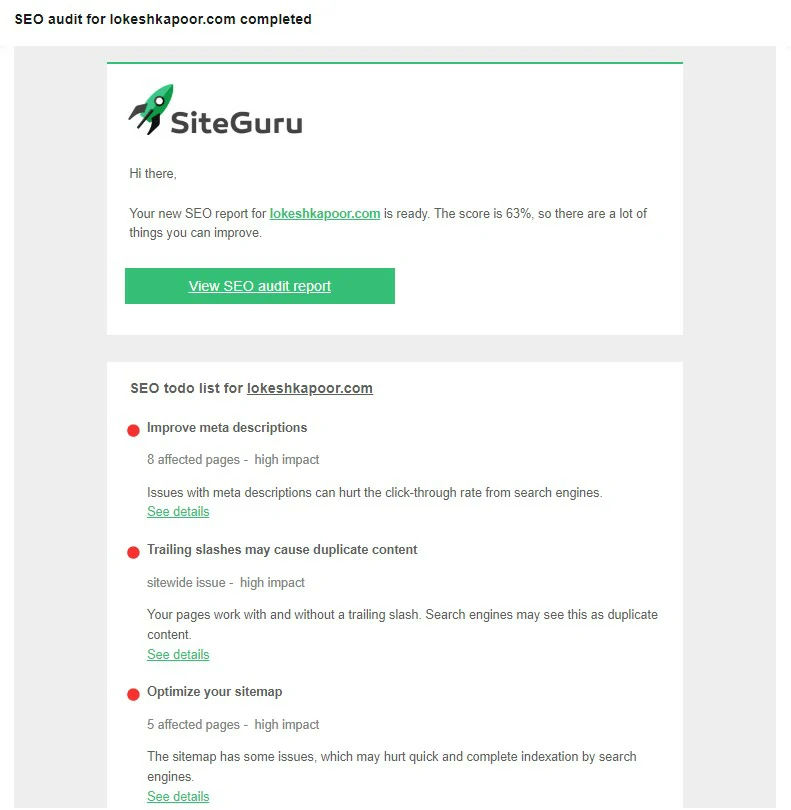 Now, you can check your website from the dashboard and start working on the list for optimizing it for the search engines. In the same way, you can add more projects or websites. You can add the websites based on the plan that you have purchased.
Pricing of SiteGuru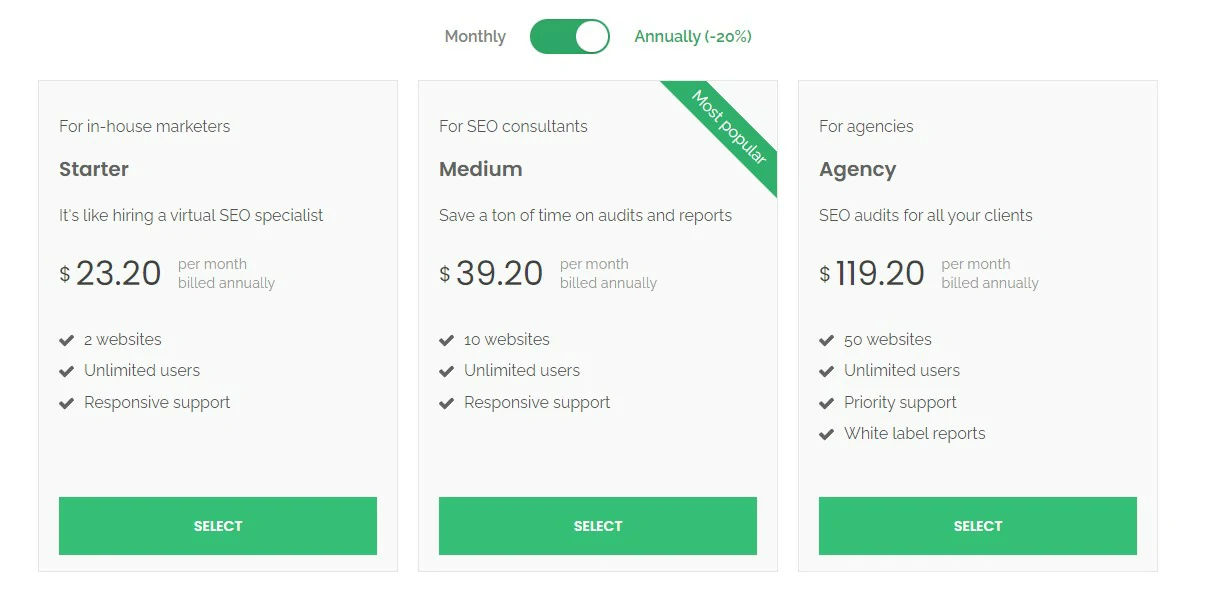 SiteGuru offers four different pricing packages. It simply means that even the pickiest of brands will end up finding a plan that will be suitable for them. These packages are as follows-
Free Package
For anyone who is wondering if SiteGuru is the right choice for them. The free version is a good start for them. With the free package, you get access to some of the basic features of SiteGuru with two websites and ten pages for each website.
Starter Package
When you have made up your mind to continue using SiteGuru. Then after the free version comes the starter package. This package costs $23 per month and has its hands over two websites with over 500 pages for each website, plus there are PDF reports and CSV exports too.
Medium Plan
The Medium Package provides five websites with 1000 pages per website, along with Word reports and CSV exports. It comes at $39 per month.
Agency Plan
The Large Package is for the big spenders. It comes at $119.20 per month. Here you get access to 20 websites with over 2500 pages per website.
You will also be able to get access to notifications and alerts, page quality analysis, broken link scanning, document sharing, and automated crawling.
FAQs of SiteGuru
Does SiteGuru offer a free trial? What type of pricing plans does it offer?
Yes. SiteGuru gives a free trial for 14-days, with no credit card required. SiteGuru offers free and subscription-based pricing modes. It has four types of pricing packages (Free, Small, Medium, Large) starting from $29.00 per month.
Who uses SiteGuru?
SiteGuru is mostly used by companies of all sizes and in almost all industries. It makes sure to provide the most value for SEO consultants. And some varieties of packages offered means that it is suitable for all the businesses, irrespective of their budget.
What level of support does SiteGuru offer? What are some of the apps that it integrates with?
SiteGuru offers the following support options- Email/Help Desk, Chat, and Knowledge Base.
It integrates with the following applications: Google Search Console, and Google Analytics 360.
What makes SiteGuru stand out?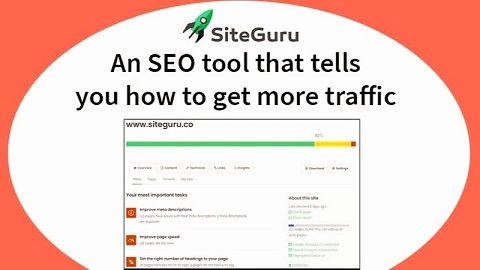 SiteGuru improves page speed. The crawling of your website slows down because of a missing sitemap, and this leads to pages that are not indexed.
SiteGuru improves meta descriptions, as the issues that come with your meta descriptions may hurt the click-through rate from the search engine.
SiteGuru avoids internal redirects. The internal redirects are the reason for making your website unnecessarily hard and slow to index.
SiteGuru works on every CMS. Drupal, WordPress, Magento, or custom-built: it's all equal to SiteGuru. No matter which CMS you are using, it can run an SEO audit on your site.
SiteGuru doesn't require any server access or plugins. All that is needed for you to do is enter your URL and it does the rest of the job for you.
SiteGuru is currently used by hundreds and thousands of companies to get a greater amount of traffic. An excellent tool for those people who are not techs. It is very straightforward and explains everything very easily.
Pros and Cons of SiteGuru
Pros-
Easy to Understand for the SEO professionals
Neat SEO optimizer tool.
An effective tool for getting into the crannies and nooks of your website and finding the errors in it.
Flexible pricing option. Affordable for those even with the tightest of budgets.
No installation and server access are needed.
No automatic billing.
14-day free trial. No credit card is required.
No code changes are needed.
No plugins are needed.
Works for every language.
Cons-
SiteGuru does not offer an off-page analysis at present.
Requires a little patience as preparing the audits can sometimes take a while.
It is pretty comprehensive but doesn't go as deep as some others would like with aspects like link analysis.
The Review
Siteguru
Siteguru is a mind-boggling tool for SEO professionals who want to fix their websites for technical SEO guidelines. It provides an actionable to-do list for easy implementation and thus allows to achieve a high ranking on search engine result pages. Anyone who desires to have better search visibility can use the tool with confidence and grow the projects.
PROS
Easy to Understand for the SEO professionals
Neat SEO optimizer tool.
An effective tool for getting into the crannies and nooks of your website and finding the errors in it.
Flexible pricing option. Affordable for those even with the tightest of budgets.
No installation and server access is needed
CONS
SiteGuru does not offer an in-depth off-page analysis at present.
Requires a little patience as preparing the audits can sometimes take a while.
Review Breakdown
Easy to Use

0%

Features

0%

Scalability

0%

Brand Trust

0%

Value For Money

0%

Support

0%