We all know how important it is for any website to have set up proper tags to analyze the various events. However, it is not very easy, it takes the engineers to go through various things till the QA.
Tagmate significantly accelerates and lowers the cost of creating tracking information for your websites and landing pages. Compared to doing it manually, to manage an advertising budget or be successful in marketing. A SaaS platform called Tagmate enables companies to deploy and relocate analytics and tracking tags. With the help of Tagmate, Web developers, analysts, and product marketers may streamline the management, application, and transfer of tags with the help of Tagmate. Operators can select by clicking on the appropriate template with the help of pre-built industry templates.
With the help of the potent SaaS tool Tagmate, you can implement and migrate analytics and marketing tags precisely and quickly. Using Google Tag Manager to manually track hundreds of user interactions across websites is fairly difficult, especially if you have a small staff or are working with complicated code.
What is Tagmate?
For that reason, they made Tagamet! Tagmate automates GTM configuration with 100% accuracy in just a few clicks using pre-built industry templates, so you can concentrate on essential engineering tasks. Tagamet use is fairly simple. Automating the installation of analytics and marketing tags on your website with round-the-clock monitoring saves time and improves the quality of first-party data. It was straightforward to use and integrated perfectly with the GTM account. It is most advantageous for website developers, web analysts, and product marketers.
Tagmate Overview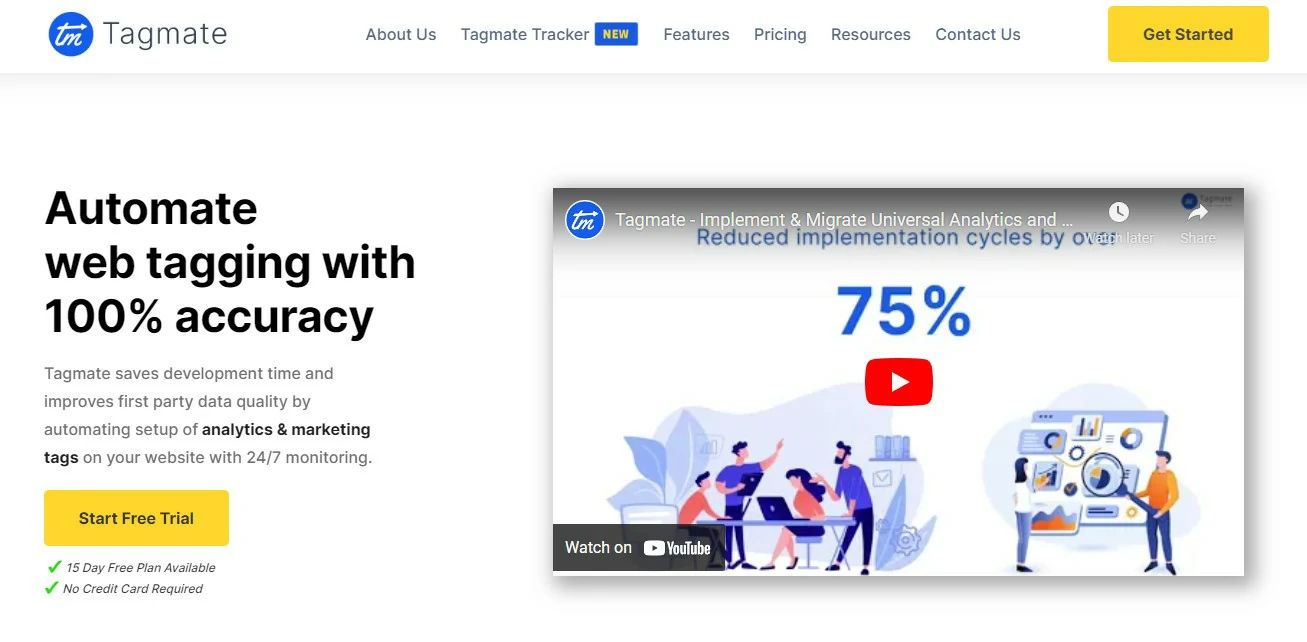 You don't need to know how to code or spend a lot of time with developers or working in teams because Tagmate allows you to do everything in a few clicks. Standardized templates from Tagamet are devoid of technical dependencies, easy to apply, and tailored to industry standards. Choose the template that best fits your requirements and use it. So simple! Thanks to the Tagamet template implementation, you will save roughly 90% of the time that would have been spent on development and coding. It also reduced development and implementation costs significantly. The configuration of website tag management is frequently complicated, expensive, and necessitates technical expertise. To acquire a thorough picture of online traffic, website owners and marketing firms frequently invest in time-consuming and expensive cycles of manually tagging their websites and campaigns.
Tagmate is presented by Pitchground. With the aid of Tagmate, you can automate the application of tracking tags (codes) on your website. Marketing companies can build and run campaigns more effectively since it eliminates the complexity and expense of manual tagging. When it comes to implementing tracking tags, Tagmate can help you cut your development time by up to 82 percent. Without the need for a developer, the no-code solution will provide you with total control over your tag management.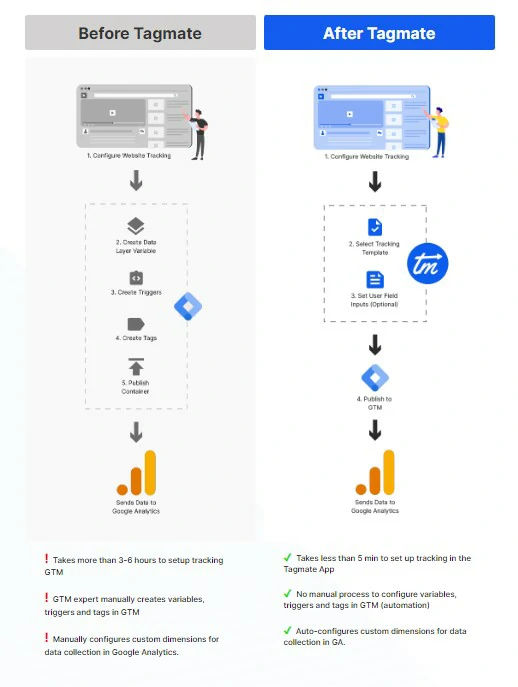 Some useful use cases:
A marketing manager wants to implement a Google Ads or Facebook advertising marketing pixel on their website in minutes without going back and forth with their developers.
A web analyst wants to migrate his existing Universal Analytics (GA3/UA) tag to the new GA4 tag error-free without the help of an expert.
A product manager desires to start tracking analysis on their website but doesn't know all the potential and available tracking opportunities and where to start.
A web development or marketing agency may want to set up tracking for its multiple customer websites and monitor the data accuracy of the setup in an automated workflow.
Critical Statistics
Preserve up to 82% on vital statistics development costs when pushing from Google Universal Analytics to Google Analytics 4.
Your Google Universal Analytics will quit working as of July 1, 2023, according to Google.
Tagmate Features
Universal Analytics
Google has stated that Universal Analytics will no longer function as of July 2023. Your Google Universal Analytics will stop functioning by July 1, 2023, claims Google (you can Google it to verify). Everyone must upgrade to Google Analytics 4 now that Google has released it. Google has given each organization up to 12–14 months to complete the transfer. Hiring a developer or firm to transfer your tracking setup from UA to GA4 will run you anywhere between $2K and $15K. Tagame steps to the rescue in this situation. similar to Captain America. The GA4 Migration Module from Tagamet is what you need if you already have a Universal Analytics setup and wish to switch to GA4. Additionally, Tagmate will guarantee that your migration is carried out.
GA4 Implementation
Implementing tracking can be difficult if you work as a marketer or product manager without technical expertise. The GA4 Implementation Module from Tagmate steps in at this point and streamlines the procedure. You just need to select a template that applies to your industry, and you're done!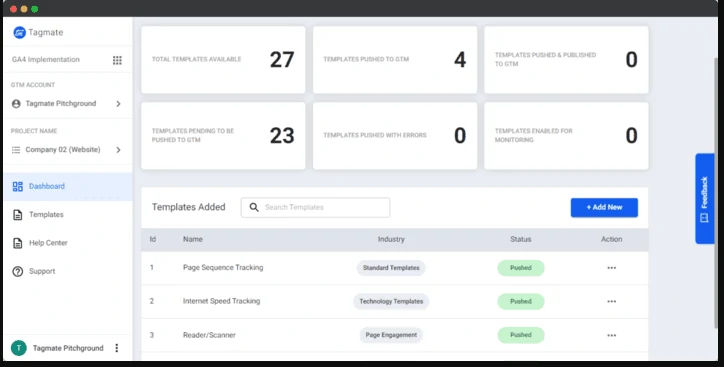 Users' Graphic Content
Your Facebook and Google Marketing Pixels are set up. However, you must set up the Google and Facebook ad pixels on your website to track the effectiveness of your advertising. It may take weeks or even months to set up properly and complete this process. And if the implementation is flawed after such a long time, there is a probability that you will record incorrect data. With only a few clicks, Tagmate's Google and Facebook Ads Marketing Pixel module streamlines the entire procedure. With this, you can quickly build up conversion and remarketing pixels that work as intended.
Tagmate's Tracker of User Graphic Content for GA/GA4 Events (Chrome Extension)
It is an obvious Simple user interaction tracking on your website The best approach to monitoring user interactions on your website is with the Tagmate Tracker Chrome Extension. The most direct and efficient approach is complete accuracy. No code is necessary. With the Tagmate Chrome plugin, implementing Universal Analytics or Google Analytics 4 on customized events is made simpler, quicker, and more precise. Once the extension is installed, all you need to do is access the website, select the event trigger you want to monitor, and push data from the extension to GTM. All platforms, including Shopify, WordPress, Custom JS, etc., are smoothly supported by Tagmate Tracker. Connecting your GA and GTM is all that is necessary to complete the process.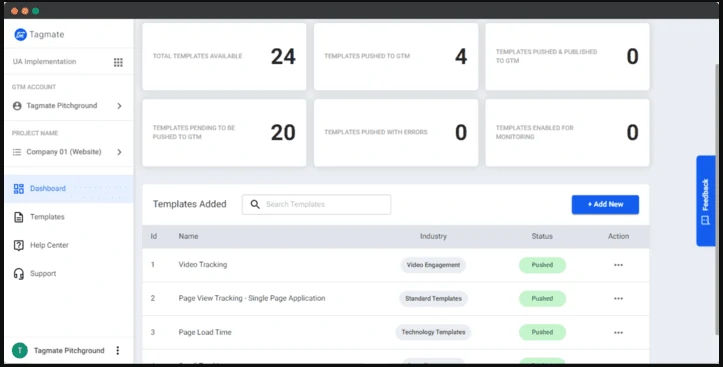 Google and Facebook data analytics
It's really easy to set up and use. You're going to like how it tracks all your data on my website so that you can check the results at any time. To ensure maximum conversions, Tagmate makes sure you have the right data throughout your site. It also helps you track your facebook conversion pixel, which will give you invaluable information about who visits your blog and thus help you improve your content even more!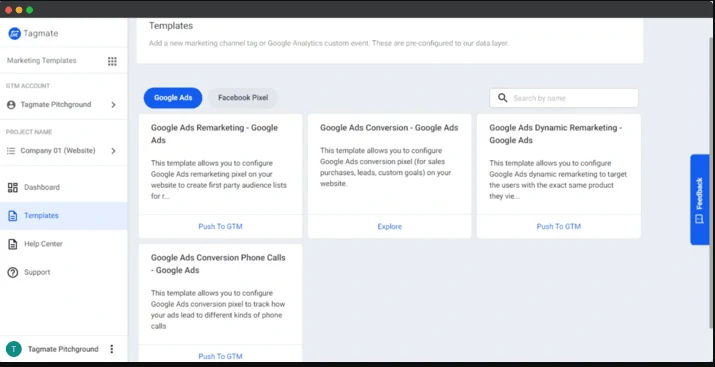 Tagmate FAQs
Why should I choose Tagmate over the rest?
No working code. No working code. A simple, customizable user interface (UI) for non-technical users with little background in web tagging setup. 40+ pre-built templates and pixels support tracking setup for various analytics and marketing platforms. It is assisting with first-party data tagging for a solid data layer foundation. an automated DIY tool instead of a manual and pricey method of hiring businesses or experts. is the first company in the field to make GA4 configuration available for websites and mobile websites. It includes a potent Chrome extension with a straightforward point-and-click user interface that accelerates bespoke GA event tracking.
What is Tagmate?  
With just a few clicks, Tagmate automates the Google Tag Manager (GTM) implementation process. While allowing you to quickly set up the majority of your Google Analytics (GA3/GA4) web tracking requirements, There are more than 40 pre-built industry-specific templates, including add to e-commerce cart, page scroll tracking, lead form submission tracking, and page load time tracking, among others. If you already have a UA/GA3 system and want to switch over your tags to the new GA4, Tagmate works flawlessly and accurately.
 How can I use Tagmate?  
Applying UA tags, brand-new GA4 tags, or even just migrating from UA to GA4 are all options. You can send pre-configured templates from Tagmate to GTM. In an existing or new container, or exchange code snippets with your developers. These templates are relevant to your tracking needs. You must link your GTM and GA accounts to the Tagmate web interface to set up the event tag and marketing pixel using GTM for your GA account.
How is Tagmate different from GTM implementation?  
A really good query A product or web analyst typically starts by determining which website components and events need to be tracked in GA. Before sending the developer's Excel sheets with the analytics data, he/she constructs and records event schema to guarantee excellent data quality. As part of the tracking setup process, the developer now writes data layer code and creates variables, tags, triggers, and QA in GTM and GA.
What is the use of Tagamet Tracker Chrome Extension?  
They give their customers the ability to track any user interaction on their websites caused by mouse clicks on page components and save it as a Google Analytics (GA3 and GA4) event tag with the help of the Tagmate Chrome plugin. Why not speed up your development and hit your tagging milestones by adding extensions to Chrome? This is the fastest, most accurate tagging that can be done without writing any code.
What are the prerequisites for using Tagamet? 
You must control the access to edit/publish your GTM container, which Tagamet will authorize and attach to for all implementation or migration activities.
You should have a basic understanding of how GTM works and publishing receptacles for active data collection.
Besides, for UA to GA4 migration, if you need to list UA custom dimensions in Tagmate, you will also need edit access to your GA properties. Our customer data is sensitive and confidential.
How do we ensure its safety when using Tagamet?
Remain calm; your customer's data is secure. When a GTM container is published, Tagmate doesn't log any events. If you have activated and pushed any user-defined parameters to GTM, those are the only data that will be saved on the Tagmate server along with your templates. This helps to maintain good analytics data quality and prevents the use of the same event tracking template more than once. We adhere to all of the rules outlined in this policy.
Do platforms like Shopify, WordPress, Magento, Woocommerce, etc. support Tagmate?
Tagmate is compatible with all styles of websites and online technologies, including JS-based, Headless CMS, Shopify, WordPress, Single Page Applications (SPA), and more. Additionally, Tagmate supports e-commerce websites created using Shopify, Woocommerce, or Magento plugins. The most recent iterations of Google Chrome are supported by the Tagmate Chrome addon.
 How is Tagmate different from other tag management platforms?  
Other SaaS tag management applications and Tagmate differ significantly in several important ways. By embedding their third-party scripts on the website and sending the data acquired through their web servers, other tag management apps collect data. As opposed to Tagmate, which never installs third-party scripts nor collects any user data, Tagmate is developed on privacy-centric principles. The Google Tag Manager server will now handle all network request routing and data transfer to GA and other marketing platforms when Tagmate configures pre-built tracking templates in your GTM account.
Tagmate Pricing
Specifics below: Monthly Growth Plan: $79 for a single website with ten industry templates (GA & GA4) Event Builder for GA4 Migration: Complete with a Chrome Extension (Up to 50 Events). Email Assistance Plan Pro: $299 per month Continuity standardized industry templates (GA and GA4). Event Builder with Chrome Extensions for the Full UA to GA4 Migration (Unlimited) Support by phone and email
Tagamet has two pricing plans.
Monthly Plans
Growth Plan: $79/month
Pro Plan: $299/month
Lifetime plans
Plan A:-$99/Lifetime
Plan B:-$349/Lifetime
Plan C:-$499/Lifetime
Plan D:-$799/Lifetime
When you have a small business and want to benefit from more things by spending less money and have just started your business, then you can take a Growth Plan from Tagmate.
If you have a big company and you want to invest more and you also want to make a lot of profit, then you can go with the Enterprise Plan of Tagmate. It is very right for you as you get all the benefits. There are no restrictions in Tagmate, which always impresses you every time you take a Pro plan.
Some Alternatives to Tagmate
AgencyAnalytics
Enterprise marketing dashboard AgencyAnalytics impresses clients and saves time. By providing clients with their logins, they may view the results of your marketing campaign by white-labeling the dashboard. There are integrated SEO tools, including backlink reports, audits, and rank tracking. To get the full picture, integrate 60+ other services, including social networking, phone tracking, analytics, and PPC. Then arrange for customized PDF marketing reports to be sent to your client's inboxes.
Supermetrics
Supermetrics is used by more than 700,000 marketers daily for marketing analysis in more than 120 countries. To help marketers make better decisions, Supermetrics automates the data delivery process from more than 80 sales and marketing systems to a variety of analytics and reporting solutions. With our configurable templates and clutter-free reports, you can quickly track the success of your campaigns and develop data-driven initiatives. Supermetrics reports about 15% of all online advertising expenditures worldwide.
Success Story of Tagmate
AngelOne – one of the foremost Stock Brokers in India has implemented the following goals with Tagamet: Goal:
Minimize human mistakes by automating the process.
Improve ROI by saving on the cost of employing an expert to do this job.
Save time by improving operation efficiency, thereby reducing man-hours.
Approach
They evaluated the extent of process-related human error and examined the time, money, and labor needed to run the process. Tagamet created a solution manually, taking into account the tasks' manual operation restrictions, and Tagamet was used to measure the difference in quality. Saving money and time. They have saved 80% of their time and 82% of their development costs since deploying Tagmate.
Conclusion: Is Tagmate Worth Buying in March 2023
Google Tag Manager and Conversion Tracking via Google Analytics are terms that not everyone is familiar with. In this situation, Tagamet excels. I enjoy Tagmate since it makes tracking simple and only requires a few clicks. The platform appears to be nicely designed and is frequently updated; it has great potential. If you're searching for a solution to automate your web tagging process, it's worth a look. I heartily recommend this application to anyone looking for a simple approach to categorizing the content of their website to increase the accuracy of the data and the effectiveness of marketing campaigns. I've looked everywhere for a more effective way to build GA4 event tags in Google Tag Manager. Every piece of software before this one was exclusively
The Review
Tagmate
Tagmate is a Tag Implementation and migration that makes automatic web tagging easier, more accurate, and more efficient. It saves time and reduces human errors. Tagmate is designed for web developers, marketers, product teams, lead specialists, e-commerce specialists, and bloggers.
PROS
Saves time in Setting up Tags
Prebuilt Templates for Quick Configurations
UA to GA4 Migration
Google Analytics 4 Implementation
Google Ads Marketing Pixels Setup
Saves Times and Allows Accuracy
Review Breakdown
Easy To Use

0%

Features

0%

Setup

0%

Scalability

0%

Value for Money

0%

Support

0%

Compatibility

0%

Integrations

0%

Brand Trust

0%
Tagmate DEALS
We collect information from many stores for best price available
Best Price
$99