If you're looking for a plugin that can help you automate your work and save time, you should definitely check out Bitskout. This software allows you to create workflows that are capable of doing a variety of tasks automatically. Bitskout has everything you need to get your work done faster and easier, from extracting information from files to writing data to your tools. Plus, it is available in various languages, so you can use it no matter what language you are working in.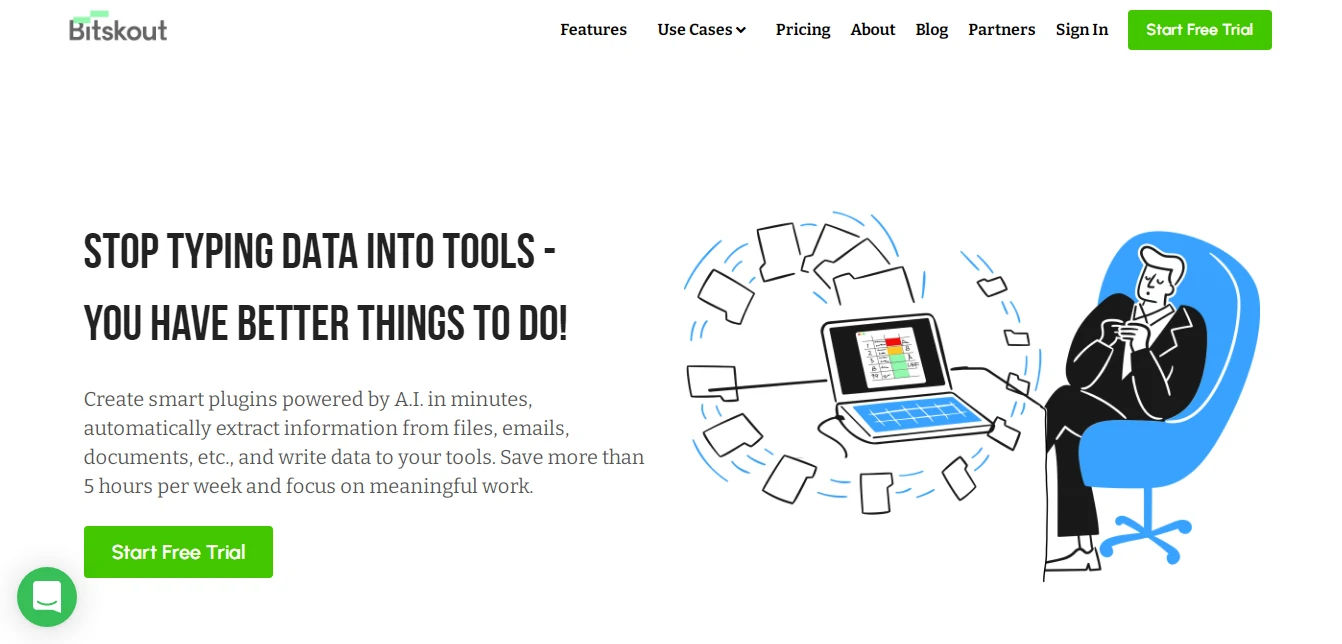 Bitskout lets you create intelligent plugins powered by A.I. in a matter of minutes, which can then be synchronized with your favorite tools. These plugins can automatically extract information from files, emails, documents, etc., and write data to your tools. This is an excellent tool if you want to automate tedious tasks or if you want to keep track of essential data more efficiently.
You can save hours of your time using Bitskout! It is an excellent tool for anyone who wants to avoid manual work and automate some repetitive tasks. The plugins in Bitskout are straightforward to set up, integrate, and use.
What is Bitskout?
Bitskout is more like an app that allows you to create scripts that can automate tasks when integrated with your tools. It supports various popular tools such as Asana, ClickUp, Monday.com, Zapier, Salesforce, and more. Whether you want to compare documents, extract data from documents, or want to do data entry from the documents, Bitskout can help you do that.
Bitskout is a sophisticated Artificial Intelligence (AI) solution that may boost productivity by removing manual data entering labor. Bitskout may be used to respond to emails and messages from your plugin without having to open each one separately. Its powerful artificial intelligence capacity can automatically repair faults; it is the most fantastic solution for a beginning firm.
Bitskout Features
Easy-to-Use Interface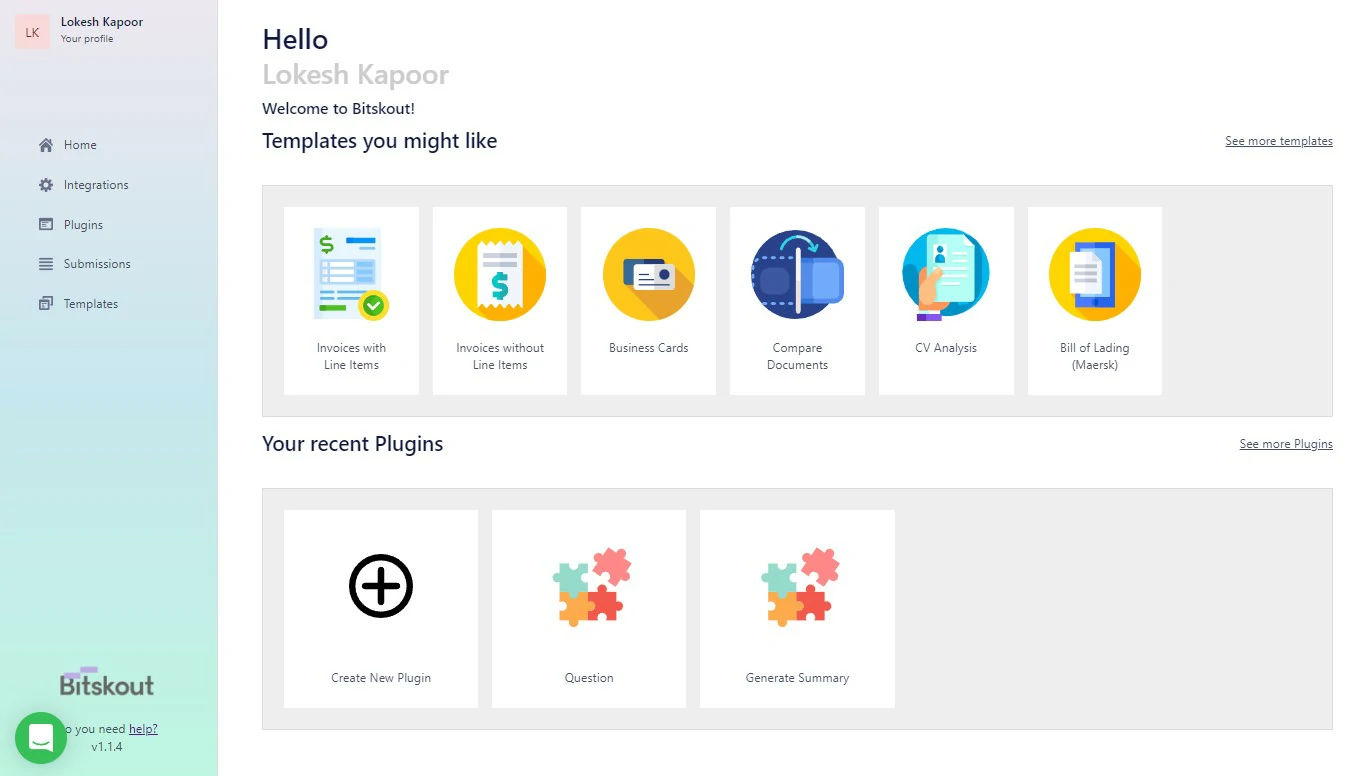 It is effortless to use Bitskout because of its simple and clean interface. You can access integration, plugins, submissions, and various templates from the sidebar. The app interface makes it very navigational. You can also navigate the chat box to connect with the support or browse valuable articles on the app.
Create Plugins that Understand Data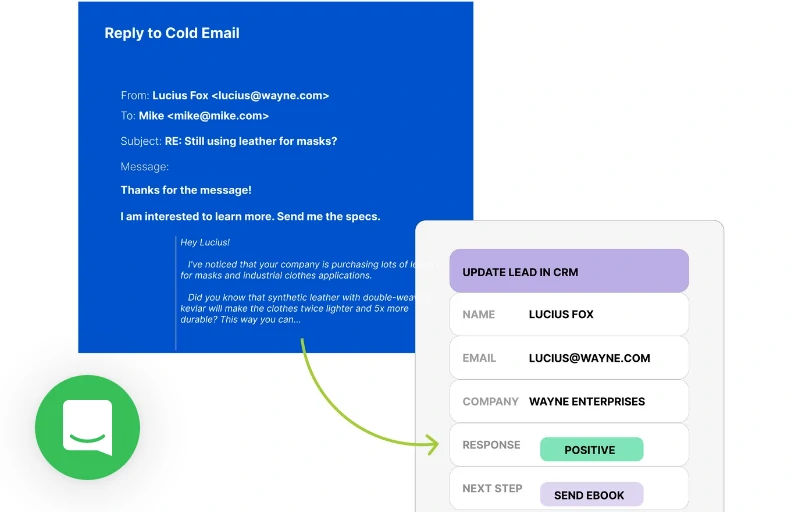 With Bitskout, you can create intelligent plugins that can read data from documents and take action. You can read, understand, extract and compare the data with the use of these AI-based Plugins. These plugins are the essence of this application.

Works with Popular Tools
Bitskout allows integration with some of the most popular tools out there, such as Asana, Monday.com, Zpaier, and Make(Integromat).
This tool works as a savior between your favorite tools and removes the pain of manually handling the tasks. Whether it is about reading emails, extracting data from documents, or understanding images, Bitskout does it like magic for you. As a result, it saves you a lot of time which can be utilized in other productive tasks.
No Tech Expertise Required

Creating the plugins is not a hectic process. Anyone can create the plugins in Bitskout without the knowledge of any technical skills. However, one may need to understand the basic functioning of these plugins and the tool with which the plugin has to be integrated. Plugins can be tested, mapped, and exported as well.
Well Documented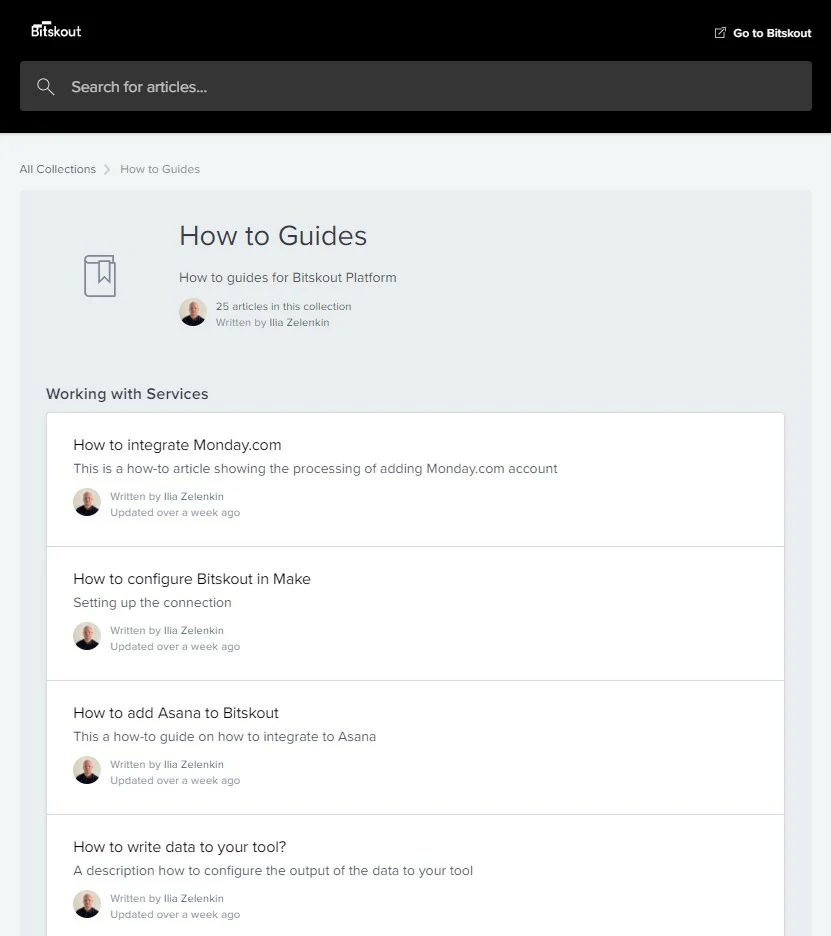 If you are new to Bitskout and don't know how to start or how to configure Bitskout with your services, then you don't have to worry much. Bitskout has very clean documentation (help.bitskout.com), where you can access all the guides and knowledge about this exciting tool. You don't even need to leave the tab, as you can access these documentation articles right in the application window under the live chat button.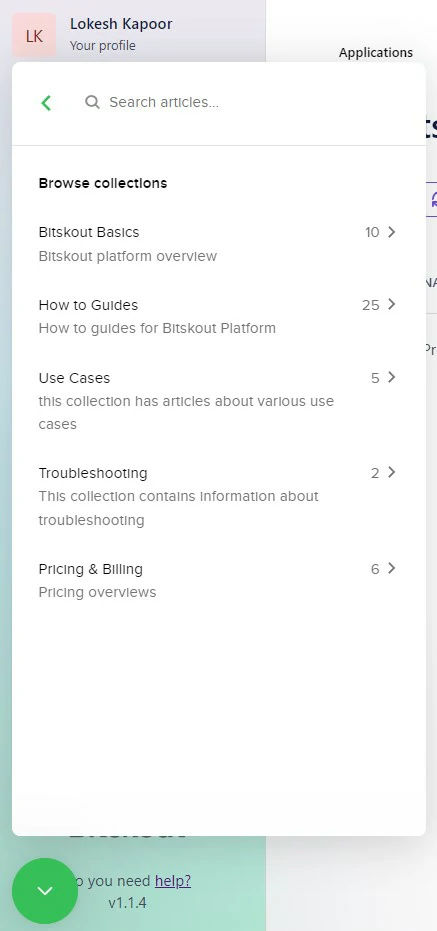 Bitskout Pricing
Bitskout has three pricing plans: Solo Plan, Team Plan, and Enterprise Plan. Bitskout also provides 14 data for trial for Free, which requires no credit card.
Team Plan: $199.00/ month
Enterprise Plan: Customizable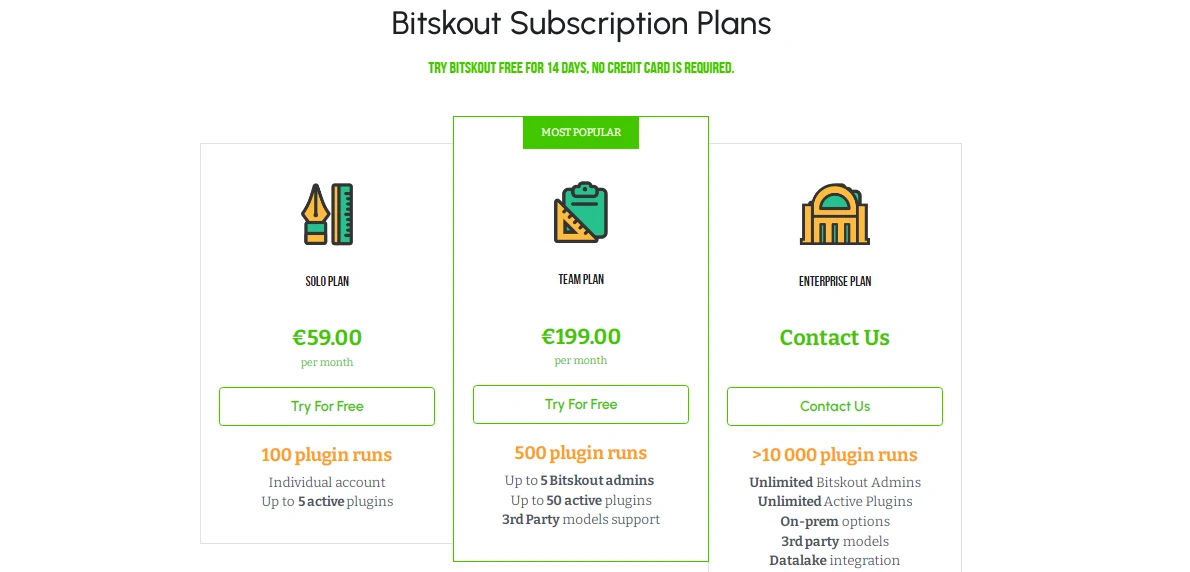 All the plans have their own uses and restrictions. For example, if you go with the Solo Plan you can have only 5 active plugins at a time. However, opting for a team plan allows you to have 5 admins and 50 active plugins with 3rd party models support. While an enterprise plan offers Unlimited admins, unlimited active plugins, 3rd party models, datalake integration and much more.
FAQs
How does Bitskout's ai power work?
Bitskout's ai power is based on natural language processing (NLP). It analyzes the content of your email and messages and provides automated responses accordingly. With its advanced ai power, Bitskout can automatically correct mistakes.
What is the best way to use Bitskout?
Bitskout is most effective when used to reply to emails and messages without having to open each one individually. Its advanced AI capability can help eliminate mistakes, making it an ideal tool for startup companies.
What kind of data can Bitskout handle?
Bitskout can handle various data, including email and messages from plugins. It can also automatically correct mistakes, making it an ideal choice for startup companies.
What are some of the advantages of using Bitskout?
Some advantages of using Bitskout include increased productivity by eliminating manual data entry work, the ability to reply to emails and messages without opening them individually, and the ability to automatically correct mistakes.
Bitskout Alternatives
Below are some of the alternatives to Bitskout that you can use with confidence:
Ocrolus
Ocrolus is a document automation software. It eliminates manual review and stare and compare work. It keeps the data protected and can be used in many cases to save hours of work. It is a reliable software that is being used by many popular brands.
Grepsr
Grepsr is a data acquisition software. It also offers workflow automation. Customers may save countless hours using Grepsr by automating previously laborious data extraction operations. With Grepsr, scraping web data becomes very easy.
Rossum
Rossum integrates your whole document processing activity into a single cloud-based service. From input to interfaces with your existing systems, Rossum was designed from the beginning as a cloud-based, open platform that is extendable. It confidently reads and captures a document's information despite changing layouts. Similar to a person, Rossum's data extraction engine can read and comprehend papers. This not only reduces the cost of creating or altering rulesets, but also enables the automation of documents that were previously considered to be impossible.
Zapier
Zapier is another cloud-based tool that allows users to connect different apps together to automate tasks or business processes. This includes connecting BitSkout with other applications such as Gmail, Google Drive, Quora, and Heroku (to name just a few). With Zapier, you can link hundreds of apps to build unique automated processes or Zaps.
Conclusion
The very first time you use Bitskout after launching it, your mind will get blown away. This software is so advanced that it can track every tiny detail of data. Whether a startup or an established business, this tool can save you hours of tedious work and help you stay more productive than ever! Forget about manual data entry and make your work even more time-saving with Bitskout! The tool can be used by almost everyone to automate their tasks. The best part is that you don't have to put in much effort or spend hours learning how it works.
Just create an account, make plugins, automate your workflow and start saving hours of your time. You will be amazed at how quickly the smart plugins do its job.
Nowadays, many startups are relying on A.I.-powered tools for faster productivity. So, why not to try it out?
The Review
Bitskout
Bitskout is an excellent software for automating manual work and saving hours of work extracting data and comparing documents. It is reliable and can be used as an integration to your favorite tools, including Asana, Monday.com, Zapier, Make or many more. Take a break from manual data entry and use AI to automate the tasks to save precious time, cost and energy!!
PROS
Easy to Use Templates
Integration with Many Popular Tools
Capability to Understand and Extract Data & Documents
Saves Precious Hours
Automates Tedious Work
Saves your Team from Manual labour
Can do the manual entry
Compare Documents for Errors
No technical skill is required
Can Extract Information from the Emails
Can Automatically Process Invoices & Expenses
It can extract Data from the CV
CONS
Requires little knowledge about the tools
Not much useful for very short teams where Data is less
Review Breakdown
Easy to Use

0%

Features

0%

Value for Money

0%

Integrations

0%

Compatibility

0%

Support

0%

Brand Trust

0%

Documentation

0%