An Email is one of the oldest and best ways of communication in the workplace, but crafting a message for professional purposes is quite a stressful experience. Email writing is one thing that needs to be done with utmost care.
Writing a good-quality email has a certain technique to it. Choosing the correct structure and word is only part of the things you must consider while generating an email. To serve this purpose, there is plenty of email writing tools. It is, however, very important to choose the right one.
Whether you are sending an email with an intention to get more information across teams, lock in some lucrative business deal, or make a request. A well-written email can greatly help you to achieve your objective.
Email marketing
Email marketing also requires sending attention-seeking promotional messages in bulk quantities to the targeted audience. The primary objective is to generate leads or sales and may also contain your brand advertising.
Marketing through email is considered a segment of internet marketing. This encompasses online marketing via social media, websites, blogs, and more.
Email marketing seeks to share a general message on behalf of the company, such as an advisory for fraudulent activities or an awareness message. It also includes newsletters with updates on the company and promotions of sales, along with exclusive deals for the subscribers.
When a company sends out an email to its prospects, other than direct responses and order confirmations to customer queries. It is a form of email marketing.
Successful email marketing depends upon the tone and level of personalization that can be achieved in each mail you send. And for that, you need the best tools for writing creative emails.
Email is a very basic method of communication in the workplace, but writing a professional-looking email is quite time-consuming and stressful. An AI writing software makes this job easier and faster.
When trying to save time while writing an optimized SEO blog post or making huge volumes of social media posts. Then an AI writing tool is the perfect solution for you.
AI writing tool is a groundbreaking technology that produces content for you in any genre and from any perspective. With the emergence of natural language processing, GPT-3 has opened an entirely new world of software that makes the lives of authors, writers, content creators, journalists, and SEOs much easier.
An AI content tool is affordable, accessible, and pretty accurate.
AI writing tools create human-like content. And it is especially important for writers and content marketing specialists who are trying to cut down their workload.
The use cases of AI writing tools varied from short-form Facebook Ads, Google Ads, and subject lines to longer-form blog posts, email copy, and even novels.
An AI writing tool is sophisticated enough to take on the voice of the target demographic and generate content for you in half the time.
However, the AI writing software isn't perfect. Most of these tools need some amount of human editing to nail the tone and produce completely accurate information.
Best AI Writing Tools for Emails December 2022
Fortunately, many emails writing software make it easier for you to draft and send an effective email. Some of them are discussed below.
Surfer SEO
Rytr
Scalenut
Jasper
Writerzen
Wordhero
Anyword
Writesonic
Marketmuse
Outranking
Clearscope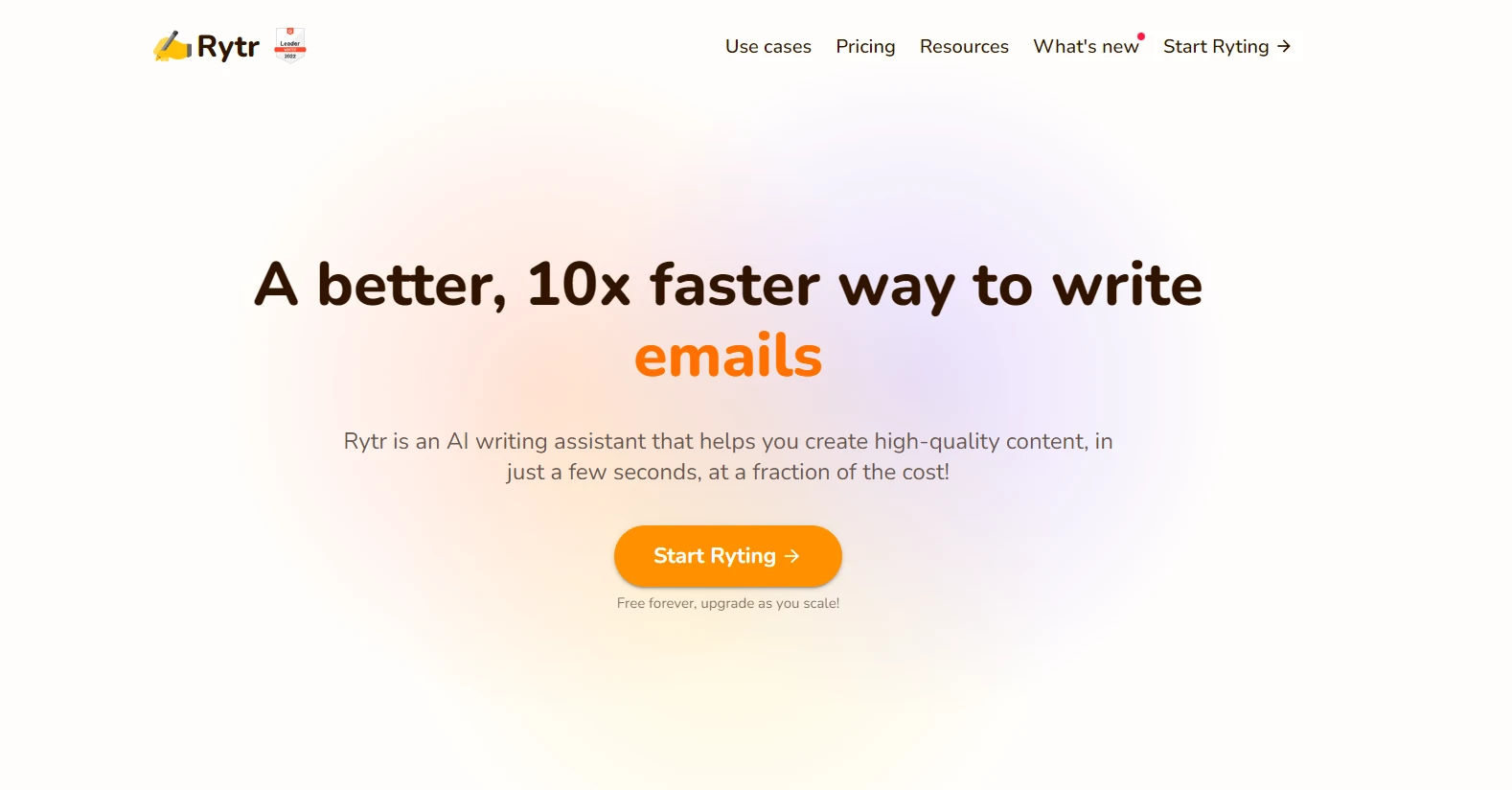 Rytr is one of the best tools when it comes to creating a copy. It uses the power of artificial intelligence to create unique copy for several use cases, including brand names, business pitch ideas, email, Twitter, Facebook, calls to action, LinkedIn ads, meta descriptions, product descriptions, and more.
Rytr is a straightforward tool that creates a unique copy in a few seconds. It has 30+ languages and 18+ tones for you to select from.
Below is an example of Email content that Rytr can generate for you. Just choose, the language, tone, use case, provide some key points, set the creativity level and your email is ready.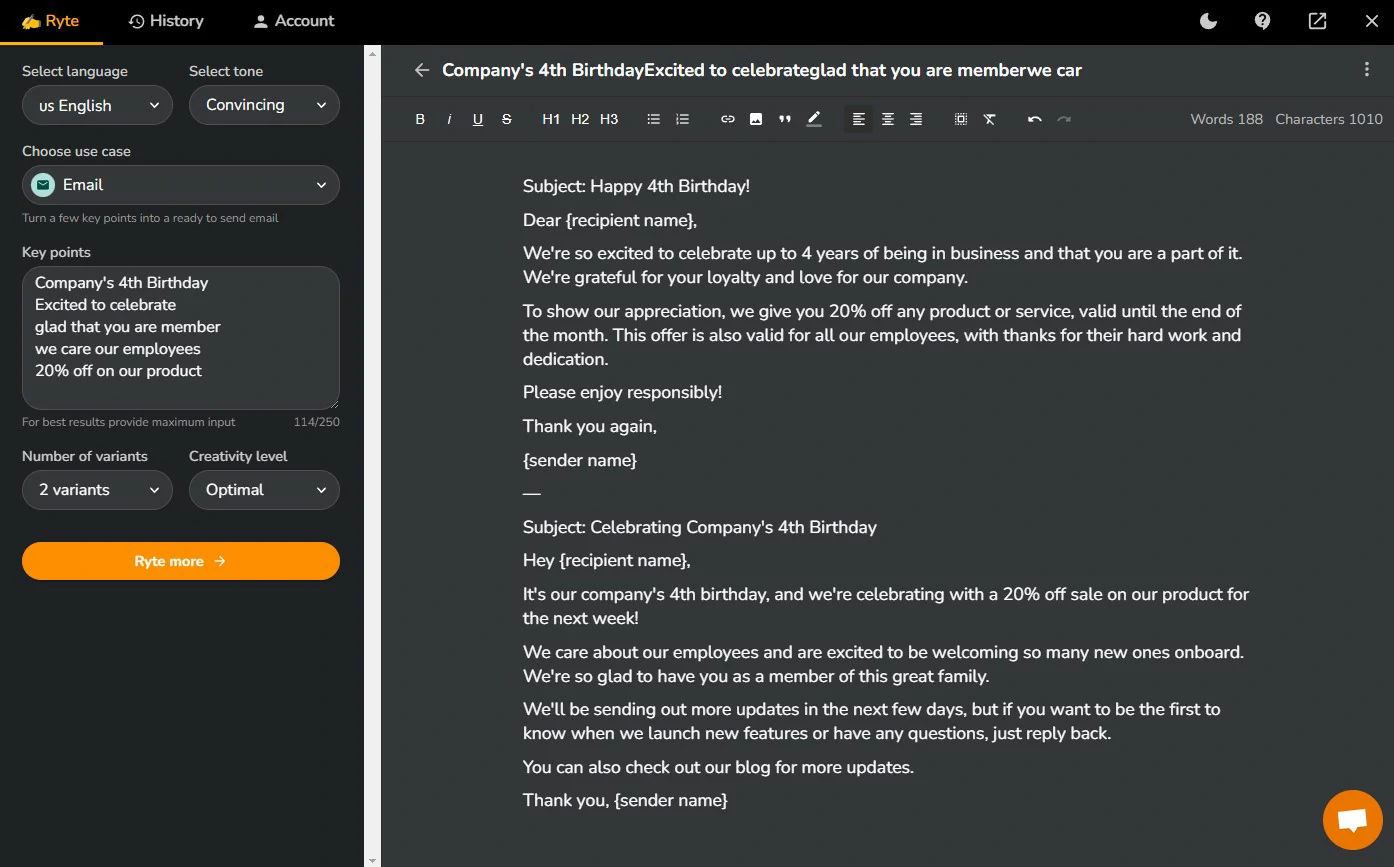 Features of Rytr
Content Management System
Mobile Search Tracking
Keyword Research Tools
Competitor Analysis
User Management
Keyword Tracking
Keyword Search
Rank Tracking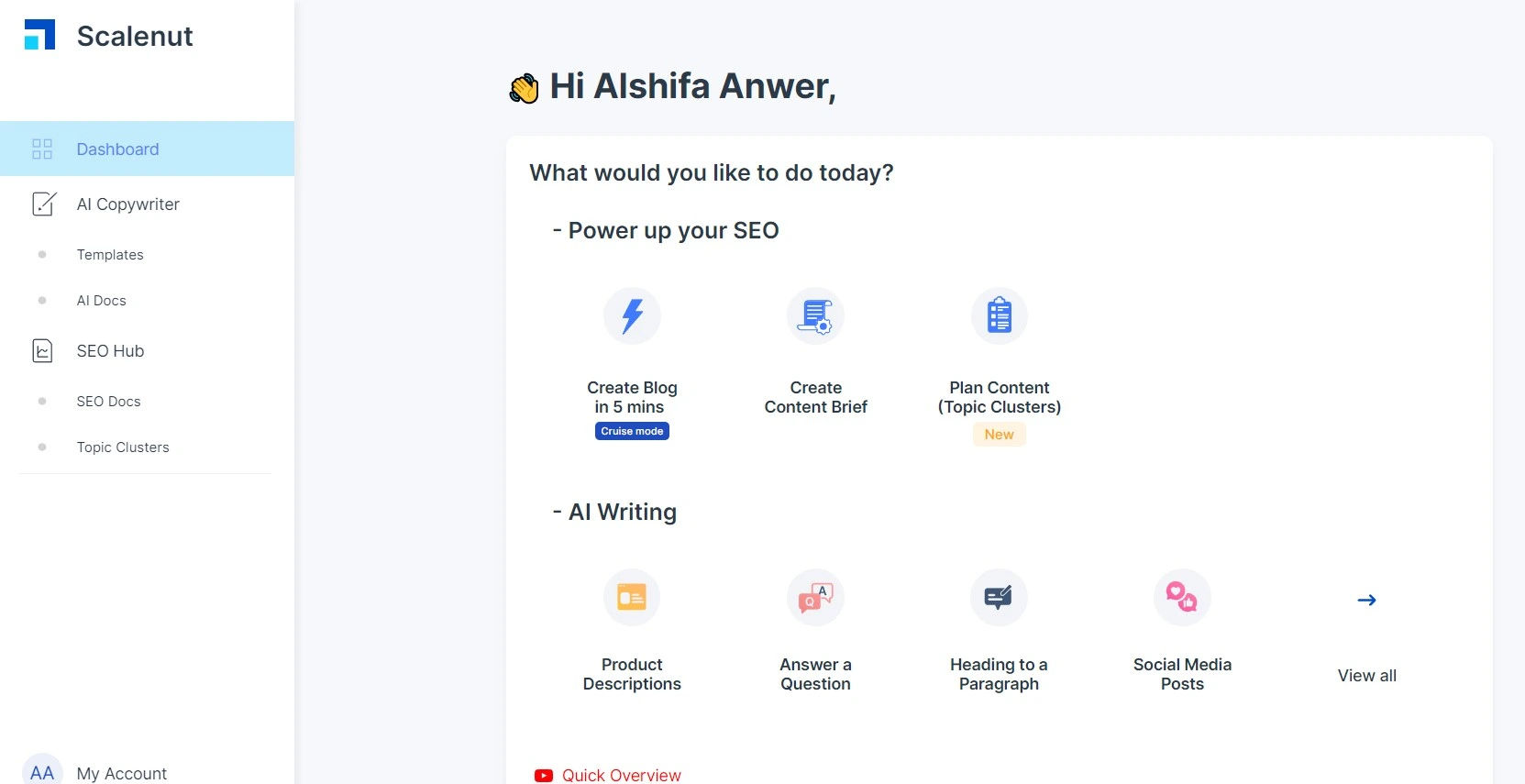 Scalenut is one of the best copywriting tools in the market today. It is powered by artificial intelligence and creates amazing human-like contents. It is a writing tool for original, high-ranking, short-and-long form content.
Scalenut helps you to grow your business by creating amazing content for your website. This helps you to achieve your business's targets in a very short period.
Scalenut provides features that make your dream of ranking on search engines come true very soon. It gives you an accessible and simple path to bring out the content.
Scalenut has various short content templates that can help you to write emails. You can also use Scalenut's Google Chrome Extension to write AI-based emails directly inside your email application while you compose.
Features of Scalenut
Backlink Monitoring
Competitive Analysis
Collaboration Tools
Activity Tracking
Automated Text Generation
Assisted Content Creation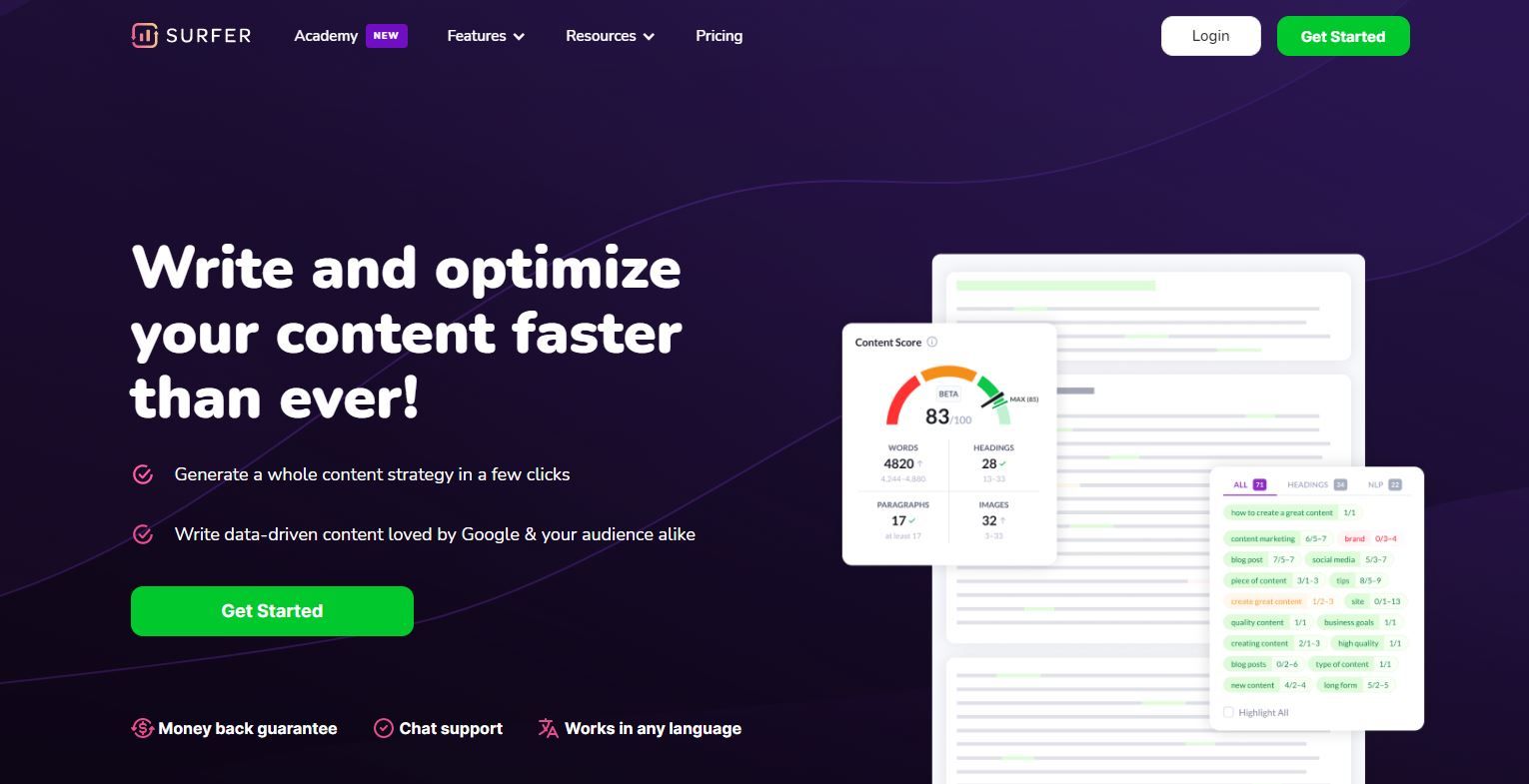 Surfer SEO is an amazing tool that helps SEO optimize written content, like articles and blog posts. It offers to find exactly what you require to change to your page to make it rank higher for your target keywords.
Surfer SEO has a user-friendly interface. The tool offers you a data-driven analysis of anything that's missing from your page. It lets you generate the entire content strategy with many relevant topics and keywords in a few minutes.
Features of Surfer SEO
Content Editor
Grow Flow
Keyword Research
Content Planner
SEO Audit
SERP Analyzer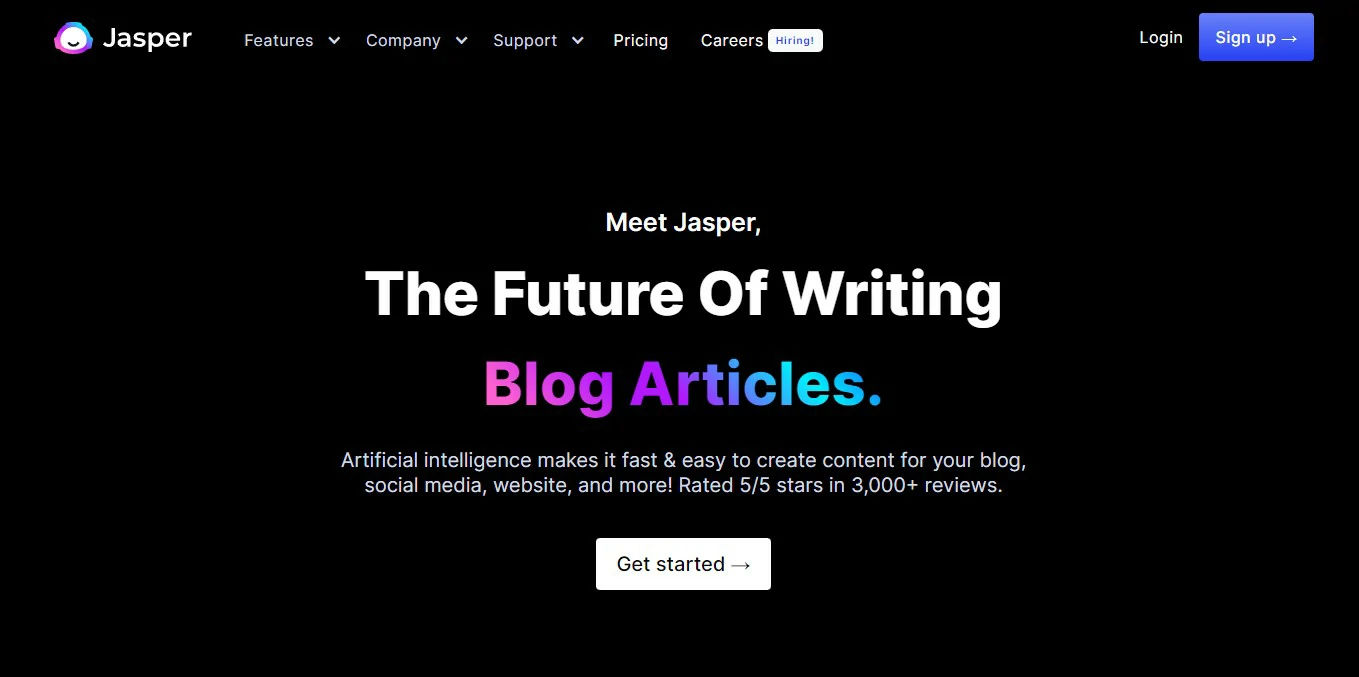 Jasper is a quite new tool in the market. It includes several amazing short-form features, including blog post ideas, Google Ads, Facebook Ads, product descriptions, LinkedIn Ads, and a long-form content assistant that helps you write great blog posts.
Some things that make Jasper stand out are its- outstanding suite of templates, huge Facebook community for support, a lot of help videos to get started, and works across 20+ languages.
Features of Jasper
Generate stories, blog posts, etc.
Create 100% original content.
Provides long-form assistance to create longer articles
Write emails including subject line
Create scripts for videos
Create social media posts
Improve the existing content with Content Improver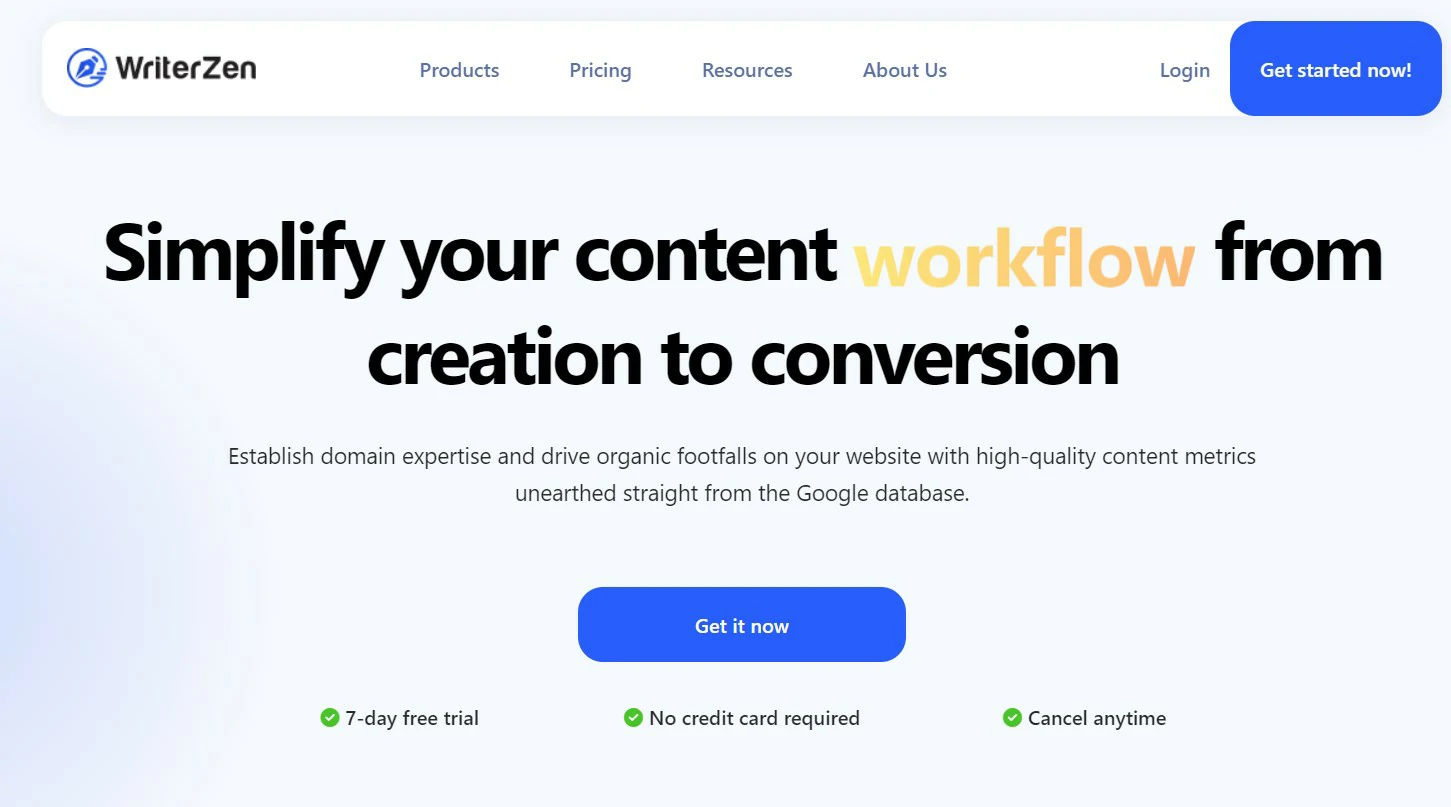 WriterZen is an AI powered cheap SEO and Content Writing tool. It helps you with keyword research as well as content creation. The tool is relatively new in the market as it was launched in 2018. This feature-rich software lets you generate content that can rank higher on search engines.
WriterZen also provides you with a free trial for 7-days. During this period, you can freely use the software and decide if it is what you need. The best part is you don't need to provide any credit card details to get this free trial. Writerzen offers you everything to write the perfect email copies as it comes with AI assistant addon which understands what you need.
Features of WriterZen
Keyword Rank Tracking
Backlink Monitoring
Collaboration Tools
Topic Discovery
Keyword Data
All in title
Content Creator
Plagiarism Checker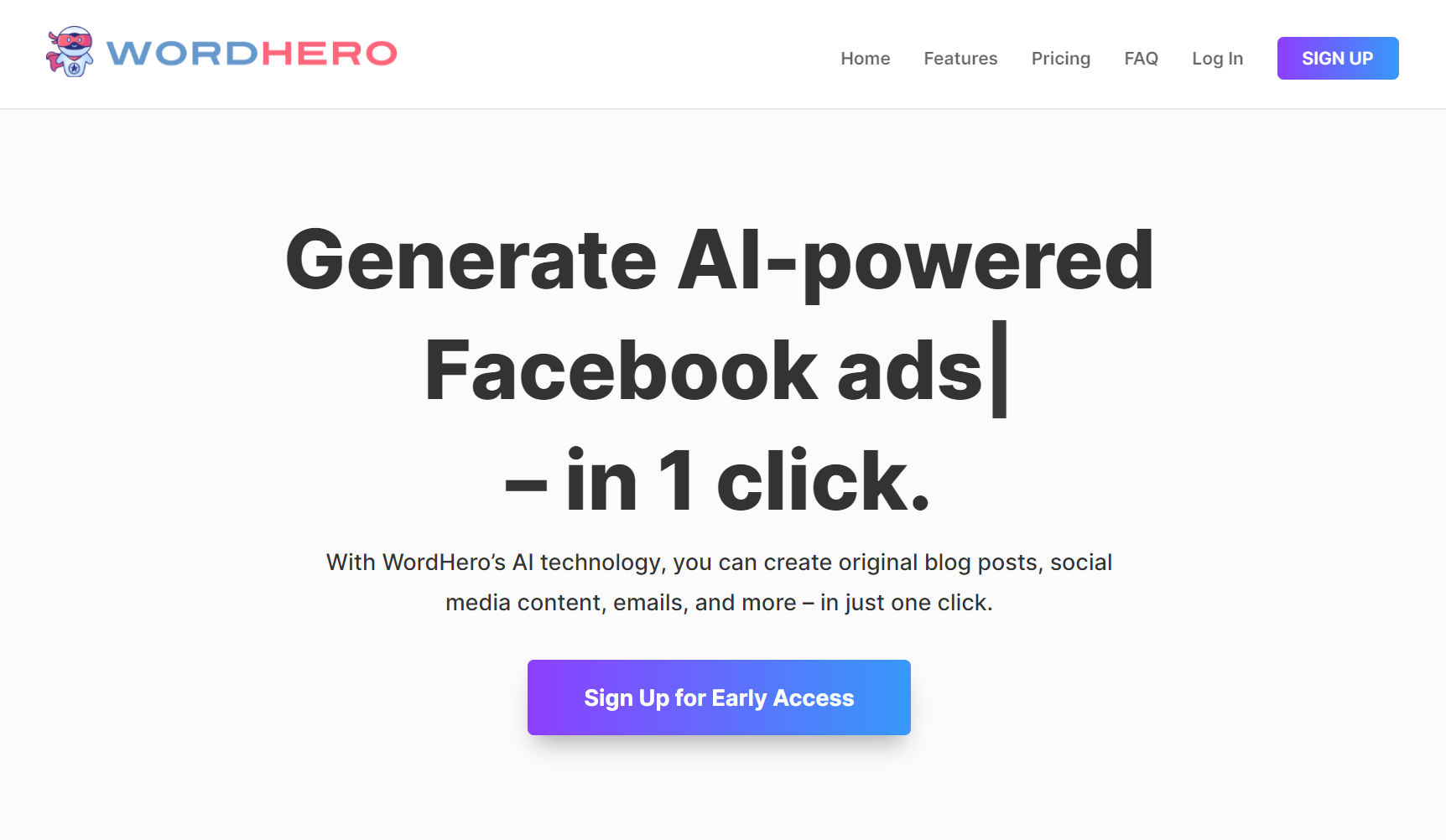 WordHero is a popular AI writing tool that helps you to write good-quality articles. It shows many tools for branding and labeling. And it is no doubt a fiendishly smart guide for crafting the lines.
WordHero offers over 40+ writing tools, with new ones added every week. It is an amazing AI-powered writing tool that saves hours and hours of your writing time. And saves a lot of the money you would have spent on hiring a writer.
It works best for copywriters, article writers, marketers, social media managers, business owners, and entrepreneurs. Wordhero has a template for cold emails, email subject lines, generic emails, or welcome emails. You can also use Bullet Points expander to write emails.
Features of WordHero
Sales Copywriting
Ideas, Lists, and More
Blog Content
Marketing Content
Toolbox
Automatic editing and proofreading
Anyword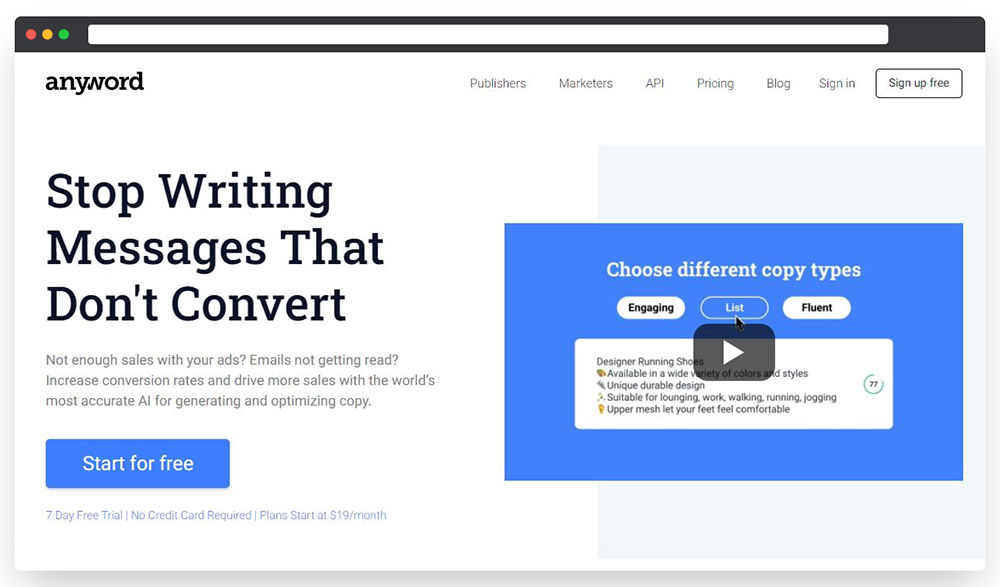 Anyword is an advanced artificial intelligence language platform. It assists businesses in creating unique keyword that in turn, represents the features of their products.
Anyword creates many text variations at scale, allowing you to get the work done faster. It speeds up the entire workflow.
Some things that make Anyword stand out are stellar support, affordable pricing, and a 7-day free trial. It makes use of the AIDA and PAS Framework, and it is the best platform for creating CTAs.
It is designed for organizations and marketers using artificial intelligence's power for copywriting. Anyword aims to develop a marketing language that can entice people to convert.
Anyword is used by B2C marketing teams, organic social media teams, and agencies.
Features of Anyword
Original text suggestions
Present keyword library
Predictive performance score
Text personalization
Ad account integration
Custom keywords
Writesonic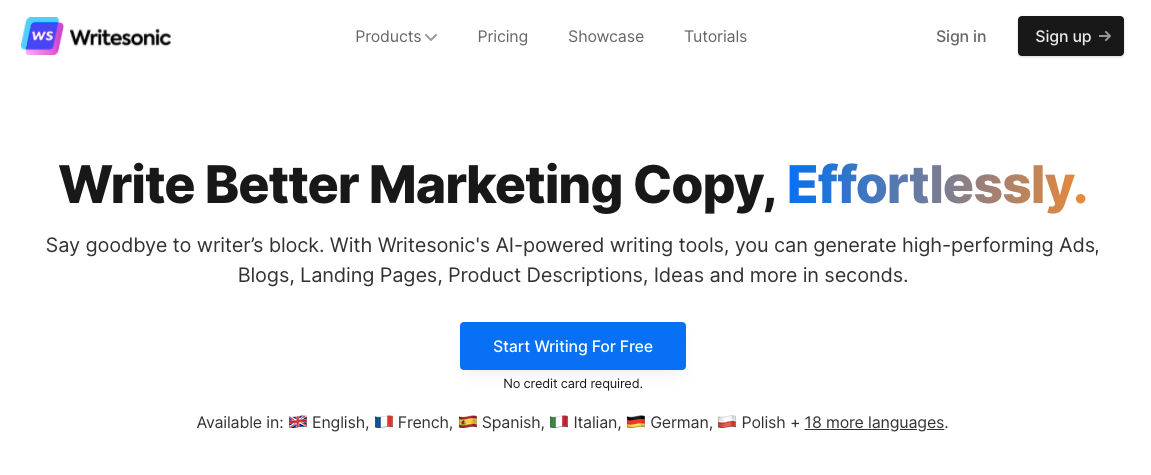 Writesonic is an AI-based software that can write good-quality articles in just a fraction of a few seconds. The AI of the tool can generate amazing blog posts, Google ads, emails, landing pages, Facebook ads, product descriptions, and more.
Some of the qualities of Writesonic make it stand out in the market. Its website copy: headers feature benefits the landing pages. It is a little comprehensive and feature-rich.
Features of Writesonic
Grammar Check
Rich Text Editor
Automated Text Generation
Long-Form Content
Content ideas
Multi-Language
Automated Text Generation
MarketMuse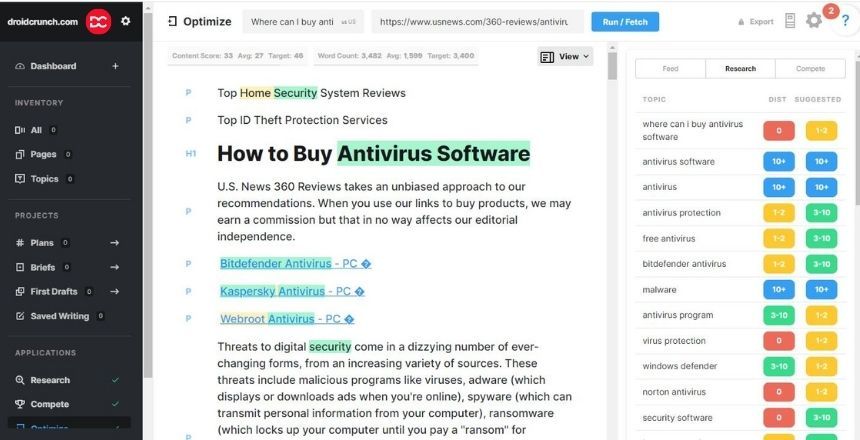 MarketMuse is software that helps you create high-quality content. It generates highly comprehensive and authoritative content that is completely optimized for search engines.
The tool covers every aspect from topic research, including relevant keywords, competitor analysis, content creation, FAQ generation, and external and internal linking of articles.
MarketMuse has many powerful applications that are designed to assist you in each of the steps of content creation and optimization.
It helps you with researching the content for your articles, optimizing these contents as best the best SEO practices, comparing those articles with some top competitors and then suggesting improvements, listing those questions that users often ask, and providing you with internal and external linking suggestions as well.
MarketMuse provides a forever-free plan that gives you access to all its applications. This is one thing about the tool that makes it stand out from the rest.
Features of MarketMuse
SEO Management
Data Visualization
Campaign Management
Content Management
Outranking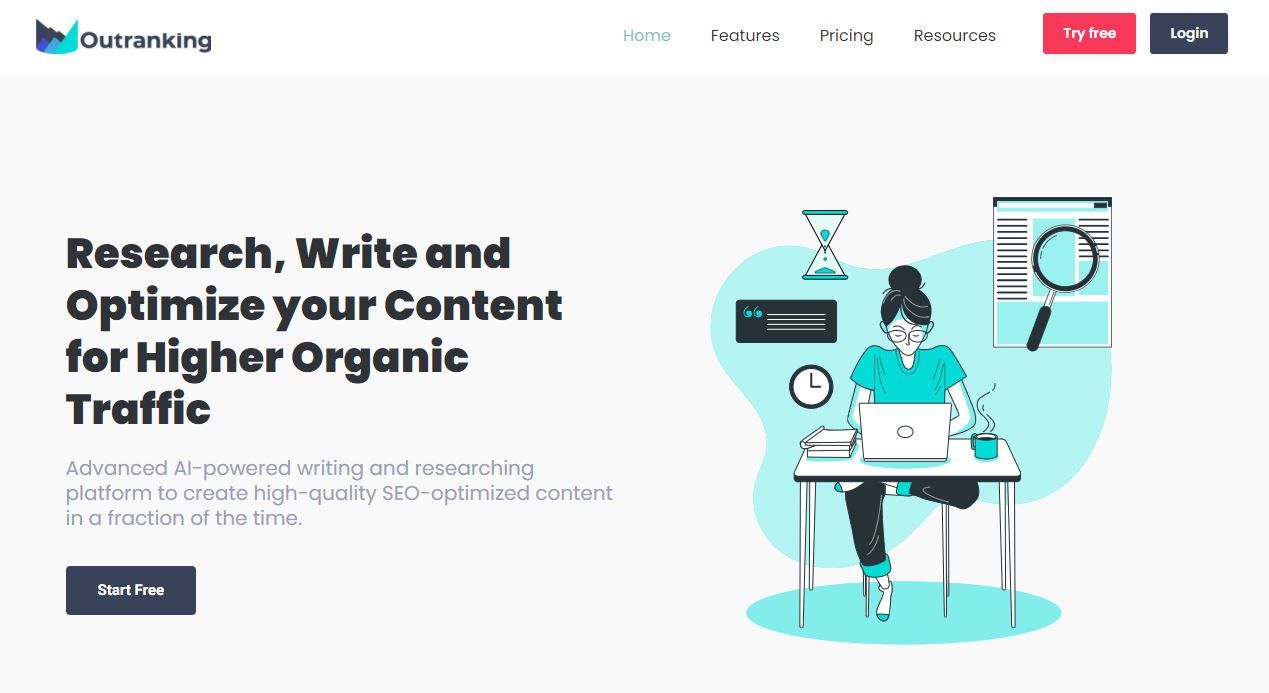 Outranking uses artificial intelligence to help you outrank the other competitors by focusing on the on-page SEO as well as the content quality.
Using Outranking, you can research your topics and quickly create high-quality content by leveraging the software tools.
Outranking is a tool that has a team who constantly adds innovative features that makes it easier for you to write and optimize the content.
It is a great fit for solo content writers and teams specializing in creating long-form SEO content.
Features of Outranking
Optimize existing pages
GPT-3 powered AI
Integration capabilities
Team collaboration
Customer support
Clearscope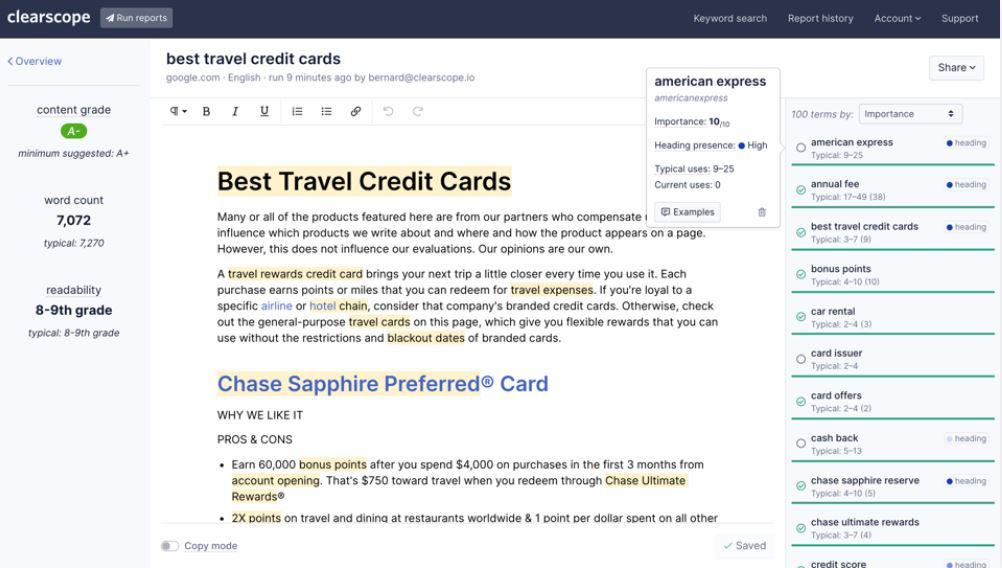 Clearscope is an AI-powered keyword research content optimization tool. It offers a solid balance of affordability and resources that medium to huge growing companies appreciates.
It is a tool that improves your content quality and helps you to write content that will rank better.
Clearscope saves your time on keyword research, helps you with content ideation, makes the process of SEO writing easier, and is very easy to use.
Features of Clearscope
Topic and keyword research
Content optimization
Integrations
Over to you: Best Email Writing Software
The rise of writing tools based on Artificial Intelligence has made it possible for anyone with an internet connection and a word processor to easily produce their AI-generated content.
An AI-powered email writing software creates a high-quality email. Some of them are discussed above👆. They all have their weaknesses and strengths.
If you are looking for an affordable solution, Rytr gives you some great functionality at a cheaper rate. Whereas Jasper is a powerful long-form content creation tool that helps you to optimize the articles for SEO.
Some of the AI email writing tools even improve your email writing skills. However, it's completely your call to choose any one of them. And once you start using an email writing tool, it will help you to generate any message that shines efficiently.
In general, AI writing tools are huge. At this point, nearly every agency, business, and entrepreneur uses some or the other form of AI content.