Native Advertising has great potential and can give dramatic results when done using a reliable and effective native ad network. Let's first understand what native advertising is before talking about its significance and advantages.
Native Advertising is a kind of advertising where the ads don't affect the overall look and feel of the web page. They take up the space in such a way that the reader sometimes considers it an editorial post or content native to the publisher's overall posts. Examples of such ads are: Twitter Promoted Ads, Quora Promoted Ads, In-feed Ads, or Recommended Content Ads.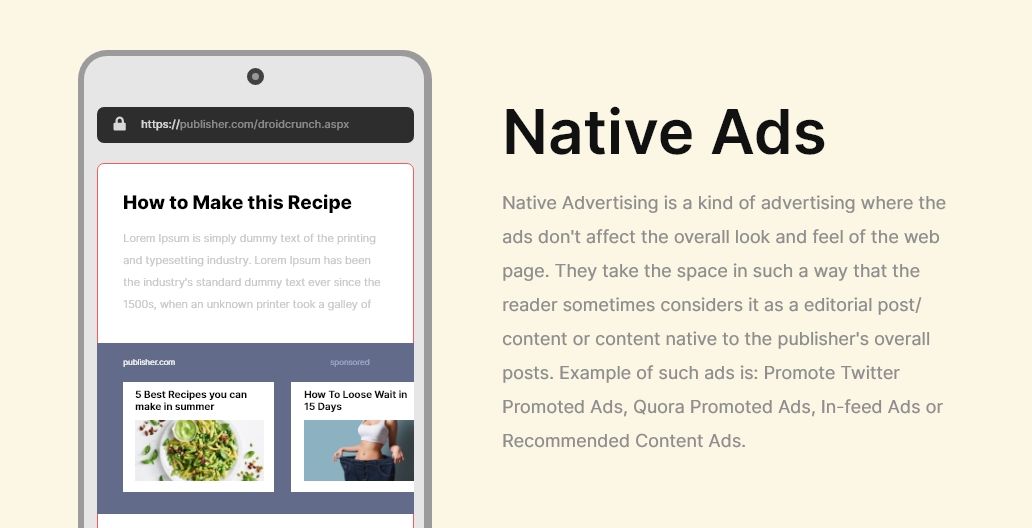 A native advertisement doesn't look like an advertisement. Instead, it appears to be a seamless component of the user's site content.
While native advertisements produce over 86% of the total impressions, 71% of users reported that they directly identify with a brand only after viewing its native ads, compared to 50% with display advertisements.
In the coming years, it is anticipated that Native advertising will have a considerable market share.
Here are some key benefits of Native Advertising in short:
Seamless Integration: Native ads fit in naturally with the content of the site, so they don't bother users.
Higher Engagement: Because native ads don't get in the way, users are more likely to connect with them.
Improved Credibility: Since native ads fit the content around them, users are more likely to trust and believe them.
Increased Relevance: Content that is tailored to the public connects with them better, which leads to higher click-through rates.
Less "Ad Fatigue": Native ads make it less likely that users will ignore standard ads or become immune to them.
Effective on Mobile: Native formats fit well to the screens of different devices, so the experience stays the same.
Contextual Targeting: Native ads can be put in just the right place to reach certain groups and niches.
Name Awareness: Putting a name in a strategic place within relevant content makes it more visible and well-known.
Choosing the perfect native ad network for publishers to monetize their traffic can be confusing, as there are many types of native ad networks available on the market. To ease your quest, we have listed some of the best native ad networks below.
Top Native Ad Networks for Publishers in 2023
Outbrain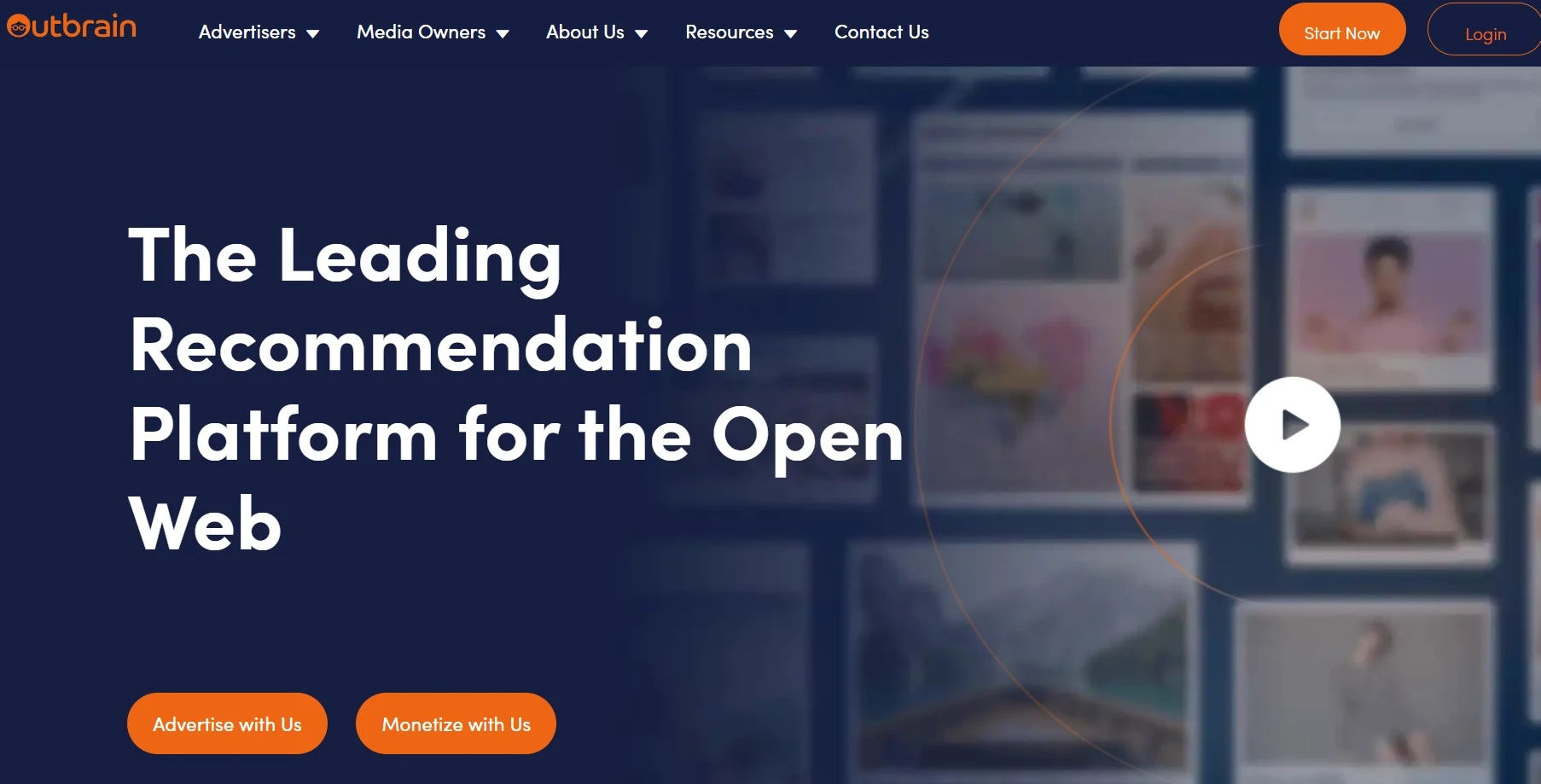 Outbrain is one of the best leading native ad networks used widely by some top publishers like The Guardian and BBC. The platform allows the publishers to access the top DSPs through the programmatic native advertisement demand.
The eligibility standard of this native ad platform asks you to have the least traffic of over 10 million pages.
Features of Outbrain
You can choose between CPM and CPC pricing models, with the least pay being 0.
Using Outbrain, you can visit in-feed and in-article native advertising for both displays as well as video advertisements.
Taboola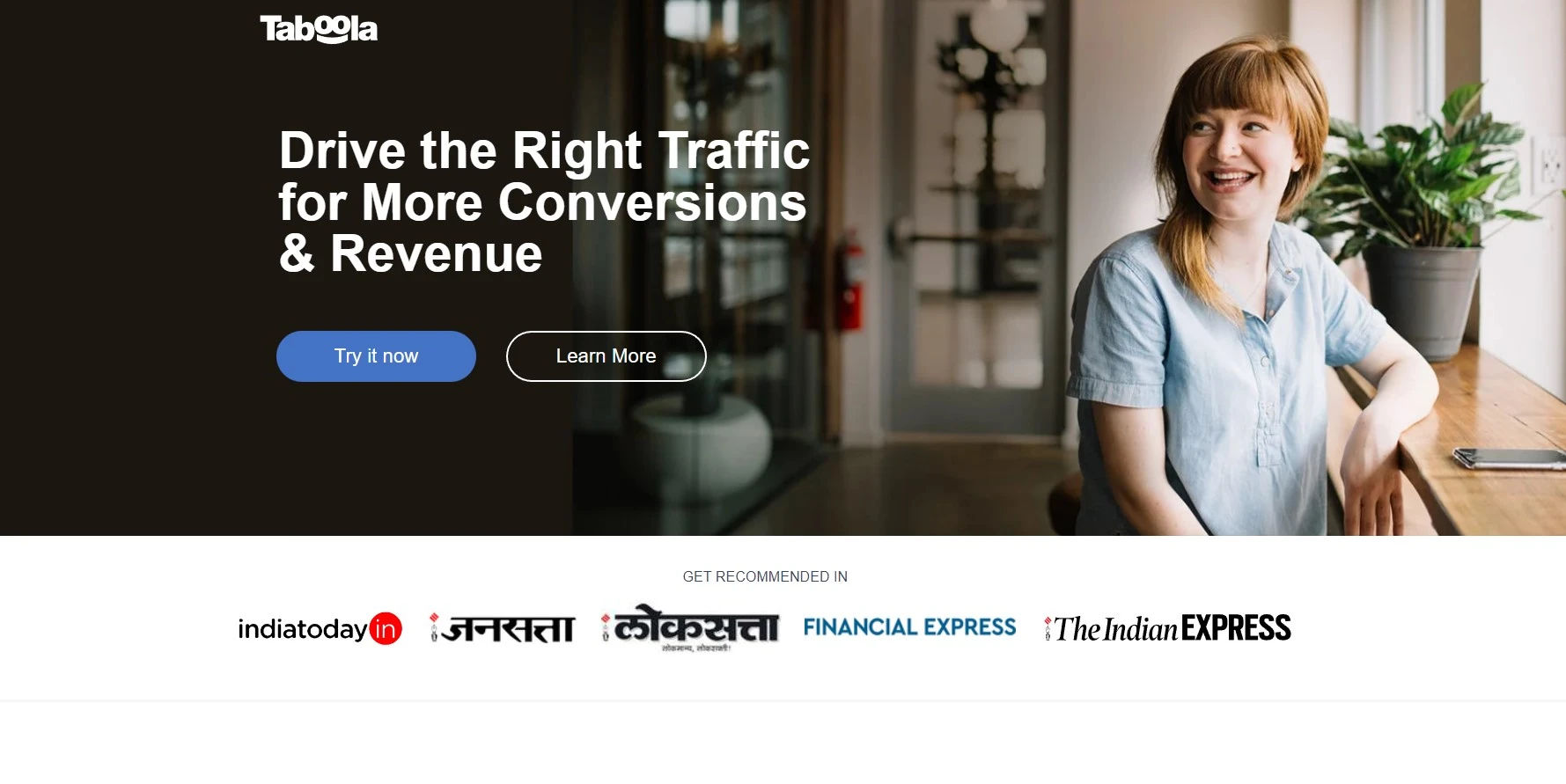 Next to Outbrain comes Taboola on the list. If you are looking for a simple and reliable native ad network, Taboola is a perfect choice. It is an excellent pick for bringing in significant traffic and page views. The platform is used by USA Today, The Huffington Post, and some of the other top publishers.
The eligibility standard for using this platform requires more than 1 million page views of traffic.
Features of Taboola
The only pricing model available for Taboola is CPC, with a maximum RPM and CPM rate being $2.00
Using Taboola, marketers can use advanced modern advertising technologies such as geo-targeting to place their native advertising.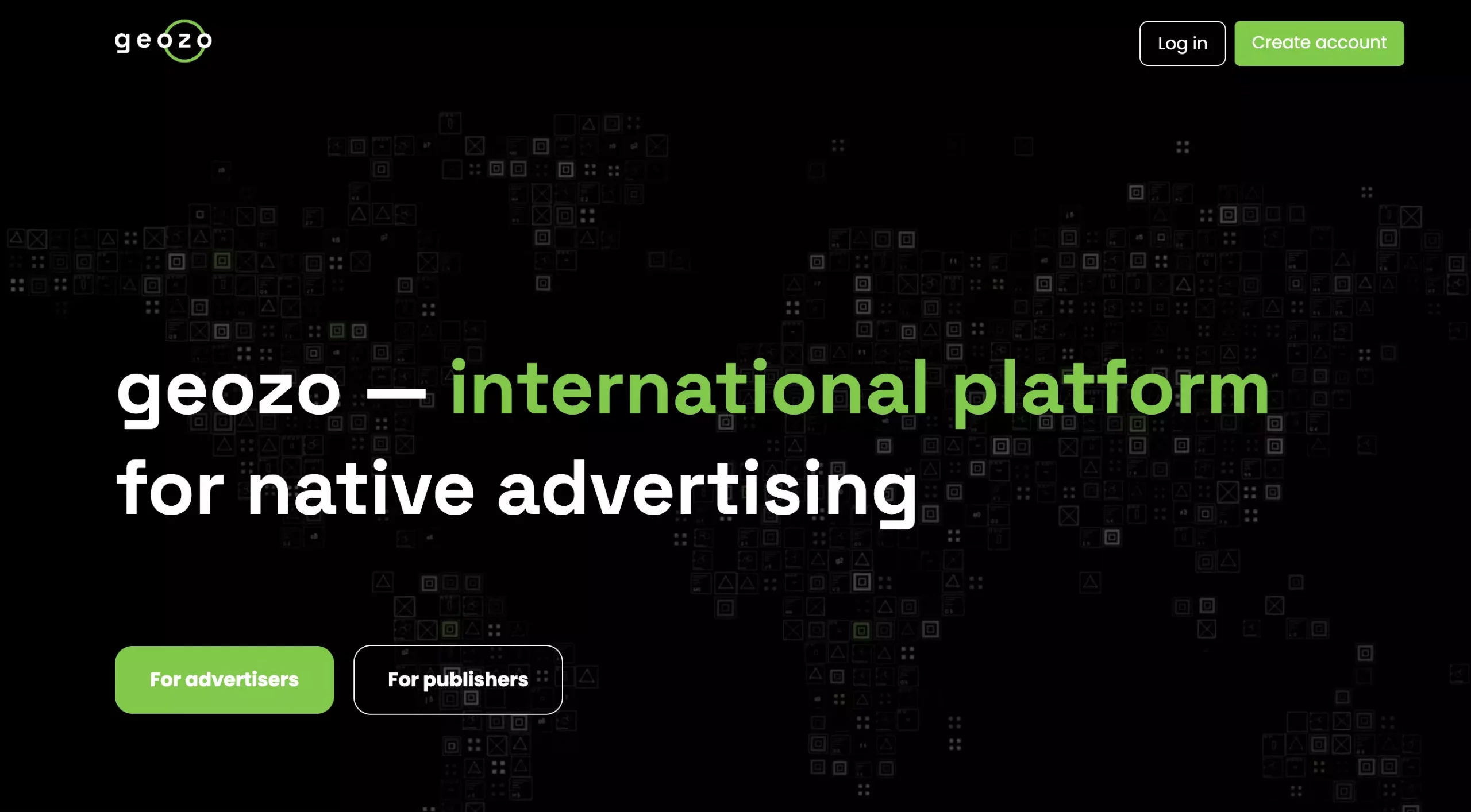 Geozo is a fast-growing international native advertising platform known for individual approach and high-quality traffic. Geozo works only with trusted advertisers and publishers to ensure the best and safest experience for every partner.
At the same time, the website traffic volume requirements are not as strict as on other native platforms. Company gladly cooperates with smaller websites if they can ensure quality traffic.
As the company recently went public, advertisers have a distinctive chance to test fresh traffic at affordable prices, benefiting from a less intense bidding competition. Publishers are also encouraged to negotiate individual conditions.
Features of Geozo
The pricing model is CPC (Cost-per-click);
Expert support and 24/7 moderation;
Comprehensive real-time statistics and optimization tools;
Flexible targeting by geos, devices, time, category and ad units;
Black and White lists for campaign optimisation and scaling.
AdYouLike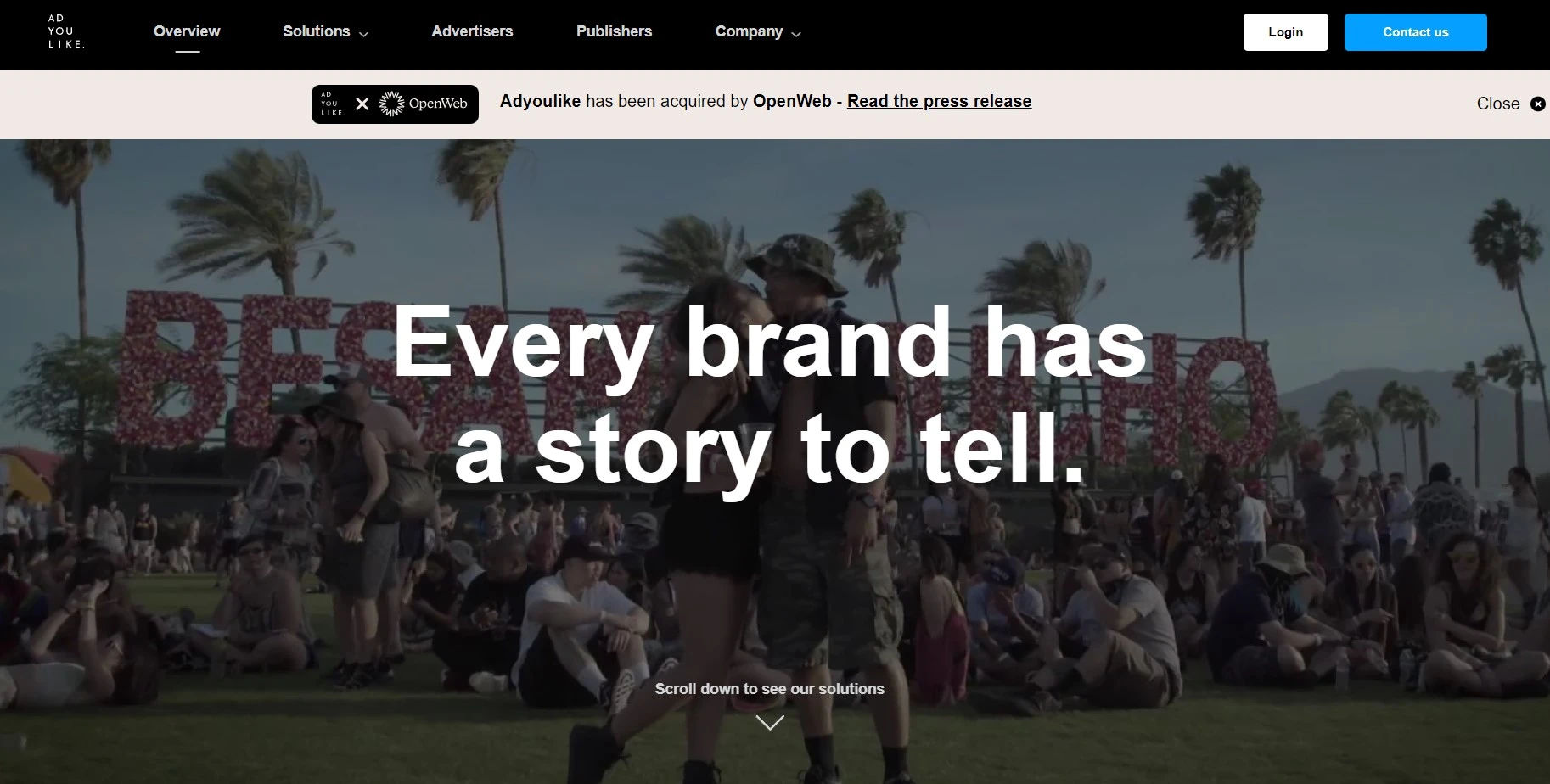 AdYouLike is a European connoisseur of native advertising; it welcomes over 50 billion impressions every single month. Operating worldwide, the platform brings to you accessibility to up to 50 DSPs, limitless integration, and excellent alternatives to monetization.
The software lets you reach and achieve your business goals via advertising and supporting your story. Many reasons will make you like AdYouLike; some of them are- extreme transparency, real-time statistics, maximum value per impression, and more.
Features of AdYouLike
Access inventory from specific themed websites and known publishers from all across the world
SaaS or Programmatic platform
Component-based native video advertisements that will match the design and layout of each site, promoting maximum engagement
Revcontent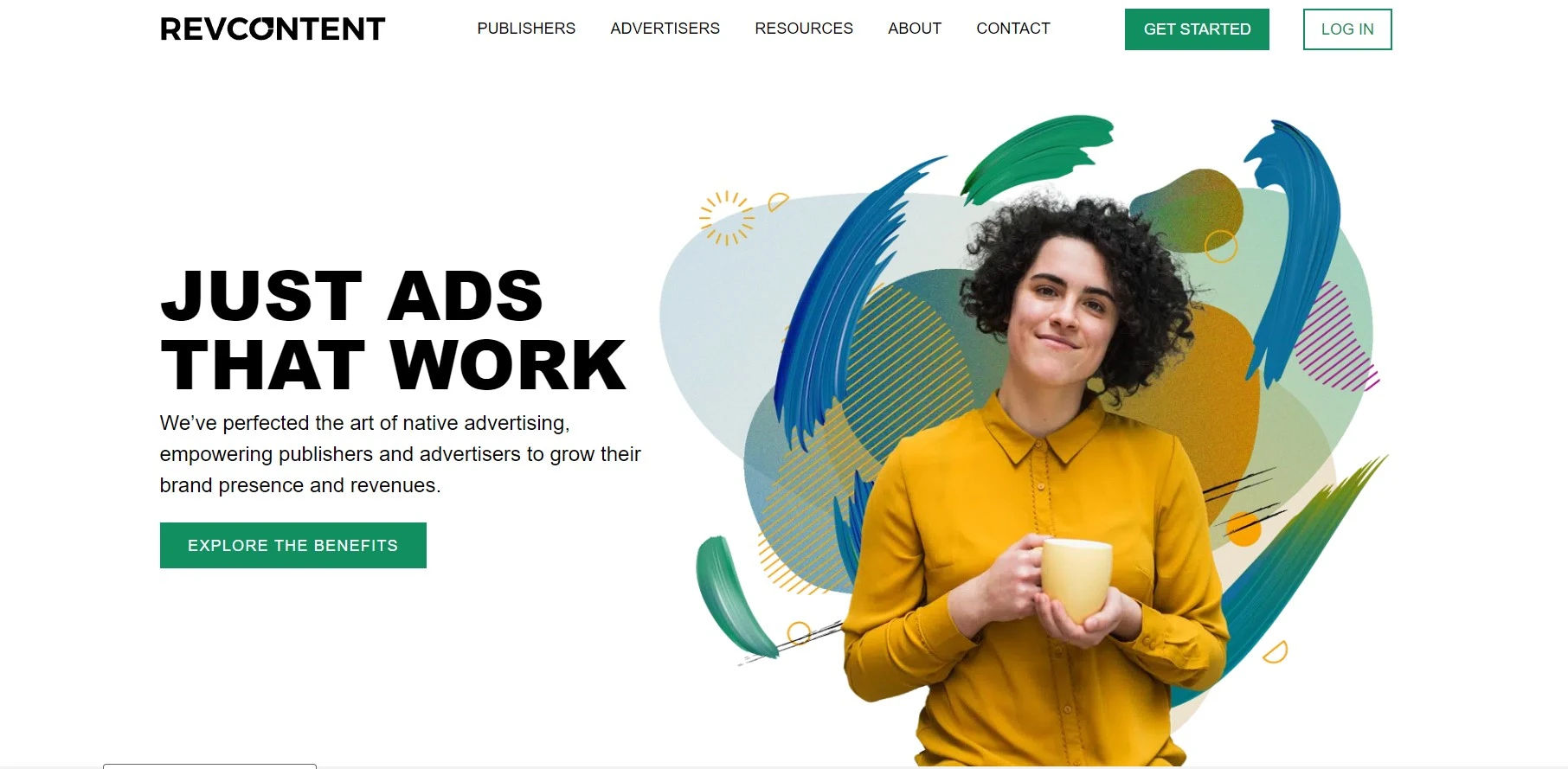 Revcontent is a leading content marketing, native discovery, and advertising platform. Specializing in the field of content discovery, the company smartly uses the high-tech tool and expert partnerships to assist publishers and advertisers in connecting with the specified quality targeted audience and monetizing their experience.
The software cooperates with media publishers, brands, affiliates, and more. And it advertises itself as the giver of high-quality traffic. The platform should be considered by you if you are among those who bet on a strong brand awareness being translated into a high performance from the very start.
Features of Revcontent
White-glove account management
Domain and placement level transparency
Real-time reporting
Content quality and granular brand-safety controls
Adcash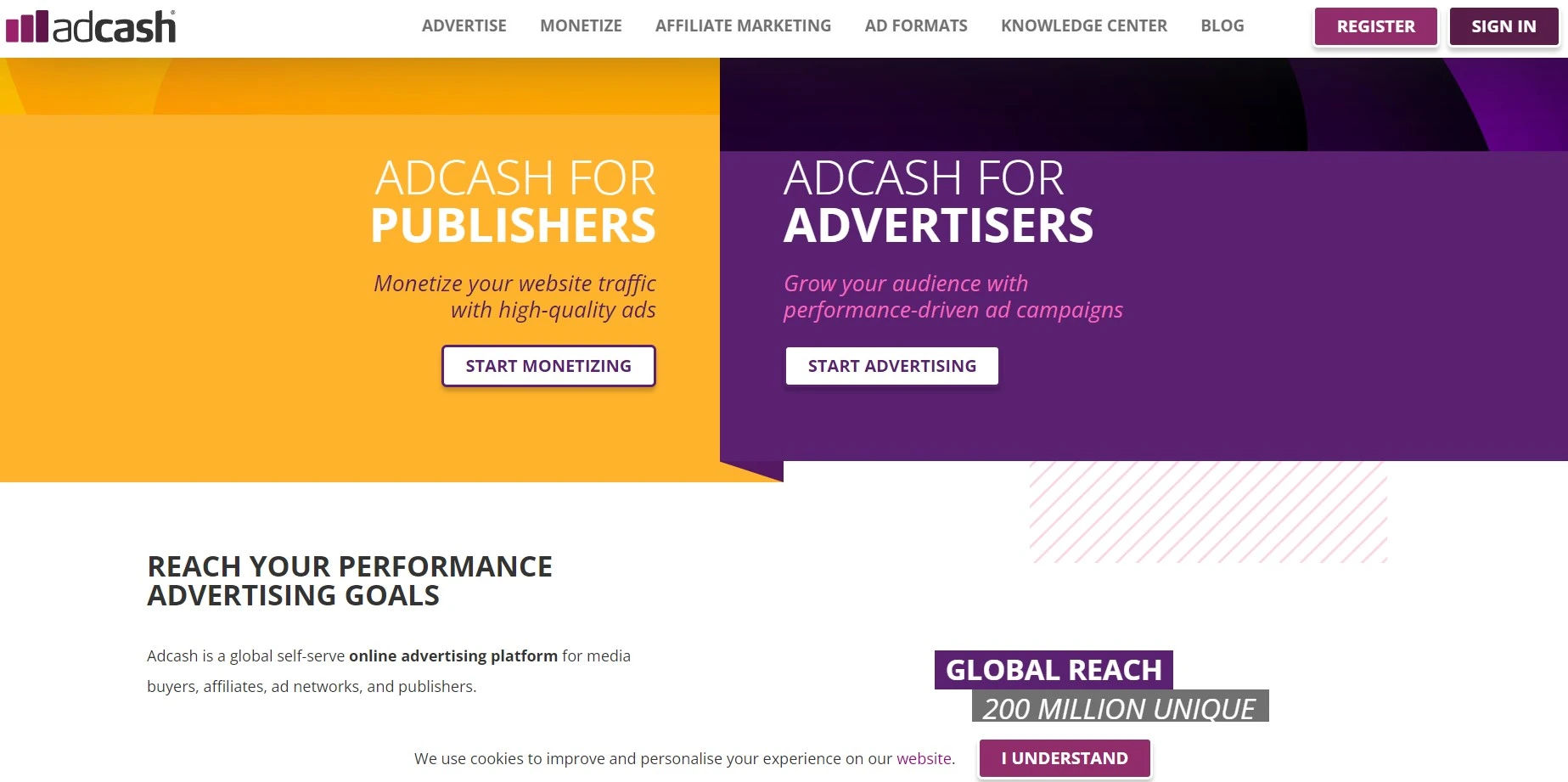 Adcash is an amazing fully transparent self-service DSP. The platform has been dominating the market since 2007. Recently, the software has started to move towards less intrusive advertisement formats and introduced the fantastic concept of native advertisement back in late 2017.
An online platform is a perfect place for starting with affiliate marketing. Adcash is simple and easy to use that allows users to run, analyze, and manage all of their campaigns in one place. Using the software, you can even unify all of your media buying actions or activities as Adcash is connected to all of the top SSPs and their very own exclusive publishers.
Features of Adcash
Its granular targeting power enables you to tailor your advertisements and reach a quality audience
Let you choose the websites verticals where you wish your ads to appear
Dynamic macros (country, city & OS) are there that let's make your advertisement even more relevant to your planned audience
Nativo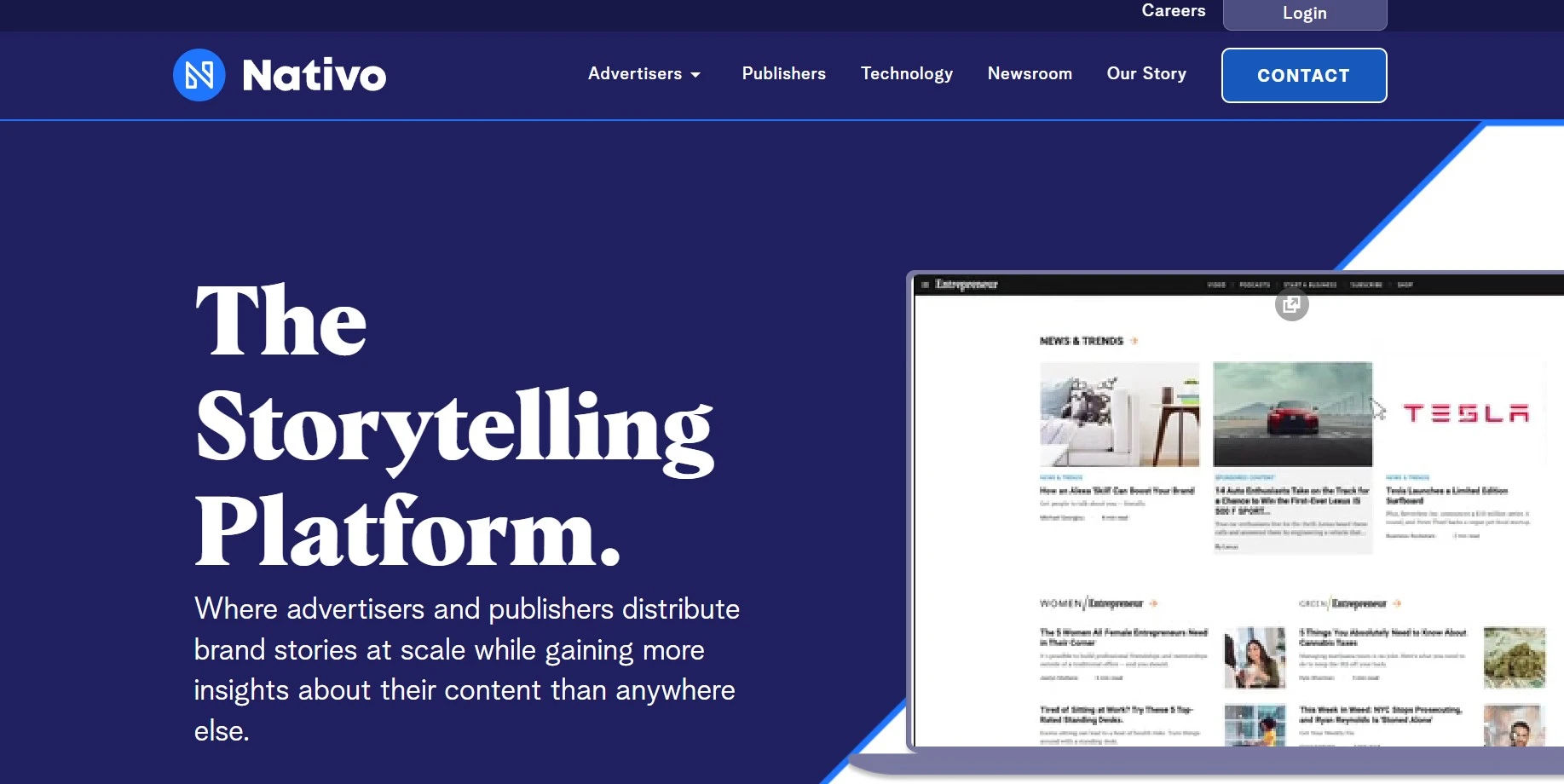 Nativo is a great choice for you if you are an advertisement publisher for a media website. This particular ad network served as a great native advertising place for Dow Jones, Time Inc, and The Wall Street Journal and it doesn't even impose any traffic restrictions.
The platform offers a wide range of ad formats and targeting options along with AsStore that enables the publishers to select and activate various monetization partners simultaneously.
Features of Nativo
Here, you can choose between vCPM and eCPM pricing models.
There is no least web traffic restriction set while the least payment threshold is just $50
MGID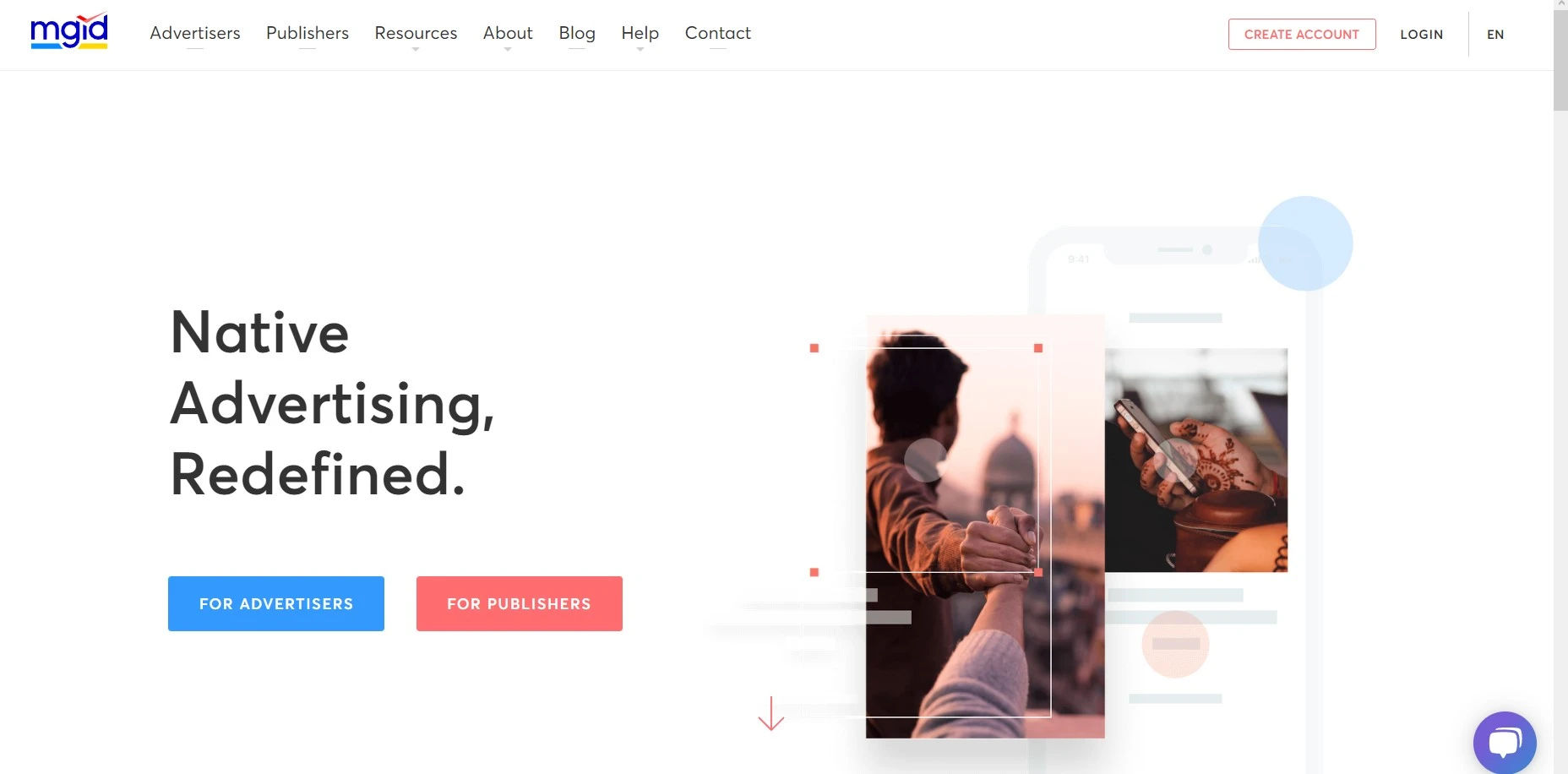 MGID is a native performance and programmatic advertising platform. It is a global award-winning native advertising platform. The tool helps publishers to retain their audiences and monetize traffic. It drives awareness and performance for the brands simply by connecting them to unique audiences at the correct time and with accurate content.
It has a reach of over 850 M visitors monthly, a 60% average higher CTR than display, 32K content websites, 185B content recommendations monthly, and over 31650+ publishers all across the world.
Features of MGID
Smart-engine optimization begins with stats integrated with Google Analytics
Dynamic retargeting
Limits to your campaign by budget, clicks, conversion
AdUp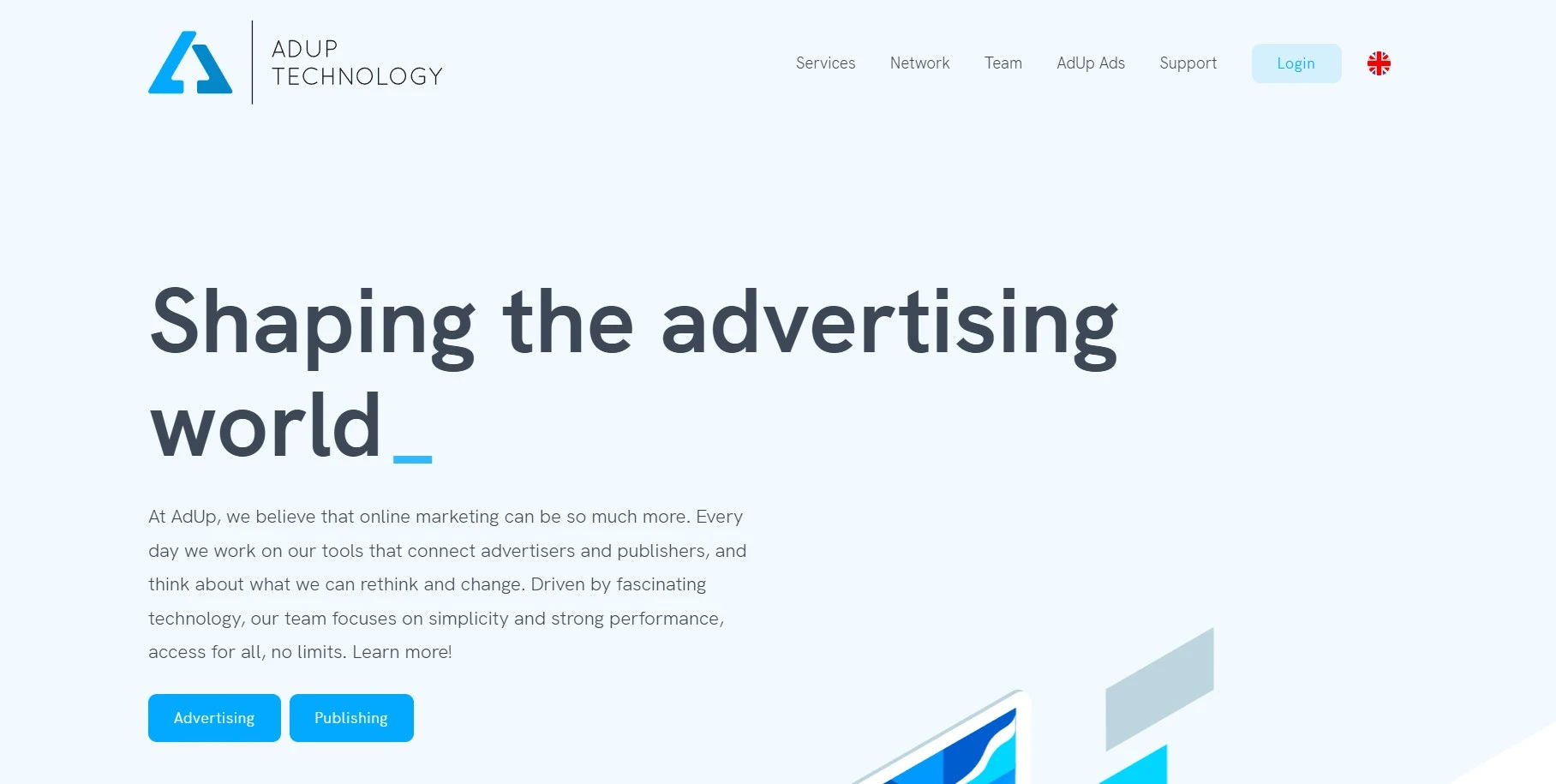 AdUp is a native advertising customized application that is German-based. This ad network lets you tap into its most converting and exclusive placements. The software's technology makes sure to display your content correctly, irrespective of the context. And your advertisements will always feel and fir relevant.
The platform gives you bot-detection technologies that will work to protect your brand as well as your budget. It uses statistical methods for finding potentially fraudulent traffic.
Features of AdUp
There is a rich traffic retargeting option to squeeze up most of your traffic
Assisted and automatic campaign optimization, direct placement, pro or slim traffic retargeting
Let you select manually concrete sites and publishers for your advertisements
Yahoo Gemini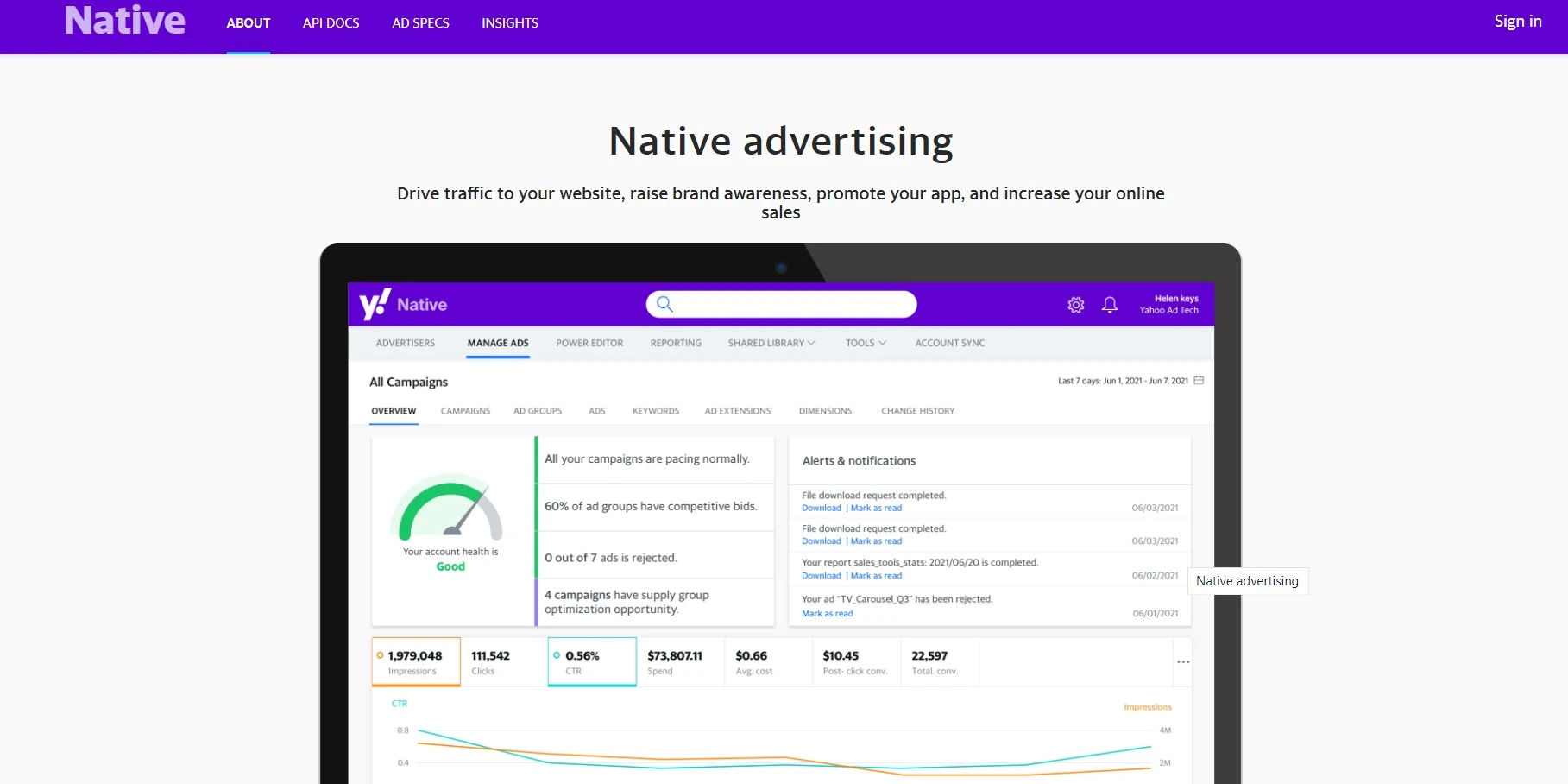 In the United States (UN), Yahoo Gemini is one of the best advertisement platforms that servers native advertising. The platform is loved and used by top the brands like- AOL, Huff Post, TechCrunch, and Yahoo. Yahoo Gemini offers you a wide range of native advertisement formats to choose from. Like app install ads, Yahoo Mail ads, image ads, video ads, carousel ads, and moments ads.
Features of Yahoo Gemini
Here, you get the option to import your advertisement campaigns from the Google advertisements
The website traffic requirement of Yahoo Gemini is just 10,000 page views per month.
TripleLift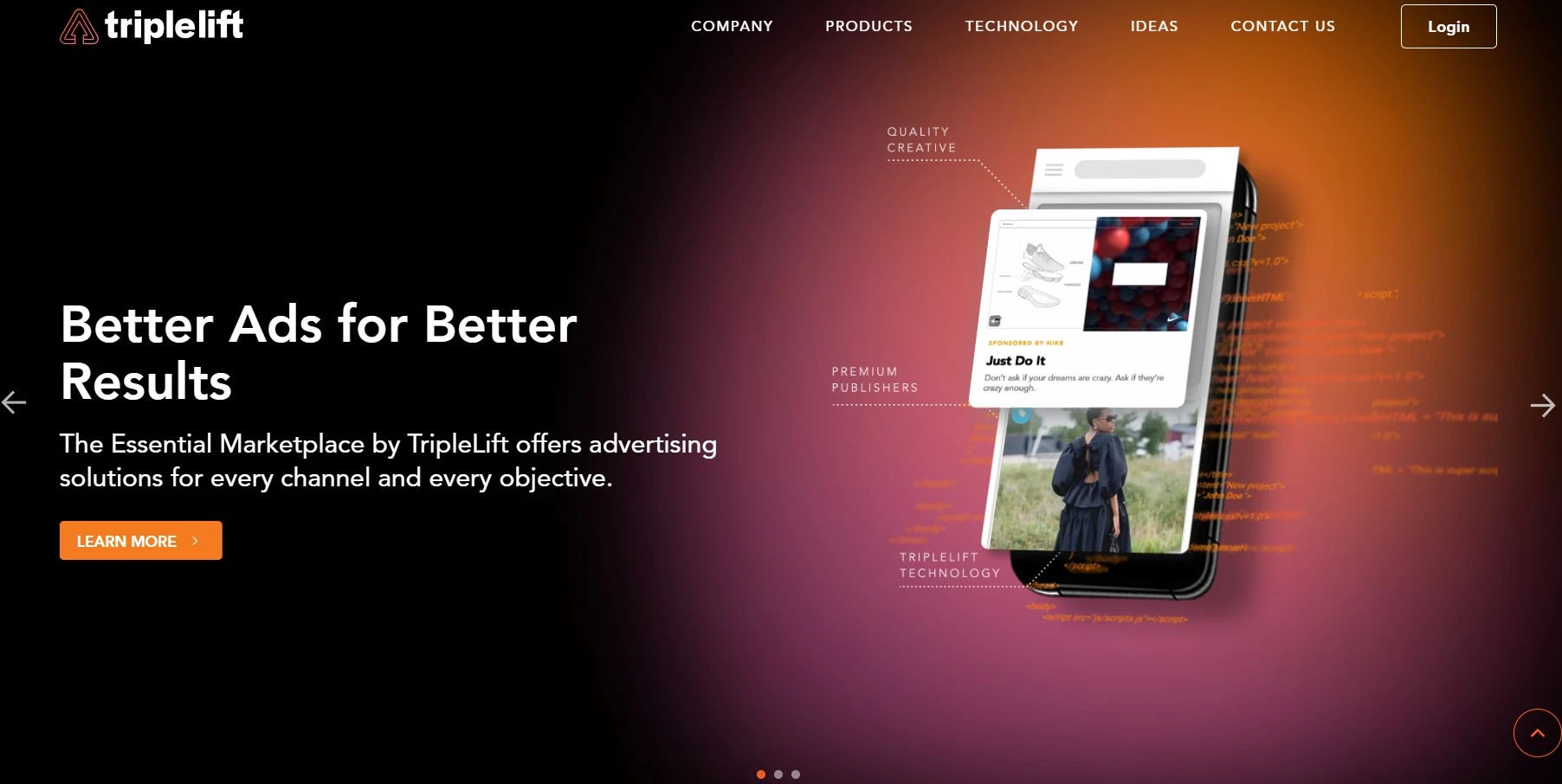 TripleLift is an amazing programmatic ad platform for native ads that allows native publishers and OTT to monetize their inventory through the software's demand partners and associates. The advertisement network gives the advantage of having a dedicated account manager along with a helping customer support team for delivering assistance while running advertisement campaigns. Supported advertisement formats include in-feed, in-article, video ads, and carousel formats.
Features of TripleLift
The software relies on CPC and CPM with a pricing model having a maximum CPM rate of $3.00
The minimum payment threshold is just $50
There is no need for minimum traffic
FAQs
What are the types of Native Ad Networks?
Although native advertisements appear to be a part of the main web content, many publishers may still choose how to present their native ads. Here are a few of the most often-used formats for native advertising:
These are native advertisements that show suggested articles and content. They frequently appear towards the bottom or during the item you are reading.
These are native advertisements that look like your posts on social media that appear when you scroll down your newsfeed. Platforms like Facebook and Instagram use them extensively.
Search and Promoted Listings
When you are seeking a certain product or service these native advertisements are shown directly at the top of your search engine results. The sidebar may also include them.
What are the benefits of using Native Ad Networks?
Native Ad Networks offer several benefits for both publishers and the advertisers. Native ads are more engaging, and publishers get high click through rate and conversions through it compared to traditional display ads. It also allows the advertisers better targeting options.
Outbrain or taboola, which is a superior native ad network?
To sum up, the choice between Taboola and Outbrain depends only on the company's available resources, company objectives, and individual preferences. Outbrain focuses more on brands, while Taboola is a platform that caters to mid-level publishers. However, if you are searching for a targeted public, then Outbrain is a nice place to start.
Where can I discover native advertisements?
Online news websites and magazines are popular places to find native advertising. A sponsored article will frequently appear in the "Recommended Articles" section or as an in-feed button redirecting readers to a different page.
Over to you with the Best Native Ad Networks in 2023
Native advertisements became increasingly popular since companies and business owners evaluated their marketing budgets in light of the worldwide pandemic.
In native advertising, the adverts mimic the appearance, feel, and functionality of the media format in which they are displayed. They blended in and looked "natural" on the website and the web page. Native advertising doesn't seem like advertisements, unlike banner or display ads, so they don't interfere with how users interact with your site. It is a great way to keep the users happy by giving them a seamless browsing experience yet making huge profits.
Even Native Ads offer high returns as they are more targeted, relevant, and conversion ready. Innovative publishers opt for Native advertising over other forms of advertising, such as Google Ads.
So these were some of the top native ad networks you could choose. I hope it helped you understand how to select the right native ad network for yourself.