Hello Friend, In the today's Vampr review I am going to share with you a really interesting application named Vampr. Vampr is basically an application for the musicians to give height to their passion. We always find the people who are somewhat of the field we know or in other words we can say everyone wants to be in the company of people who have the same passion, skill, and dedication. Vampr works the same way where the musician gets an opportunity to find more people around, connect and collaborate with them. In the first instance, the application seems to be a dating app where you pass or connect the users based on their profiles while swiping left or right. But Vampr works on a professional level and is designed for the same which simply follow the principle Discover, connect and collaborate respectively.
Starting With Vampr 
Installing :
First of all, you will have to download the Vampr application which is available for both Android & iOS versions. Application size is not going to bother you anyhow as it is just 17mb approx (as of now for current version 3.7 ).
Logging In :
Once you have installed the application you will be prompted to sign up. You can sign up through Gmail or Facebook in no time.
Filling Up Profile :
After completing the sign-up process you will be asked to complete your profile. Be careful while filling out the information. It is also available to add one of your YouTube video and Soundcloud music in the profile. This entails the users to see your work before they connect or message you.
Connect & Message :
After filling up your profile you can see the profile of random people ( keep reading I discuss more in this respect) which can be passed or connected based on the profile information. You can do this simply by swiping the image to left, right or up( up for later or to show more info) like there in tinder application.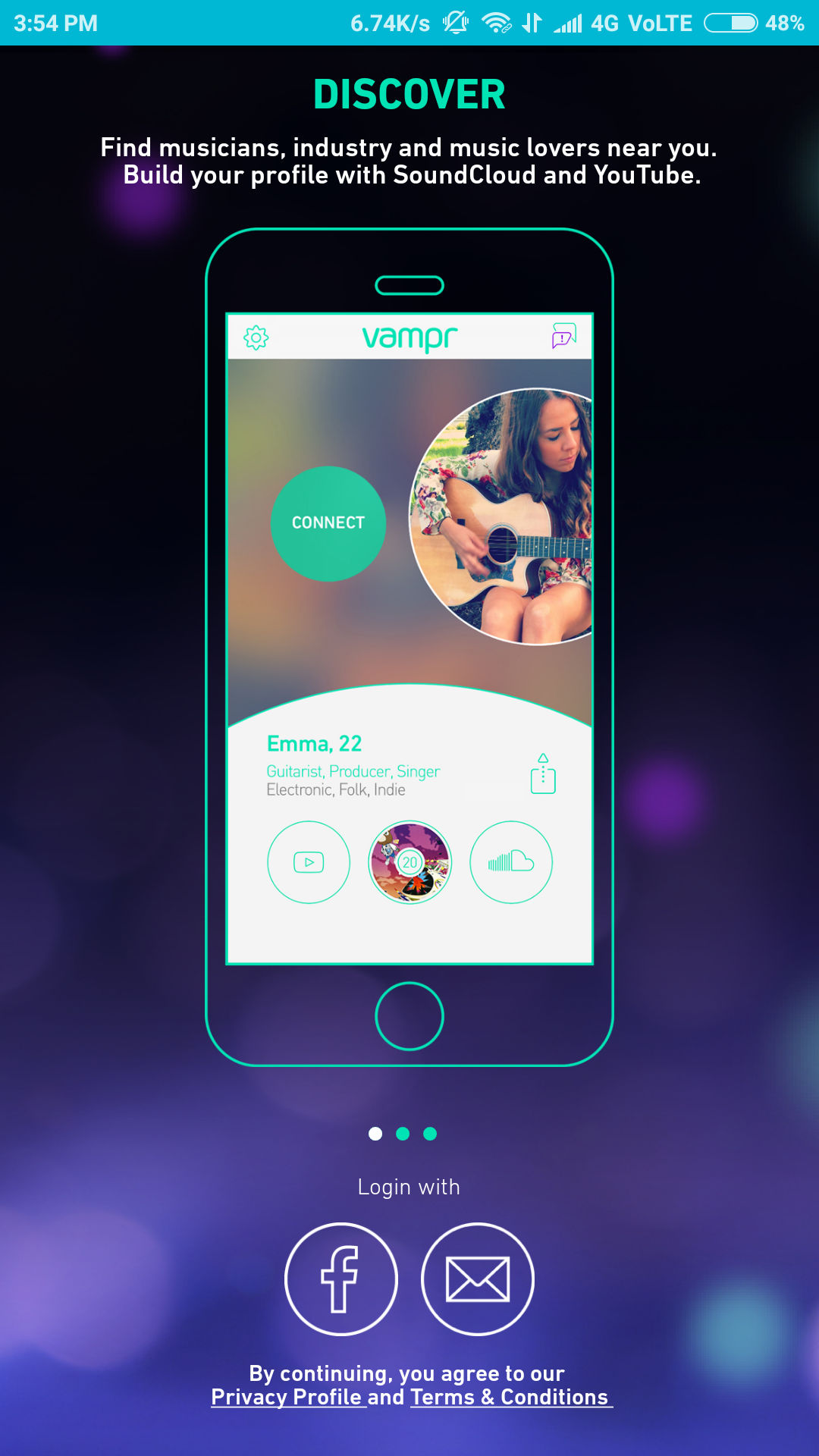 Exploring More With Vampr
You can explore more with the Vampr application for sure.
Change Featured Song, Video & Photos
One can easily change the featured media after filling the profile at any time afterward just by Going to the settings > Edit Media 
Changing the profile information
You can change your profile information in settings. Which means that you don't need to bother in the initial filling up process whether to choose Hip Hop or Folk. 😉
Setting Up the Search Criteria
In order to get preferential results you can set up the Discovery preferences by settings > Discovery Preferences
In Discovery preferences you select Age, Distance, Location, Gender, Genre and more
More From DroidCrunch :
Final Words 
If you are a musician vampr can unlock the locks of limitations for you. You can join the other musicians. The discovery feature of the application is surely pretty amazing. Customer support is quick and result oriented.
Why to wait. Just go and make a musician profile and join other musicians.
For more tech news, tips and tricks, gadgets reviews and more just be our friends on our Facebook Page and twitter. Also watch us making some cool videos on our YouTube Channel.