When you use a primary cloud storage system to keep your data, files, and other items, they ensure that all your uploaded stuff is highly encrypted. However, you are no longer the proprietor of that data once you have uploaded it to the cloud storage; all of this automatically comes under the management of the people in charge of that business. Here comes the role of NordLocker, a software that promises end-to-end encryptions, which means encryption and decryption are both in your hands.
It entered the market at the tail end of 2019—right before the break of the pandemic—so it is one of the game's younger players, if not the youngest, we firmly believe it has a chance and capability to compete with the finest cloud storage (opens in new tab) services. Nordlocker ensures complete control over your sensitive data, no matter which Cloud Storage service you use.
But we understand that making software selection is like taking a chance. What counts is how well that software works. To make you understand that we have discussed all of the critical points of what NordLocker asserts. However, before selecting NordLocker, it is vital to know a few key factors. So, go to their review below and understand the software better.
NordLocker Overview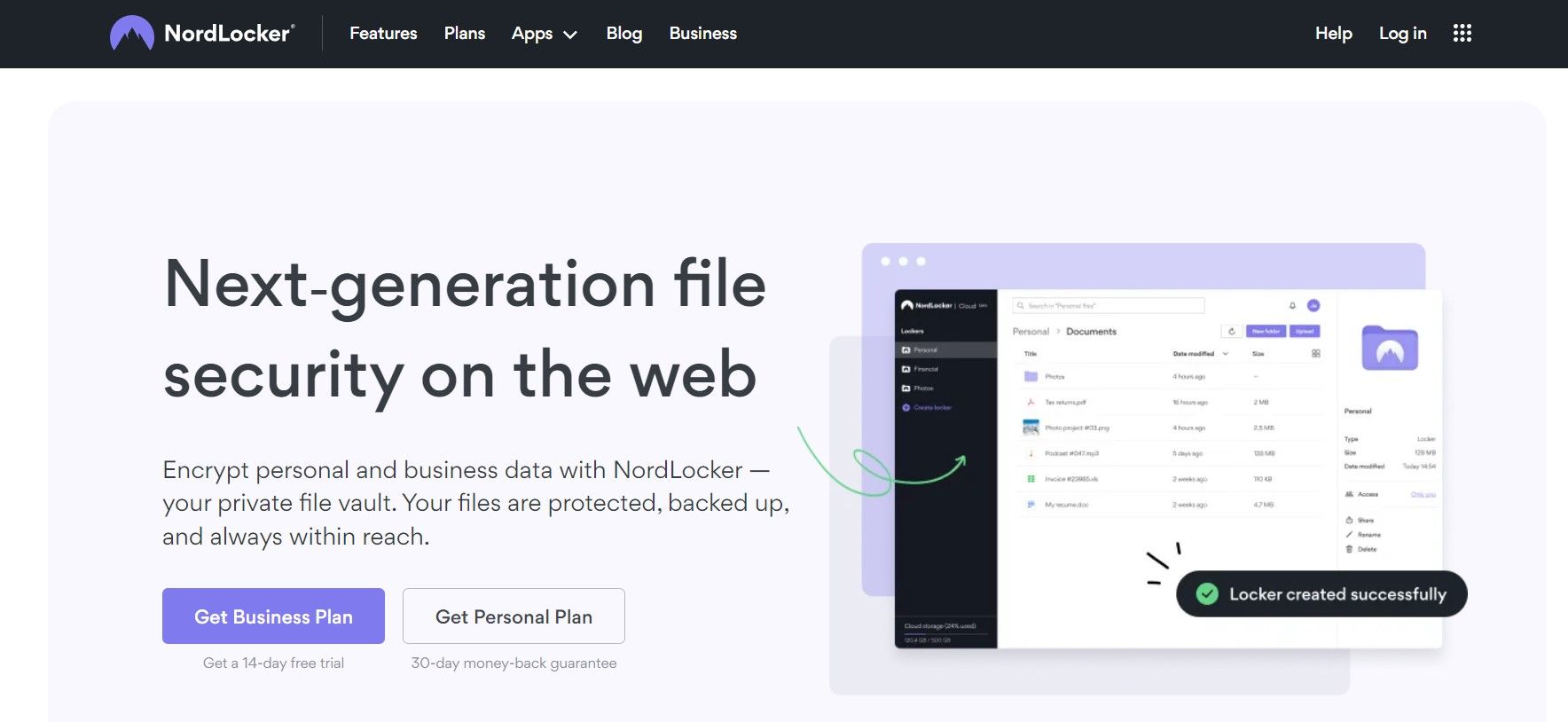 NordLocker is a secure, dependable, and feature-rich cloud storage platform that was initially produced by the same people who made NordVPN (opens in new tab) and NordPass (opens in new tab). NordLocker is a platform you must consider using whether you're self-employed or managing any small business.
Once you submit your data to the NordLocker application, it automatically encrypts all of your data before generating a backup. Additionally, whenever you make any particular changes to the existing siles, it automatically encrypts any modifications you made without requiring your manual setup each time.
And with the use of your public and private keys, you can access your locker and also control who can access it. Additionally, you may send those papers using any method, including sharing software, email, or cloud storage.
Overall, NordLocker encrypts your data securely. And once your data is encrypted, you can use absolutely any platform for sending the data.
NordLocker
Try NordLocker Today and save 30% on Annual Billing
NordLocker Features
Clean & Sophisticated Interface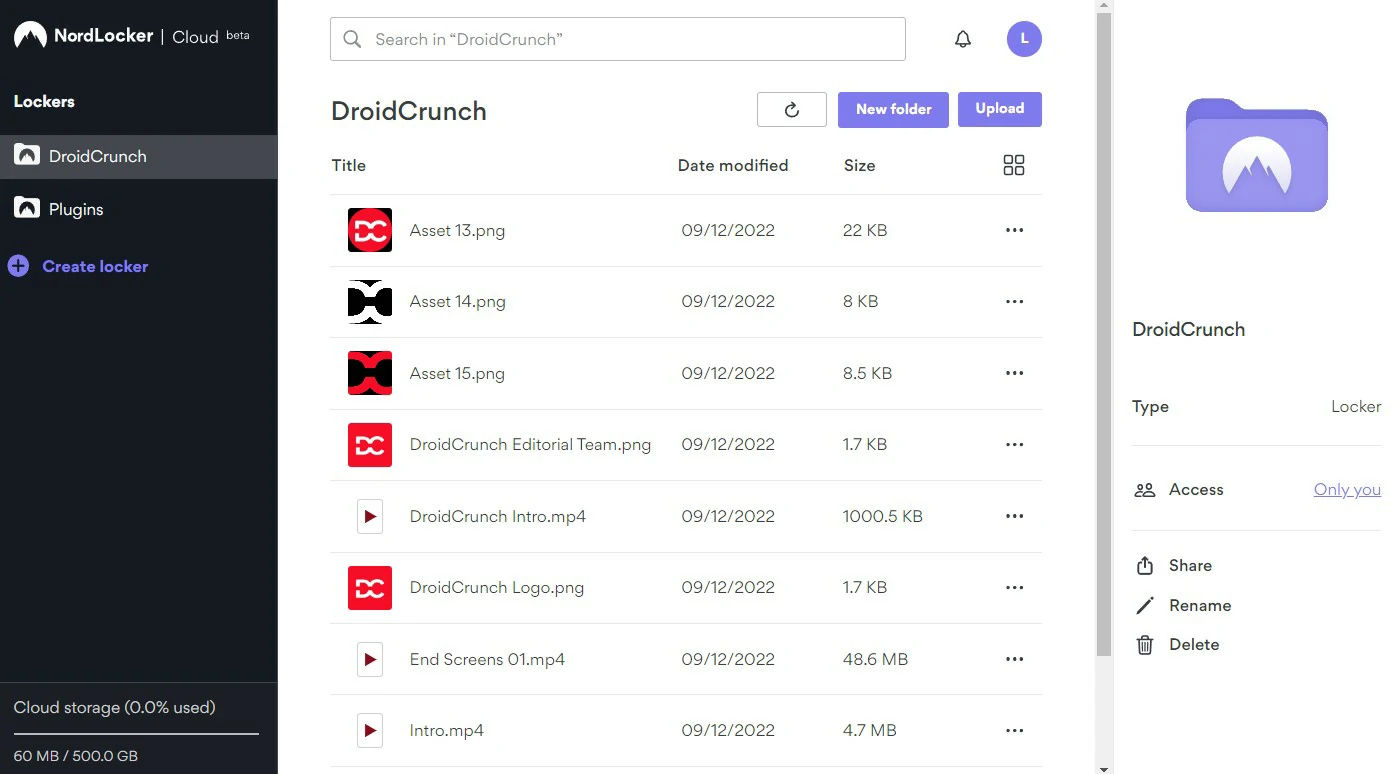 Nordlocker has an appealing interface. It is quality in all the Nord apps, though. However, Nordlocker's interface makes it very easy to use and a focused drive application.
To secure, Drag and Drop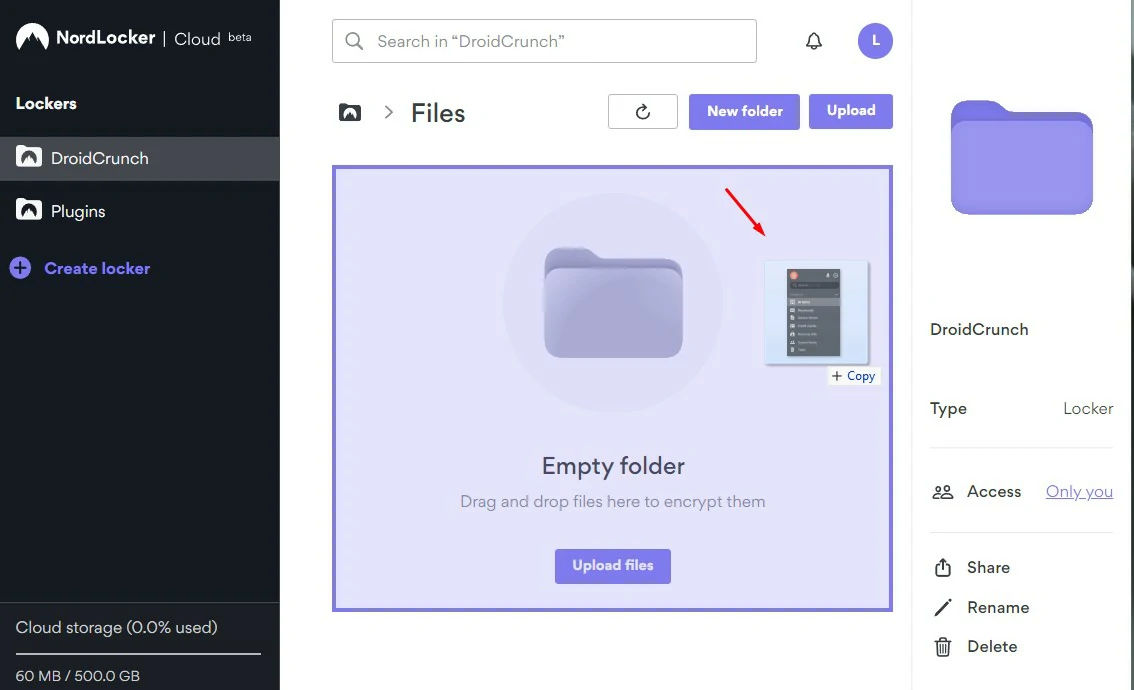 Your data protection abilities are already something that you have. NordLocker will handle the rest once you drop your files inside this application. You will never lose any of your data since they are synchronized and automatically backed up.
Keep your files Organized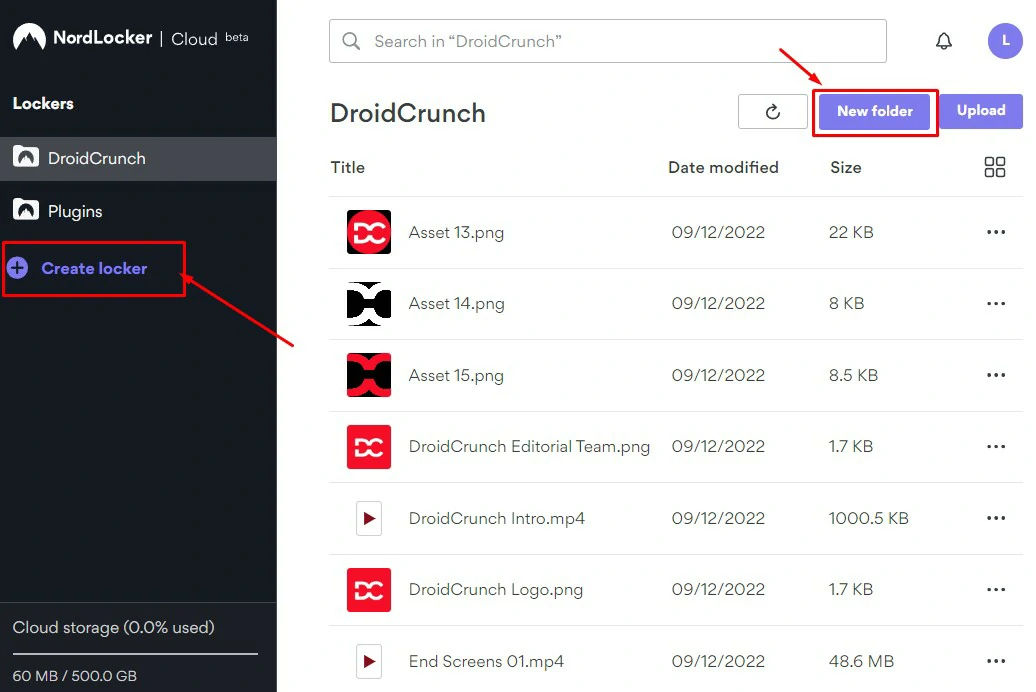 There are secure lockers and folders in the application. It's up to you how you wish to organize your files into lockers and folders and whether you wish to keep them locally or in the cloud.
Synchronize Data among Devices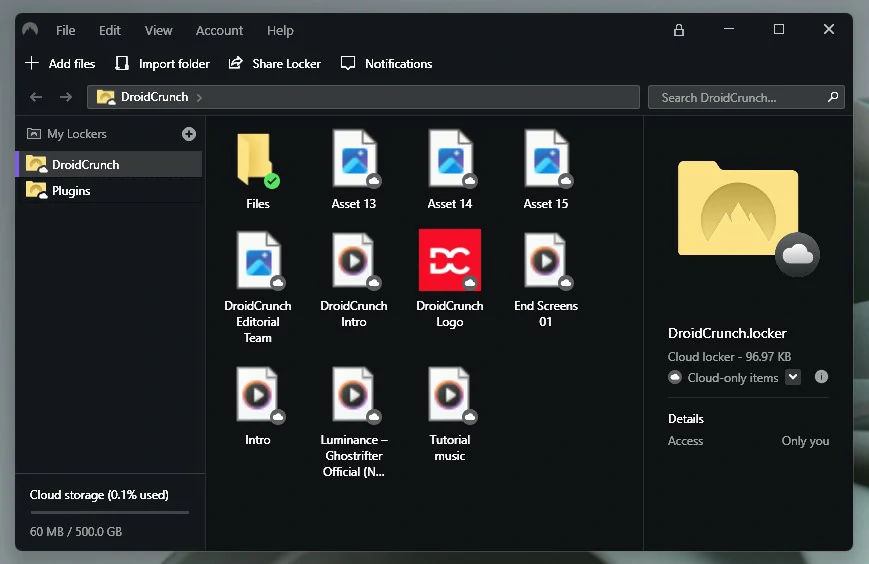 With NordLocker, you can embrace privacy on all of your gadgets quickly. Utilize NordLocker on devices running macOS, Windows, Android, and iOS. Cloud sync offers more freedom and storage to your existing device.
Locally safe without restrictions
Because NordLocker has no encryption restrictions, you are very much free to save anything you wish securely on your computer system rather than the cloud. Use Nordlocker and store as much locally and with encryption as necessary.
Enjoy a cloud with end-to-end Encryption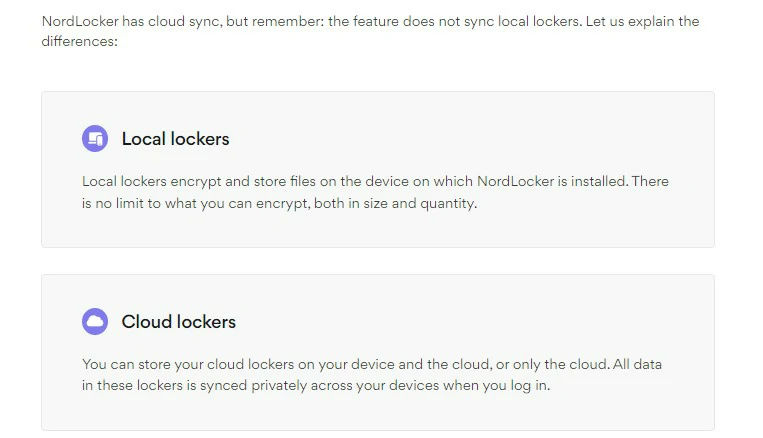 With NordLocker, you can utilize an end-to-end encrypted cloud to secure and sync your information. Your files are never made public, and you can view them on the cloud, locally, remotely, or even on a shared computer.
You may use any file
Any file would do; no matter how big or tiny it is, it can be encrypted. Files, images, folders, videos, whatever you name it.
How to use NordLocker?
Your Nordlocker account is secured with your Nord account. You have layers of security that save your sensitive data. You can set a master password that is asked when you open the Nordlocker that is different from your Nord account.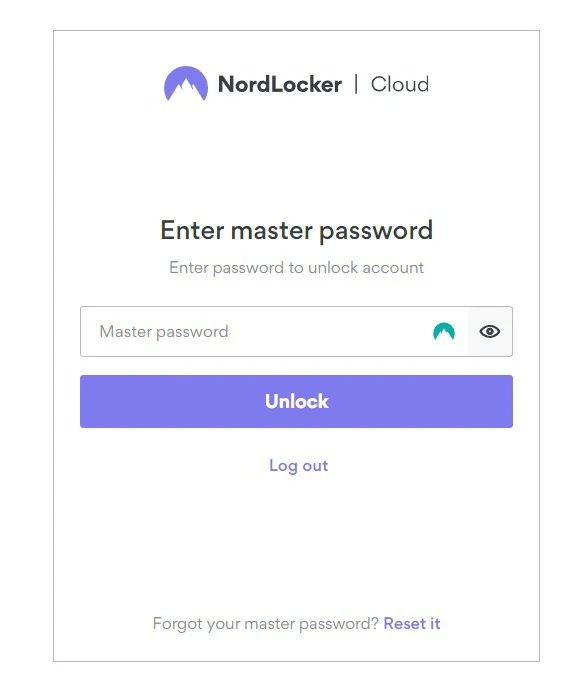 It is efficient, robust, and easy to operate. You only have to drag and drop your file or folder into the NordLocker application to get started.
NordLocker starts working as soon as you upload files and documents to the cloud storage. And all of your data is encrypted even before being submitted (it means only you have an encryption key, and only you can decrypt the uploaded content).
You can download Nordlocker for your system to unlock all its power and capabilities, saving and securing your precious files and data.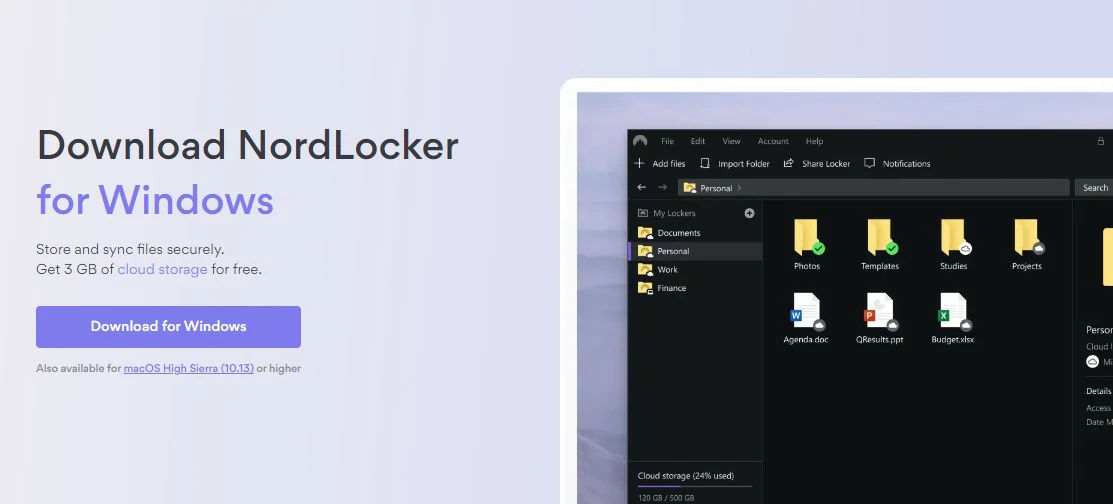 NordLocker Alternatives
Google Drive
Google Drive is a cloud storage and file synchronization service developed by Google. It enables users to store files in the cloud, share files, and edit documents, spreadsheets, and presentations with collaborators. Google Drive was launched in April 2012 and provided users with 15 gigabytes of free storage. Google Drive allows users to access their files from any device with an Internet connection.
Files can be accessed through a web browser, the Google Drive mobile app, or a desktop application. Users can upload files from their computer and share them with others or create and edit documents with Google Docs, Sheets, and Slides. Google Drive also supports third-party applications, such as Adobe Photoshop and Microsoft Office.
Google Drive offers file backup and synchronization features, real-time collaboration, and secure sharing. Users can set up automatic backups of their files, which are stored on Google Drive's secure servers. Files can be shared with collaborators, who can view, comment on, or edit the file in real-time. Google Drive also allows users to securely share files with others, either by sending a link or inviting specific individuals to view or edit the file.
Dropbox
Dropbox is a file storage service that allows users to store, access, and share files, photos, and documents with others. With Dropbox, users can access files from any device, store files, and collaborate with others. Dropbox also provides a secure way to store and share files and manage versions of files. Dropbox also allows users to access and sync files offline across multiple devices.
Mega
Mega cloud storage is an online storage and file hosting service. It enables users to store, share and access their files in the cloud. It is a secure, reliable, and user-friendly service that offers a range of features, such as data encryption, file uploading, folder sharing, file syncing, and more.
With Mega, users can store and access their files from any device with an internet connection. It also provides features such as automated backup and data recovery to ensure users' data is safe and secure. Mega cloud storage is an excellent solution for individuals, businesses, and organizations looking for secure and reliable cloud storage.
OneDrive
OneDrive is a cloud storage service that allows users to save files and personal data like as photographs, movies, music, documents, and other media. OneDrive files are available from any device with an internet connection, making it simple to view and share your files from anywhere. OneDrive also features a variety of collaboration options, allowing you to collaborate on documents and projects with others.
OneDrive has various solutions to meet various needs, with options ranging from free to premium. OneDrive's free edition provides 5GB of storage, but higher-tier subscriptions provide up to 1TB of storage. Additional features include Office 365 integration, improved security choices, and the ability to sync data across numerous devices in the subscription plans.
pCloud
pCloud is an online storage service that provides users with a secure and reliable way to store, manage, and share their files. It is an intuitive, user-friendly platform that is easy to use. It offers a range of features, such as secure file sharing, collaboration tools, automatic backups, real-time syncing, and file versioning. It also allows users to access their files from anywhere with an internet connection. With pCloud, users can store up to 10 GB of data for free and up to 2 TB with a premium subscription.
NordLocker Pricing
Currently, NordLocker offers the following plans-
NordLocker Free Plan- With 3GB encryption
NordLocker Personal plan- With 500 GB of storage starting at $7.99 monthly.
NordLocker Bussiness plans start at $12.99 per month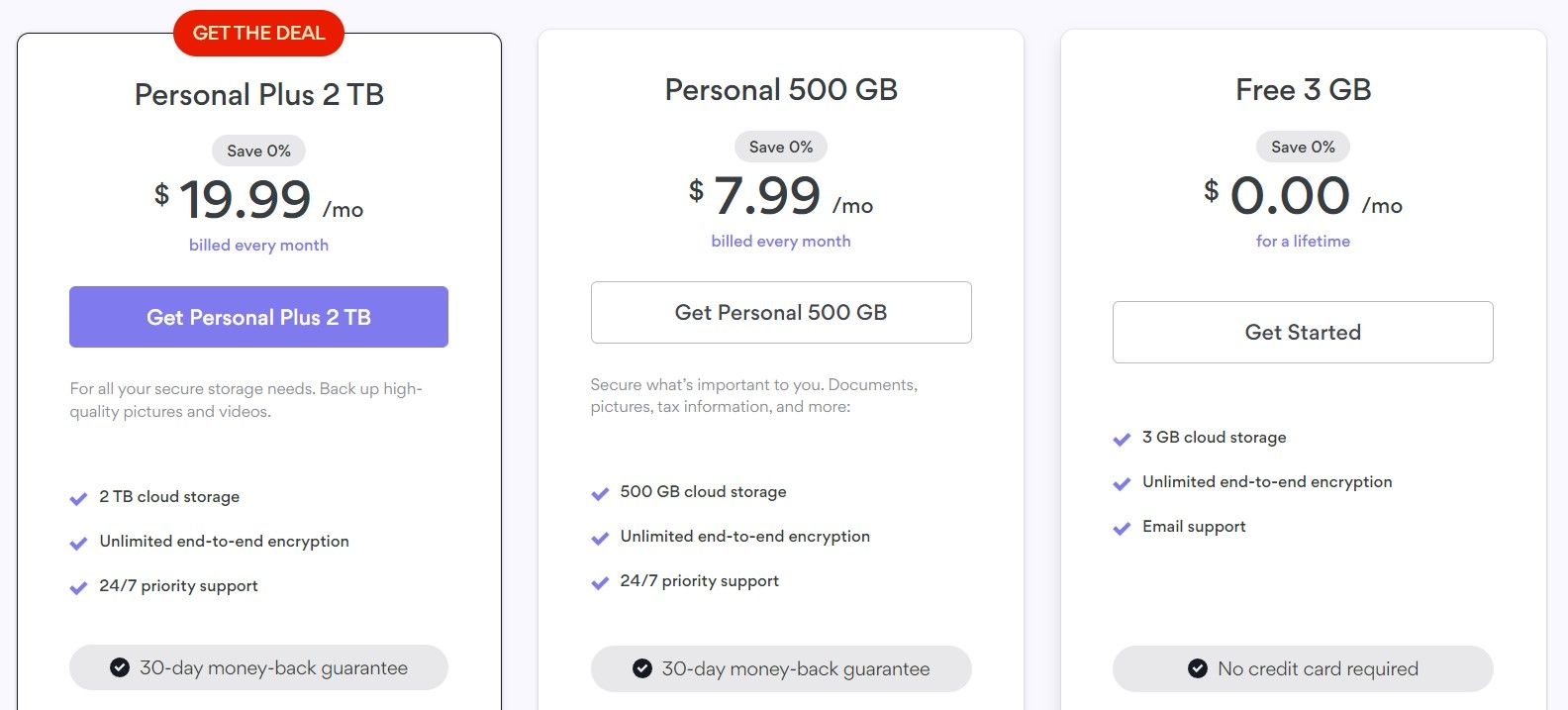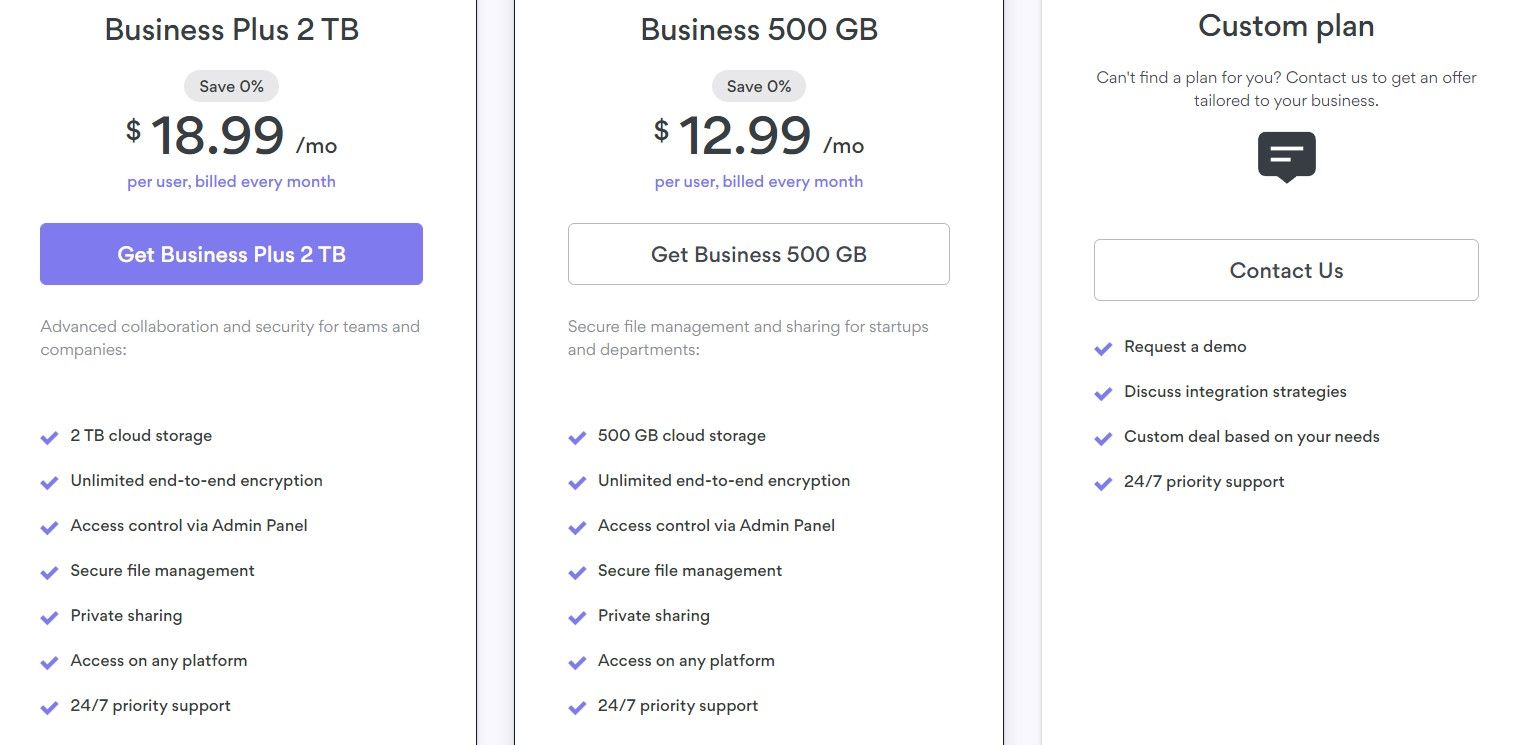 We advise you to first start with a free plan that includes 3GB before upgrading to the premium one.
NordLocker FAQs
NordLocker is an encryption tool, what does encryption mean?
Through the use of encryptions, plain English can be transformed into a complicated language that serves or behaves as a secret code.
To comprehend the word encryption in plain English. Understand that once you start the encryption process, the file changes from Plaintext (the term for decrypted data) to a highly sophisticated algorithm (Ciphertext), which is nothing but an encrypted version of the file. And to convert it back to plain text. You must decode the encrypted file.
Does NordLocker offer a free plan?
Yes, NordLocker is offered a freemium business model. On its free plan, all the users can download the program and encrypt data locally without spending any money, which means that the files are encrypted and kept on the particular device being used.
What plans does NordLocker offer?
NordLocker offers a free plan. And users who desire cloud storage must switch to a premium account unless the 3GB of free space is plenty. Only the 500GB plan was previously offered; however, a bigger 2TB plan is now also an option.
These have monthly prices of £2.39 ($3.19) or £5.89 ($7.99). However, they are subject to promotions and, based on our estimates, should cost about £6.80 and £12.80, respectively.
NordLocker: Is It Private? Does it complies with HIPAA?
Yes, NordLocker employs end-to-end encryption for all the files, making it entirely impossible for anybody else to access the data unless they also have access to your master password or recovery key.
Yes, NordLocker complies with HIPAA regulations since it employs zero-knowledge encryption for all data kept on its servers.
Is NordLocker secure?
NordLocker offers top-notch security. It is based on GoCryptFS. When you add the data to your system, it automatically encrypts the data before backing it up to the cloud. This implies that anytime you can make modifications to that file without being obliged to encrypt the data explicitly.
Its use of elliptic-curve cryptography (ECC) techniques is another best-in-class security feature. This is a much better option than the previous RSA key.
3072-bit RSA key Equals 256-bit ECC key. From here, you can understand the level of encryption that NordLocker provides.
What makes NordLocker stand out?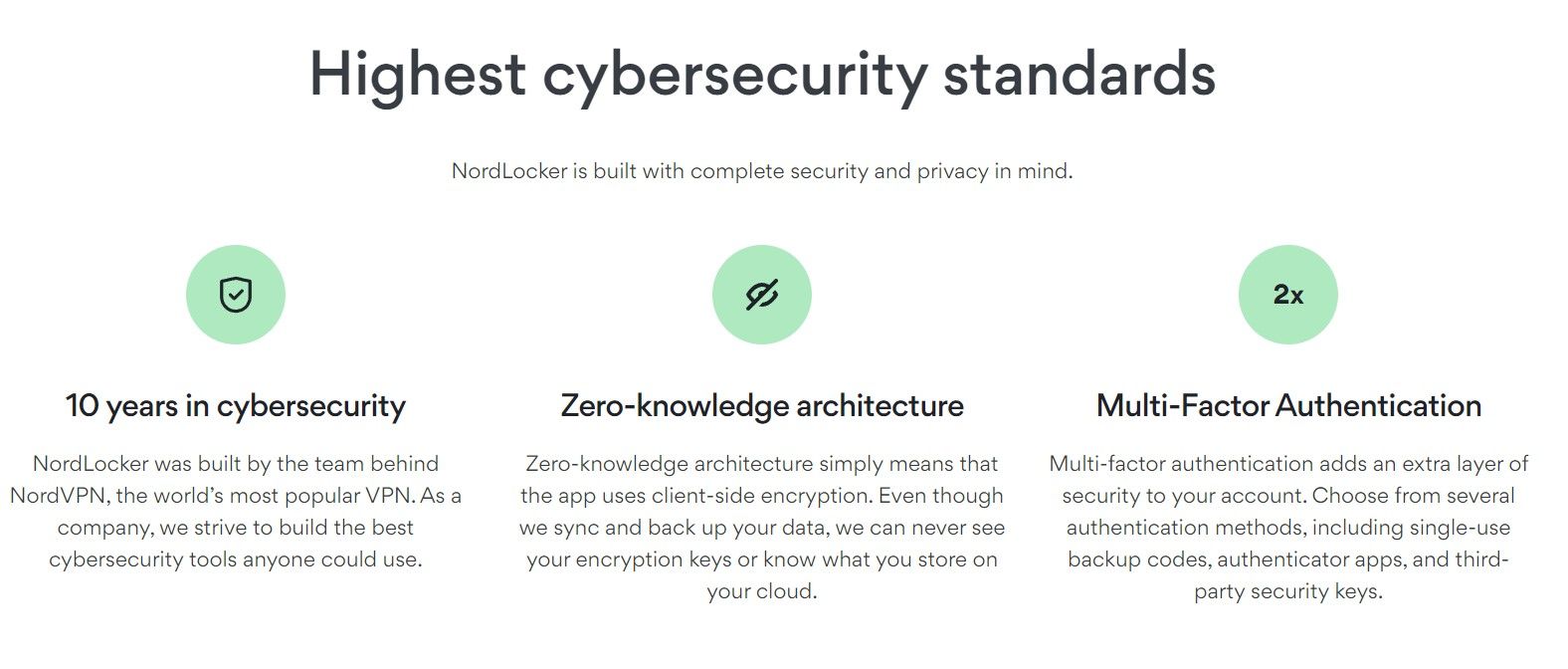 The most excellent way to determine a product's quality is through customer support. And NordLocker offers excellent customer support. The program quality is outstanding; about 8 out of 10 users are completely happy with it.
NordLocker is also very easy to use. And it makes it simple for you to share your data with business partners, clients, and coworkers. Thus, helping you to grow your business securely.
It is also highly affordable. There aren't any less expensive substitutes for NordLocker. And all of its pricing programs include a 30-day money-back guarantee, so you can try out the tool risk-free, as you can get your money back if you're not happy using it.
NordLocker has a zero-knowledge privacy policy which means it stores almost nothing, not even your Master password. Your data that is transferred to cloud storage is already in encrypted form. Even if the admin of cloud storage attempts to access your data; even they can't find anything from it.
The new NordLocker version is even better. It automatically creates data backups (cloud data), ensuring that you can always recover if your files or folders are damaged, lost, or stolen.
The main reason for buying this encryption technology is that the tool offers top-notch security.
Over to you: NordLocker Review
No matter which platform you choose, encryption is vital for all of your crucial data. To be entirely sure, you must encrypt the data if you need to transfer it or retain a backup.
There aren't many end-to-end encrypted solutions available in the market right now that ensure to provide you incredible levels of protection, which is why we have given you a NordLocker Review. As NordLocker is currently the best option for this.
With over 2GB of free data encryption, the tool has a reasonable price. It is worthwhile buying! You should try it out.
The Review
NordLocker
Initially, only an encryption service, NordLocker has now grown into a full-fledged cloud storage solution. Concerning simplicity and feature depth, NordLocker excels. Your files are always secured on NordLocker Cloud, ensuring that no one may access your data without your consent. Overall, the software is uncomplicated and very simple to use, having a lot of necessary features.
PROS
Excellent drag-and-drop UI
Top-notch security
The free version is offered
Strong, zero-knowledge end-to-end encryption for cloud and desktop file storage
cross-platform syncing on the same platform
No limitations on file types or sizes
Compliant with HIPPA and GDPR
Plans are offered for free, premium, and businesses
Direct file editing, opening, and saving in lockers
Less expensive
A variety of payment alternatives
Money-back guarantee for 30 days
CONS
Custom plan is needed for high-capacity plans
Review Breakdown
Easy to Use

0%

Features

0%

Interface

0%

Scalable

0%

Value for Money

0%

Brand Trust

0%

Security

0%
NordLocker DEALS
We collect information from many stores for best price available
Best Price
$14