When running a business, the most dominant factor is to make your brand visible by having its own colour scheme, criteria, and most importantly, a unique logo. A logo that represents the brand in its perfect light.
One that's attractive enough for your eyes and your customers equally. You need to make it compelling enough for your users, only then will they enjoy coming to you.
But the question that comes to most marketers is how and where to create a logo so good? One that has all the features you want in order to represent your brand?
Don't worry because we got you! We're here with DesignEvo, an online tool that is going to help you just the right way.
Let's jump into it, shall we?
What Is DesignEvo?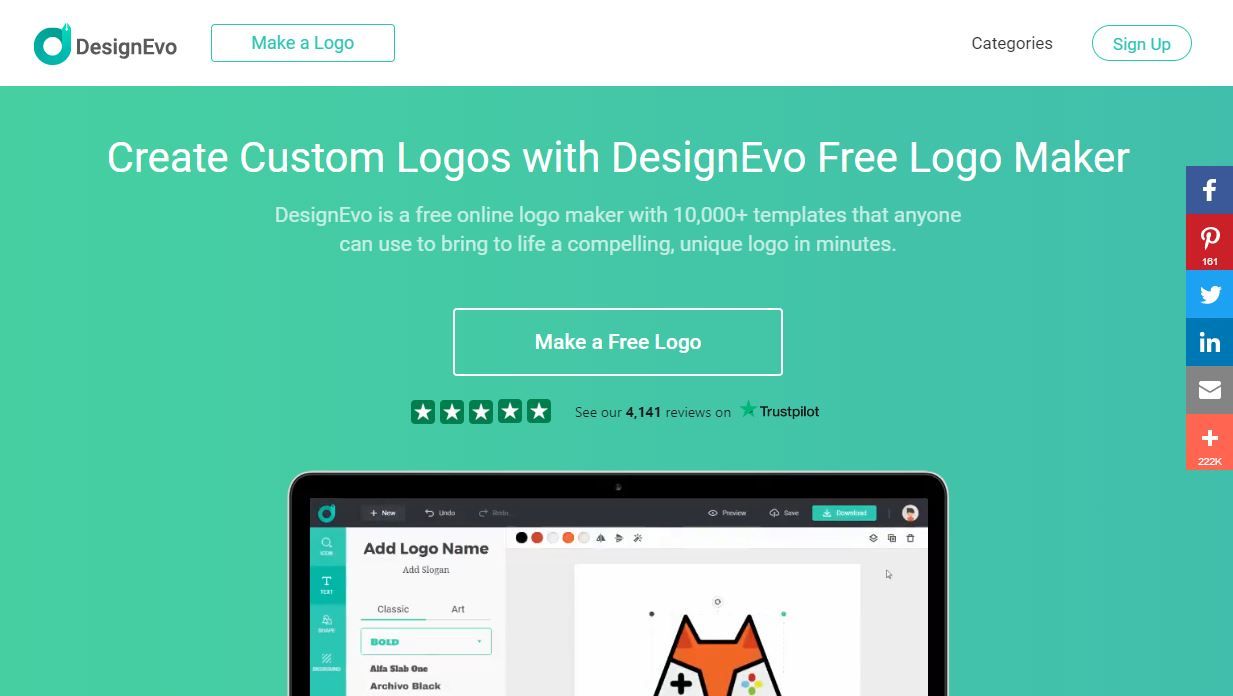 DesignEvo is a company under PearlMountain Limited and was established on 5th July 2017. With its aim to help small businesses and startups to design their own logo and brand name, that too for free.
It's an easy and simple way to create logos that are eye-catching and attract customers. Since the logo of your company is essential, it keeps connecting a lot of customers and building trust.
While creating your own logo with sketches and pencil is a hefty and time-consuming time, that might not result in the most fruitful way, an online logo-making tool like DesignEvo will help you ease your stress.
Exciting Features of DesignEvo:
Let's explore all the brilliant features DesignEvo had to offer us.
Colour Schemes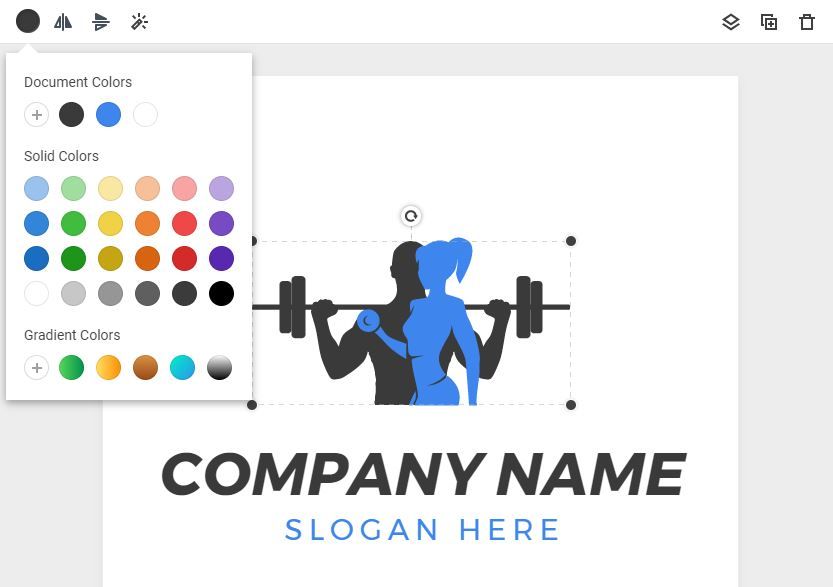 To describe the mood of your website, having the perfect colour is an integral part. DesignEvo offers a variety of colour schemes and gradients to play around with to find the one perfect for your website. While most logo-making software doesn't offer a gradient option, DesignEvo does and you can add it to your logo with ease.
Infinite Icons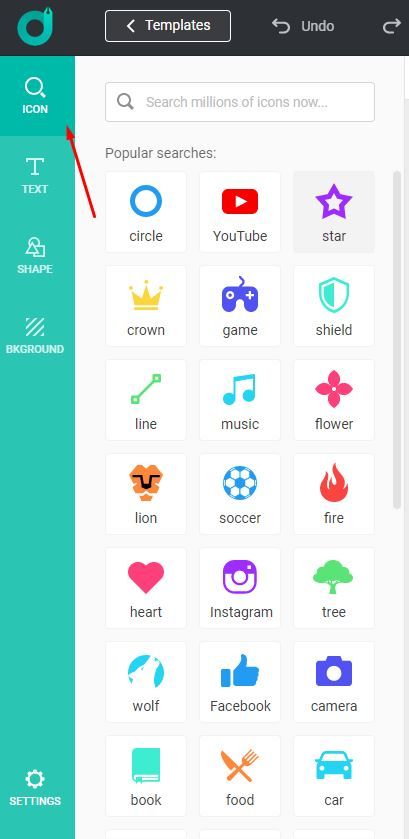 DesignEvo has a large variety of icons to choose from. You can add them to your image. Although these are pre-made templates, you can make changes to its size, colour, etc to your preference. All these icons are in SVG format as these logos are going to be available throughout your website, this format saves a lot of page size.
Numerous Fonts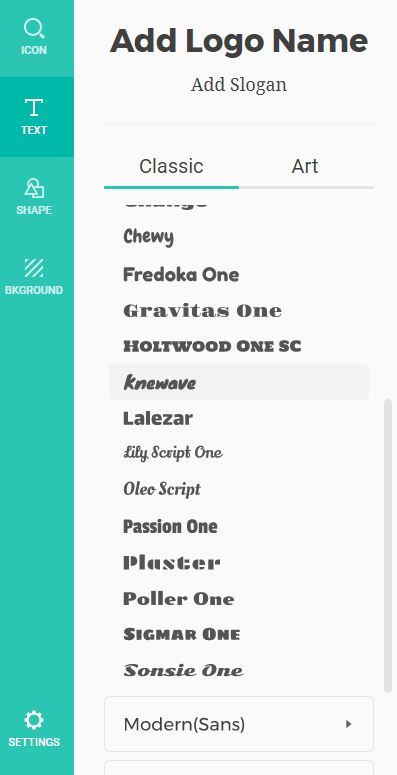 The software offers a range of fonts you can choose and experiment from. You can choose one that's cool for you. You can also use Word Arts to check if it gives the professional logo for your brand. It gives you options to choose from like basic bold fonts to some really cool fonts. Choose the one best for your brand!
Customizable Logo Editor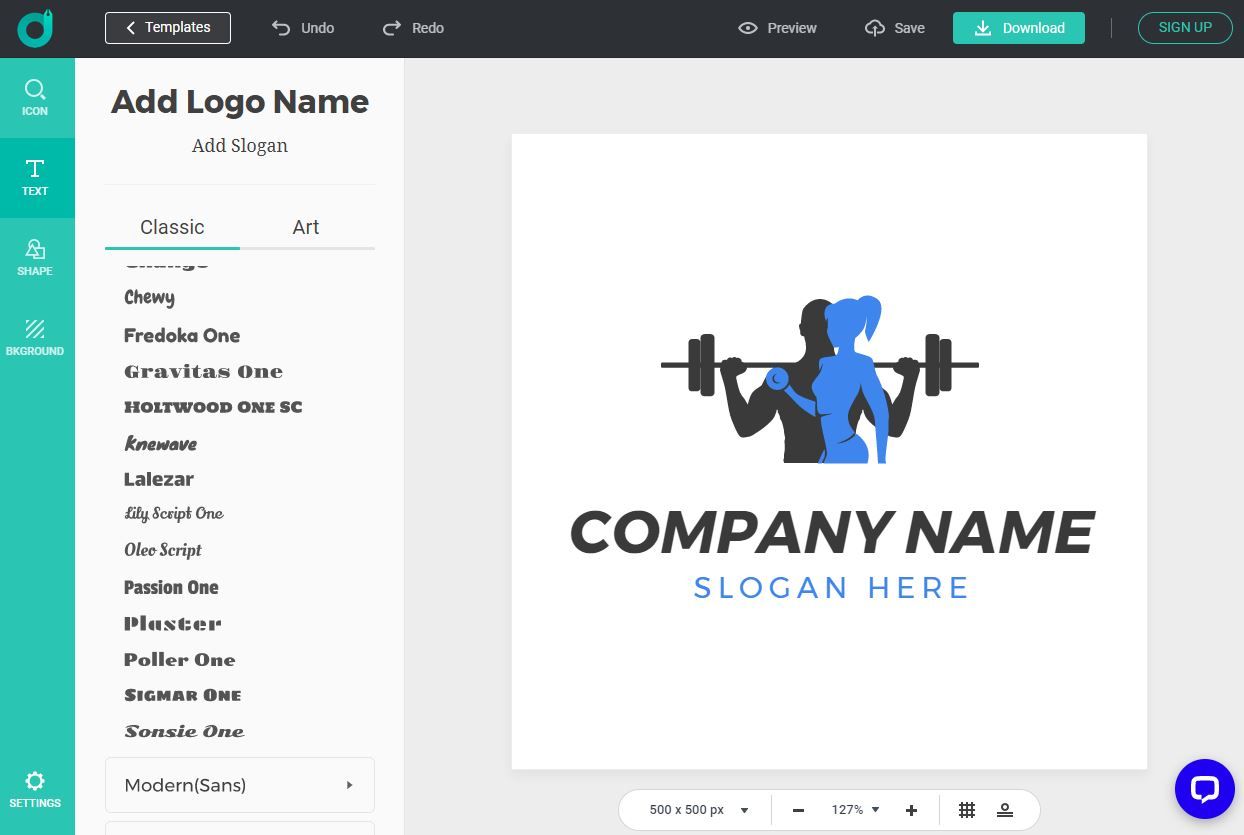 Much logo-making software has certain levels of restrictions when it comes to customization options but not in DesignEvo. It gives you full control of your content and lets you modify the logo in whatever way you like and add your creativity to it. The editor is fully customisable, allowing you to Zoom in and out, Redo/Undo anything.
Save Your Logos to Cloud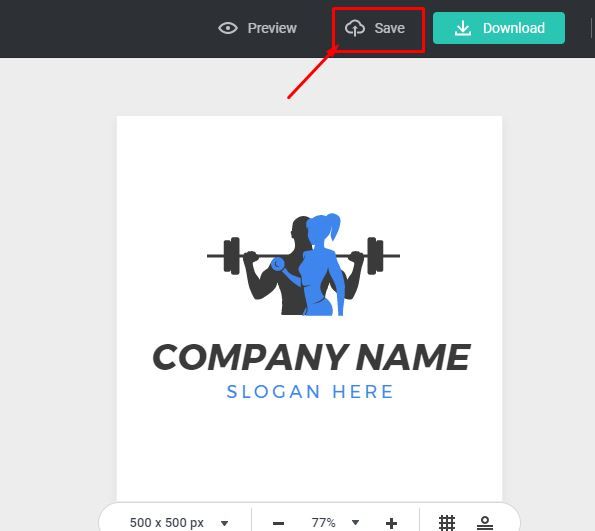 DesignEvo lets you save your logo image to the cloud, unlike many other platforms. You can save it as many times as you want, even after re-edits. This gives a lot of detailed space and then makes your final choice of the logo you want. All the designs saved in the cloud will be safe with DesignEvo, without it getting tampered with or disclosed.
Free Template Designs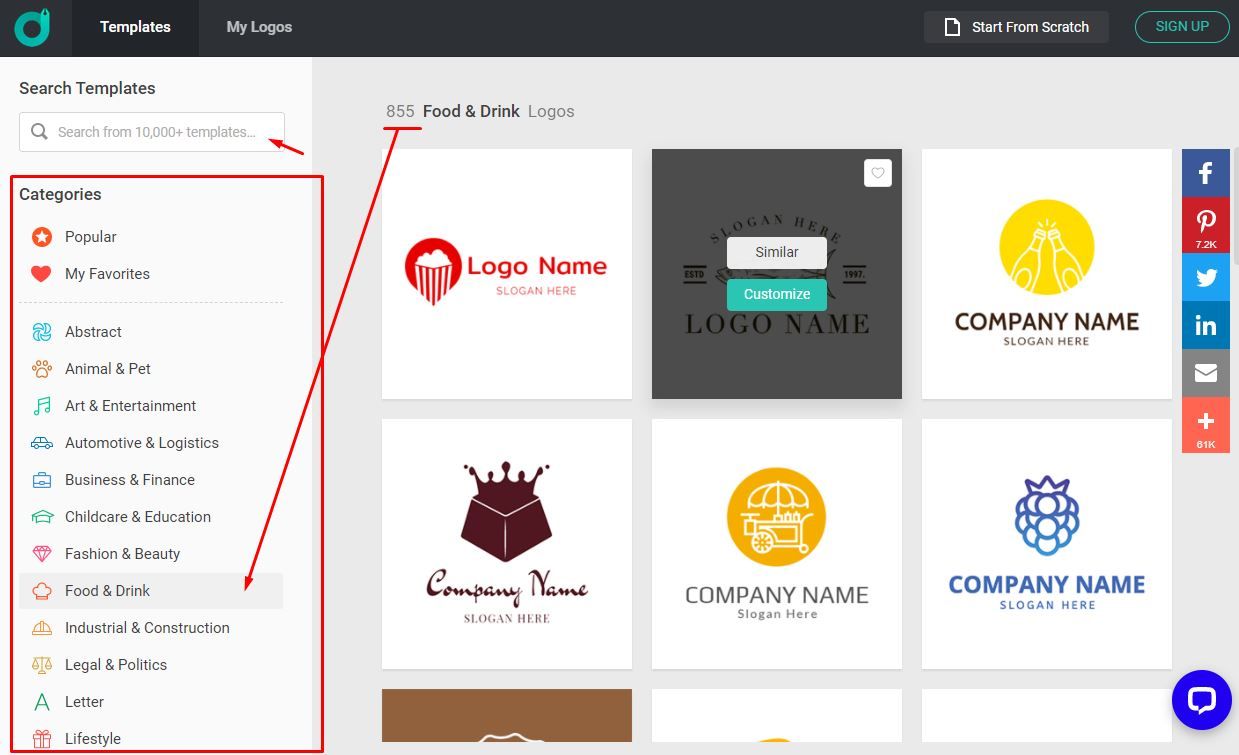 They have a Logo Template library that you'll fall in love with. It had everything that you need. They are categorised in different ways. You can search up one you want or dive into the categories to explore more options that's also relevant to your business. It has options like the Batman logo as well? Ain't that cool? You can add whatever you like and edit it to your liking.
How To Use DesignEvo?
It's very easy to use platform. You can navigate throughout the website with ease but to make the experience even easier, here's how you can do it!
You have to sign up through the DesignEvo website
Once you're in, you can browse through the menu to choose a template
After choosing a template, you can click on options for customization
You can start from scratch by picking an icon.
Insert the text you want to convert into the logo that you want
After doing this, you can customise it the way you want like colour, size, font, etc.
After you're done with your work, you can save it to your drive!
Yup! It's that simple.
What makes DesignEvo stand out?
There are many things that make DesignEvo special, here are some:
Affordable
Well, to start from the very basics. It's free of cost and if you're going to start a new business, you'll find it easy to create a logo that comes free of cost or for one you have to pay for? Of course, the one that is free of cost and doesn't consume much time. While DesignEvo offers paid plans as well, the free version is also good from a start-up's point of view.
Safety
One had to be sure about the reliability of the platform they're working on or with. Questions like is it safe or reliable often occurs and to battle all these, DesignEvo is extremely understanding when it comes to such questions. It does not require any kind of information that it doesn't need and your work is also safe with DesignEvo.
User-friendly Interface
As mentioned above, we went through all the steps of creating the perfect logo for you and we saw how easy it was. With its easy to navigate interface, DesignEvo also becomes the choice for many new business owners and start-ups who are looking out to find a good logo maker. You don't have to know too much, other than your own creativity, to make the best logo in order to represent your brand.
DesignEvo Pricing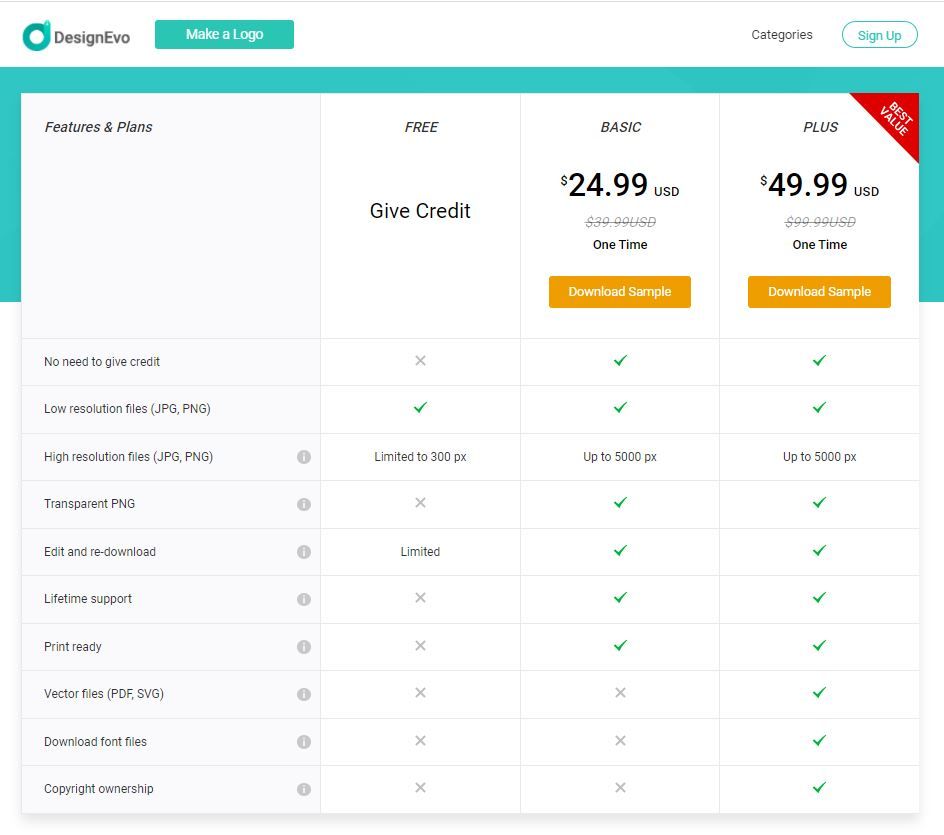 While most of the software is free of cost, with its amazing capacity and credibility, there are certain things that you can only get after paying a price for it. (That was very dramatic!)
While you can enjoy most features without any payment, there are few things such as image resolution and the number of edits/re-edits you can do. Features like that come in the two plans that DesignEvo has to offer:
Basic- $24.99/one time
Plus- $49.99/one time
All these payments are one-time payments and you don't have to pay anything further. Even its money plans are great! This software doesn't slack one bit. Isn't it cool?
Final Thoughts: Is DesignEvo worth it?
With everything being said, the website is satisfying and reliable. With good designs and model ideas, templates and layouts, there is barely anything that DesignEvo is lacking.
For a free interface, it is giving a lot more than it's taking and that is very impressive. The software offers the best result with little to no work from your side, other than your ideas and creativity.
But of course, the end decision lies in your hand. If you're looking for a place to make the perfect logo for you, or a designer but can't afford it, you should give DesignEvo a try!
Trust us when we say, you won't regret it.
The Review
DesignEvo
DesignEvo is an easy to use Free online logo builder software that lets you create logos for your brands in a matter of seconds. All the necessary customizations available, help you to customize the templates or even create a new logo from the scratch. Again, it's not as capable as AI but it can definitely serve your purpose.
PROS
Very easy to use software
Best for logo designs
Create eye catching logos in seconds
Well categorised templates to start with
Affordable one time pricing
Lifetime pricing with lifetime support
CONS
Less customization options
Review Breakdown
Ease of use

0%

Features

0%

Brand Trust

0%

Value for Money

0%

Built-in-templates

0%