Clinked was founded in Cambridge, UK, and is growing very quickly in the social collaboration market with thousands of users over 500 companies. It is a client-based collaboration tool and client portal which enables business clients, project groups, and teams to all collaborate efficiently on files and documents from within a secure cloud environment. It streamlines client and teams' interactions in a secure, white-label, and mobile portal. One of the major benefits of using Clinked is that it will bring your business closer to your clients from within customizable cloud workspaces.
Clinked provides portals that are feature-rich and deliver a high-touch branded experience to your clients in businesses. It is used by businesses across industries as it improves communication and provides security to your client-facing teams. Clinked is best for cloud-based business platforms to help manage small to large size businesses. Some of the key important features of Clinked are file sharing, task management, discussions forums, and more. Clinked is a feature-rich portal that will save your company valuable time.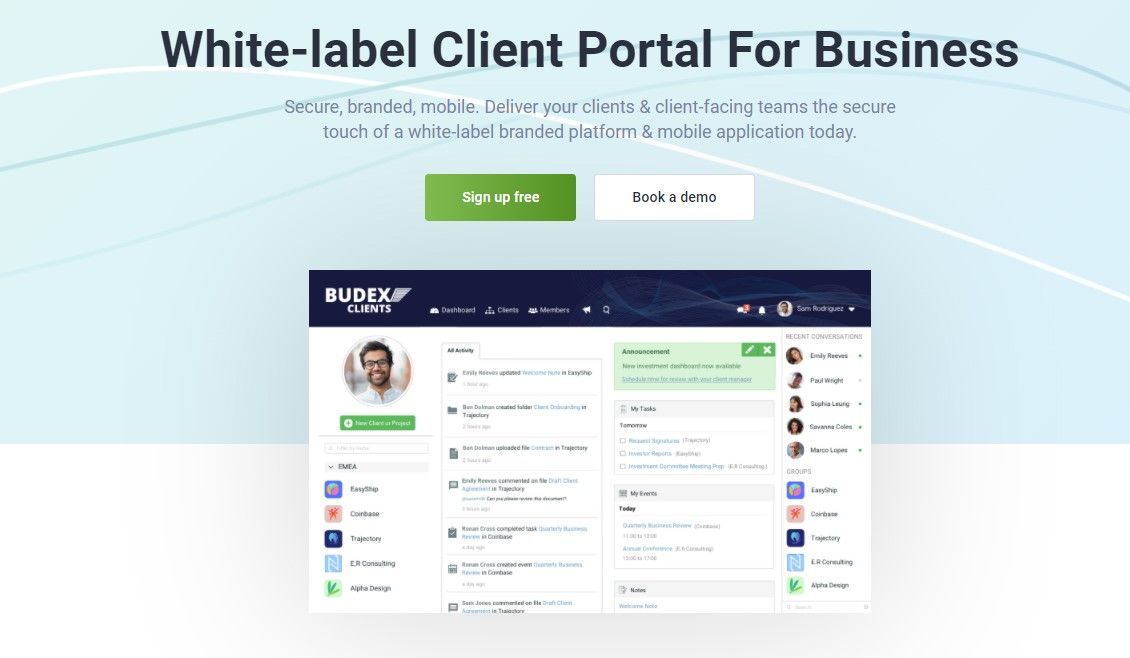 Clinked Overview
Clinked is a very helpful tool in offering businesses a fully white-labeled environment. It is for industries from SMEs to Enterprises. It not only saves the time of the company but also improves communication, ensures security, and increases brand awareness.
Clinked also provides a way to measure the team member's activity progress, events, and tasks. This means smoother project management, a happier workplace and a better client retention, as well as increased productivity which will eventually set you apart from your competitors. Clinked creates a social collaboration and networking environment for businesses to truly share tasks, collaborate, organize events, share ideas and knowledge, seamlessly and effortlessly within a group.
Exciting Features of Clinked
File sharing
Clinked permits you to upload and store files securely. It can store a file in a centralized environment making it easier for you to manage your project from beginning to end.
Activity Streams
Activity stream enables you to follow the progress of your group, including when files are uploaded and deleted, edited and completed, when tasks and events are created; and when comments, mentions, and discussions are made.
Task Planning
Clinked task management tool ensures that your tasks are delivered on time. Once you have created a task you can simply assign it to team members or clients, set start and complete-by dates, and update the progress while working on the task.
Group Chat
Clinked offers a no of ways to the main connection among the members of the team including microblogging and comments; however, group chat is one of the best ways to talk in real-time, answer any questions and share new ideas.
Event Calendars
While working on a project you will need to plan and set the meeting in between the involved members of the parties. Clinked makes it easier by permitting you to create meeting within the project group.
Discussions
Clinked allows you to have an open or private conversation or discussions with other members of the team to make decisions or decide ideas.
Email notifications
The customizable automatic email notifications are sent directly from your portal to all the members of the group.
Alternative to Clinked
Hub
Hub is one of the best platforms to champion your internal comms, with a fully customizable, user-friendly intranet that makes remote working a breeze. Hubs smart tool helps the company to become an efficient digital workplace. Using Hub, you can manage and share resources with ease, connect cloud drivers and promote collaborations.
Jostle
Jostle is the only intranet specially designed to simplify life, and keep it simple- so that your people and organization can flourish. It is best for any business or organization with about 10,000+ employees.
Blink
Blink is an employee communication tool for frontline workers like transport, workers in industries like healthcare, and facilities management. It is very simple and easy to use. It gives one-click access to anything your team needs- from updates to must-knows, conversations to stories, forms to timetables, and so on.
SuiteDash
SuiteDash is not only just a Client Portal but also a fully integrated cloud-based platform that completely satisfies the software needs of any size of business. SuiteDash combines all the most commonly used business tools into one and makes it easier for business owners to work with the software.
Clinked FAQs
Does Clinked provide a free trial?
Yes, you can sign up for a free 10-day trial.
What is the difference between the different packages?
All the packages differ from each other in terms of the features included.
Does Clinked support mobile devices?
Clinked supports the following devices: Windows, iPhone, Android, iPad, Linux, Mac, Web-based, and Mobile Web App.
What other apps does Clinked integrate with?
Clinked integrate with Google Apps, Linkedln, and Google Drive.
How is Data Protected with Clinked?
Clinked monitors security very closely and responds to new vulnerabilities when they are discovered. Here, all data transfer is encrypted. It uses 256-bit AES and supports TLS 1.2 for all communications.
Who are generally the common Clinked customers?
Clinked typical users are the Professional Service industry (Architects, Accountants, Lawyers, etc.), Enterprises, and Government Organizations.
Pricing of Clinked
Clinked offers free trials, freemium, and subscription-based pricing plans. These are as follows-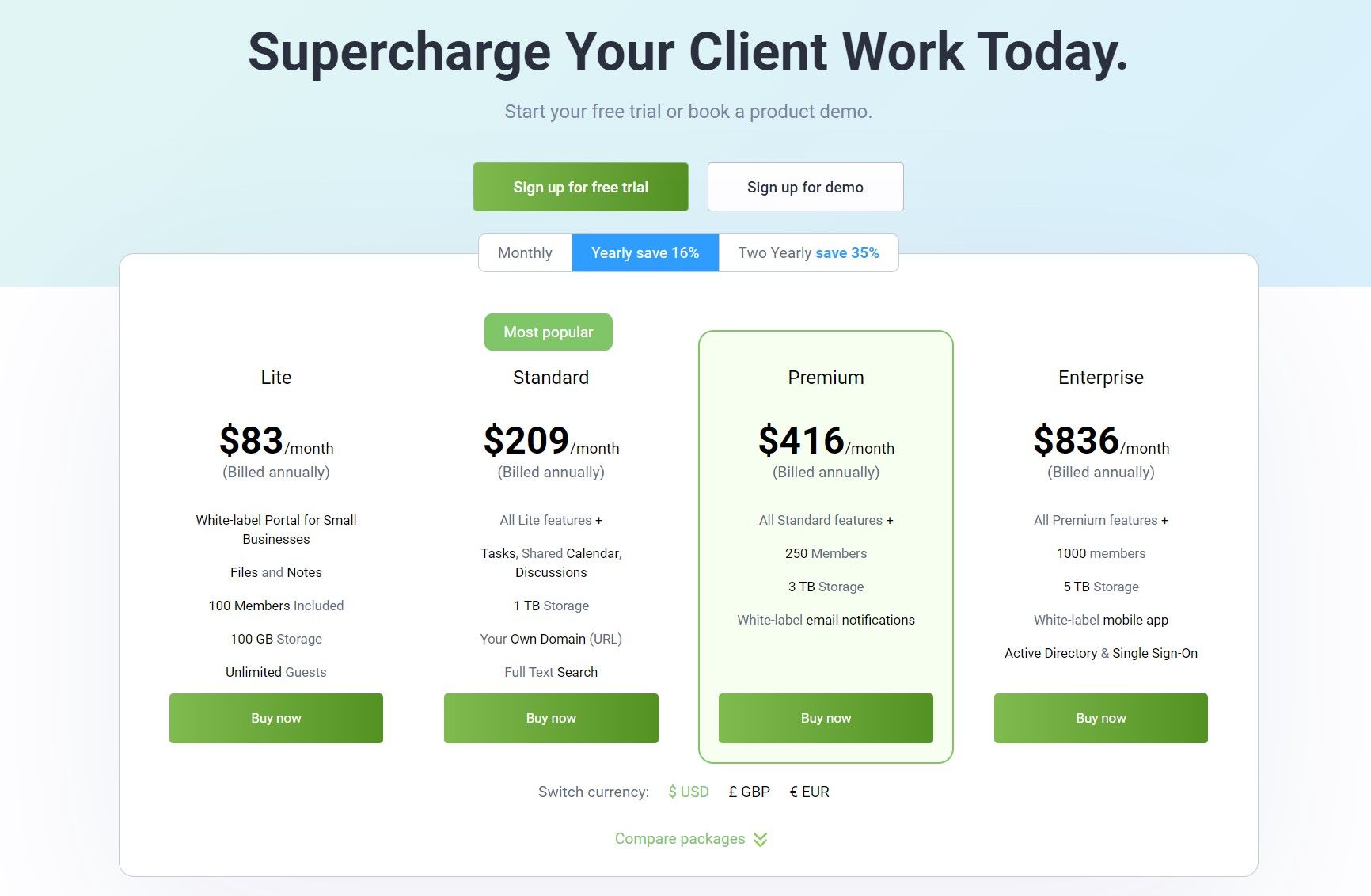 What makes Clinked stand out?
Clinked empowers businesses and teams throughout the world to collaborate and get the benefits of highly organized, engaged teams working together to surpass and achieve their shared goals and objectives. Clinked provides a very easy-to-use interface to manage online content, focusing on common business needs such as file sharing, highly collaborative enterprise wiki pages which helps to diminish the cost of publishing as well as sharing information substantially, which makes it the future-ready tool for businesses and teams.
Pros and Cons of Clinked
Pros-
The interface is very clean and organized.
Easy to set up and use.
User-friendly.
There is an instant response feature.
It saves a lot of time.
Easily share files and create content within a team.
Cons-
Lack of a little flexibility and customization from within the platform.
The storage limit is very less.
Small picture downloading box.
The spell check feature is missing.
The Review
Clinked
Clinked is a white label client portal solution for businesses. As such, you can give a custom branded experience to your customers and personalize the conversation with your clients. By this, you can have more control, bring in more security and trust for your brand.
PROS
The interface is very clean and organized.
Easy to set up and use.
User-friendly.
There is an instant response feature.
It saves a lot of time.
Easily share files and create content within a team.
CONS
Lack of a little flexibility and customization from within the platform.
The storage limit is very less.
Review Breakdown
Ease of Use

0%

Features

0%

Value for money

0%

Compatibility

0%

Support

0%