WPFunnel is an amazing drag-and-drop WordPress Funnel Builder. It is a tool that will prove to be a great help to you in increasing your website conversations. The WPFunnel turns your website into a very powerful machine. Using WPFunnels you can build sales funnels in your dashboard. In case you are new to this, it means people are funneled through a series of steps and pages, that are usually based on any one product. The reason for doing so is to keep the attention on the product at hand vs being losing focus by other things present on the website.
I have seen much software that's quite similar to WPFunnels but I am very satisfied with the experience of working in WPFunnels. This software gives the benefits of funnel mapping software, along with all the whistles and bells that you need for a WordPress drag and drop funnel builder. I am looking forward to many more updates to come in this software and will surely stick to using WPFunnels on future websites.
WPFunnels Overview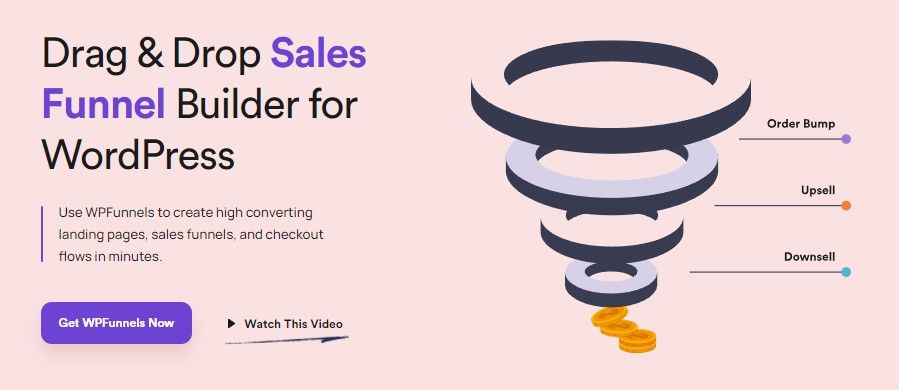 It is the first-ever made, drag-and-drop sales builder funnel that is canvas-based and can be used by anyone with no prior experience in funnel building. It is currently the best funnel builder for WordPress and WooCommerce that comes with a user-friendly interface. It lets you plan your sales funnel on a drag-and-drop canvas, launch your sales funnels, boost your sales and design your funnels steps using a page builder of your choice.
WPFunnels is very powerful as compared to a 3rd party builder. As WPFunnels allows you to manage all of your website products, pages, and funnels within your back office. And when this is done it removes all the possible integration problems or glitches, as that all is native to your site. Another thing about WPFunnels is that it uses some page builders like Elementor so that you can use what you use on your website, and in addition to this you can also gather emails by integrating with email marketing tools. A software like WPFunnels is a perfect choice for all types of eCommerce including selling courses, selling products, taking payments for bookings, building an online store, and many more.
Features of WPFunnels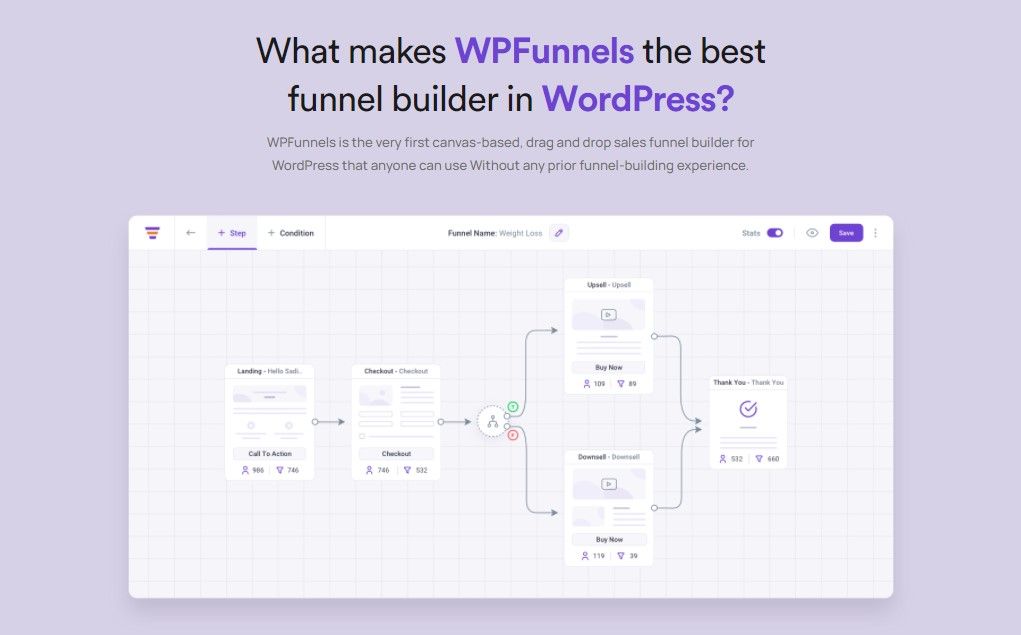 Drag & Drop Funnel Builder
WPFunnels has a sales funnel builder that allows you to map the journey of your customers inside your website. It is very easy to create sales funnel by just adding elements and dragging & dropping them according to your needs, and eventually connecting them.
Custom WooCommerce Checkout Page
WPFunnels allows you to customize your WooCommerce checkout live in your page builder itself. This is no doubt one of the most amazing features of WPFunnels.
One-Click Upsell and Downsell Offers
Add upsells and downsells to your sales funnel and increase your customer value drastically. And for doing so, add the step into the funnel map of yours, connect it to where you wish it to activate, and then click on the cog to add the price and products. It is used when you want to sell something at a lower price as it's a one-time offer.
Checkout Order Bumps
It is very easy and simple to add order bums into your sales funnel. And you can also choose where you wish the order bump to show. To do this, on the checkout page click on the Order Bump, and choose the options that you want to add to the checkout.
Pre-Made Funnel Templates
WPFunnels has many templates that you can use. Although the selection is limited as it is not very old software. You get a different number of step funnels based on the pricing plan you take. The free plan has 3×3-step funnels, in the Pro plan, there is a free template, plus a 1×3-step funnel and 3x-5-step funnels.
Alternatives to WPFunnels
Value My Funnel
It is an amazingly simple tool that was specially created to help you calculate the value of your marketing funnel, all the way down to what every visitor to your site is worth. After you enter some basic data, Value My Funnel delivers a personalized report, and in addition to this a goal projection that is based on your numbers.
Sales Funnel Template by Salesflare
Sales Funnel Template by Salesflare is a free and easy-to-use sales funnel template. It is for small sales teams and entrepreneurs who are looking to visualize their sales process. Using this software you can manage your leads in one place, customize your sales funnel stages, and track sales funnel metrics that are updated automatically.
Funneled
Funneled is quick and easy-to-use software. It lets you create custom reports, depending on the data you want to see. Using Funneled keep count of your daily customer phasing activities. It is suitable for multiple use cases like events, sales, fundraising, exhibitions, and more.
Sales Funnels by involving. me
An amazing software by involving. I help you optimize and create funnels for your business. This tool works from collecting leads to accepting your payments with PayPal and Stripe. Using this software, you can also make any funnel involve. It's a drag & drop editor.
21 Jumpstart
With this fill your lead funnel month after month. This software sets you up with qualified, interested B2B leads that are ready to be closed with the guaranteed lead flow. 21 Jumpstart works for free. It takes off of your team and puts it on itself.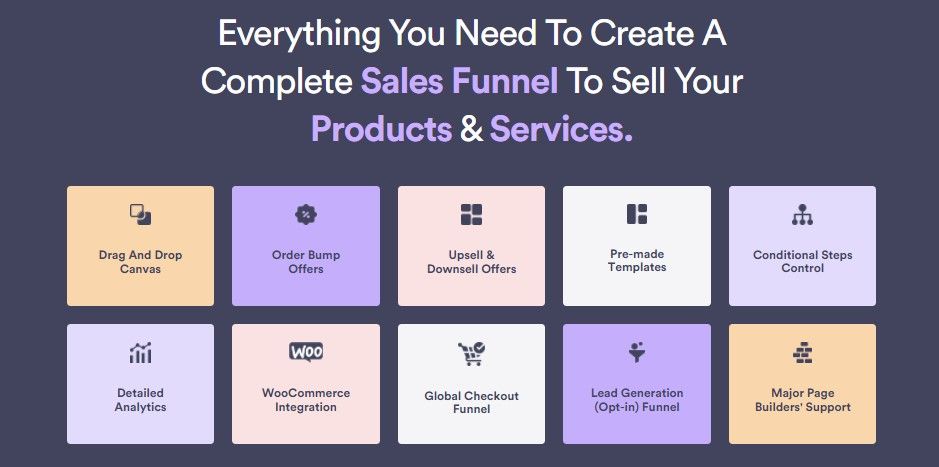 FAQs of WPFunnels
What pricing plans does WPFunnel offer?
WPFunnels currently have 3x pricing plans with both annual and life choices. There are three plans: Small, Medium, and Large.
Who are the common users of WPFunnels?
WPFunnels are generally used by: Counselor, Software Firm, Fitness Trainers, Gym Equipment Shop, Digital Marketer, Legal Advisor, Marketing Strategist, Marketing Coach, Health Supplement Seller, Software Firm, eCommerce Shop, Educational Portal, Online Coach, and many more niches. So, it can be said that any type of business can be benefitted by using WPFunnels.
For using WPFunnels do you need any special designing and coding skills?
No. The WPFunnels comes with many types of templates that meet your requirements of designs and structure to sell different types of courses and products.
What do you need to start using WPFunnels?
The basic requirements for WPFunnels to work are: WooCommerce and installed WP Funnels. And then according to your needs, you can choose your page builder for designing the pages.
What are the Page Builders that are supported by WPFunnels?
WPFunnels supports Elementor and Gutenberg page builder. And when you use any of these you get their respective widgets and blocks for funnel creation.
Pricing of WPFunnels
WPFunnels offers the following plans-
Small plan- At $97 annually
This plan is very good for solopreneurs building funnels for their businesses.
License for 1 site
UpdaPriority supporttes for 1 year
Priority support
Stripe, PayPal, and COD support
Medium plan- At $147 annually
This plan is amazing for freelancers and developers offering funnel creation services.
License for 5 sites
Updates for 1 year
Priority support
Stripe, PayPal, and COD support
Large plan- At $237 annually
This plan is best for developers and agencies who are offering funnel creation service
License for unlimited sites
Updates for 1 year
Priority support
Stripe, PayPal, and COD support
What makes WPFunnels stand out?
There are a lot of WordPress Funnel builders in the market but there is something really powerful about WPFunnels that is attracting a lot number of people. This software has some amazing features that make it quite different and unique from the crowd. Some of the main features of WPFunnels are Pre-made Funnel Templates, Checkout page Customization, Order Bumps, Visual Drag and Drop Funnel Builder, and One-Click Upsells & Downsells. And some other features that are coming soon are Full analytics of every funnel step, A/B testing of every step, and major payment processing support in addition to the currently present Stripe method.
WPFunnels stand out from the rest of the tools as it is the only Funnel Builder software where you can visually design the funnel flows simply on a drag and drop canvas. There is no need for you to use multiple tools to track or create your funnels. Using WPFunnels you can control everything from planning the funnel to launching a live sales campaign all in 1 place.
Pros and Cons of WPFunnels
Pros-
Best Funnel Builder for every business and every niche.
Let's you plan, design, and execute the entire sales funnels without even leaving the dashboard.
Maximize your online sales and leads irrespective of the product you offer.
Best Funnel Builder for every business and every niche.
Let's you plan, design, and execute the entire sales funnels without even leaving the dashboard.
Maximize your online sales and leads irrespective of the product you offer.
Creates a functional funnel in just a matter of 15 minutes.
Saves time and energy.
Ensures that the entire process is possible in WordPress
User-friendly interface.
Cons-
Sometimes there are bugs.
Some improvements are needed to be done.
The Review
WPFunnels
WPFunnels is a great software that saves your time and energy while creating sales funnels within your dashboard. It helps you in improving your website conversations and results in high sales of your products. With this tool, you can easily create exciting funnels which can give you more sales and revenue.
PROS
Easy to use Funnel Builder
Woocommerce Integration
Premade Templates
Conditional Steps Control
Upsell & Downsell Offers
Visually Set the conditions
Integration with Gutenberg & Elementor
CRM Integration
Easy & Affordable Solution
Review Breakdown
Easy To Use

0%

Features

0%

Support

0%

Brand Trust

0%

Value for Money

0%

Integrations

0%