SendGrid is a simple and digital marketing solution that's built on reliable and highly scalable MTA service infrastructure. It is a cloud-based, Simple Mail Transfer Protocol (SMTP) provider in addition to its front-end email marketing tools. SendGrid was originally acquired by Communications platform Twilio back in the year 2018. They planned to create a complete marketing automation and customer engagement platform.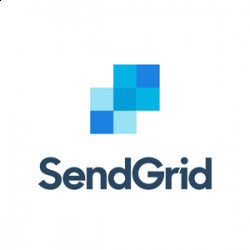 You can create a beautiful email but what if it ends up in your customer's spam folders, then you will not get the results you want. That's when a tool like SendGrid comes into role. SendGrid email marketing campaigns tool is one of the best software for running an amazing email marketing campaign while ensuring that all the emails are ending up in the recipients' inboxes. I have been using SendGrid for many years to send the technical expertise of my organization for branding and promotions. It helped my team to build customers' trust by increasing communication with them through emails. One thing I liked the most about this software is the performance is measured in terms of email server uptime. The dashboard is very clean it provides us with insight concerning the number of emails delivered, sent, and opened, which helps in improving marketing campaigns. Overall, it has met my expectations perfectly. My experience of using this software has been great and helpful. This is surely a tool I can recommend.
SendGrid Overview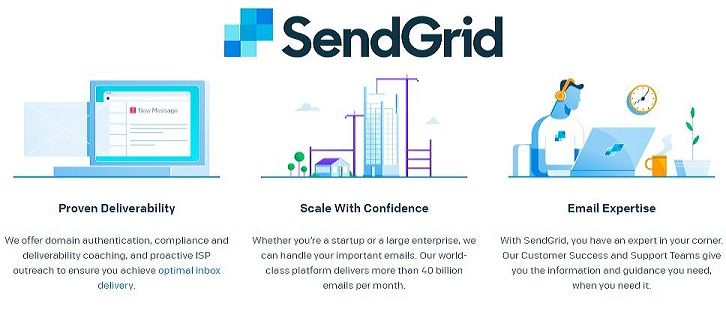 SendGrid's marketing platform is a really good and productive fully rounded email marketing tool. The amazing email deliverability in SendGrid is the major selling point. It helps you to improve and understand the factors behind your sender's reputation so that no emails end up in the email blacklists. These factors include bounce rate, IP health, spam trap email addresses, unsubscribers, and people who report your email as spam. Further, the email validation functionality detects misspelled, nonexistent, disposable, and inactive email addresses to help you improve your delivery rates. SendGrid has an email editor that lets you customize the email design by changing the attributes such as color, text, buttons, backgrounds, buttons, snippets of code, and font. You can also add tags to messages and add custom fields that include: adding recipients' location and name, the last date of opening, or any information you have gathered of your subscribers that will do a great personalization. The email editor also lets you check the probability of getting a message in the recipients' spam folder, allows you to test the message by sending it to different people, and checks the validity of your links.
SendGrid has an amazing analytics functionality that extends to tracking the success of your autoresponder campaigns as a whole and tracking the performance of each email. Some email metrics that you can track are Unsubscribers, unique clicks, emails delivered, and unique opens. It also allows you to delve a little deeper and track messages that are opened by the email provider, device, and location. You can also categorize the emails for example newsletters or flash sale emails and track the performance per category. In SendGrid you can only segment the subscribers according to the demographic data such as county and city, and the last time someone clicked or opened an email. However, you can't segment according to the browsing or purchase behavior as the segmentation capabilities are limited. In all, the software is really helpful for sending emails and other marketing-related activities. It also helps you to target the needed customers of your product and drive revenue.
Features of SendGrid
The features of SendGrid are a mixed bag. Let's see some of its features that makes it a great tool-
Email Editor
Email editor of SendGrid tool allows you to customize the already existing templates, code an email from scratch, or build a new email newsletter using the drag-and-drop functionality. The most useful thing is you can add tags in the message that will allow you to add custom fields and enables a high level of personalization.
Email Deliverability
The email deliverability feature of SendGrid ensures that all the emails are ending up in the recipients' inboxes rather than just lying down in their spam folders. There is also an email validation functionality that detects if the email addresses are free of errors.
Content Management
The content management and segmentation capabilities are limited in SendGrid. In terms of managing the subscribers, all you can do is search for the email addresses and create custom fields to collect a little more data on your customers.
Automation
There is a prebuilt autoresponder, a welcome series in SendGrid. You can also custom-build your automated series of emails. There are certain triggers you can use like: making a purchase, signing up for your email newsletter, or using a contact list to create automation.
Analytics
SendGrid has a great analytics feature and it excels when it comes to getting a super granular insight into the customers' behavior. Using analytics you can track some basic metrics like Bounces, unsubscribers, spam reports, opens and clicks.
How to use SendGrid?
Step1- Create an account on SendGrid.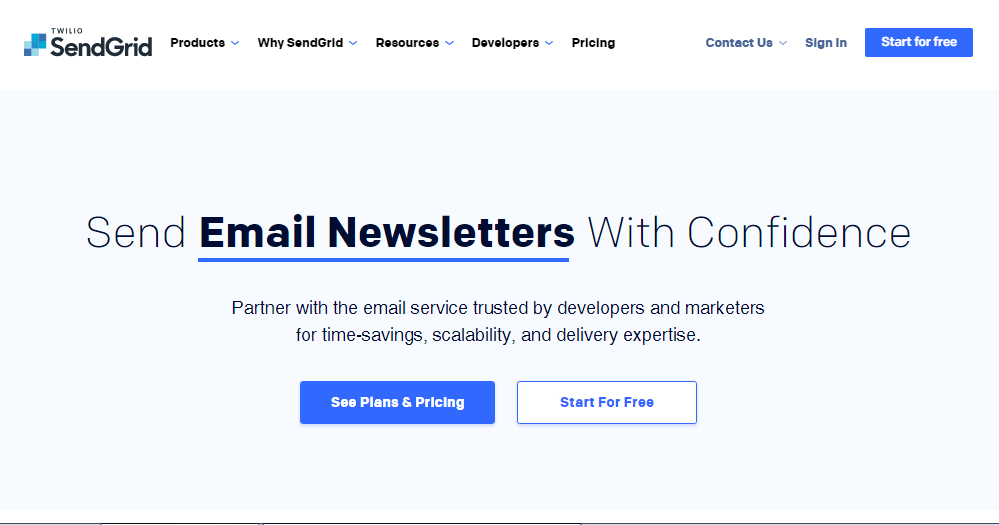 Go to SendGrid's website and sign up. After you get signed up you will see a default dashboard.
Step2- Set up your Domain or Email.
Go to the dashboard and select "settings" then choose the "Sender Authentication" from the drop-down menu.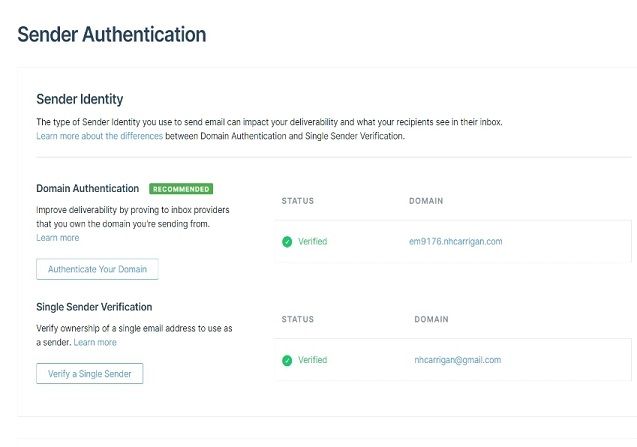 Step3- Send emails via SendGrid's API
Select an API key first by going to the dashboard and selecting Settings> API Keys > Create API Key.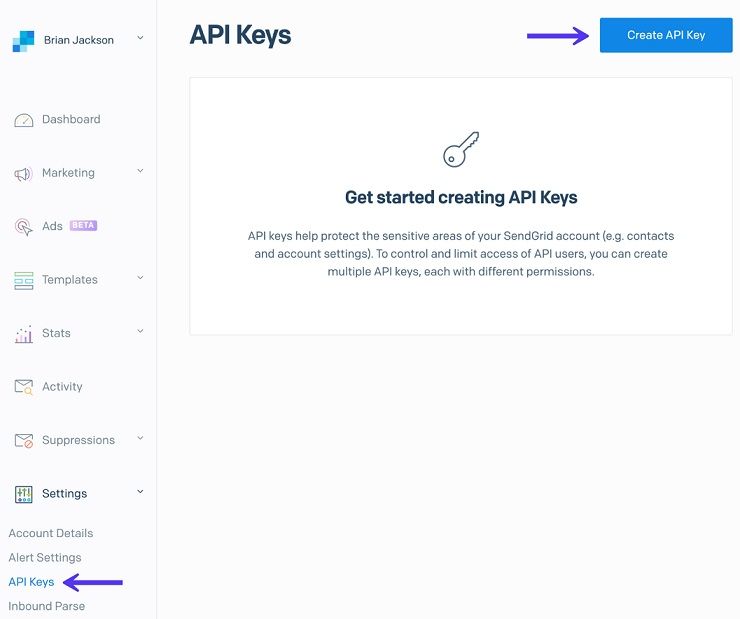 Step4- Use dynamic templates to generate the content if you didn't send the content in your API call.
Go to dashboard select Email API> Dynamic Templates> Create a Dynamic Template. Now click on "Add Version" to open the template selection.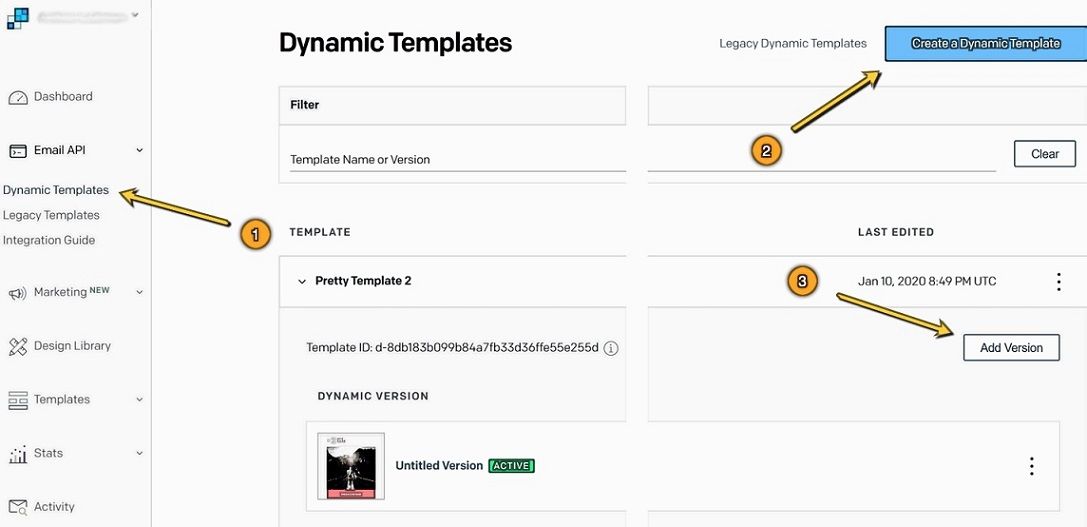 Alternatives to SendGrid
Sendinblue
Sendinblue is an outstanding email marketing platform. It offers social media marketing, chats, and SMS marketing services. With its strong CRM tool, any organization can track the details of their customers easily. It also allows the user to create retargeting ads, compelling landing pages, sign-up forms, and more. Sendinblue helps the marketers to maximize the conversions by providing A/B testing tools, real-time analytics, and email open rate reports.
MailGun
MailGun is a reliable email delivery software in the world. It is very reputed software. Even its pricing plans are very appealing so that one can easily start leveraging their services. MailGun is definitely a robust SMTP software for marketing and transactional emails such as SendGrid. If you are looking for an alternative to Sendgrid then MailGun is promising one.
Constant Contact
Constant Contact is another amazing alternative to SendGrid. It offers unlimited emails, eCommerce marketing, and list-building tools all in its basic plan. The tool comes with a drag-and-drop fronted email editor for beginners. It automatically resends the emails to recipients who did not open them in their previous mails. Constant Contact greatly helps in personalizing the business emails to foster much higher engagement.
DuoCircle
DuoCircle is an amazing software that is especially for people who are looking for a low-budget platform without compromising on the quality of email deliverability. DuoCircle has features like: Multiple delivery ports, TLS encryption, real-time reports and analytics, DKIM singing, detailed tracking of emails, robust anti-spam service, email forwarding, SPF management, and a few more. It is a superb alternative to SendGrid especially for enterprises who are looking for a comprehensive email solution.
Pepipost
Pepipost is another amazing alternative to SendGrid. It is an outstanding and trustable email API and SMTP service, provider. Pepipost keeps track of the open rate, bounce rates, and email delivery. It can also opt to receive notifications and real-time reports.
FAQs of SendGrid
Who is SendGrid for?
SendGrid is specially designed for midsized companies who are looking to deliver email marketing campaigns at a greater scale.
Why choose SendGrid as your email marketing software?
It is very important to work out your mush-have features and requirements before you choose an email marketing platform. In case, if email deliverability is your top priority, then there is no better option than SendGrid. It is better than almost any of its competitors. SendGrid comes with an amazing email editor and detailed analytics enabling you to track your campaigns as well as optimize the performance.
Does SendGrid offer a free plan?
Yes. SendGrid has a free plan. This plan allows you to send about 6,000 emails per month for up to 2,000 contacts. In this plan, you will not get any phone or live chat support and can only create a single signup form. However, the segmentation and automation features are included in it.
What are some of the main uses of SendGrid?
SendGrid is an email marketing software solution that aims to help the customer in sending transactional and personalized marketing messages to the customers while ensuring improved email deliverability. In addition, SendGrid also has a very strong set of analytics and reporting capabilities.
Pricing of SendGrid
SendGrid comes with a free plan and two paid plans. The Basic plan and the Advanced plan respectively. The Basic plan comes at $15 per month and allows you to send about 15,000 emails each month for up to 5,000 contacts. Whereas, the Advanced plan comes at $60 per month and allows you to send up to 50,000 emails per month with about 10,000 contacts. You can choose any plan that best fits your need but it's always better to start with the free plan and first understand the working of the software and then upgrade to the paid plans.
What makes SendGrid stand out?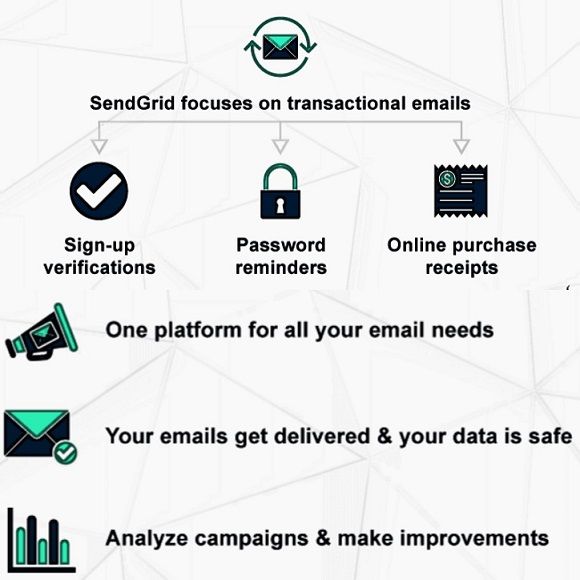 If you wish to have access to a very detailed reporting functionality that allows you to track emails by category as well as campaign then SendGrid is the perfect choice for you. It focuses strongly on email deliverability making sure that all the emails are reaching straight into the recipient's inboxes rather than getting stuck in their spam folders. This no doubt makes SendGrid go above and beyond in email deliverability making it a great tool for marketers who are aiming to focus on this aspect or have an issue with landing in spam folders. SendGrid also provides a high-volume email delivery service for which most of the other marketing platforms need a third party.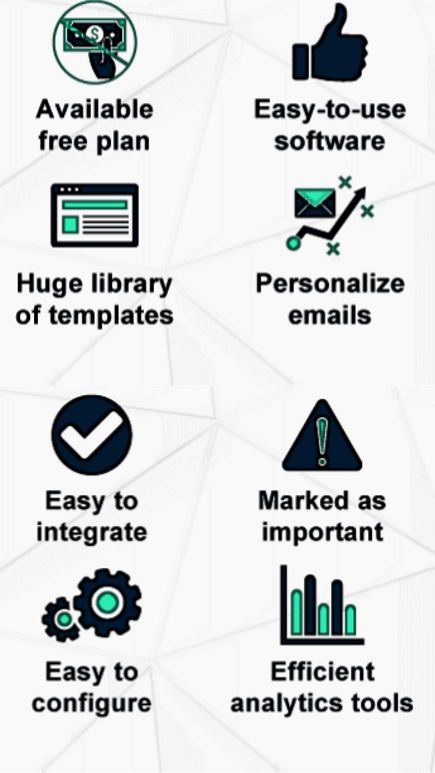 SendGrid is hot on integrations too, it offers a separate API service that uses webhooks for ensuring that seamless data flows between different solutions. Being a complete automation platform, it allows you to set the email campaigns according to your wish at whatever time. Using SendGrid you don't need to worry about the quality of email delivery whether you are running an email marketing campaign or automating transactional emails. There is a wide range of templates using which you can easily build more informative and effective emails.
Pros and Cons of SendGrid
Pros-
SendGrid is very light and easy to use.
SendGrid has excellent email deliverability functionality.
SendGrid can personalize individual emails.
SendGrid has detailed analytics.
A great email editor that adds tags to your emails making them more informative.
Gives you an insight into how likely your email can come and land in the spam folder of your customer or reach recipients inbox.
Cons-
SendGrid lacks a little in the areas such as automation and segmentation.
The contact management and autoresponder features are limited.
Not good for marketers who wish to create highly complex and tailored campaigns.
The free plan does not have a phone or live chat support.
The Review
SendGrid
SendGrid is a platform that offers amazing functionalities and great email delivery making it easier for you to communicate with your customers. The tool also helps in achieving greater promotion services.
PROS
SendGrid is very light and easy to use.
SendGrid can personalize individual emails.
SendGrid offers detailed analytics.
It is a reliable email delivery platform
Gives you an insight into how likely your email can come and land in the spam folder of your customer or reach recipients inbox.
Offers lucrative pricing options to upgrade
CONS
The free plan does not have a phone or live chat support.
Review Breakdown
Easy To Use

0%

Features

0%

Support

0%

Integrations

0%

Brand Trust

0%

Value for Money

0%