We all know that students love to learn from videos as of today. 📸 YouTube is doubtless an excellent source for learning anything you may want. From cooking videos, online development videos, and language learning videos to UPSC material, everything is available in abundance on YouTube. However, most of the content is not well categorized. Some creators have made playlists, while some have not.
As a creator 👻, you know that making a course and publishing it on YouTube, where there is already huge competition and fewer chances of visibility, will waste your efforts.
You can monetize your content on YouTube and become famous as a creator via your valuable videos. However, when it comes to launching your course for a targeted and dedicated audience, you will need to opt for something special where you can track the progress of your learners, you can send notifications, and emails to your students, send them reminders, update your content and give your students a learning environment. 🤷🏻‍♂️
As such, many teachers opt for Udemy, Skillshare, or Online tools such as Teachable, Learndash, Kajabi, or Podia. Definitely, all of these are very fancy and full of functionalities. Learndash is an LMS plugin for WordPress that saves your cost in Website management, emails, design customizations, and various integrations.
Learndash offers you what you actually need, a learning management system right on your WordPress website. WordPress is a popular CMS where you can find many functionalities you can add anytime as you grow, such as an affiliate system for your online learning platform. 👍🏻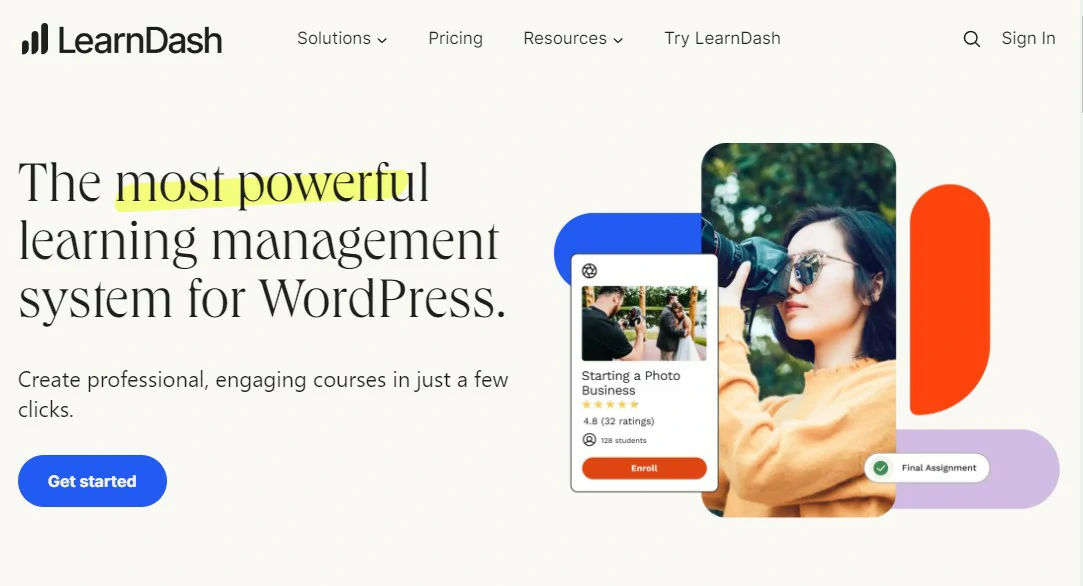 Learndash Overview
Coming from a very trusted brand StellarWP, LearnDash is a WordPress plugin that allows anyone to create an online paid learning platform where you can charge your students to enroll for the courses you offer. With Learndash, it is straightforward to build courses, lessons, topics, and assignments. It has various features such as quiz creation, courses, certificate creation, coupons, student payment, reporting, user registration, and more.
Learndash was founded in 2014 by two entrepreneurs who recognized the growing need for easier ways to learn new things. Today, Learndash has over 2 million students enrolled in its courses, which cover a wide range of topics, including business management, coding languages, design principles, finance theory, and more.
Learndash is designed to help you quickly manage your courses and their content.
As a course creator, you can monetize your knowledge and passion.
Learndash supports Razorpay, Paypal, and Stripe as payment methods.
It also has WooCommerce integration.
It supports all the major page builders, including Elementor, Divi, & Beaver Builder.
Setting up a website with Learndash with your favorite builder takes significantly less time.
You can use the Gutenberg editor to create the content of your lessons.
It also gives you detailed reports that can be exported or viewed using its appealing and filterable ProPanel.
Learndash is very well documented.
It has a very straightforward pricing model.
Introduced in Learndash 3.0, the focus mode gives a great learning experience to your users.
With Learndash, you can create a scalable online learning platform.
It has a Facebook Community where you can post or find helpful videos and posts related to Learndash.
How to Install & Activate Learndash
Let's first install the Learndash plugin on our new WordPress website.
Download the Plugin from Learndash Account
First, buy the plugin and login to your Learndash account. Here you can Download the Learndash LMS latest plugin under the Downloads tab.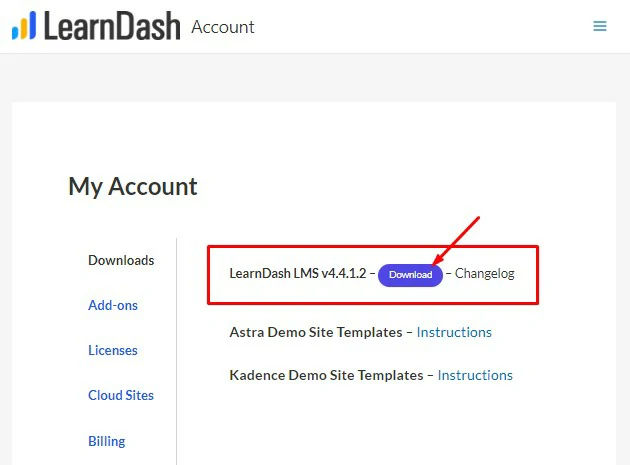 Upload, Install & Activate the plugin on your Website
Now head over to the
Plugins > Add New
and upload the Learndash plugin .zip file.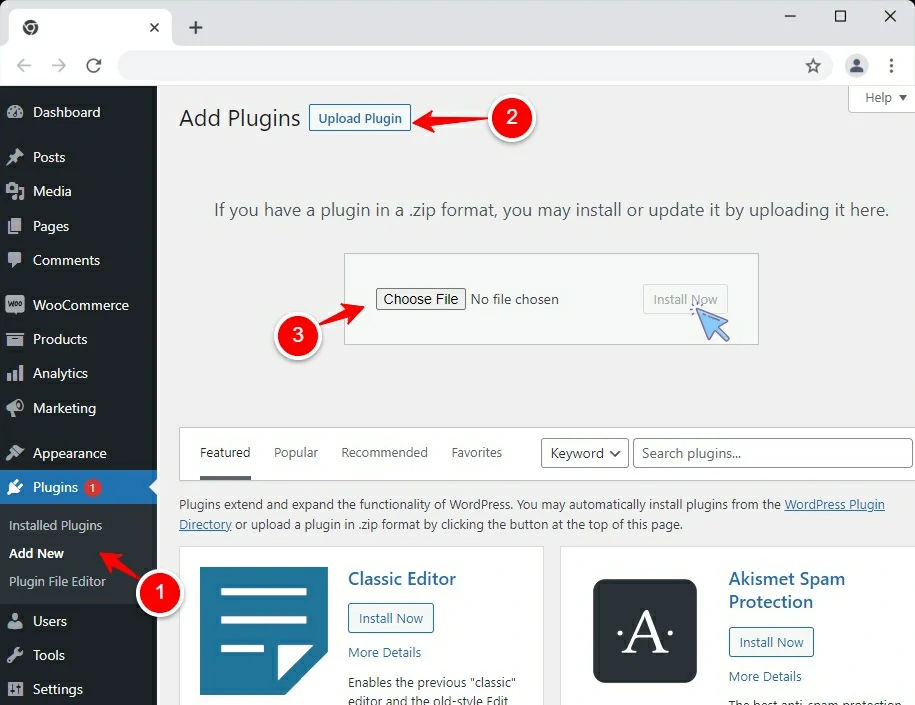 Copy the License key of the Plugin
Navigate to your learndash account and copy license key of the plugin.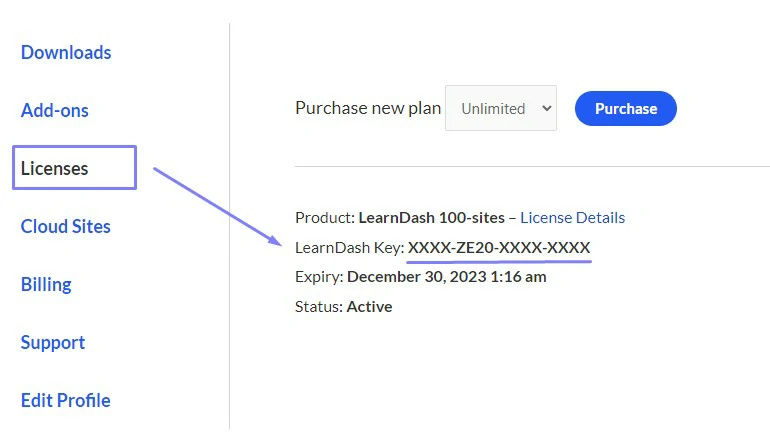 Activate Plugin using the License
Now navigate to Learndash
LMS > Settings > LMS License
, and input your email with license code to save the license.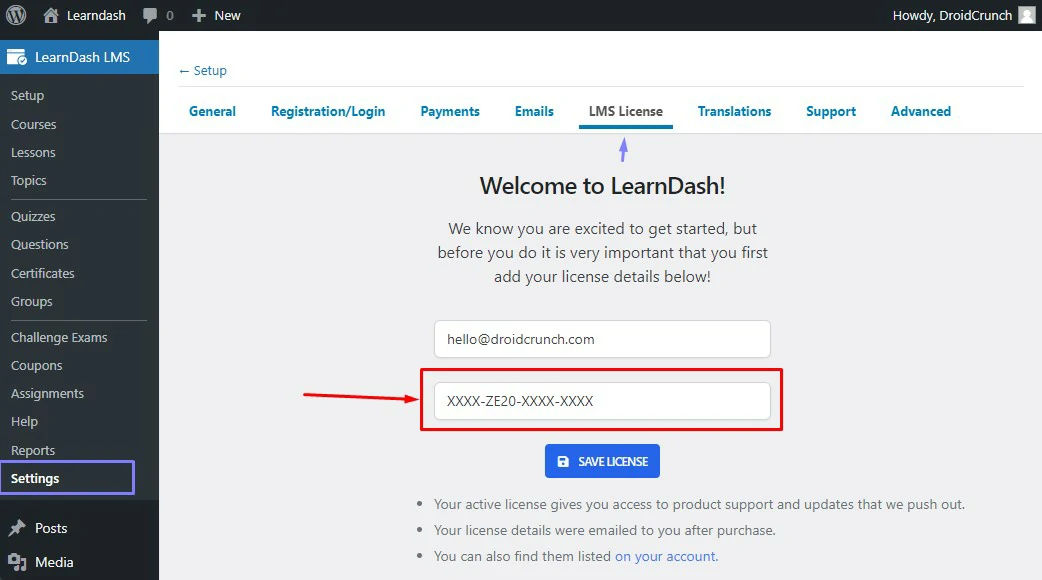 Install and Activate Add-ons
Now navigate to Learndash
LMS > Add-ons
, to install and activate the required add-ons for your workflow.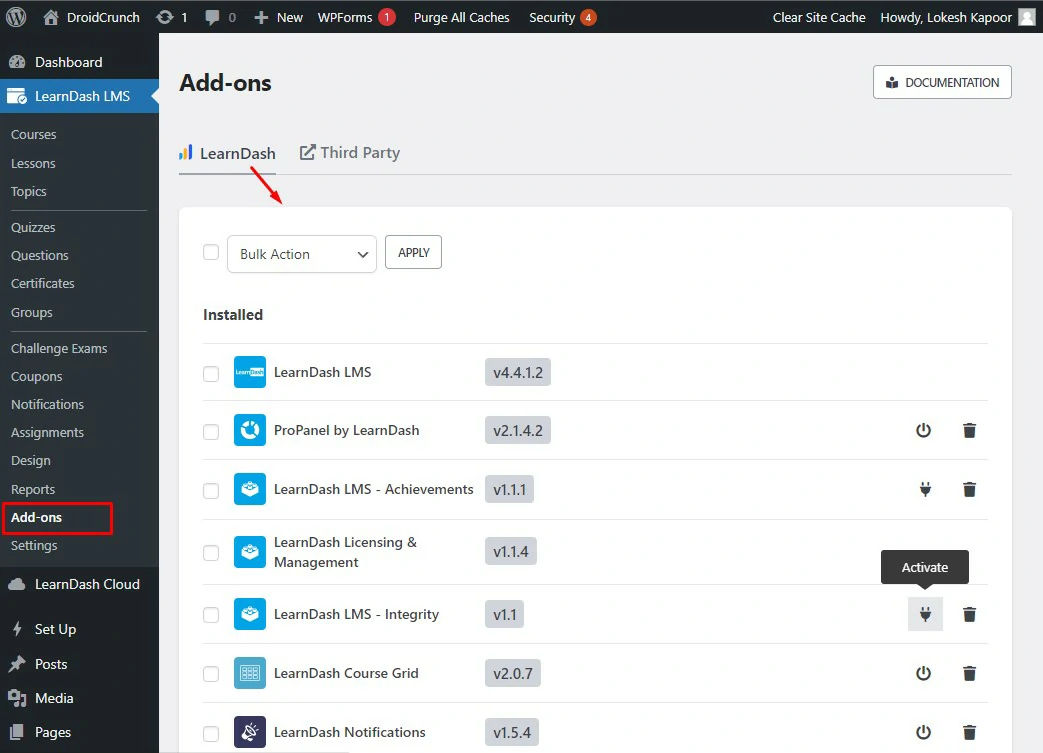 The Hierarchy in Learndash
In order to use Learndash without confusion, it is essential to understand some basics of this plugin.
The course is at the highest level. Lessons are included below that. Courses are given lessons. Sections are an alternative way to organize lessons.
You will find Topics underneath Lessons. Similar to how lessons are assigned to courses, topics are set to lessons.

The last category is Quizzes. A course, lesson, or topic may be given a quiz. You can also change this terminology while the structure remains the same.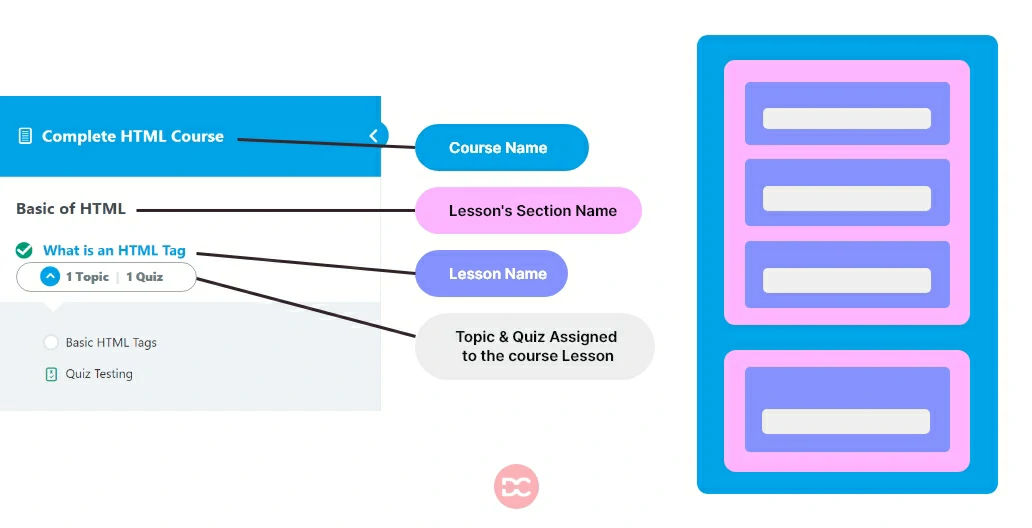 How to Create a Course with Learndash in 2023
Using Learndash on your WordPress site is not a hard nut to crack. However, we shall go through all the steps that are required to set up a fully functional course website using Learndash.
Prerequisites for this tutorial:
First, Navigate to Learndash LMS > Courses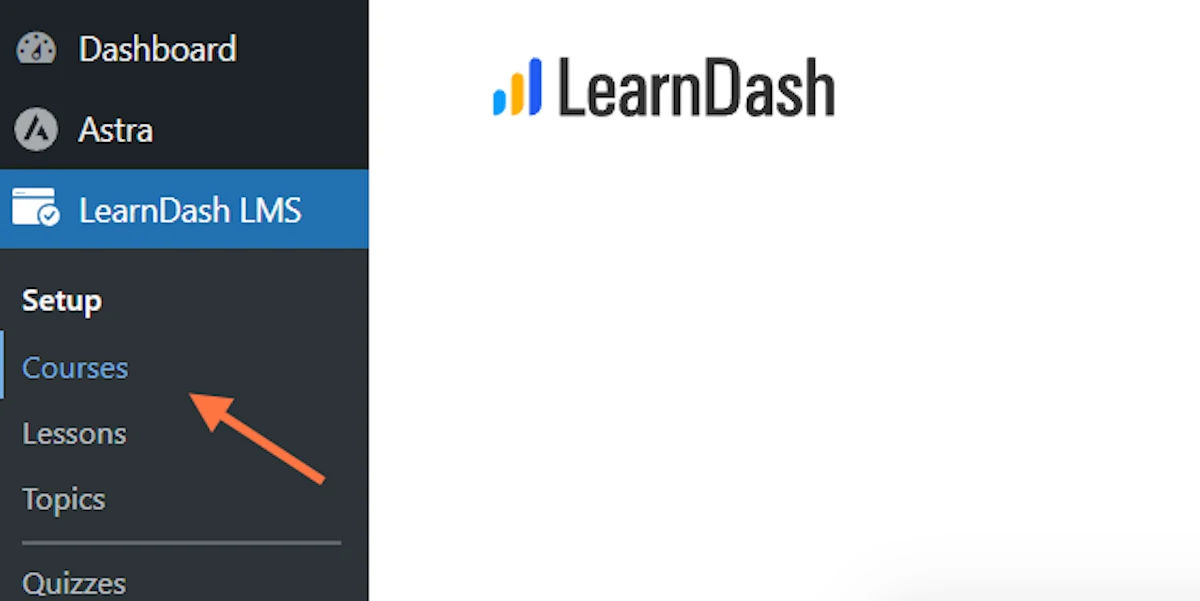 Here you can find and manage all your courses. Simply click on the "Add New" button to create a new course.

Let's give our course a Name or Title. I give it "Learn HTML (Starter to Advanced)." In place of a description, you can write the information which is visible to the users who are looking to enroll for the course and want more information. For now, I am using a dummy description.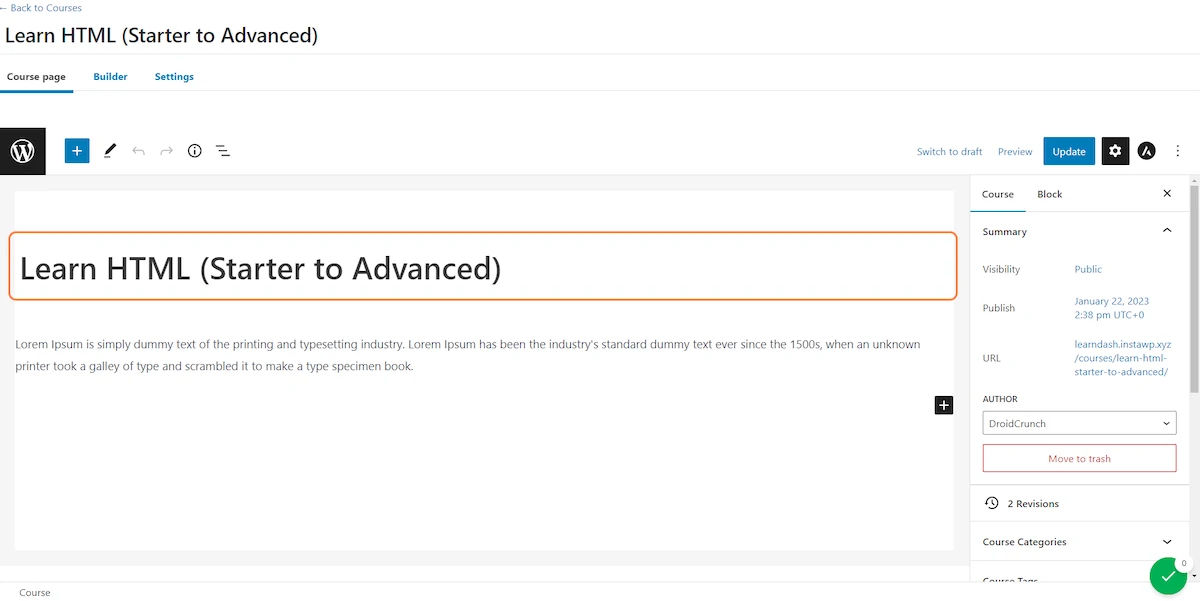 Now navigate to the course Builder tab in order to Edit your Course.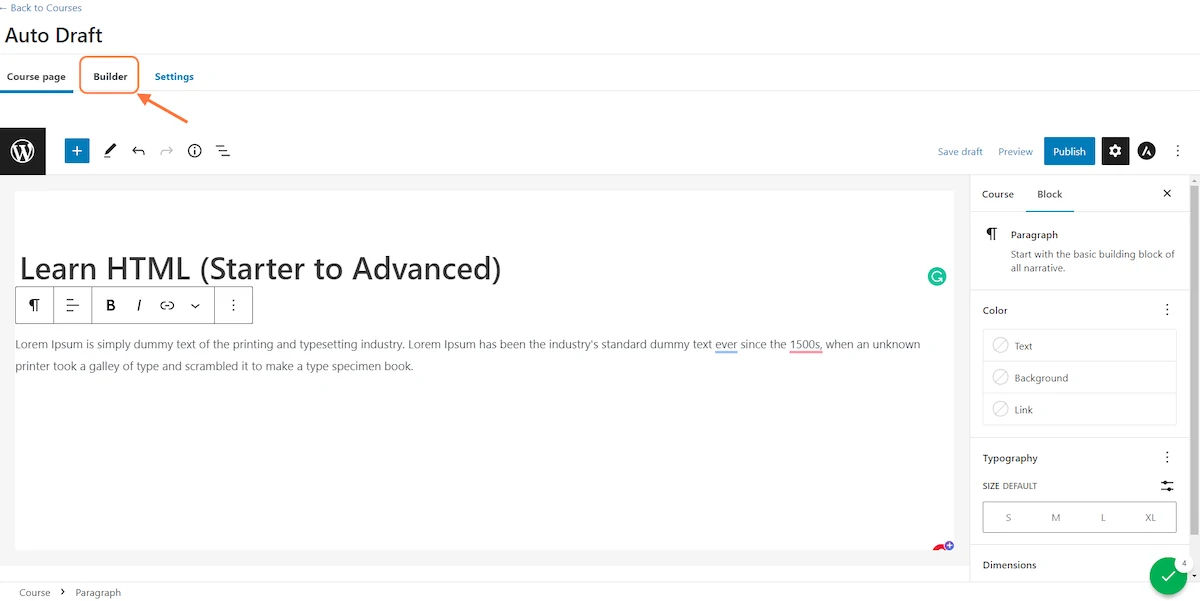 You can manage your course lessons under sections. So, let's add a new section.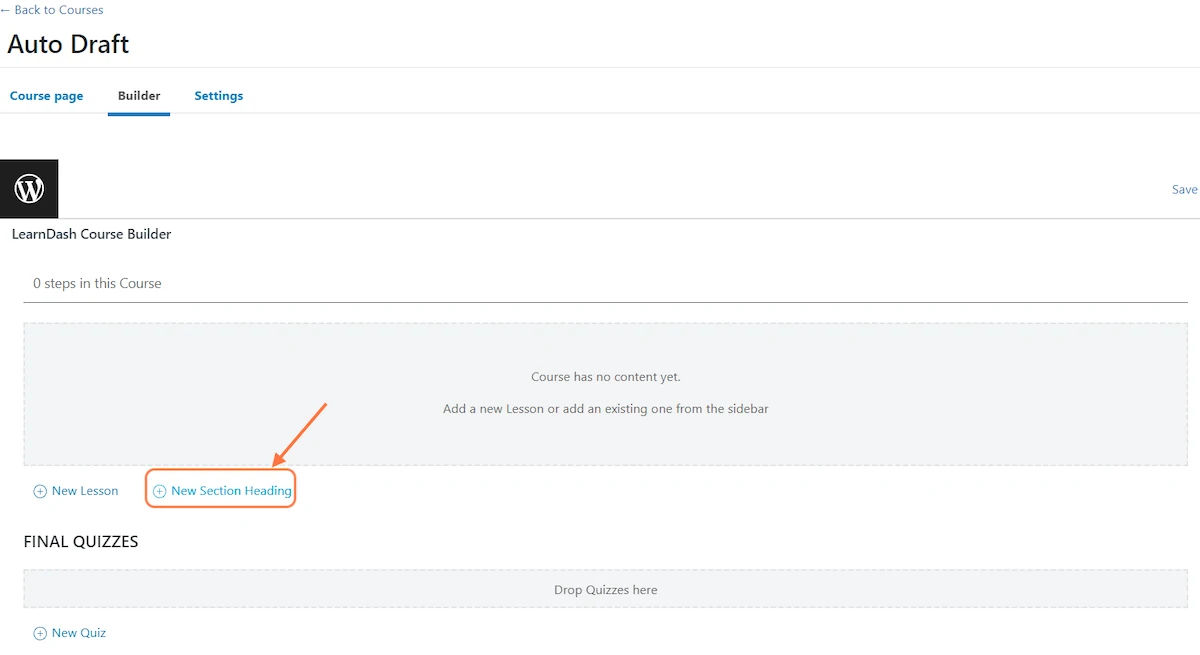 I name it "Part 1" and Click on the "Add Section Heading."
Now I can add lessons.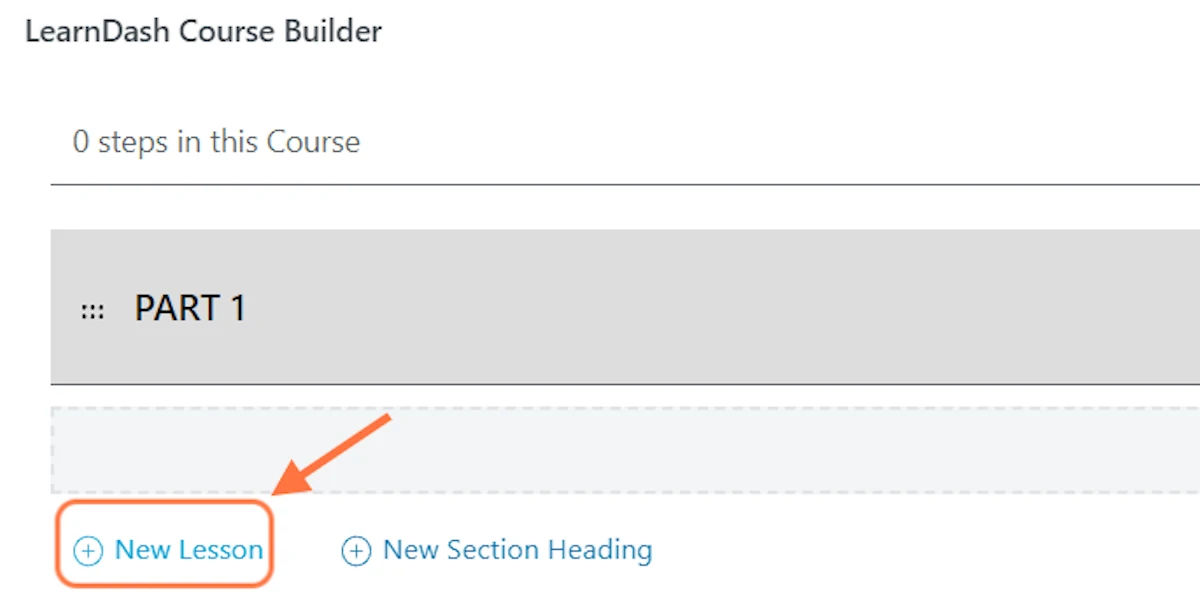 Let's give our lesson a name and click on the "Add Lesson" button. I name it "What is HTML?"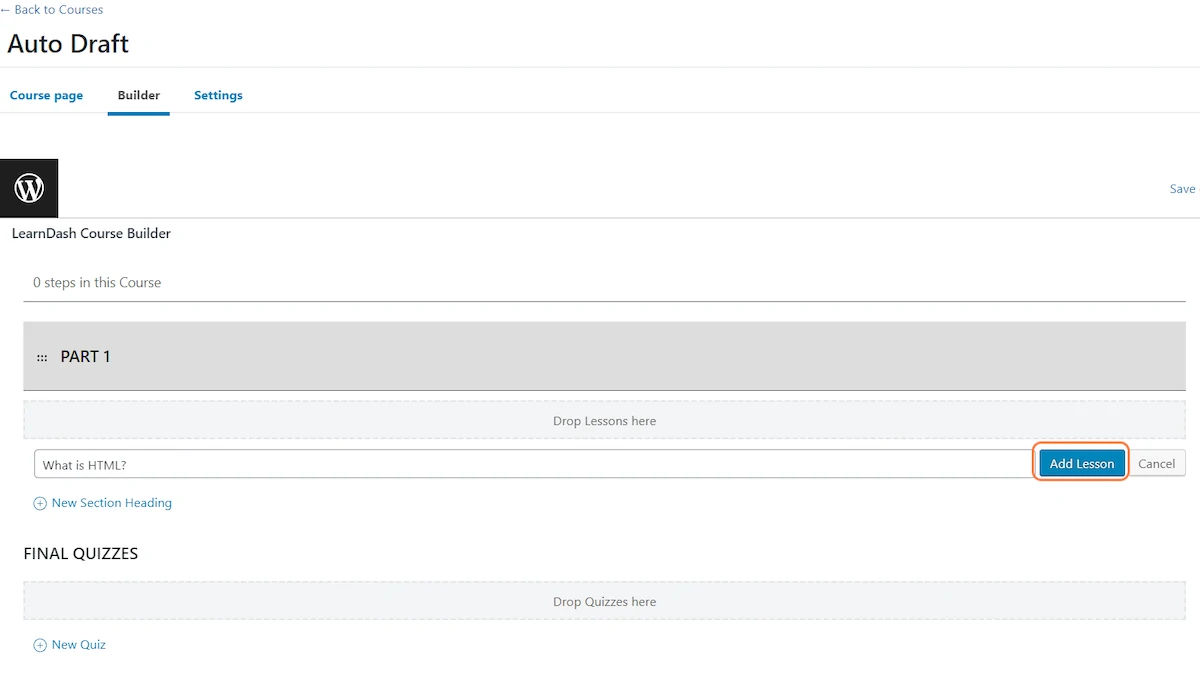 In the same way, I can add as many lessons as I want. When I create lessons in the course builder, a new lesson gets added to the Learndash LMS > Lessons.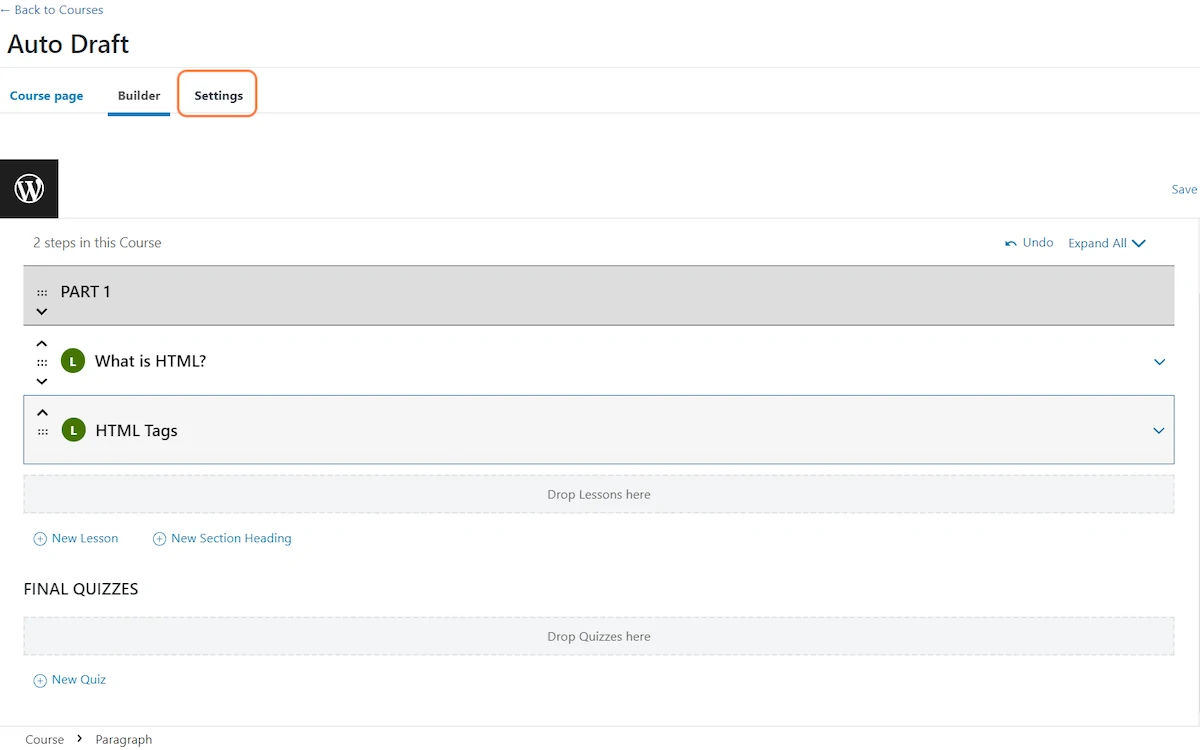 You can also drag and drop the course content from the sidebar including Lessons, Topics, and Quizzes.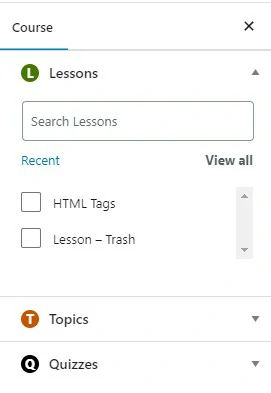 Go to the settings tab, where you can choose the Course Access mode. You have a few options for course access.
Open: Any user can access
Free: Logged-in users can access
Buy Now: Users need to purchase it via LearnDash built-in PayPal and/or Stripe (0ne time)
Recurring: Users need to purchase it via LearnDash built-in PayPal and/or Stripe (Recurring Basis)
Closed: The course can only be accessed through admin enrollment (manual), group enrollment, or integration (shopping cart or membership) enrollment. No enrollment button will be displayed unless a URL is set (optional).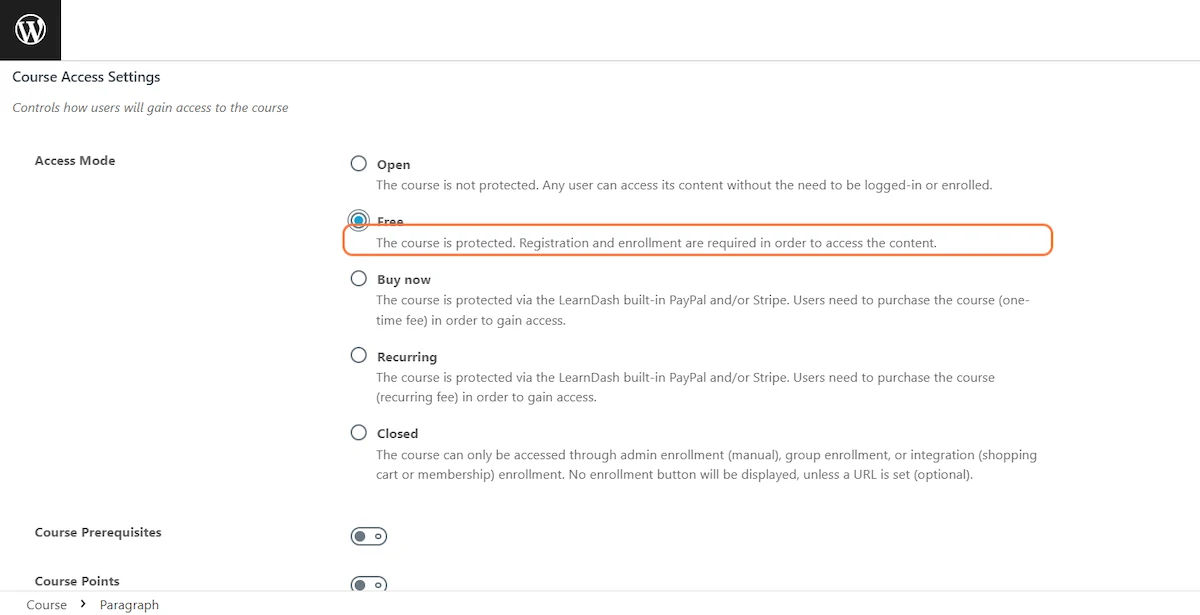 You can now set the Course Prerequisites, Course Points, and Course Access Expiration time.
Course Prerequisites: Whether the user is required to complete any or all the selected courses to access the pertinent course.
Course Points: Set course points required and awarded for access and completion respectively.
Course Access Expiration: Set the number of days users will have access to the course from the enrollment date.

Display and Content Options
Course Materials: To display support materials for the course
Course Certificate: Set a course certificate.
Challenge Exam Show: Set challenge exams for the course.
Course Content: Set whether to display the Course content table to ALL users or only enrollees
Custom Pagination: Set custom pagination for lessons and topics.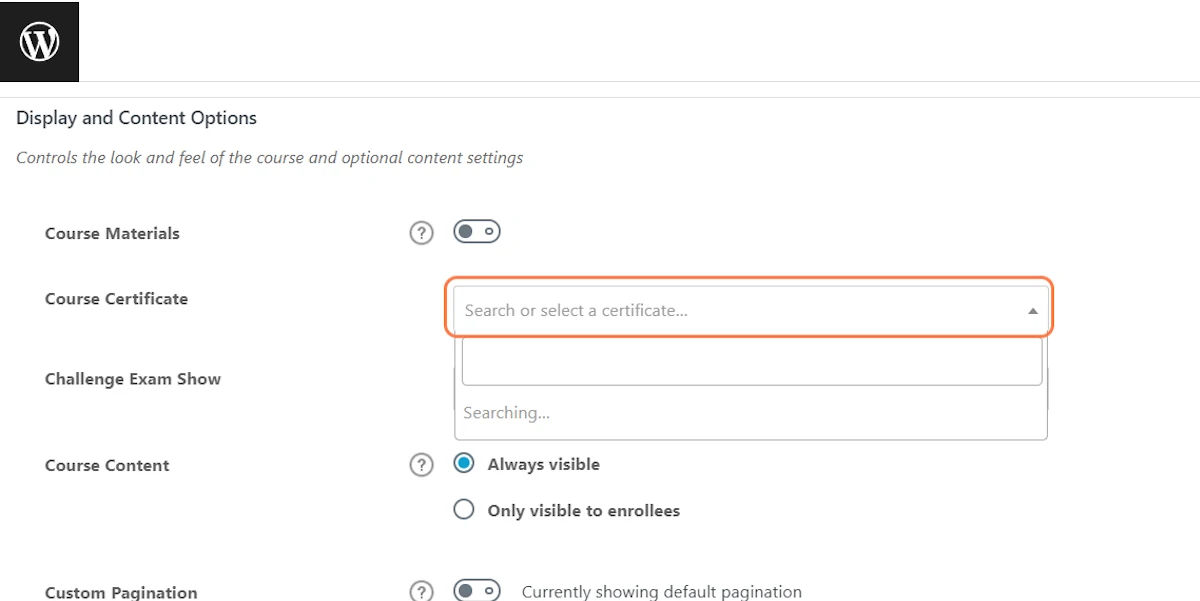 Course Progression
Linear: To progress through the course in the designated step sequence
Free Form: Allow users to move freely through the course without following the sequence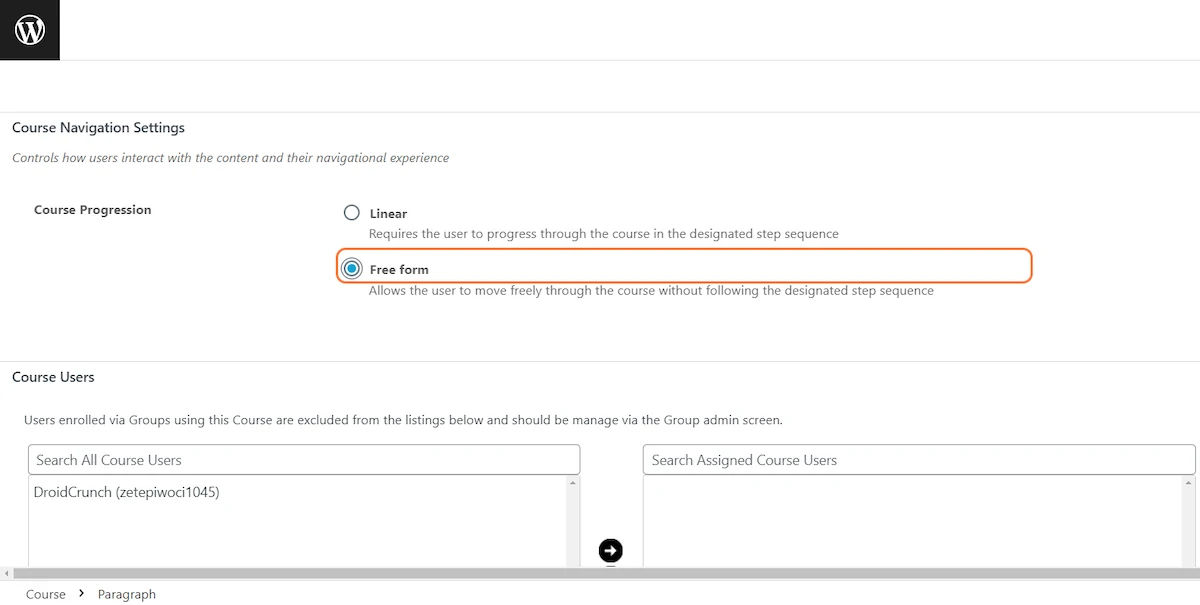 The course Users option allows you to transfer course access to the site users.
Course Grid Settings
Set the custom description, duration, and button text information to be displayed on the Course Grid.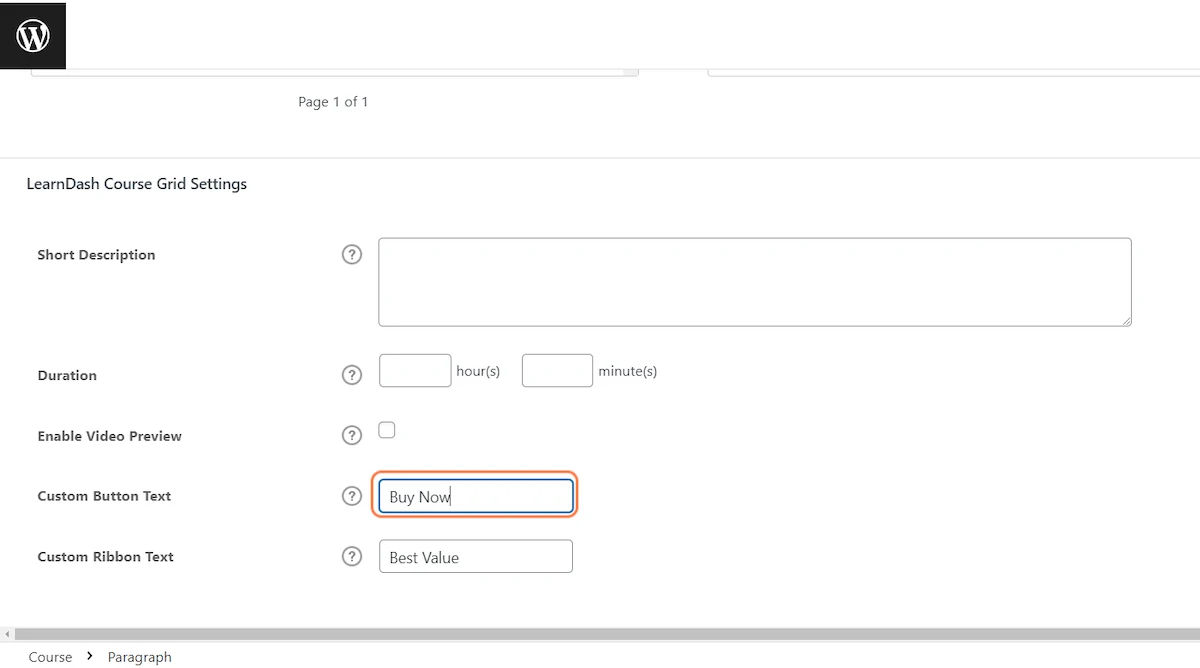 When you are done with all the course settings, you can Click on ← Back to Courses and navigate to Learndash LMS > Lessons for building content inside the lessons.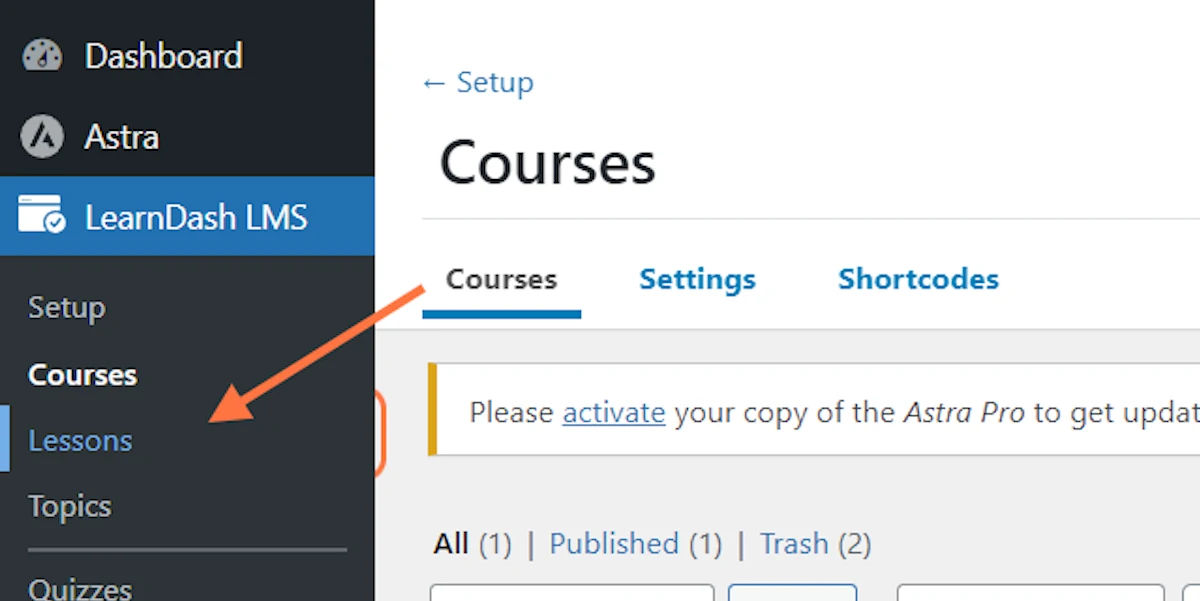 Now Click on "Edit" to edit the Lesson like any post.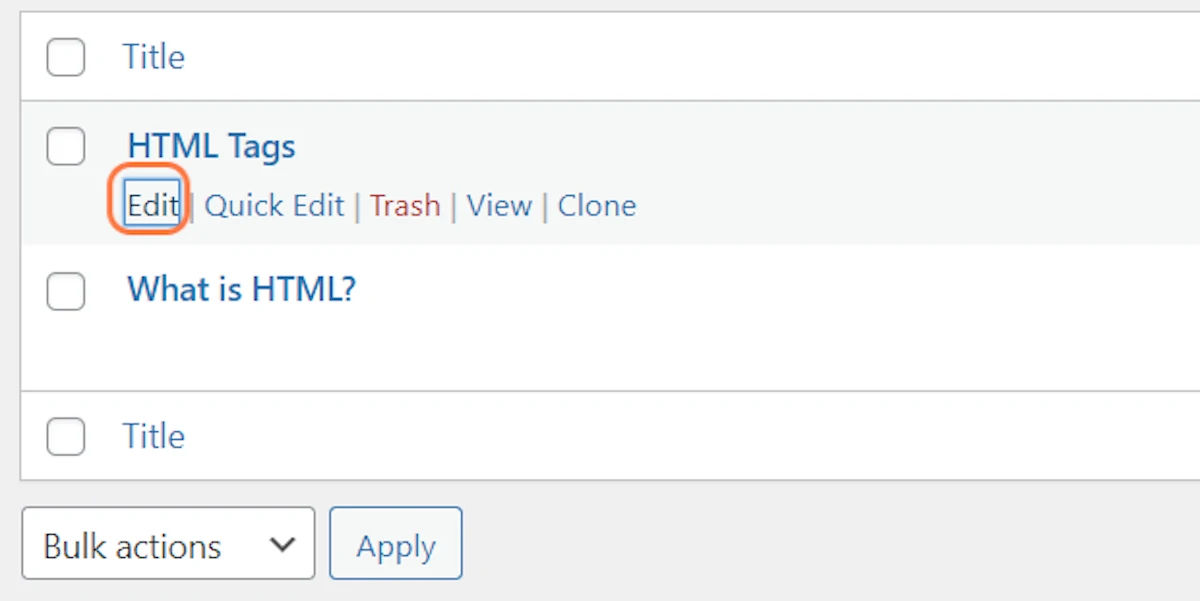 Now you can utilize the full capability of Gutenberg Editor to insert the lesson content.
You can use Text, Images, Videos, Audio, and whatnot to create the lesson content. I have inserted/embedded a video. When done we can click update.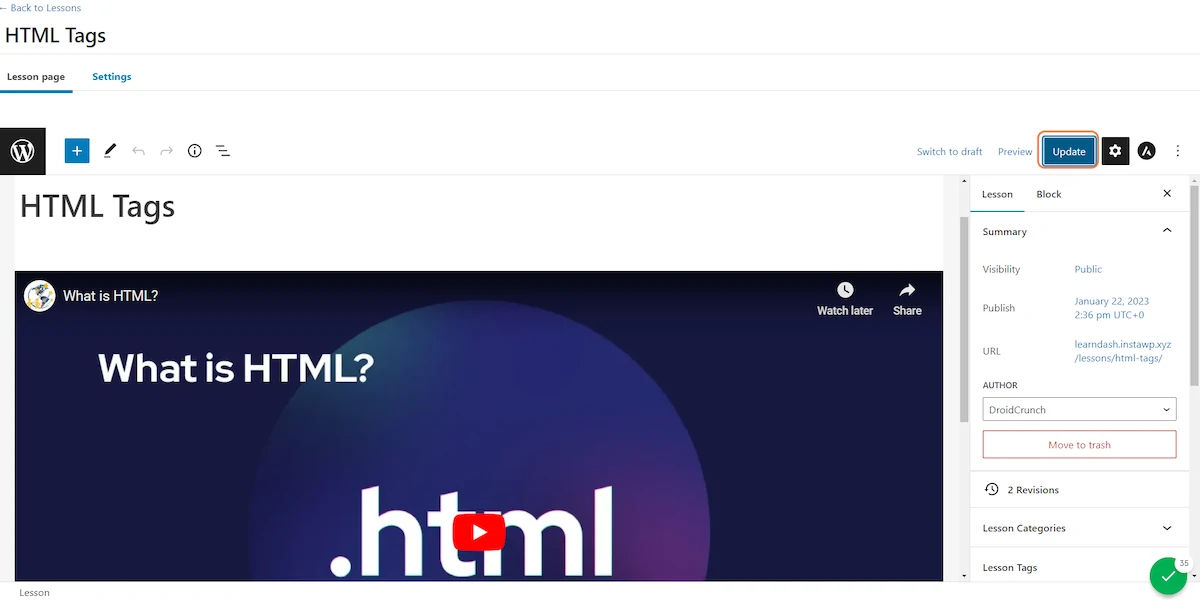 Now navigate to Lesson settings
Here on the lesson settings, you can set Lesson material, video progression, assignment uploads, lesson timer, release schedule, and whatnot. When done, update the lesson.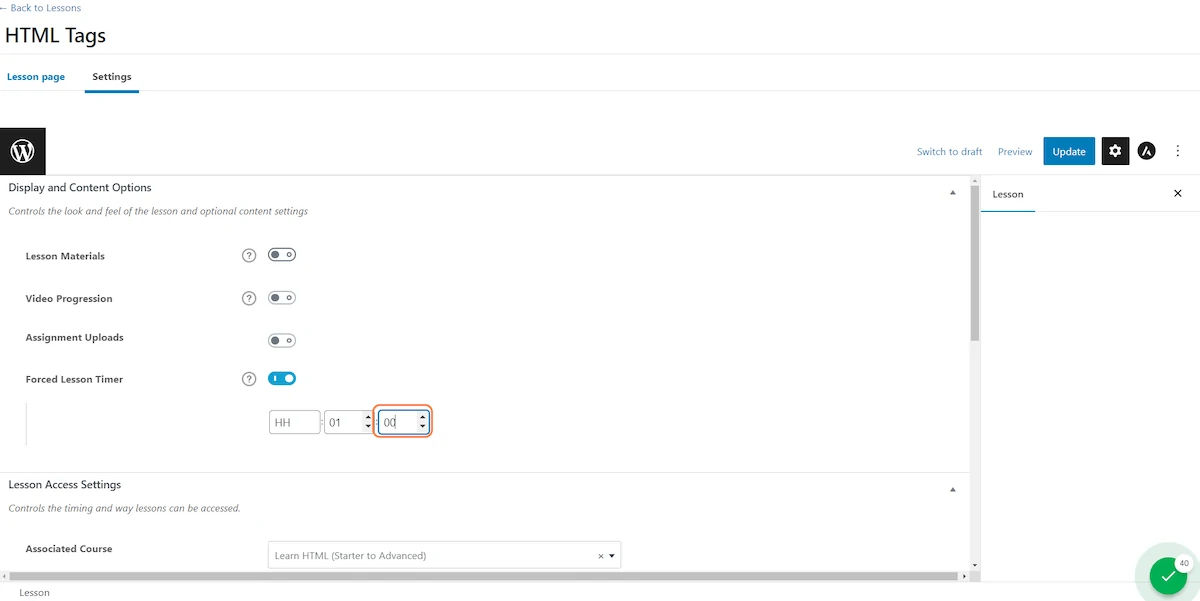 Like Lessons, you can also create Topics inside them. Now let's create Quizzes, which are a little exciting. First, Click on the Quizzes menu and add a new quiz.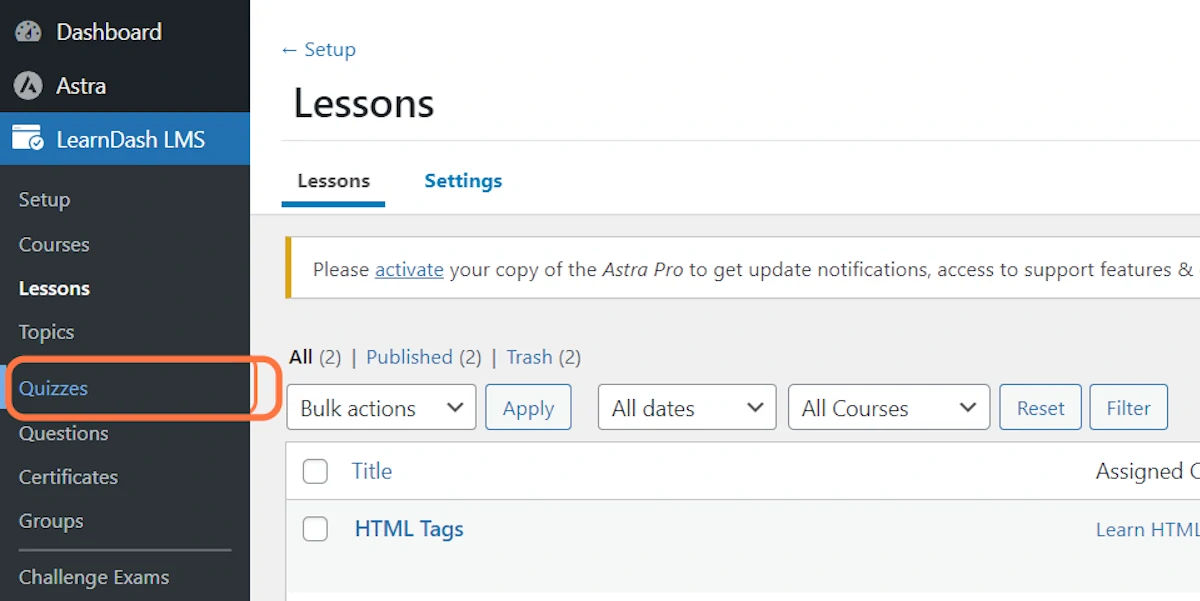 Now give your quiz a name and go to the builder tab.
Here you can add new questions.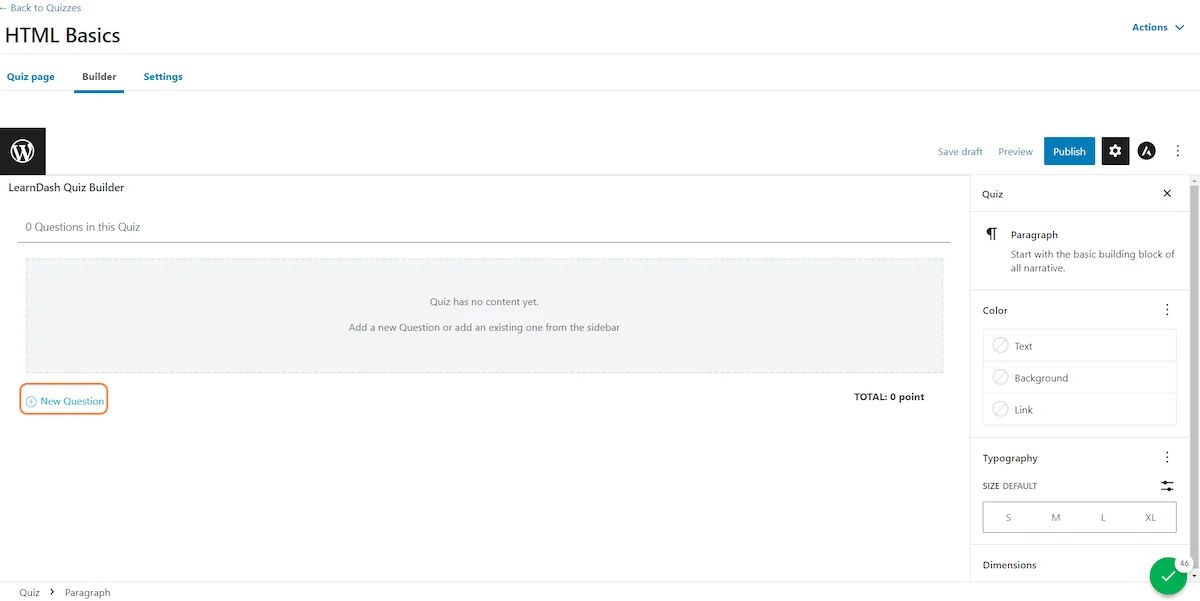 Click on Add Question
You can input the questions and answers for the quiz. You can also manage all the questions on your quiz inside the Learndash LMS > Questions menu.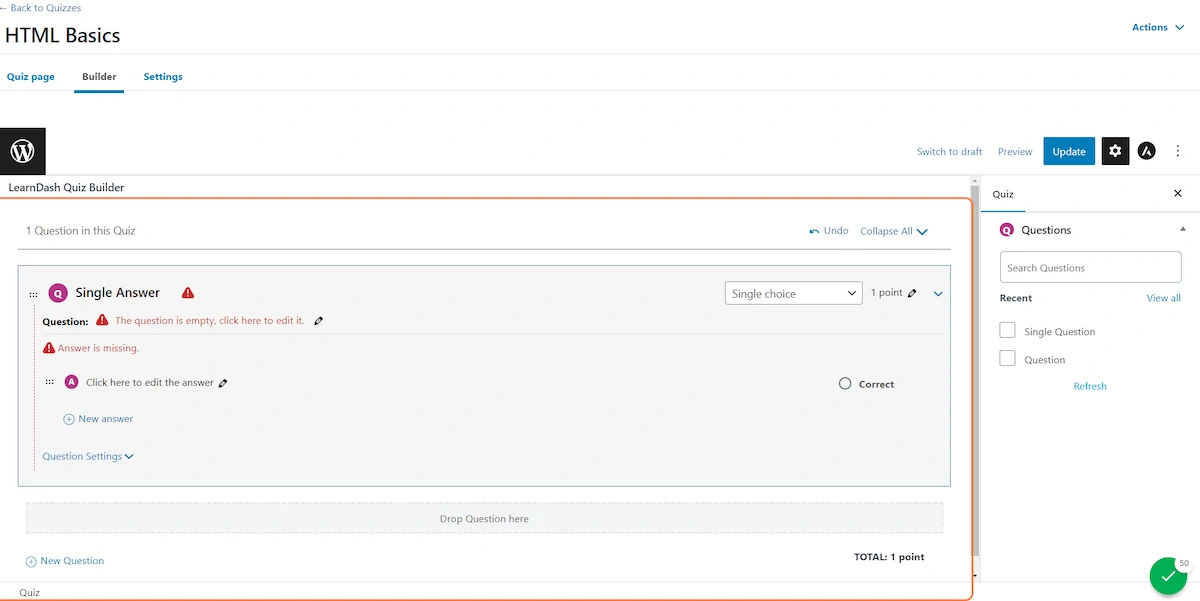 Now, you can associate the quiz with the course lesson. Like Lessons, you also have various settings for the Quiz like
Quiz Access Settings
Progression and Restriction Settings
Display and Content Options
Result Page Display Settings
Administrative & Data Handling Settings
and Grid Settings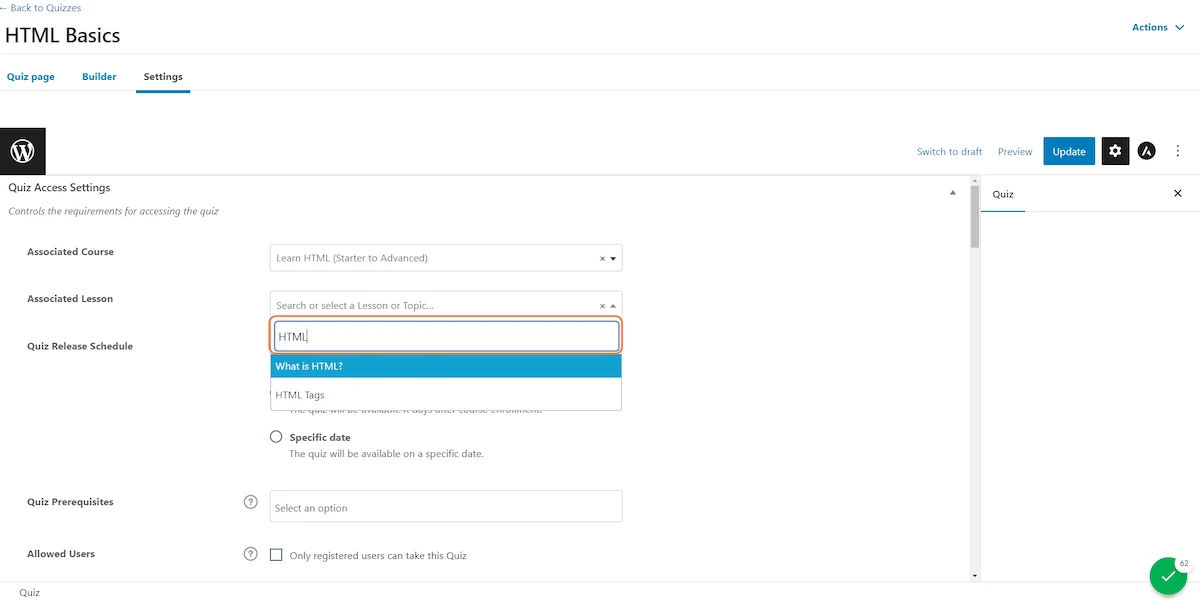 Quiz Page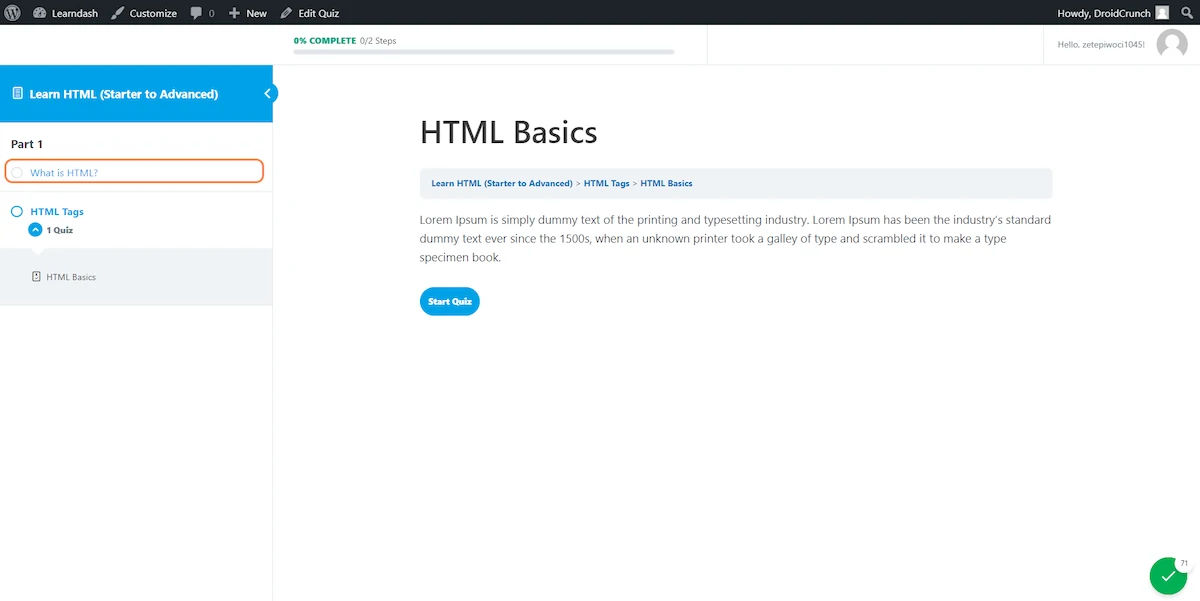 In addition, you can also create topics, certificates, challenge exams, assignments, and user groups.
For now our basic course is ready!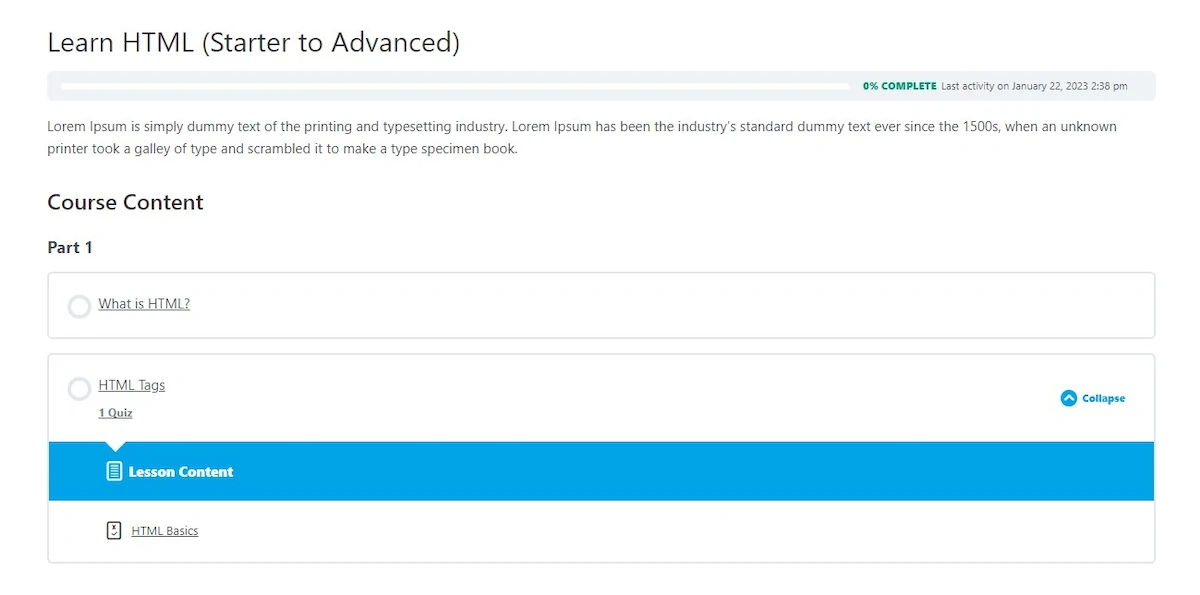 You can click on its content to see how it will look to the leaners.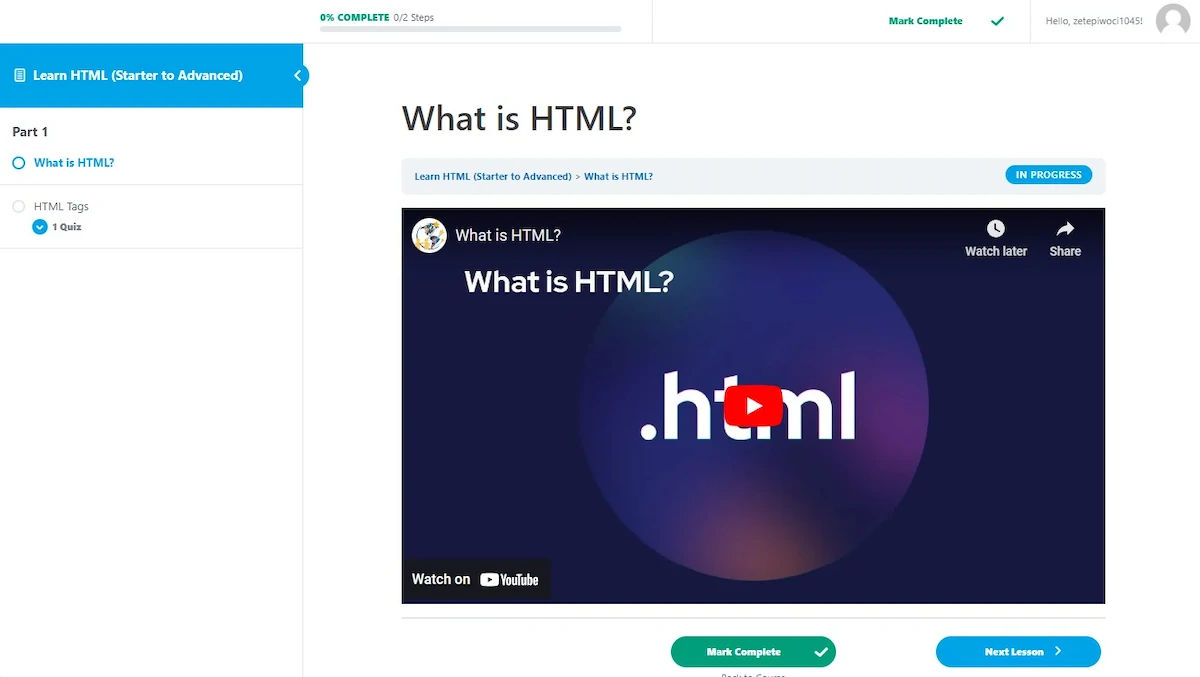 Isn't exciting?
LearnDash Pricing
LearnDash only has a premium edition, unlike some other LMS plugins, which is significantly more expensive than the typical LMS plugin. It's one of the most cost-effective options for starting online courses, given its features. That depends on whether you buy the LearnDash Cloud service as a whole or simply the plugin.
LearnDash Plugin Pricing
The plugin may be purchased and installed on your own WordPress site for three different prices. The only variation between the three options is the number of sites on which you may use the plugin. All three offer the same capabilities.
1 site – $199
10 sites – $399
Unlimited sites – $799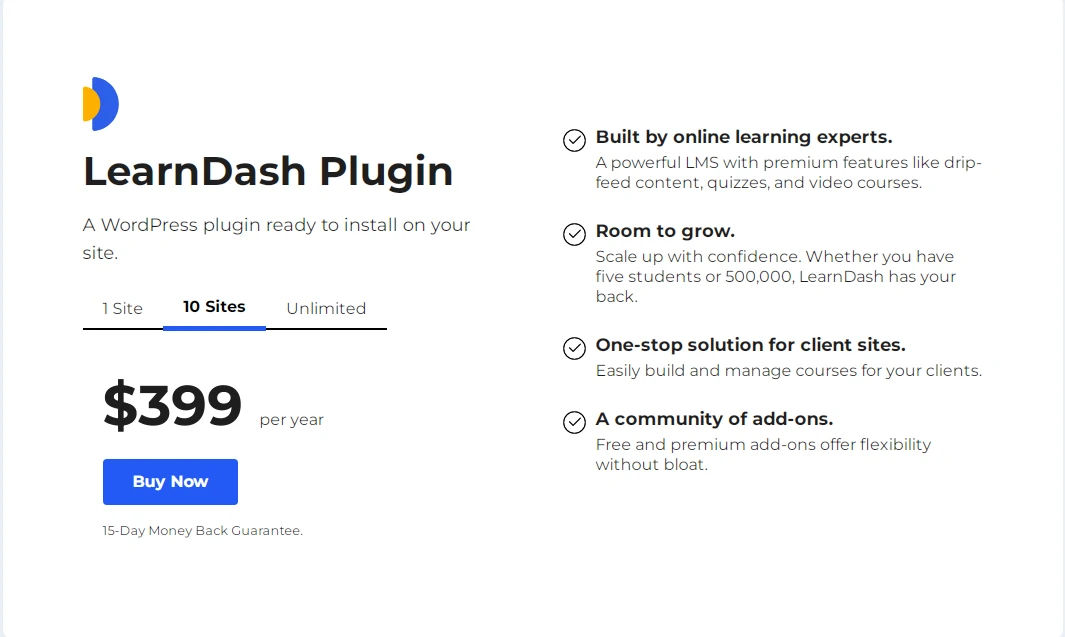 With a 15-day money-back guarantee included with each plan, buying one carries no risk. After the first year, you'll need to renew your license if you want to keep getting support and updates.
LearnDash Cloud Pricing
The monthly fee for the all-inclusive LearnDash Cloud service is $24 for everything.
This monthly cost of $24 includes:
Integrated hosting
over 15 built-in templates
ProPanel and all other LearnDash capabilities, as well as other beneficial tools like Kadence Blocks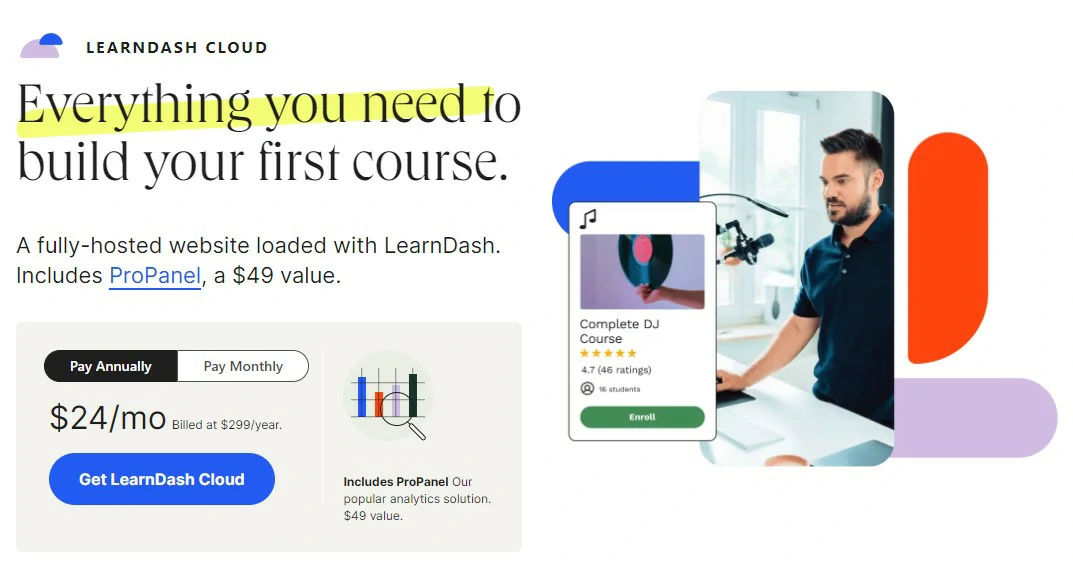 This would equal $299 annually, making the cost of hosting an additional $149 beyond simply the plugin. Alternatively, ProPanel costs just $99 more for a year of hosting if you decide to utilize it. Given that most high-quality WordPress hosting charges more than $8 to $12 a month, it is a pretty excellent deal.
LearnDash Plugin vs. LearnDash Cloud
Bottom Line
It is essentially the Learndash plugin that you can install on your WordPress website. To create a site with the learndash plugin from scratch, you will need first to buy a domain and hosting, & set up all the settings.
Pros
✔
Affordable Option
✔
Best for those who already have to host
✔
Essential Plugin which you get in the cloud as well.
✔
All add-ons except Pro Panel
✔
Allows creating courses in a matter of minutes.
Cons
❌
Requires a WordPress site to start with.
❌
Doesn't include the pro panel add-on.
Bottom Line
It is a complete environment that is perfect to start with. It includes hosting, maintenance, a Learndash plugin, and an entire ecosystem.
Pros
✔
Instantly sets up a perfect environment.
✔
Fewer errors and conflicts.
✔
The cloud website can be easily migrated to a custom domain.
✔
The cloud service is constantly updated and improved to make sure it meets your needs.
✔
Hands off the maintenance
✔
It includes the Pro panel value of $49 per year.
Cons
❌
Expensive option
❌
Better when you create the site for clients.
LearnDash FAQs
Can Other Plugins Be Installed on LearnDash Cloud?
Yes, you may still add other plugins as needed, even if you build your site using LearnDash Cloud. It is a quick and reliable option to start creating an LMS site on WordPress.
Is it free to use Learndash?
LearnDash is not free to use. It is a paid plugin. Although there is a 15-day money-back guarantee, only a premium version is available. As such, there is no free plan. You can, however, take a demo from their official website, which involves no fees.
Is LearnDash Usable without a License?
Yes, even if your license expires, you can still use the LearnDash plugin. However, you must have a valid license to continue getting support and regular updates.
Is Learning LearnDash Difficult?
LearnDash does presume some familiarity with managing WordPress sites because it is a WordPress-based application. Although there will be a learning curve if you've never used WordPress before, non-technical individuals may still use it. Its well-explained documentation and online tutorials can definitely help you.
Can LearnDash be used without WordPress?
Since LearnDash is a WordPress plugin, your site must be running WordPress for it to function. Even if you utilize LearnDash Cloud, WordPress is still the platform for your website.
Is LearnDash compatible with WordPress.com?
As long as you pay for the WordPress.com Business plan, which enables you to install your own plugins, you may utilize the LearnDash plugin on that platform.
What is Course Progression in Learndash?
Learndash allows you to use a Linear or Free Form course progression. In the linear progression, the learner can complete the lessons step by step and can't jump between the lessons or course material. However, the free-form course progression in Learndash allows the learners to skip the lessons and complete them as they want.
How to Hide Video Player Controls in Lesson embedded video?
In the Lesson's display and content options, you can opt to enable video progression and set Autostart enabled. This will hide the controller, however, the users can move forward or backward using the keyboard.
Alternatives to LearnDash
There are several different learning platforms available on the internet, and it can be tough to decide which one is right for you. So, what are some of the best alternatives to LearnDash?
Teachable
Teachable is a company that provides online courses and e-learning content for businesses. They offer a range of courses on topics such as marketing, sales, web development, business strategy, and more. Teachable offers an easy way for companies to get started with online learning – you don't have to be a professional teacher or trainer to start using their services. Their simple platform makes it easy for anyone (including busy executives) to create engaging course materials quickly and easily. Plus, their team of experts provides support whenever you need it – 24/7/365!
Teachable makes it easy to transform boring lectures into exciting online courses that are well-organized and interactive. You can also add multimedia content (photos, videos), quiz questions, discussion boards, and more to make your courses truly captivating for students.
Podia
Podia is a great option if you are looking to create a learning environment. Its pay-as-you-go strategy gives new instructors to use the service and monetize their skills. It has a website builder, email marketing, and affiliate marketing platform in-built. It is a better option if you are only focused on the learning portal. Teachable and Podia both are not WordPress plugins.
AccessAlly
AccessAlly is a WordPress LMS membership plug-in that allows businesses to manage their memberships and subscriptions through their WordPress site. This makes it easy for businesses to track who has been signed up when they were last activated, and how much data they have access to. Plus, AccessAlly can be used to send out automated messages or emails regarding member status or preferences.
If you're looking for an easy way to access and manage your WordPress site's membership content, then you should download AccessAlly. This powerful membership management plug-in allows you to easily create, edit, and delete member profiles from your WordPress site. Plus, it provides many other features that will help you run your website more efficiently.
Over to You
If you're looking for a comprehensive learning platform that provides flexibility and convenience, then LearnDash is an excellent option to consider.
It is very reliable and creating courses using Learndash is piece of cake if you have even a little experience with WordPress. It makes learning fun and allows you to monetize your skills.
So, if you were planning to create a YouTube course, then think again because with Learndash you can definitely encash a bigger picture. You can sell your courses for a better price using Learndash and have a better monetization strategy.
It offers a better learning environment to your learners where they can enroll for the courses, resume where they leave, get regular notifications, and whatnot. It gives you more control and a powerful weapon to monetize your passion.
However, coming to the basics, it is best only if you are a popular teacher or you have a better advertisement strategy to market your course content to new students.
Finally, if you are someone looking to integrate a learning platform using WordPress, then you can definitely trust Learndash with your eyes closed!
The Review
Learndash
Learndash is a powerful WordPress LMS plugin that can help you to create online courses that can generate revenue. It is easy to use and a scalable LMS solution. With some great reviews by users, LearnDash has proved to be the best Learning Management system. It allows you to create Quizzes, Completion Certificates, Online Challenges, Topics, Assignments, and whatnot. With many add-ons and integrations, you can extend the functionality of your site and enhance the experience.
PROS
Easy to Create, Manage and Sell Courses Online
One can monetize the knowledge, skills and passion
It supports Razorpay, Paypal, and Stripe to receive payments
WooCommerce integration to extend the selling functions
Supports all the major page builders
Takes significantly less time to build a new Website
Allows the use of Gutenberg editor to create the content of your lessons
Detailed Reports with Pro Panel
Well Documented
straightforward Pricing model
Facebook Community to connect with fellow Learndash users.
CONS
Little expensive for the starters
Requires knowledge of WordPress to start with
Review Breakdown
Easy to Use

0%

Features

0%

Support

0%

Value for Money

0%

Documentation

0%

Integrations

0%

Compatibility

0%

Updates

0%

Interface

0%