FeedHive is a tool that generates fresh and engaging copies using the power of Al. It is an all-in-one social media management software that helps you to maximize engagement with Al-generated post templates drawn from the top-performing posts present across social media platforms. FeedHive allows you to access more than 500 post templates and customize scheduling plans. When using FeedHive start with its Al-generated copy suggestions, and then add your videos, images, and text to create rich content posts that push to Twitter, Instagram, Facebook, and Linkedin.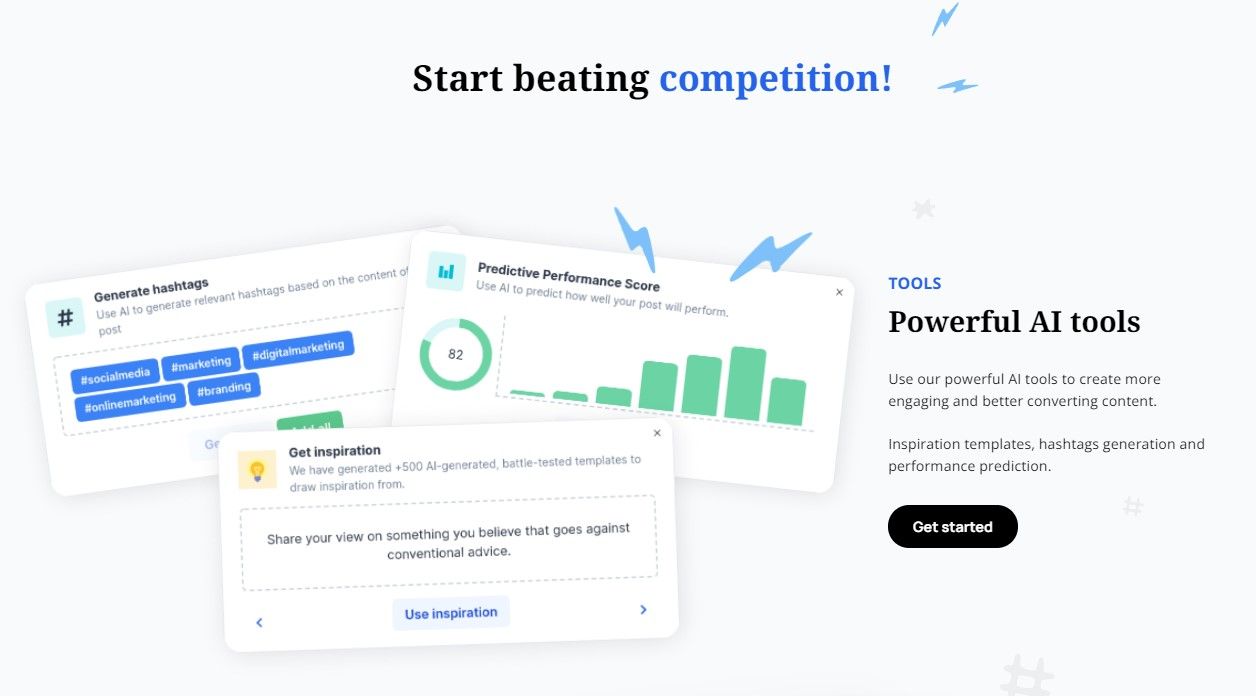 FeedHive keeps all your posts organized with custom, color-coded labels that are based on trends, themes, and topics that are relevant to your brand and automatically fills the content schedule with a recurring posting plan. FeedHive also suggests you the best of your past posts to recycling thus maximizing your efficiency. It is best for social media marketers and content creators who want to fast-track their social media engagement and growth.
FeedHive Overview
Feedhive uses automatic posting to convert high-engagement content into sales opportunities. In easier words, FeedHive simply offers analytics, scheduling, post ideas, etc. It helps you run your social media accounts in a better manner. Currently, the supported social media platforms are- Facebook, Twitter, Instagram, and Linkedln,
Feedhive provides detailed analytics for different types of posts based on their performance and the timing at which the audience engages the most. It is one of those tools which can reduce your workload and help you work in an organized manner.
Features of FeedHive
Post scheduling
With FeedHive schedule your posts in advance for the future. In case you want to publish your post the next Monday, you can schedule it from earlier. This feature is very helpful for companies that post multiple posts every day.
Post ideas
FeedHive gives many inspirational templates to help you generate any number of post ideas. When you are running out of ideas, just a single click and the tool will provide you with many amazing post ideas.
Custom labels
This feature of FeedHive helps you to categorize your posts into relevant categories to manage them all in a better and easier manner. For example, you may categories your post into categories like- Tips, Info, Thread, Question, Hack, etc.
Auto syncing
When you post something straight from the main platforms like Facebook or Twitter, then FeedHive will automatically sync those posts into your account for better analytics and tracking.
FeedHive Al
The powerful and amazing Al predicts your post's success. It helps you in writing and tells you how well that particular post is going to perform. It also generates some relevant hashtags for your posts.
Detailed analytics
You never know which post performs well. Feedhive analytics helps you with this. It provides you with the posts that can do great and also with the posting time when your audience will engage the most.
Autosaving drafts
In case, if you close your browser window accidentally while typing then FeedHive will automatically save everything that you already typed.
Alternatives to FeedHive
Hootsuite
Hootsuite provides you with a list of advanced features to help businesses monitor trends, schedule posts, monitor trends, and engage with audiences through multiple social platforms. It is best for businesses that need an all-in-one social media management tool to integrate with a wide range of social networks. Hootsuite is a worthy contender for tech-savvy and novices marketers.
Content Curation
Content Curation is an Al-enabled tool. It helps you organize your social media activities and reduce your effort and time on social media management. It helps you to publish amazing content without having to create it all by yourself.
Shortstack
Shortstack is a tool that assists you to build amazing and engaging campaigns for social media, mobile, and web. This automation tool helps you to focus on many campaign goals. It provides a quick and easier platform to set up customer engagement campaigns.
FeedHive FAQs
Which social platforms does FeedHive integrate with?
FeedHive allows its users to schedule content on Twitter, Linkedln In, Facebook, and Instagram. Soon there may come integration with platforms like- YouTube, Pinterest, and TikTok, so future expansions are expected.
Does FeedHive come with a free plan?
Yes. FeedHive comes with a free trial plan.
What is the development type of Feedhive?
Feedhive development type is Cloud, SaaS, and Web-Based.
Pricing of FeedHive

Feedhive comes with four plans-
Free
The free plan comes with limited options only.
This plan comes at $9 per month when billed yearly and $12 per month when billed monthly.
It comes at $9 per month (billed yearly) and $12 per month (billed monthly).
It comes at $50 per month (billed yearly) and $70 per month (billed monthly).
What makes FeedHive stand out?
Feedhive is laced with a multitude of advanced features, Flutin for Creators is a multi-streaming platform designed to enhance the live streaming experience of the users. FeedHive runs serverless means that your cloud provider takes care of maintaining, provisioning, and scaling the infrastructure that executes the code running on the backend, freeing you from dealing with databases, storage systems, clusters, containers, or any of that. It is more than just a social media schedular. FeedHive helps content creators, businesses, and influencers to do many amazing things.
Pros and Cons of FeedHive
Pros-
Reducing cost.
No need to manage servers.
Energy-efficient and cheap.
Pay per-use instead of paying for uptime.
Cons-
More features can be added for creators.
The Review
Feedhive
Feedhive is a social media marketing tool that helps you stay ahead of your competition by giving you capabilities that your competitors are lacking. With Feedhive, you can plan & schedule your content and stand out to be a professional social media marketer. As of today, every business needs a social media tool to bring efficiency in posting content continuously to stay active and ensure better reach and results.
PROS
Reducing cost.
More reach & results
No need to manage servers.
Energy-efficient and cheap.
Pay per-use instead of paying for uptime.
CONS
More features can be added for creators.
Review Breakdown
Features

0%

Ease of Use

0%

Support

0%

Compatibility

0%

Value for Money

0%