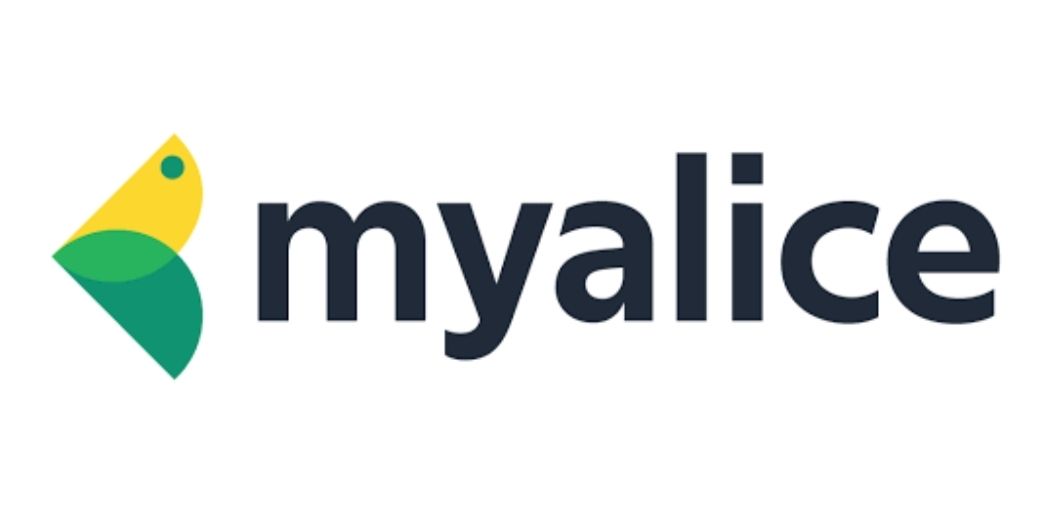 MyAlice lets you turn your visitors into buyers by using the power of conversational commerce. Here, you can easily start a chat with your customers and sell over these online conversations and social media channels. It lets you build your business and grow a strong relationship with customers and spend the least time on support, that too all for free from the single dashboard. It is very much more than just customer support. By using MyAlice you can simply reply to conversations and manage your eCommerce orders straight from the inbox. It has a very nice dashboard that makes it easy for you to chat with customers seamlessly and show their entire communication history all in one place. And based on the purchase history of a customer, MyAlice lets you build a different and unique individual profile.
Usually, all the time and resources that you put to build and grow your business gets drained to a great extent, but the helping MyAlice is a solution that lets you build the ultimate e-commerce helpdesk by personalizing customer service and managing orders across different channels all from a single platform. I have been using this amazing platform and thanks to MyAlice accurate data-gathering capabilities that have allowed me to gain valuable insights into my customer's experience within the site. It enabled me to use data for building customer profiles and creating tailored recommendations that in turn helped me greatly to support my customers faster with context.
MyAlice Overview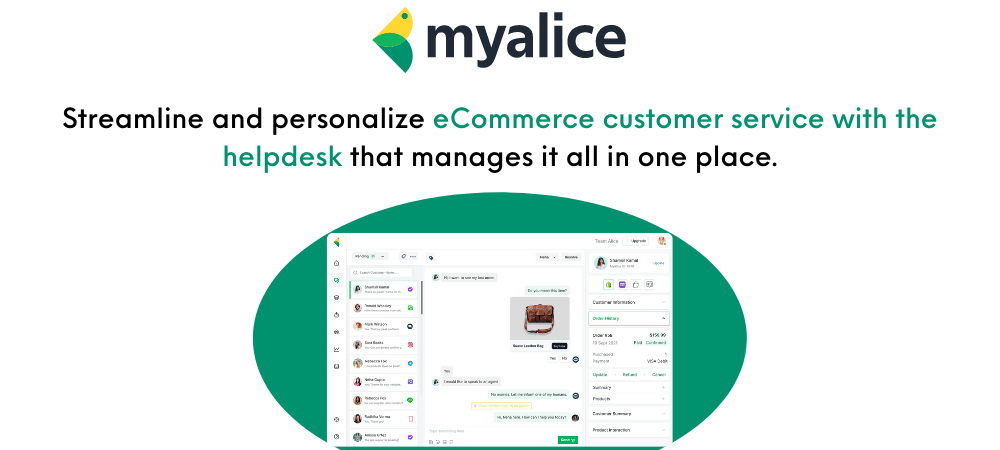 With MyAlice you can- let the customers connect with you from your Facebook Page, Facebook Shop, and Messenger. Let the customers come in contact with you through your Instagram posts, stories, messenger, and shop tab. Let them contact you even through your WhatsApp stories and chats. In addition, you can even connect with your customers through Telegram, Viber, and add a chat widget in your Mobile App to keep all the customers active and coming back. MyAlice is a platform that has successfully brought to you everything that e-commerce needs like- live chat, social media channels, chatbot, payment gateway, inventory, logistics- all under a single platform so that you can chat with your customers anytime anywhere, on the go.
MyAlice is for e-commerce owners who sell through messaging channels and social media. It is a SaaS solution that can connect all their messaging channels, logistics, inventory, and payment in one window so that they can sell simply in an easier manner.
The Al in MyAlice allows you to automate the responses to requests for returns, exchanges, and order tracking. With its Al chatbot, you can lead gen and design or purchase journey on any channel of your wish without having any coding skills. And with its insights, you can get a better idea about the customers, agent performance, and automation.
Features of MyAlice
Live Chat
With MyAlice you can add a live chat widget on your mobile app and website engage your website visitors and manage their support issues, personalize their shopping experience and collect customer feedback.
Chatbot
In MyAlice, automate your entire journey from product discovery to after-sales support with the help of intelligent chatbots. And to make the chatbots even more responsive add NLP via wit.ai. Detect sentences, phrases, or intents in multiple languages.
Insights & Analytics
MyAlice lets you manage your agents and get the individual productivity reports to optimize and reward your support team. Track everything from individual ticket details to the overall response data, track how the team is responding to tickets.
Ticketing System
In MyAlice, you can simply assign tickets automatically to support groups and agents based on availability, time, tags, and priority. Ans by using filters to sort the conversations based on status (resolved/pending), tags, channel, and agents, keep your tickets organized. Manage and assign customer attributes & tags, and filter the customers with those in the future.
Social Media Integration
In MyAlice, add Facebook Messenger, Instagram DM, Comment, Viber, WhatsApp, Telegram & Line- all channels in one inbox. Get a single inbox for all your comments, messages, and orders, shared by your team for a swift collaboration.
E-Commerce integration
On MyAlice Add Shopify and WooCommerce to connect your inventory, and view the user data and order history next to every ticket. Instantly, get a picture of your customers including average basket size, LTV, order frequency, and more. Track what customers your customers have viewed, kept, or brought in the cart instantly and recover abandoned carts.
Multi-team inbox
On MyAlice you can connect with multiple teams by getting multiple codes, and then manage those from a single account. This process is already live.
Agency Mode
The agency mode in MyAlice is available by the 14th of February 2022. The Agency owners can get a co-branded custom domain, and sign up/login page.
Custom-branding and White-labeling
In this, you will be capable to remove the "Chat-by-MyAlice" text from the live chat. And in addition, you can also customize each team's dashboard with a custom logo.
Multi-store connection
MyAlice allows its users to connect any number of e-commerce stores and toggle between them from a single team.
Email Integration
In MyAlice, you can connect your SMTP and GSuite emails as the support channel and then manage the emails directly from your MyAlice inbox.
Automated Queries
In MyAlice, automate up to 60% of the customer's common queries with the help of keywords, NLPs, and rules and reduce support costs while saving a lot of your time.
Agent Metrics In MyAlice, manage all of your customers' data contact details, user history, and demographics data, from a single dashboard
How to use MyAlice?
Getting started with MyAlice is as simple as connecting your existing communication channels.
Step1- Create a channel.
Click on the "Let's go" button from the creator channel space. Go to Setting>Channel settings, you will see Channels Overview from there create a channel by clicking on the "Add Channel" button.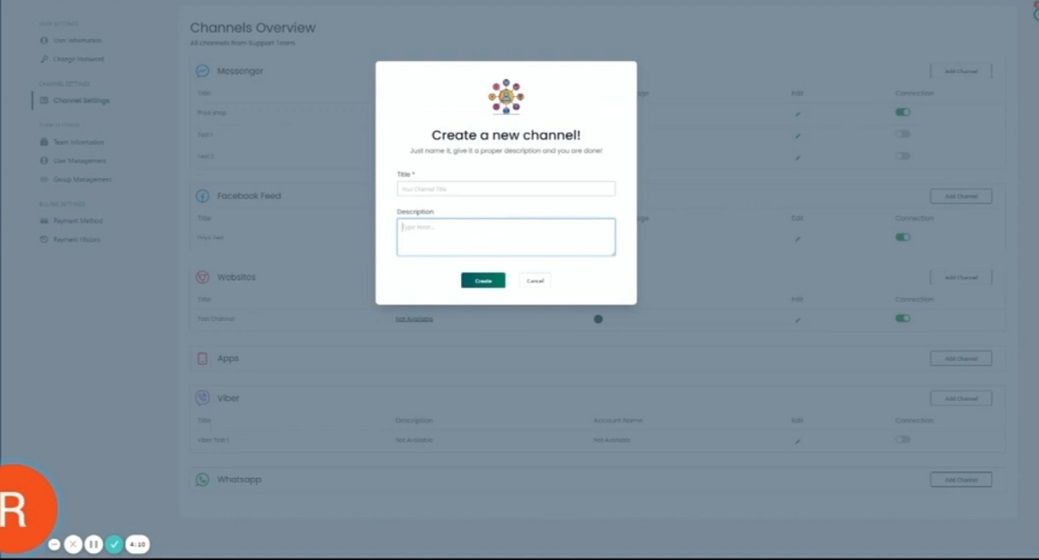 Step2- Set your integrations.
There is integration for every platform that you could use within your store.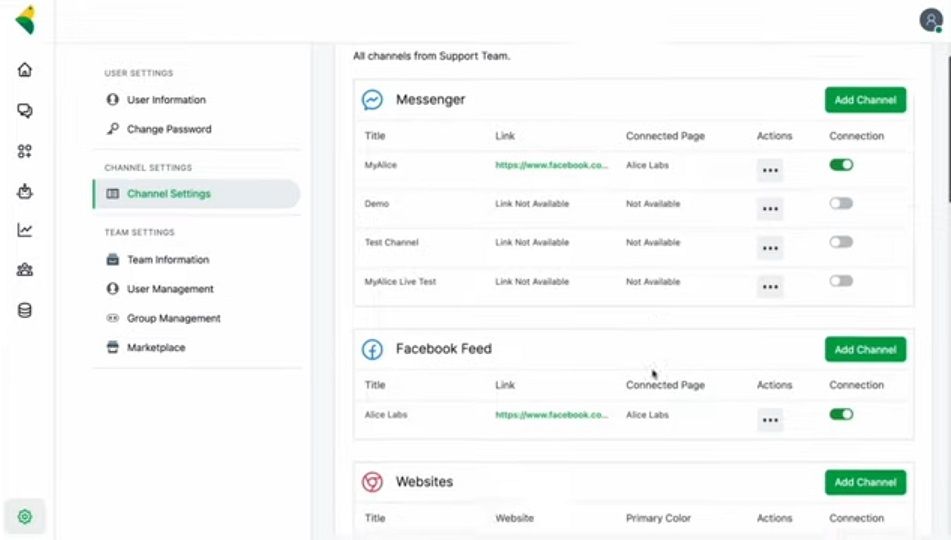 Step3- Approve order updates and refunds. Get all the customer info your agents will need from the CRM or even get a sneak peek into the customer's interaction data.
Step4- Once you are done with the channel setup. Create your first automation sequences.
You will get a standard "Welcome" template to get you off the ground.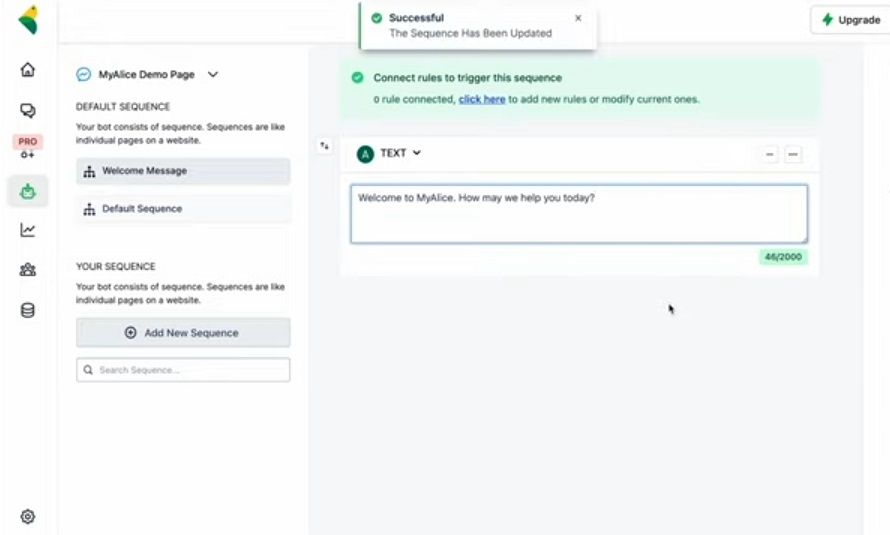 Step5- Add additional automation to cover common scenarios you face like purchasing, refunds, questions, and support tickets.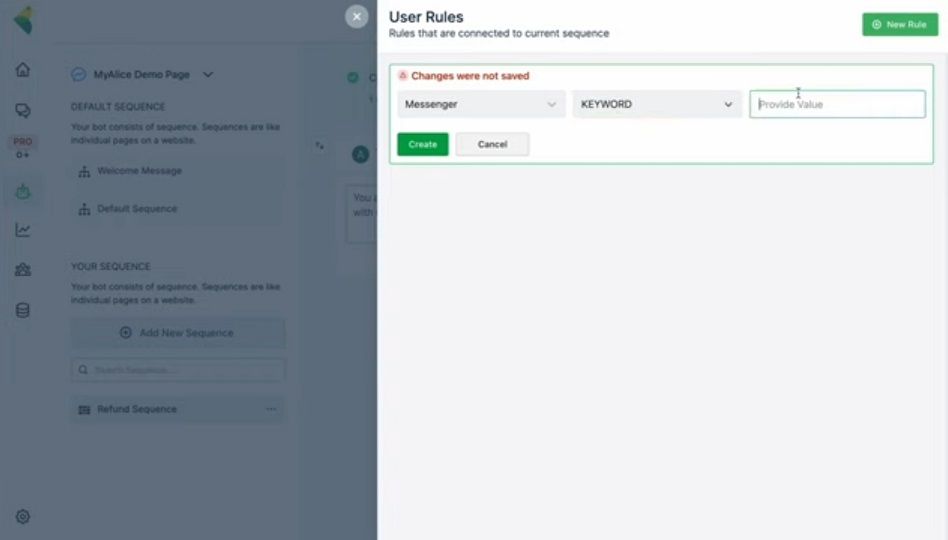 All these automation are based on triggers you create, so customize everything to fit your audience.
Alternatives to MyAlice
Intercom
Intercom is a great alternative to Myalice. It is one of the leading software when it comes to effective customer support communications. Intercom has lot of features and integrations to offer. With Intercom one can easily strealine the customer communication workflow and manage the communication.
Zoho Desk
Zoho Desk is context-aware health desk software. It provides efficient customer support a offers fully functional center solution call and ticketing system to address the problems of the customers. Zoho Desk has social support integration that enables you to answer the queries of your customer in their favorite social media channels like Facebook and Twitter. In addition to this, Zoho Desk has a separate knowledge base that has answers for frequently asked questions. And along with this, it has an analytics feature and reporting tool analytics feature using which your managers can identify the issues related to your agent's performance.
ActiveCampaign
It helps greatly in growing businesses by connecting and engaging with their customers. ActiveCampaign is Saas platform that enables businesses to create optimized customer experiences by simply automating a few behind-the-scenes processes and communicating with their users or customers across channels through personalized, intelligence-driven messages.
Mindsay
It makes customer interactions efficient and simple by using conversational automation. Mindsay helps the customer service teams to overcome common challenges, by allowing them to automate customer requests, optimize their use of human resources and eliminate time-consuming processes. From the very basic FAQs to complex transactions, it helps the companies in building their customer service automation strategy.
FAQs of MyAlice
What does MyAlice do?
MyAlice lets you personalize and streamline e-commerce customer service with the helpdesk that manages everything in one place from one inbox. In addition, it allows you to automate the answers to common requests and use the data insights for driving sales.
What can you do with MyAlice?
With MyAlice, you can easily connect all your Live Chat and Messaging Channels in one inbox. You can also connect your WooCommerce/Shopify store and then start providing sales and support from one window, which means, you will be able to see the preferences, previous history of your customers while responding to them as well managing their orders.
For who is MyAlice best for?
MyAlice is best for retail websites and e-commerce that wish to centralize their customer experience and drive some conversions.
Who should use MyAlice?
MyAlice can be most commonly used by DTC businesses, Shopify store owners, WooCommerce store owners, Agencies serving e-commerce, Marketeer providing chatbots, and companies that provide customer support as service.
Does MyAlice have any money-back policy?
Yes. There is a 60-day money-back guarantee.No matter what the reason is.
At what price does MyAlice come?
MyAlice pricing starts from $69.00 per month.
Does MyAlice offer an API?
No. MyAlice doesn't offer an API.
What are some of the major functionalities of MyAlice?
MyAlice is a Help Desk Software that offers functionalities like- Alerts (Escalation), Live Chat, Customizable branding, Macros, Known Issue Management, Surveys & Feedback, Self Service Portal, Automated Routing, Knowledge Base, Ticket Management, Social Media Integration, and more.
What is the development type of MyAlice?
MyAlice development type- SaaS/Web/Cloud
Pricing of MyAlice
MyAlice offers four plans- Kickstart, Startup, Business, and Enterprise. The Kickstart plan is at $15 per month, Startup at $50 & Business at $300 billed monthly. And all the pricing plans of MyAlice include unlimited channels and custom branding. The free trial of MyAlice is also available, so you can go for a trial first and then upgrade to a plan that can serve your need best.
What makes MyAlice stand out?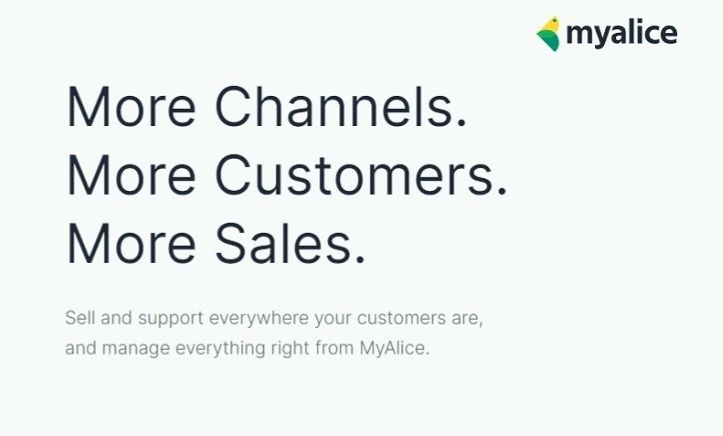 You cannot offer a flawless and tailored customer support experience to run a business smoothly all by yourself. Toggling between apps, tabs, and email to manage the incoming customer requests and tracking the orders becomes a little too hectic. Here comes the role of MyAlice, it manages all your interactions with the customers across different channels, automates answers to common requests, personalizes your help desk, and uses data insights to drive sales, all right from a single dashboard. Unlike the other competitors of MyAlice who either provide chatbot solutions, live chat, or e-commerce storefronts. MyAlice brings all the things together so that you can easily optimize each of the steps in your e-commerce customer journey.
MyAlice is a great platform that lets you manage all the orders from the inbox. Using it you can save a lot of time in managing customer conversations from social media channels and online store chats all within one dashboard. You can send new orders and products straight from your eCommerce store into chats with just a few clicks and turn the conversations into checkouts. MyAlice enables you to send automated messages and continue the chats over various channels so that there is no need left for you to respond in real-time. Using MyAlice, you can easily get the knowledge of when the customers are removing or adding the items from their shopping cart. In addition, it lets you assign chats to your team and staff to scale the customer conversations and customize the saved responses, online store chat, and more.
Pros and Cons of MyAlice
Pros-
Offers great customer service and support.
User-friendly dashboard.
Multilingual support.
Seamlessly speak with customers across different channels.
Refund, Create and update orders in real-time.
The tool is clean.
Has an easy-to-navigate dashboard.
Let's automate responses.
Simple to set up.
Saves a ton of energy and time.
Increase your sales.
Fast customer support with context.
Connecting social accounts is a breeze.
Cons-
Don't have the ability to broadcast messages.
The Review
MyAlice
MyAlice is simply the best way of selling more and building strong relationships with just conversations. It connects you with any popular messaging platform and lets you manage your team and customer conversations from the convenience of a single dashboard.
PROS
Offers great customer service and support.
User-friendly dashboard.
Multilingual support.
Seamlessly speak with customers across different channels.
Refund, Create and update orders in real-time.
Has an easy-to-navigate dashboard.
Fast customer support with context.
CONS
Does not have fast updates.
Don't have the ability to broadcast messages.
Review Breakdown
Features

0%

Easy To Use

0%

Integrations

0%

Brand Trust

0%

Customer Support

0%

Value for Money

0%