If you are someone who wishes to increase their revenue in the form of cryptocurrency or you are searching for an efficient crypto advertisement network and want to monetize your traffic with the best crypto offers, then you have come to the right place.
Because of the considerable attention given to Bitcoin and many other cryptocurrencies in the investment landscape, Crypto Ad Networks have recently gained much popularity. These crypto ad networks behave or function like Google Ads, serving as a place where crypto advertisers and publishers can work effectively together and promote their crypto apps, offers, and websites.
Crypto advertisement networks focus on promoting crypto news, sites, and partnered content by using artificial intelligence and getting great-quality traffic to access their advertisement. Usually, in most cases, their global reach enables you to tweak the advertisement to support your geo timing, preference, and more.
With the help of Crypto Ad Networks, advertisers get more out of their budgets and spending by targeting the right publishers who can genuinely promote their Crypto business. On the other hand, publishers get the most out of their traffic as they can monetize with relevant ads and offers for their niche.
The publishers can receive payment either in flat currency or cryptocurrency, which is set daily or even weekly in some advertisement networks. Whether you are a publisher or an advertiser, joining crypto advertisement networks allows you to monetize or get the most out of your crypto-related websites and projects.
This listicle article presents you with the best crypto advertisement networks for 2023. These are among the most established networks, and each has something unique to offer advertisers and publishers.
Best Crypto Advertising Networks in 2023
CoinZilla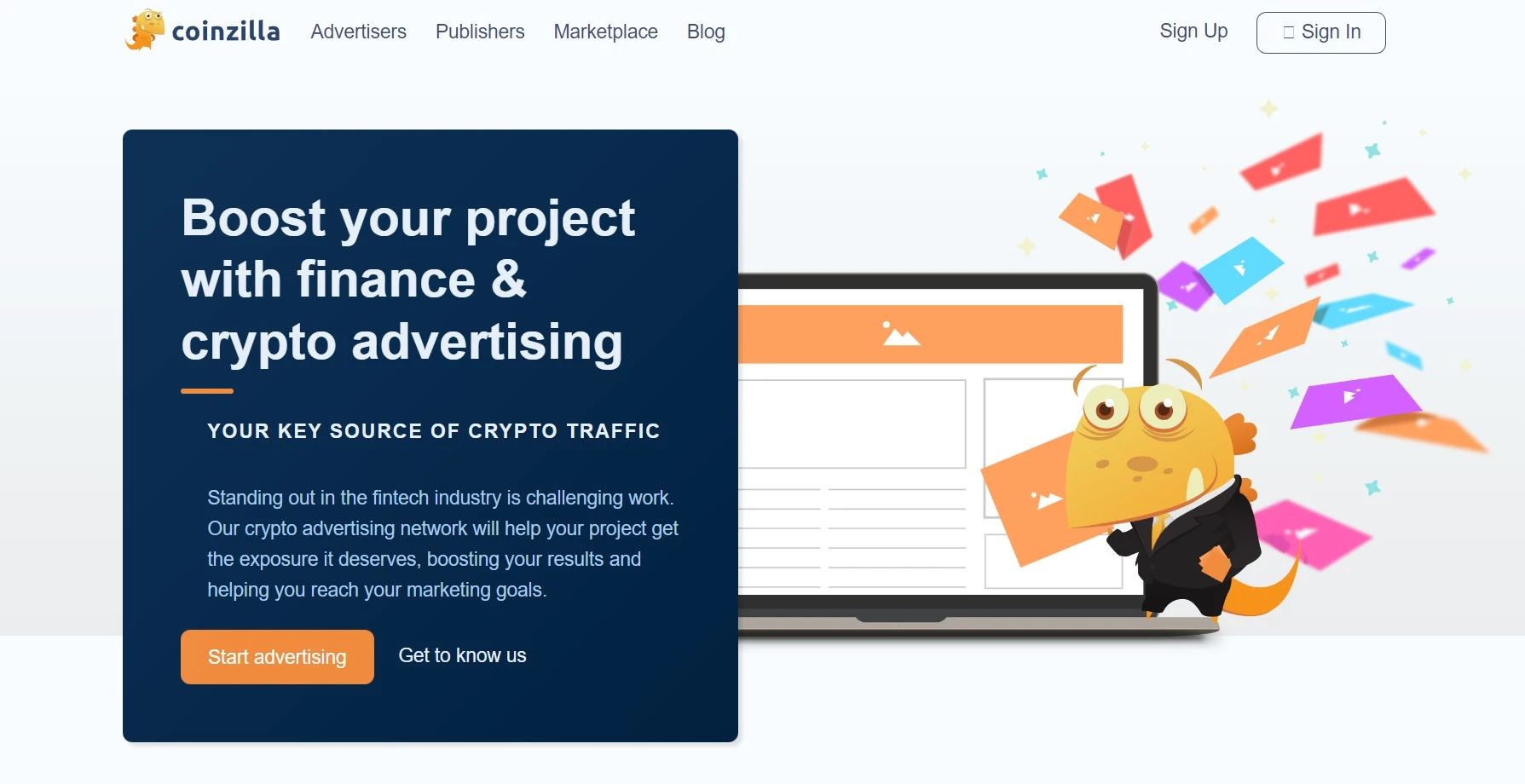 Since its debut in 2016, Coinzilla has established an excellent reputation as a trustworthy Bitcoin advertising network. To assure the integrity of cryptocurrency projects on the platform, they provide you with customizable choices for posting and producing your ad, CPC, and CPM models, along with website requirements.
They provide customers access to Web3 display advertisements, one of the most recent functionalities. The platform is especially useful for advertisers and publishers that want to expand their projects quickly. Till now, Coinzilla has assisted over 20,000 publishers in monetizing their websites and advertising up to 200 businesses. With a large number of crypto and finance publishers connected with Coinzilla, it can prove to be a result-oriented platform for advertisers who want to scale their business and gain profits.
They commit to helping their advertisers with campaign management and optimization so that they can outrank their competitors. It takes minutes to set up and launch your first advertising campaign with Coinzilla.
Reliable Customer Support
Allows Daily Withdrawals
A Referral Program is there
Self Serve Campaigns
Effective Ads Placement
Complete Control Over Campaigns
Results Driven Advertising
Bitmedia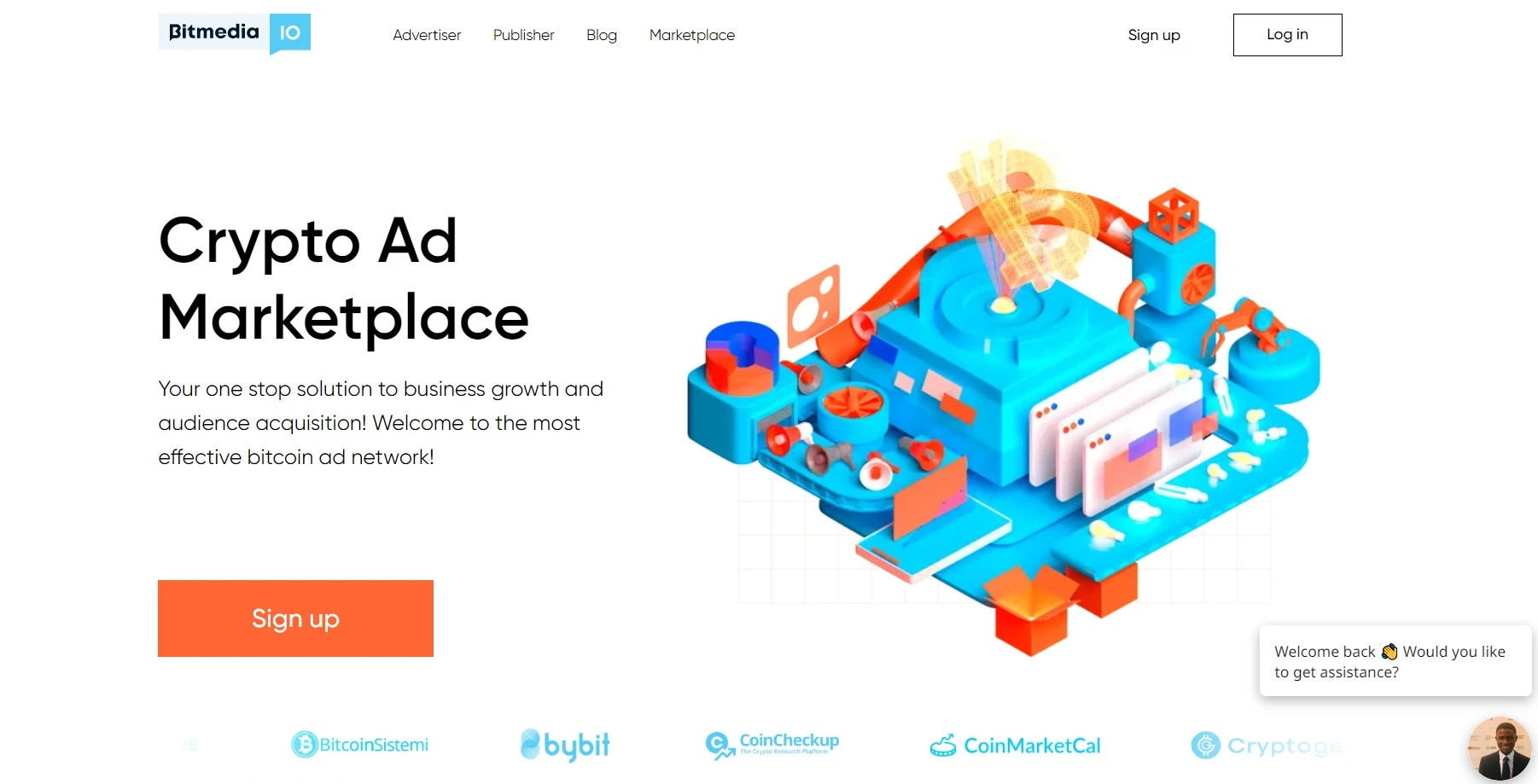 Bitmedia is an excellent company in the world of Crypto. It has a high volume of site visits and impressions that shows how much it is liked by the users. Other than that, Bitmedia provides CPC (Cost-per-click) and CPM (Cost-per-mile) models, strict verification checks, AI-powered targeting options, and third-party traffic analytics. The manual verification of every single seller promises that no bot is capable of influencing the number of impressions.
The platform has over 5,000 crypto websites that are currently running up to 20,000 campaigns on their network. Additionally, Bitmedia has over a billion impressions worldwide and around 20 million unique visits each month, making them one of the best Crypto Ad Networks.
It has a user-friendly interface.
Offers reliable payment options
It uses an AI algorithm that ensures to display of your ads to the targeted users.
Adshares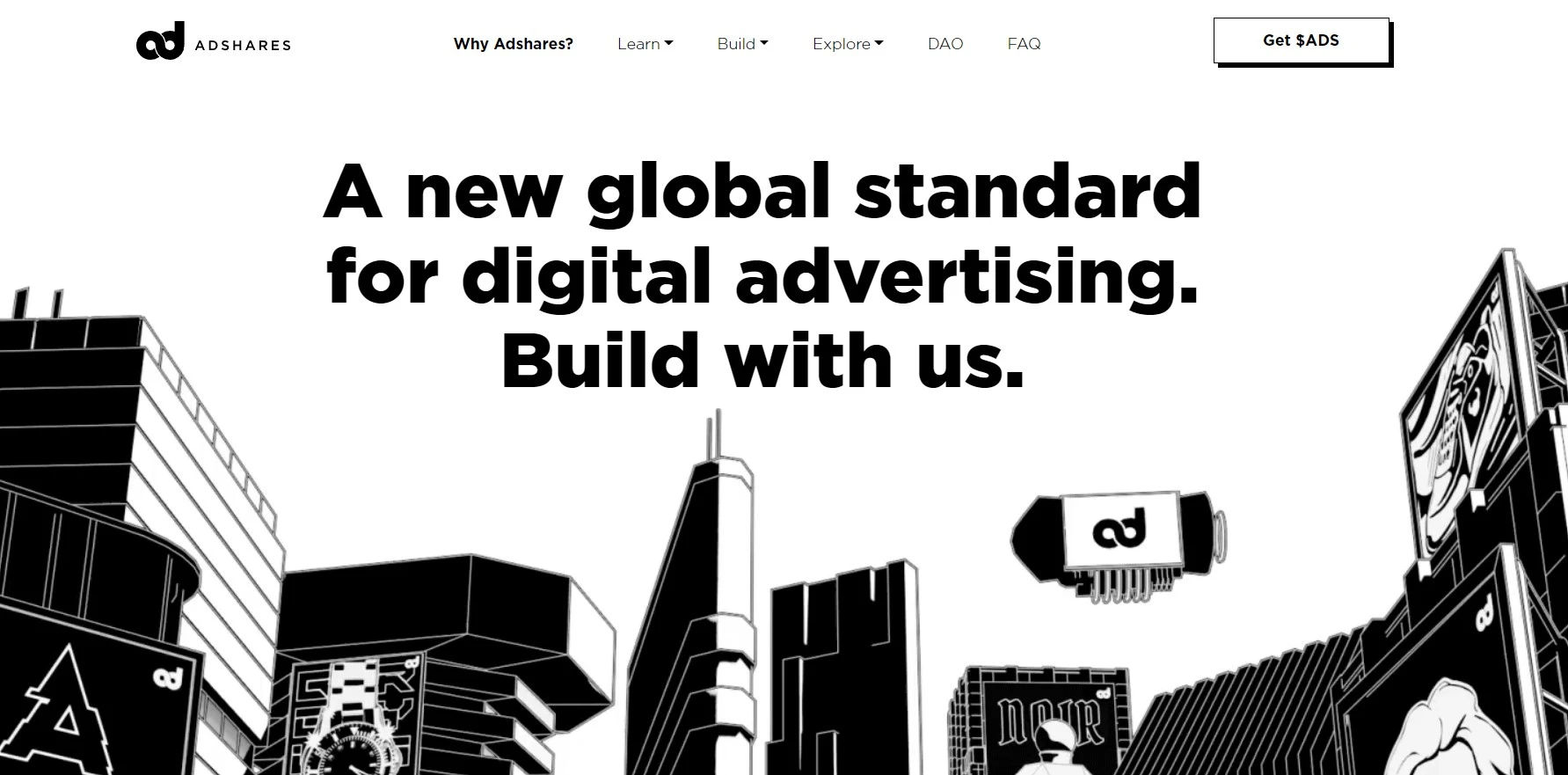 Adshares was the very first company that promised to provide a comprehensive blockchain marketplace, especially for the decentralized Web3 display ads. It is an advanced advertising market project that is based within the decentralized space.
They offer CPM (cost-per-mile), CPA (cost-per-action), and pop-under advertisement models and provide the publishers with complete control over the content visible on their websites.
The registration process is quickly done without any verification
Accurate analytics, customizable ads, and reliable payments
There is a Bypass feature for AdBlockers.
CoinTraffic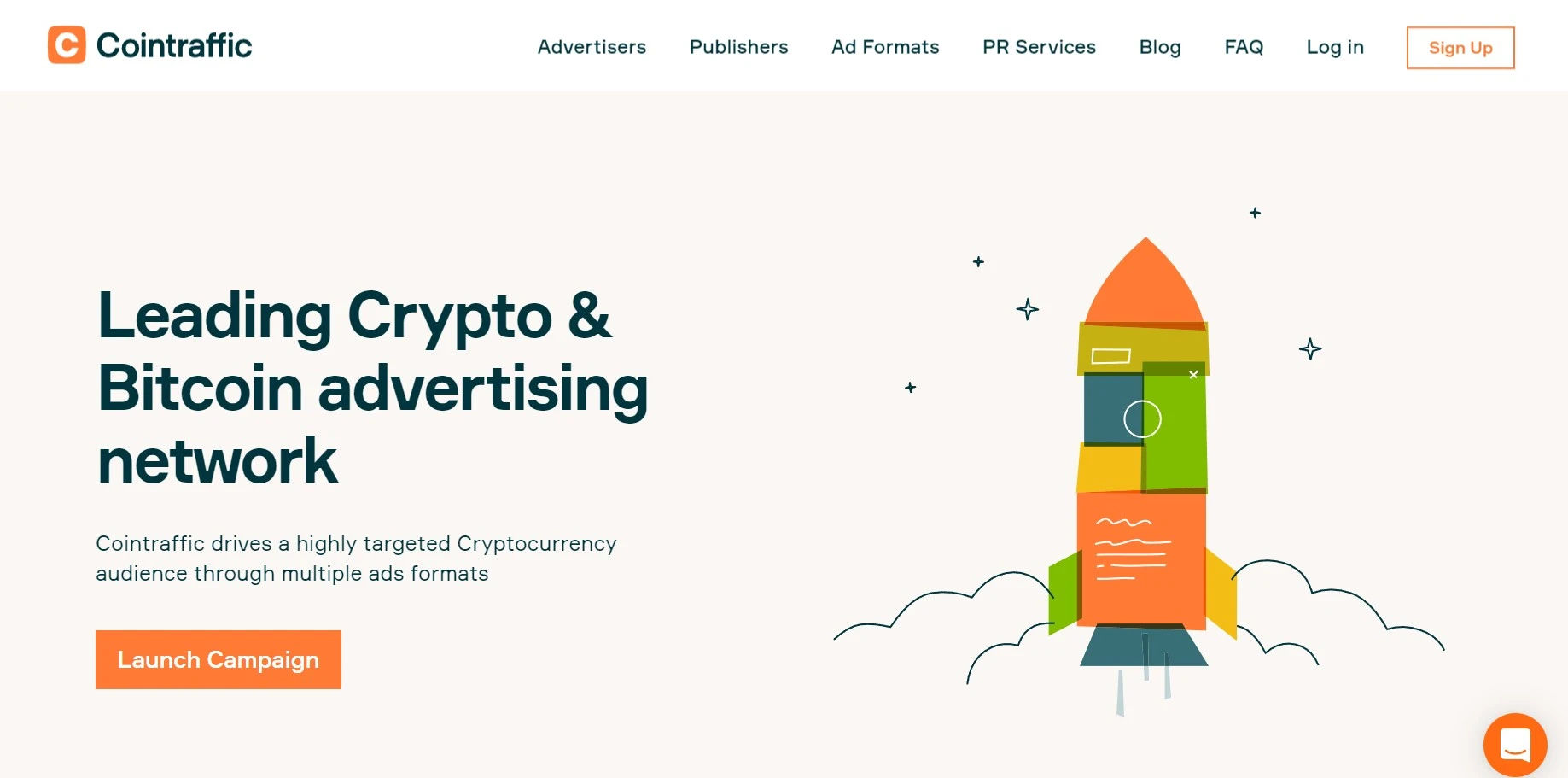 Cointraffic has been serving as the leading crypto advertising network since 2014, providing users with innovative monetization and advertising solutions. The platform offers a variety of advertisement styles and types for desktop and mobile assists its users in growing their earnings with excellent ad optimization, and only approves good-quality websites for the network.
The users of the platform have access to over 1,000 advertisers and 400 publishers on the network, generating a significant volume of impressions and traffic each month.
The campaigns are easily customizable.
The interface is straightforward and user-friendly.
Fiat and Bitcoin payments are permitted.
CoinAd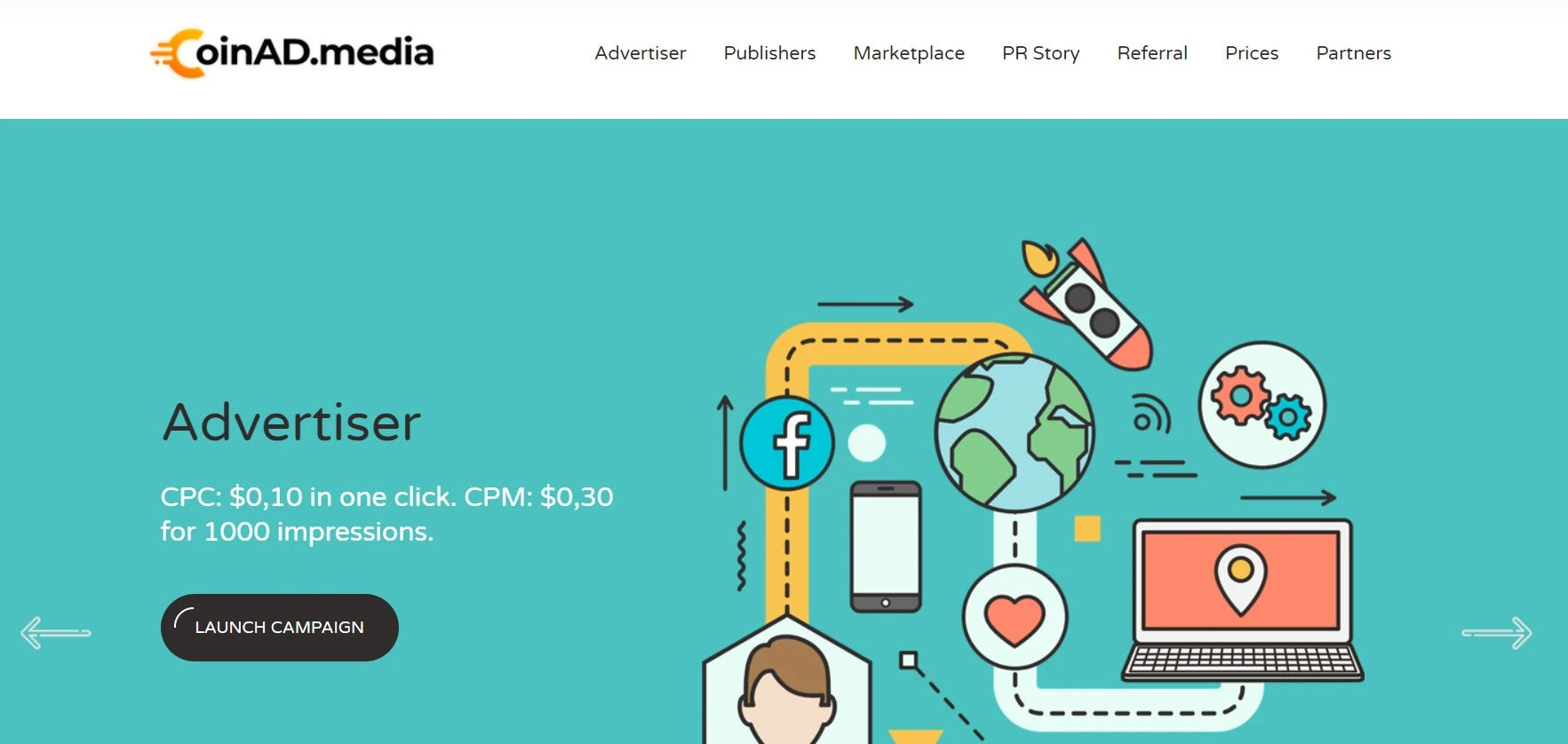 CoinAd has a little different policy; they send special invites to those publishers who wish should join their platform. And publishers that get such an invite enjoy many unique advantages.
The platform can generate impressions for websites simply by supporting many ad formats, with traffic generated from over 200 websites with crypto-centric content such as crypto events and even exciting memes.
High CPC and CPM Rates
Flexible and reliable weekly payments
Enables crypto websites to connect with popular advertisers & increase traffic simply from a relevant crypto audience
Coin.Network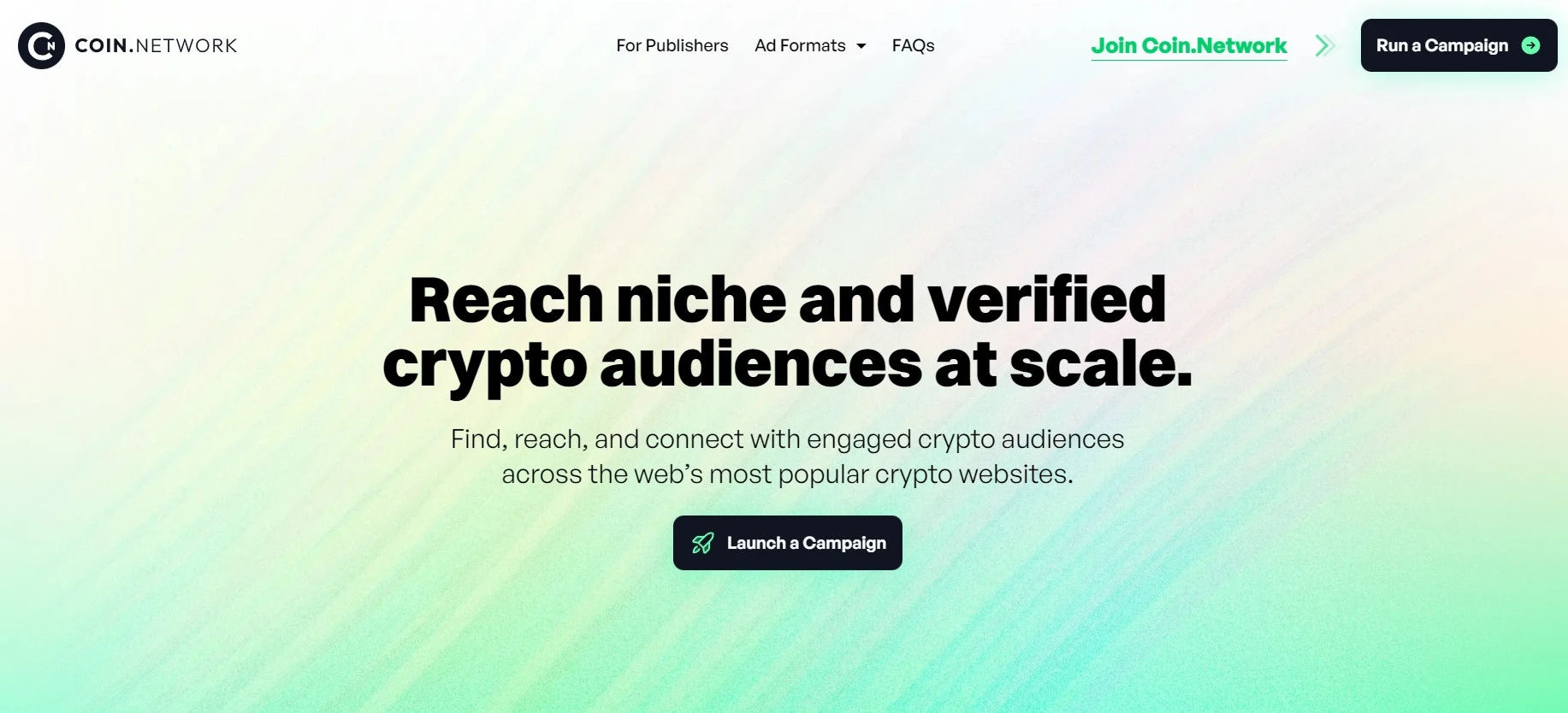 Coin.Network is the fastest-growing crypto ad network that has monthly active users of up to 50 million and over 1 billion ad impressions monthly. The software is owned by a privacy-and context-focused advertising platform known as BuySellAds.
It is undoubtedly a perfect fit for crypto-focused brands that aim to reach niche crypto partners and communities with over 20+ crypto websites for engaging campaigns.
With Coin.network both advertisers and publishers have value to gain. The advertisers can customize which audiences should see their ads based on interests, geo, and industry. And on the other hand, publishers can leverage control, select between direct and programmatic sales, and choose to work with Native or Display ads.
Offers a full slack management suite
An ad ops team is always there for campaign optimization and ad management
There is a dedicated account manager that supports working through the technicalities
EZmob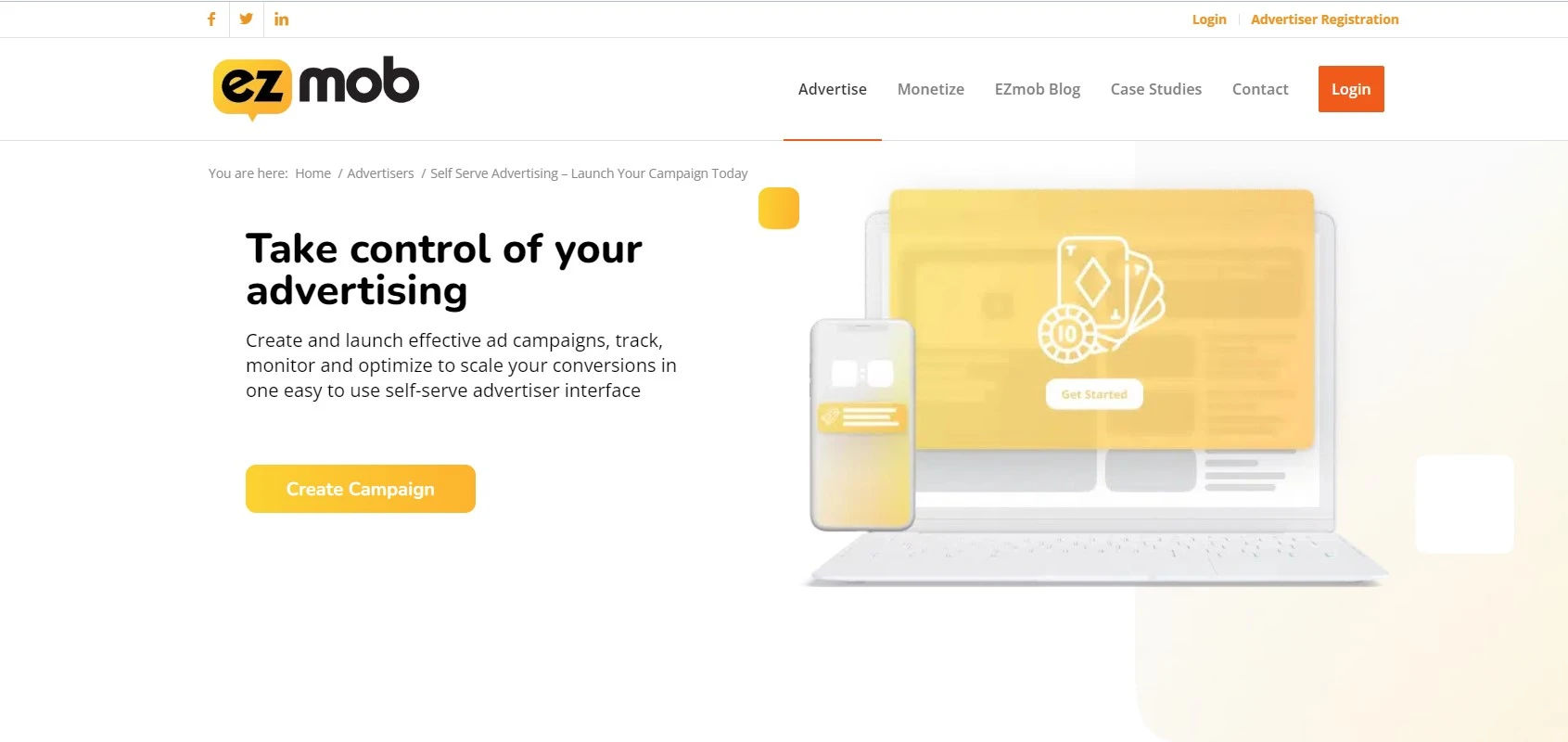 EZmob is another best Crypto Ad networks. It is excellent for publishers and advertisers. Here, you can set up operations utilizing a self-service interface, purchase mobile traffic, influence the genuine intensity of bidding in real-time, and purchase mobile traffic.
You may value your efforts and time with Ezmob and make the best selections. They can assist you in obtaining targeted traffic from 160+ nations because they have maximum publishers and traffic from around the world.
Overall, Ezmob is a complete mobile advertising firm with cutting-edge technologies and strong strategic thinking skills.
Pays monthly and is always on time
Easy Campaign Setup and Launch
Optimization Automation
Targeting & Analytics
A-ADS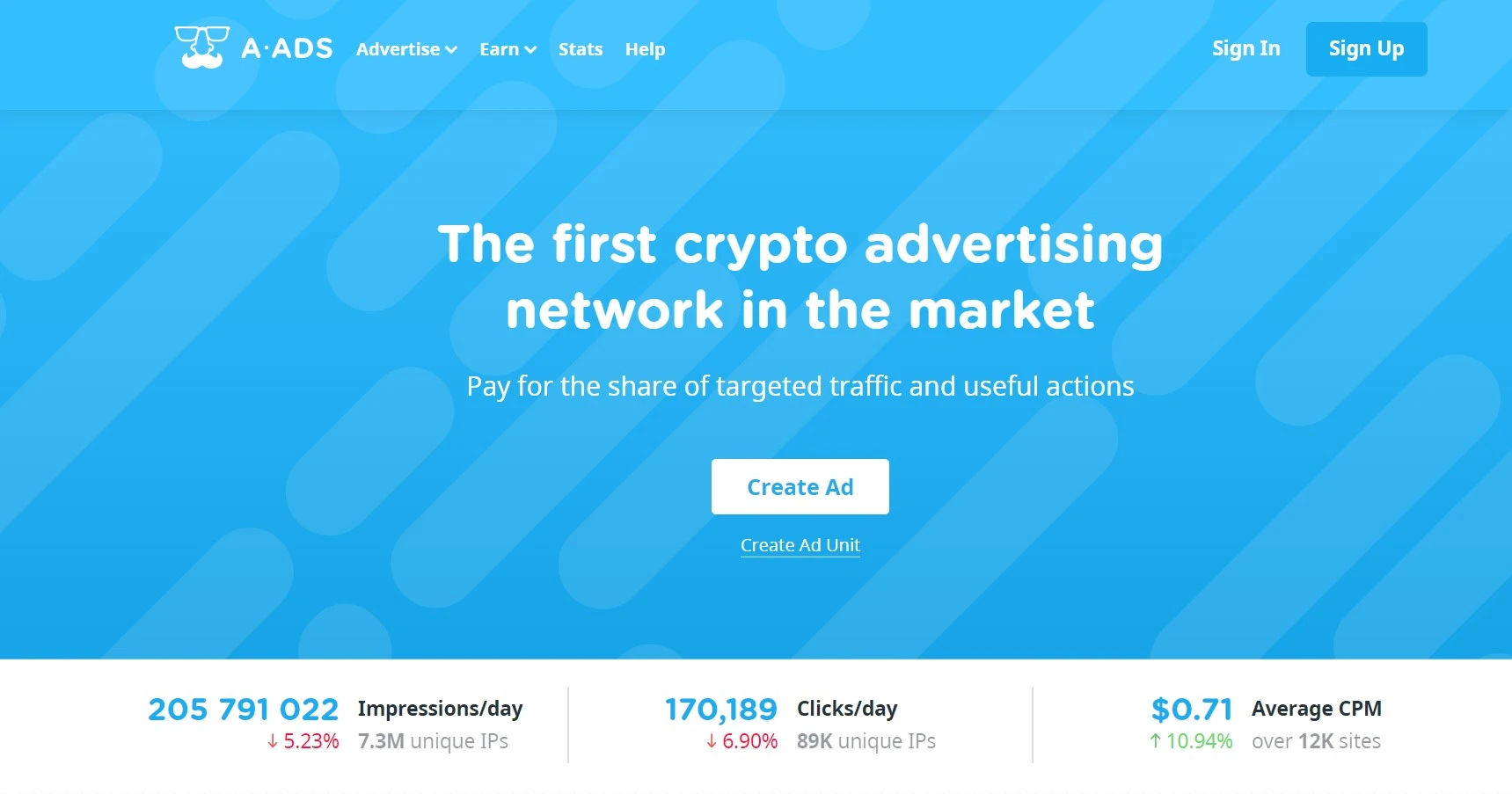 One of the earliest crypto ad networks is A-ADS, which stands for Anonymous Ads, which was established back in 2011. It has over 70 million impressions and up to 60,000 clicks daily, making A-ADS a sensible option for publishers today.
A-ADS follows the blockchain idea of promoting transactional anonymity by removing the usual verification and personal data requirements for most crypto ad networks.
You don't need to make an account to use a Bitcoin address, even if there is a sign-up page. Advertisers love to work with A-ADS as it provides precise numbers that help to determine an ad performance evaluation. For GameFi applications, A-Ads has also been a successful distribution channel.
For marketers, A-Ads features an easy-to-use interface with customizations, including ad placement choices and geotargeting. In addition, unlike other crypto ad networks, A-Ads uses a CPD (cost-per-day) model in addition to CPA, CPM (cost-per-mile) bids, and affiliate programs. As a result, your campaign's daily budget is more adaptable or very flexible. A-ads only accepts cryptocurrency payments.
User-friendly interface
Reliable customer service
The verification procedure is easy
Ad campaigns can be easily customized
Maintains anonymity
Crypto Ad Networks: FAQs
What is CAN (Crypto Ad Networks)? And why are they important?
Crypto Ad Networks are ad networks, just like Google AdSense and other related networks. The only main difference is that Crypto Ad Networks are specially meant for and support only crypto-related projects. It approves only those websites and businesses that are blockchain-oriented and other services like crypto asset management.
Crypto Ad Networks are essential to monetize your traffic and entering the crypto advertising industry. Run enormously efficient advertisement campaigns simply by using banner ads and native ads through this type of network.
And if you wish to attract your targeted traffic in huge towards your crypto projects, then monetize such content using crypto ad networks and use amazing advertising strategies accordingly. In this manner, you can achieve maximum benefits with the help of a crypto ad network.
What are the benefits of using Crypto Ad Networks?
The benefits of Crypto Ad Networks are-
More transparency
Specified ad placement
Flexible pricing options
Access to good-quality traffic
Greater no. of conversion rates
Many placement options and ad choices
Increased awareness related to crypto projects
The desirable outcomes from advertising are generated at a faster rate
Is it possible to advertise Crypto on Google?
Yes, those advertisers who promote complicated speculative financial products (Rolling spot forex, Contracts for Difference, Synonymous products, and financial spread betting) or cryptocurrency exchanges are permitted to advertise through Google Ads, but for that, they should be certified by Google, and their landing pages, products, and ads.
What are the types of Crypto?
There are four major types – utility, payment, security, and stablecoins. There are also Defi tokens, asset-backed tokens, and NFTs. However, of all the cryptocurrencies, the most common are payment and utility tokens. They both don't have their investment guaranteed or backed by regulation.
Over to you: Best Crypto Ad Networks
If you own a business, you should keep an eye on all the changing economic conditions worldwide. Cryptocurrency and marketing that is related to it are becoming increasingly valuable these days.
So, if you know the concept and importance of Cryptocurrency and wish to earn more, then you should try crypto advertisements networking.
In this article, we have tried to tell you all about Crypto Ad Networks and their significance and provide you with a list of the best crypto ad networks, along with an excellent description of them.