Gyana is the easiest way of creating data-science reports from collecting data to quickly gathering powerful insights. It is an easy-to-use dashboard builder. The specialty of Gyana is that it gives your team the power of data science, empowering them with the capability to gather data, find insights, visualize, manipulate it, and share dashboards and reports, everything in just clicks.
Gyana's built-in machine learning Al allows you to instantly get deep insights from your data in seconds. You can also export your reports as a PDF or a link to share with stakeholders, clients, and colleagues.
Gyana is best suitable for Freelancers, SMEs, Agencies, and Startups. It allows businesses to build dashboards and create reports in order to produce a weekly manual report for clients and other stakeholders. It lets the staff members create data science reports and visualize data from a centralized platform. Gyana allows its users to visualize, prepare and share insights.
Gyana makes your work way easier and efficient with Gyana's reporting platform and provides you everything you need to start and work on a report, end-to-end. It captures all the data you need from your systems and databases into a single location and keeps it safe.
Gyana Overview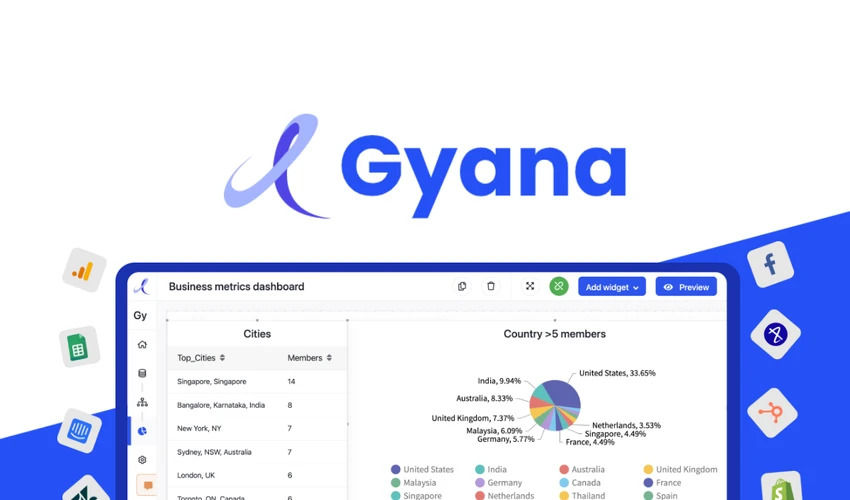 Gyana lets you turn your raw data into structured, clean, and usable formats in seconds. You can join tables and datasets in seconds and find complex insights without coding at that moment. Gyana is for every department and work as it empowers the team to use data in their work. Its advanced and easy-to-get analytics software makes it simple to get the insights of business without especially hiring a data scientist.
It requires no code and allows you to connect with 80+ online data sources. It lets you automate your tasks means you can cut off the manual work and save time with automated workflows. Gyana lets you manage your workflow properly by assigning separate clients separate isolated workspaces. You can scale beyond your computer as it works in the cloud and not on your local machine.
Features of Gyana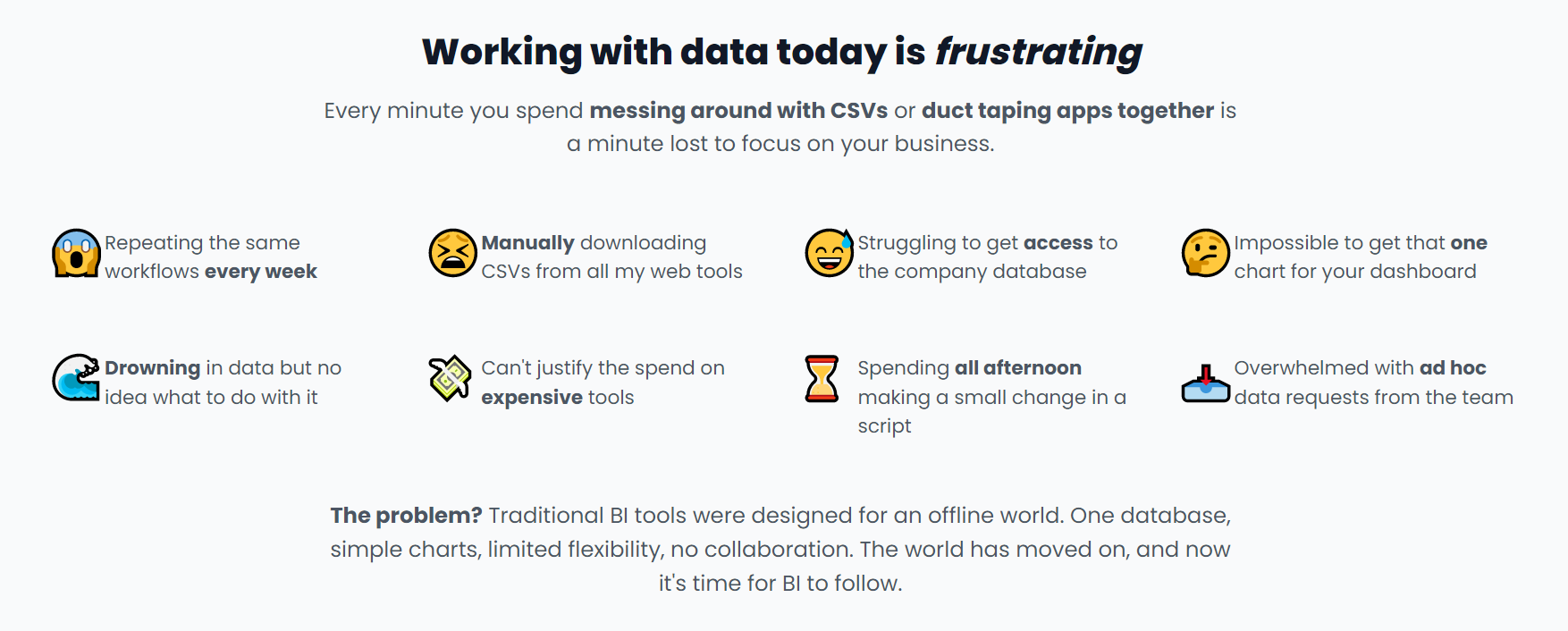 eCommerce
Map the online purchasing journey and understand the acquisition, LTV, and CAC. As such, you can improve your workflows and design your workflows the way to maximize revenue & profits.
B2B SaaS
Manage your user actions in a single funnel and optimize your entire growth flywheel.
Automation
Automate everything with workflows. There is a drag and drop data editor to calculate metrics, transform data and automate work.
Dashboard
Build your own ideal custom dashboard. Choose from a variety of flexible visualizations and connect with any data.

Alternatives to Gyana
Dataquest
Dataquest is ordered in a sequence carefully made to help students and take them from zero coding and start experience to job-qualified to ultimately work in data science. It offers an interactive online course in Python, SQL, Git, the comment line, machine learning, and more.
Daisho
It is no-code data science for business users and business problems. Select the problem which has to be solved and point at the data Daisho will do the rest of the work. Daisho automatically does all the math work allowing you to just focus on the business insights.
Deepnote
It is new kind of data science notebook. It is completely free. Deepnote saves your time whether you are working by yourself or in a team, it helps you clean your data, build predictive models, write complex queries, and ship beautiful apps. Deepnote is Jupyter-compatible with real-time collaboration and runs in the cloud.
Gyana FAQs
Does Gyana offer a free trial?
Yes, Gyana gives a free trial (No Credit Card required).
Who are the typical users of Gyana?
Gyana is best for Freelancers, Mid Size Businesses, Large Enterprises, and Small businesses.
What are the other apps Gyana integrate with?
Gyana integrates with the following applications: Google Analytics, HubSpot Marketing Hub, LinkedIn, Snowplow, Facebook, Heap, MySQL, Stripe, Instagram, Asana, Mailchimp, PostgreSQL, Amplitude, Zendesk, Intercom, Google Sheet, Shopify, HubSpot CRM, Salesforce App, Mixpanel, Optimizely, Cloud, Xero.
Does Gyana offer an API?
No,Gyana does not have an API.
Pricing of Gyana
Gyana comes with the following plans-
Free– Get started with a free forever plan.
Pro– Get pro at $30 per month. It is for small teams and freelancers.
Business– For $150 per month. It is for growing teams and agencies.
Enterprise– It is for large organizations.
It is also available on Appsumo with a lifetime plan.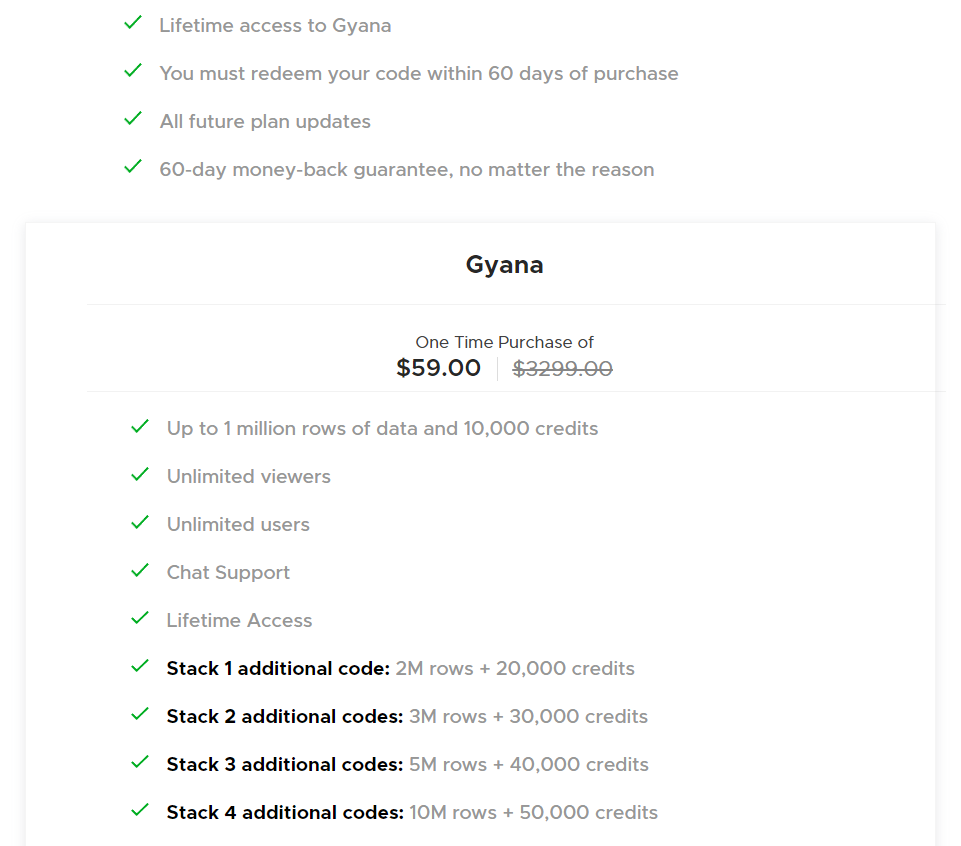 What makes Gyana stand out?
Gyana enables non-technical people to run data science analytics on any structured database. It is specially designed for data builders. Good data is a secret to success in a digital World. With Gyana entrepreneurs and agencies can take full control over their businesses by building custom PPC, social and organic dashboards, and managing all their clients in one place.
Gyana empowers your team by helping them in doing the work in an organized manner. It saves your time by avoiding repeating the same workflows, you no longer have to struggle to get the desired database instead you can get direct insight into the gathered data.
Pros and Cons of Gyana
Pros-
Gyana provides fast one-click and automatic integrations.
It is a no-code software tool. You can just drag and drop to put together your analysis.
It has a flexible dashboard.
There are no limits to the number of collaborators you want to work with.
Cons-
Gyana is still in development.
It is sometimes slow.
There are some glitches.
Few of the integrations look to be broken.
The Review
Gyana
Gyana is a business intelligence tool that helps you to automate your data and make some decisions out of it. It works on the cloud and you don't need to worry about the limits.
PROS
Gyana provides fast one-click and automatic integrations.
Gyana provides fast one-click and automatic integrations. It is a no-code software tool. You can just drag and drop to put together your analysis.
It has a flexible dashboard
There are no limits to the number of collaborators you want to work with.
CONS
Gyana is still in development.
Review Breakdown
Features

0%

Ease of Use

0%

Value for money

0%

Integrations

0%

Scalability

0%

Brand Trust

0%